It's all about travel and food - lots of international excursions, culture and history, hotel, destination and restaurant reviews.
Please look elsewhere for negative reviews.

To enquire about a review of your restaurant, hotel, resort, book or product please email mostlyfood[at]live.co.uk



Latest News!
CELEBRATE THE MAY BANK HOLIDAYS IN STYLE WITH
AFTERNOON TEA AT SAVINI AT CRITERION
A Fusion of English and Italian Tradition
29th April, 30th April and 1st May; 27th May, 28th May and 29th May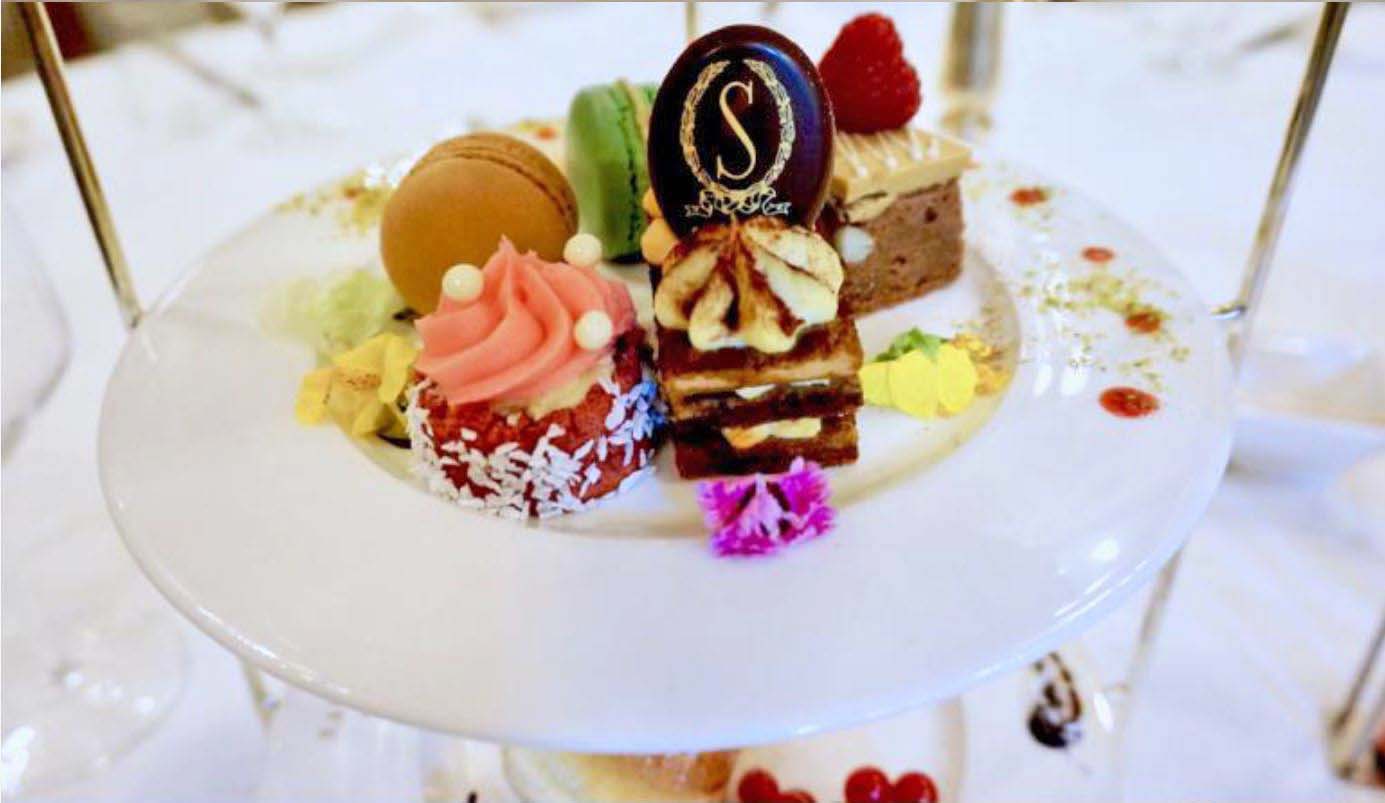 Enjoy our classic afternoon tea with a complimentary glass of prosecco for £29.25* to celebrate the upcoming May Bank Holidays.

Bursting with a myriad of decadent rainbow colours, we offer a selection of sandwiches, sweet treats and appetisers all to be enjoyed with a choice of 20 teas and infusions.

Perfect for friends and families.
Book now to avoid disappointment.
*(Excluding service charge)

reservation@saviniatcriterion.co.uk
+44 (0)207 930 1459
224 Piccadilly, London, W1J 9HP
www.saviniatcriterion.co.uk



Kröller-Müller Museum – gardens and galleries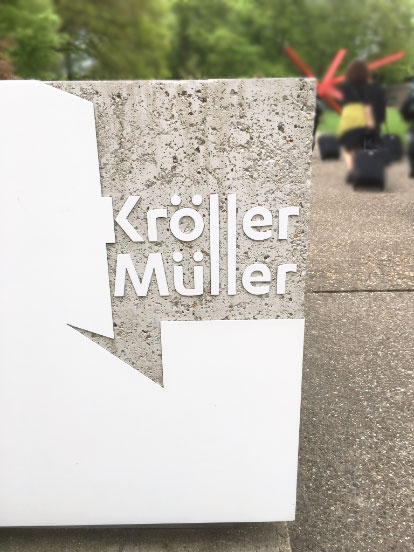 This delightful museum is a triumph. Yes, it will be a draw for lovers of art but it has such broad appeal for those who appreciate the open and wooded spaces of this corner of The Netherlands.

But who were Kröller and Müller? In fact they were a she and evidently a woman before her time. Helene Kröller-Müller was born in 1869 and was one of the first European women to curate a significant art collection. She was born Helene Emma Laura Juliane Müller in Essen, Germany. Her family were wealthy industrialists (has anyone ever heard of a poor industrialist?).

Helene married Dutch shipping and mining magnate Anton Kröller in 1888 thus becoming Mrs Kröller-Müller. But she was not destined to become a conventional housewife. Helene studied under Henk Bremmer between 1906 and1907 and then she began constructing her collection, and was one of the first people to appreciate the paintings of Vincent van Gogh. His work formed a large proportion of the collection with 90 paintings and 185 drawings. It is, in fact, one of the largest collections of van Gogh outside the bespoke Van Gogh Museum in Amsterdam.


From 1913 parts of her collection were open to the public in an exhibition hall in The Hague. It was one of the few galleries where one could see works of modern art at that time. In 1928 Helene and her husband created the Kröller-Müller Foundation to assure the future of the increasing collection and of their estates. Between 1907 and 1922 they had acquired more than 11,000 pieces of art, making this one of the largest private collections of the twentieth century. In the mid-1930s, they donated their entire collection, totalling approximately 12,000 objects, to the people of The Netherlands. There was one condition and that was that a museum be built in the gardens of the estate. The Kröller-Müller Museum was opened in 1938.

The Kröller-Müller Museum we see today is surrounded by 30 hectares of beautiful unspoiled wooded country estate, and is the largest national park in the Netherlands. A large forest sculpture garden was added in 1961 and includes works by Auguste Rodin and Henry Moore. The garden is open all year offering different perspectives of these sculptures as the quality of light and shade changes.


Many people will come especially to see the works of Vincent van Gogh, and those pieces include Café Terrace at Night, Sorrowing Old Man and a version of The Potato Eaters; but there are other works by Piet Mondrian, Pablo Picasso, and many more. But I made a discovery! An artist called Charley Toorop. She became a member of the group of artists called Het Signaal (The Signal) in 1916. The group strove to depict reality through the use of colours and heavily accentuated lines and contrasts. I found three self-portraits by this lady and they displayed Het Signaal characteristics in striking fashion. We find a woman aging and showing the cares of passing years. It's said that eyes are the windows on the soul and the eyes on this trio of canvases draw one in. These eyes are large, wide and are somehow 'haunted'.

There are the permanent exhibitions which will always be popular with visitors, but there are also temporary exhibitions which will encourage return visits. Arp: The Poetry of Forms starts on May 20th 2017 and continues till September 17th 2017. Jean (Hans) Arp (1886-1966) is considered to be one of the most innovative and influential artists of the European avant-garde movement. The exhibition offers sculptures, reliefs, sketches, poetry, and books. Between 1925 and 1927 he published several of his poems in the magazine De Stijl.

Like those artists who were recently showcased with major solo exhibitions, Arp is being included in the artistic offerings of the Kröller-Müller. He was a great supporter of the museum and the director, Bram Hammacher, expanded the sculpture collection with one of Arp's works. That piece is called Cloud Shepherd and it shines still in the garden, and is mirrored in the lake. This must surely be one of the most iconic permanent sculptures at The Kröller-Müller Museum.


I am not an art professional and I find some museums to be dry and dusty halls of irrelevance. I was charmed and excited by The Kröller-Müller Museum, in which I could have lingered long. True, there are the works of the great Masters of painting and sculpture, and they are thrilling to see at close quarters, but there are the lesser-known gems which might actually encourage the viewer to ask more questions and to embark on their own journey of artistic discovery.

Access to Arp: The Poetry of Forms: €18.60 per person
(including access to the park)

Tuesday to Sunday 10.00 hrs to 17.00 hrs (the sculpture garden: 16.30 hrs). The museum is closed on Mondays (except national holidays: Easter, Ascension Day, Pentecost, Christmas, King's Day 27 April, Liberation Day 5 May) and on 1 January.

Walk, or cycle to the museum on one of the free white bicycles from the park entrance to the museum.

Kröller-Müller Museum
Houtkampweg 6
6731 AW Otterlo
The Netherlands

Email: info@krollermuller.nl
Phone: +31 (0)318 591 241

Visit the Kröller-Müller Museum here

Learn more about visiting the Netherlands here



The Crown Restaurant at Woodbridge
OK, I confess, I had never visited Suffolk. I discovered a strikingly beautiful county with coast, pasture, chocolate-box villages and historic towns. I discovered Woodbridge!

The Crown Hotel (review to follow shortly) houses its eponymous 2 AA Rosette restaurant, which is recommended in the Michelin Guide. It's found at the top of The Thoroughfare which is the town's high street, in what is quite an anonymous building. Its exterior hides contemporary, cool design with international quality and local charm. The food here is as good as you will find in any capital city.

Head Chef Darran Hazelton is wedded to fresh local produce. Not just for the sake of it: it's just that there is truly so much here to excite any professional cook or discerning diner. There is seafood from that aforementioned coast, and some of the best meat in the UK comes courtesy of local farms. There are the best of ingredients at The Crown and the dishes offer both traditional plates along with innovation.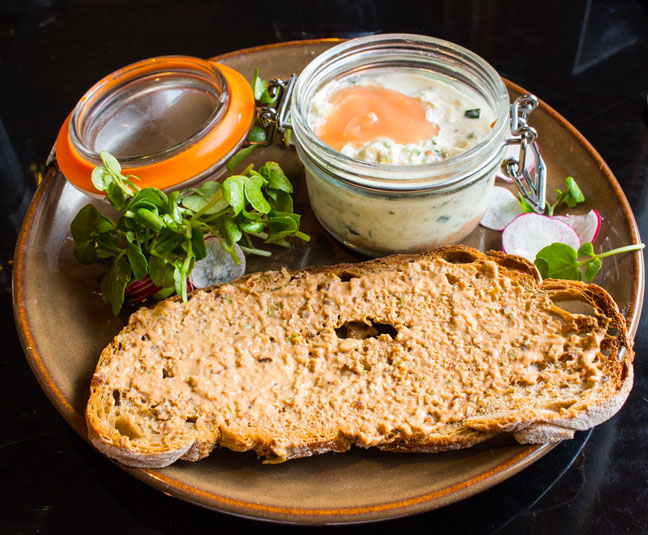 This is a 16th century building but the restaurant is bright and fresh. Windows which look out over the bustling street are etched with silhouettes of local historic buildings – and the town is blessed in that regard. Tables are well-spaced and cater for couples or larger parties. Staff are knowledgeable and discreetly attentive, and the food will likely guarantee a return.

Suffolk grows asparagus but it has a relatively short season, making it a delicious local treat. If you are lucky enough to be visiting The Crown in those short spring months then you might find asparagus and cheddar quiche as a starter or served with a poached egg as a main course.

Cromer is a seaside town in East Anglia and it's famed for its crab, so I ordered Potted Cromer crab with tarragon mayo, avocado and pink grapefruit, along with sourdough, as my starter. That bread was topped with flavourful brown crab meat which is, in my opinion at least, the most delicious part of the crustacean. An attractive presentation of salad leaves and Kilner jar.


'Pinneys' smoked eel, bacon, apple and ginger dressing with lemon crème fraîche was my guest's starter. These fillets of eel were pale in colour but had a marked and balanced smoky taste. They were moist and marvellously paired with the bacon.

Adnams is a local brewery and their beer is a key ingredient in The Crown's Dry Hop battered fish, served with rosemary fries, crushed peas and tartare sauce. This must surely be the most classic of British dishes, and therefore unmissable here.

That fish dish did appeal to me, but brill was also on the menu and I had never tried that. Poached fillets of brill, tomato consommé, samphire, crayfish ravioli and cockles was a picture of vibrant vegetables and pearly-white fish. This should be a signature dish, and it showcased local produce served with flair. A winner!

My guest's main course was Guinea Fowl supreme, wild garlic and spring vegetable with pearl barley risotto, wild mushrooms and truffle. A great presentation of this game bird and the garlic added another dimension. This is another vegetable with a short season and it was savoured by the diner who pronounced the dish to be memorable.


The dessert menu offered twists on British favourites along with classy innovations. For those who enjoy a nod towards traditional then they will want to try Adnams sourdough treacle tart with a scattering of almond streusel, served with mascarpone ice cream. That local brewery has a hand in dessert too!

My guest ordered poached local rhubarb, yoghurt pannacotta, citrus Chantilly and ginger crumble. Rhubarb crumble is indeed traditional but this version was somewhat deconstructed and the garnishes elevated this pud to smart restaurant fare.

Chocolate delice with rum-soaked oranges, chocolate crumb, and orange marmalade ice cream was my choice. This was a substantial and sweet finish to a first-class meal. It was sophisticated, rich from the chocolate truffle, with refreshing tang from the fruit. The last bite of dinner was just as satisfying as the first. The Crown Restaurant didn't put a foot wrong.

Breakfast: Monday to Friday 7am - 10am. Saturday and Sunday 8am - 10am
Lunch: 12 noon to 2:30pm daily
Afternoon tea (must be booked in advance): 2.30pm - 6pm daily
Dinner: Sunday - Thursday 6pm to 9pm, Friday and Saturday 6pm - 9.30pm

The Crown Restaurant
The Thoroughfare
Woodbridge
Suffolk IP12 1AD
UK

Phone: 01394 384242
Email: info@thecrownatwoodbridge.co.uk

Visit The Crown Restaurant here




Hotel Bon Sol – it's a family affair
This deceptively large hotel couldn't have a better location. Hotel Bon Sol Resort and Spa is in Illetas, which is only 8 km (5 miles) from central Palma. One doesn't need the extra expense of car hire: the bus stop is only a few yards away and an attractive €1.50 for a short ride into town.

This is a fine 4-star Superior hotel but it has a story which continues. Antonio Xamena, father of the present owner, became interested in gardens of every kind, from village plots to palace landscapes. This passion would serve him well when designing the grounds of the future Bon Sol hotel. When he was 17, he left his village and began work as a clerk in a tailor's shop, just at a time when Palma was becoming increasingly popular with French and English travellers. His language skills allowed him to become chief clerk and then area manager.

Antonio loved living by the sea and swimming, and would dive in every morning before work. But the expansion of the harbour made the water muddy near where he lived, and less ideal for his daily dip. There were still clear waters in a small bay at Illetas and there was an old villa there. He bought the property in 1951. He and his wife moved in and they decided to use the extra rooms as a guest house, where they would accommodate visitors. In June 1953 the first guest arrived and a year later Hollywood actor Errol Flynn stayed at the Bon Sol. He enjoyed it so much that he recommended a number of his friends to stay with the Xamena's, who had become friends. The family have pictures of Errol Flynn teaching the present owner, Antonio's son Martin, how to use a sword in true swashbuckling fashion. More land was acquired in 1957 including the small cove which is such an asset to this hotel.


Antonio and his wife Roger travelled, and collected objets d'art in places they visited around the world. Those paintings, statues, carvings and wall-hangings add so much to the individual charm of the Bon Sol. There is evidence of traditional Spanish style with wood furniture, panels and stone, but there is so much more to fascinate the guest.

So Martin, the now-grown sword-fighting child, and Lorraine, his English wife, and their children continue the tradition of hospitality started by Martin's parents. These folks are not anonymous owners but are very much hands-on. Martin, Lorraine and their son Alejandro can be seen around the hotel every day. They greet their guests, some of whom might have been coming to Bon Sol for many years, although this is a hotel catering to every age, and it is finding a new and appreciative audience with young families. Perhaps this is the strength of Bon Sol: one can teach hotel management but real hospitality is a personal skill and the Xamena family are genuinely welcoming and warm. They have staff who have been with them for decades and that is something of an accolade.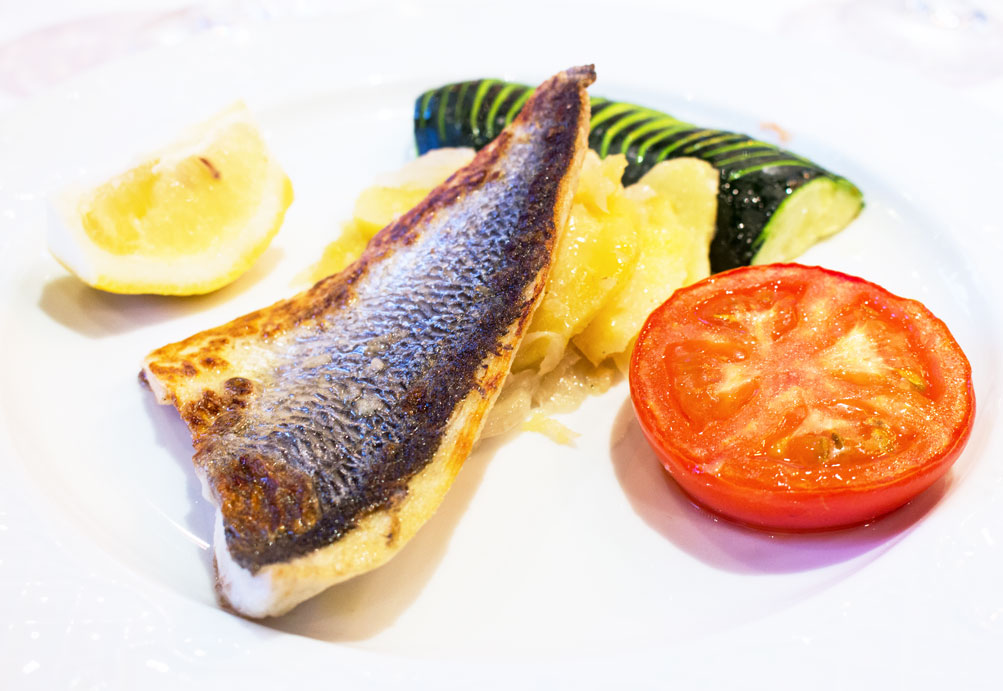 Hotel Bon Sol Resort and Spa has evolved over time. The main building has a new reception area. There is a spacious bar with an outside terrace on which to enjoy a chilled glass of cava on balmy evenings. There are plenty of quiet corners and sofas on which to enjoy a good book. There is a library, and computer terminals and a printer for the use of guests. There is wifi everywhere for those who just can't extract themselves from work or, more importantly, Twitter.

It has improved and expanded. No two of its bedrooms and suites are alike, but they are all well-appointed, as one would expect from a 4-star Superior hotel. There is the aforementioned wifi, obligatory minibar and electronic in-room safe. But the comforting inclusion of the tea- and coffee-making tray is an asset so often overlooked in European hotels. Perhaps that's Lorraine's English input! There is a TV with a good selection of channels, bathrobe and slippers, toiletries and hairdryer in the spacious bathroom. There is air-conditioning for the summer and heating for the mild winter. My room had a balcony with views over the cove.


Leisure facilities include a heated pool in which to exercise, a non-heated pool around which to sit (although the more hardy will swim), two tennis courts, squash, crazy golf, table tennis, pool table, volleyball, petanque, children's playground, gym, saunas, spa, Turkish bath, thalasso and physiotherapy. So that's your day sorted, then. There is a children's club in the hotel from June to September where the younger members of the group can enjoy activities while parents relax.

A full English buffet breakfast and continental buffet is served in the winter-garden conservatory or down by the beach. This is a creditable spread, and don't miss the local specialities and the Sunday cava. The buffet lunch will have vacationers drooling over salads, fish, meat, paella and some rather well-crafted desserts, but don't be too tempted to fill up as dinner won't be far away.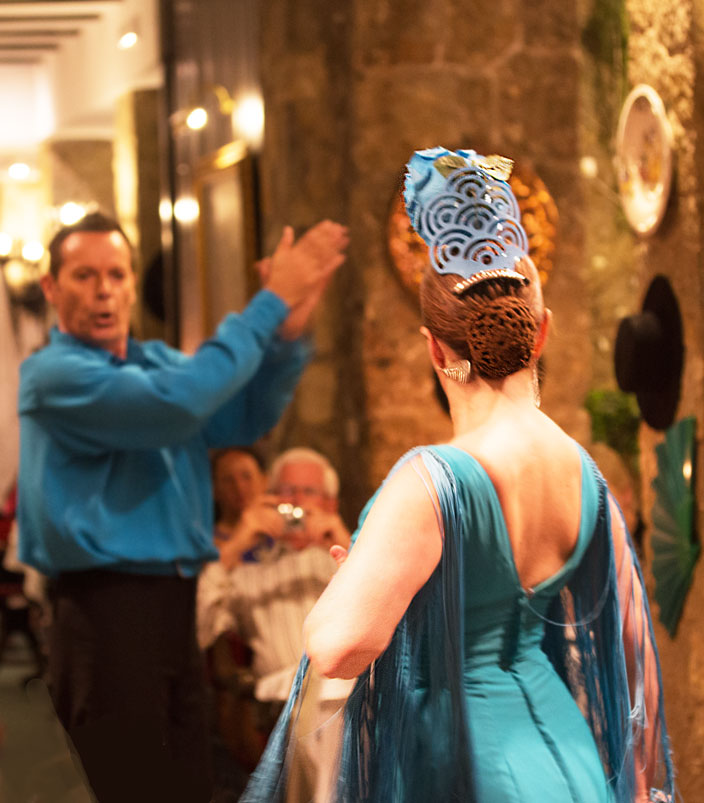 The restaurant in the main building is elegant and somewhat more formal. Glass sparkles and candlelight flickers. The food here compares favourably with independent restaurants, and an upgrade from half-board to full-board is exceptionally reasonable (bed-and-breakfast rates are also available). The chef introduces diners to local ingredients and wines which one won't easily find away from Mallorca. Fish is particularly good. Meals might even be accompanied by entertainment: there is often a piano player and sometimes a flamenco evening which is vibrant and colourful.

Hotel Bon Sol Resort and Spa is close to Palma with its historic cathedral, high-end shops, galleries and bars, but there are other places to visit outside town, such as the monastery which became Frederick Chopin's home, and the house of celebrated author Robert Graves, who penned many novels including I Claudius. There is so much more to this island and it can easily be discovered using Bon Sol as a base. There is culture, art, refinement here and it's a world away from the high-rise mass-catering resorts of some parts of the coast.

Hotel Bon Sol Resort and Spa
Paseo de Illetas
30. Calviá
Mallorca

Phone: +34 971 402 111
Fax: +34 971 402 559
Email: bonsol@hotelbonsol.es


Hotel Bon Sol Resort & Spa has 146 rooms and villas spread through the grounds, with excellent dining and leisure facilities including a luxury spa, 3 swimming pools, tennis, and a quiet beach cove.
Visit Hotel Bon Sol Resort and Spa here

Classic Collection Holidays offers 3 / 7 nights at Hotel Bon Sol from £727 / £1252 per person. Prices based on 2 adults sharing a classic room on half-board basis with return flights from Gatwick (other regional airports available) and private transfers.
To book this hotel and others visit Classic Collection Holidays here or call 0800 294 9315.

For more information on Mallorca visit Fomento del Turisme www.fomentmallorca.org/en/.




Eneko at One Aldwych for Sunday Brunch
Located near Covent Garden in the heart of London's West End, Eneko at One Aldwych is one of this writer's favourite eateries. It is a delightfully stylish restaurant and wine bar from the acclaimed Basque Chef Eneko Atxa.

This basement space takes advantage of a 2-storey ceiling at one end which offers diners in that area a view of the tops of trees and sky through the original ornate glass door at street level. Stairs are clad with copper, walls with grey stone and tables are of light wood with hardwood embellishments. Eneko designers have used natural materials and simple lines.

It's a relaxed and informal setting for a Sunday Brunch from Chef Edurne who has been instrumental in creating the menu and is in charge of the London kitchen. Most of the dishes here won't be familiar to the untutored so, for the first Brunch at least, order the tasting menu.

We started with an aperitif. Golden Mary is a unique and fresh-tasting twist on a classic Bloody Mary but this one has a striking summer-gold colour rather than the expected red. It's still made with vodka as in the original but Eneko uses spiced vodka. The regular tomato juice is replaced by golden tomato juice; a stick of celery is swapped for celery foam, which has a much more pronounced flavour than the fresh vegetable. The cocktail looks more delicate than a Bloody Mary and is served in a Martini glass. A refined touch.


My guest chose the Basque Cobbler which is a striking fruity wine punch. This is port-wine red and garnished with slices of kumquat and a bunch of mint. This must surely be the Basque equivalent of Spanish Sangria. It's light, delicious and refreshing.

The aforementioned Tasting Menu for the Weekend Brunch is £50 per person and gives a thorough overview of the Basque-inspired fare here. Traditional Talo – crispy corn talo or tortilla with heritage tomatoes and accents of basil emulsion – is a signature dish and it's on the a la carte menu, too. It's strikingly beautiful and vibrant with colour from both tomatoes and edible flowers, and all served on individual wooden platters.

The second Tasting Menu dish was Cerdito Caliente, "Hot Hog", which was a simple dish but actually my favourite from this bill of fare. A Basque muffin is the vehicle for this outstanding savoury treat. Thin slices of Iberico ham top mushroom duxelle and both fill the bread bun, which is very much like what Americans might call an English Muffin and what we in England call …a muffin! It's a white bread, as opposed to the sweet muffins we find in coffee shops.


Eggs Yolks Tempura is intriguing and perhaps the classiest comfort food for which one could ever hope. A whole egg yolk seems to be deep-fried with a crunchy coating. One breaks through this to allow the still-liquid yellow yolk to bathe creamy potatoes and tangy confit vegetables. This is a masterful presentation but one which will raise a smile from any lover of imaginative food. Yes, imaginative but still nestled within the realms of familiar comfort.

Then the main courses arrived. Txuleta is Basque-style prime rib of beef and served with a crisp spring onion salad. Those onions were mild and well-textured – a perfectly balanced platter when served with chips. But Monkfish garnished with specks of garlic, chilli and parsley was the main-course winner. The flesh of the fish was perfectly cooked and opaque. The spices were subtle, presenting a fish which was still naturally flavourful.


Torrija was created by Alice Serafini, the Pastry Chef at Eneko, and ended this substantial Brunch. This is a Basque vanilla bread-like cake with a caramel top crust and soaked in a sweet custard. This was partnered with a caramel crumble ice cream and it was a perfect finish to this meal, which displayed both tradition and innovation. If you are looking for a meal which is considerably different but not at all challenging then don't miss Eneko at One Aldwych.

Opening times
Tuesday to Friday: Lunch 12 noon - 2.30pm
Dinner 5pm - 11pm
Saturday: Brunch 11.30am - 3pm
Dinner 5pm - 11pm
Sunday: Brunch 12 noon - 5pm

Eneko at One Aldwych
London
WC2B 4BZ

Enquiries: Phone 020 7300 0300

Email: eneko@onealdwych.com

Visit Eneko here.



Afternoon Tea at Savini at Criterion
Both afternoon tea and The Criterion are icons. The first is quintessentially British and the second a long-standing London destination for fine food, and one which has been frequented by the great and the good for around a century and a half.

Thomas Verity, a British architect, won a competition to build The Criterion; work began in the summer of 1871 and was completed in 1873. The Portuguese marble walls and gold mosaic ceiling along with sumptuous embellishments remain, to remind us of a time before plasterboard and plastic.

The last 150 years have seen many changes in London, this city having been through so much. Londoners endured the WWII Blitz when The Criterion was pulled into service, with its deep underground theatre being used as a secret safe-house for BBC radio. And keeping with the entertainment theme, recently the restaurant was used as the backdrop for the epic Hollywood production of "Batman - The Dark Knight". Downton Abbey also visited, and I hear that many a diner asks to sit at Lady Edith's table.

In December 2015 the Gatto family, owner of the famous and historic Savini Restaurant in Galleria Vittorio Emanuele II in Milan, dating back to 1867, reopened the London restaurant with the name of Savini at Criterion. The a la carte menu is distinctly Italian, as one would hope and expect, but the restaurant also presents afternoons filled with more-British fare. Afternoon Tea in various forms …but with Italian flair.


Teatime is an event and one which can be tailored to the appetite of the tea sipper. Cream Tea is perhaps the simplest but it's traditional and popular not only here but in Devon and Cornwall, home of the celebrated clotted cream, the essential accompaniment. Cream tea at Savini is generous with 3 scones (it's often only 2 elsewhere), jams, clotted cream and the restaurant's celebrated biscuits. It's very competitively priced and a great opportunity to enjoy Savini in casual mode.

Afternoon Tea is the classic version with the 3-tier stand laden with both sweet and savoury treats. There are the previously-mentioned scones with their sweet garnishes, along with savoury offerings, and that's where the first of the Italian influences comes into play. There are finger sandwiches but one might find bruschetta, panino al latte with burrata cheese, and vegetarian caponata.

But the guest's gaze will likely have fixed on the top plate – an assortment of homemade mini cakes. There is more Italian good taste here and it wasn't wasted on this visitor. Those miniature delights included marvellously crafted tiramisu which is a signature dessert here, but the most memorable cake for me was the rum baba. Save space for this one. Great patisserie at Savini.

It's unlikely that anyone other than an in-training rugby player could eat every scrap of this teatime spread but if they are still peckish by the end then staff will be happy to provide more. I am sure that is a rare request! It must be part of that so-renowned Italian hospitality!


Going out for afternoon tea is often a celebratory event. Many a birthday or anniversary has been enjoyed around the tea table, but what a great graduation event this would be. Afternoon tea is trending! Savini At Criterion offers Champagne or Martini Afternoon Tea for those who want to make the occasion even more special. Nothing speaks 'congratulations' louder than the pop of a cork heralding the arrival of a chilled glass of fizz. Or come here for a little pampering with no excuse at all.

But teatime is always enjoyed with a nice cup of tea, although I note that coffee can be had here too! The tea menu is creditable, with both green and black teas.


Savini At Criterion has a central location, making this an ideal venue for both tourist and local alike. They offer outstanding Italian food but they have also embraced British culinary institutions, and those teatime offerings are at a reasonable price. Success is assured with this afternoon delight.

Opening hours:
Savini At Criterion is open every day from 8am to midnight

Savini At Criterion
224 Piccadilly
London
W1J 9HP
UK

Phone: +44 (0) 20 7930 1459
Phone: +44 (0) 7493 248819

Email: reservation@saviniatcriterion.co.uk

Visit Savini At Criterion here



ChariTable Bookings Signature Dish
This is a book the size of several bricks. That's not surprising as it introduces 365 leading British chefs' main course recipes. Each recipe is presented with beautiful pictures on quality paper, and this considerable tome is encased in a gift sleeve.

The ChariTable Bookings Signature Dish is a recipe book with 365 dishes – one for each day of the year – from chefs who are familiar and respected. They are lending their support to a group that raises money for charity in unique and delicious fashion. One supports these charities simply by booking dinner at a reputable restaurant of your choice through their site. Yes, it's that easy.

ChariTable Bookings' free philanthropic restaurant-booking platform sells the ChariTable Bookings Signature Dish recipe book, which is a fundraiser to support thousands of UK registered charities, from local projects to worldwide endeavours. For every book purchased, ChariTable Bookings will make a donation of £5 to the charity you choose from a list of 7,655 amazing causes.

At £40.00, the ChariTable Bookings Signature Dish recipe book is a 754-page, 3.6kg hardback book, so it's substantial. Yes, it's huge but it will likely spend more time in the kitchen than on the coffee table. There are delightful recipes here that will entice the practised home cook and encourage the novice. There is something for every skill level and for every taste. There are European classics along with Asian spice, and all are accessible and delicious.

Do I have some favourite recipes here? Well, in fact, lots. I love Indian food so Lamb Shank by talented chef Alfred Prasad is at the top of my list. For classic European I love this recipe for Lemon and Herb Spaghetti by Pip McCormack. Jeremy Pang's Steamed Wontons offer a taste of China in your own home. My pick of the book is Richard Corrigan's Royal Fish Pie.

ChariTable Bookings Signature Dish is a cookbook over which to drool, but it's mostly one to tempt the reader into the kitchen, and then to be so inspired that they will want to book a table at some of the fine restaurants represented.

ChariTable Bookings Signature Dish is the perfect gift for all lovers of good food, chefs and their restaurants, but also for those who want to make a difference in people's lives.

https://charitablebookings.org/signature-dish/about

Charitable Bookings Signature Dish
Authors: 365 Chefs
Publisher: FH Global llp
Price: £40
ISBN-10: 0995711607
ISBN-13: 978-0995711600



Hawkers Bar and Brasserie – finer dining in Kingston
I live only a short bus ride, or an even shorter train ride, from Kingston. I am there very often for retail therapy at the Bentalls Centre. I am a frequent visitor to the large Chinese, Japanese and Korean supermarket. I enjoy the historic daily fruit and vegetable market. I have, however, never thought of Kingston as a dinner destination.

There is a new restaurant in a new hotel in Kingston. The hotel is a conveniently situated Doubletree by Hilton and the restaurant is called Hawkers Bar and Brasserie. One might speculate on the origins of the name 'Hawkers' – perhaps an indication that hunting birds might be on the menu? The Hawker in question does actually have something to do with flight. It's the Australian aviation pioneer Harry Hawker who was the chief test pilot for Sopwith and was also involved in the design of many of their aircraft. After World War One he co-founded Hawker Aircraft in Kingston, the firm that would later manufacture the successful Hurricane fighter plane. The hotel foyer offers mementoes of the company and its aircraft.


The Brasserie and Bar have a contemporary urban design with exposed copper pipes and industrial fixtures. The restaurant area is large but thoughtfully divided to provide a degree of more-separated conviviality. Soft furnishings add texture and comfort to what would have been a rather masculine space. There are nods to the 1920s with lights and high ceilings.

There is an open kitchen here with the head chef Darren Edwards very much to the fore. The menu is well-crafted with classic British Brasserie fare, and the bar menu is also creditable. Crispy whitebait is outstanding and the portions of this and the other menu items are generous. The Artisanal Bread Platter with hummus, chutney, and balsamic olive oil dip is de rigueur with drinks, and the Mini Lamb Koftas with home-made mint raita make a marvellous nibble to go with one of the excellent cocktails here.

The Aviator is made with Kingston's own Beckett's gin (the only gin in the world distilled with British juniper and mint - I must book a visit to the distillery), fresh lemon, Crème de Violette, Maraschino liqueur and sugar. This is a perfect pre-dinner cocktail for anyone looking for a sweet start to the evening. But then there is the memorable Bloody Good Mary. That really is the name of this potent and spicy version of a classic cocktail. Russian Standard Vodka, fresh lemon, horseradish, Worcestershire sauce, tomato juice and a dash of a secret sauce combine to present the sipper with a delicious explosion which was very much to my taste. This must be a signature cocktail here.


I chose Hawkers Puff Pie for my dinner. It's made with the meat from an 18-hour slow roasted lamb shoulder, wrapped in puff pastry and served with a smoked bacon and cabbage parcel, with a rosemary gravy. I have never tasted lamb with quite so much flavour. I would be a believer if I had been told that the meat was mutton, which has a much richer taste than most lamb. This is unmissable. The meat was tender and aromatic. The pastry surrounding was flaky and cooked to perfection. The cabbage parcel was more of a partner than a side dish.

My guest enjoyed the Sustainable Blackened Sea Bass with smoked fennel, mussels, kale and Noilly Pratt sauce. That fennel was quite an innovation. The smoking removed so much of the metallic aftertaste which I dislike. The dish was delicious, beautifully presented and one for which to return.

Rhubarb and Champagne Trifle with white chocolate sauce was my guest's dessert. This writer was far too full to even contemplate a pud. I confess I had a delightful spoonful which I shall call research. This was sweet, tart, refreshing and rich, and served in a cone of a glass displaying the traditional layers of a classic trifle.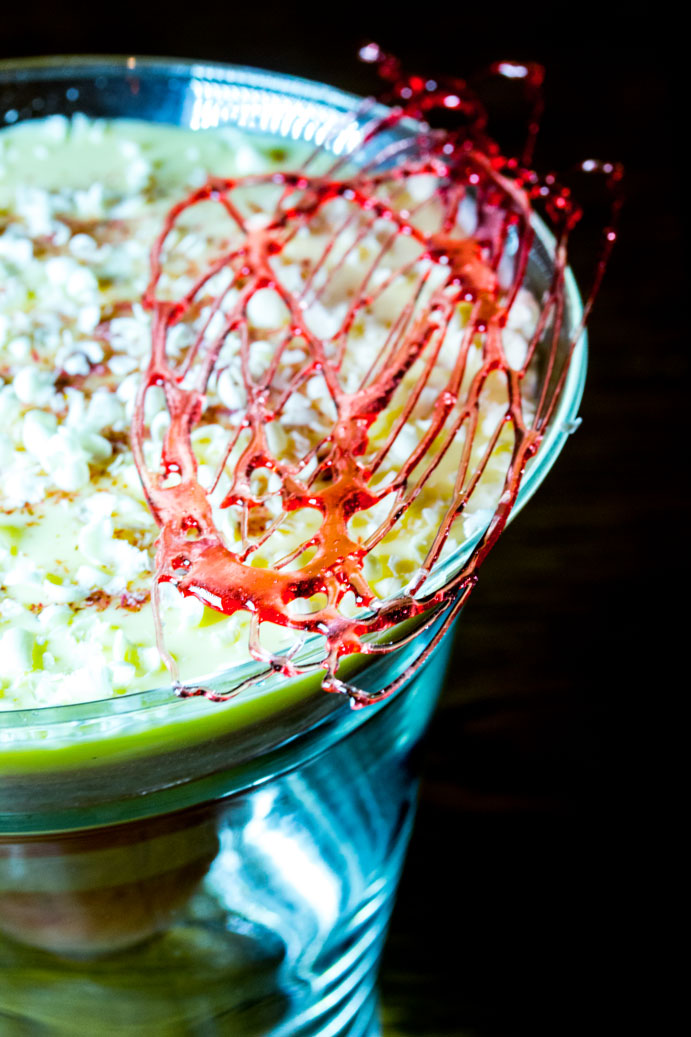 Hawkers Bar and Brasserie has only been open a short time but it is already the restaurant of choice for many locals as well as for the hotel guests. Its ambiance is accessible and friendly with a menu which displays flair and regard for British produce.


Opening Hours
Monday – Friday: 06:30 – 22:00
Saturday – Sunday: 07:00 – 22:00


Hawkers Bar and Brasserie
1 Skerne Road
Kingston upon Thames
KT2 5FJ

Phone: 020 3146 4144

Email: enquiries@hawkerskingston.com

Visit Hawker's here



Drawings for Paintings: in the Age of Rembrandt
Dutch artists have, for centuries, been admired for the realistic quality of their work. Seventeenth-century landscapes and scenes of ordinary life are all here and one might suppose that the paintings were done directly from life; but it seems that most of them were produced with the aid of previously-executed sketches.

Drawings for Paintings: in the Age of Rembrandt by Ger Luijten and Peter Schatborn is a unique insight into the process of construction of these life-like paintings. These drawings were not rough cartoons but masterpieces in their own right. They were made and compiled into sketchbooks which could be referred to later when an appropriate project was commissioned. It appears that the ordinary townsfolk who acted as models could be transformed into saints or nobility.

Using modern infrared reflectography we can now see the underdrawings, which might more closely resemble the work found in the artist's sketchbook than it does the finished oil painting. Artists included in this sumptuous and fascinating book are Hendrick Avercamp, Gerrit Berckheyde, Aelbert Cuyp, Jan van Goyen, Adriaen van Ostade, Jacob van Ruisdael, Pieter Saenredam, and Rembrandt van Rijn, among others. Each painter has his own fully illustrated chapter giving plenty of information on both sketches and final paintings. To use a culinary analogy – it's very much like reading a recipe and then seeing the resulting dish with all its associated colour and texture.

Drawings for Paintings: in the Age of Rembrandt unveils the process of creating a realistic painting, whether still-life, landscape or portrait. It will be a book sought after by contemporary artists as well as those who have already fallen in love with this romantic age of fashion, power and beauty. This is gift quality and most impressive.

Drawings for Paintings: in the Age of Rembrandt
Written by: Ger Luijten, Peter Schatborn
Published by: Skira Editore
Language: English
ISBN-10: 8857231526
ISBN-13: 978-8857231525




The Textile Museum – Tilburg, The Netherlands
'No, Mum, not a museum!' Yes, many of us have heard that sad and somewhat panic-stricken refrain from youngsters who are dreading the prospect of another 3-hour amble around galleries hung with dark oil paintings or museums stuffed full of glass cases displaying old clothes. What the juvenile members of the group are expressing is the sense that these emporiums of education for the high-minded are not relevant …and are not fun! (Well, not for a few years, anyway.) They want to see moving parts and lots of colour.


But there is a museum that will enthral and excite everyone. It's TextielMuseum - The Textile Museum in Tilburg, The Netherlands. It's far from a conventional museum of lots of dust and not enough action. This is a beautiful former textile factory which tells the story of cloth and weaving in a fashion which will be appealing to every visitor, whatever their age.

The Textile Museum in Tilburg is one of the few Dutch working museums. The renovation of the historic textile factory that houses the museum has created a space which retains so much of its original industrial charm but it also displays modern fabric-making techniques, groundbreaking technology and the essential café and shop; and all in this former damask-weaving mill.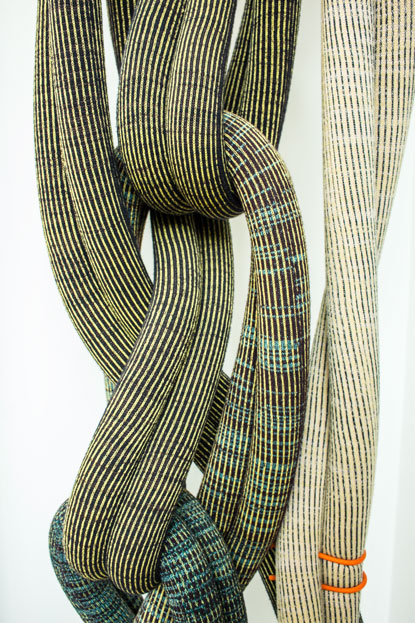 Textile has played an important part in the history of Tilburg, and you can learn all about it at the museum. The industrialization of the Netherlands greatly affected the world of textile production here, which developed from just a small cottage industry with hand-weaving looms. This industry evolved to those large factories with hundreds of steam-driven machines able to do the work of many home-workers in a fraction of the time and with more predictable quality.

The Textile Museum uses every medium to transport the visitor back to the Dutch textile industry from around 1860 and then on to modern times. There are beautiful lengths of cloth, works of fabric art and associated objects from the 19th, 20th, and 21st centuries. One can see the punched card 'software' and looms that used this first 'computerised' system, working in the same way as Victorian Pianola pianos which could play by themselves!

In the TextielLab, visitors can enjoy the unique experience of watching designers, artists and architects at work. They will likely be using the modern machines in the factory to create art as well as clothes, and all with texture, colour and imagination. One might find some textiles with Marilyn Monroe laser-cut to create a fabric portrait. Sewing machines produce intricate designs which might later be seen on the streets around The Netherlands, decorating flags, caps and bandannas.

There are free daily mini-tours to enhance the museum experience. Guides will take you for a journey through the most important aspects of the TextielMuseum and TextielLab and will pass on their own expertise. In groups of a maximum of 15 people there will be plenty of chance to ask questions. The shop will be the final stop and that's where one can find some gorgeous mementoes of an outstanding museum.

Daily (Tuesday till Sunday); duration of the tour: 30 minutes, starting at 13:00/14:00/15:00 - registration at the entrance desk.

Address
TextielMuseum
Goirkestraat 96
5046 GN Tilburg
The Netherlands

Telephone: +31 (0)13 536 74 75 (Tuesday to Friday from 10.00 to 17.00)
E-mail: info@textielmuseum.nl

Visit TextielMuseum here




DoubleTree by Hilton Hotel, London – Kingston Upon Thames
There is a new stylish hotel in Kingston and it's a Hilton. But why Kingston Upon Thames? Well, it's a good location for a decent hotel for business or pleasure, in an area which seems to have something of a lack of such accommodation.

But why would you want to go to Kingston, anyway? Kingston is an ancient town and still has lots of well-preserved and beautiful buildings. It's on the banks of the River Thames with a slew of riverside pubs and restaurants which are popular for lunch and dinner on sunny days. Its railway station offers a 28-minute direct train to London Waterloo, with its Underground connections. And this is an ideal business hotel – either hold meetings here or use this Hilton as a base from which to travel into the city.

Kingston isn't named by accident. It's an historic town where Saxon kings were crowned. The traditional open market is still held daily in the Market Place and that is a square worth visiting, with its noteworthy building façades. It's a town oft mentioned in literature, film and television: Victorian humorous novel Three Men in a Boat by Jerome K. Jerome begins here. It's mentioned in H. G. Wells' The War of the Worlds. More interestingly for some, the guitarist and singer-songwriter Eric Clapton spent time busking in Kingston.


Kingston is a fun and interesting day-trip destination in its own right, but it also makes a great holiday hub. It's a convenient location from which to enjoy some of England's most iconic sites, and you won't need a hire car. Richmond is just a short bus ride away, or take a river boat. It's a charming Thames-side town, with the green open space of Richmond Park just a short walk away. Twickenham is nearby and that will be a draw for anyone who might be interested in rugby. Kew Gardens are worth a visit and they are within walking distance of Richmond (or a 5 minute bus ride). Hampton Court Palace was built in the reign of Henry VIII and can be reached by a riverboat from Kingston.

DoubleTree by Hilton Hotel London Kingston Upon Thames offers a comfortable home-from-home from which to enjoy the area. The hotel is easy to reach from Kingston bus stops outside the celebrated Bentalls Shopping Centre, and also from the train station – no need for a taxi. These transport facilities truly are just yards from the hotel, and not a luggage-hauling 20-minute walk; the hotel is just around the corner.

The hotel foyer offers an insight into another part of Kingston's history. This town was the location for three of the wartime factories making parts for the Hawker Hurricane fighter aircraft. There are mementos of that association around the hotel entrance. The welcome will be warm, with cookies which are equally warm – a nice convivial touch. Plenty of casual seating for drinks from the bar or meetings over tea or coffee.


Decor is muted and sophisticated. Rooms are well-appointed with Smart TV, complimentary WiFi as one would expect, and air conditioning as one would hope. A king-sized bed with crisp linen will assure a good night's sleep and the luxurious walk-in shower will offer a reviving start to the day. Upgrade to a Hilton Honors suite and have more space, a private balcony and an espresso coffee machine. There is a 24-hour fitness centre to burn off a few calories and Hawkers Bar and Brasserie to put them all back!

DoubleTree by Hilton Hotel London Kingston Upon Thames is welcomed by locals who have already discovered Hawkers Bar and Brasserie, with its urban industrial design and its thoughtful menu taking advantage of local and seasonal produce. Breakfast is also served here, and is as comprehensive as any good hotel would offer. There's all the items to compile a very full English breakfast, but also a choice of breads, pastries, fruits and juices for those looking for something a little lighter. It also stands to become the hotel of choice for those who need to work. It's an accessible half-hour directly to or from central London, and a short hop to Heathrow, so its conference space will be appreciated by UK and overseas businesses and their delegates.

DoubleTree by Hilton Hotel London Kingston Upon Thames
1 Skerne Road
Kingston upon Thames
KT2 5FJ

Phone: +44 (0)20 3096 0099

Fax: +44 (0)20 3146 4130

Visit DoubleTree by Hilton Hotel London Kingston Upon Thames here.



Best of England Vineyard Tours
Many of us have become interested in wine. Yes, drinking it and pairing it. Remember the days when we in the UK drank just a few different wines? It wasn't that they were so good that they became popular; truth to tell, it was all we had. Red or white from 'various countries'. They were not different bottles from various countries but often bottles made with a blend of grapes from various countries. Rosé came in the guise of Mateus Rosé in its distinctive flat bottle. OK, I admit it, I still have a taste for that retro classic; I guess it's familiarity.

Things have changed. We are more discerning and we are interested in not only what's in the glass but where it came from. If it's delicious then we want to learn more, and one might discover that the crisp sparkling white in our glass actually comes from England! It's documented that Christopher Merret used the addition of sugar to a finished wine to create a second fermentation, 40 years before it was claimed that Benedictine monk Dom Pérignon had invented the process which came to be called the Champagne method.

Best of England is a young and vibrant company which publishes English county guides, and now they have tours to offer visitors from the UK and across the globe. The company has quality at the heart of both books and tours. They research so you don't have to, and they offer well-tailored trips to delight the novice wine buff as well as those with a more professional wine interest.

An English vineyard tour with Best of England is a tasting delight. One can opt for a short tour with afternoon tea, which might sound like something of an oxymoron but what better backdrop for a classic afternoon tea could there be than a lush vineyard …and a glass or two of something chilled, sparkling and reviving!

For those who are looking for an intense 3-vineyard experience then Best of England has a tour to satisfy that want. One will see how these wines are made, from growing vines to corking and labelling the final product. Visitors will meet the winemakers and hear their individual stories, and there will be an opportunity (of course) to sample the wines.
Included:
Bolney have been making wine since 1972. Their wines are well-regarded and can be enjoyed in this family-run winery. The estate is 39 acres and has a café offering gourmet lunches, as well as tastings.

Ridgeview is another family-run vineyard, outside the picturesque village of Ditchling. It has outstanding views over the dramatic South Downs Ridge. They produce award-winning sparkling wines using traditional methods.

Rathfinny Wine Estate is found in the Cuckmere Valley and three miles from the sea. The vineyard is 600 acres and over the past three years they have planted 72 hectares of vines; by 2020, they will be one of England's largest vineyards. All the buildings here have been constructed with locally sourced materials, using sustainable technologies such as photovoltaic cells and wastewater recycling. Rathfinny Estate have worked with the National Trust and the South Downs National Park Authority to open the 'Rathfinny Trail' so that visitors can arrive by foot or by bike.

All of these established and thriving wineries show different philosophies of production and growing, giving an impression of the progress made in English viticulture over the past decade.

Best of England make wine education fun and accessible, whether you are novice or professional. They arrange everything for a stress-free day of tasting in the most delicious fashion. Just turn up at the railway station and leave the arrangements to this imaginative company.

Learn more about Best of England here.



Between Heaven and Earth – Atelier NL
It seemed unlikely. A pottery in a church in Eindhoven. But here it was and it is indeed a divine space in which to sympathetically develop well-designed products from natural clay. But not just any clay – this is Dutch clay.

Nadine Sterk and Lonny van Ryswyck studied at Eindhoven's Design Academy, working on projects together and travelling lots. After graduating in 2006 Nadine and Lonny founded Atelier NL. Atelier is French for workshop, and the partnership designs and produces pottery but they also offer masterclasses to educate, inspire and excite visitors. Their work combines geology, chemistry and artistry.

Nadine and Lonny are the potters who have turned a dream into a reality, and in a building that had more to do with heaven than earth. This is a perfectly proportioned space, with the original church's stained windows giving a nod to its former incarnation. There is a mezzanine floor with steep and precarious stairs, but the visitor will be more interested in the impressive tile-wall.


The wall of tiles doesn't, however, look like a corner of a contemporary bathroom showroom. These small tablets of clay are made from Dutch soil, they are in natural earth tones, and it looks like there are thousands of them. They are all stamped and hanging on nails to give an indication of the diversity of the soil here in the Netherlands.

The tile-wall is a collection of clay samples from each farm in the Noordoostpolder region. Nadine and Lonny worked with these farmers for many months in order to make these tiles, with each one representing a particular field and carrying its unique plot number.

These women don't go out and buy commercial potter's clay for their tableware, etc – they make it themselves. They have sifted Dutch soil into a fine powder free from impurities. All these powders have different colours, as displayed in all those aforementioned tiles. The powder is mixed with water and kneaded to become clay which can be worked and pressed into moulds. Their pieces are functional, tactile and natural. Yes, they might be described as rustic but that rusticity has its own elegance.

Think for a moment about still-life oil paintings. Their subject matter was so often a display of vegetables on dishes that had just the same qualities as those made here at Atelier NL. They had earth hues and were beautiful in their simplicity. These modern dishes are not for a showcase but for the table – they should be used! One could imagine that chicory served on these dishes might have actually grown in the ground from which the plate was made.


And talking of Dutch Masters, Atelier NL has created a palette of almost 300 colours from earth found around the town of Neunen, where Van Gogh lived and worked. The Atelier offers a workshop where one can learn how to make paints directly from soil, using traditional methods which would have been familiar to Van Gogh, his contemporaries and to artists for centuries before.

Atelier NL also produces glassware, but with that same ethos of base ingredients from the land. Their 'ZandGlas' line features designer glass tumblers and decanters which are made from fused sand from the coast of Southern Netherlands. Zandmotor, or 'Sand Engine', is an artificial peninsula created in 2011 to reinforce that part of the Dutch coastline. It was designed to use sea currents and winds to spread sand along a length of coastline which was fast eroding. This project will also create wider beaches, which will be an asset to the local community and wider tourism.

ZandGlas (or sand-glass) has a pale sea-green hue, unfussy lines and good balance. The tumblers have perfect weight and hand-feel, making this a collection that would grace a formal dinner table but would equally work as vessels at a casual lunch. Once again Atelier NL tells a story.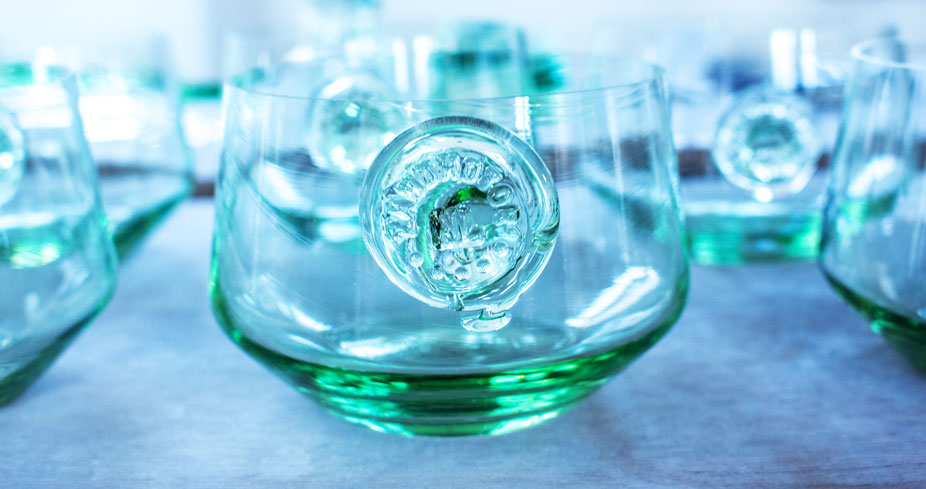 Atelier NL
Bergmannstraat 76
5615 KG Eindhoven
The Netherlands
Email: info@ateliernl.com
Phone: 040 - 787 63 91

Visit Atelier NL here

Learn more about Eindhoven here

Learn more about visiting the Netherlands here.




Montcalm Hotel - Finsbury Square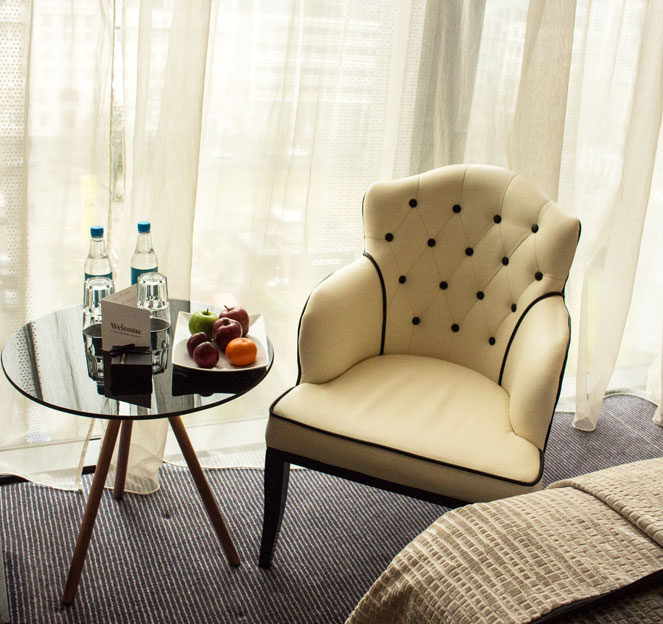 London attracts tourists and it has done for generations. The city is still an international financial hub, and London has a vibrant creative arts scene and an energetic restaurant industry. But where can one stay to be within easy reach of both work and play in this cosmopolitan and magnetic corner of Europe?

Finsbury Square is in central London. It is a grassy open area which was originally developed in 1777 on the site of a previous green spot near Moorfields. It's conveniently close to the transport links of Moorgate station, Liverpool Street station and Old Street station. Lots of bus routes connect the Square with other parts of London. A 76 bus can be found just around the corner, which will take a visitor past St Pauls Cathedral, down Fleet Street, past the historic Law Courts (often seen on BBC broadcasts) and across Waterloo Bridge to the eponymous train station via the South Bank with its numerous festivals.

Anyone keeping an eye on trending eateries and bars in London will have discovered Shoreditch. It seems like every new restaurant or drinking establishment is opening its doors to this buzzing neighbourhood, and it's not far away to the north.


The new Montcalm is close to the financial district, offering quick and easy access for those unfortunate souls who are here to work. Go to the 10th floor Aviary bar and restaurant and stand out on the open-air terrace to see how close those iconic city buildings might be. That's a glorious place to be on a sunny day. Breakfast is served here, and a very fine one it is, too. They offer all the usual suspects – everything from a Full English to fruit and yoghurt – but don't miss the breakfast bars of considerable dimensions, which are packed with grains and cereals and dried fruit.

This hotel exudes sophisticated chic. There is a spa, a gym (likely appreciated by those chained to the office), two restaurants, meeting rooms – everything a discerning business guest might expect from this standard of accommodation. But it's the wall treatments and use of leather and unique light fixtures that impress. It's rather masculine but in no way tacky or testosterone-driven. It's a hotel that will likely have near-universal appeal.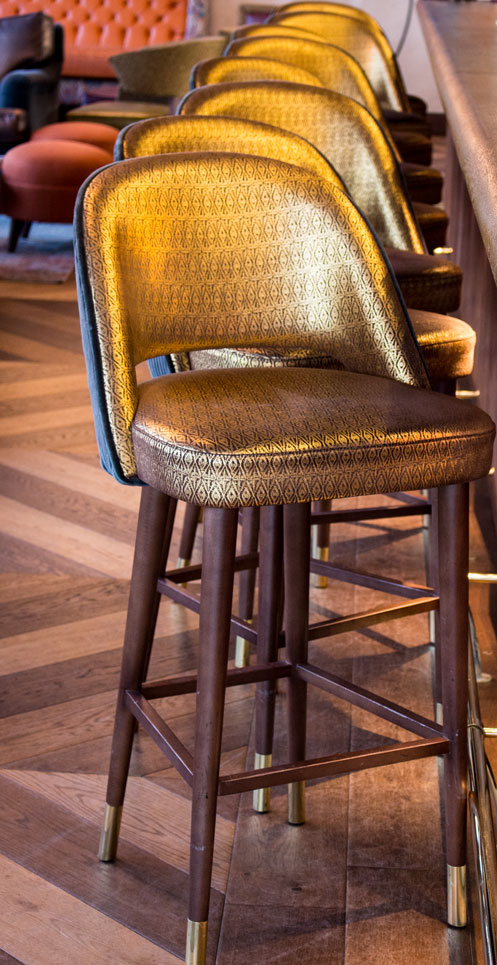 The relaxing neutral shades punctuated by dashes of bold colour and the twinkle of contemporary chandeliers speak of accessible luxury. The rooms are well-proportioned, and appointed with state-of-the-art technology and fixtures to inspire anyone considering a home-remodelling. Bathrooms are spacious with shower cubicles in which to roam in rain. The technology extends to wall-pad controls for lighting and air conditioning. All very sleek and marvellously understated.

Montcalm Royal London House is very much to my taste. In the end a reviewer can only express that, and its outstanding location speaks for itself. It's perfect for those needing access to the city but it's also ideal for the family which might be travelling with them. There is plenty to see and do just a short distance from the hotel, and the transport links will allow the visitor to enjoy much of iconic London from the top of a red bus.
I am happy to recommend Montcalm Royal London House for its attractive and polished presentation and individual charm.

Montcalm Royal London House City of London
22-25, Finsbury Square
London, EC2A 1DX

Tel: +44 (0) 20 3873 4000
Fax: +44 (0) 20 3873 4249

Email: info@montcalmroyallondoncity.co.uk

Visit Montcalm Royal London House here.




Vietnam Eye – Contemporary Vietnamese Art
This is the most comprehensive tome on contemporary art in Vietnam today. It is a page-turner for any art lover but it also appeals to the traveller.


Vietnam has developed in every way over the past decade. The world has access to its culture, food and landscape, along with its traditional art. But Vietnam also has an evident and thriving contemporary art community and much of the work of those artists is showcased in this superb book, Vietnam Eye – Contemporary Vietnamese Art. There have been more than half a dozen other volumes in the "Eye" series, covering Malaysia, Hong Kong, Korea, Indonesia, Singapore and Thailand, and this one is dedicated to dozens of emerging Vietnamese artists.

The book is edited by Serenella Ciclitira and published by SKIRA. Alongside detailed information on each artist is an in-depth look at Vietnam's burgeoning and popular art scene. This is an essential book on the fresh art of Vietnam. It will appeal to artists of every genre but also to those who have visited this remarkable country.

There is so much between these pages that is both beautiful and thought-provoking. I love the sensitivity of the realist art of Tran Van Thuc. These life-like models of old women speak volumes on the passage of time and the aging human condition. Le Thuy presents silk painting of outstanding quality: the 'Order' series is subtle and beautiful. Le Vu offers humour in the guise of instant noodles posing as a bed – a full-size bed!

Vietnam Eye – Contemporary Vietnamese Art is a joy. It's sumptuous and disturbing in equal measure. It presents stories on bright canvases. It looks at Vietnam through the eyes of the Vietnamese. It begs the viewer to ask questions. It touches on tradition and innovation – and displays local materials and techniques along with those from the west.

Editor Serenella Ciclitira has an honours degree in art history from Trinity College, Dublin and has worked extensively with artists and galleries throughout the world.

Vietnam Eye – Contemporary Vietnamese Art
Paperback: 280 pages
Publisher: Skira Editore
Price: £38.00
ISBN-10: 885723360X
ISBN-13: 978-8857233604



Penrhiw Hotel St Davids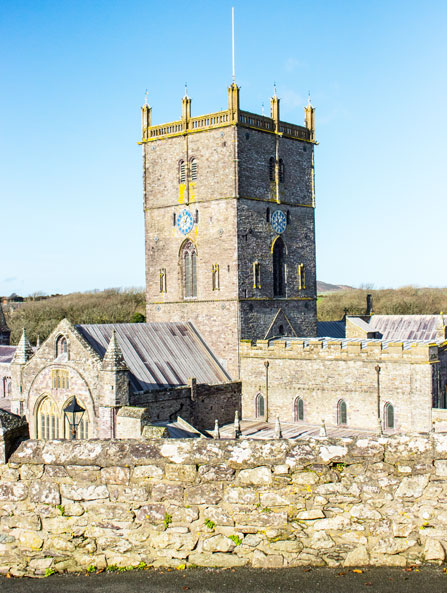 St Davids will tick so many boxes for those looking for a quiet retreat for a few days. A corner of the UK with natural charm, history, fresh air, good food and quiet – at least outside peak summer popularity.

St Davids has its beautiful Cathedral, making this small town technically a city and the smallest city in the UK. It's perhaps at its most beautiful in the spring with a backdrop of blue sky and the yellow sheen of daffs all around. And autumn brings its own tapestry of rust hues. The coast isn't far away, with its magnificent beaches and walks.

But where to stay? Penrhiw Hotel St Davids is just a few minutes' walk from the cathedral door. That isn't estate agent speak for a brisk canter of a brace of miles. This former vicarage truly is conveniently placed for both town and cathedral, but with the tranquillity of nature as far as the eye can see.

Penrhiw was acquired by the Griffiths Roch Foundation in 2009 and reopened as a luxury eight-bedroom hotel in 2012. It's a hotel but with the persona of a home. Granted, that home is grander and better situated than the abodes of many of its visitors, me included, but it has that air, nevertheless. It was built in the 19th century amid acres of private gardens, with mature trees, woodland paths, a river, and views over the surrounding countryside.

Penrhiw Hotel is a lovely example of Victorian architecture in a style which has been described as Tudorbethan, although the house dates back to an era before that phrase became popular at the turn of the 20th century. There are also two beautiful fireplaces with decorative tiles by William De Morgan, the celebrated Arts and Crafts ceramics maker. Its interior has been splendidly restored, retaining features of its semi-ecclesiastic past. There are niches, gothic doors, woodwork aplenty and neutral colours.


The public rooms are cosy and all rooms are well-proportioned. The walls are hung with contemporary art canvases and all mod cons are here, as one would expect from 5-star accommodation. There is an honour bar in the dining room, and a tea and coffee station. There isn't a restaurant, although a cooked breakfast is served here. Don't miss the Welsh speciality of laverbread. There are complimentary transfers available to the AA-2-Rosette Blas Restaurant at Twr y Felin for dinner; it's also part of this group of notable hotels. Luggage transfers are available for guests staying at either of the sister hotels, the abovementioned former windmill Twr y Felin, or 12th century Roch Castle. (See my reviews here.)


The staircase is carpeted with leather and there are rugs of the same material in some of the bedrooms. The owners have made all three of their hotels comfortable for those with allergies. There are six rooms in the main house. Our room sported a large and comfortable four-poster but a modern take on that bed. The bathroom was as big as many a lesser hotel bedroom, with a shower cubicle of considerable size. Penrhiw Hotel, St Davids, was awarded AA Five-star Gold guest accommodation in 2016 and it's easy to see why.

Penrhiw Hotel is an ideal bolt-hole for a quiet weekend away but one can also hire the whole place for a family reunion, a wedding or celebration of anything for the discerning. It offers privacy with amenity and seclusion, with all the trappings of a city, albeit the smallest in the UK, just 10 minutes' walk away. We will return.

Penrhiw Hotel
St Davids
Pembrokeshire
SA62 6PG
Wales

Phone: +44 (0)1437 725 588

Email: stay@penrhiwhotel.com

Visit Penrhiw Hotel here



Mark Hellyar at Chateau Civrac and Honest Grapes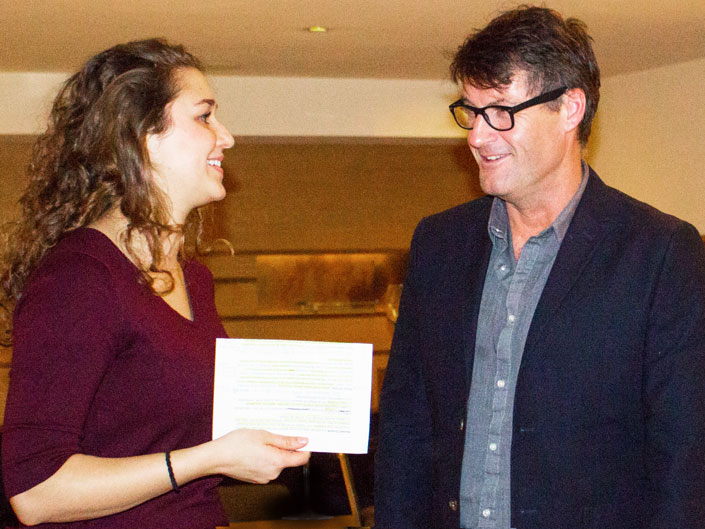 What a kind invitation! A food and wine pairing evening at impressive Lutyens, off Fleet Street… and Cornish wine! Well, no, not really – the wine is French and very good too. The maker is Cornish and that, strangely, might give him some advantages: he has an appreciation of the British wine palate.

Cornishman Mark Hellyar changed careers a few years ago to start producing wine in Bordeaux. He is from Padstow where his family have farmed for a couple of hundred years, so he does indeed have a connection with land and cultivation. Cornishmen have long had a reputation for being independent and rebellious, and with that genetic sense of adventure Mark sold the software company he was running in order to start a new phase of his life. Now the resulting wines are found at celebrated Michelin-starred restaurants and in the cellars of the discerning.

Mark Hellyar of Chateau Civrac is a Cornishman in Bordeaux. The wines are contemporary and made with the British consumer in mind. Mark's wines are hand-made in small quantities thus giving the opportunity to tailor wines for individual and complex character and ever-changing nuances. There is nothing dull or banal from Chateau Civrac. Mark wanted to make wines that were different from classic Bordeaux and his wines have a New World quality about them, with more subtle tannins, and which perhaps have more in common with those he discovered while working in California and South Africa.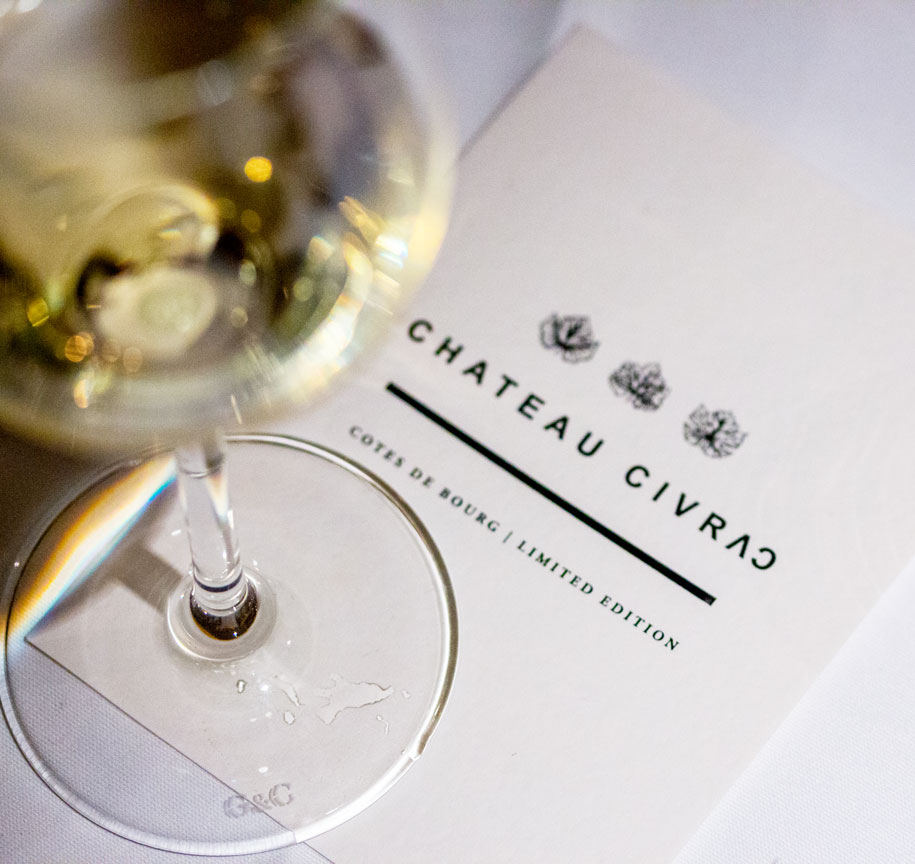 Chateau Civrac has developed a noteworthy Sauvignon Blanc called Wild White which isn't a hippy-inspired vintage as the name might suggest. The 'wild' element comes from the French Sauvage and Blanc for white – a little linguistic toying. We tried this and several other outstanding wines at the Honest Grape food and wine tasting, and everybody was impressed by Mark's offerings.

But what are Honest Grapes? It's actually more of a bunch of who's rather than what's. They are a group of wine enthusiasts, wine professionals, and friends who have created something of a one-stop wine site which offers suggestions and invitations to events. They hold regular pairing dinners and single-variety tastings which will excite anyone who enjoys good wine, and anyone wanting to learn more.

Honest Grapes supports independent growers, small producers and importers, allowing their guests to taste wines that they won't be able to find easily elsewhere. There are wines for quaffing with Sunday lunch and others suitable for celebrations and impressing the in-laws; there might even be a cheeky bottle or two appropriate for an evening in front of the television enjoying 'The French Connection' or 'Julie & Julia'. This is a marketplace for interesting bottles, well-chosen vintages – and delicious diversion.


I am no wine expert and I am not a chef but I really enjoyed this pairing evening. Honest Grapes presents events that will appeal to food lovers who will appreciate learning more about how wines not only accompany dishes but actually enhance them. But any dinner party is just as much about those folks sitting around the table as what's on it. These evenings are convivial. One might not know the others but everyone has something in common – love of great food and excellent wine, as furnished by Lutyens and, in this case, the charming Mark Hellyar (whom I hope to interview in the near future).


Learn more about Honest Grapes here

Learm more about Mark Hellyar and his wines here



Current articles
Click the menu options for more - much more...