Click here to enter our

Competitions
It's all about travel and food - lots of international excursions, culture and history, hotel, destination and restaurant reviews.
Please look elsewhere for negative reviews.


Latest News!
CAU Restaurants celebrate #CAUnival in association with DJ BBQ and Action Against Hunger

This August 2016, CAU Restaurants, the restaurant group offering contemporary cuisine inspired by the vibrancy, colour and cultural diversity of Buenos Aires, will once again launch its 2nd annual #CAUnival festival, across all 18 UK sites, in collaboration with barbecue sensation Christian Stevenson aka DJ BBQ.

A charitable campaign in support of international humanitarian organisation Action Against Hunger, #CAUnival is a month-long restaurant festival, inspired by the South American Dia del Amigo - a public holiday across Argentina, Brazil and Uruguay that celebrates friendship, kindness and sharing - values that CAU and Action Against Hunger both share.


THIS #CAUNIVAL - THIS BURGER
Save room for the star of the show. Dream-team chefs DJ BBQ and CAU Executive Chef James Garland have together created the best-tasting burger this side of the Pacific. A unique South American-inspired 6oz cheese-topped beef burger that will feature as the must-try festival special on the menu this August, available at all CAU restaurants. Comprising of tasty cuts of chuck, flank and brisket, supercharged with bone marrow, topped with a smooth slice of Monterey Jack, the #CAUnival burger is not for the faint-hearted. Packed with big, juicy flavours, designed to get the senses racing, this burger comes with a generous topping of homemade chimichurri for that extra blast of heat and finishing touch for a perfect mouthful.

For every #CAUnival burger ordered, £1 will be donated to Action Against Hunger. To provide some context, just £1 could provide a day's nutritional supplies/therapeutic food for the treatment of a severely malnourished child.

Feast your eyes on the special #CAUnival set menu including Pollo de Coxinha - classic Brazilian street-food croquettes made with chicken and coriander; Coconut Monk Fish - miso marinated fish cheeks in a coconut milk broth with ginger, lime and chilli; and Bean Feijoada - slowly braised squash, peppers, berlotti beans, kale, tomato and paprika, topped with Aji Amerillo infused yoghurt and grilled flat breads.

Throughout August, on-site events, promotions, charity raffles and silent auctions will take place nationwide across the CAU estate to celebrate the month of festivities.

Feeling lucky? A fully interactive social media competition will allow you to be in with a chance to win weekly prizes including meals for four at CAU, premium Spotify memberships, cases of CAU own-brand wine and pairs of Converse trainers. The big one to play for will be a Quilmes-sponsored trip of a lifetime for two people to visit Buenos Aires, for a first-hand taste of local Argentinian culture and lifestyle.

Diners will also be treated to a bespoke #CAUnival playlist that will be built and played in each restaurant, with a limited edition playlist created especially by DJ BBQ, to be made available on vinyl.

So, jump feet first, get involved and show your support for the Feast of Friends, this #CAUnival!


**************************
Top cycling routes in the UK – Great for Travellers who love cycling

If you're looking for a little inspiration on where's good to get out and about, Merlin Cycles have scoured the land to bring together 11 best tracks and trails from each region in the UK, perfect for your two wheels.


Isle of Arran, Scotland
If you've been a cycling lover for some time now, then it's likely that you've already paid a visit to the Isle of Arran. Situated just off the west coast of Scotland – its closest big city is Glasgow – the Isle has beautiful rolling hills and a real tough and rugged landscape, but don't be put off. It may seem small but it is packed to the seams with all manner of trails ranging from easy to severe, so there's something for everyone! The distances vary too, so there are simple six-mile trails if you're off on a family day out, and 21 milers with extreme hills if you're looking for a challenge.


Hamsterley Forest, Durham, North East
With over 2,000 hectares of forest and more than 33 miles of forest trails to explore, it's no surprise that Hamsterley Forest comes out as our top pick for the North East region. Whether you're looking for a leisurely cycle with the family or for some adrenaline-pumping mountain bike action, this is the destination for you.


The Cinder Track, Yorkshire and the Humber
Stretching up the coast from Scarborough to Whitby, the Cinder Track gives you the secluded ocean tour that you've always dreamed of. It's a decent distance of 21 miles, so it's perfect for a day trip. Why not pack a picnic and take in the incredible sea views, visit some secret coves while you're at it and pop into a couple of the historical sights you'll come across along the way?


Windermere, Lake District, North West
If you're paying a visit to the North West of England, you can't miss the Lake District. And if you're in the Lake District on a cycling adventure, you may as well visit Windermere. One of our favourite cycle routes in this region takes you from Kendal to the town of Windermere, and we promise that it is one incredible treat for the eyes. 11.5 miles of undulating country lanes and cycle paths mixed with gorgeous views of the River Kent. You'll certainly be back for more.


Castlerock to Giant's Causeway, County Antrim, Northern Ireland
With breathtaking views of the Atlantic Ocean, you'll certainly enjoy your fair share of seaspray on this coastal journey. There are a few hills throughout the ride but the end result is certainly worth it! You'll finish your adventure at the visually stunning Giant's Causeway, so make sure you set off early in the day so you have plenty of time to explore and take pictures! It's a once-in-a-lifetime place to visit!


The Monsal Trail, Peak District, East Midlands
At a leisurely 8.5 miles and a completely traffic-free route, the Monsal Trail is perfect for quiet family days out. You'll be heading straight through the heart of the Peak District so you'll be enjoying gorgeous forest views and breathing in lungfuls of fresh air. There are plenty of trails for you to choose from depending on what kind of adventure you're looking for.


The Green Way Trail, Stratford Upon Avon, West Midlands
Starting in the historic town of Stratford Upon Avon, the Green Way Trail is 17 miles long and takes you through some of the region's typically quaint and little English villages and hamlets. It's perfect if you're looking for something to do one sunny Sunday. Whilst you may encounter the odd hill, there's nothing too steep or tiring and you can take plenty of breaks along the way whilst taking in the spectacular views.


Marston Vale, East England
Perfect if you're not looking for anything too tiring, the Marston Vale consists of two 4km loops in a figure of eight. Both tracks are fully surfaced so you've got a completely smooth ride ahead of you. You'll get to enjoy some incredible forest views, as well as some gorgeous lake scenery. If you're thinking of a fun- and jam-packed day out in the fresh air, then this is the trail for you.


Elan Valley Trail, Wales
Wales is famous for its breath-taking views, and there will certainly be plenty of those if you head out on the Elan Valley Trail. It's an 18-mile round trip where you get to take in some incredible views of the reservoir whilst nestled in a valley of beautiful rolling hills. Perfect for a couple of cycling enthusiasts who are looking for a great day out, it's also ideal if you're thinking of getting into off-road cycling.


Forest of Dean, Gloucestershire, South West
The Forest of Dean is one of the most beautiful places in the country. Often considered to be a fairytale forest, if you head there in spring time and summer you'll be greeted with glorious blue skies and blankets of coloured flowers. With distances ranging from three to 11 miles, it's perfect for both families and keen mountain bikers. The terrains vary dramatically, ranging from completely flat to some hills that are near vertical – are you ready for an adventure?


Tudor Trail, Kent, South East
Running from the spectacular Tonbridge Castle to Penshurst Place, the Tudor Trail takes you right through the centre of the market town and gives you glorious views of the countryside along the way. Your journey will be mostly off-road, giving you a better adventure than just sticking to the pavements, but your efforts will certainly be rewarded.


**************************
Demijohn Grapefruitcello Liqueur
Angus and Frances founded Demijohn in 2004 in Edinburgh's Old Town. It was the World's first liquid deli. They now have shops in Edinburgh, Glasgow, York and Oxford, with a mail order business and a growing wholesale distribution of their products throughout the UK. They are places where, if one is lucky enough to live nearby, there are delightful taste experiences to be had!


They have a menu of predominantly British products such as liqueurs, whiskies, wines, spirits, olive oils and vinegars from small artisanal British producers. It's about quality with this small company.

It's easy to enjoy the Demijohn experience. First choose your bottle - and they have some beautiful ones. You can add a hand-written message tag if this is to be a gift …and if your handwriting is better than mine. Demijohn will handwrite the product label, adding still more to the artisanal impression. These bottles are part of the gift that keeps on giving. They can be returned and refilled and you will obviously only be charged for the liquid! This can also be done by post for those using mail order.

Grapefruitcello Liqueur is truly unique, a handmade British liqueur which can be drunk over ice or mixed into cocktails, although I think it would be a shame to adulterate its striking character. It's a vodka-based drink but with the unmistakable vibrancy of citrus.

This is a grapefruit version of Limoncello Liqueur and can also be enjoyed with a strong mid-morning coffee. It is made by Hilary Blackford in Gloucestershire. It is striking, with not only the flavour of grapefruit but also that unmistakable tongue-tingle which one gets while eating the fresh fruit. This isn't the first liqueur from Demijohn that I have tried and it's up there with the best of them.

I would recommend Demijohn for gifts of distinction but I would counsel you buy two of your chosen product as you will likely want to keep one of these delightful bottles.

Visit Demijohn here


**************************
Oxford Range – Contemporary and Classic

Picture Oxford University – that truly is a beautiful sight. The legend of Oxford's birth says that Oxford University was founded in 872 by Alfred the Great. There is evidence of teaching as far back as 1096, making it the oldest university in the English-speaking world, and the world's second-oldest surviving university. Established in 1683, the Ashmolean Museum is the oldest museum in the UK and one of the oldest in the world. It houses the University's extensive collections of art and antiquities, going back four thousand years.

Packaging makes such a difference. Whilst the goods within might be outstanding, it's true to say that we eat with our eyes. The Oxford Range is gift-quality in every regard. Many of the products are in distinctive blue with the University crest, making this very English collection the ideal gift for discerning food-lovers in the UK, but also for overseas friends who will appreciate the delicious biscuits, teas and chocolates as well as the timeless good taste of the Oxford Range. The Oxford Range draws inspiration from the beauty, culture and rich heritage of the University town. It includes teas, biscuits and chocolate, all crafted to ensure the finest quality in both textures and flavours.

Arjun Mehta, CEO of Oxford Food & Beverage Limited, describes the Oxford Range as "an enticing fine-foods offering with Britain's beloved tradition of tea-drinking at its heart." Oxford's selection of teas caters to a range of tastes, from the traditional British flavours of English Breakfast Tea and Earl Grey Tea, to the delicate and subtle notes of Green Tea with Jasmine, and Pure Peppermint Infusion. Delightful flavours can be found in the scrumptious Lemon and Ginger Biscuits and the wonderfully moreish All Butter Shortbread Biscuits. The rich Belgian Chocolate Neapolitans are sure to satisfy with both Classic and Assorted options, the latter including delicious pairings such as Dark Chocolate with Almonds and Milk Chocolate with Sea Salt.

There are further plans to expand the range in the coming year, adding both table accessories and coffee to complement the existing collection of products. Commenting on the partnership, Chris Evans, Managing Director of Oxford Limited, University of Oxford, says: "We are delighted to be working with such a high quality and capable partner to create our teas, biscuits and chocolate. The rich heritage of the University of Oxford has been translated into wonderful products and we are thrilled with the progress that the range has already made around the world."

The Oxford Range will be made available to purchase in supermarkets and retailers worldwide, launching in the UK, with short-term plans to expand across the Middle East as well as the USA, India and Europe.

Oxford Food & Beverage Limited is promoted by The East India Company which is owned by Mr Sanjiv Mehta (UK), Mahindra Group (India) and Mr Yusuf Ali (Lulu group, UAE).

Website: www.OxfordRange.com


Rafute - Okinawan braised pork belly
This is one of my favourite ways of eating pork. Rafute is flavourful, tender and moreish. It's a dish popular in Okinawa in the far (very far) south-west of Japan. It's traditionally made with two local staples – Awamori, which is Okinawa's celebrated spirit, and the island's brown sugar, which is often made into candy.


I have substituted Japanese sake or western vodka for the Awamori which isn't very readily available outside Japan, and I have used dark brown sugar instead of the classic Okinawan sugar, kokuto, which I have never found in London. The flavour will be a little different from the original dish but it will still be delightful.


Ingredients:
1 kg piece boneless pork belly, skin on
250 ml dry sake or vodka
125 ml dark soy sauce – preferably Japanese
120 g dark brown sugar
130 ml mirin
8 thin slices fresh ginger

To serve: English mustard or French grain mustard, and soy sauce.


Method:
Place the pork belly in a large saucepan, cover with cold water and bring to the boil. Boil for 2 minutes, then remove the pan from the heat, discard the water and rinse any scum from both pork and saucepan. Return the pork to the pan and cover with cold water. Place over medium heat and bring to a gentle simmer. Cover and cook for 1 hour. Or place in a slow cooker (crockpot) and cook on High for 2½ hours.

Remove the pork from the pan or slow cooker, reserving the cooking liquid, then cut the meat into 5 cm squares. Place the pork pieces in another saucepan and add the sake or vodka, soy sauce, sugar, mirin and ginger. Add enough of the reserved cooking liquid to cover the pork by half a centimetre. Cover and cook over medium-low heat for 1½ hours or until the pork is very tender. Remove the pork and keep warm but continue to cook the liquid to reduce a little. This should take 5 or 10 minutes.

Arrange the pork pieces in a warm dish and pour over the braising liquid (you can freeze the remaining liquid for future use). Serve with Japanese vegetables and tofu, with mustard and extra soy sauce on the side.




Canela Café at Seven Dials
Yes, if you look for them, there really are seven dials and they are affixed to a column at the intersection. A blue plaque commemorates the spot where Beatles manager Brian Epstein had his music management company, NEMS - North End Music Stores. The plaque was officially unveiled in 2010 by the late Cilla Black.

Canela Café is small and cosy. Its high ceiling and Victorian urban windows add character to this eatery. Its paintwork and marble-top tables and chandelier remind one of such places all over Europe, but the map on the wall points emphatically to Portugal!

Produce comes directly from Portugal and the menu features iconic dishes. There is charcuterie, cheeses and wine from regions around the country. Pastéis de Bacalhau - Salt Cod Croquettes - and Croquetes de Carne - Meat Croquettes - are popular and might even be sold out by dinner time.


But there are less familiar dishes which are also outstanding! Dip de Beringlela Assada com Pão Tostado - Roasted Aubergine Dip and Toasted Bread - is a little starter for which I now crave. Granted, this isn't a colourful preparation, it's difficult to encourage an aubergine to look anything other than beige. But this doesn't taste beige! It has a combination of texture and flavour which is remarkable. It's comforting and addictive with a hint of spice, and a must-try at Canela Café.

Sardinhas Portuguesas com Pimentos Assados e Limão - Premium Portuguese Tinned Sardines with Roast Peppers and Lemon - might also not sound exciting, but tinned fish of every kind is celebrated in Portugal, and Spain, too. The best restaurants serve them and sometimes even in the actual tin, such is their status! Try them here along with a glass of red – Portuguese, of course.


Alheira frita e Ovos de Codorniz - Traditional Smoked Game Sausage and Fried Quail Eggs - must be a signature dish here. I was expecting some traditional-shaped sausages, sliced or whole. But these sausages are little patties of melting and savoury ground meat. They are on the edge of becoming a paté, they are so delicate. The quail egg is in proportion and makes a beautiful presentation.

There are daily Portuguese specials on the menu and they are well worth considering here. The boards of cold meats and cheese are evidently popular, and Canela Café is open all day so it's a bolt-hole for those looking for a hot drink, a nice sit down and a nibble of something sweet.


Pastel de Nata - Portugal's Famous Custard Tarts - are here, and tempt from counter-top stands. They are small and not elaborately decorated. They are simple but are the national dessert of Portugal because they are impossibly delicious, and these ones look just like your grandmother would have made – if she was Portuguese.

I think it would be improbable that one could visit Canela Café and not eat a little of this and that. On this occasion the cake of the day was Cookies and Cream. A gateau of biscuits enrobed in a creamy custard and then left to set into a sliceable cake. I would love their recipe for this …and the aubergine …and those sausages.

Canela had the air of a family-run café with lots of regulars. People might have their favourite table, they will know the waitress and the waitress will know them. It's in central London but this is a transplanted fragment of Portugal and I won't need a passport to return for a coffee – and I wonder what the cake of the day will be?

Canela Café
33 Earlham Street
London
WC2H 9LS
Phone: 020 7240 6926
Email: info@canelacafe.com
Opening hours: 8am–late
Visit Canela here.



Beresford's at Balmer Lawn for a touch of Thai
The New Forest has ponies aplenty but it also has fine hotels and restaurants. The Balmer Lawn is the first and has the second. It's an outstanding hotel with a restaurant which is also noteworthy.

Beresford's has an AA rosette but it is deserving of more. Executive Chef Chris Wheeldon and his talented team produce daily menus using fresh local produce wherever possible. The bill of fare offers flair and imagination and it's delivered with style.

Don't miss a visit to Beresford's, and Lobster Lemongrass Lime Leaf Risotto is a must-try. It has all the aromatic flavours of traditional Thai curries but without the heat. There is nothing to overpower the delicate taste of the seafood.

If you can't get to Beresford's for a while then here is the recipe.


Lobster Lemongrass Lime Leaf Risotto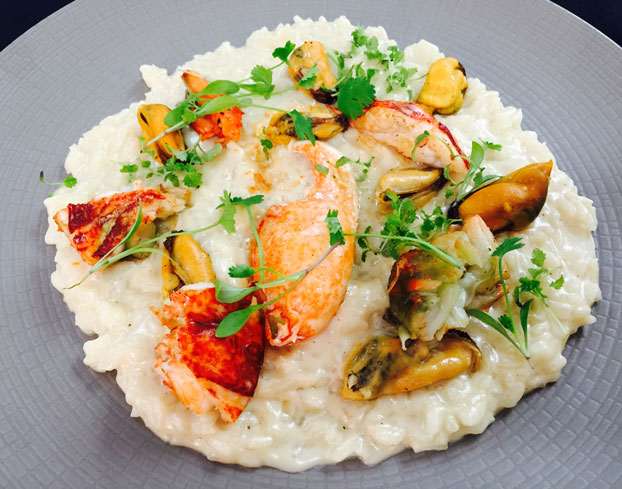 Serves: 4


Ingredients:
1 native lobster
200 grams mussels
3 tablespoons butter, divided
1 glass white wine
3 lime leaves
1 litre kombu dashi stock (available from Asian supermarkets)
2 lemongrass sticks, bruised
1 tin coconut milk
1 shallot, finely diced
1 clove garlic, crushed
300 grams carnaroli or arborio rice
A few leaves of coriander and lemon balm for garnish


Directions:
Cook lobster for 8 minutes in boiling salted water then cool and crack the shells, and carefully remove the flesh.

Check that all mussels are closed. Cook mussels in a tablespoon of butter and the white wine, pick mussels over, discard any that don't open. Keep any liquor and add to your dashi - make sure it is strained to remove any silt.

Cut lime leaves as small as possible and add to your dashi with the lemongrass, and warm through; infuse for 1 hour then add the coconut milk.

Sweat off the shallots and crushed garlic in 1 tablespoon of butter.

Add the rice and cook for a few minutes.

Add the dashi and coconut milk a little at a time stirring constantly. The rice should be cooked in about twenty minutes; it should be cooked all the way through and soft in texture.

Finish with the remaining butter.

Warm the mussels and lobster under the grill for a few moments.

To serve, arrange risotto on the plate, set the mussels and lobster on top, garnish with some coriander and lemon balm.

Learn more about Balmer Lawn here.



The Meat Co, Westfield, Shepherds Bush
I live in West London and I can say with a degree of authority that a decade ago Shepherds Bush was, on a good day, seedy. But since it opened in 2008, Westfield shopping centre has transformed the area and the improvements continue, revitalising a whole neighbourhood.


The centre offers more than 750 brands and has a retail floor area of 150,000 m², and at the time of its opening it was reported to be the second largest commercial centre in the UK. It has outstanding transport links with fleets of buses and the Underground stations of Wood Lane, White City, Shepherd's Bush and Shepherd's Bush Market …and it's set to expand! Westfield is also a leisure destination, with a 17-screen cinema, and restaurants of every hue.


The Meat Co have a London outlet here in Westfield, although they have branches in South Africa, from where the company originates, as well as the Middle East. It's a concept that travels well. With competition being so keen in the hospitality universe, restaurants have first to recognise their core audience, and then present something which will appeal long-term.



This was my first visit. The Meat Co is solid. The design features give a nod to Africa but the restaurant isn't overly themed. The ground floor reception sports hide-covered seats and a sweeping spiral staircase to the first floor restaurant. They can seat a couple of hundred diners, although the 10 metre-high New World Wine wall divides the restaurant so it loses what would otherwise be a hangar-like perspective. Plenty of wood and earth tones here but also some rather impressive wall lamps. These are huge trumpet flowers which add colour and texture in dramatic fashion.


The menu is unsurprisingly meat-driven and there is also a dedicated halal menu reflecting the makeup of many of the diners who are either local or international tourists taking advantage of the retail opportunities at Westfield. There are vegetarian options, some seafood and salads too, but it's meat which dominates.


Chocolate and Beetroot Bread is a small loaf disguised as a sweet potato. It's the same pinkish-brown colour with the chocolate chips appearing as 'eyes'. But the taste is not over-chocolatey so works well with a savoury meal. Try the excellent olives and the iconic South African biltong which is rustic and addictive. Order one of the unique cocktails at The Meat Co. I had a sweet Gingerbread Martini and it's not even Christmas!


Peri-Peri Prawns were my guest's starter. These were well-seasoned with plenty of Peri-Peri sauce and a mound of rice for mopping up. This was originally a Portuguese sauce made in Africa with small and fiery chillies although this version was mild. I chose Chicken Wings with a well-balanced blue cheese sauce which didn't overpower the sweet glaze on the wings; they were meaty and moist. Real sticky-finger food and thoroughly delicious.


Rib-Eye steak was my companion's main course. This was from British animals and dry-aged up to 30 days then wet-aged for tenderness and added flavour. This cut oozed quality as well as juices. When meat is as good as this it doesn't need to be fussed with. It was served simply with chunky chips and some vibrant broccoli with chilli flakes.



Flame-Grilled Butcher Skewer was my substantial and beautifully presented main dish. The meltingly tender chunks of beef were lacquered with the house glaze and separated on the hanging metalwork by pepper and onion slices. I highly recommend this for taste as well as theatre. It's a winner. They offer chicken and lamb versions here as well.


Summer Berry Tiramisu was our shared dessert. A delightful presentation in a preserving pot and that's an idea I will be shamelessly stealing. This was a perfect seasonal end to a meal which showed the restaurant, and indeed the company, in a very positive light. The staff were professional, knowledgeable about the menu, and charming. The food was excellent and the restaurant attractive and, importantly, it's not far from me!


Opening times

Monday – Saturday: 11am – 11.30pm
Sunday: 11am – 10.30pm

Phone: +44 (0)20 8749 5914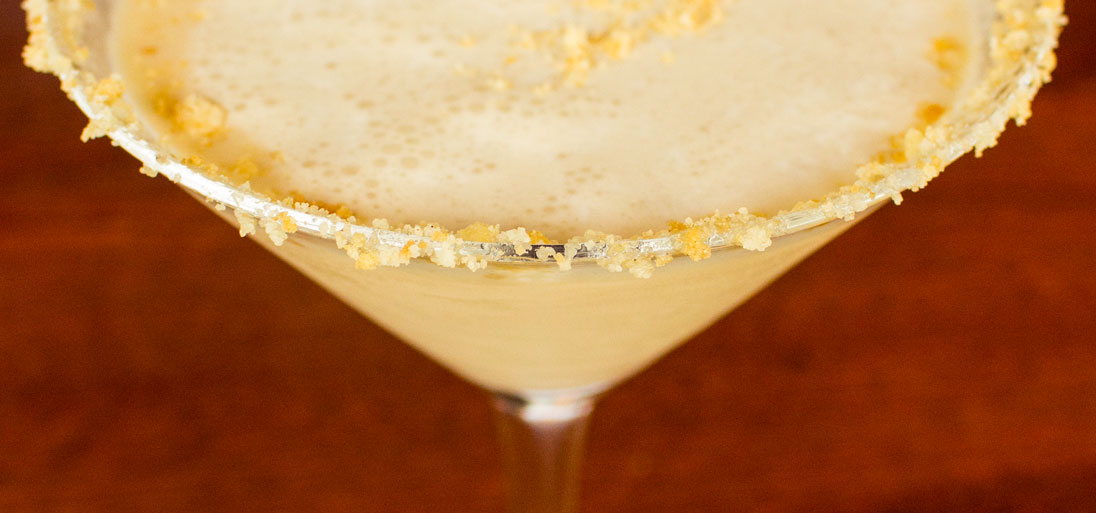 Email: reservationsw12@themeatco.com

The Meat Co
Unit 1026
Westfield London Shopping Centre
Ariel Way
Westfield London
White City
London W12 7GA

Visit The Meat Co here.



Umami: THE FIFTH TASTE
It's a buzz-word these days: Umami. It's a very familiar taste, flavour, sensation on the taste buds but we have only relatively recently put a name to this savouriness, this deliciousness. That's umami; but how is it viewed with regard to sake?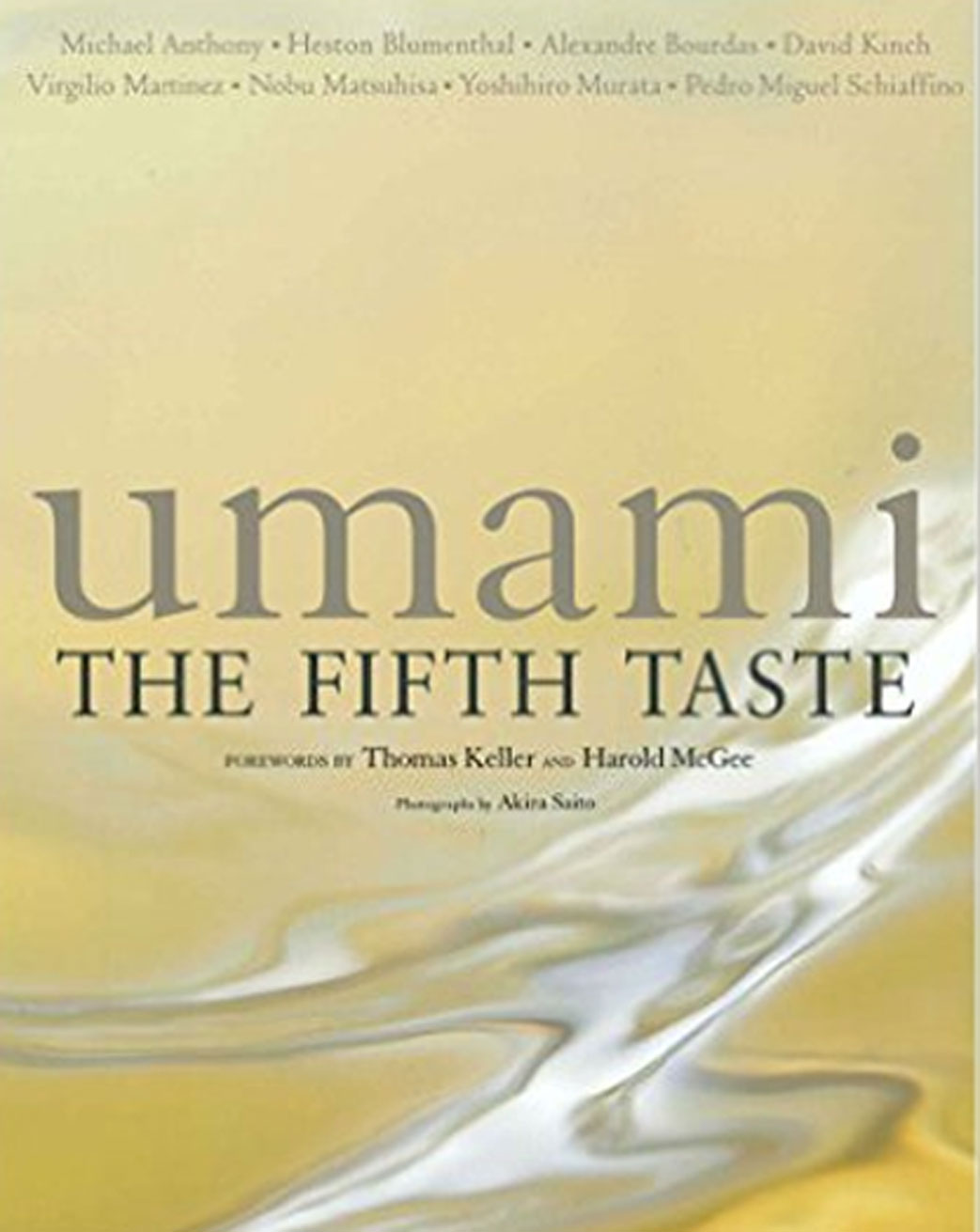 Umami was originally a Japanese word and it's all about a particular taste: of ingredients, of foods and drinks, and that includes sake. These days it's considered by some to be a recognised flavour just like sweet, sour, salty, and bitter. Parmesan cheese and tomatoes are very Western ingredients that can be described as having umami, just like some sake.

Umami is often associated with amino acid content. Glutamic acid is one of the main types of amino acids giving the umami flavour. This was discovered back in the early 1900s. Sake has much more of this than wine, which has 10-90g per litre, while sake has 100-250g per litre. Sake is considered rich in umami and pairs well with foods displaying those same characteristics. Umami in a sake is not always welcomed, as a surfeit can present undesirable 'off notes'. Dry, light sake often lacks very much umami and would work well with fresh and lightly dressed salads, some vegetarian dishes and delicate fish dishes. Sake styles with an evident umami content pair with raw or lightly fried fish, and some miso-based and mild cream-based sauces.

Umami: THE FIFTH TASTE is a beautiful guide to that elusive taste, that confuses some people to the extent that they still don't believe it actually exists. With forewords by two world-renowned leaders in the culinary industry, chef Thomas Keller and food journalist Harold McGee, this book offers examples, recipes (including umami sweets by Regis Cursan and Keiko Nagae), history and many striking pictures by Akira Saito to illustrate the theme, and information on the science behind the recognition of umami taste. The volume also includes interviews with Michael Anthony, Heston Blumenthal, Alexander Bourdas, David Kinch, Virgilio Martinez, Nobu Matsuhisa, Yoshihiro Murata and Pedro Miguel Schiaffino. A creditable line-up of gastronomic worthies.

Research has confirmed that our mouths contain taste receptors for umami's savouriness. There are numerous examples of the appreciation of umami from all over the world. Marmite is one of those and I think it truly demonstrates the flavour profile of umami, albeit in a rather strident and un-Japanese way. August Escoffier, the celebrated 19th-century French chef, isn't known to have been a lover of Marmite but he recognised that there was a savoury fifth taste. He incorporated this into stocks and it was this that was to become instrumental in his rise to fame. This isn't a new flavour. It's always been there but now we can put a name to it: Umami – the fifth taste.

Umami: THE FIFTH TASTE
Published by: Japan Publications Trading Company
Price: £25
ISBN-10: 488996391X
ISBN-13: 978-4889963915




Hotel TerraVina for Bed and Breakfast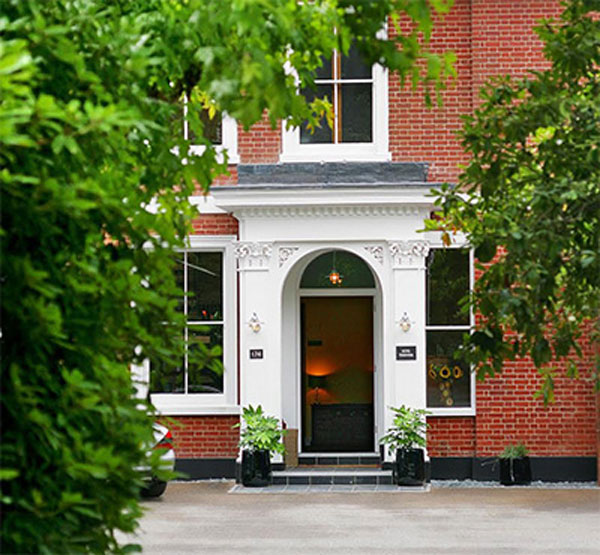 We are blessed with many fine hotels in the UK. All the 5* chains are well represented in all major cities. But we also have a wealth of boutique and Country House hotels and each is unique and characterful. The New Forest is beautiful and mostly unspoilt and it also has hotels which reflect the area's style and culture. Hotel TerraVina is one such hotel.

Hotel TerraVina has a reputation for quality and is recognised as one of the best hotels in the area – and in this case it's well-deserved. It's impressive in an accessible fashion. It's whimsical rather than intimidating. One seems to enter a private home – but a home owned by folks with impeccably good taste and a flair for cosy.

Owners Gerard Basset and his wife Nina purchased the hotel, conveniently close to Southampton, in early 2007. They spent months renovating, using the evident high skills of local craftspeople. This hotel is reminiscent of the best of similar accommodations in California or even Oregon wine country. There are wine connections aplenty and you will learn more in an article to follow shortly.


There are lots of public spaces but all are intimate and well proportioned. The restaurant is renowned, and leads off to a covered terrace ideal for afternoon tea during the summer. The gardens are fringed with mature trees, and a swimming pool in the corner tempts the travel-weary tourist, and children who aren't weary at all.

There are charming design details here and perhaps that's no surprise, as Nina has had a career in hotel hospitality. She knows what works. TerraVina Dogs lounge on every bed but won't need walkies as they are stuffed and act as Don't Disturb notices for the staff or as door stops. The rooms are individually designed and all are well-appointed. Bathrooms are luxurious with tubs complete with rubber duck. The toiletries are local and hand-made from organically-grown lavender, and are eminently stealable, although there might not be much left after a brace of long and lingering hot baths x 2. Our room had the advantage of a totally private roof terrace with a view over treetops. Nothing skimpy here, just acres of space complete with loungers and associated outdoor furniture.


Yes, there are all the usual entertainment and technology features but it's the calming ambiance which will assure a return visit to this country haven. So may hotels mention the quality of their beds and I have never noticed any difference between those and my own, purchased from a favourite Scandinavian home-goods store. But Hotel TerraVina presented a bed in which to sink, in which to wallow, in which to snuggle. Yes, that's it! This hotel is a classy snuggle and the hospitality equivalent of soothing music, good book and soft sofa.

Food is a huge element, or should be, of any break away, and breakfast is not only an important but an eagerly anticipated meal. Once again the owners have a finger on the pulse of their guests. The menu is classic but the brekkie aficionado will note the inclusion of soft-boiled eggs and soldiers! That touch alone should convey the sensitivity and wisdom of both Nina and Gerard Basset. A simple gesture, but summing up the hotel in general. This is a fun display of polished yet natural cachet with delicious flourishes, and I am already planning the next trip.



Hotel TerraVina
174 Woodlands Road
Woodlands
Netley Marsh
New Forest
Hampshire
SO40 7GL

Phone: +44 (0)2380 293 784

Fax: +44 (0)23 80 293 627

Email: info@hotelterravina.co.uk

Visit Hotel TerraVina here



CAU Kingston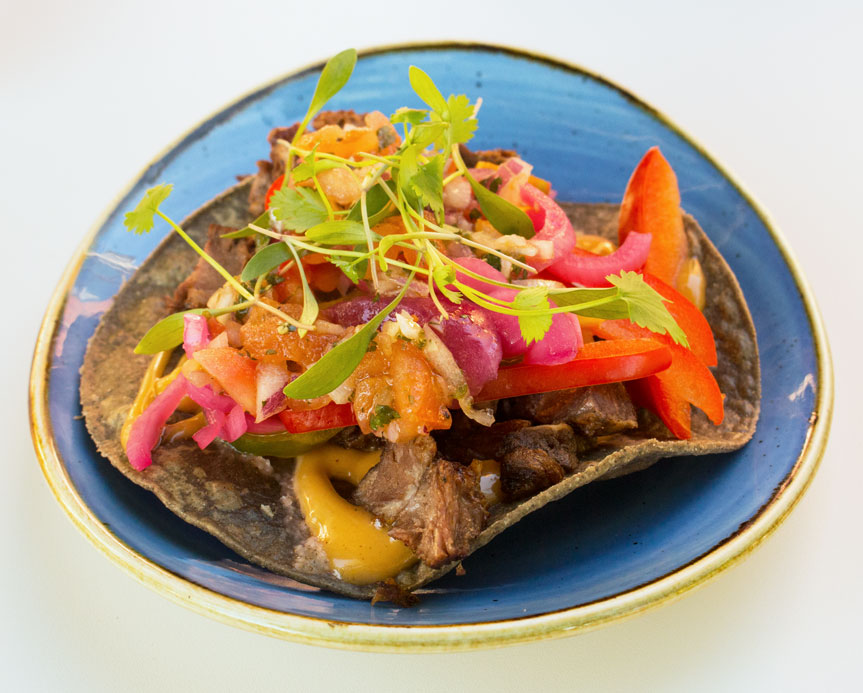 People say it's all about location. That's probably true, as there is no finer spot than CAU in Kingston on a hot summer evening. Sitting outside with just a footpath between the diner and the Thames, one can bask in warm contentment, lifting a glass and the silverware being the only exertions.

The team behind Argentinian restaurant chain Gaucho has launched this more-casual dining concept. CAU is actually Carne Argentina Unica and the menu reflects the beef-biased cuisine of Buenos Aires. They have refined but accessible dishes there, inspired by Italy and Spain from where much of the population originated.

Gaucho is polished and prices reflect that. CAU is more relaxed and the cost of a decent meal isn't prohibitive. The waiters sport shirts proclaiming that they are CAUBOYS. Diners are predominantly young and discerning. CAU is vibrant!


There are non-bovine offerings here but you would come craving substantial plates of beef, at least for your main course. We started with a beautifully presented Blue Corn Tortilla. Yes, the corn truly is blue, although the colour is a little less pronounced on cooking. The light and crisp tortilla was topped with succulent chunks of braised beef garnished with pickled red onion and jalapeño peppers. CAU also does veggie and fish options.

Empanadas are a classic South American snack, with every country and every region having its own version. They are miniature pasties and perfect as a starter or a nibble alongside a glass of Malbec, which is the celebrated wine of Argentina. The corn and cheese filling was mild and creamy and the pastry flaky and light. Salmon Tiradito is another delicious and non-beef offering: cured salmon, leche de tigre (Peruvian citrus-based marinade for ceviche), beetroot mayo and a garnish of moreish crisp lotus root chips.


Steaks, obviously, are here aplenty. I chose Medallions of Beef as my main course. Granted, this isn't the tenderest of cuts but it has great flavour. The trick is to cut across the grain. If you are looking for flavour and melting texture then perhaps Tapa De Cuadril would be best. This is cut from the top of the rump and is a signature dish served the Brazilian way – thinly sliced and flash grilled.

Latin Burger was my guest's main dish. He is a man who appreciates a good burger and he was pleased with this one. The beef patty was topped with jalapeños, guacamole, charred peppers and fresh avocado in a brioche-style bun. A burger can be the best meat dish ever when it's made with quality meat and thoughtfully chosen condiments. This one was, and the recipient was sufficiently impressed to promise a return to evaluate the rest of the burger list.

People say it's all about location; and they also say there is always room for dessert. CAU Cornflake Ice Cream Sundae was recommended by our waiter. Layers of cornflake-flavoured ice cream (that was a new one for me), cornflakes, crumbled chocolate brownie and dulce de leche filled a classic Sundae glass. It truly was remarkable and far too good for kids, who would likely not appreciate the subtlety of this ice cream nor the gastronomic juxtaposition with the dulce de leche attractively coating the perfectly proportioned goblet, with a flourish of cubed brownie topping the whole, to present architectural interest and textural contrast ...or one could just describe it as a sweet stunner.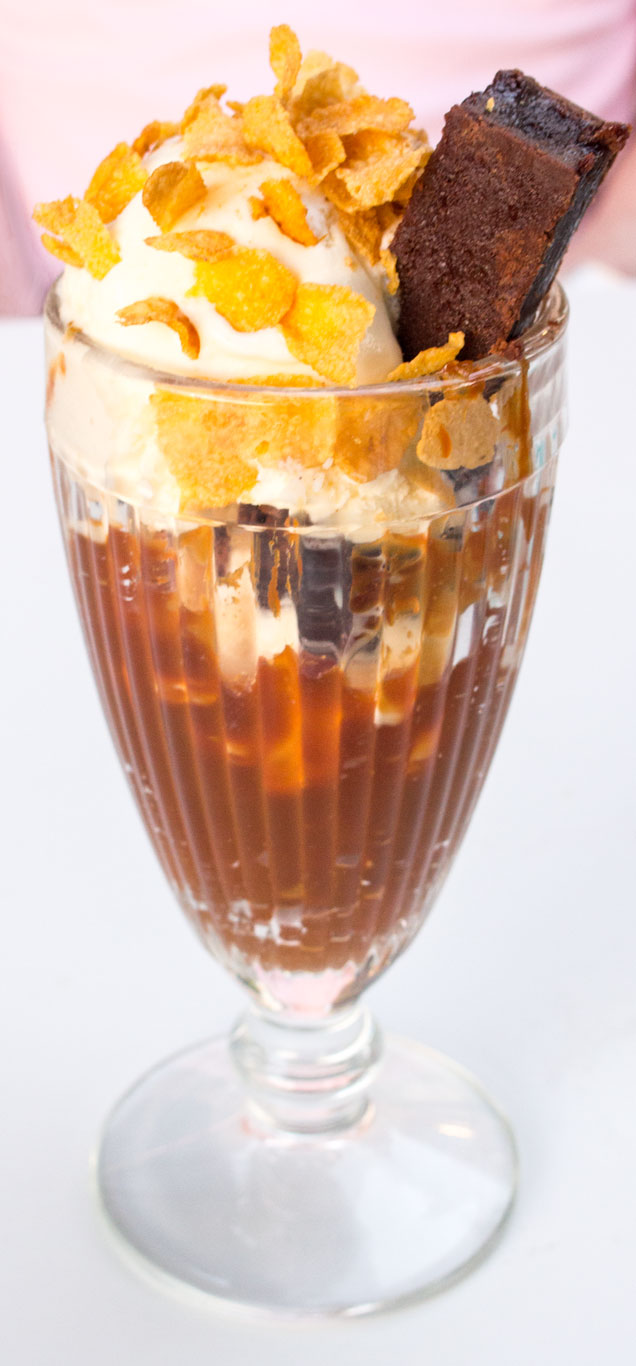 The aforementioned Malbec puts in a surprising appearance on the dessert wine menu! Zuccardi Malamado Port-Style Malbec from Argentina was a change from the too-syrupy white dessert wines which are more common. This had intense black and red fruit with a hint of mild spice.

CAU was fun, with great ambiance. The dishes, both meat and non-meat, were as one would hope and one can't say fairer than that. Location, location, location and bon appetit!


CAU Kingston
Riverside Walk
Kingston Upon Thames
KT1 1QN

Phone: 020 8546 4339
Email: kingston@caurestaurants.com

Opening Times
Mon–Sat 10:00–23:00
Sun 10:00–22:30

Visit CAU here.



Sake: The History, Stories and Craft of Japan's Artisanal Breweries
I was told to expect a book. I was told to expect a big book. I was told to expect a coffee-table book. What I got was a book the size of a coffee table but one which will hold my attention long after the furniture would have lost its purely functional appeal.


Sake: The History, Stories and Craft of Japan's Artisanal Breweries (yes, the title fits the proportions of the book) is organic in its style and appropriate for the subject. The cover is fabric in a cool winter-sky blue with simple black text. Unfussy, crisp and displaying Japanese taste for minimalism. One naturally opens the volume with respect.

This is a heavy tome but not heavy reading. It's a sake story book that will be the volume of choice for any lover of sake or things Japanese with which to snuggle. It's a picture book over which to pore. Images of craft and continuity are showcased to beautiful effect. Sake: The History, Stories and Craft of Japan's Artisanal Breweries is encyclopaedia of some of the most significant breweries (including 10 shōchū distilleries and 5 Okinawan awamori distilleries), looking at sake and those Japanese spirits. It features 60 or so breweries, with each chapter focusing on the families who have, often for many generations, dedicated their lives to the production of Japan's iconic beverage. The book displays the diversity of brewing methods that produce such changes in flavour around Japan.

The striking photography is by one of the world's most renowned travel photographers, Jason Lang. He transmits to us the spirit both of sake and of those who labour to make it. He shows the reality of the process, its beauty and charm. Steam, warm rice, brewers and landscape populate these pages. He captures the environment with shots of rugged faces and frosted fields. Vignettes of traditional brewery slippers, high technology and natural wood. Anyone who has visited a sake brewery will be convinced that they can actually smell fermenting mash between these pages.

Sake: The History, Stories and Craft of Japan's Artisanal Breweries will appeal to a wide audience. For the untutored, it will open a door to sake and introduce the characters who make that distinctive drink possible. For lovers of sake who want to learn more, there is a raft of information to study and muse upon. It's a book about sake but equally about people and the relationship between the two.

Sake: The History, Stories and Craft of Japan's Artisanal Breweries
Authors: Hayato Hishinuma, Elliot Faber
Published by: Gatehouse Publishing
Price: £75.00
ISBN-10: 9810795289
ISBN-13: 978-9810795283



Remelluri Organic Winery
The mountains have been here for 80 million years; humans have been using the mountains for a lot less time than that, but nevertheless for a long time, historically speaking. The Romans used one of the peaks as a military fort. Later, in the 14th century, a monastery was built that gave birth to this farm, producing cereal and wine for the monks - La Granja Nuestra Senora de Remelluri (Our Lady of Remelluri). In fact, the village of Remelluri dates from the 10th century, and was named after a Christian guerrilla fighter called Ramellis, who helped to push the Muslims south from the valley.


In the 10th and 11th centuries the monks in the monasteries at nearby St Millan de Cogolla (now a UNESCO World Heritage site and well worth a visit) produced beautiful documents and drawings describing the picking and crushing of grapes.

The farm was abandoned in the 17th century and it had many different owners, until Jaime Rodriguez and his wife bought it in 1968 as a ruin. They started, little by little, to restore the walls and the house. At that time there was no electricity, no telephone, no roads. It was charming, beautiful, and this was one of the reasons that they bought it – as a romantic getaway for the summer break with the kids. They knew that they could make wine here, as fine wines were already being made in the village, long before the industrial 'Rioja' wines of modern times. The family made their first wine in 1971 – about 10,000 bottles – with the vines that were already here. Apart from the historic accident of the monks and the farm, it's the geography, the nature, the place, the 'terroir', that makes Remelluri so interesting.

The traditional Rioja viticulture always took advantage of the bush-vine system (French 'gobelet' or Spanish 'vaso' – a small glass): there are three main stems trained above the trunk, which spread out making the perfect round shadow to counter the effect of heat and sun. The vines survive with no irrigation, as the owners are faithful to the traditional methods and are looking for quality rather than quantity. They maintain a density of 5000 plants per hectare, so that the roots have to compete with each other.

Geographically the vineyard is in the cooler, fresher part of Rioja, with a lot of influence from the Atlantic breezes. They have a north wind blowing all summer and autumn, bringing welcome rain and keeping the night-time temperature down below 20 degrees. This helps the vines to produce better because the leaves don't close, so photosynthesis can continue. The contrast between the cool of the night and the heat of the day helps to develop complexity, acidity, and sugars so the wines become much more sophisticated. Some of these wines can age in the cellar for months, and in the bottle for decades.


In spring the shoots of the vine are very fragile, and in those past days winters were long, with a lot of snow and ice, and autumn was very short. So the monks in the Middle Ages sited the farm in the best possible place to get the shelter from the surrounding hills, and terraced them to get the maximum sunshine. The vineyards here are at the highest elevation in the region.

In areas such as Xeres, the sherry-producing region of Spain, there were at one time up to 120 varieties of vine, and even here there were perhaps 60 varieties, but phylloxera destroyed most vines. When the disease decimated the French vineyards the owners came to Rioja and Navarra looking for clean plants, and started doing joint ventures with local merchants and aristocracy. That's how the classic Rioja started. They built wineries in villages near railway stations, and sent wine in bulk to Bilbao harbour, to be bottled in London for sale to Europe. The business was dominated by the British and the French.

Remelluri only produce 6,000 bottles of white wine, and only have 4.5 hectares of vineyard dedicated to white grapes. In the east valley they have around 20 hectares of very old terraces used to make their most prestigious wines – a really sophisticated Granja Remelluri (10,000 bottles) that is aged for two years in the barrel followed by six years in the bottle. It's a wine that will remain in good condition for half a century. The other notable red wine is Remelluri Reserva, which is the 'house' wine, aged 18 months, and they produce around 250,000 bottles.


The owners consider that the biggest challenge is to set the best example, be the best model, for their wine-making neighbours. Remelluri represents almost 33% of the organic vineyard area in Rioja. Policies in Rioja have encouraged a massive increase in production, but have not favoured the traditional producers or protected the old terroirs. The authorities gave money to replace the old vines, and everything was bulldozed and destroyed, and there has been heavy criticism from international wine-writers and journalists. Remelluri, because the family liked the wines of Medoc, started using French oak barrels, as opposed to the American oak generally used throughout Rioja. This wood offers less vanilla aroma than the American, and they replace about 10% of their barrels each year.

Telmo, the son of the family, who now runs the winery with his sister Amaya, likes to work with bigger barrels for certain wine. Telmo Rodriguez has been described by Berry Brothers and Rudd as one of the greatest of Spanish winemakers. He uses 500-litre and 300-litre barrels as well as the more typical 225-litre. You can see from the names of the parcels of land chalked on the barrels that they ferment and age each plot's grapes separately until the point of bottling the vintage. Some of the French barrels are made from Hungarian oak these days, because French oak is becoming harder to find and more expensive. As wines are oxygenated and aged they are racked and moved to cooler rooms. These wines are delicate, being alive with yeasts and natural bacteria, and would have a tendency to become vinegar if not expertly handled!

I am sure a vinegar vintage will never happen at Remelluri. This is wine made with passion, dedication and consideration. This family know what they like. They respect heritage and tradition but they also embrace practices that allow them to make the best of this land. It's the delicious marriage of art and organic science.

To learn more visit Remelluri here

To arrange tours of Rioja and the rest of Spain visit Travels and Tapas here



Mele e Pere for Vermouth with a Master
Vermouth has been ubiquitous in and on cocktail bars since mixed drinks became popular more than a century ago, but many of us have no idea what it actually is, apart from being the bottle that stands at the back collecting dust. Now it's enjoying something of a revival since the days of the ubiquitous Gin and It in London in the 1950s. The 'It' in this case was sweet Italian vermouth.

The modern versions of vermouths were first produced in the mid- to late-18th century in Turin, Italy. Vermouth was traditionally used for medicinal purposes, being flavoured with botanicals more associated with the apothecary's cabinet. In the late 19th century it became popular as the indispensable ingredient in many celebrated cocktails such as the classic Martini (gin and dry vermouth), the Manhattan (bourbon, rye, or whiskey, with sweet vermouth), and the Negroni (Campari, gin, and sweet vermouth).

There are two main types of vermouth, sweet and dry, and then the spin-off styles of extra-dry white, sweet bianco and rosso, and rosé. Vermouth is produced from a base of a light wine with the addition of infused alcohol flavoured with aromatic herbs, roots, fruits, barks and spices. The resulting combination of wine and alcohol is sweetened with either cane sugar or caramelized sugar, depending on the style. This gives depth and richness to the final product.

A popular ingredient is wormwood, which has long been believed to sooth stomach disorders. The name "vermouth" is the French pronunciation of the German word Wermut which we English pronounce as wormwood. By the mid-17th century the drink was being enjoyed in England, where we adopted the name "vermouth", and so it remains.

Mele e Pere, one of my favourite restaurants in Soho, has a bespoke Vermouth bar. Yes, every bar in the capital will have a bottle or two of this fortified wine but here it's the main beverage. Vermouthier-in-chief Ed Scothern, who is also the enthusiastic and animated General Manager, conducts regular Vermouth masterclasses which are both popular and fun. He discusses the history and composition of this drink but he also shows how you could make Vermouth yourself. In fact that's just what you will be doing at the end of the evening!


Ed takes you through the blending process and a tasting of a wide variety of styles, and will ply you with your favourite vermouth-based cocktails or perhaps introduce you to some new ones. You will see how Mele e Pere use different vermouths in both classic and signature house cocktails. You will be supplied with an array of small bottles of the aromatised alcohol and glasses of sweetened white wine and be given the chance to design your own unique and hopefully delicious Vermouth.

Tickets for each evening cost £25 and include some of Mele e Pere's most popular sharing plates such as spicy Ascolana olives (to which I am addicted), deep fried squid with smoked aioli, and San Daniele ham – and, trust me, they will tempt you to return to sample the rest of the menu.

Join Mele e Pere for Vermouth Mondays. They offer 2 for 1 on all Vermouths when you order any share dish, pasta or main course every Monday from 5pm!

You can build your own Negronis and Martinis by choosing from perhaps London's biggest selection of Vermouths and Mele e Pere's diverse range of Gins and Vodkas produced by some of the UK's most individual micro-distilleries.

To book a place at one of their masterclasses e-mail info@meleepere.co.uk or call 020 7096 2096.

Mele e Pere
46 Brewer Street
Soho
London W1F 9TF

Email: info@meleepere.co.uk

Read more about Mele e Pere here.


Hanger SW6
Fulham is trendy these days, but it wasn't always such a sought-after address. In 879 Danish invaders had a winter break at Fulham and Hammersmith. Fulham during the 18th century had a reputation of debauchery, prostitution and gambling. My grandfather lived in Fulham at the start of the 20th century and he was a part-time bookie's runner. Yes, they were colourful times.


Today, Fulham is one of the most desirable parts of London and, in this corner at least, has the air of a village. Cafés, small shops and bars abound and there are even some good restaurants, and amongst their number is Hanger SW6. That SW6, for those from beyond these shores, refers to the post code (zip code) for this neck of the urban woods.

Hanger doesn't refer to the size of the establishment nor to a holder for one's raincoat (yes, it's summer in England). No, it's a reference to the main menu item, which is a steak and a much overlooked variety too. But let's consider at the premises.

This ground floor restaurant isn't huge but it has great character. It's new but has a timeless quality. The tables are simple wood, as are the chairs. There is a raised eating bar with stools for those who crave elevation, and a hatch through to the kitchen. There is a bar downstairs which has a cosy ambiance, with soft furnishings ideal for intimate sippings and group conviviality.


But we were here for that aforementioned steak. Hanger steak might not sound familiar to you but it's likely you would have already enjoyed one. If you have ordered onglet in a French restaurant here or in France then you would have eaten a hanger steak. If you have been tempted by a beef fajita in a Mexican restaurant then you will have had a hanger. It's sometimes referred to as 'butcher's steak' or 'butcher's choice' because butchers would keep that cut for themselves. It's sometimes called skirt steak in the UK.

Hanger steak isn't as pricey as the more common cuts that one finds in fine-dining bespoke steak restaurants. The owners wanted to present a steak that more people could afford but without sacrificing flavour. A hanger steak requires a bit of care. Its fibres are longer than in other steaks and the cut tends to toughen if it's cooked to more than medium – so have it cooked only to rare or medium rare. Cut across the grain it is one of the best steaks, with plenty of beefiness.


We ordered some wine, and there are plenty of decent options here by the glass. Try the excellent Cabernet Sauvignon from South Africa. The menu here isn't huge but that's the whole point. Hanger is dedicated to steak but there are options for fish lovers and vegetarians, too. My guest ordered Charred piquillo pepper with crumbled feta cheese, garnished with cherry tomato salsa. These 'little beak' peppers are traditionally grown in Northern Spain and are sweet when grilled. This would have also made a colourful side dish. Scallop ceviche with ponzu dressing (mirin, rice vinegar, katsuobushi tuna flakes) sounded high-end and indeed it was. One might be in a 'casual' restaurant at Hanger but the food is serious. This dish was delicate and refined; the shellfish wasn't overwhelmed by the acid.

My main course was never in doubt: Charcoal-grilled hanger steak with a bouquet of watercress and a side of triple-cooked chips seasoned with garlic and rosemary salt. This is classic steak and chips with the meat a rosy red but not oozing. Lots of flavour from the light and speedy char, but those chips were perhaps some of the best I have had this year. They were full-on rosemary with a hint of garlic. If pressed for time I would be happy with a bowl of these and some wine or a cocktail.

A hanger steak sandwich with sticky onions, mustard, watercress and served in ciabatta was my guest's main course. This is a dish only for those with considerable appetites, and anybody less than a rugby player might be advised to order half a sandwich. You could always ask for the other half later. This was an outstanding sandwich in both size and quality.

Sundae Mess was our shared dessert, being already comfortably overwhelmed by succulent meat. It's a deconstructed Eton Mess of meringue, berry ripple, vanilla and lemon pie ice cream. The lemon ice cream stole the show with its refreshing tang.

Hanger has a promising future. A great location with plenty of public transport will help, but it's the food that will assure its success.

Opening Hours:
Monday Closed
Tuesday – Thursday 12:00 – 15:00, 18:00 – 22:00
Friday – Sunday 12:00 – 15:00, 18:00 – 22:00

Hanger SW6
461 North End Road
Fulham
London SW6 1NZ

Phone: 020 7386 9739

Visit Hanger SW6 here.




Markopoulo recommendations – Attica's food, wine and welcome
I love Greece. It's the warm people, food, and (you might be surprised to hear) award-winning wines that are still so sadly overlooked. Yes, this country has lots to offer.

Most travellers to Greece seem to arrive in Athens with a long journey still ahead. They are looking for small restaurants where the locals eat, perhaps a secluded beach, no other foreign tourists in sight. Yes, that must be a small island, and a boat ride away from the mainland.

Well, all those elements are nearer than you think. There is an area just a few miles from Athens airport that ticks all the aforementioned boxes. Near the airport but without aircraft noise. A beach with amenities (for a small charge). It's a resort for Athenians who only seemto go there in the height of summer. And there is outstanding food which isn't dumbed down for tourists.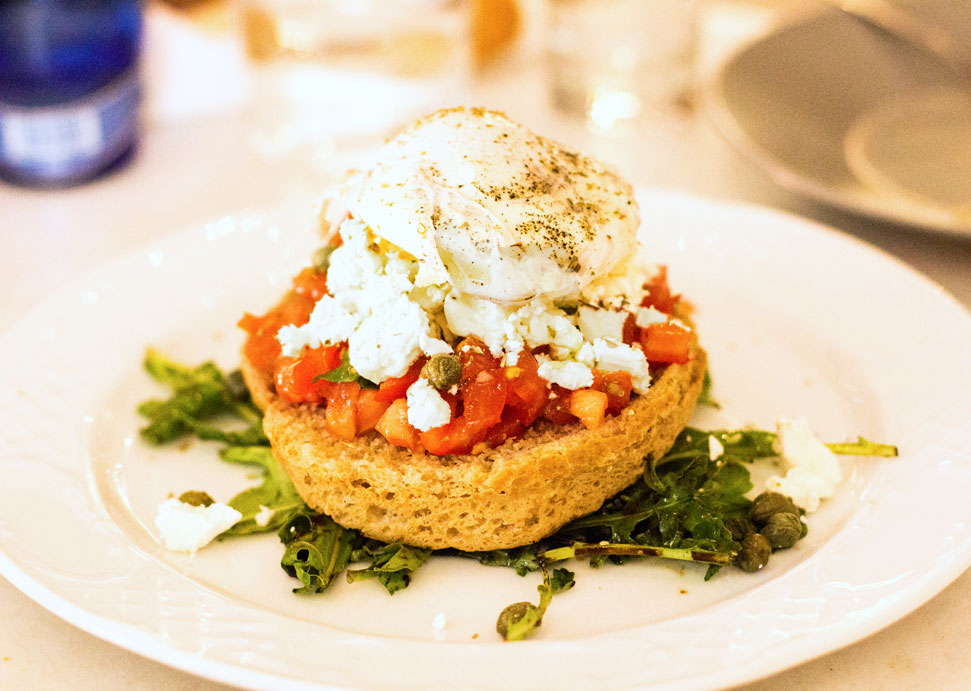 The municipality of Markopoulo Mesogaias is part of the Attica peninsula in eastern Greece. It has the port town Porto Rafti and the town of Markopoulo. The port was a major trading place until the end of the Roman Empire but now caters for pleasure craft. There is the famous municipal beach of Avlaki and the nearby archaeological site of Vravrona. Spring and autumn offer calm and uncrowded streets and restaurants, and the opportunity to enjoy the real Greece – the one we fell in love with all those years ago.


Suggestions:
Christos Fraggos is the owner and chef at the restaurant which bears his name – Fraggos in Markopoulo. He prides himself on presenting local specialities in a restaurant with family memories and indeed memorabilia. You will likely be eating at his grandmother's dining table, or his cousin's grandmother's dining table. Yes, this truly is a family concern. There is an open kitchen and ample seating both inside and out. This contemporary restaurant and café is in the centre of Markopoulo and has long been a casual meeting place, but lately it's had a renaissance and now presents a more sophisticated persona.


But it's not antiques which will assure your return. It's the traditional meals, salads and baked goods which are so tempting. Christos maintains quality and consistency in all his dishes, breads, cookies and sweet bars. He upholds his proud culinary heritage but he presents that in polished fashion which appeals to locals and tourists alike. A visit here is a must. Come for a coffee and a cake or for a full meal, and perhaps buy some gift-wrapped cookies at Fraggos.

There is a wealth of other Greek foods to buy and try in a local gastronomic emporium. Kostarelos has been celebrated for its cheese for generations and makes 14 different varieties, plus three types of iconic feta, as well as yoghurt, and Greek rice pudding which is a must-try here. They make their goat's milk products from free-roaming flocks using their own rennet.

Kostarelos has shops in both Markopoulo and Porto Rafti. They have a large selection of cheeses from all over Greece in addition to their own, but they stock other products from small producers around the country. There are shelves lined with jams and spoon sweets, baskets are overflowing with dried beans, trays are laden with dried fruits and nuts, and cans and jars tempt with speciality foods from the mainland and islands. Any self-respecting foodie will want to spend their holidays here.

A few years ago one might have scoffed at the prospect of a visit to a Greek winery. But those days are gone and now Greek wineries are taken seriously in the international arena and they are winning awards against more familiar wine-producing countries. Vassilis Papagiannakos is a leader in the reinvention of the Greek wine industry and after decades of hard work he is now enjoying recognition and international respect. This beautifully presented winery is outstanding and can compete with wineries anywhere in the world. They have the best of wine-making facilities, and elegant social space in which to host group gatherings and receptions in striking fashion. The building has open vistas over fruit trees, figs, pistachios, herbs and of course vines. This noteworthy winery has inspired a lot of other winemakers from all over Greece and other countries. Students studying architecture use the building as a project because of the bioclimatic and energy-saving design.


But you might not be here to admire the fittings and fixtures. It's all about the wine. Ones to try, although they are all worth trying, are Savatiano Old Vines which is a dry white wine, and PGI Markopoulo - bright gold and clear in colour, delicate bouquet, and aroma of citrus. Kalogeri – Cabernet Sauvignon - dry red wine, deep ruby in colour, complex bouquet of ripe red fruit, spice and vanilla hues. If you want to try a traditional Retsina then look at the very mild Retsina Papagiannakos – a dry white wine of traditional appellation Mesogaia. This might surprise you with its balance and quality, fine aroma of pine and a hint of lemon, blond in colour. A must-buy wine to keep or as a gift is Melias Sweet White Wine, PGI Attica - golden colour with an acacia-honey aroma, a smoky wine with a ripe pineapple bouquet. This is outstanding.

Domaine Papagiannakos, Pousi – Kalogeri, 19 003 Markopoulo, Mesogaia, Attica, Greece




Mele e Pere – a steak in Soho
Mele e Pere opened in the heart of Soho in February 2012, but that neighbourhood dates back centuries. In the Middle Ages, what is now Soho was known as St Giles Field, land belonging to the Convent of Abingdon, with its leper hospital. In 1536, the land was taken by Henry VIII as a royal park for the Palace of Whitehall. In fact the name "Soho" first appears in the 17th century and is thought to come from a former hunting cry. The 1st Duke of Monmouth used "soho" as a rallying call for his men at the Battle of Sedgemoor in 1685.

The Earls of Leicester and Portland developed the land but Soho was never a great address. Immigrants settled in the area, including French Huguenots, but by the mid-19th century genteel folk had moved away and Soho took on another persona. When I was growing up in the 1960s Soho was the place to find iffy pleasures, and they were in full view. Doors with X in neon above and ladies of the night gracing street corners were the norm. But there were restaurants, and artists including writer Dylan Thomas and jazz musician George Melly frequented these streets in the 50s and 60s. Robert Louis Stevenson's Dr Henry Jekyll had his other self, Edward Hyde, living in Soho.

Modern Soho still has a bohemian character but most of the seamy side has disappeared. Restaurants and bars are popular with locals and tourists, but with quantity there is the danger of quality taking a back seat – although there are some gems here.

Mele e Pere is a consistent favourite. Its small dining area on the ground floor gives no sign of the characterful restaurant and bar below. The décor is eclectic with bookshelves holding soda syphons, and industrial wall lights which would look at home in a 1930s drawing office. The tables are wooden with tastefully mis-matched chairs. One has a sense that this carefully designed space has naturally evolved into its casual and quirky self and I trust the owners won't think of changing a thing.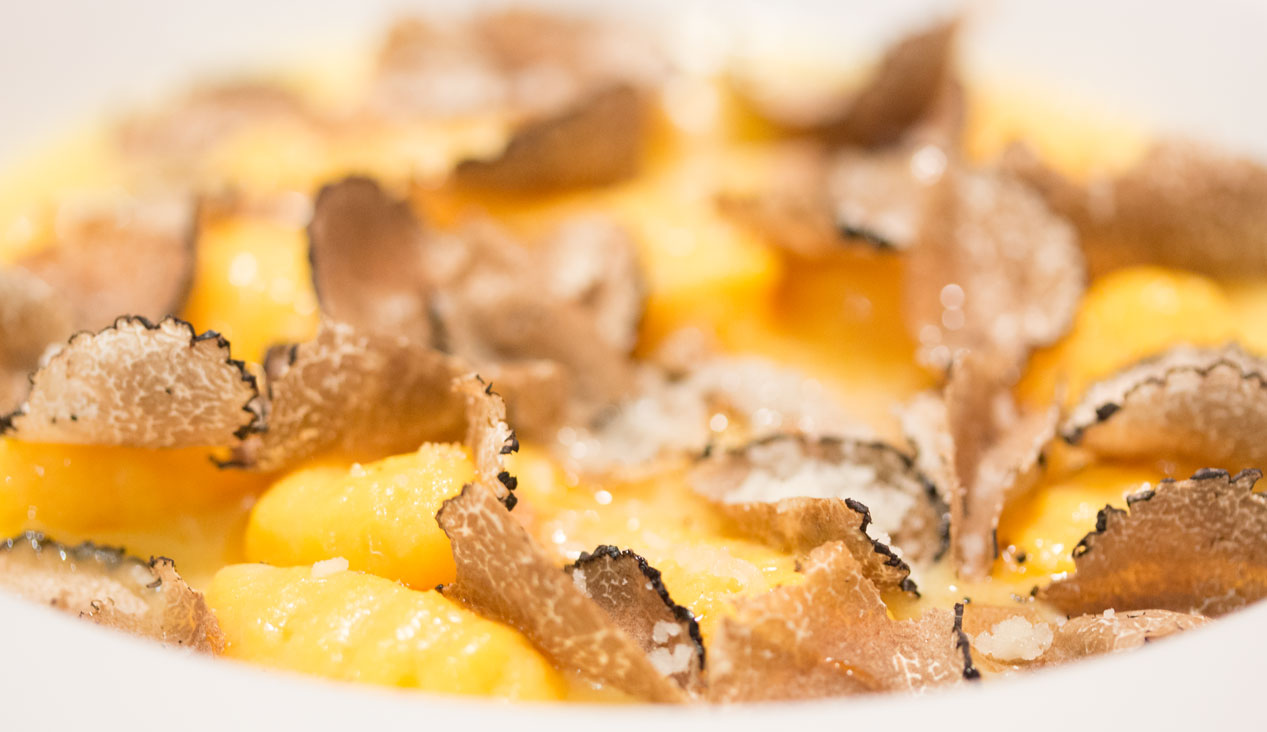 Those owners wanted to create an authentic neighbourhood Trattoria and I believe they have succeeded. One can enjoy a celebrated home-made vermouth, some small plates, or a full feast. The space is flexible and it's open from 11am till late so an ideal spot for tourists who find themselves craving lunch at 2.30 or dinner at 4.45. The menu is predominantly Italian with international flourishes but all dishes done well. There is a fresh and seasonal daily-changing bill of fare with British produce as well as Italian ingredients. Mele e Pere seem to make everything in house and the standard is high.

We enjoyed a glass of both red and white vermouth, also made on the premises. Ascolana olives with spicy nduja is a must-try along with your drinks. Nduja is a spicy, soft and spreadable pork salami from Italy. The olives are sizable, flavourful and deep-fried, making them thoroughly addictive. A light starter is Crudo of tuna, Sicilian watermelon and almonds. This is cool and colourful and a great foil for the heat of the olives.

I enjoyed a dish of potato gnocchi with a buttery sauce and shavings of white truffle. Yes, truffles are decadent and luxurious but these white truffles are milder and less earthy than the more pungent black truffle. The flavour lingers as a pleasant memory.

For those looking for a more meaty option then Mele
e Pere have a rib-eye which would do credit even to a dedicated steak house. This was a 28-day-aged Surrey Farm rib-eye with delicious glaze. All their meat is sourced from farms across England and is processed in Surrey, adhering to the highest standards of quality. The side dish of broccoli and chilli was a colourful garnish along with the traditional chips. When we travel to France we often order the classic steak frites, saying that we can't do it like that here. Italy has the best reputation for food and we insist that nobody cooks like that in the UK. Here at Mele e Pere we can find the best of both culinary worlds.

The Italian wine list showcases independent and biodynamic producers. There are all the classic Italian and international grape varieties and many available by the glass or carafe; and it would be rude not to have a good red with that outstanding steak.

Tiramisù with espresso ice cream was the finale. The Tiramisù was traditional and as good as one finds anywhere but the ice cream was the star. Mele e Pere make their own and its flavour is striking. This isn't coffee ice cream but most definitely espresso, and with an adult flavour.


I was not surprised that the quality of food, and steak in particular, was so high. It's not my first visit, after all. But that first excellent meal might have been a gastronomic fluke, an epicurean lucky shot. But no. Mele e Pere is solid, confident and predictably good.

Monday-Wednesday: Noon-11pm
Thursday-Saturday: Noon-Midnight
Sunday: Noon-10pm.

Mele e Pere
46 Brewer Street
Soho
London
W1F 9TF

Phone: 020 7096 2096

Email: info@meleepere.co.uk

Visit Mele e Pere here





Brunch Counter – Vauxhall Arches

One could easily miss it! Counter truly is under the arches at Vauxhall station. Its entrance is understated but don't pass by. This is worth a visit at any time of day. It has great character and is something of a Tardis. Its narrow frontage opens onto London's longest restaurant, its 175 covers in a 200-foot long arch! Yes, a large restaurant but its architecture contrives to create an intimate ambiance.


Counter is a brasserie, a breakfast venue, a lunch café, a convivial dinner spot and a venue for late night revels. Some days see Counter opening at 7am and closing as late as 1.30am. The atmosphere and clientele change over those hours, although many of those visitors are regulars. The location couldn't be more convenient but it's the food and the service that are the cornerstones to success in a city that boasts plenty of choice.


I have visited for dinner and also for a hot winter afternoon snack but this was my first daylight encounter with Counter. Brunch is a casual meal and one to be shared. One sits comfortably, ponders menus, chats with friends, makes plans for the rest of the day and eats …and drinks. Brunch isn't a meal to hurry.


Counter is vibrant at any time of day or night. Brunch finds tables filled with animated hungry folks who want either classic breakfast offerings or more lunchy temptations. Along with their chosen plates they will likely enjoy a Bottomless Bellini, a glass of prosecco or, my favourite, a Bloody Mary!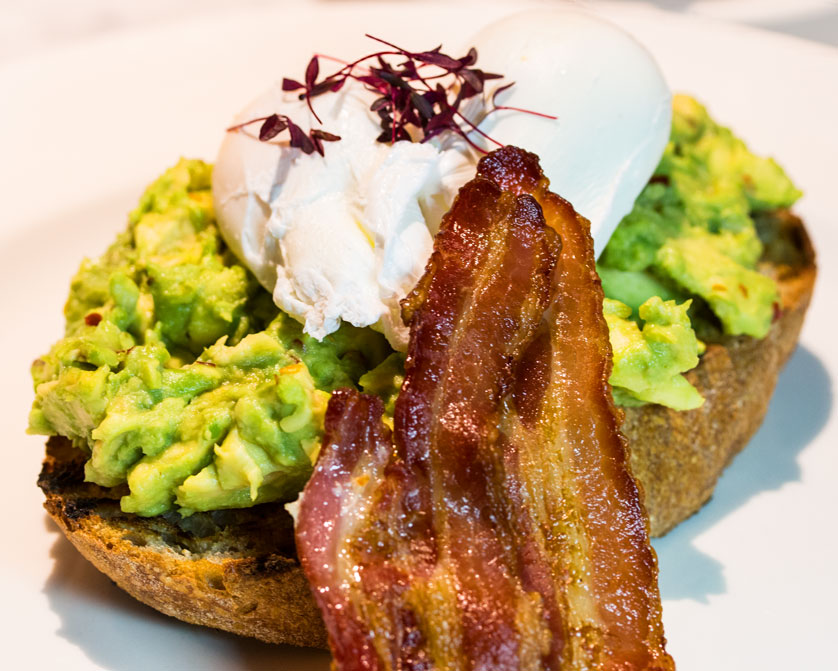 Brunch with some sort of fizz is standard these days but this was the first brunch in ages that has offered me a Bloody Mary. It's more spiced than others I have tried but was absolutely to my taste. If you aren't interested in a hit of zing then order one without chilli …I think that would be called an alcoholic tomato juice and would be, in my opinion, standing in Mary's shadow. I hope Counter is never tempted to change that recipe for the sake of the timid.


Counter has familiar egg dishes such as the ubiquitous Eggs Royale with Smoked Salmon, poached eggs, hollandaise, and a muffin, as well as the original Eggs Benedict, but they also offer some departures which are worth trying. Chicken Fried Rabbit was a new one on me. I love rabbit, yes, I admit it – I enjoy eating bunny. It's a mild-flavoured meat and it should be more popular as it's sustainable. The 'chicken-fried' element refers to the coating which is similar to that used for poultry or, in the US, for chicken fried steak, which is a brunch staple.



The Counter brunch introduced me to Spiced Avocado. This was served with poached eggs, and presented on toasted sourdough from a local baker. I also had a serving of crispy bacon which complemented the creamy avocado. The spicing was delicate and didn't overpower the green fruit – or is it a vegetable?


My guest, a man with an appetite for all things meaty, ordered the substantial Pastrami Sourdough open sandwich. The slices of cured beef were topped with fried eggs, melted Swiss cheese and hollandaise sauce. This would not have been out of place in any New York diner.


Baked Alaska Bomb was that still-peckish companion's dessert, who proffered the lame excuse that he hadn't had that flavourful rabbit starter. This sweet tower consisted of ricotta ice cream, blueberry sponge, blueberry compote with a cap of grilled (I suspect blow-torched) glistening meringue. This was a delightful presentation of a dessert which was full of berry flavour but it was that ricotta ice cream that was outstanding. This is perhaps some of the best ice cream I have had in any casual restaurant anywhere. Don't miss this one.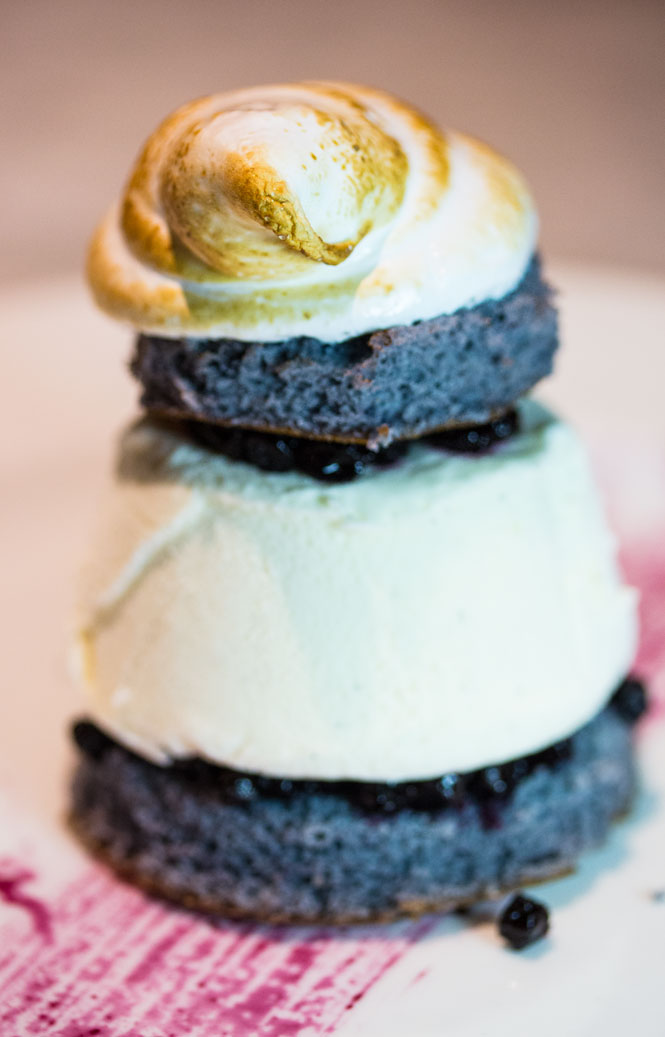 I had expected to enjoy Brunch at Counter Vauxhall Arches and I did. It's a casual spot with polish. The menu offers something for every taste and appetite and the service is friendly. I am now devoted to spiced avocado with a side of Bloody Mary!


Opening times - Bar and Brasserie
Monday to Thursday: 7am – 12.30am
Friday: 7am – 1.30am
Saturday: 9am – 1.30am
Sunday: 9am – 12.30am

Counter Vauxhall Arches
(Vauxhall Station)
50 South Lambeth Place
London
SW8 1SP

Phone: 020 3693 9600

Email: pr@londoncontinental.net

Visit Counter here



Romulo Café London
This is a leafy corner of the capital. It's not a neighbourhood of steel and glass. This is the preserve of people who actually live here and those who choose to visit this end of Kensington High Street to seek out a little charm and calm.

Now there is a new draw along this high-end thoroughfare. Romulo Café London has arrived and it has a celebrated pedigree. There are other Romulos, but they are in Manila in the Philippines. The name was already known, however, before it became associated with culinary excellence.

Carlos P. Romulo served as the President of the Fourth Session of United Nations General Assembly from 1949–1950, and as chairman of the United Nations Security Council. He had served with General Douglas MacArthur in the Pacific, and under eight Philippine presidents, from Manuel L. Quezon to Ferdinand Marcos, as the Secretary of Foreign Affairs of the Philippines.

He was a man able to represent his own country but he was admired internationally and recognised with awards from other nations such as Grand Cross of the Order of the Phoenix from the Greek Government and Grand Cross of the Order of Carlos Manuel do Cespedes from the Republic of Cuba, and he was the first and to date the only Filipino winner of the Pulitzer Prize! He was a respected writer, statesman, soldier and historian and even co-founded the Philippines Boy Scouts. A true man for all seasons.


We have pubs called 'The Shakespeare Arms' even though neither the Bard nor his descendants have ever crossed the threshold. There are other hostelries named 'The Queen Victoria' even though we can guess that royalty never pulled a pint within. But there truly is a family association at the Romulo Café, and it couldn't be stronger. Sandie Romulo, granddaughter of Carlos P. Romulo, and her husband Enzo Squillantini are at the helm of the Philippines establishment and Sandie's sister Rowena Romulo and her fellow manager Chris Joseph now head this new London venture. The Executive Chef, Lorenzo Maderas, also comes from the Philippines so one can be guaranteed an authentic experience at this restaurant.

Rowena Romulo, a former senior banker and now restaurateur, persuaded her family that Romulo Café would be a well-received addition to London's vibrant international gastronomic scene. This is, as yet, a little known culinary tradition. Not many of us know much about Filipino food but in fact it ticks all the popular epicurean profile boxes. We in the UK love Indian food with its complex flavours. Filipino cuisine offers those flavours but the palate is perhaps more subtle. Spanish food in London has long been popular; Filipino cuisine offers hints of its historic Spanish connections and heritage. We enjoy Chinese and Malaysian food with their exotic combination of ingredients. Filipino cuisine also has truly unique ingredients but nothing to excite fear in the diner – one is first curious and then becomes appreciative of these new dishes.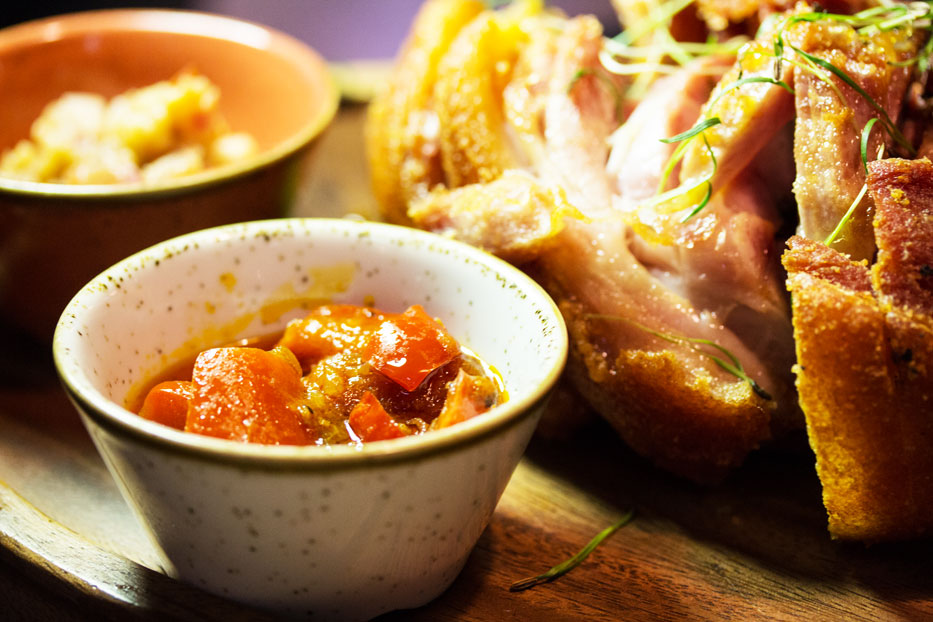 Romulo Café is found in a converted Georgian town house and it does retain the charm of a home. Its main ground floor dining room, aptly called the Diplomat's Dining Room, can seat up to 40 people and is welcoming and intimate. The 'at home' theme continues with the Romulo family photographs giving a sense that this is more than just an anonymous business project. The name Romulo is writ large over everything and that must surely elicit expectations of excellence and attention to detail.

Bangus Paté - Smoked milkfish spread with orange segments, orange purée, caviar and crostini - was the first of my starters. This beautifully presented preparation was delicately flavoured and moreish. A must-try here. Tuna Kilawin - Tuna ceviche marinated with cane vinegar with red onions, cucumbers, peppers and radish - is another signature appetiser. This was far better balanced than some other ceviches I have tasted elsewhere. It's difficult to take advantage of the indispensable acid without finishing up with a dish that is mouth-puckering. Congratulations to Chef Lorenzo for developing a recipe which offers a less harsh cure.


The first of the main courses was Deboned Crispy Pork Leg (Binagoongan Boneless Crispy Pata). This is an absolute winner. It can be made from either fresh pork or, as in this case, a ham. The pepper seasoning added so much to the roast and the crackling is just about as good as you will find in any restaurant of any culinary hue. The fat, which for me is the prize portion, was melting and the meat tender.

Filipino friends have waxed lyrical about oxtail. It's an old-fashioned attitude which we all once had, and to which we should all be returning. We should be using every part of the animals we rear for food. Those less trendy cuts are actually the most tender when cooked correctly. In the case of this stew, Tito Greg's Kare-Kare, the oxtail gives its flavourful meat and also marrow from its bones. The comforting dish is served with steamed vegetables and a shrimp paste for which to die!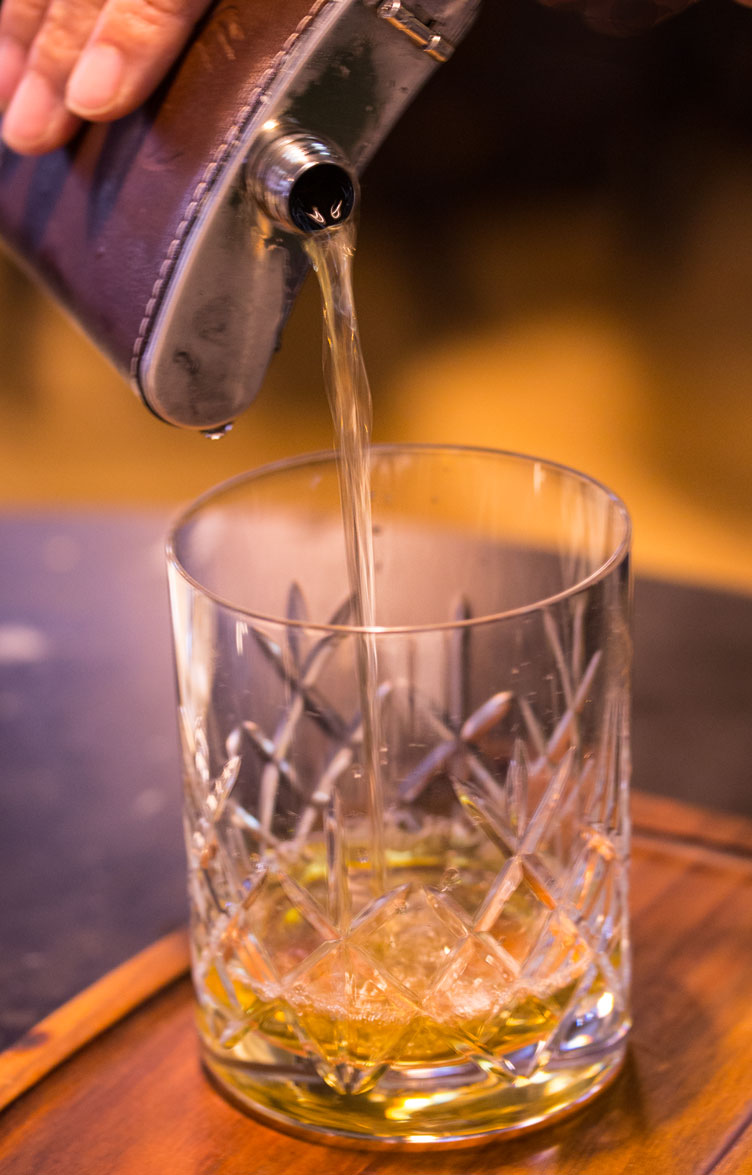 I had, I admit, never tried taro before. This is called gabi in the Philippines and is widely available throughout the islands. Sautéed taro leaves in coconut milk topped with crispy leeks is an outstanding side dish. It's creamy and would convert even the most sceptical to the worth of green veggies. Don't miss this one.

Sans Rival is truly sans rival. This is described as a modern Filipino dessert and it does seem contemporary and reflecting of the diversity of the Philippines. It's made with dulce de leche, again a nod to Spain, with buttercream, cashew nuts and meringue, and served with vanilla ice cream. This is a new one on me but I'll be ordering it again.

There is a well-priced wine list here with a good selection of wines by the glass. The cocktails are also very reasonably priced and they have some unique ones with striking presentations. Smokey and Stormy is served in a whisky flask in, as the name might suggest, a smoked glass. Woodford Reserve is one of Kentucky's oldest and smallest distilleries and provides the base for this dramatic cocktail, which also includes St. Germain made from elderflowers, and Grand Marnier.

Romulo Café in London demands more than one visit. I enjoyed my meal immensely but I also noticed the rest of the menu and that held temptations for the future; and I assume they will be just as delicious, just as exciting and just as authentically Filipino. It's a journey of discovery and I am taking my first mouth-watering steps.

Romulo Café London
343 Kensington High Street
London W8 6NW

Phone: 020 3141 6390

Email: reservations@romulocafe.co.uk

Visit Romulo Café London here



Stuzzico in London's village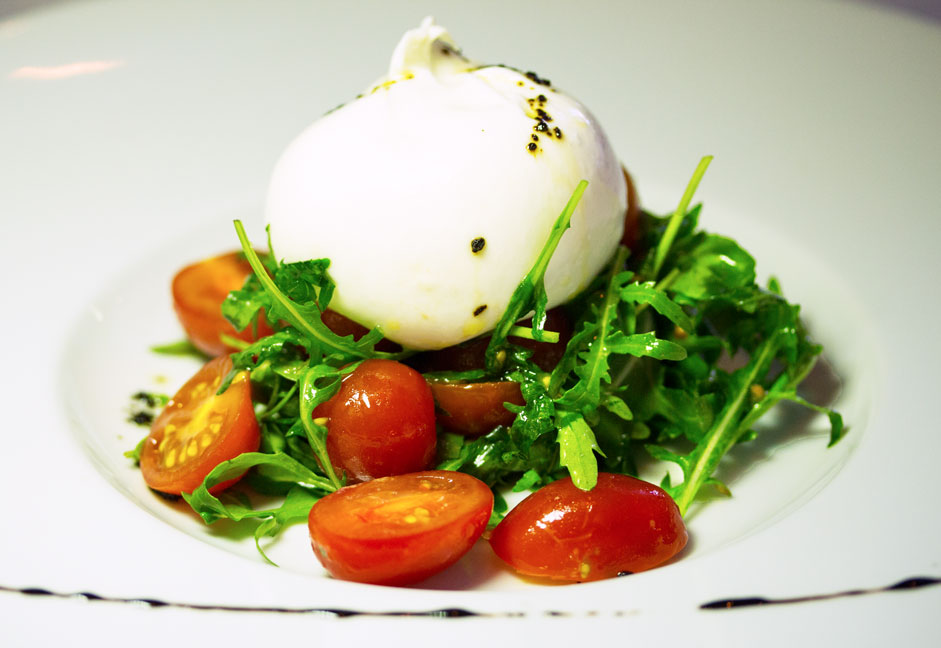 Talk about London and it's likely a conversation about financial hubs (yes, even now after Brexit), the bustle of Oxford Street, the draw of Theatreland and the Tower of London will ensue. But London is actually made up of villages which remain far more charming and welcoming than the thronging thoroughfares more familiar to tourists and indeed most locals.

Stuzzico is located on Kendal Street in the heart of Connaught Village which is just around the corner from the busy Bayswater Road as well as Marble Arch and Hyde Park. This small neighbourhood is both a commercial and residential area, and is part of the Hyde Park Estate, owned by the Church Commissioners of England. It boasts fine houses, numerous designer shops and some rather good restaurants.

I love Italian food but in London at least, those restaurants do vary in quality. There are plenty of pizza parlours, but far fewer are those restaurants that actually offer fine Italian food in an adult environment without even the hint of an offer of 'All you can eat for £2.50'. Stuzzico presents a broad menu of quality dishes to tempt the discerning diner without a shocking bill at the end of the meal.

This is a contemporary restaurant with a view to the historic and attractive village. It isn't a themed Italian restaurant but more one which offers European style in decor but very specifically Italian food. It's small but well-staffed. There is no danger that your waiter looking after table number 26 will ignore the desperate waving from table 41. Stuzzico is intimate and friendly.


My guest ordered a very Italian starter: Burrata di bufala - Buffalo Burrata garnished with rocket leaves and cherry tomatoes with black garlic dressing. Burrata is an iconic Italian cheese made from mozzarella and cream. This is a world away from the waxy mozzarella found in every supermarket, the sort that makes your teeth squeak and tastes like it has had all flavour freshly removed. This cheese is rich and moreish. The outer shell is of regular mozzarella but the inside is stuffed with a mixture of mozzarella and cream. It has a soft texture with that cream bathing the solid elements.

Insalata tiepida di polpo, cipolla rossa e borlotti - warm octopus salad garnished with red onions and served on a bed of borlotti beans - was my first course. Borlotti beans are also known as cranberry beans and are popular in southern European cuisines. They have an almost nutty flavour and a comforting texture when properly cooked, and these were. But the octopus was the star of the dish. The slender tentacles took on a delicious char which added so much to the flavour balance of the beautifully presented dish. This is a plate that transports one to the shores of the Med on a warm evening.


Rana pescatrice alla mediterranea - Monkfish with black olives, cherry tomatoes and capers - must surely be a signature dish here. This is a heap of meaty fish with great interest from the vegetables – or are they fruits? People are confused about the difference between capers and caperberries. The two are not interchangeable although they both come from the same Mediterranean plant. They both have a distinctive flavour but caperberries are larger than the more common caper buds. They are much milder in flavour and are used when a less strident garnish is called for. This monkfish was a delight and substantial, as are all dishes as Stuzzico.

Cantucci e Vin Santo - glass of sweet Vin Santo wine and almond biscotti - must surely be the most charming of ends to any Italian meal. The name means Holy Wine and there are several theories as to how it arose. In the Middle Ages, a Franciscan friar is said to have used altar wine to save people from the Black Death. I am not sure that can be true as if it had worked the plague would not even have reached the English Channel, but it's a nice story. This sweet dessert wine is usually made from Trebbiano and Malvasia varieties of grape, and indeed Trebbiano is the most widely cultivated grape in Italy. Nectar – with a cookie on the side.


Stuzzico deserves more than just one visit. It has attracted locals who bring friends for celebrations, and they pop in for just a simple bowl of pasta. Plenty of visitors from overseas here on business also appreciate the menu, which offers something for every taste and appetite. It has a great location, being just a short walk from Paddington station and bus routes, but it's the food that will assure return visits, and many of them. I'll be back to try a small bowl of spaghetti, a steak and perhaps some pistachio mousse.

OPENING HOURS: Closed on Bank Holidays

Monday to Friday
8:00 - 16:00
18:30 - 22:30
Saturday
9:00 - 16:00
18:30 - 22:30
Sunday
9:00 - 16:00

Stuzzico Ristorante
24 Kendal Street
London W2 2AW

Phone: 020 7262 9122

Visit Stuzzico here



Saturday Brunch at OXBO
This isn't my first visit to OXBO and it won't be my last. Yes, dear reader, it's a restaurant in a hotel but it has Bankside is a comfy venue which works well for groups at weekends. Its tables are configured in such a way as to provide a little privacy. Folks can enjoy a meal and then become tourists in this historic area.

Bankside is part of the London Borough of Southwark and located on the southern bank of the River Thames. The name is recorded in 1554 as the Banke syde. In Elizabethan times it was outside the jurisdiction and therefore the laws of the City of London and so became the area of choice for those looking for such amusements as bear-baiting pits and playhouses, and that included Shakespeare's Globe. The theatre was built in 1599 but burned down in 1613, was rebuilt the next year, and then closed by the Puritans in 1642 and demolished shortly after. A modern replica was constructed in the late 1990s. That's just around the corner from OXBO!


After the success of the Bottomless Sunday Roasts, OXBO has now launched its Bottomless Saturday Brunch. This follows the same dining format as that for the Sunday Roast. One grazes the starter counter first. The Salad Table might include dishes of potato salad, ratatouille, barley couscous, as well as lots of other fresh and flavourful preparations. Fish dishes of sliced salmon and swordfish sashimi, tiger prawns, a couple of varieties of gravadlax, and swordfish ceviche are on offer.

Carnivores are catered for with platters of ham, peppered pastrami, smoked chicken, spiced Iberico chorizo, and smoked turkey breast. Vegetarians are offered yuzu marinated tofu, marinated mozzarella, olives and other vegetable salads and cheeses. But don't fill up on these, as Saturday brunch also offers eggs!


Brunch is the marriage of breakfast and lunch, so egg dishes are invariably included. Here the open kitchen presents a platform for chefs to showcase 'Eggs Your Way': boiled, poached or scrambled. But there are also composed dishes of classic Eggs Benedict and Eggs Royal, Three-Egg Omelette with fillings, and Waffles, too - and they could also constitute a dessert.

But there is another savoury course before those sweet waffles. There will be a selection of ever-changing dishes for the whole table to share. We enjoyed salmon and beef and ravioli, along with glasses of cava which never dipped below the half-way point. The beef, in particular, was melting and flavourful, and the cheese and walnut raviolis were an understated triumph.

But there was still dessert! Yes, the kids might have their eyes firmly fixed on the aforementioned freshly cooked waffles along with syrups and sprinkles, but the rest of the party will appreciate the patisserie here. There are fine miniature tarts with fruits, nuts or chocolate, and there are cookies and pastries too.

I met Executive Chef Paul Bates a number of years ago when he worked at 'another place'. He has built a solid reputation and OXBO isn't in any way a retrograde step. Its open kitchen offers a bit of light culinary interaction, but it's the changing main dishes and the quality of the buffet plates that assure OXBO's continued success.


Bottomless Brunch includes three courses and unlimited Prosecco or Cava, the standard Brunch includes three courses and a glass of Prosecco or Cava, and these brunches are available every Saturday.

Booking allocations are between 12 noon and 3pm.

Bottomless Bookings will have an allocation of 2 hours.

OXBO Restaurant
Hilton London Bankside
2-8 Great Suffolk Street
London SE1 0UG

Phone: 020 7593 3900

Email: info@oxbobankside.co.uk
Visit OXBO here
For more information on the Sunday Roast visit here




Forman's Restaurant
London is moving east. There has been much investment in an area that already had good transport links. New building for both housing and commerce has revitalised local economies and indeed aspirations. H. Forman is best placed to enjoy the benefits of a rising population that appreciates tastes of the good life.


Forman's Restaurant and Bar enjoys uninterrupted views of the Olympic Stadium across a river fringed by narrowboats. According to The Times the restaurant boasts the best view of the Olympic Stadium at Queen Elizabeth Olympic Park. It will host both the 2017 IAAF World Championships in Athletics, and the 2017 IPC Athletics World Championships. H. Forman's headquarters and restaurant are in the building closest to the stadium outside of the Olympic Park, being only 100m away across lots of greenery and that little river.


H. Forman's new location was opened by the former Mayor of London, Boris Johnson, in 2009. The building was designed by award-winning architect Phil Hudson, in the shape of a 'darne' of salmon. There are lots of nods to this noble fish inside the restaurant with artwork, ceiling reflections, shimmering bar front and banquettes in scale-blue.


Lloyd Hardwick is the Director of Operations at the restaurant. He worked with the Roux Brothers, going on to become the first Executive Chef of The Tate Modern. Pretty good credentials, so it's no surprise that the food here is so subtly impressive. Simple, traditional with innovation, and just plain good. It seems to be all about fresh, seasonal and comforting. It's both British food and British drink, with a hint of Eastern Europe along with East London.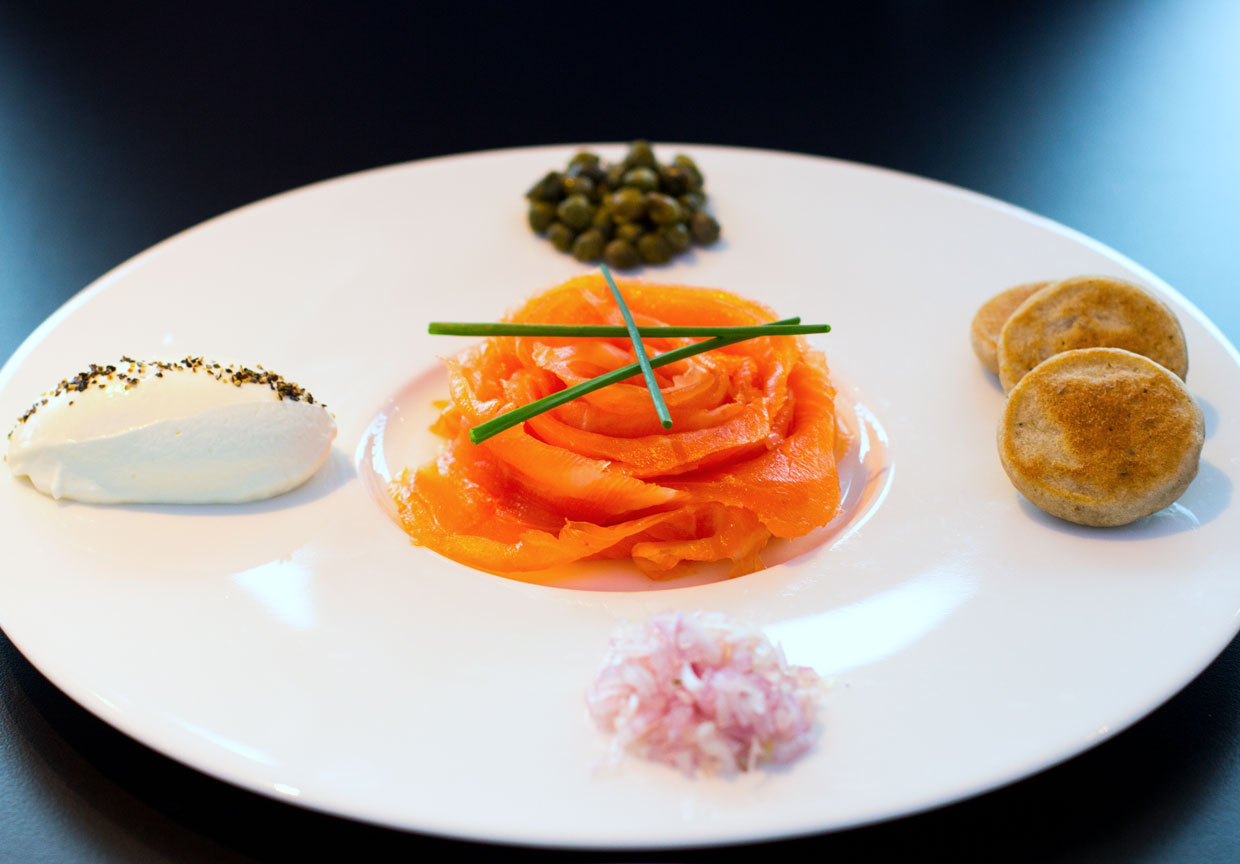 London Cure Smoked Salmon is obviously a signature starter here as it was the founder Harry Forman's invention way back in 1905. He came to East London from Odessa as a fish-curer, but discovered the salmon of Scotland at Billingsgate fish market. He changed his curing method to take advantage of this sweet fish which was so different from the brined imports from Europe. Here that celebrated London Cured Salmon is served beautifully in traditional fashion with buckwheat blinis (little pancakes) and a garnish of onion, capers and sour cream. It's a striking presentation which showcases that delicate fish which will likely be nothing like the smoked salmon you were expecting. This tastes natural and light and it's totally addictive.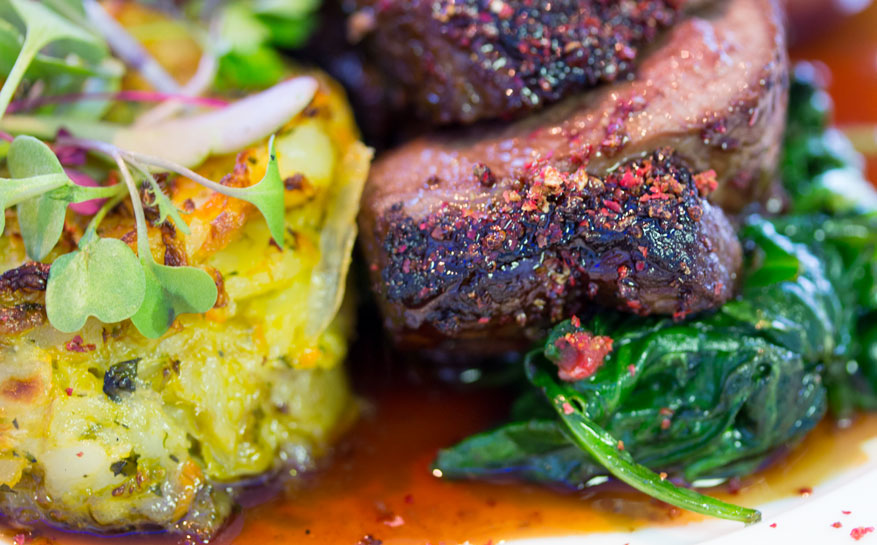 Warm Smoked Eel Fillets was my choice of starter. This made the best of that flavourful and oily fish which was once so popular. These were served atop Jersey Royals with capers and mustard dressing. A simple dish made with familiar ingredients but equally a dish that showed confident flair. Every element brought something to the plate in taste and texture.


Forman's understands that not everyone is a fan of fish, so for those, and also for the pleasure of the restaurant regulars, they offer meat dishes too. My guest was tempted by Pepper-Encrusted Rump of Rhug Organic Salt Marsh Lamb with Bubble and Squeak and a Port Reduction. The portions here are substantial and he pronounced his ample plateful to be delicious in every regard. The meat was cooked to succulent perfection, with additional flavour from the spice crust. A winner.



Seared Scottish Salmon was my choice of main dish. Once again it was thoughtfully constructed. The fish was fresh-tasting and moist with a skin that was crisp and mahogany in hue. Perhaps some folks don't eat fish skin but I subscribe to the Japanese tradition of eating every bit of the salmon, and this was delicious and with a hint of almost savoury umami. Once again it was simple but absolutely correct.


But then there was dessert. No, I lie. This was always going to be the pud from the old school of rib-sticking sweet pleasure. This is Golden Syrup Sponge Pudding with Crushed Praline Ice-cream and not to be missed. I know that polite society might sneer at such a dessert in summer but I hope this one is 'on' all year round. To taste it is to love it and it instantly bought back childhood memories. Yes, that syrup is undoubtedly sweet but it has a taste all its own. Served with the plain sponge this is unbeatable. Here it's cooked and presented in the iconic green tin.


I wasn't sure what to expect from Forman's restaurant. I had tasted their smoked salmon before so I wasn't surprised at that quality, but the whole restaurant was a delight. It's contemporary, bright and with that view! But it's the food that assures return visits. At the moment it's the culinary oasis of the locals and there will be more of those residents as the area develops. It's a company with history and provenance, and I like their style. I'll be back for Saturday brunch or perhaps for some cocktails and a sharing platter. Yes, I'll return with pleasure.



Restaurant opening times
Thursday: 7pm to 11pm
Friday: 7pm to 11pm
Saturday: 10am to 3pm brunch. 7pm to 11pm dinner
Sunday lunch - Midday to 5pm

Last table at 9.30pm for Dinner and 3:00pm on Sundays

Forman's Restaurant
Stour Road
Fish Island
London
E3 2NT

For parties of 6 or more phone: 0208 5252 365

Email: restaurant@formans.co.uk

Visit Forman's Restaurant here





Donald Russell for BBQ
Well, it's bound to really be summer soon, so we can plan and prepare for those days of al fresco dining. Key to the success of the event will be the meat, so visit Donald Russell as they will deliver your selection to the door - another worry out of the way.

Donald Russell has long had a reputation for providing the best of meat to some of the most prestigious of restaurants, but you can enjoy that quality too. Their meat for a barbecue is unbeatable and things like burgers and ribs are already seasoned or sauced so you are ready to go.

Impress your friends with Spiced Lamb Burgers. These are delicious and versatile, with seasoning that allows the cook to add garnishes to produce 'ethnic' burgers for every taste. How's about a Greek Burger with a topping of Feta cheese and Tzatziki. This is fresh and light with great tang from the cheese.

For a recipe for a Chinese Lamb Burger in a steamed bun visit here.

Baby Back Ribs always make a spectacular presentation and Donald Russell have done all the work for you. These can be cooked in an oven while the burgers are occupying the outdoor grill. These ribs are moist and meaty with a sauce with is sticky and memorable. They are already marinated and have been slow cooked for 4 hours. My husband pronounces these the best he has ever tasted.


Luganighetta Sausages can take up some space next to the burgers on the barbecue. They are a dense and well flavoured sausage made with both pork and beef, and seasoned with cinnamon and coriander. These are positively addictive when served on a bed of roast potatoes with peppers, onions and garlic, and these vegetables can be cooked in the oven which has already been heated for the aforementioned ribs!

Donald Russell assures success with its high-end products. There are plenty of pre-prepared BBQ meats on the market but it's easy to taste the difference. It's attention to gastronomic detail that will likely keep you returning to try other meats from the Donald Russell range.
Visit Donald Russell here




Le Garrick – Steak with je ne sais quoi
Le Garrick restaurant and wine bar is conveniently located in the heart of Covent Garden in London's West End. I am no stranger here even though this neighbourhood has a wealth of restaurants of every culinary hue. It's a timeless treasure and became one of my favourite restaurants after that very first visit. As I said before - I am almost loathe to promote it, for fear I won't get a table next time.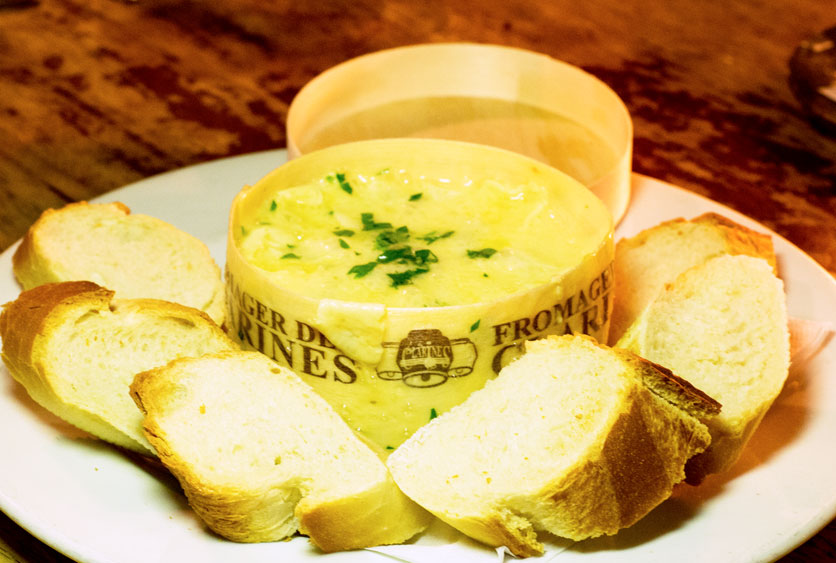 Le Garrick is that rare restaurant which exudes accessible charm, offering classic food and service with a smile. It's like visiting your very favourite French auntie who might once have been an actress. The best cooking, Gallic style, and some theatrical sparkle. Granted, that auntie has her dining room in her basement, but that adds so much cosy intimacy. Brick walls, earth tones, low lights would make this the perfect 'first-date' venue for those with sophistication and élan.

It's unsurprisingly a traditional French menu, with a host of classics to tempt Francophiles or anyone with a passion for well executed dishes; but we were salivating for steak – and there is one in particular that is celebrated here. But first there was a starter.

Fondue de "Vacherin" pour deux - cheese fondue cooked with white wine and chives - must be a signature dish here, although it's truthfully best described as a signature box, for that's exactly what it is. One might have a vision of a fondue pot complete with burner arriving for some DIY culinary action but here it's somewhat different. Vacherin is a soft, rich cheese made from cow's milk and usually in the Jura region of France. It is sold in round boxes made of spruce and this fondue is actually cooked and served in its original box. Nothing needed as garnish apart from baskets of bread for dipping. The title mentions 'pour deux' and this truly is a starter for sharing, as there is a magnificent main dish to follow!


Entrecôte grillée sauce au poivre ou béarnaise is a feast for any carnivore with a huge appetite, but also makes a great meal for two discerning diners when a couple of side dishes are added. This is a simply and correctly presented 14oz chargrilled 28-day hung rib-eye steak on the bone, with fries and peppercorn or béarnaise sauce. This is the meal that those returning from a stay in France will crave. It's not fiddled with. Its natural flavour isn't camouflaged with gastronomic ornamentation. This is just likely to be one of the best Entrecôtes you will ever have. For those with a hankering for a less hefty steak then there is Faux Filet, although even that is a substantial slab of succulent meat. This is a standard dish of steak and chips but it's hard to beat when done well.

But it's not only steak on the menu here. I can attest to the quality of some other items, for example Escargots de Bourgogne - Six Burgundy snails without shells cooked in garlic and parsley butter, as a starter. The menu says these are a 'must try!' and they really are. Cassolette de calamar à la plancha au piment d'Espelette is a plate of pan-seared calamari Basque-style with a sprinkle of coriander, ginger, and the famous Espelette chilli from the Basque region of France.

Le Garrick offers Cassoulet de Toulouse which is the iconic dish from south-west France. Lingot beans with duck confit, pork belly and garlicky Toulouse sausage make a substantial plateful. Perfect for a tummy-filling treat of savoury comfort.


The wine list here is solid and sensible. A great selection of wines by the glass, bottle or carafe so it's easy to make a decent wine pairing even at lunchtime when a full bottle might not support a productive afternoon back at the office.

Those with a sweet tooth are not forgotten at Le Garrick. I can recommend Crème brulée, tangy Tarte au citron - lemon tart with crème fraiche and raspberry coulis - and the Petit pot au chocolat - a decadent chocolate mousse. Can't make up your mind? Then order Café Gourmand which is a selection of three little desserts along with coffee or tea.

Le Garrick won my heart a while back and I remain smitten. Yes, it's a matter of taste but this bijou establishment is just right for me. Food, wine, individual style and a warm welcome keep me returning.

Le Garrick Restaurant
10-12 Garrick Street
Covent Garden
London
WC2E 9BH

Phone: 020 7240 7649

Email: info@legarrick.co.uk

Visit Le Garrick here



Donald Russell Spiced Lamb Burgers with Chinese Steamed Buns
At last the summer is here. We don't have guaranteed good weather in the UK so when we have warm days we want to make the best of them. There is nothing better than a barbecue on those weekends when the weather cooperates. Sure, it's a casual meal but one with meat as its focus, so it needs to be good.

Donald Russell has the most succulent ribs, sausages and burgers to make the most of those alfresco dining opportunities. These Chinese burgers take advantage of Donald Russell Spiced Lamb Burgers. That seasoning is well balanced and allows for all manner of extra condiments and flavours from around the world, and the meat is dense and hearty. The Asian theme is accentuated by the addition of kimchi and kimchi mayo, as well as the light and fluffy bun hot from the steamer. Cut the burgers in half and allow 2 of these Chinese burgers per serving along with toppings, for something that looks stylish and tastes divine.

Serves 4
Ingredients
4 Donald Russell Spiced Lamb Burgers

For the buns
300 g plain flour
1 tsp instant yeast or normal dry yeast
40 g sugar
1 tsp baking powder
160 ml water (approx)
2 tsp vegetable oil, plus extra for brushing

Kimchi, Mayonnaise, cucumber, spring onions for garnish


Method
In a big bowl mix the yeast with some lukewarm water and let it sit for a few minutes.

Add the flour, sugar, butter, baking powder and the rest of the water to the bowl. Stir the mixture until it comes together as a wet dough.

Knead the dough until it becomes smooth and elastic. Pinch a small portion of dough and pull it between your fingers to see if it is stretchable. If it breaks up easily, continue to knead until you are able to stretch it without breaks.

Divide the dough into 8 small portions. Shape each into a ball, and roll out to produce an oval about the length of your hand. Lightly brush half the top surface with oil and fold over to produce a 'D' shape.

Put each bun on a piece of silicone paper and leave it aside to rise for 40 minutes.

Steam over high heat for 20 minutes.

Eat right away with a stuffing of grilled Donald Russell Spiced Lamb Burgers, cooked on the barbecue or under the grill, then halved. They will be done to perfection after 4-5 minutes cooking on each side. These are substantial burgers with aromatic seasoning, but presenting them in halves on steamed buns looks delicate and exotic. Be warned – two of these buns might not be enough for some of your hungry guests! These are exceptional and go straight from the pack to the barbecue.

Garnish: For kimchi mayo mix some mayonnaise with some juices from the kimchi.
Top the burgers with a smear of mayo, and pieces of kimchi, spring onions and cucumber.

Visit Donald Russell here



Talli Joe
The name had me curious from the start. There is an explanation, however. Joe is a 'regular Joe' indicating a casual inclusiveness and he could be from anywhere and going anywhere. That just about sums up London. The restaurant describes the Talli element thus: "Talli /T-uh-li/ tipsy (adjective), a happy intoxicated state of being, often rendering the legs useless." I would say that there is a balance here between drink and food. This is far more than a cocktail dive – although the mixed beverages are noteworthy at Talli Joe.

Shaftesbury Avenue is coming up in the world, with more and more reputable eateries bordering that bustling thoroughfare. Shaftesbury Avenue in the city's famed West End runs for over a mile in a north-easterly direction from Piccadilly Circus to New Oxford Street. Named after the 7th Earl of Shaftesbury, the street was built late in the nineteenth century. Although a parliamentary act authorising its construction was passed in 1877, it took 10 years or so before the street was finished. Its position at the heart of the West End means that many of the city's most celebrated theatres can be found here. Hermione Granger mentions Shaftesbury Avenue in Harry Potter: "Shaftesbury Avenue; I used to come to the theatre here with Mum and Dad."

Talli Joe is an all-day establishment. They use the term 'half plates and full drinks' to convey their ethos, although that rather puts the emphasis on the booze instead of the food, and that is somewhat of a shame as their menu, although small, is interesting and the dishes well executed. It could more accurately be described as a creditable bar and an equally creditable casual restaurant associated with it. The concept allows the diner to enjoy much of that bill of fare at one sitting and perhaps with a different cocktail for every course – if you can stand the alcoholic pace.


Kerala Banana Wafers with citrus salt seasoning are great to nibble while ordering some more substantial offerings. These are rather unique and architectural and should be sold by the bag-full …big bag full! Kale Chaat is a starter and a must-try here. The texture is crispy, the presentation attractive and these little fritters will likely persuade even the most sceptical to the merits of what is so often a rather iffy vegetable.

Rasam Shrimp Shot was well-spiced as was the Bohri Chicken and Chicken 21 – said to have taken that number of attempts to perfect this recipe. The Banana leaf-wrapped Sea Bass was outstanding, with the fish being some of the most succulent and delicate I have tasted in a while. Messy Thokku is an egg pickle and that might not sound too appealing, but trust me it's good enough to be a signature dish here. It's tangy and fresh, and deserving of a place on this menu. Kochi Beef Fry was flavourful and well balanced, and substantial.


Nihari Nalli might also be a little challenging for the untutored. It's a veal bone split to reveal the marrow inside. This is creamy and rich and after this dish diners will understand why bones are so prized when cooking roasts and casseroles. This is almost decadent and thoroughly memorable – a dish for the serious lover of the good things in life.

Berry Malai is the light dessert you will likely be craving after a meal of such tempting and flavourful dishes. The yoghurt is thick and creamy with the fruit adding freshness. Black Gaja Halwa is for those with a sweet tooth. Gaja Halwa is a traditional dessert and often found on Indian restaurant menus, but here the carrots are black and that does add aesthetic drama to this confection.

Yes, dear party-loving reader, I know you want to hear more about the libations at Talli Joe's. I tasted several and they were well-matched with the aromatic and robust plates here. The whimsical Paan Aam Tequila-based cocktail is well worth ordering. I have never been a fan of tequila in anything other than a Margarita but this Paan Aam has made a believer of this doubter.


Madras Gimlet is another cocktail that truly works. Gimlets are classic cocktails and date from the 1950s in the USA, and made with gin and lime juice. Joe has that spirit infused with turmeric for some added sub-continental charm.

I wasn't sure what to expect from Talli Joe but enjoyed the buzzy ambiance, with many of the diners/drinkers being young well-heeled Asians, who were evidently smitten with both beverages and plates. The location couldn't be better but it's the food which will encourage me to return; well, that served with perhaps a Holy Basil cocktail …or that intriguing Day in Delhi.

Talli Joe
152-154 Shaftesbury Avenue
London
WC2H 8HL

Email: info@tallijoe.com

Phone: 020 7836 5400

Visit Talli Joe here



Domaine Papagiannakos Winery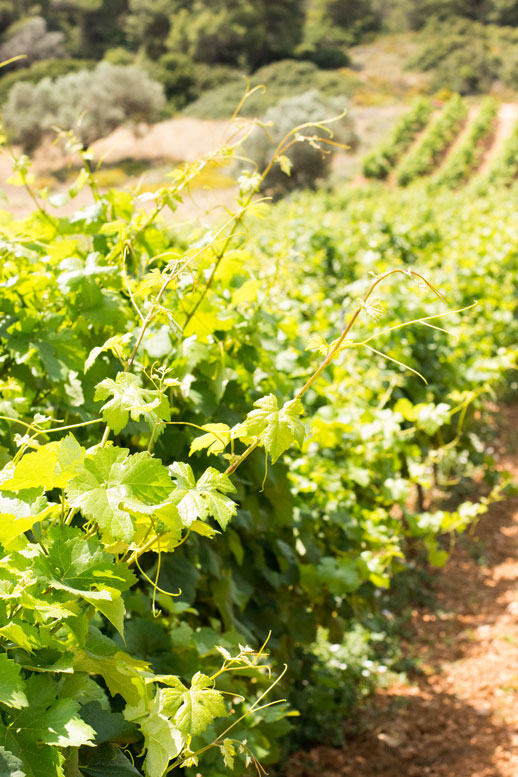 A few years ago one might scoff at the prospect of a visit to a Greek winery. The memory of old-school Retsina lingers on. That wine had more in common, to non-Greek taste buds at least, with that in which one might clean paint brushes. But those days are gone and now Greek wineries are taken seriously in the international arena and they are winning awards against more familiar wine-producing countries. Viticultural snobbery has been, in most circles, swept away and wine aficionados are now able to appreciate some very fine vintages.

Vassilis Papagiannakos is a leader in the reinvention of the Greek wine industry and after decades of hard work he is now enjoying recognition and international respect. He and his wife Antonia started building this new and technologically advanced winery in 2003 and it was opened in 2007. It is designed on bio-climatic principles: it saves 25% energy by using natural light and ventilation to control the temperature inside, making it cool in summer and warm in winter. It was the first energy-saving winery in Greece, and the design has received architectural awards.

We spoke to Vassilis in the state-of-the-art winery which ticks every box for technology, eco-friendliness, and architectural good taste. "It took me almost 2 years to find the architect. Most were saying that they wanted to visit wineries in France, Italy, California, Australia, New Zealand, to take photographs and I would choose what I liked. I did not like that approach, and when I told a friend of my concerns he recommended an architect who had worked in the UK on bioclimatic buildings. At last we had found someone with original ideas. The first vintage in the new building was in September 2007. Similarly with our label designer: she is English, married to a Greek and had designed for many international brands.


"The design of the winery puts everything underground. I wanted to incorporate the building into the surroundings, adapted to the environment. But when we dug the foundations over 5 metres down we discovered an ancient river, which we could not block. So we had to fill the bottom of the excavation with a metre of big stones, and build the winery on top of that!"

Vassilis explained the history and ethos of his building and production. "My ancestors were grape-growers, like all the villagers of this region for thousands of years. But my grandfather emigrated to the United States at the beginning of 1900. He stayed for ten years, and worked very hard. When he came back he married my grandmother, who owned some vineyards, and with the money that he had saved he bought more vineyards and built the first winery.

"My father worked to improve the technology in the 50s and 60s with equipment from France. It was always a family business, as it is today, and we cultivated the main grape of the area, Savatiano. This is mostly a limestone soil, and we have mild winters, and hot and dry summers. We have a minimum of 320 days of sunshine, and no rain from the middle of May until October, and low humidity. We are very lucky as we are close to the sea: we are surrounded by it, on the east coast of Attica, and we get the breeze from the Aegean, and there is a strong wind that blows in the afternoon, until sunset. This cools down the grapes. The advantage of this grape variety, Savatiano, is that it is very well adapted to this climate, and 95-97% of our vines are not irrigated. Because that grape has been grown here for thousands of years it is well established,and the roots go very deep – perhaps 20 to 25 metres – and the yield is very low."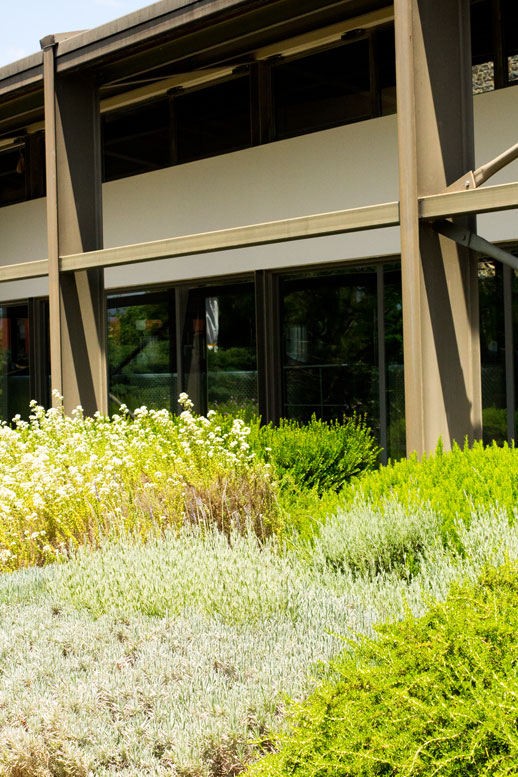 Why did Vassilis step away from traditional Retsina? "I saw that Savatiano was associated only with Retsina and my father and grandfather were producing mostly just that, because this was the market at that time. In the 70s and 80s we started making wine without resin, but it was simply called 'aretsina', without retsina! So I took the decision to cut back on making Retsina and focus on using Savatiano to produce a conventional white wine. I don't advertise our Retsina, but most of it is exported, our best market being Paris! Our white wines can compete and be compared with other international grapes and wines from other countries, but Retsina is unique to Greece. "We have planted grapes from other regions of Greece, like Malagouzia, and international varieties like Merlot and Cabernet Sauvignon, which we support on wires, and we always irrigate those at least twice during the summer to avoid hydro-stressing the vines. We only give the vines a sulphur spray in May, and otherwise we do not need to spray, as we have no diseases in this area due to the hot, dry climate. We rarely suffer from mildew – just once in 48 years. We are naturally organic. Although we are not certified, laboratories here and in Germany and Canada acknowledge that our wines are organic.

"All our vineyards are maintained by hand. We have about 10 people regularly working for us in the fields, but that goes up to 50 at harvest time. That lasts 2 months, from the beginning of August until the 20th September. Malagouzia that I planted 15 years ago is always the earliest to ripen. Then Assyrtico, then the reds (Merlot, Cabernet Sauvignon and Agiorgitiko), then at the beginning of September, Savatiano, which is our main production. Mostly we use grapes from our own properties for our wines, but we do buy grapes from vineyards owned by members of our extended family and friends. Land prices are very high in this area, so it is not economic to extend our own vineyards. Because of the geography of Greece, the terroir, and the break-up of property by inheritance, production is very artisanal and we have very high costs. I think that the selling prices are still too low, but we don't have the reputation of somewhere like Burgundy. We deserve it, but we will have to build up the awareness and reputation.


"Because of the many different terroirs, altitudes and climates on the mainland and on the islands, we have more than 400 varieties of grape in Greece, although only 15 to 20 are used for wines exported to international markets. Production is generally 70 to 75% white wine, due to the climatic conditions. We produce about 200,000 bottles per year. Our best market at the moment is Germany, (in part because there are more than 5000 Greek restaurants there!), then the United States, Canada, and Britain.

"Red production is 15 to 20 % of our total, mainly Merlot and Cabernet Sauvignon (5000 - 7000 bottles each) and some Agiorgitiko, and we keep it in the barriques (barrels) for 13 to 19 months, depending on the year. We always buy new barriques – we have experimented with various ones, and we have settled on wood from two forests in France, and focus on two particular suppliers. We also produce a barrel-aged Savatiano white wine called Vareli (which is the Greek for 'barrel') – we keep that wine in new French oak barrels for 5 to 6 months. In early 2000 I planted Malagouzia, Assyrtiko, Merlot and Cabernet Sauvignon. They take five years to produce grapes, but to come fully into production takes 7 to 8 years, as we need two years for experimentation."

This beautifully presented winery is outstanding and can compete with wineries anywhere in the world. They have the best of wine-making facilities, and elegant social space in which to host group gatherings and receptions in striking fashion. The building has open vistas over fruit trees, figs, pistachios, herbs and of course vines. This noteworthy winery has inspired a lot of other winemakers from all over Greece and other countries. Students studying architecture use the building as a project because of the bioclimatic and energy-saving design. "Many want to copy our building," says Vassilis, "I am very proud because this is the first one. We used the best materials, and it was a very big investment for us, and it was a very tiring time, but it was my dream – I would not settle for second-best." And he hasn't.

This man has charisma and charm. He is an international traveller and has a taste for curry when visiting London. Yes, he is a citizen of the world but his heart and passion are in Greece. He has struck the right balance between hard work and family life, with both his daughter and wife working by his side, and his undoubted success is well-deserved. I look forward to tasting more of his admirable wines in the future.

Learn more about the Papagiannakos Winery here



Cream Tea Cruise from MBNA Thames Clippers
I am a Londoner and I am ashamed to say that I rarely take advantage of visiting our iconic and internationally-appreciated historic and cultural sites, unless I just happen to be passing. The Thames is our ancient thoroughfare, but now work vessels are mostly a thing of distant memory – that watery road is these days the domain prominently of pleasure craft.

There are commuter services, but for the most part the river is a playground for visitors. It's a shame that more of us Londoners don't take a look at our city from the vantage point of the river. The Thames is steeped in history, legends and stories and it's all spread along the banks of this famous river.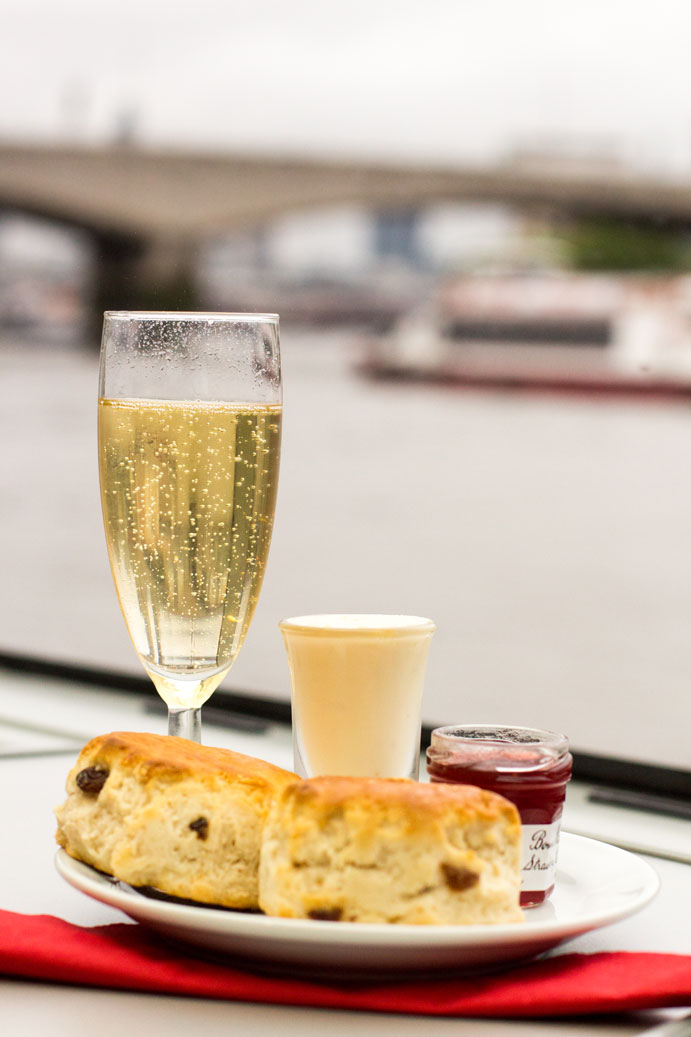 MBNA Thames Clippers offers services into central London from 20 piers across the capital. They start from Woolwich in the east and continue to Putney in leafy west London. They have convenient schedules with departures every 20 minutes. The MBNA Thames Clippers' River Roamer ticket is particularly popular with tourists, who can take advantage of unlimited hop-on/hop-off service to and from more than a dozen piers.

These new and stylish boats now offer their passengers a unique service: a daily traditional cream tea. It's a couple of fresh-baked scones, a pot of jam and even the indispensable clotted cream. There is a cup of tea which will be replenished as often as you like, and there is even coffee, although that wouldn't be at all traditional. For those in a celebratory mood one can upgrade with a glass of Champagne. Sit and sip and watch London drift by.

This floating tea is sight-seeing in comfort. One gets to view London from another perspective and from a warm and cosy sitting position. The trip takes an hour and travels past the Houses of Parliament, the Tower of London and The London Eye. There is Shakespeare's Globe Theatre, the Tate Modern and the dome of St. Pauls, and you will cruise under some of London's most celebrated bridges such as Tower Bridge and London Bridge. A blue-badge guide will provide a commentary during the sailing whilst pointing out interesting landmarks. Even locals will likely learn something new and fascinating about the river and those who have lived, worked and died along its length.

Any keen photographer will love the opportunity to take pictures of different aspects of famous buildings without the heads of fellow travellers getting into shot. You are at the same level as other river traffic and looking up at buildings and bridges, so one can truly appreciate the architecture.

The Cream Tea Cruise departs from London Bridge Pier at 15:30 and lasts for one hour. Prices start from £16.90 for the cream tea and sightseeing cruise. Champagne upgrade is extra.

For further information and to book, please visit here




Gillray's at County Hall
As with any building, and as any estate agent worth his clip-board will tell you, it's all about location. Gillray's must have one of the best, and it's also housed in an iconic London landmark.


This imposing white Portland stone building looks across the River Thames to Westminster and the Houses of Parliament. The chimes of Big Ben count the passing hours, which will be spent in classic comfort at Gillray's. The main six-storey building was designed by Ralph Knott in an Edwardian Baroque style and was opened in 1922 by King George V, with other construction continuing through the 1930s and not completed till the 1970s.


For more than 60 years County Hall served as the headquarters of local government for London. The Margaret Thatcher-led government abolished the Greater London Council in 1986 and County Hall lost its position as the HQ of London's administration. Today it is partly occupied by London Marriott Hotel County Hall and Gillrays' Steakhouse and Bar.



There is so much here that remains of the original architecture. Wood panelling and general classic opulence reflect the history of County Hall's past - and then there is the striking presence of Gillray! You can be forgiven if the name doesn't mean much although most will likely recognise the man's caricatures. James Gillray was born in 1756 and his work reflects the style of those times. There was political unrest and both writers and artists used their talents to make political statements. Gillray regularly attended debates in the House of Commons and sketched the combatants, later using those works for his satirical cartoons.


One enters Gillray's restaurant via the contemporary bar, but linger there for one of their outstanding cocktails. They make their own infused spirits here so the resulting cocktails are totally unique. The bar staff have a deft hand with such implements as blow-torches. There are over 100 gins and a wide selection of beers, wines and spirits, but those cocktails are memorable. This is a delightful spot with views of river and Parliament.


Gillray's has been awarded two coveted AA Rosettes. They are presented for culinary excellence and it's no surprise to find them here. This fine grill restaurant offers classic charm and elegance, and there is that magnificent view. But the diner will likely be here for a steak rather than a sight, and they are famed for them at Gillray's.


Guests are offered very traditional Yorkshire Pudding with a cheese filling as a welcoming nibble. I have never thought of Yorkies as a possible canapé, but when they are this light and fluffy they make a fitting start to a meal in this very British location.


Forman's "London Cure" Smoked Salmon was on the menu and it's a must-try for any first-time visitor to Gillrays or to London. Harry Forman arrived in London's East End from Russia at the beginning of the last century and he knew about curing salmon. He imported them in barrels of brine from the Baltic, but then he discovered the salmon from Scotland, and the rest is history – and a delicious one too.



I chose Goat's cheese with watermelon salad. The cheese was perfectly mature and the watermelon presented as a delicate carpaccio of impossibly thin slices of pink fruit. Refreshing with a balancing tang from the goats cheese.


My guest ordered Confit of Salmon with fennel, dill and beetroot as his starter and he pronounced it to be one of the best salmon dishes he has had in a long time. The flesh of this fish was moist and melting and full of flavour.


O'Shea's Butchers supply the celebrated steaks to Gillray's. They are in their eighth generation as butchers and Darragh O'Shea rears and butchers his own Aberdeen Angus cattle. My guest was tempted by the fillet and it didn't disappoint. It's all about quality here.


I had a Barnsley Chop as they are uncommon even in a city where lamb is so popular. A Barnsley chop is a Northern name for a double chop taken across the loin, giving two portions of meat. It is sometimes referred to as a saddle chop. This is a dish which displays all the juicy characteristics of this flavourful meat. I had mine with just a pat of garlic butter and some lightly steamed pink fir apple potatoes as a side dish.


Bakewell Tart was our dessert to finish such a fine and very British meal. It's a tart which evokes memories of Sunday teatime in the long-past days before the sweet foams of molecular gastronomy. This is comfort food. The classic Bakewell Tart consists of a shortcrust pastry, jam and frangipane and comes from the town of Bakewell in Derbyshire. This was a contemporary version and just as comforting as the original.



Gillray's is well-respected in every regard. The cooking here is deft and the ingredients first-rate. There is polished yet unobtrusive service and a calming ambiance. We will return to sample new menus as seasons change.



Note:
Gillray's new-look à la carte menu includes new starters such as Pan Fried Scallop with Pork Belly; Pea Purée and Bacon Crumble; Pan Fried Breast of Wood Pigeon. For mains they now offer a fabulous Home Cured Pastrami Sandwich on a brioche with pickle, dipping juices and triple-cooked chips, and half a Roasted Free Range Oxfordshire Chicken with game chips and Truffle Bread Sauce. Seasonal sides include a house summer salad and Summer Potage with braised celery, Jersey Royal potatoes and Heirloom potatoes.

Opening Hours
Monday to Friday: 6.30am – 10.30pm
Saturday and Sunday: 7.00am – 10.30pm

The Bar is open until midnight daily

Gillray's Steakhouse and Bar
London Marriott Hotel County Hall
Westminster Bridge Road
London SE1 7PB

Phone: 020 7902 8000

Visit Gillray's here




Maribor – wines, gastronomy, bikes and hikes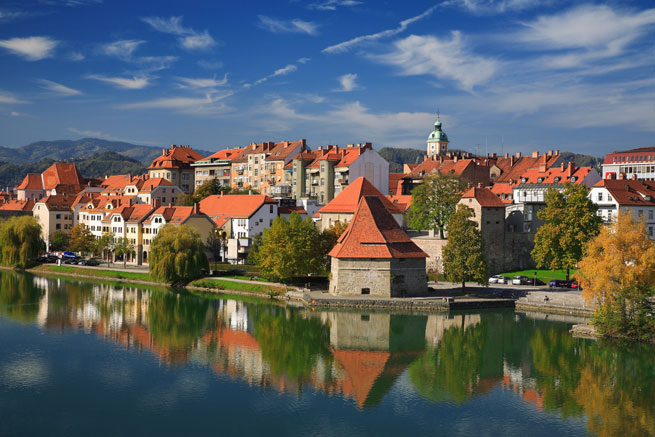 Slovenia is a small country in Central Europe. Small it might be but it has natural beauty, with mountains (Slovenia's highest mountain, the three-peaked Triglav, is depicted on the national flag), vine-strewn hills, thick forests, historic cities and a 46 km long coast on the Adriatic. It is, in some regards, Europe in microcosm.


Slovenia was the first former Yugoslavian republic to join the European Union, in May 2004. Slovenia's independence from Yugoslavia was almost bloodless, unlike Croatia and Bosnia-Herzegovina.


At the end of World War I in 1918 the Kingdom of Serbs, Croats and Slovenes was formed, and turned into a multinational state named Yugoslavia in 1929. Slovenia became a republic after the Second World War in the renewed Yugoslavia, which although communist, was independent from the Soviet Union. Slovenes succeeded in establishing their independence in 1991 after only a few days of conflict.



One of the most attractive towns in Slovenia is the old city centre of Maribor and it's famed for its oldest living resident – a more-than-400-year old vine. This elderly but well-documented plant still grows in front of the Old Vine House, which once formed part of the ancient city wall. The confirmed age is nearly 500 years and it's in the Guinness Book of Records as the oldest vine in the world still producing fruit. It was planted towards the end of the Middle Ages and one can see paintings dated around the mid-1600s, showing the Old Vine leaning up against the same building as it does today. It has lived through invasions, fires, bombing, and pests which killed much of Europe's vines. The Old Vine's roots were so deeply embedded within the banks of the nearby river that the devastations of phylloxera could not take hold, as they had done throughout most of Europe.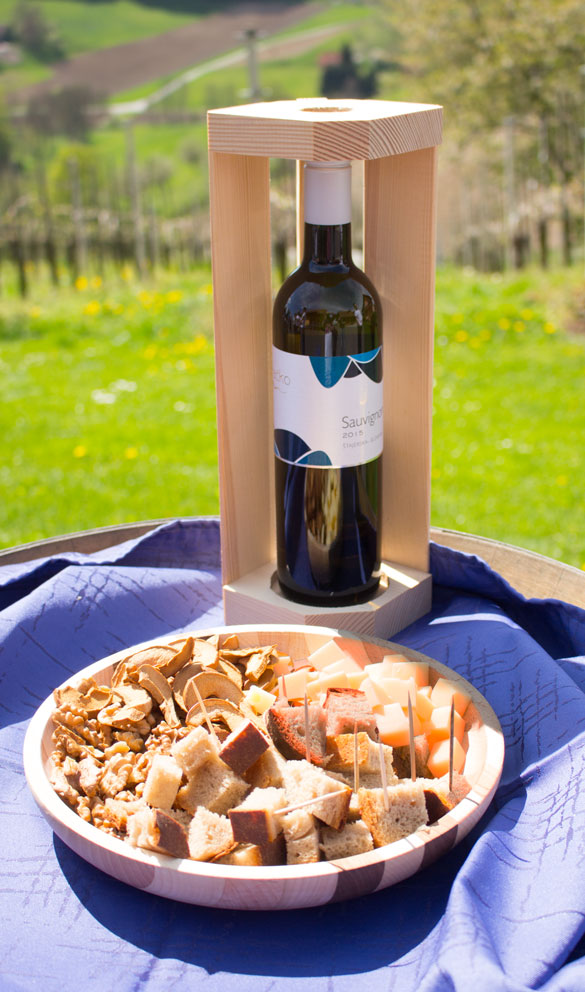 There are more vines and wineries to visit outside Maribor and one can even get some exercise while touring them. There is a local company called Kulebike and they might offer a solution. One can hire bikes for short or extended periods. These bikes are power-assisted so even those of us who are less than perfectly fit can enjoy a comfortable ride. Helmets should be worn. The company provides set routes but they can also arrange tailor-made itineraries for individuals or groups, and even stays at some of the wineries, where you will be able to sample some interesting vintages and also home-made local culinary specialities. Some estates breed their own animals and make their own meat and cheese products, as well as traditional baked sweets and savouries. This is country living at its finest.


Slovenian cuisine is, unsurprisingly, greatly influenced by the food cultures of its neighbours Austria, Italy, Croatia and Hungary. Pork is big here and the animal is used in its entirety, producing succulent stews, flavourful soups and, best of all in my opinion, "ocvirki" which is cracklings or scratchings. I had them served as a topping for pizza. Sounds unlikely but that pie was the best I have ever tasted …and addictive. The most famous dessert from this region is called Pohorje Omelette, which is a beautiful light confection topped with cream, jam, fruit and mint liqueur.


But Slovenia isn't just about rustic dishes. It has many contemporary and refined restaurants that offer traditional plates but also ones that show innovation and flair. The fine-dining establishments still take pride in local products but they are just as cutting-edge as one might find elsewhere in Europe, and the final bill will likely be a pleasant surprise.



Restaurant owner David Vračko has made his mark with Mak in Maribor. There isn't usually a menu here as David is driven by what's best at the market on the day. His only questions will be "Have you any food allergies?" and "What's your favourite kind of food?" Mak is not only a restaurant but a culinary lab and is an oasis for those with a passion for food; and the wine list is excellent, with both local and international bottles.


So you have eaten well and enjoyed some rather good wines. Time to take a healthy hike. Slovenia covers just over 20,000 square kilometres, and has almost 10,000 kilometres of signposted paths. They start on the outskirts of Maribor – or drive a few miles and find another, more rural, landscape.



Hotel Habakuk is a celebrated Spa Hotel and Thermal Centre. Visitors can enjoy the indoor and outdoor pools after long walks in the hills behind the grounds. Warm whirlpool baths with thermal water will help ease those aching muscles. The water in the pools ranges from 29 to 35°C and is rich in minerals. A stay here offers a relaxing environment and fresh air. Winter sports are popular when snow covers the ground. The Spring tempts with walks through wild flowers, and Summer has balmy days and a slower pace.


For more information on Restaurant Mak visit here

For more information on Hotel Habakuk visit here

For more information on Slovenia visit the Tourist Board here

For more information on Kulebike here



Benares for dinner
Situated in the heart of Mayfair, Benares serves Michelin-starred modern Indian cuisine and is famed for doing that. This is fine dining and gives other such restaurants a run for their culinary money, and that's restaurants of any gastronomic persuasion.

Named after India's holy city, Benares, this restaurant offers only hints of its ethnicity in its decor. It is firstly a renowned restaurant that just happens to specialise in Indian food, but the most refined Indian food you will likely find anywhere. There are exotic fabric-covered banquettes, murals, water features and, although buzzing with animated conversation, it's a place of comfortable calm.

I met Executive Chef Brinder Narula a number of years ago when I was researching for Capital Spice. This book included Brinder at another restaurant and also Chef Atul Kochhar, restaurateur and television personality, who is one of the most critically acclaimed chefs in Britain and is responsible for the Michelin star awarded to Benares in 2007. It's good to see that a worthy partnership has been created which does them both credit.


Brinder Narula come from a family where food was very important, although when he left school he wanted to be an engineer; but his brother-in-law suggested he go into the hospitality industry, and he was accepted at the Institute of Hotel Management at Pusa, Delhi. At that time he didn't particularly want to be a chef, and imagined he would be a hotel manager. He started enjoying the cooking course and discovered that baking was very methodical and scientific. At the end of that course Brinder joined the chef training programme and chose to on go to the Oberoi School of Hotel Management, which is famous for its kitchen training. This is where all those famous chefs had started and that included Atul. Brinder trained there for 2 years, and then became a baker and confectioner. "I was at the Oberoi New Delhi for 7 or 8 years, and then they asked me to become a chef trainer, which I did for 3 years. I feel honoured and proud to be able to say that some of the now-famous chefs were my pupils."


Quality shines through every aspect of Benares. Brinder brings his enthusiasm and skill to this worthy platform. He has access to the best and most ethically-sourced ingredients and he uses them to great effect. Even the humble mackerel is showcased here in Rava Machli Rechado - Grilled Cornish Mackerel, Smoked Mackerel and Dill Raita, with a garnish of Lime Gel. This is a must-try whenever it's on the menu. It's not an overly fussy presentation and it's all the better for that, but it's a first class demonstration of balanced flavours and textures – showing an understanding of the tastes of Benares diners and of how to bring out the best in even the simplest ingredients.

Sarson Chooza - Tandoori Honey Mustard Poussin, Tomato Salad and Roast Garlic Mayonnaise - is another subtle stunner, as is Tandoori Macchi Aur Kekda - Chargrilled Scottish Salmon, Spiced Vermicelli, Crab Croquette and Moilee Sauce. That sauce would make a wellington boot deliciously appealing, it's that good, and my only regret is that I didn't unreasonably demand a bucketful to take home, and a reservation for tomorrow's dinner.


Hiran Ke Pasande - New Forest Venison and Biryani, Wild Garlic and Oyster Mushrooms, with Chocolate Curry - is the one for red-meat eaters. This game was meltingly tender and marvellously complemented by that sauce. Yes, it has chocolate but don't start to imagine notes of Cadbury's Dairy Milk. Here it's used as a delicate ingredient to add richness and a slight dark-chocolate edge. This is innovation and not just for the sake of it. It really works.

Changezi Chaapein - Smoked Tandoori Lamb Cutlets, Spring Greens with Ginger and Cumin, and Rogan Jus - is another dish that is well worth a mention. These are perhaps the most flavourful and succulent chops you will find within Greater London. I know you'll find it difficult, but save some space for some sweet treats from the excellent pastry chef here.

But there is a wine list here which any lover of food will also want to explore. Jeepson Lopes, Head Sommelier, offers the best expressions of classic grape varieties. Benares has very good vintages and diners can buy them by the glass. The Viognier from Clay Station, Lodi, California was outstanding. This sommelier is knowledgeable and astute and his selections for our meal enhanced each course.


It was a memorable evening at Benares. It gave us great pleasure to see our friend Brinder Narula, a celebrated chef, at home in Atul Kochhar's flagship restaurant. It's a place of excellence, polish and thoroughly good taste.

Bar: Open all day
Monday to Friday Lunch:
noon to 14.30 Dinner: 17.30 to 22.45

Saturday - Lunch:
noon to 15.00 Dinner: 17.30 to 22.45

Sunday - Dinner: 18.00 to 21.45

Benares Restaurant
12a Berkeley Square House
Mayfair
London
W1J 6BS

Phone: +44 (0)20 7629 8886

Email: reservations@benaresrestaurant.co.uk

Visit Benares here.




Sake Cups – or perhaps a glass
For those of us who love the delicious complexity of sake, the vessel from which we drink is often something of an afterthought. But it shouldn't be.

A sake set is a generic term for the collection of items used for serving sake. It usually comprises a small flask and cups. Many sake sets are still made of ceramic, but they are increasingly made from natural wood, lacquered wood, glass or even plastic.

Let me liken a sake cup/glass/box to shoes. We have trainers for every day. On the other hand, we enjoy wearing high heels (if we are women, that is) as we know we move in a more elegant fashion. Perhaps the sakazuki, a flat saucer-like cup, can be likened to those classic shoes. So let's consider the popular shapes and materials for sake cups both traditional and contemporary.

The oldest sake cup style, the wide saucer-like sakazuki, is more often seen at formal ceremonial events such as weddings these days. Shallow and refined, this cup is lifted to the lips with both hands: one to hold the bottom of the cup like a tray and the other to hold it on the rim. Sakazuki are available in a variety of sizes but typically they hold only a few sips. Sakazuki can be ornately decorated and are usually made from porcelain, earthenware or lacquer. These sakazuki are, in my opinion, the high heels of sake drinking accoutrements. Beautiful, elegant but not over-practical for a long night out.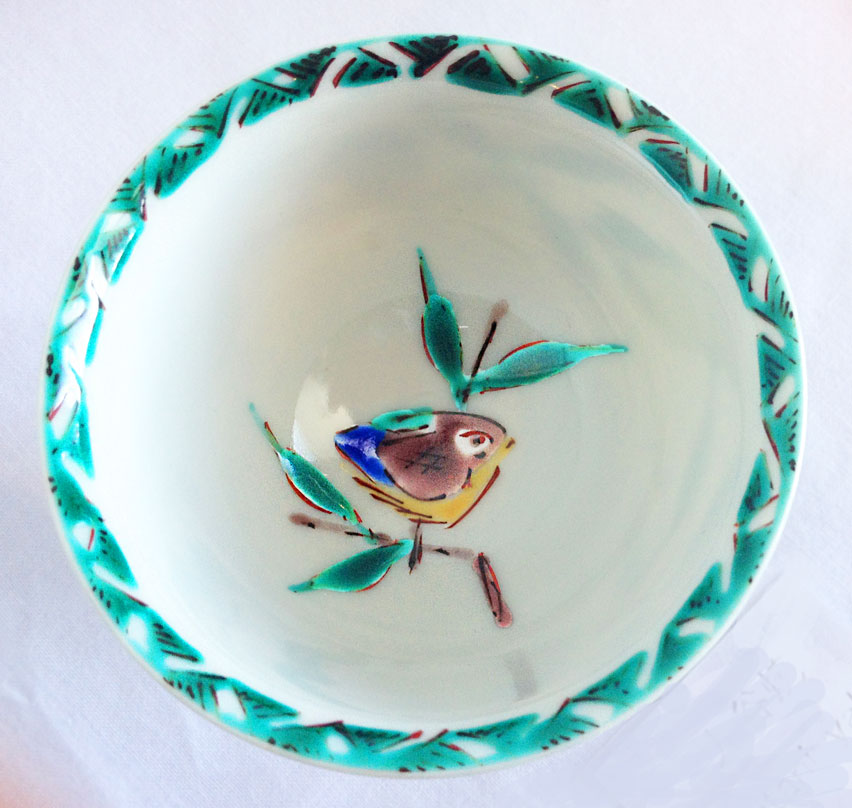 A much more robust alternative is the ubiquitous wooden drinking box called masu. Traditionally these boxes have a volume of 180 ml. A 720 ml bottle of sake equals a serving of sake for 4 people! They were originally used to measure rations of rice. The masu can be filled to the rim as a sign of prosperity or a small glass can be put into the masu and filled to overflowing to symbolise abundance. Masu can be found in lacquerware but I prefer the pale wood of the traditional box. They are hard to break and able to hold a decent amount of sake, so have become the cup of choice for enjoying sake at festivals, cherry-blossom viewing ('hanami') and for me, picnics by the river. One can pretend it's spring in Japan. Today, masu are often used at those iconic sake barrel-opening ceremonies called 'kagami biraki' and at traditional Japanese pubs ('izakaya'). Some folks argue that the best masu for enjoying certain varieties of sake are those made from Japanese cypress, giving still more aroma and flavour from the natural material.

Anybody who has taken a sake course will have likely used a small, white, ceramic cylindrical vessel called ochoko or choko. These days ochoko is considered similar to guinomi which is the same shape, although ochoko are usually smaller than guinomi. Sake producers and tasters use a special large ochoko called kikichoko which has a circular blue and white design on the bottom of the inside of the cup. The blue hue and pattern are used in the evaluation of the sake's colour and clarity, and the cup's wide opening allows for the sake's subtleties of aroma to be appreciated.


Sake stemware is also available these days, with a sake cup being mounted on a wide base. Glass is now commonly used to serve chilled sake, where one can enjoy the dew forming on the outside of the vessel. A white or red wine glass with a wide mouth is suitable for enjoying the fragrant sake styles where aroma is most important. Sake is delicate and subtle so tasting from a wine glass instead of a small sake cup will heighten aromas and flavours. Crystal wine glasses are thinner than ceramic ware and can change the perception of sake's body and complexity. Yes, sake can be served over ice and so sipping from a cut-glass whisky tumbler can be a pleasurable experience.

One is spoilt for choice when it comes to sake drinking vessels. If one is tasting professionally then there is a lot to be said for the traditional industry-standard ochoko or a glass with a wide mouth. But for me, I'll be sticking to my cheap Daiso-bought sake set. It's a traditional design which might not allow the character of the sake to burst forth, but I feel I am really immersing myself in sake culture when consuming it in such a way. So try all the options, make your choice, but do drink sake!



Sunday Brunch - Kurobuta Marble Arch
I confess, I had no idea what to expect. Yes, it was going to be Japanese. But a Sunday Brunch Buffet? How was that going to work? In my admittedly somewhat limited experience, Japanese food comes in two varieties: first – casual noodles; second – etiquette-riddled kaiseki cuisine. So how would a Sunday brunch buffet work then, between those two possible options?

Kurobuta the restaurant was a surprise. None of the minimalist and pale lines of so many Japanese restaurants in London. Think beach bar or a nightclub specialising in food, that just happens to have exceptionally good live music on Sundays. It's urban and completely fitting the location and the local clientele. Think fun and young.

Every Saturday and Sunday, Kurobuta Marble Arch offers a Brunch Menu with Live Buffet. That doesn't mean the food is still moving, only that it's freshly cooked and that is, after all, the ethos of Japanese cuisine. The buffet starts at noon and last seating is at 4pm. It's an all-you-can-eat buffet for a set price including wine and beer, with options to upgrade to unlimited prosecco. There are also items from the regular menu which one can order as extras, and there are a couple of those which I can recommend.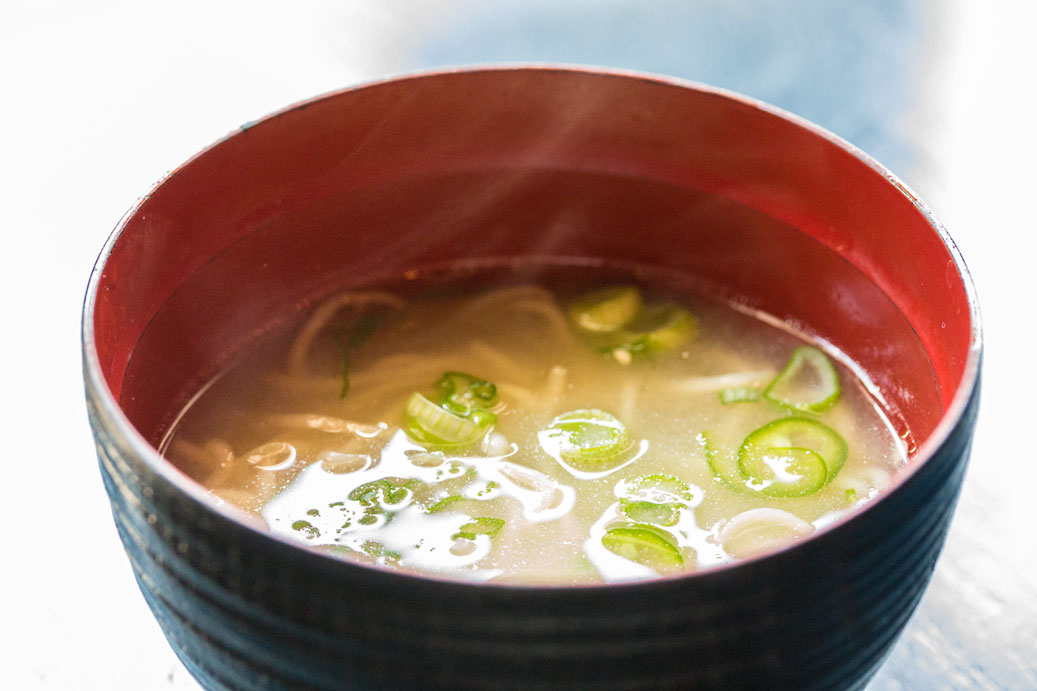 You will be welcomed with a glass of punch or a cocktail and be shown to your rustic table, and then it's on to the food! First there is the Build your own Ramen station with small bowls of noodles awaiting their hot broth, and on this day it was either pork or miso with toppings and condiments on the side to personalise each portion. Yes, Japanese really do have soup with almost every meal and a good miso soup can be addictive – with or without noodles.

Kurobuta Fried Chicken is a winner. These crunchy nuggets are spiced to perfection. One can then grab a bowl of hot rice and top that with slivers of beer-grilled steak, with perhaps a garnish of finely chopped spring onions and some green chilli. That's the charm of this style of dining – one can compose multiple taste and texture combinations.


Salmon Sashimi Pizza with Truffle Ponzu and Wasabi Tobiko is an absolute fusion star! The pizza base is actually thin and delicate fried pastry that holds the beautiful topping which is finished with striking tobiko. That's flying fish roe, often used in some kinds of sushi. Sometimes tobiko is coloured, as in this case, with wasabi to make it green and spicy.

Tofu Wang-Taki is light bean curd, and the Sushi and Sashimi need no explanation. And then there was a bowl of Onsen Eggs. These are traditional Japanese low-temperature cooked eggs which were originally slow-cooked in the water of onsen or hot springs in Japan. The eggs have a soft texture, being poached inside the shell and they are often served with the shell removed in a small cup with a sauce of broth and soy sauce.

But there are also regular menu dishes. BBQ Pork Belly in Steamed Buns with Spicy Peanut Soy sauce is a signature dish here and it's no surprise. The buns are first steamed and then torched, which gives a more rustic and hearty appearance. The meat is meltingly tender after hours of marinating and slow cooking. But that peanut sauce is for which to die!


Nasu Dengaku - Sticky Miso Grilled Aubergine with Candied Walnuts - is another dish not to miss. These well-presented chunks of butter-soft aubergines are glazed with a flavoursome sweet and savoury preparation and sprinkled with both black and white sesame seeds and topped with walnuts. I would pay for that recipe!

Mochi Ice Cream is on the regular menu and it's one of my favourite Japanese desserts. It's a combination of the chewy rice-cake wrapper filled with tangy Yuzu ice cream. A cool end to a delightful meal!

Kurobuta Marble Arch is unexpected but it works and I can see it's the way forward as an informal introduction to often-intimidating Japanese food. It's friendly and inclusive. There are no issues with a complicated sequence of courses. There is not the threat of an inelegant low table nor the pitying glares of waiters as one's ineptly juggled sushi disintegrates in the soy sauce; and is it rude to eat noodles without slurping? I have had sleepless nights of remembered humiliation over such disasters. No, you are simply in for a good time with good food at Kurobuta.

Kurobuta Marble Arch
17-20 Kendal Street
Marble Arch
London W2 2AW

Monday to Sunday all day bookings from noon to 22.30

Reservations: 020 7920 6440
Email: marblearch@kurobuta-london.com

Visit Kurobuta Marble Arch here


Forty Dean Street
Dean Street is in the heart of Soho, central London. It runs from Oxford Street south to Shaftesbury Avenue and has a long and colourful history, as has much of this neighbourhood. In 1764 the young Wolfgang Amadeus Mozart gave a recital at number 21. Admiral Nelson lodged here the day before setting sail for Trafalgar. He is said to have spent some time at a nearby undertakers choosing a coffin, which proved to be time well-spent as history will recall.

Soho, in general, has been famed for Chinese food, but there are great numbers of decent restaurants of other culinary persuasions these days. Forty Dean Street is the eponymous restaurant and it is Italian. I mean the sort of Italian that I remember from my childhood (and I am old enough to have the free bus pass). It's the sort of Italian restaurant which one hopes to find and too often does not. It's cosy, friendly, inclusive and positively comforting.

In typical Soho fashion, this restaurant is long and narrow but all of it buzzing with activity. The waiting staff here have that fluid movement of professionals - lots of confident multi-plate carrying and full-drink-tray hefting. One has a sense that this is an establishment that takes pride in both food and service.


The imposing walnut wood (I think) bar lends so much to the atmosphere of a classic Italian restaurant. This isn't 'Italian-themed' but more accurately a restaurant of a type which one would likely find filled with locals in, say, Pisa or Sorrento. There is not a plastic gondola in sight but plenty to remind one that this is a transplanted corner of Italy. There is an ornate ice bucket on the aforementioned bar which makes quite a statement, and I hope the owners never consider moving it.

This is a family-run restaurant and it's been around for 17 years with a focus on good quality and great value. The set menu offers fresh, seasonal dishes appealing to the regulars and there seem to be many of those. The à la carte menu has Italian classics and something for every taste. We started by nibbling what looked like Carasau bread which is impossibly thin and crispy, accompanying our glasses of Chianti and Valpolicella.

Starters were Bruschetta of chopped tomatoes, garlic, and basil with a drizzle of extra virgin olive oil, along with Crunchy Deep-fried Squid with tomato salsa and sweet chilli and garlic mayo. Both flavourful and light and perfect for this unseasonably warm spring evening. One could have been a million miles (or at least six hundred) from Shaftesbury Avenue, if it had not been for the clue of a restaurant filled with English speakers and a few Americans.

My guest ordered Spaghetti with King Prawns as his main course after much debate about the possibilities of trying the pizza, which looked striking (saving that for next visit). He was delighted with his pasta, however. It was colourful and full of prawns. He pronounced the spaghetti to be particularly fine and al dente. Simple yet authentically delicious to the last bite.


Chicken Saltimbocca was my choice of main dish. This was served with grilled asparagus which is particularly good just now, garlic mashed potatoes, a delicate hint of sage and butter sauce. Oh, deep joy! This was as far from nouvelle cuisine as one would wish to hurry. It was a well-presented plate of succulent meat on a base of potatoes for which to die.

Coffee macchiato and Profiteroles finished our memorable repast. The dessert was attractively served with a jug of chocolate sauce on the side with two spoons as garnish. Another classic in a classic restaurant and a fitting end to a truly delightful evening in Forty Dean Street that has deservedly endured for almost a couple of decades.

Opening Hours: Monday – Sunday noon - 12pm

Forty Dean Street
Soho
London W1D 4PX

Restaurant Phone: 020 7734 1853

Office Phone: 020 7734 4492

Email: info@fortydeanstreet.com

Visit Forty Dean Street here



Donald Russell for a taste of the Med
I love cooking, I enjoy food, I salivate at the very prospect of a serving of delicious meat. Yes, I am an unashamed and practising carnivore - but I have standards.

All butchers are not created equal and I have learnt that to my cost over many decades of disappointing trial and expensive error. But then I hear of a company that provides meats and ready meals to the discerning – the very discerning.


Donald Russell is a Royal Warrant holder and Britain's leading mail-order meat supplier. That sounded like a recommendation. They are based in Aberdeenshire, Scotland, and so have local access to some of the finest meat and fish from these isles. And they are online! Yes, meat has stepped into the 21st century.

I am not saying that a company with an online platform is automatically going to be good but Donald Russell is. I was first impressed by their site. It's accessible and comprehensive and surprisingly broad in coverage. They obviously have meat as their foundation but that's all types of meat. Beef, lamb, pork, poultry and game are all listed. There are steaks, joints and also those oft-overlooked cuts which make such flavoursome meals. There are fish aplenty, ranging from wild white fish to smoked fish and everything in between. There are also desserts, baked goods and even ready-meals, so a one-stop-shop!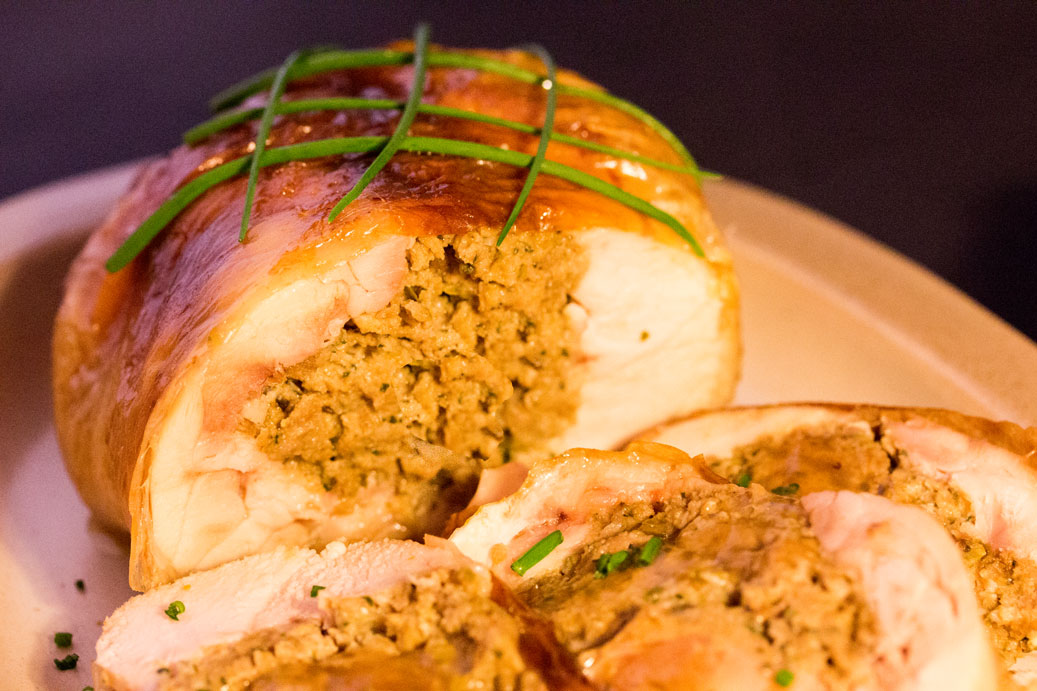 Donald Russell isn't a new kid on the culinary block. It's been around, for trade customers at least, since 1974. They supplied gourmet meats to fine-dining restaurants and hotels worldwide. Some of those are places of polished repute such as Simpson's-in-the-Strand and Raffles Hotel in Singapore. Today they still supply many of their original customers along with Michelin-starred restaurants. You don't have to visit a celebrity chef to try some of these excellent products, though: anyone can order.

I tried three of the new Mediterranean range. These are authentic Italian dishes, and indeed out of the hand-written family cookbook of 'Nonna Dina' who is the mother of Managing Director Tazio. She spent a couple of weeks working with Donald Russell's kitchen to create dishes that taste home-made, at least if your home is in Italy!

Luganighetta Sausages were the first products I tried. These are the iconic spiral-shaped sausages and said to come originally from Lugano in Switzerland. Their natural casings are packed with both pork and beef, and seasoned with delicate cinnamon and coriander. These are dense and flavourful and can be cooked either on the BBQ or under a regular grill. They look impressive and they are gluten-free. Delicious when traditionally served with saffron risotto or with a green salad, crusty bread and a glass of red.


Pollo Ripieni is dinner-party fare and is a moist, boneless, stuffed free-range chicken roast. The birds are raised by the Loué farmers of France. The Northern Italian style stuffing contains lean turkey mince, creamy goat's cheese, ceps and capers. That might sound a strange concoction but it's outstanding. There is just enough cheese to season the lean mince and to give a slight tang. Turkey is often bland but the cheese, mushrooms and capers elevate this preparation. A truly Continental dish.

Those who would prefer a meat-free meal are not forgotten. Aubergine Parmigiana is a moreish dish of tender aubergine, layered with tomato sauce and creamy cheese sauce. The whole thing is finished with grated cheese and needs simply to be baked in the oven. Nobody will feel short-changed when presented with this rich plateful. This is another dish that cries out for some good bread for dipping into those generous sauces. It's quick to prepare, too, and can be on the table in just half an hour or so. You can finish up that bottle of red wine with this one.

Donald Russell has impeccable credentials. Quality and thoughtful preparation are the cornerstones of this company and I look forward to tasting more of their gastronomic innovations and fine meats.


Visit Donald Russell here



Craft Spirits
- Know the makers, infuse your own, create new cocktails
Well, this is right on trend. Cocktails have become the cornerstone of every restaurant bar, and we want to try our hands at barista-ing at home. Most of the fixin's are available to civilians and with little equipment some delicious and beautiful cocktails can be ours.

Craft Spirits is a comprehensive glossary of worldwide spirits and those are the foundations of cocktails. The book is divided into categories covering everything from Absinthe to Whisky and includes some beverage newcomers - at least they are new to the West. Japanese Sake and Shochu, Chinese Baijiu, and Cachaças from Brazil are included as well.

We all have them, those bottles of spirits we picked up at the airport, but now we can actually do something with them, and Craft Spirits even shows us how they are made. We are introduced to Bitters and how to make a Simple Syrup.

There is glass etiquette associated with cocktail serving so there is a section devoted to glassware. There are indeed logical reasons why glasses are a particular shape - ideal for appreciating aromas, for drinks with lots of ice, etc. You will never present a martini in an Old-Fashioned glass again!

One can easily make infused spirits. Craft Spirits offers advice on how to produce these unique flavoured vodkas and gins, and I am considering an infusion of ginger which would be a winner on cold winter evenings. Citrus works well and so do berries.

If we are bar professionals we will likely appreciate the detailed descriptions of each bottle. There are paragraphs on the distillery, the philosophy, the spirit and the taste. But for us mortals we will be turning to the pages offering cocktail recipes. Pomegranate Gin Sling has me riveted. Blackberry Mint Julep will be a welcome cooler after a few hours' fruit-picking on the common. I am a Gimlet enthusiast and the Grapefruit Vodka Gimlet is outstanding, with a decent amount of alcohol and a good hit of refreshing citrus.

Craft Spirits is a veritable bar handbook. It educates and tempts in equal measure and it's great value for money.

Craft Spirits
Author: Eric Grossman
Publisher: DK Publishing
Price: £14.99
ISBN-10: 0241229685
ISBN-13: 978-0241229682



The Mayfair Chippy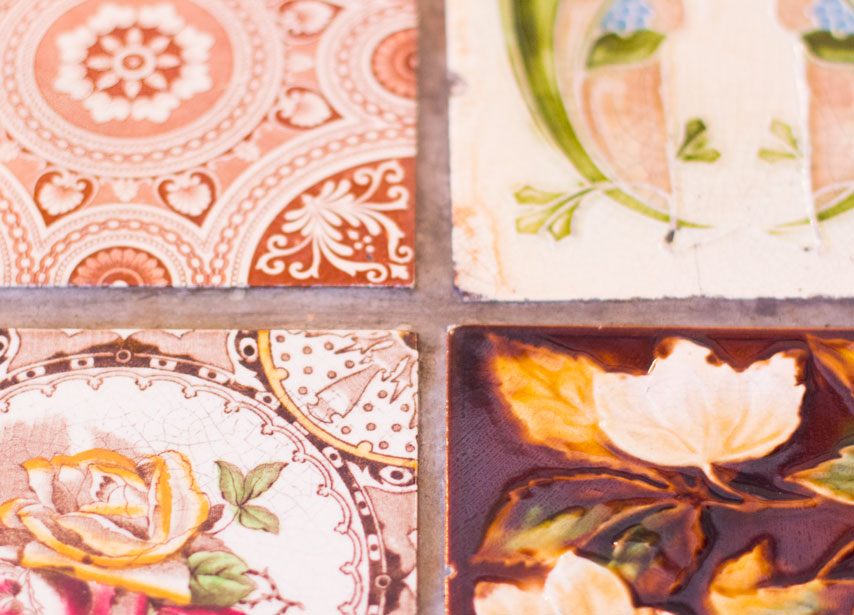 Nothing better than traditional fish and chips. It's nostalgic comfort food, at least if you are British. We all have memories of queueing up in a white-tiled shop with steamy windows, a high counter with glass jars of pickled gherkins and eggs, bottles of brown vinegar and salt shakers. For those who hail from beyond these shores that emporium of fried delights was called 'the chippy'.

The smart neighbourhood of Mayfair in central London might seem an unlikely location for a chippy but The Mayfair Chippy fits right in. The Mayfair area covers the historical estate of Grosvenor, along with the estates of Albemarle, Berkeley, Burlington, and Curzon, all of which give their names to the smart streets. It is bordered on the west by Park Lane, north by Oxford Street, east by Regent Street, and the south by Piccadilly. Mayfair is named after the annual fortnight-long May Fair that took place on the site that is now Shepherd Market from the latter part of the 1600s till the mid-1700s.


Located on the northern edge of this classy neighbourhood, the Mayfair Chippy is also handy for the shopping thoroughfare of Oxford Street with its many fashion outlets but few worthy restaurants. The Mayfair Chippy sports an AA Rosette and appears in the Michelin Guide 2016, so its culinary credentials are impeccable - and so is the restaurant.

The local chippy is a well-loved institution so I was curious to see how both the swep-up location and a demanding diner base would translate into a traditional restaurant that would be acceptable to the chippy purist. Well, they have managed it with flair and little compromise.

The Mayfair Chippy is a small restaurant and cosy. There are high stools, more intimate banquettes, some marble-topped tables and white tiles as a nod to its roots. It's light and contemporary but with accents from a past era - a beautiful balance that works perfectly here. There are still bottles of vinegar and glass cruets to assure the prospective diner that continuity has not been displaced by the zest for short-lived designer trends.


Fish and chips is unsurprisingly the speciality at the Mayfair Chippy, but they also offer other traditional classic British dishes, some of which change with the seasons. They have a celebrated Shepherd's Pie made with braised Lamb Shoulder, and a periodic Steak and Kidney Pudding, as well as Longhorn Rib Steak and Chips with Roast Garlic, Anchovy and Parsley butter.

There is a beer and wine list at The Mayfair Chippy but somehow a nice cuppa always fits the bill with fish and chips at lunchtime. They have an array of tempting starters and not all of them are piscatorial. Home-made Black Pudding Fritters with a side of Apple Sauce came highly recommended and they were delicious, with delicate seasoning and a bit of a crunch. This is a take on an old-fashioned favourite and well worth a try.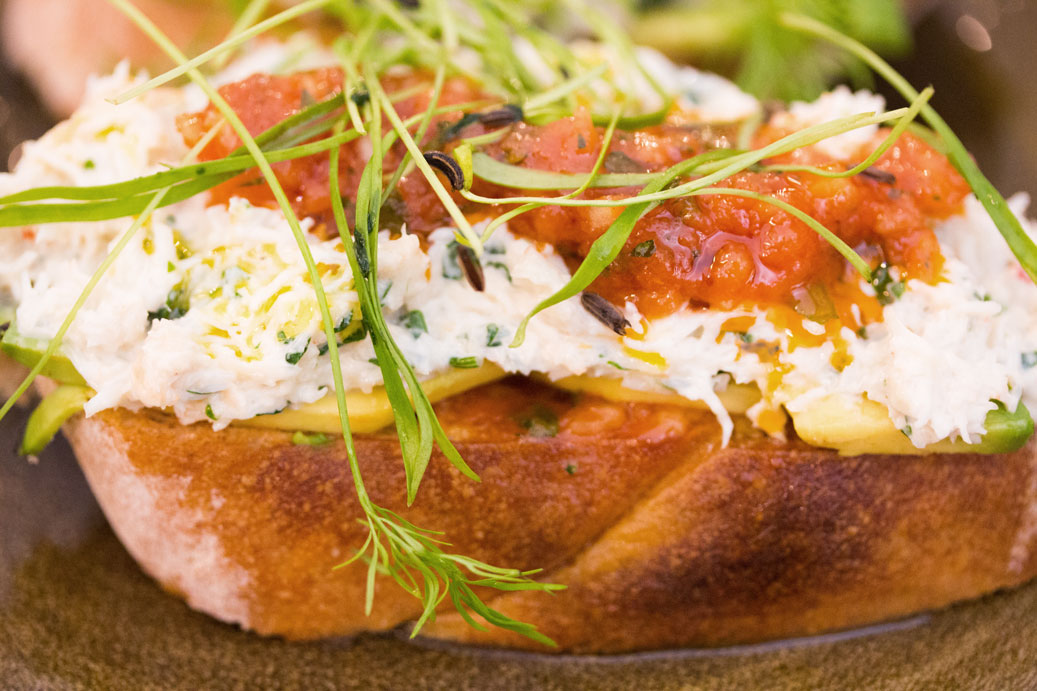 The Crab on Toast is a stunner and should be another signature dish here. Cornish Crab with avocado, spiced tomato and fennel cress is moreish, well-flavoured and a must-try. This with a glass of chilled white to start a dinner would be perfect.

But the main event was always going to be the Mayfair Classic: Fried cod or haddock, chips, mushy peas, pickle, tartare sauce and chip-shop curry sauce. All served on a wooden platter with the fish and chips in a metal frying-basket. The fish was moist, the batter light and not at all greasy - and then there were those condiments. Mushy peas made with pulled ham hock is absolutely right. Chip-shop Curry Sauce might sound strange but will be familiar to chippy-goers. It's not like a sauce for an Indian curry but a sweet spicy gravy that has become popular over the past few decades.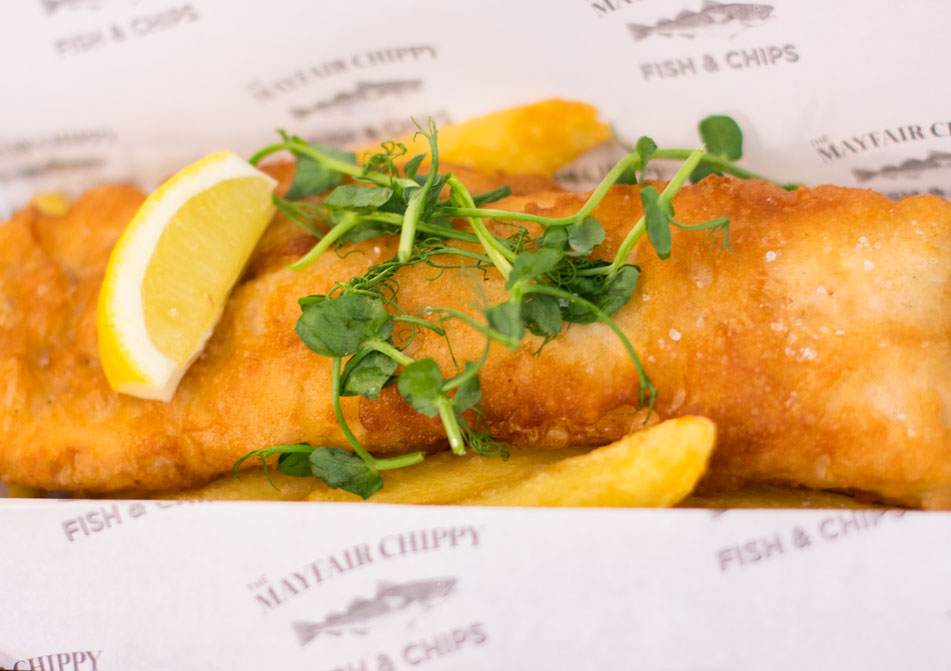 There are other items on the menu which might alarm the untutored: Scraps (when available, it states) are those frilly crunchy bits of batter that float off when the fish is lowered into the oil. I think they are called scraps as they are worthy of being fought over.

Battered Wally will likely be a mystery to many. We won't go into the naming of this exotic garnish but suffice to say it's a whole pickle that has been battered and deep-fried. It's for the connoisseur.

There is a decent selection of desserts here. The Warm Chocolate Pudding is striking, with a flow of molten chocolate pooling around Salted Caramel Ice Cream (which could be a dessert in its own right) with a generous sprinkle of Cinder Toffee – that's the golden crunchy honeycomb of childhood memories.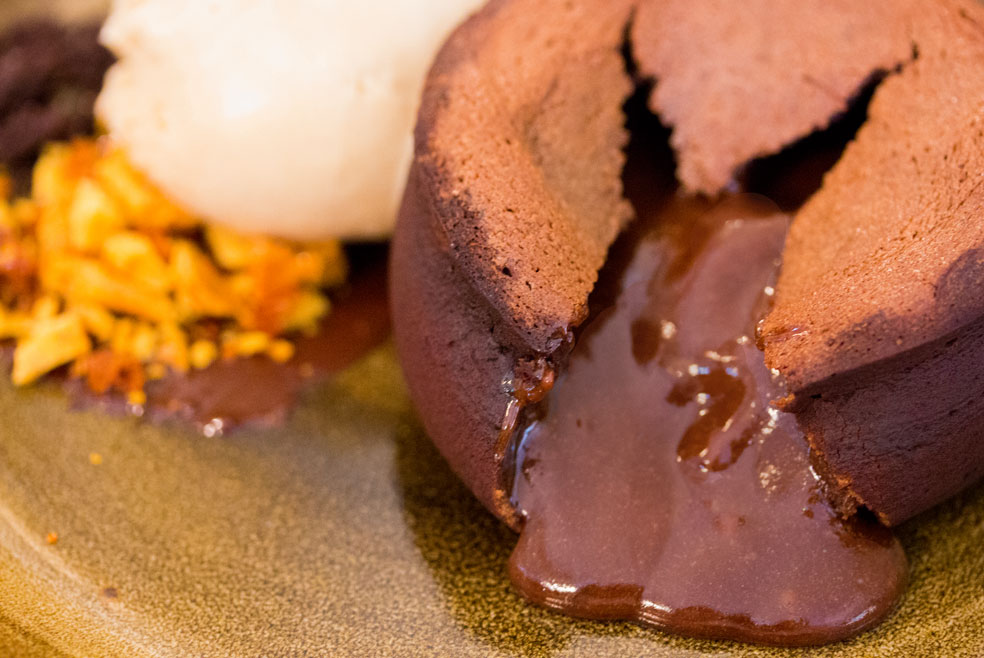 The Mayfair Chippy has managed to present traditional and casual food with style. The restaurant is a pleasant place to be, the food is first class in every regard. Word is getting around so best to book in advance. That's what I'll be doing.

Monday - Saturday: 12:00 noon - 10:00pm (last orders 9:45pm)
Sunday: 12:00 noon - 9:00pm (last orders 8:45pm)

Take-away hours: 11am - 10:30pm

The Mayfair Chippy
14 North Audley Street
London
W1K 6WE

Phone: 020 7741 2233
Email: reservations@eatbrit.com

Visit The Mayfair Chippy here.




Bó Drake – Greek Street
It's a part of Soho that has been the haunt of those seeking dubious nocturnal delights down the centuries, but also those associated with the arts and literature. Greek Street, running from Shaftesbury Avenue to Soho Square, might take its name from the Greek Church (later St. Mary's) built in 1677. The church was on the site formerly known as Hog Lane and it appears in Hogarth's satirical 'Noon'. No. 47 was the temporary lodgings for famed Venetian adventurer and philanderer Giacomo Casanova in 1764. No. 1 Greek Street is the House of St Barnabas, built in 1746; in 1811 it became the offices of the Westminster Commissioner for Works for Sewers and the offices of Chief Engineer Sir Joseph Bazalgette who is celebrated for modernising London's pipework.

True, it has had a colourful history but is now the neighbourhood of choice for those looking for good food and a rejuvenating cocktail, and Bó Drake provides both in unique fashion. It has a layout typical of restaurants in the area: a narrow frontage but sweeping back to provide more intimate tables away from the bar.


Bó Drake has an urban vibe with high stools at the bar, exposed brickwork and metal conduit. And it's an impressive bar of around 10 metres with an iroko (African teak) wood counter. The shelves behind the bar give a hint to the cuisine (as if the restaurant name had not already). Bottles of Sake and Baijiu stand in exotic ranks. Baijiu is also known as shaojiu and is a Chinese alcoholic spirit made from grain and generally between 40 and 60% ABV. Think vodka and you will have the idea.

Cocktails are evidently popular here. Regulars, and there seem many, were ordering a cocktail or two along with a brace of small dishes. I ordered a Starman – strawberry or raspberry, soju and vodka with a garnish of basil. A blush pink confection with well-balanced flavours. Soju is Korea's most popular alcoholic beverage with an ABV of between 7% and 45%.

My guest has a more masculine taste in cocktails and he chose Rye in the Tyne – rye whiskey, Antica Formula, Luxardo and camomile bitters. Antica Formula is a red vermouth made with white wine; Luxardo is an Italian fruit liqueur. It sounded like a doubtful preparation but in reality it was a pleasing, manly cocktail.


The menu here changes frequently with seasonality and availability. Dishes arrived as they came from the kitchen rather than being offered in Western style, by course. We started our grazing with Crispy Kimbab of Salmon, Stick Soy and Kewpie Mayo. Kewpie Mayonnaise is the most popular mayonnaise in Japan and is a yellower and richer mayonnaise than the majority of European ones, and made with rice vinegar. This was an outstanding dish and one which I can recommend as a must-try at Bó Drake!

Pork Belly Bao is classic, and ubiquitous across Chinese restaurants around the capital. This version of these Asian steamed buns at Bó Drake is perhaps the best I have had. It isn't the cheapest but the substantial portion of meat makes it well worth the price. The pork was succulent and full of flavour. Order one serving of 2 buns to share, along with other small plates, or keep the whole thing to yourself as a decent lunch. The bun is garnished with pickled cucumber which cuts the richness of the meat marvellously. A winner, and moreish.

I love eating eel in Japanese restaurants so Unagi Japche - Smoked Eel, Pesto, Garlic Cream and Noodles - was a definite for me. The noodles were green with herb, and glistening. The eel had a mahogany sheen like a savoury lacquer. A fusion showcasing both traditional and contemporary, and of both Eastern and Western ingredients.

Rice Cakes are typically Korean. These are not cakes of rice like Japanese onigiri but they are more like a savoury and sturdy motchi and in this case served with a syrup of honey and chilli. A bowl of these would be ideal nibbles with a side of chilled beer.


Other dishes on our menu for that evening included a mildly spiced Kimchee pancake, and a dessert of Yuzu tart which was tangy and light. The menu changes frequently so some of the above-mentioned might not be available. I guess that's an excuse for a return visit.

Bó Drake is open for lunch and dinner
Monday – Thursday: Noon - 14:30 and 17:30 - 23:00
Friday: Noon - 14:30 and 17:30 - 24:00
Saturday: Noon - 24:00
Sunday: Noon - 21:00

Bó Drake
6 Greek Street
Soho
London W1D 4DE

Email: contact@bodrake.co.uk
Phone: 020 7439 9989
Visit Bó Drake here




Flavors from the French Mediterranean
It will soon be summer. We start to muse over al fresco dining and lighter fare. Ingredients with colour and freshness will take centre stage and we look toward the Mediterranean for inspiration, and perhaps to a French chef for some help.


Three-star Michelin Chef Gérald Passedat was born in Marseilles on the French Mediterranean coast. It's a region famed for its seafood, vegetables, fruits and herbs – everything one might need to conjure up vibrant recipes that just happen to be healthy.

This delightfully photographed book presents eighty tempting and easy-to-prepare recipes that showcase the culinary abundance of the south of France. They are not necessarily costly ingredients and all readily available, taking advantage of summer seasonality and freshness.

I could quite happily graze my way through the whole book, being enticed either by the ingredients or the pictures. Octopus and Jols Tempura: I had no idea that a jol is a small fish found near Marseilles – I am sure one could use whitebait as a substitute. This is a beautiful dish served in a newspaper – a French newspaper, obviously. Camargue Black Rice Paella is another dramatic dish using seafood – cuttlefish in this case. This would make a memorable centrepiece.

Skate-filled Zucchini is another stunner. Skate is a much-underrated fish, although once popular in traditional fish and chip shops. It has a unique texture which doesn't flake like most other fish flesh, but has strands instead. It's a well-flavoured fish and pairs deliciously with the courgettes which grow in such profusion even in the UK's unpredictable weather.

Perhaps some of my favourites from this book are the classic and sumptuous desserts. There are three tarts that are remarkable and demonstrate the French flair for patisserie: one has a filling of figs which grow in such quantities in the south of France; a second of oranges that cover the trees in early autumn and top a tart that glistens like stained glass; the lemon tart has a tangy filling and is garnished with candied lemon slices for extra impact. Any of these would make a classy finish to even the most formal of dinner parties.

This is a recipe book for the accomplished cook but equally for those who would like to be. The photography is first class and shows the colourful face of Flavors from the French Mediterranean.

Flavors from the French Mediterranean
Author: Gérald Passedat
Published by: Flammarion
Price: £19.95
ISBN: 978-208020251-2



The Balcon, London – classic perfection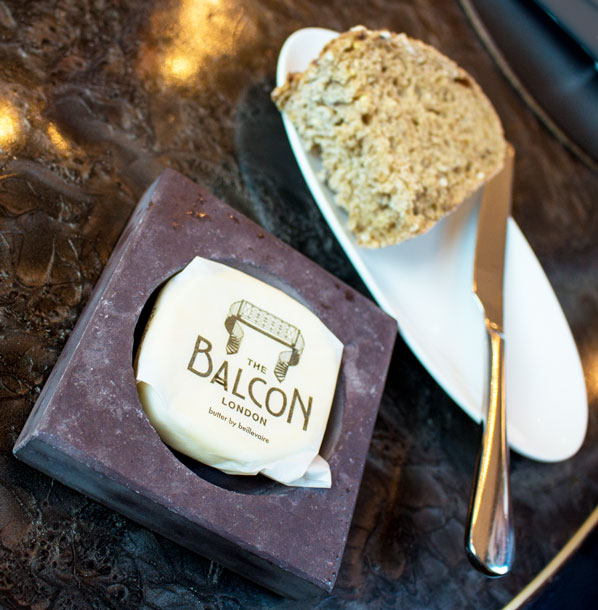 This truly memorable restaurant is set on Waterloo Place on the corner with Pall Mall. This wide thoroughfare is in fact an extension of Regent Street with all its smart shops. It's a small area with a host of statues and monuments that honour heroes and statesmen of the British Empire and various wars.

Waterloo Place was created at the end of the 1820s as the final section of the Triumphal Way that connects Regent's Park with Pall Mall, started in 1810 to a design by John Nash, the famed Regency-era architect. The magnificent neoclassical buildings around the square display ornamental friezes and columns, and still offer an air of grandeur.

Formerly the banking hall of Cox's and King's, this grade II listed building now houses Sofitel St James and The Balcon restaurant. The company has contrived to preserve original features but also showcases contemporary elements. The Balcon can be entered via the hotel foyer or directly from Pall Mall where the entrance is opposite The Institute of Directors, which also has imposing architecture. The restaurant has a double aspect onto both Pall Mall and Waterloo Place. If you ask for the table in the corner on the raised section then you can comfortably pivot your gaze between the two iconic views.


The chef, Matt Greenwood, is a new addition to the restaurant, joining Sofitel London St James in December 2015. He is a New Zealander and has worked in Melbourne, Sydney and Christchurch, before moving to London 9 years ago. He demonstrates his love of fusion on his menu but it's not fusion for fusion's sake. His flavour and textural combinations really work.

We started our evening with a glass of English fizz. No, don't knock it! We have won prizes for our sparkling wines in international blind tastings. Balcon is a restaurant in which to linger: the high ceilings, those magnificent views and the ambiance encourage slower sipping and unwinding. Lots of time to pore over the menu.

The menu isn't a mile long and neither is the wine list and that's reassuring. It's presentation of quality and freshness and attention to detail which elevate Balcon above some other restaurants which offer 'fine dining'. There is a dish for every taste and a wine to accompany it, and that wine list presents the finest expressions of the main wine varieties - many can be sampled by the glass or carafe as well as by the bottle.

I started with Twice Baked Goat's Cheese Soufflé with pine nuts, mint and apple sabayon. A light and flavourful dish with tang from the cheese and freshness from the fruit. A simple presentation and well worth ordering. Lots of folks think they don't like goat's cheese but this soufflé would be a wonderful introduction. Not too goaty.

My guest ordered Yuzu-Cured Salmon with Edamame Purée, Wakame Salad and Tobiko. He is a good eater and enjoys fish so this was bound to be a winner. Here we had Japanese ingredients presented in non-challenging fashion. Edamame are green beans often seen in bars as a snack with drinks. Wakame is a sea vegetable, or edible seaweed, with a sweet flavour and it's good for you! Tobiko is glistening flying-fish roe. It's a common topping for sushi and can be coloured with natural ingredients and in this case it was wasabi, Japanese horseradish. This was strikingly beautiful as well delicious, and even the crockery looked Japanese.

Lobster and Seafood Bouillabaisse with braised fennel and topped with rouille was my main course. This was truly a taste of opulence. Anything containing lobster is luxurious but this is a soup and really nothing to look at. But taste one spoonful and you will be smitten. It's rich and almost meaty. It's silky and comforting and thoroughly decadent. Indisputably French and fitting so well at Balcon with its accents of La Belle France.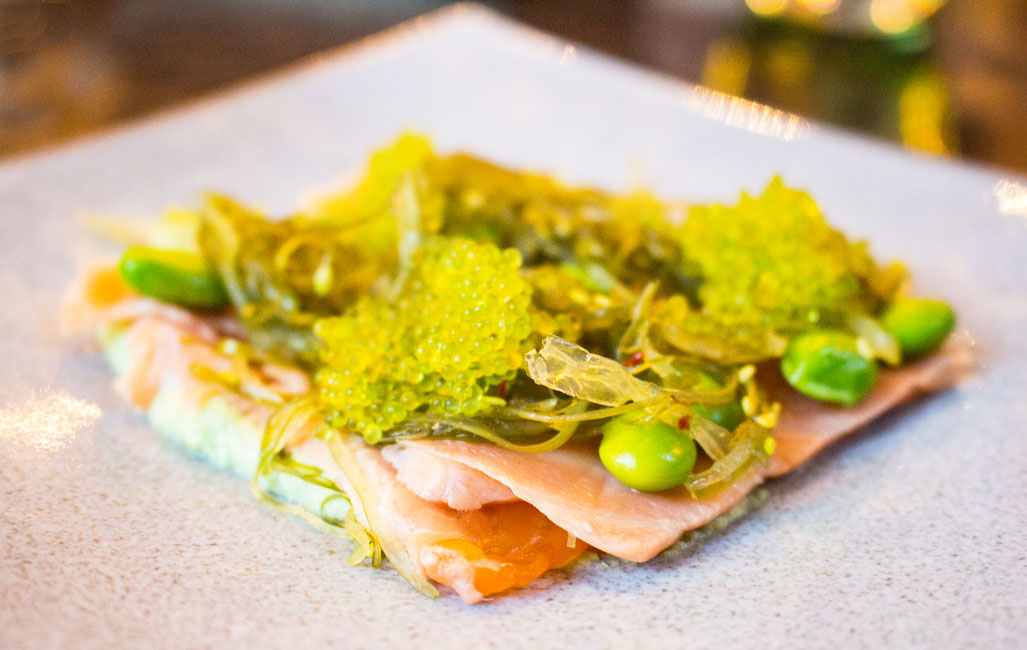 My companion chose Rarebreed Beef Burger with Braised Oxtail, Roasted Garlic Aioli and a pot of fries on the side. This might seem an unlikely dish for such a classic restaurant so let's consider why it works here. Firstly a burger is chopped meat and the quality of the burger is defined by that. The Balcon example is as far from fast-chain food as one could hurry. The topping of oxtail adds a meaty richness and almost creates a sauce. The bread bun was grilled and first rate, and the fries were exceptional …and French!

Profiterole with banana caramel, vanilla ice cream, hazelnuts and Frangelico ganache finished our meal. This was the very essence of banana and that always works with chocolate; well, everything works with chocolate. A classic recipe given a new lease of life.

Balcon is an attractive space, has classic good service, an outstanding location, a menu to suit anyone who has the slightest interest in good food, a wine list over which to drool, and is great value for money. Is there anything I didn't like about the dinner? Yes, it ended too soon.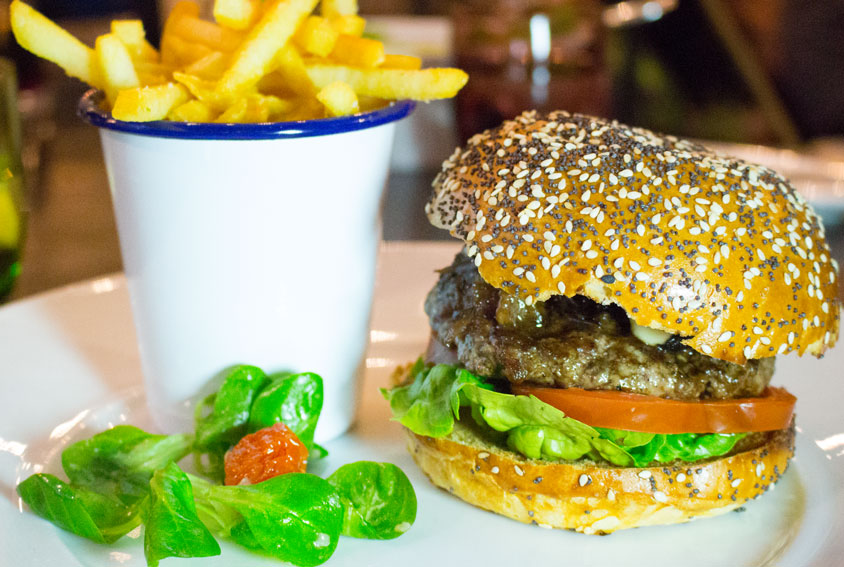 Breakfast:
Monday to Friday 6:30 AM – 11:00 AM
Saturday 7:00 AM – 11:30 AM
Sunday 7:00 AM – 12:30 PM

Afternoon Tea: Noon – 6:00 PM

Lunch and dinner:
Monday to Friday 11:00 AM – 11:00 PM
Saturday 11:30 AM – 11:00 PM
Sunday 11:30 AM – 10:00 PM

The Balcon London
8 Pall Mall
London SW1Y 5NG

Phone: 020 7968 2900
Email: thebalcon.london@sofitel.com

Visit The Balcon here.



Relais de Venise L'Entrecôte
We are spoilt for choice in London, and indeed in many cities. We can chance a fishy Japanese breakfast, indulge in lavish Italian lunches, feast at eventide on exotic Indian fare, and feed our need for iffy kebabs in the wee small hours. Every restaurant, café and street cart offers extensive menus showcasing its particular genre.

But ask many a dedicated food lover which dishes they crave, what their elected last meal might be, and they will almost universally state that it has to be unfussy and comforting, something like, say, steak and chips. Relais de Venise L'Entrecôte is a small chain of restaurants that provides that. Yes, just that and only that.

The concept might seem foreign to us but
consider… We wax lyrical about the food in France and the dish most often remembered is Steak-Frites with a simple salad and a glass of red. There was that favourite little bistro on the corner of Rue Somethingorother and Boulevard Nameofafrenchphilosopher. The one with the dark-wood sideboards, leather banquettes and paper tablecloths. No, they can't do that in London.

Well, we do that in London and we do that very well. Or more accurately Relais de Venise L'Entrecôte does. The Canary Wharf branch (they have three restaurants in London) is convincingly Parisienne, and the chairs wouldn't look out of place in a cheeky little establishment in the 5th Arrondissement, even though the murals of Venice give a nod to the name of the restaurant rather than the country of origin. But the food is the draw.

The menu is, well, short. It's a green salad with dressing, some bread, and steak and chips. If you only offer one menu item then expectations of the quality of that dish will be high. Relais de Venise L'Entrecôte did not disappoint in any regard. The plate arrived piping hot and piled high. The fries were golden and crisp, but the streak was the star. Cooked to order and sliced, it arrived bathed in the celebrated 'secret sauce'. We have all been enticed by promises of special sauces and they often fall far short of the mark. A commercial ketchup with chilli or pineapple doesn't do it for me and seldom enhances one's platter. But Relais de Venise L'Entrecôte has a sauce that really does have impact. I have a clue as to what might be the key ingredients, but my lips are sealed. One might deduce that it contains a good amount of butter and green herbs, but the staff remain silent.

There are over a dozen desserts on offer here and if you are a perpetually peckish rugby player there might be some chance of making it through to the sweets. The main course is substantial so forgo the offered second helpings if you have a yen for a pud. My guest ordered a confection of light pastry, whipped cream and raspberries. He wasn't short-changed with the size of this dessert, either. It was the sort of finale that one would find in a real French family-run restaurant. No delicate garnishes, just a big plate of sweet comfort.

Perhaps that's the ethos here. Keep it simple. It's old-fashioned good quality, good value food and memorably mouth-watering. We will return soon and often.


Opening Times:
Open every day including Sundays and bank holidays
Monday
Lunch: 12.00 - 14.30
Dinner: 18.00 - 22.00

Tuesday – Thursday
Lunch: 12.00 - 14.30
Dinner: 18.00 - 22.30

Friday
Lunch: 11.45 - 14.30
Dinner: 18.00 - 22.30

Saturday
Lunch: 12.30 - 15.30
Dinner: 18.30 - 22.00

Sunday
Lunch: 12.30 - 15.30
Dinner: 18.30 - 21.00

Relais de Venise L'Entrecôte Canary Wharf
18-20 Mackenzie Walk
Canary Wharf
London E14 4PH

Tube: Canary Wharf Jubilee/DLR

Phone +44 (0)20 3475 3331
Email: canarywharf@relaisdevenise.com

Visit Relais de Venise L'Entrecôte here




Arabica Bar and Kitchen – Borough Market
Borough has been known for its food markets since as far back as the 11th century. First the stallholders were trading on old London Bridge, but then in the 13th century they were moved to what became Borough High Street. A market has been here ever since.

Borough Market has grown to over 100 individual stalls. There are the traditional fruit, vegetables, bread and meat but these days the market reflects how cosmopolitan London eats. There are wine merchants, stalls selling olives, cheeses and spices. A jewel box of gastronomic delights.

We visited on Sunday when the market is closed. That was by choice as it gave the opportunity to really appreciate the Victorian architecture and even a brass plate set in the ground commemorating an association between the market, Switzerland and the Olympic games!


Sunday lunch was the next priority. Arabica Bar and Kitchen couldn't be nearer to Borough Market. It's a restaurant tucked away under the railway arches although I didn't notice any distracting rumblings. The ceiling is arched, displaying the exposed brick of the original functional architecture. The urban theme continues with the use of school chairs and wooden tables. Harmonious design in natural materials and not over-themed. A great combination of old London bricks and accents of the gold of the Middle East.

This restaurant presents the dishes of the Levant but the cocktails were contemporary - although some giving a nod eastwards. Zarif Zehir was a delicate pink confection and didn't taste overpoweringly alcoholic; this cocktail was served in a tea glass and looked quite innocent, but was probably dangerous in quantity. Made from vodka, sloe, lemon and sugar, with a finish of sumac and egg white, this was visually appealing and rather harked back to the days of Speak-Easys and prohibition.

Sassine Square was somewhat more traditional and with a soft bourbon flavour. Made with high-rye bourbon, date syrup and bitters, this was a smooth cocktail with plenty of citrus aroma from the ornate orange-rind garnish.


We started our Sunday feast with the 'Selection of Mezze Classics to Share' as it says on the simple menu. That spread included House Pickles of cucumber, carrots, cauliflower, turnip and chillies; a dish of traditional Hummus; Whipped Feta with charred Turkish chilli, toasted sunflower seeds and mint, which was tangy and light; and Beiruti Falafel made with broad beans, chickpeas, onions, peppers, green chilli, herbs, and spices was a winner with my guest, who is now addicted to these fried morsels. Grilled Halloumi Cheese was a particular highlight. Tabouleh with plenty of parsley, cucumber, tomato, spring onion, mint and cracked wheat, and all served in a lettuce leaf, was fresh and aromatic. An ideal starter selection to enjoy with a table of friends. It's the kind of dining that demands a group for best effect.

Jordanian Style Lamb Mensaf and Spring Vegetable Freeke were our main courses, although there was also a fish dish on the menu. The lamb was a 7-hour slow-cooked shoulder, served with spiced rice which was good enough to be a dish on its own, and all garnished with toasted nuts and yogurt sauce. This is flavourful rather than being hot with spice.

Spring Vegetable Freeke was a melange of seasonal veggies cooked with grains and garnished with crispy onions, toasted nuts, herbs and minted lebneh, a soft natural cheese. I would say share both dishes for a comforting meal.


Jelly and Ice Cream sounds like old-fashioned nursery fare but this dessert is rather sophisticated: candied orange, rosewater, milk and honey jelly with mastica ice cream and a scattering of toasted Kadyfi pastry. The ice cream was lightly flavoured rather than giving a hit of piney resin. A pretty plateful.

Arabica Bar and Kitchen has a casual ambiance giving a real feel of the local area. The bar is an imposing feature which will doubtless be much appreciated in the evenings. And it's liable to be Arabica's small dishes that draw the crowds during the week. But Sunday is the day for relaxing with friends and sharing larger plates. I'll be back.

Arabica Bar and Kitchen
3 Rochester Walk
Borough Market
London SE1 9AF

Monday - Wednesday 11am -11pm
Thursday 8.30am -11pm
Friday and Saturday 8.30am -11.30 pm
Sunday 11am - 4pm

Visit Arabica Bar and Kitchen here



Lotus – Fine Indian Dining
The Charing Cross Road near Leicester Square Underground Station has not been famed for quality Indian restaurants. I confess I had never heard of Lotus but I arrived with high expectations as I had done my homework.

This is a neat 65-cover contemporary restaurant in sophisticated grey tones. It's in the heart of the West End's Theatreland, with superb transport links, and it's an area which is more famed for Chinese food than Indian fine dining. Lotus is a split-level dining space which allows for intimate corners. Tables are black with crisp linen runners and serviettes. Each table sports a lotus-shaped tealight. The restaurant is, in fact, named after this national flower of India, with all its associations of purity.

Bhaskar Banerjee, Chef and Manager of Lotus, has a noteworthy culinary pedigree. He comes from one of the most celebrated hospitality establishments, ITC Welcomgroup. They are famed in India for such restaurants as Bukhara, Dumpukth and Dakshin but they have produced award-winning chefs who now ply their trade around the entire world. Chef Banerjee has worked with international hotel chains such as the Intercontinental Hotels Group, Luxury Collection Hotels, Marriott, Sheraton, Le Meridien and The Taj Group of Hotels.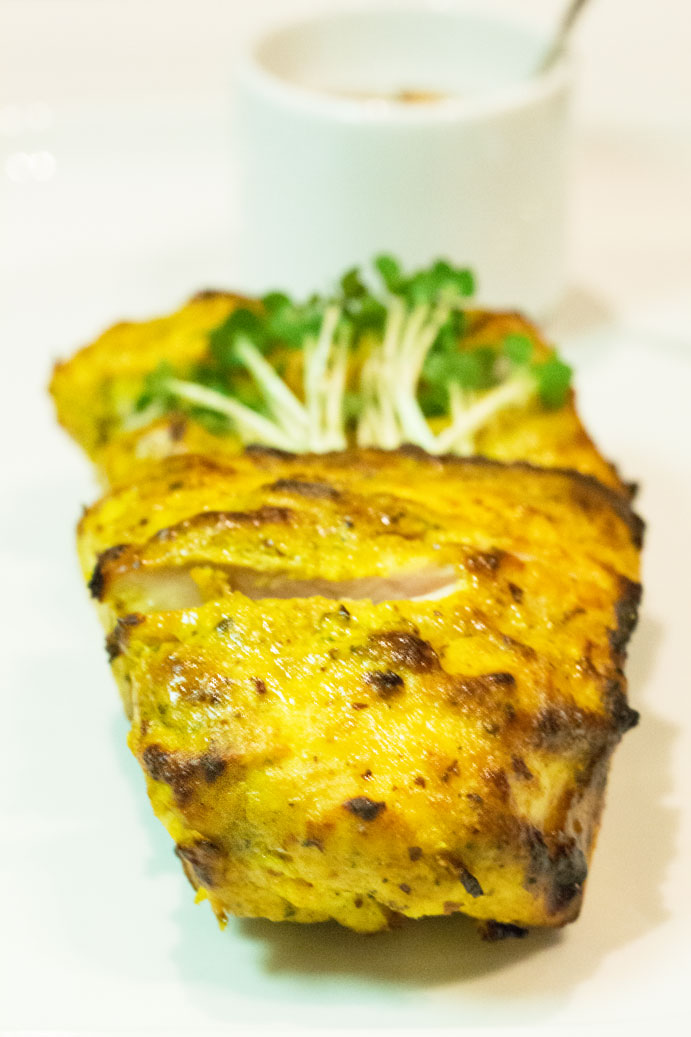 Lotus offers a melange of traditional and contemporary, with quality being the keynote here. We began with what could have been a banal assortment of poppadums with chutneys, but here they were a little different. Small rice, potato, and finger millet poppadums rather than the ubiquitous large round efforts made from gram flour. Finger millet is high in starch and is considered superior to wheat and a thoughtful addition. The condiments were vibrant and made in-house.

There is a good selection of wines by the glass and we enjoyed ours while waiting for starters. Masala Prawn, Duck Eggs and Green Lentil Wrap was my choice. In fact the wrap was more like a folded crepe that one might find in northern France. Mild and delicious flavours from a truly original dish. Potato Chaat with Chickpea, Sev and Yoghurt is traditional and a mix of sweet, spicy and tangy, crisp and creamy. But here it is served with a degree of refinement, on individual plates.

My guest, a man of discerning palate, ordered a kebab of Red Snapper flavoured with mustard essence and served with what one might assume to be a very un-Indian dill and yogurt sauce. This was a triumph of perfectly prepared and flavourful fish with its cooling and herby accompaniment. Don't miss this one.

Muntjac Lal Maas was our main dish and this was very much more refined than other similar dishes I have tried, usually made with lamb. Yes, the meat obviously made a difference but it was the sauce that was the star. It was silky and aromatic with much better balance than others which have been overpoweringly hot. One could enjoy the flavour of the deer and the subtle yet evident spices.


There is another dish here that should be highly commended. It's Baghare Baigan Bharta, a side dish of roasted aubergine, tomato, spices, peanuts and herbs. I would have this for a light lunch along with some bread, and would be content. This is comfort food in every way. Delicious!

I am impressed. Lotus stands to cultivate a great and long-lasting reputation. Its location helps but it's the quality of food that will ensure a loyal following. The talented chef and his team have made a creditable start and I wish them luck.

Lotus
17 Charing Cross Road
London
WC2H 0EP

Reservations +44 (0) 20 7839 8797

Email: enquiries@lotus.london

Visit Lotus here



Cinnamon Collection Masterclasses
It seems a bit early for pondering Christmas presents but, trust me, it's not. If you have a passionate food lover in your near vicinity you might want to ditch the summer holiday brochures for half an hour and consider a masterclass.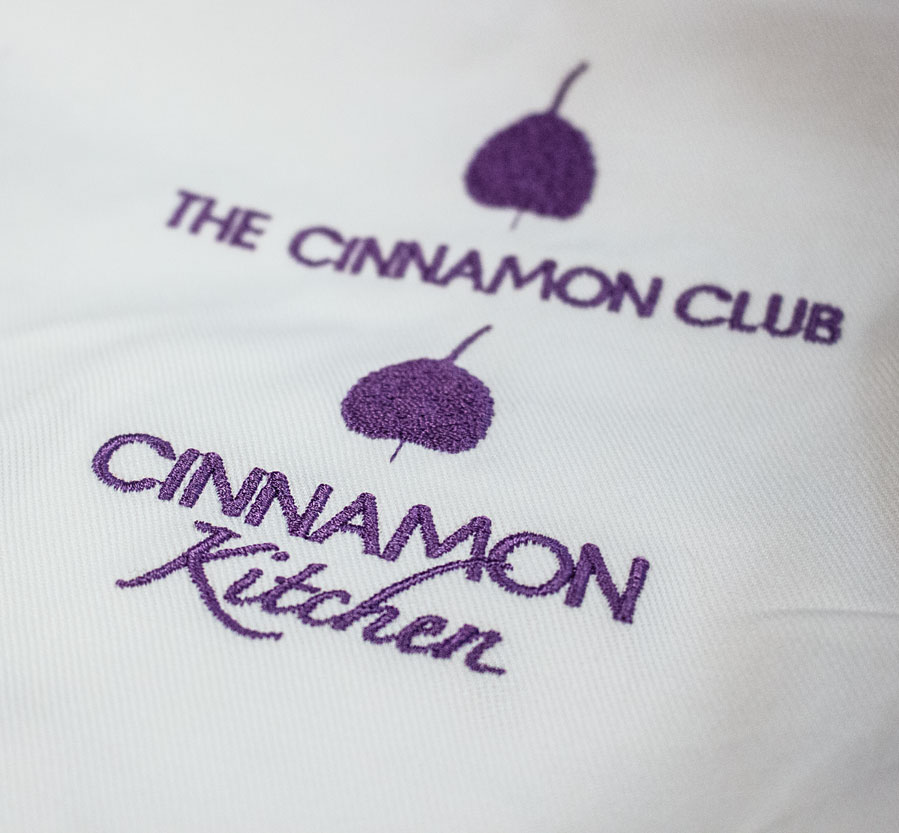 There is a compelling reason why your Christmas (or birthday / anniversary / graduation / retirement) gift shopping should start now when daffs are still fresh in the park: Cinnamon Collection masterclasses are popular and sell out fast. They offer classes for those interested in preparing vegetarian specialities; the Barbecues and Roasts days are bound to draw a crowd; Secrets from the Southern Indian kitchen will teach you how to make a stunning biryani; and November offers a game masterclass with Vivek Singh himself. Places are already limited for that one.

All masterclasses are not created equal. The Cinnamon Collection classes have the guests actually cooking. But the day starts in European fashion with coffee and croissants, some history of these outstanding restaurants, Health and Safety instructions, and allocation of aprons. Almost collectors' items, these embroidered beauties are decorated with the company logo, making a fine souvenir of the event …and there will be more later.

The ratio of students to chefs will likely be just 2 to 3 guests with a chef or two looking after them. You won't be expected to have professional skills and you won't be rushed. There is no pressure and it's fine if you just want to watch. For those who want to get stuck in then there is plenty of opportunity to chop, mix, fry, braise, crumble and sprinkle. You will come away with a pack of recipes that really work and which you will be confident enough to replicate at home.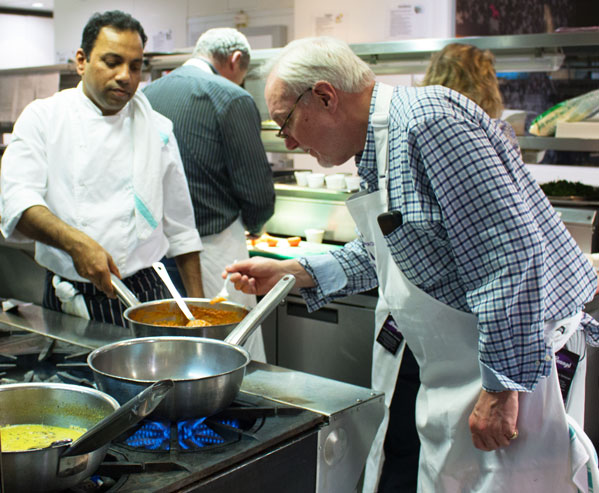 You have practised your new culinary arts all morning. The dishes are displayed. You have swelled with pride. So, now it's time to relax with a glass of fizz in the kitchen. The chefs would have prepared sufficient quantities of all the masterclass dishes and these are presented as a feast to be enjoyed by the whole group of guests around a table in the restaurant. Wine and conversation flow and there is nothing more to do, other than choose a complementary cookbook penned by Vivek who will be delighted to sign it. A final and lasting souvenir of a fun and memorable day.

The Cinnamon Collection Masterclasses are thoroughly engaging. The chefs have had plenty of experience of supporting novices. It's a thrill to work in a professional kitchen and one becomes a far more confident cook. One might not feel that a tandoor would be a worthwhile addition to the remodelled kitchen, but Indian food will probably be on the menu more often chez vous.

14th May - Vegetarian Wedding Feast with Hari Nagaraj, who is an excellent chef and has been with the group since its early days. He's not new to conducting these events, and has a knack for inspiring and comforting culinary beginners. The Vegetarian Wedding Feast Masterclass teaches participants how to use traditional and modern Indian cooking methods to prepare a range of vegetarian dishes, ideal for celebrations, festive occasions and sharing with friends and family.


16th July - Barbecues and Roasts with Rakesh Nair, who is a charming and able chef with the ability to put even raw beginners at their ease. The Barbecues and Roasts Masterclass is inspired by the British love of all such dishes, with recipes such as barbecued poussin with tomato fenugreek sauce, and whole roasted sea bream with green spices.

10th September - Secrets from the Southern Indian Kitchen with Chef Ramachandran Raju, who is a pleasure to work with and always has time to offer individual help. Learn how to make the iconic biryani of black-leg chicken, and South Indian rice pancakes with spicy sambar, a traditional lentil broth.

19th November - Game with Vivek Singh, who is a well-known celebrity chef but takes pleasure in introducing others to his cuisine. India has centuries-old hunting traditions and this class offers dishes such as chargrilled partridge with peanuts and dried mango, and green spiced pheasant with kedgeree.

For more information and to book any of the above classes visit here



Patara – Berners Street
Oxford Street is one of London's retail arteries. It's a ribbon of fashion outlets from the celebrated and well-established Selfridges to a flourishing number of stalls selling trashy T-shirts and even more dubious souvenirs. The world of both good and bad taste can be your oyster.

So you have perhaps enjoyed splashing the cash on that great colourful shopping street and you are looking for food. Or you might be a desk-bound local office worker who has been yearning for the end of the day and a delicious meal. Where to go? You are spoilt for choice but many restaurants here are to be avoided. They rely on passing trade and they know that that trade will likely only be passing once. They don't have to try - they know you won't be back whatever the quality of the meal.

But walk up the side road called Berners Street past the sandwich emporium and have a very fine dinner from the Thai culinary palette. This is Patara, and they are trying, and cultivating a loyal following. It's part of a small chain of Thai restaurants with branches internationally and, interestingly, that includes Thailand.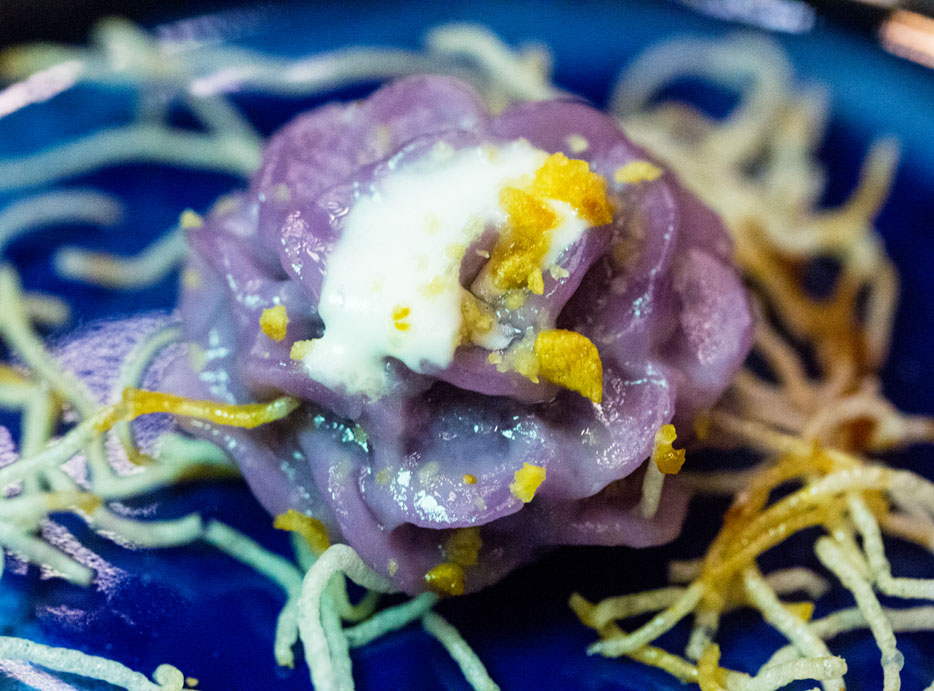 I am no stranger to Patara. It's my restaurant of choice when I want Thai food in Knightsbridge, but it was my first time at the Berners Street branch, and they had a hard act to follow. Granted, the décor is totally different, but they both have the same intimate ambiance. Berners Street is cool and contemporary with only a slight nod to Asia by way of the carved wall treatment. But the food and presentation is distinctly Thai.

The menu is extensive and they evidently take advantage not only of traditional Thai spicing but also of local produce. We chose for both taste and beauty, and it was a feast over which to linger. Starters were traditional Fishcakes with agreeable heat supplied from the sweet chilli dipping sauce. These patties are laced with red curry and perfumed with kaffir lime leaves, crushed roasted peanut, and coriander. Chor Muang are handcrafted lilac dumplings and are memorable for their delicacy and colour. They are filled with caramelised chicken and peanuts and garnished with coconut cream. Would love to see how these are made.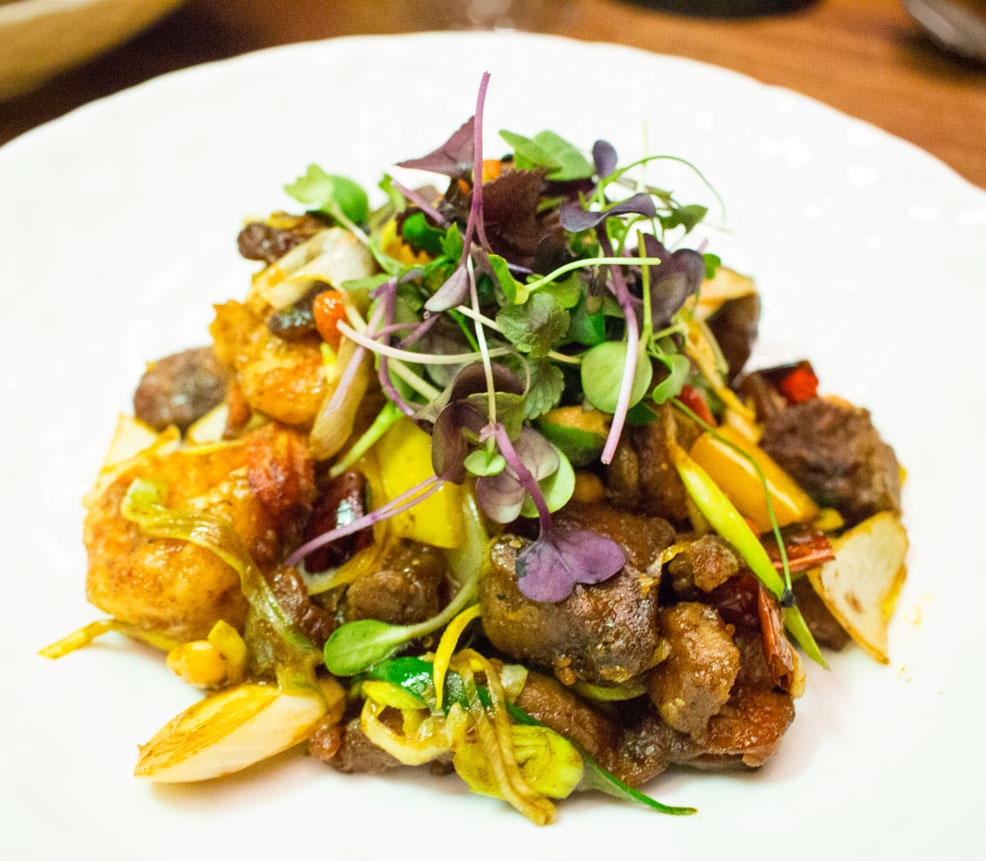 Chestnut Duck and Prawn - duck breast and king prawn sautéed with chestnut, cashews, bell pepper, and goji berries - was my guest's choice of main dish. It was a vision of vegetables, meat and seafood, and seasoned to perfection. Almost too beautiful to eat …almost.

Lamb Shank Massaman - Coconut milk-braised lamb in a mild homemade curry of warm spices and garnished with almond and pickled onion - was my choice. This must surely be one of two signature dishes here, the first being the aforementioned prawn and duck dish. I can honestly say that this lamb shank is the best I have had in years. No, not just the best Thai lamb (I think it's the first Thai lamb dish I have ever had, actually) but the best lamb shank of any culinary hue. The meat was falling off the bone, moist, flavourful and addictive. If you love lamb then this is the dish for you. Outstanding.

But even the side dishes are worth a mention here. We ordered aubergine with red chilli and pickled soya and this is interesting enough to have as a vegetarian main dish. And then there was the coconut shell filled with roasted Riceberry Rice with sweet coconut water. This is a new variety of rice that has been produced in Thailand. It's nutty, hearty and quite unique.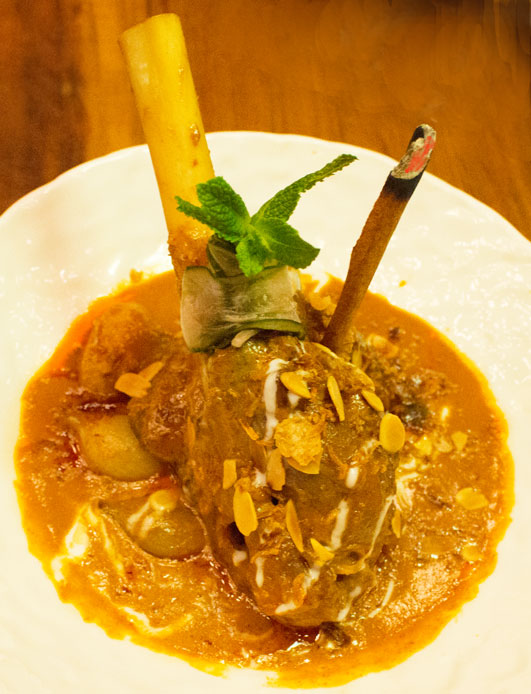 Patara Berners Street has a great location and it's well worth taking those few steps away from the throngs on Oxford Street. Could they improve anything? Well, yes. I would have a sign outside that's is at least twice as big. Be proud, Patara, be very proud.

Patara
5 Berners Street
London
W1T 3LF

Phone: 020 7580 9923

Email: infoberners@pataralondon.com

Opening Times
Lunch
Monday – Sunday: noon – 15.00

Dinner
Sunday – Tuesday: 17.30 – 22.30
Wednesday – Saturday: 17.30 – 23.00



Art Place Japan:
The Echigo-Tsumari Triennale and the Vision to Reconnect Art and Nature by Fram Kitagawa
Every three years hundreds of square miles of countryside in north western Japan are transformed into a sprawling and many-faceted art installation. More than 150 of the world's most-celebrated landscape artists, sculptors, and architects display their work in a couple of hundred villages, fields and rice paddies. It's a liaison between art, people and nature and has become quite an event over the past 15 years.


This book presents these new and striking art spaces in Japan. The works are not, for the most part, displayed indoors, in galleries and museums. These artworks are punctuating the countryside with contemporary anachronism and thought-provoking three-dimensional statements. They are free to view and are attracting half a million visitors each year, although most of those who come to enjoy the festival are still Japanese. The book has 300 or so pages with 46 mostly short pieces by Fram Kitagawa, over 230 colour photographs, and two more essays by contributors Adrian Favell and Lynne Breslin.

This art extravaganza started in 2000 and held its sixth instalment last year. It was founded by and is still directed by Fram Kitagawa. It has now become highly valued in Japan. The book is a companion to the exhibition, introduced in both words and photographs. It teases with its sometimes whimsical images, while the text is casual and conversational. One concludes that all these disparate and yet expressive works actually represent one immense art form, which is the exhibition in its entirety. It's a philosophy, a dream, an interactive challenge which has engaged the local population, artists and viewers.

Art Place Japan: The Echigo-Tsumari Art Triennale and the Vision to Reconnect Art and Nature
Author: Fram Kitagawa
Publisher: Princeton Architectural Press
Price: £21.99
ISBN-10: 1616894245
ISBN-13: 978-1616894245



Sindhu by Atul Kochhar, with Head Chef Gopal Krishnan
I first met Chef Gopalakrishnan when he was working at a Michelin-starred restaurant in London; a smart and charismatic young man who is known by his friends simply as Gopal. He was born in a small village called Sholingur in Tamil Nadu, 100km from Madras (now Chennai) into an orthodox Brahmin family who were vegetarian – and Gopal still is! His early childhood was spent in a town called Athur where his Dad had his own restaurant. "I think cooking runs in my blood – my Granddad had a wedding catering business, and my Dad used to run the restaurant. So we spent a lot of time in the kitchens after school. I was inspired by my Mum's cooking – even now I think her cooking is the best! Whenever I go home I will ask her to cook something, anything, for me."

Gopal wanted a career in catering and hotel management, and joined a 1-year course in Food Production at the Institute of Hotel Management and then moved to the Hotel Taj Connemara, and trained in the Chettinad speciality restaurant, the Raintree. "My experience at the Connemara helped me decide to become a chef, to enable me to focus more on the kitchen side."


When the group opened a hotel in Chennai he was part of the pre-opening team, with the New Zealand chef Willie Wilson at the helm. "It was quite a learning experience – setting up the kitchen, installing all the equipment, finding suppliers for meat, fish, vegetables – which you might learn theoretically, but in practice it's very different! I owe a great deal to Chef Willie, who really instilled a lot of interest and passion into what we did. He always impressed upon us that we must do our best the first time – consistency is the key to success. He would always get us to push our boundaries so we would never become complacent. I have had a very good culinary journey ever since."

Sindhu by Atul Kochhar is the latest venture by the Michelin-starred chef of Benares. This is a cool and contemporary restaurant which fits its location in stylish fashion. It's by the river. That's not estate-agent speak for a restaurant that has distant views of water but only in winter when the leaves have fallen. No, the river is just outside the beautiful leaded windows. Low ceilings and a muted colour palette make this a cosy evening retreat, garnished with outstanding food.


This restaurant offers an array of menus: Tasting Menu - 5 Courses, Tasting Menu - 7 Courses, Vegetarian Tasting Menu and an A la Carte menu. There is something here for any occasion and for lunch or dinner. It's a restaurant that offers a fine dining experience in a more accessible atmosphere. There are some familiar dishes alongside innovation, but all served with flair.

We were expecting good things from Gopal but he, in fact, presented excellent. Nandu Varuval - Crisp Soft Shell Crab with Squid Rings, was a contemporary and classy starter. But there is also more familiar fare here and I ordered Gilafi Seekh Kebab - Skewered Minced Lamb with Basil and Peppers and finished with a Mint Drizzle. These morsels were melting, flavourful and succulent. It's this kind of dish that has helped make Indian cuisine one of the most popular in the UK. Traditional, without a doubt.

Kaalan Melagu Peratti - Wild Mushroom with Thellicherry Pepper in a Filo Wrap with Coconut Moilee Sauce was my guest's choice. Tellicherry black peppercorns come from the Malabar Coast of India and are left on the vine longer so they can develop more complex flavour than regular black peppercorns. This was a fusion which was pronounced as outstanding by my guest. I tasted the sauce and I can confirm it is for which to die.


Murgh Makhan Palak - Tandoor Smoked Chicken in Creamy Tomato and Fenugreek Sauce is a departure from another familiar dish that has helped our love affair with Indian food. This was a comforting preparation that will gladden the heart of any lover of curry.

Mullanti Veppudu - Parsnip and Jerusalem Artichoke Tossed with Coconut and Spices is an unmissable side dish. I will be demanding the recipe which I will shamelessly use chez nous and likely pass off as my own. This is the first time I can recall having Jerusalem artichokes in anything other than a soup.

Head Chef Gopal Krishnan comes to Sindhu with impeccable credentials. The restaurant is evidently in safe hands. I don't doubt Gopal brings with him diners who will be delighted to follow his continuing culinary journey. It's been a long and eventful one, which offers the promise of future inspiration and innovation.

Opening Hours:
Lunch
Sunday: noon till 3:15pm
Monday - Saturday: noon till 2:45pm
Dinner
Monday - Saturday: 6:00pm till 10:30pm
Sunday: 6:00pm till 10:00pm

Sindhu Restaurant
The Compleat Angler
Marlow Bridge
Marlow SL7 1RG

Phone: 01628 405 405
Email: info@sindhurestaurant.co.uk
Visit Sindhu here



OXBO – Hilton Bankside
The name intrigued me. It was either a reference to the bend in the River Thames at Bankside or an indication that this restaurant takes pride in its meat dishes. As it turned out it was both.

OXBO restaurant at the Hilton on Bankside has style. The foyer exuded character with contemporary furnishings that I covet. Nothing bland and chain-familiar here. The restaurant is nothing like any other hotel restaurant I have ever visited, either. This also had character but with a capital C and writ large.

There is a wall of hunting trophies, well, at first glance. But then one realises that they don't make frogs that size – and then one takes a closer look at the others: well-executed, mercifully fake and humorously quirky animalesque heads. The ceiling is low creating a cosy ambiance. Wood-clad walls introduce rustic tones and judicious use of screens and floor finishes create more intimate spaces in this otherwise expansive restaurant.


We were here for Sunday lunch. In fact it was Mother's Day so the place was buzzing with families enjoying the occasion. These groups included impeccably well-behaved children, which just goes to show that good manners are not a thing of the past.

The Sunday lunch format is a self-service buffet for both starters and desserts but with the main course being presented at the table. I noted that even with the restaurant running at full capacity the buffet stations never had queues of waiting diners. The more formal table service made the lunch an occasion. Staff here are friendly and attentive and there were plenty of them.

I first met Chef Paul Bates a number of years ago when he worked at 'another place'. He has roved the ranges in Mayfair and other smart neighbourhoods and has impeccable culinary credentials. I had high expectations – OXBO didn't disappoint, and it seems a great vehicle for this man's talents. The open kitchen might even allow a few moments of chat with Chef Paul, although on this Sunday he was taking the spring air on the rugby field.


The menu for Sunday lunch isn't long. People will be looking for traditional for this particular meal. The starter table held seafood aplenty and there were hints of Asia with Sashimi of Tuna, Salmon and Swordfish with associated Japanese condiments. For carnivores there was a spread of cold meats which included Smoked Duck Breast and Lychee Salsa. Gin and Lime Marinated Halibut was light and refreshing – colour and vibrant flavours to excite the taste buds.

We are famed for Sunday roasts in this country and I can recommend the beef. Roasted joint of Gloucestershire beef served with a puffed Yorkshire pudding taking centre stage, duck-fat roasted potatoes and seasonal vegetables completing this very British Sunday lunch. There is a Bottomless Sunday Roast on offer, which includes a three-course meal and unlimited Prosecco, but I chose a Malbec which, although young, displayed all the classic expressions of Argentina's national grape variety.

Fish lovers are taken care of with the best of the catch. It might be hake, but on this occasion my guest chose a moist cod steak; and there is chicken, and a vegetarian alternative. Perhaps the younger members of the party might prefer to graze on the starters and the cheese platter and then dive into desserts.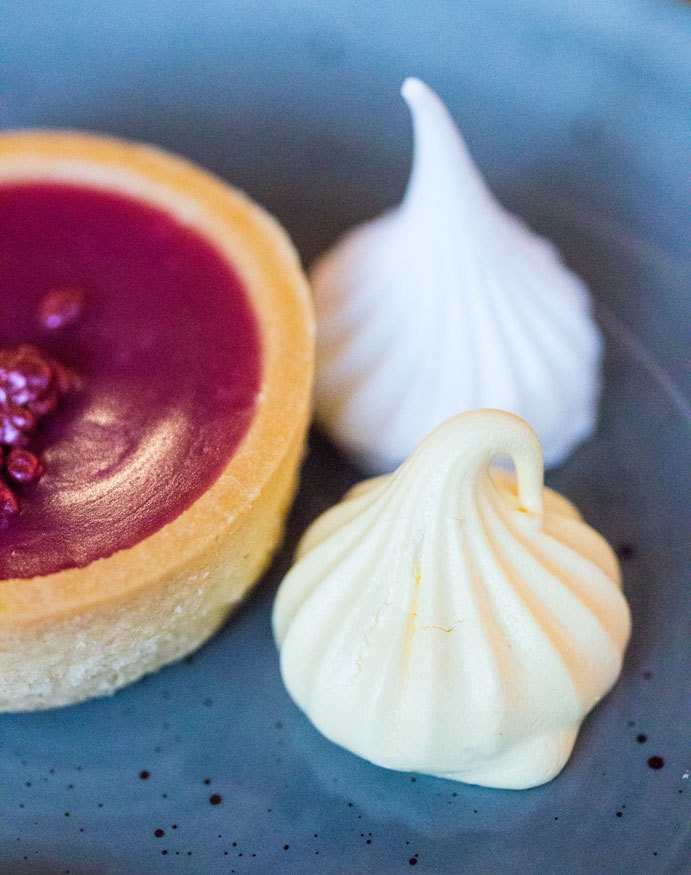 Those sweets were perfectly-formed jewels. It seems they change on the artistic whim of the pastry chef, or on the availability of ingredients, but on our visit we were tempted with miniature chocolate and caramel tarts, raspberry mousses, sponges, trifles, cookies, candies and macarons.

OXBO would seem to have a sound future. It's only been open a few months but it's been praised for its quality of food and reasonable prices. It's great value for money and it is, quite frankly, a splendid place for Sunday lunch. Its location makes it ideal not only for locals but for those who want lunch and then an afternoon on the river, on the Eye or shopping.

OXBO Restaurant
Hilton London Bankside
2-8 Great Suffolk Street
London SE1 0UG

Visit OXBO here

Phone: 020 7593 3900
Email: info@oxbobankside.co.uk

Opening Times:
Monday – Wednesday: 06:30 - 11:00 and noon - 22:30
Thursday – Saturday: 06:30 - 11:00 and noon - 23:00
Sunday: 06:30 - 11:00 and noon - 22:30




Ichiryu Hakata Udon House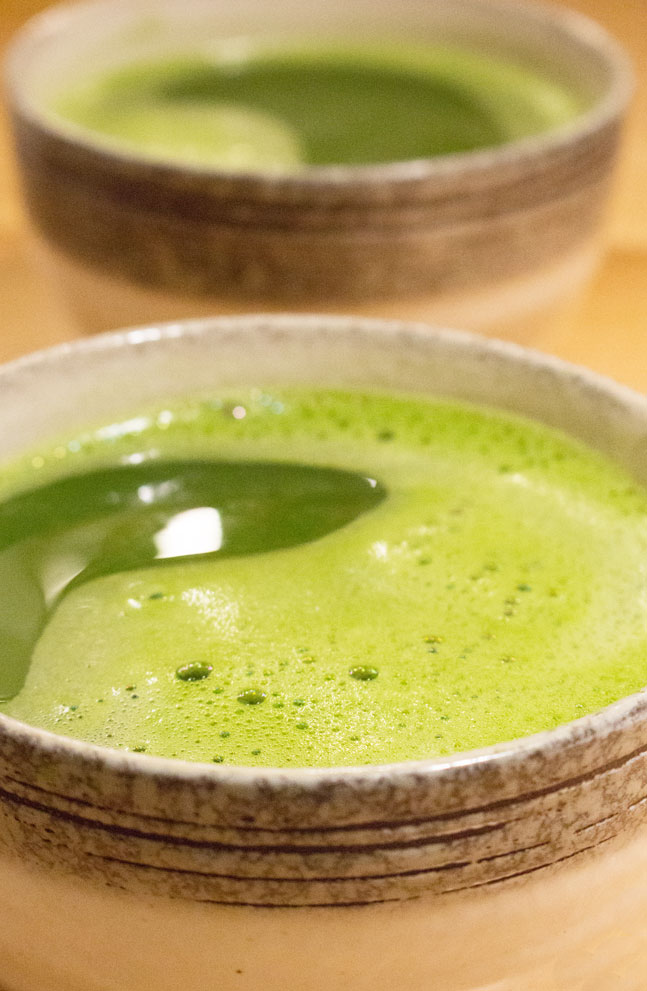 Ichiryu Hakata Udon House is from the same stable that brings you Japan Centre and the chain of Japanese restaurants, Shoryu. Ichiryu is a well-placed eatery on New Oxford Street, and even after just a couple of months it's enjoying a loyal following of office workers, shoppers, and I hear it's been discovered by a chef or two!

This is a light and contemporary restaurant and it pays creditable attention to detail. It's the little things that one notices front of house that indicate how a restaurant is run. Chopsticks are uniformly parallel to the edge of the table. Serviettes are paper but they sport the company logo indicating an element of pride. The high bar table has handbag hooks which are a thoughtful touch; but there are more regular tables for those of us with no balance skills. Service is friendly and periodically animated with shouts of welcome and farewell punctuated by drum beats.

Tak Tokumine, who founded Japan Centre in 1976, has a passion for the food of his hometown of Hakata in Fukuoka prefecture. In fact this town is famed for noodles. As the name suggests, Ichiryu Hakata Udon House specialises in handmade noodles. Those noodles are indeed handmade as one can watch hands actually making them. Surely noodles don't get fresher than that.

The noodles in question are Udon. These are celebrated for their chewy texture. All Udon are not created equal but of all those I have tasted recently, these are most to my taste. Well, perhaps the word taste isn't quite correct: I really mean that they are to my texture with the preferred degree of bounce.


Ichiryu sells noodles but they do need to be floating in something, and in this case it's a light and well-flavoured broth. Even this varies from restaurant to restaurant and from company to company. I have had delicious noodles that are coated by a much thicker white soup made from simmered bones and that's wonderful, but the Ichiryo broth showcases the noodles and the garnishes rather than filling one with a soup as thick as sauce.

We started our meal with matcha tea to which I have become addicted over the past few years. Here presented in the largest tea bowls I have ever seen. This vibrant green liquid is becoming more popular worldwide as it offers greater health benefits than does regular leaf tea. One ingests the whole leaf rather than just drinking the liquor resulting from the traditional tea-brewing process.


My guest ordered Udon noodles with a garnish of Niku Beef. The marinated shaved meat was deliciously savoury and tender. Courgette tempura was our choice of side dish. It offered a light crunch from the batter enrobing the quarters of vegetable that still retained their form and natural flavour.

I grazed on Gyoza which are pot-sticker dumplings and well worth trying. There was the usual soy condiment, but this time with yuzu paste which was outstanding with deep citrus tang complementing the rich filling of the dumplings.

Hakata buns are here with various fillings. These, I believe, originated in Taiwan and are an Asian sandwich. The fluffy folded bread held, in our case, some fresh and flaky cod. One of these would make a substantial nibble with drinks but three would constitute a full meal. Chicken Cutlet is a simple dish which was elevated to the memorable by the associated spicy sauce. The coating was crunchy and the meat moist.


Dessert of mochi filled with ice cream is undoubtedly Japanese but is becoming popular internationally. It's that agreeable combination of chewy ricecake surrounding an ice-cold filling. At Ichiryu the dessert arrives as a trio of sesame, matcha and yuzu-flavoured mochi. Kids will love this.

Ichiryu Hakata Udon House doesn't put a foot wrong. The food is comforting, the ambiance relaxing, and it offers value for money.

Ichiryu Hakata Udon House
84 New Oxford St
London
WC1A 1HB

Email: info@ichiryuudon.com

Visit Ichiryu here

Opening hours
Mon - Sat: Noon - 22:30
Sun: Noon - 21:30



Afternoon Tea at Home
- Deliciously indulgent recipes for sandwiches, savouries, scones, cakes and other fancies
I was expecting a great book from this well-respected chef, Will Torrent. I wasn't expecting the volume to have that overwhelming feel-good factor. That comes from a reminder of traditional sweet treats in the recipes, bringing comforting memories. And contemporary innovations bringing the realisation of 'I can do that' dusted with a smug 'won't the mother-in-law be impressed'.


Will has written a book that will be inspiring for both the enthusiastic novice and the experienced home baker. Some of the recipes might seem daunting but read them through and realise that they are not over-taxing and really just a combination of smaller recipes that can be executed individually and then constructed into the finished impressive article.

Afternoon tea is a flexible light meal. It can be a cottagey affair with old-fashioned baked goods. These days it might be a smart event for the flowery dress and Ascot hat brigade. And then there are those fun spreads to celebrate a birthday. Will covers it all with suggestions for both sweet and savoury items and every type of occasion: tea menus for blokes, mums and dads, brides and even breakfast tea are all here.

A classic tea has a formula. There will likely be a 3-tier stand with savouries on the bottom plate and that's where one starts. Then the middle level probably contains scones to be served with fixin's of jam and cream. The final selection will have grabbed your attention as soon as the stand arrived. That's where the small cakes and fancies rest, like confectionery gems. Will has recipes to fill each of these plates.

My picks of the book are numerous. Roast Beef Sandwiches are a must-try. Yes, slices of beef for sure, but a unique onion and garlic spread elevates this sarnie to a masterpiece. Another stunning savoury is the Chicken Liver Parfait with Thyme and Onion Confit and fluted brioche. It's a metaphoric mouthful but break it down into its constituent parts and you have a rather versatile set. The parfait would be a spread for toast, the confit would work as a garnish for roast meats, and the brioche is a classic sweet bread with many uses.

Scones are usually sweet and Will offers those, but his Triple Cheese Scones with Whipped Mustard Butter have my name on them. Other tangy nibbles include Olive and Anchovy Whirls. Will is a realist so he suggests you use good quality shop-bought puff pastry because he knows you'd do that anyway, and this recipe could not be simpler.

Eccles Cakes are quintessentially English and show our traditional use of dried fruit. Will adds the rich and sweet sherry Pedro Ximénez in which to soak the currants and it makes a delightful difference. Keeping with the Spanish theme he serves the Eccles Cakes with Manchego cheese.

If I had to choose just one recipe, just one tempting morsel, only a single remarkable creation, then it would be Mince Pie Brownies. It's a beautiful pile of three layers and each with its own distinct yet complementary character. This would be on my top tier of the Christmas tea stand, but I'd have this as a festive dessert and a lighter alternative to Christmas pudding (which I loathe with a passion known to few). It's Mince Pie Brownies for me in future, to finish Christmas dinner.

I am an unashamed supporter of the author of Afternoon Tea at Home. Will Torrent is evidently a talented baker and maker of scrumptious desserts but he is also a chap with a warm and engaging personality. This book presents a paper version of Will: it's charming, reflects great skill but above all, it's encouraging. If Afternoon Tea at Home doesn't entice you into the kitchen then sell the kitchen!

Afternoon Tea at Home
Author: Will Torrent
Price: £19.99
Published by: Ryland Peters & Small
ISBN-10: 184975702X
ISBN-13: 978-1849757027



Classic Recipes of the Philippines
This rather smart little book looks at the unique traditional food and cooking of the Philippines. But many of us know little of these islands and probably even less about its culinary heritage.

The Philippines are a cluster of islands with its nearest neighbours being Vietnam, China, Malaysia and Indonesia. Its geographic proximity to those culinary giants would guarantee some striking dishes, but then add Spain into the mix and one finds an extraordinary melting-pot.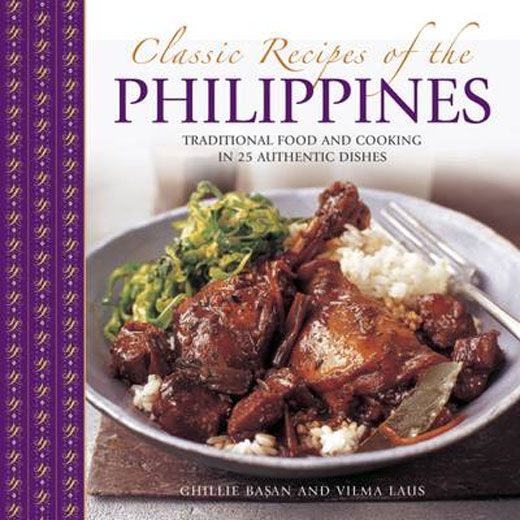 Classic Recipes of the Philippines offers 25 authentic dishes that cover some of the most celebrated foods in these islands. There are very few ingredients that would demand a trip to a specialist supermarket but a stock of 3 or 4 Filipino condiments will likely set you up for all of these recipes. There is a vibrant shrimp sauce but nothing much more challenging than that.

The book starts with a soup, Chicken and Ginger Broth with Papaya (Tinolang Manok). The Filipino staple ingredients of garlic and ginger are joined by chilli and green papaya to create a truly delicious and warming soup. It's a simple dish to prepare but it's impressive.

Chorizo is a definite influence from Spain, which governed these islands for a couple of hundred years. Here it's found as part of a beef stew which also includes chickpeas and plantains which are available in most supermarkets these days. This is a hearty and exotic bowl with flavours of both East and West.

I have always thought of oxtail as being a thoroughly British cut of meat and one that seems rather old-fashioned here these days. It's surprising to see this much-underrated meat included as a Filipino classic called Kare Kare and it's prepared with the less than British peanuts, rice flour and banana hearts. It's served with shrimp sauce and green mango on the side and is far more interesting than my Nan's stew. Definitely one to try.

Adobo is the national dish in the Philippines and it comes via Mexico which was also a Spanish colony. Here it's a memorable concoction with both pork and chicken, although it could be made with just one or other of these. Vinegar is the key ingredient in Adobo Manok, which is even better the next day.

Filipino cuisine is set to become the next international culinary trend. It has a flavour profile that is attractive to a broad audience and it's interesting to note that there are now high-end Filipino restaurants opening in major cities to introduce us to the delicious yet unfamiliar flavours of these stunning islands.

Classic Recipes of the Philippines
Authors: Ghillie Basan and Vilma Laus
Published by: Lorenz Books
Price: £4.99
ISBN-10: 0754830497
ISBN-13: 978-0754830498




Dirty Bones Kensington for Brunch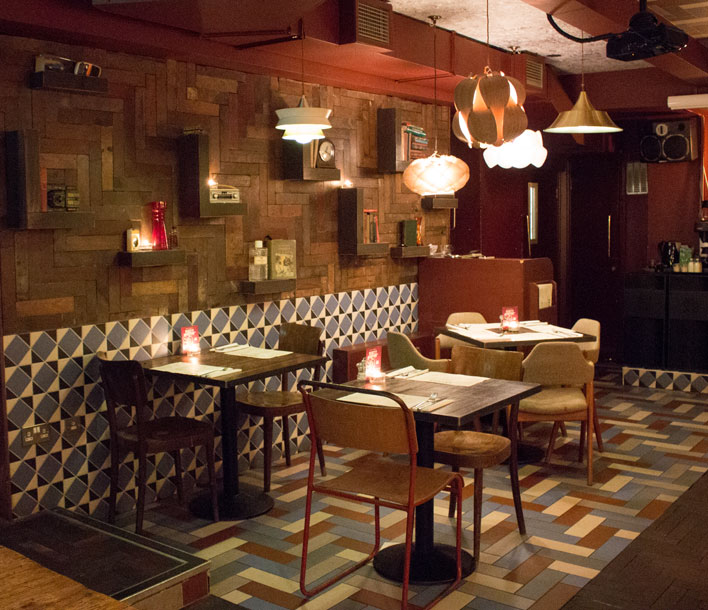 It's raining in Kensington and we are hungry for brunch. Yes, that convivial meal twixt brekkie and weekend dinner that allows for a broad menu over which to pore. Kensington is posh and I would venture to say that Dirty Bones has the only entrance in the area that resembles that of an iffy dive or old-fashioned speakeasy. It has a nocturnal persona as a buzzy bar, which accounts for this edgy urban façade.


The red-tiled staircase leads to something of a warren of bar and dining areas. It's an eclectic mix of rustic tables, wood-clad walls, more tiles and enamel pitchers. It's quirky but it works. There are banquettes for groups (and I am sure there are many of those during the evening service), as well as romantic tables for two. Low lights even for the weekend lunch crowd, but that did make for a cosy ambiance after the cold and grey of Kensington High Street.



Dirty Bones cocktails are outstanding, so start your brunch with one. True, I have not sampled the whole mixology bill of fare but I can highly recommend at least a novice's selection of two. Mezcal Old Fashioned is a drink over which to linger. Granted, there isn't a roaring open fire down in the basement sanctuary but this smoky libation is right for just such a spot. Del Maguey Mezcal Vida was sweetened with Agave Syrup and lifted by a few shakes of both Angostura and Orange Bitters. At the risk of sounding sexist – this could be one for the boys.


Dirty Gimlet had my name on it. I have been a long-time lover of a gimlet of any hue. They are sweet and sour concoctions with a truly adult taste. The Dirty Bones Gimlet was one of the finest of the genre it has been my pleasure to try. The key is the Chilli-Infused Bombay Sapphire Gin which imparts delicious measured heat which has a counterpoint from the classic Rose's Lime Juice and Celery Bitters. This is a must-try at any time of the day.


The dishes here are described as American comfort food and there is a lot that falls into that category. A brunch favourite at Dirty's will likely be The Mac Daddy. A 6oz house burger is topped with pulled beef short rib, and that's the secret to the success of this dish. That additional meat is tangy with a light BBQ sauce which elevates the patty into something extraordinary. The Mac element is Mac and Cheese which was mild and creamy.



Coffee and Donuts for dessert? That sounds improbable but it's a cuppa Joe with a difference. It's coffee gelato and served in a coffee glass with a hot donut alongside. I would love the recipe for this ice cream. It's not over-sweet and with a flavour that reminded me of the Camp Coffee of my childhood. This was a delightful treat and a masterful presentation.


Dirty Bones Kensington is a great location for a weekend brunch. It might be a challenge to find the front door but the effort will be worth it.


Dirty Bones Kensington
20 Kensington Church Street
London W8 4EP

Visit Dirty Bones here

Opening hours
Tues - Thurs: 5pm - midnight
Fri: 5pm - 1am
Sat: noon - 1am
Sun: noon - 9pm




Brunch at Balans Soho Society Kensington High Street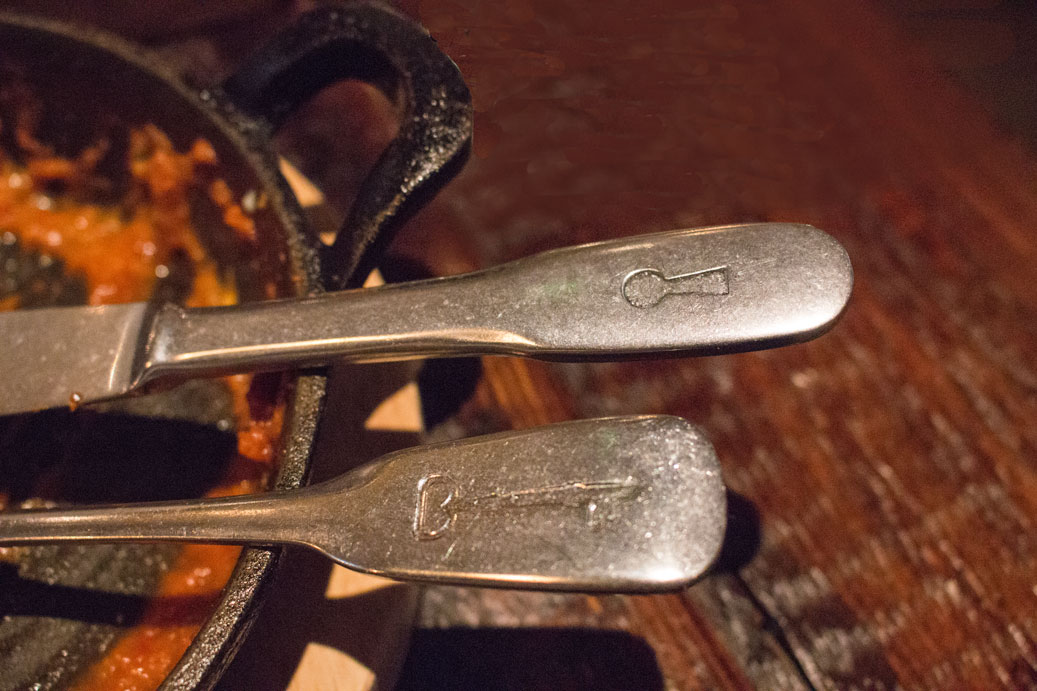 I am not naturally an early-morning person. I am not naturally a morning person of any time classification, but I do love breakfast – as long as I am not cooking it. If you are going to go to the trouble of sitting down to a meal at that time of the day then it had better be worth waking up for. Brunch at Balans Soho Society is good. Very good.


The motto is 'Too much of a good thing is a good thing' and it's appropriate for an establishment such as Balans Soho Society. The restaurant is a casual and quirky bistro-style dining spot of character. Perhaps that should be Character with a capital C for its individual charm is noteworthy. Yes, it's a matter of taste, but Balans Soho Society on Kensington High Street has my vote, both gastronomically and aesthetically.



The bar is well stocked as one would expect and sports a brace of candlesticks of monumental proportions. Tables for breakfast and brunch (I can't testify to other meals) were laid with crates of condiments. The napkins were of crisp white linen and the silverware heavy and embossed with the Balans Soho Society marks of keys and keyholes. Class in casual fashion writ large here.


A full English breakfast is always tempting: it's on offer at Balans Soho Society and evidently popular. I noticed that the menu had a couple of less-than-traditional items that sounded intriguing, and, assuring myself that I could have the fry-up on the next visit, I ordered Eggs in Hell! The worst offence a restaurant can commit is to entice the prospective diner with the expectation of vibrant spice and then not deliver. This dish was pleasingly spicy with well-balanced heat from a tomato-based sauce. This bathed sautéed potatoes (Balans potatoes) which made a nest for two poached eggs and parmesan. A breakfast fit for any sluggish riser or lover of heat. Consider adding a slice of crusty bread for mopping.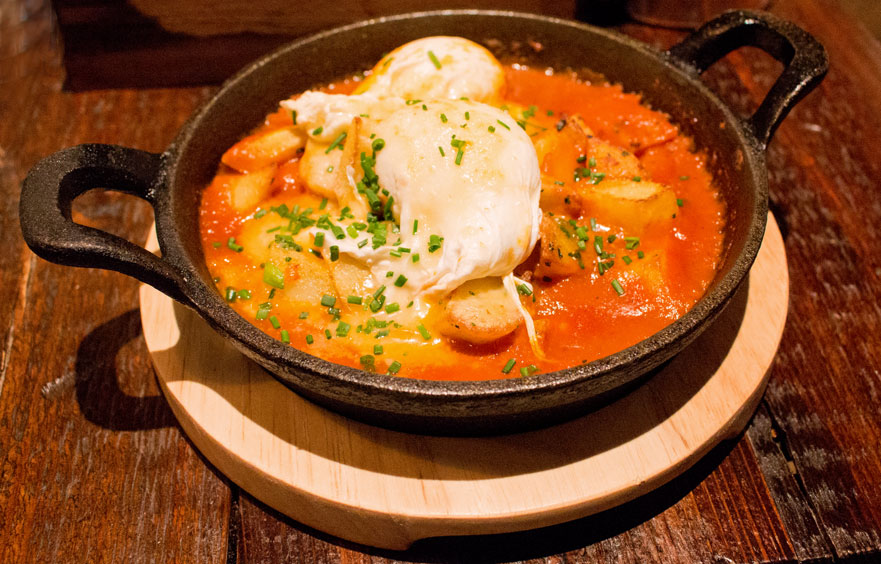 The High Society Eggs Benedict was my guest's brunch of choice. He is a man of refined tastes and appreciative of the better things in life. The regular eggs beni has been a favourite since the dish was first invented in the US in the 1890s. The regular poached eggs, bacon, English muffin and hollandaise sauce has a couple of additions here - creamy avocado and lobster. The preparation was pronounced delicious and worthy as a weekend
treat for the discerning.


Brunch at Balans Soho Society Kensington High Street is great value for money. The brunch menu caters for those with hearty appetites, those with more modest cravings and even those unfortunates who are looking for a morning-after-the-night-before reviver, who will likely benefit from those heavenly hellish eggs.




Balans Soho Society
187 Kensington High Street
London
W8 6SH

Phone: 020 7376 0115

Visit Balans Soho Society Kensington High Street here






The Food and Cooking of Japan and Korea
A few years ago our culinary ethnic horizons extended to a Friday night curry and perhaps the occasional Chinese dinner of sweet and sour pork. Often made at home from decent cookbooks, but not often pushing geographic food boundaries.


These days we are exposed to many more restaurants and those encompass cuisines from every corner of the globe. There are exotic platters from Ethiopia, vibrant Caribbean dishes, and Polish dumplings in restaurants that are flourishing. We love eating out and then reproducing the flavours at home. We travel and bring back dining memories and cravings.

Japanese and Korean restaurants were almost unheard of a decade or so ago but now they are popular. Korean meals are often robust and spicy and just the kind of food appreciated by the British palate these days. Japanese dishes are refined and there is more to this cuisine than the ubiquitous sushi which is adored by so many. The Food and Cooking of Japan and Korea is a substantial collection of 250 recipes that will enable you to replicate favourite plates and will introduce you to new ones.

I love this style of cookbook. There is a comprehensive glossary of Korean and Japanese foods and an overview of each cuisine, along with a shopping guide. It's likely that you will have to buy a few store-cupboard ingredients to start with, but once you have that small battery of condiments and spices you will be able to tackle all of those 250 dishes.

There are 1500 illustrations and these are supportive when one is new to a particular ingredient or technique or don't know what the finished product should look like. There is lots that might be unfamiliar but this book presents recipes that can be mastered even by the culinarily challenged. The recipes are well written with step-by-step instructions.

I have my favourites from both the Japanese and Korean delights offered here. Sweet Cinnamon Pancakes are a popular snack in Korea and would be great as part of an exotic afternoon tea spread. They are little stuffed turnovers with a peanut and cinnamon filling, and they are addictive.

Oyako Don is a simple and satisfying dinner that won't break the bank. The name means parent and child: 'parent' refers to the chicken and 'child' to the egg. The egg is poured over the finished dish and cooks for just a minute or so. The result is a silky coating over the chicken and the two are served over steaming rice.

The Food and Cooking of Japan and Korea is a practical book that will appeal to those of us who actually use cookbooks. It's well-presented, deliciously informative and it's a real page-turner for any dedicated food lover. I had forgotten how much I miss some of these dishes and I am tempted to make them again. There are others that are new to me and they are equally enticing.

There are two distinct cooking traditions here but so many dishes work well together. It's a carnival of well-chosen recipes and under £12, which is great value for money.

The Food and Cooking of Japan and Korea
Authors: Emi Kazuko and Young Jin Song
Published by: Southwater
Price: £11.99
ISBN-10: 1780194250
ISBN-13: 978-1780194257



The Complete Practical Guide to Digital and Classic Photography
I have come to this medium quite late in life. I got a bit of confidence with my iPhone and some of those images were, although I say it as shouldn't, spectacular. But somehow I knew there was more.


This book is a weighty tome at a very reasonable price. At under £12 one can have a fairly thorough overview of the craft of photography. It's a step-by-step guide to the apparatus (your camera) as well as advice on improving the results of your labours.

There is more to good photography than lots of equipment. It isn't just a matter of pointing and clicking, although there are plenty of cameras that will produce acceptable snaps by doing just that. There is a world of possibilities to be explored when one realises that those little buttons and dials dotted around the camera actually do something.

The Complete Practical Guide to Digital and Classic Photography explains depth of field, focal length, shutter speeds, focus and exposure, along with many other functions the use of which will enable you to produce really professional shots. This would be something of a bible for the beginner who will likely want this book as part of their photography kit. Its 1700 or so pictures are a great support to the text.

It's not only the technical issues which are covered. Photographs are art and so the book devotes time to explaining how to get that elusive effect, how to pose a subject, as well as editing images, which is a crucial part of the craft these days. There are sections on emailing your images, printing them and even advice on entering photographic competitions. In fact there is everything a budding photographer might need to gain a bit of confidence and know-how.

The Complete Practical Guide to Digital and Classic Photography is a comprehensive introduction to a wonderful pastime that could develop into a career. It's a perfect gift for a novice and as affordable as a pack of photographic paper.

The Complete Practical Guide to Digital and Classic Photography
Authors: Steve Luck and John Freeman
Published by: Southwater
Price: £11.99
ISBN-10: 1780194331
ISBN-13: 978-1780194332



Darbaar by Abdul Yaseen
Here is a man to follow and a restaurant to watch. This new venture, Darbaar with Abdul Yaseen at the helm, has pedigree and polish and it's no surprise!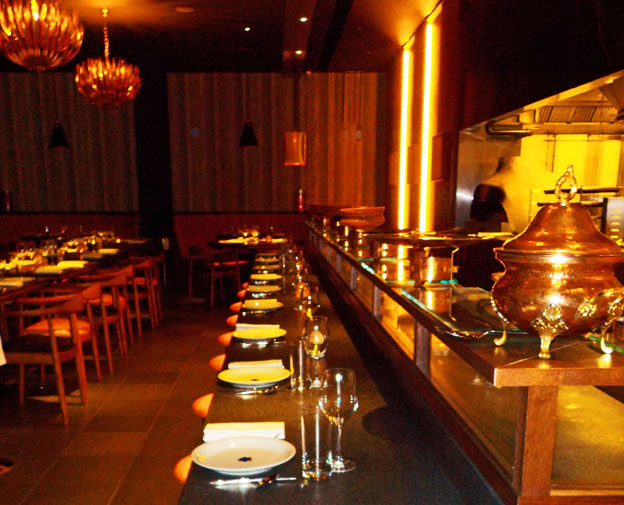 Located in the heart of London's City square mile, Darbaar is rather conveniently situated. Not far from the travel hub of Liverpool Street Station and with ample parking just yards away this restaurant has a huge catchment area. It's already popular for lunch with local office workers and with those who want a bite after work, but I am expecting that trend will have the evening tables filled by discerning diners who will soon mark Darbaar as a destination Indian restaurant.

But what of this aforementioned pedigree? Abdul is already an award-winning chef who moved from Jaipur to London fifteen years ago and was part of the launch team of celebrated Cinnamon Club, which has now morphed into a small and well-respected chain. Abdul became Head Chef at Cinnamon Kitchen and Anise, enhancing the Cinnamon brand.

Abdul Yaseen now has his own establishment and, although very new, it is already a credit to him. The food at Darbaar is inspired by the banquets of the Indian Royal Courts. One might therefore expect a restaurant decorated with sofas, waiters in Rajasthani costume and a chap in the corner playing a sitar. Nothing like that here. There are small design vignettes giving a nod to the Sub-continent. There are only a few carved elephants here and there, and some sabres also appear on the crockery, but the food is totally Indian and very thoughtfully chosen.


Darbaar is an impressive 5,500 square feet in area and offers a 220-cover restaurant, and a cosy bar which also tempts with small plates for those strapped for time. The whole of Darbaar is a vision of dark wood and burnished metal with natural earth colours and mirror accents. Soft furnishings are in muted orange and each table sports a carved candle holder creating a calm and relaxed atmosphere.

The restaurant includes a grill-side seating area, open kitchen vista, tables for couples or groups and some banquettes. There is an attractive 20-cover private dining room with a striking wall of wine bottles. There is also a chef's table for up to 12 people with a view to the open kitchen, with chefs serving dishes directly from the glass hatch. Service throughout is friendly, efficient and appropriate.

I could have safely predicted that the food here would be good but it was in fact superb. We started with King Scallops and Red Cabbage Porial served with Herb Moilee. Each sweet nugget was perfect with its associated relish. Royal Bengal-style Wild Madagascar Prawns arrived looking beautifully curled - a luxurious treat and well worth ordering, as is the Tandoori Salmon Tikka with Kokum Berries and Chilli, still glistening with its juices.


A signature starter at Darbaar must surely be the Nanza which is an Indian pizza made in the wood-fired clay oven for maximum flavour. This Chilli, Chicken, Caramelised Onion and Cheddar cheese preparation is so good that I think it's probably the best pizza I have ever had. That statement might leave my Italian friends blanching with shock but I would counsel trying this before you profess your nationalistic doubts.

Perhaps the star of the evening, beating stiff competition from those other dishes, was the Baked Leg of Rabbit which was cooked and served on the bone and with a Rajasthani Chilli and Corn Sauce. It's a shame so many people have such reservations about eating bunny. It's a delicious and mild meat with good texture and flavour and so versatile. This corn sauce is so good that I think it could be a dish in its own right. It had a rich texture and was moreish. Order some extra bread for dipping as you won't want to leave any of this.

Whistling Duck Merlot was our wine for the evening and it can even be had by the glass. It's at the top of the Red Wine List so won't break the bank. It's an Australian classic with hints of ripe plums and blackberries. It pairs particularly well with the delicately spiced foods at Darbaar with neither party competing with the other.

Yes, dear reader, I am impressed by Chef Yaseen, whom I already knew, and Darbaar, which I didn't. This is Indian fine dining at its best. Granted, there are no crisp white tablecloths but here it's all about the food and the guests who are sharing it. Bring friends and eat together. Talk in animated fashion and relax in an ambiance that can be enjoyed by working folks as well as maharajas. Darbaar is a winner of a restaurant which I fully expect to achieve culinary decorations in the near future.

Darbaar Restaurant
1 Snowden Street
Broadgate West
London
EC2A 2DQ

Email: info@darbaarrestaurants.com
Phone: 020 7422 4100

Opening Hours:
Monday to Friday - Lunch – 12noon to 2:45pm
Monday to Saturday - Dinner - 6pm to 10:45pm
Bar - 11.30am to 12 midnight (serving nibbles and small plates)
Closed on Sunday



The Chalet Cookbook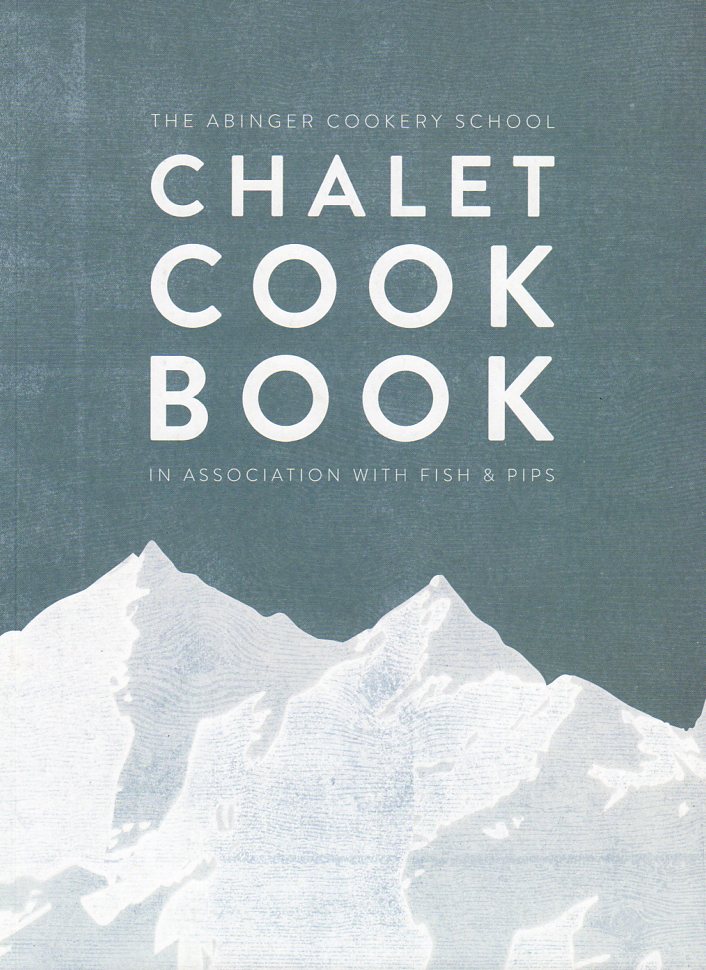 Yes, it's that time of year again. Chestnuts roasting on an open fire, etc. Our thoughts turn to cold-weather vacations and possibly (although not in my case) to sporty pursuits. There will be expectations of snowy vistas, the smell of pine and tables groaning with comforting food.

The Chalet Cookbook by the Abinger Cookery School in association with Fish and Pips have produced a book that will be a perfect inspiration for winter foods at home or in that cabin in the mountains, which will hopefully have a well-stocked supermarket within easy sledging distance.

This book takes a step away from cheese fondue and presents dishes that work well on self-catering winter holidays, but there is not a hint of instant packet mixes or corner-cutting. This is a proper adult cookbook which offers suggestions on appropriate dishes to make every chalet meal a feast, but without the need for the primary chefs to miss out on sloping off.

The Chalet Cookbook is a combination of traditional and thoroughly contemporary creations that have an international flavour, reflecting how most of us actually eat these days – or would like to. The recipes are divided by course starting with breakfast and continuing with afternoon tea and then on to a full dinner spread. There is something here for every taste and indeed every level of cheffy skill.

The authors have been mindful of different eating habits, so provide wholesome and healthy items as well as those of a more hearty nature for people who have spent the day in open-air activities. Some dishes are fun and others rather avant garde but all will be appealing, not only to the chalet chef but also to those who are staying home. Some are for a crowd of 8 – 10 people and others are for 4 – 6 diners, making this a great cookbook for anyone who enjoys giving sizable dinner parties.

I wouldn't pass up on eating any of the foods here but I do have favourites. Lemon Tart with Gin and Tonic Granita serves 8 to 10 people, or more likely four to five people twice, as second helpings are on the cards with this one. Yes, delicious when both the tart and granita are served together, but they could just as easily be enjoyed separately. That sorbet would be a refreshing palate-reviver between courses of a lavish dinner, and the tart as part of an afternoon tea spread. A timeless classic.

Slow-Cooked Lamb Shoulder with Crispy Polenta is a must-try and falls into the aforementioned category of comfort food. The lamb is spicy, rich and flavourful with a crunchy texture from the polenta, although I think this lamb would also work well with soft polenta or even a heaping bowl of old-fashioned mash. Talking of polenta, there is a to-die-for Lemon Polenta Cake which will become a staple chez nous.

This isn't a hefty tome but it's full of inspiration. The only slight criticism is that I would have liked a little background or explanation for each recipe. It's a delightful book and will be well-received this Yuletide by any enthusiastic cook.

To learn to cook like a Chalet pro visit www.abingercookeryschool.com




Langkawi – more than beaches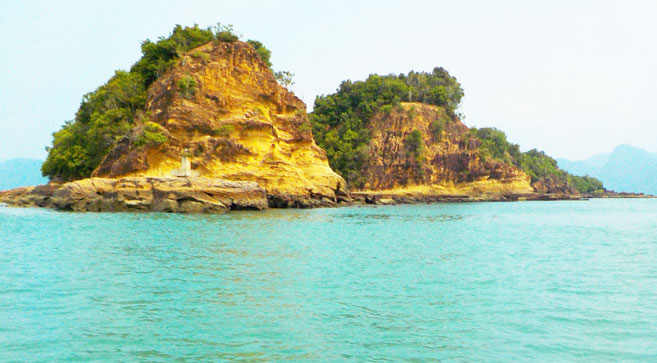 This tropical gem has a deserved reputation for iconic, palm-fringed beaches, dazzling white sand and sea warm enough to call a bath. Langkawi is an island that charms and intrigues, and its story can be discovered not far from your sun-lounger.

The sea is very much part of life here. It has provided a living for the islanders from fishing, and now it presents a luxurious diversion for tourists. Naam Cruises is perhaps the foremost leisure and watersports company on the island and it prides itself on its excellent reputation for both service and safety. The company specialises in nature adventures and high-end excursions including a popular dinner cruise which rocks the guest into a state of pampered calm while watching the sun set over tiny islands and slowly-reddening sea.

The staff are attentive and professional and the food offered on these evening cruises is excellent. There are wines and beers as well as refreshing non-alcoholic cocktails and soft drinks. The boat is spacious and luxurious and can be hired for private events. The crew will be able to tell you tales and legends of local princesses and warriors, and point out natural features and wildlife. This would be an ideal away-day for a group of family or friends who can have a trip especially tailored to their needs. The boat can be hired for overnight stays as it boasts several sumptuous en-suite cabins.

Visit Naam Cruises here


Dayang Bunting is the second largest island in Langkawi's archipelago of 100 or so islands. It has one of the region's best-loved attractions and is visited by both locals and tourists alike. The meaning of the name Dayang Bunting is 'Island of Pregnant Lady'. But it's the lake on the island that is the draw. It's a large freshwater lake known as Lake Guillemard. It's a hike to get to as it is surrounded by hills of dense rain forests.

Like all good islands this one has a legend. A man named Mat Teja fell in love with the Princess Mambang Sari when he met her by the lake. They eventually married and the princess gave birth to a son but he unfortunately died shortly after. They decided to lay their son in the lake to allow him a peaceful resting place. The grieving princess blessed all women having difficulty conceiving a child, praying that they would become fertile once they had immersed themselves in the magical waters of the lake. If one looks at the profile of the surrounding hills then one can see, exercising a little imagination, the silhouette of a reclining pregnant lady.

Visit here if you are reasonably fit and in no hurry. There are many steps so take your time and take some water. No alcohol is allowed and don't take food as the ever-watchful monkeys will grab it along with your camera. This perhaps isn't the excursion for the elderly or the very young as a baby buggy would never make it. But once there the cool waters will be refreshing. One can take a dip from the pontoon or can hire a pedalo and go exploring. This is a popular attraction but uncrowded, as there is plenty of space.

The lake and the surrounding area is part of the Dayang Bunting Marble Geoforest Park. This is one of the three geoparks of Langkawi with great limestone formations, marble outcrops and unique geological features. The park has several caves: in fact the lake itself has resulted from a large underwater cave, the roof of which collapsed and eventually filled with fresh water.

Learn more here


There is a tour that I can highly recommend with one particular company, at least. Dev's Adventure Tours with Naturalist Khirien Kamarudin are exceptional. Take the Mangrove boat trip and you will see another aspect of this tropical paradise. Khirien will conduct you through ancient caves and will talk about the bats, the snakes, lizards, fish and those ubiquitous monkeys. He has respect for the environment, which is sometimes lacking in his counterparts from less professional companies.

There is so much to see here. The running commentary is fascinating and the younger members of the party will enjoy bird-spotting. Those birds will doubtless include the local brown eagle which is thought to have given Langkawi its name – Island of the Brown Eagle in Malay. There are wild dogs running between the trees, snakes hanging from branches (out of reach of the boat) and more monkeys.

Dev's Adventure Tours with Khirien Kamarudin should not be missed. Take just a morning away from the sun-kissed sand and take a look at another face of Langkawi. You will return home with more than a tan – you will have an understanding of the eco-system of a treasure of an island and the kids will be talking about it till your next trip – for a next trip there will surely be.

To learn more about Dev's Adventure Tours visit here

I can highly recommend The Meritus Pelangi Beach Hotel and The Danna Hotel, as I have stayed in both. They offer the highest standards with service to match. Their locations are convenient and there is a host of trips to enjoy for those seeking a little gentle adventure, if you can tear yourself away from the pool or the sea.

Learn more about Meritus Pelangi Beach here


Meritus Pelangi Beach Resort and Spa
Pantai Cenang
07000 Langkawi
Kedah Darul Aman
Malaysia
Phone: 60-4 952 8888
Fax: 60-4 952 8899
Reservations: resvn.pelangi@meritushotels.com
General Enquiries: pelangi@meritushotels.com

Learn more about The Danna here
The Danna Hotel
Telaga Harbour Park
Pantai Kok
Langkawi
Malaysia
Phone: 604 959 3288
Email: info@thedanna.com

The Langkawi International Airport is one of 7 international airports in Malaysia and connects the island to Kuala Lumpur, Singapore, Penang and also Subang.

Singapore Airlines offers numerous flights and connections to Langkawi. Learn more here




Reims - Tasteful Souvenirs
Reims is a beautiful and historic city in the Champagne-Ardenne region of France. It is only 130 km from Paris with easy access by train. Excursions to nearby Chalons are a must and there will be not only the delightfully ubiquitous champagne to taste but also the champagne truffles which are so celebrated here.

The city was founded by the Gauls and became a significant town during Roman times, but it's also important to the story of French royalty as it is the town traditionally associated with the crowning of French kings. The cathedral, Notre-Dame de Reims, became a UNESCO World Heritage Site in 1991 and contains some stunning stained-glass windows and beautifully grand architecture as befits its status, although German hostilities during the First World War and a subsequent fire caused extensive damage to the cathedral.

Much of Reims has been rebuilt but I found it to be a feast for lovers of building design. One can find houses, shops and public buildings which show architectural styles from almost every era. There are still vestiges of the Roman occupation, as well as a palace, an opera house and the town hall which are all striking, and conveniently in the centre of the town.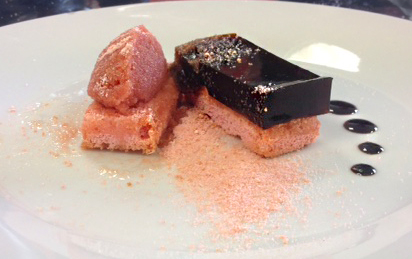 Even the name of the region, Champagne-Ardenne, hints at its high-end eponymous produce and it can all be found in and around Reims. There are numerous speciality shops offering cheeses and wines, others offer tempting baked goods and chocolates; but you might notice a shop selling a curious pink biscuit. Biscuit Rose de Reims is a unique confection which is made by Maison Fossier, which was founded in 1756, although the biscuit is thought to have been invented in 1691.

Biscuits Rose de Reims are one of my top three gastronomic souvenirs of this area. They are associated with celebrations and convivial gatherings where they are dunked into glasses of champagne. Their crisp and dry texture allows for a dip without the fear of unsightly flopping. A delicious tradition. There are lots of recipes that incorporate the famous pink biscuit so it's a souvenir that travels well.

One can visit the factory that makes Biscuits Rose de Reims and other fine regional cookies and cakes. There are guided tours by appointment and a shop in which to linger.

Magasin Fossier Reims Cathédrale
25 cours Jean-Baptiste Langlet,
51100 Reims

Visit the Maison Fossier factory here


That much-mentioned champagne is my next souvenir of Reims. There are numerous creditable champagne houses here but one of the most accessible is G.H. Mumm. Its champagnes are available worldwide but it's a treat to be able to taste and buy at its place of birth. Mumm has a long history, being founded in 1827, but is in modern times recognised as the champagne shaken and showered at the end of Grand Prix racing events – although I personally consider that wasteful exuberance to be almost sacrilegious. One can take an informative hour-long Mumm Champagne cellar tour (by appointment) to learn about the unique Champagne-making process and to hear the history of the House. The old and atmospheric cellars hold some 25 million bottles in constantly cool conditions.

Choose the 'Cordon Rouge Experience' tour with a tasting of the Champagne house's signature Cordon Rouge Champagne, or the 'G.H. Mumm Experience' with the cellar tour and tasting of a brace of cuvées. For a truly outstanding experience there is the 'En Noirs and Blancs' tour where one samples the produce of two very different grapes, chardonnay and pinot noir.

Visit G.H. Mumm here



Truffles! That's my third gastronomic souvenir of the region. The most famous and most eagerly sought are the Champagne truffles. They don't taste of champagne but the name refers to the colour which has more of an amber hue than that of the less interesting white truffles which are also found here.

Auberge des Moissons is an ideal spot to stay and enjoy this fungus. It's a comfortable hotel with a truffle centre attached. One can buy truffles but also learn about them. There is even a chance to actually go truffle-hunting with Honey the truffle dog and her dad, the owner of the establishment.

Not only does the truffle centre present the story of truffles but there is also a cooking school where guests can learn how to prepare truffles. You will go away with some delicious recipes to make back home and bragging rights about how you actually witnessed the discovery of this Black Gold.

So you have hunted, and now it's time to try truffles in every imaginable guise and prepared by a professional chef. Auberge des Moissons has its own restaurant in a converted barn. The menu offers nibbles, starters, soups, savouries, mains and even desserts that incorporate the noble truffle. Lots of fine champagnes available to complete your truffle feast.

Auberge des Moissons
Hôtel-Restaurant ***
RD3 - 8, Route Nationale
51510 Matougues
France

Phone: +33 (0) 3 26 70 99 17
Fax: +33 (0) 3 26 66 56 94

Visit Auberge des Moissons here

Rail fares from London to Reims or Chalons en Champagne start at £86 standard class return per person.

For bookings and more information, visit here or call 0844 848 5 848.

For other travel possibilities visit European Waterways here

Learn more about Reims and the region here




The Danna - beachside luxury - Langkawi Malaysia
Langkawi, or to give its official title, Langkawi the Jewel of Kedah – in Malay Langkawi Permata Kedah – Is a tropical paradise. Its beaches are legendary, its skies mostly blue, and the sea is mesmerising. Nothing needed apart from a rather smart hotel. Well, who wants to sleep on a beach, however beautiful?

Langkawi is not just one island but a string of them - an archipelago of more than 100 islands and all set in the Andaman Sea. The mainland is just 30 km away but you will not be thinking about that when you are here. Langkawi, or 'Island of the reddish-brown eagle' in Malay, is hypnotic.

Langkawi has several outstanding hotels but perhaps the most iconic is The Danna with its well-deserved 5 stars. It's located on Telaga Harbour and not far away from Burau Bay (or Teluk Burau) on the west coast of Langkawi Island. The Danna is only 15 minutes (11 km) away from Langkawi International Airport so there isn't the prospect of a nasty, long and hot ride to get there. Your vacation will start almost as soon as your baggage leaves the carousel.


The Danna stands right next to Telaga Harbour which was built in the style of a Mediterranean seafront town on gleaming boats that wouldn't be out of place in St. Tropez or Nice.

The Danna is sparkling white and with an entrance canopy that would put the most celebrated London hotels to shame. Its crisply uniformed staff welcome the guest with cooling drinks and soothing towels, while they check in seated on sofas in the spacious reception area.

Everything about The Danna is roomy. Public areas have well-spaced easy chairs in colonial rattan, or cushioned banquettes on which to lounge. Corridors are wide and open to the warm air of the verdant central courtyard. There is a fish pond, and trees bring the lush vegetation of the hotel grounds actually into the building. One might be on the 3rd floor but there is the perception that one is staying in a bungalow, albeit a very large white bungalow.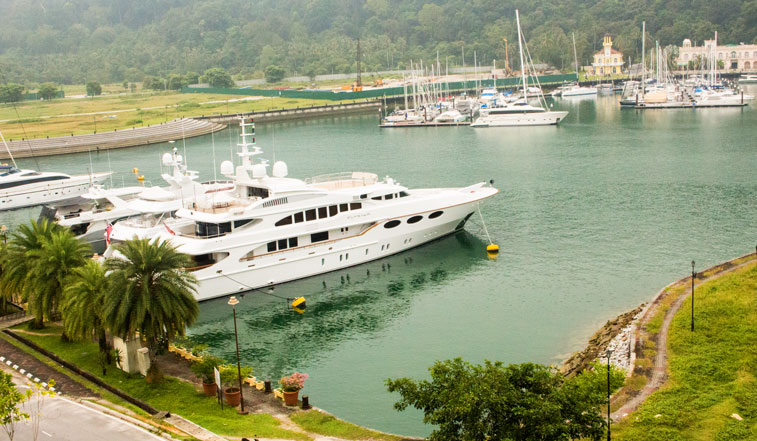 The Danna is polished, pruned, and preened to the highest of standards. If there was a 6th star then The Danna would have it in its firmament. The facilities are first class and it boasts the largest pool on the island, with multiple levels for the enjoyment of both splashers and lappers. It's an infinity pool that seems to flow into the sea just beyond.

The beach here is pristine with white-blond sand. The sea is as warm as a bath and tempting for a dip on hot afternoons. There are plenty of loungers and shady pods in which to snuggle with a tall drink and a good book. One will likely spend the first couple of days just listening to gentle waves and summoning the energy to turn the page.

The Danna Hotel boasts 125 guest rooms and suites and all of them are well appointed. They have rich fabrics, dark wood, excellent views of sea or harbour. There might be a hint of old colonial times but there is every item of technology that any modern guest might want. If work isn't far away then there are three high-tech meeting centres, ideal for business gatherings of any size.


So you have relaxed in the sun and slept in a sumptuous room and now you will be ready for food. Planters is the largest of several restaurants at The Danna and is on the ground floor, overlooking the swimming pool. It's open every morning for a legendary champagne breakfast which will have guests lingering over both Asian and European items such as Chinese noodle soups and American doughnuts.

The ambiance changes for dinner. Lights are low and the restaurant is calm with menus being pored over and conversation turning from the day's activities, or lack thereof, to the dishes on offer. The menu presents a wide array of both Malaysian and European specialities but I can highly recommend the local selection. Try the Malay Platter that will give a taste of this vibrant cuisine. Everything is fresh and of the best quality.


Yes, Planters is rather formal on most nights but each week there is a barbecue buffet with a huge spread of dishes, both Eastern and Western, on which to graze. Entertainment on those evenings is provided by the staff. These young men and women dress in national and regional costumes and perform traditional dances to the delight of enthusiastic and camera-toting crowds.

Strait's & Co. is a small casual restaurant located on the ground floor and is totally different. It's colonial but in brighter tones with a floor of, possibly, Portuguese tiles and the ambiance of a tearoom. That's perfectly apt as they really do offer afternoon tea here as well as snacks and light meals. This is the place to find a reviving cuppa and a cake.

The Verandah is stunning. It's actually a lounge with elegantly high ceilings, pillars and a proper bar. This is, without a doubt, the spot for a pre-dinner cocktail or a pre-beddybys nightcap. There is a list of house cocktails here that are unmissable and at extremely reasonable prices. A few of them contain fruit so at least you can feel noble while enjoying some of the best drinks on the island.

The Spa here is popular and offers a comprehensive menu of treatments and therapies. The massages include Traditional Malay Urut (soft-tissue manipulation), Aromatherapy Massage and Traditional Balinese Massage. There are The Body Scrub Treatments and The Body Wrap Treatments, a Romantic Bath or Cleopatra's Milk Bath. There is Spa Care for Hands and Feet, along with Luxury Facial Treatments. All this isn't just for the women of the party: there is also a Gentlemen's Facial and kid's spa treatments too.

The Danna is one of the best hotels in Asia. It lacks nothing but shows a contemporary take on the best of colonial design, the most refined of local cuisine and an opportunity to unwind in the most comfortable of surroundings. Every aspect of The Danna is generous and memorable.



The Langkawi International Airport is one of 7 international airports in Malaysia and connects the island to Kuala Lumpur, Singapore, Penang and also Subang.

Learn more about The Danna here

The Danna Hotel
Telaga Harbour Park
Pantai Kok
Langkawi
Malaysia

Phone: 604 959 3288

Email: info@thedanna.com

Singapore Airlines offers numerous flights and connections to Langkawi. Learn more here




The Sparkle of Vilmart & Cie
The Champagne house Vilmart & Cie was founded in 1890 by Désiré Vilmart and is considered by many an authority to be perhaps the leading producer of quality Champagne in the region of Northern France which bears the same name as this celebratory beverage. It's an area of many fine bottles but some consider Vilmart to be the best and I am not arguing.

Time has passed since the Champagne house was founded. There has been a succession of family members who have taken care of this great Champagne company. The responsibility has passed to sons, and sons of sons, and to sons-in-law, with each generation adding something to the story. Laurent Champs is the present owner and Champagne Master. He received his Viticulture Professional Certificate, Oenology and Viticulture Technical Certificate, and Superior Certificate of Oenology and Viticulture at the University of Champagne in Avize. This man has impeccable pedigree and credentials.

Vilmart owns 11 hectares or so of vineyards in and near the village of Rilly-la-Montagne. The vineyards are planted with around 60% Chardonnay and 40% Pinot Noir. They do not call themselves organic but they have a commendable ethos and don't use any chemical fertilizers, herbicides or insecticides. All vineyards that Vilmart sources from are of either Grand Cru or 1er Cru status.

The harvest takes place one hundred days after flowering, around the middle of September, and every bunch is picked by hand in order to ensure that only the best quality grapes are used and that damage is kept to a minimum. Pickers have roughly a three-week period in which to harvest the fruit as beyond that point the grapes will start to deteriorate on the vines. Sometimes as much as 40% of the crop is deemed unsuitable and sold on to other producers, such are the rigorous standards at Vilmart.


The next step is pressing the precious grapes and Vilmart continues its duty of care by using a cool and gentle process in a fairly old machine which extracts the juice in two steps. During this stage the must (the fresh grape juice) drips into small tanks. The juice is left to settle for a day to allow the solids and liquid to separate. The juices are then pumped into large oak barrels. Most of the barrels are already aged, but in some cases new barrels are used. The ranks of large and small barrels hint at the artisanal quality of the wine to come. With casks that look like mellow furniture the wine is bound to be good. It's a testament to the attention paid to winemaking at every step. No corners are cut at Vilmart and it's that dedication that has grown their enviable reputation.

Second alcoholic fermentation is what gives champagne its fizz. Natural yeasts transform sugar into alcohol and carbon dioxide (the bubbles in the glass) and this happens inside the bottle. Carbon dioxide is trapped, converting still wine into sparkling wine. After a week of resting, the sediment from the used yeast settles in the bottles. They are stacked in the riddling racks and turned twice a day by highly skilled men with strong wrists. This process slowly moves the sediment to the bottle neck.

Dégorgement is the dramatic art of getting the sediment out of the bottle while leaving as much wine as possible inside. The bottle necks are dunked in freezing brine. Turning the bottle upright and releasing the cork expels the sediment, and then a mixture of sugar and wine called "liqueur de dosage" is added to give each wine its "brut" (dry) or "demi-sec" (semi-dry) style. The bottles are then sealed with their traditional corks and metal cages. The bottles are then allowed to mature in the Vilmart cellars which are in themselves a thing of beauty: racks of bottles at different stages of maturation along with riddling racks full of wine and sediment still resting. Bottles wait here from 3 to 4 years for non-vintage wines and from to 5 to 7 years for vintage wines.


I don't consider myself an expert in wine and definitely not an authority on Champagne but it will likely be evident to any visitor to Vilmart that the Champagnes produced here are of superior quality. Grapes are treated with respect and the end result speaks for itself.

Champagne Vilmart & Cie
BP4 - 5 rue des Gravières
51500 Rilly la Montagne

Phone: 33 3 26 03 40 01
Fax: 33 3 26 03 46 57

Opening hours
From Monday to Friday, 9am to 12am and 2pm to 5.30pm

Fares from London to Reims or Chalons en Champagne start at £86 standard class return per person.

For bookings and more information, visit here or call 0844 848 5 848.

For other travel possibilities visit European Waterways here

Learn more about Reims and the region here




Rijsttafel in The Hague
I love The Netherlands and am an unashamed supporter. It's an oft-disregarded tourist destination even though it's easy to get to from London. Short breaks are more usually taken in Paris or Berlin. That's a shame as Dutch cities offer history, architectural charm and delicious food. Yes, dear reader, that statement isn't an affectation of a rampant auto-correction error.

The Hague is a refined and beautiful city with a wealth of high-end dining options. One can eat relatively cheaply on local specialities but there is also a style of dining that one is unlikely to find elsewhere. I refer to the celebrated Rijsttafel which is hardly known outside The Netherlands, but it has nothing to do with cheese or herrings. This array of dishes has its birth in faraway Indonesia.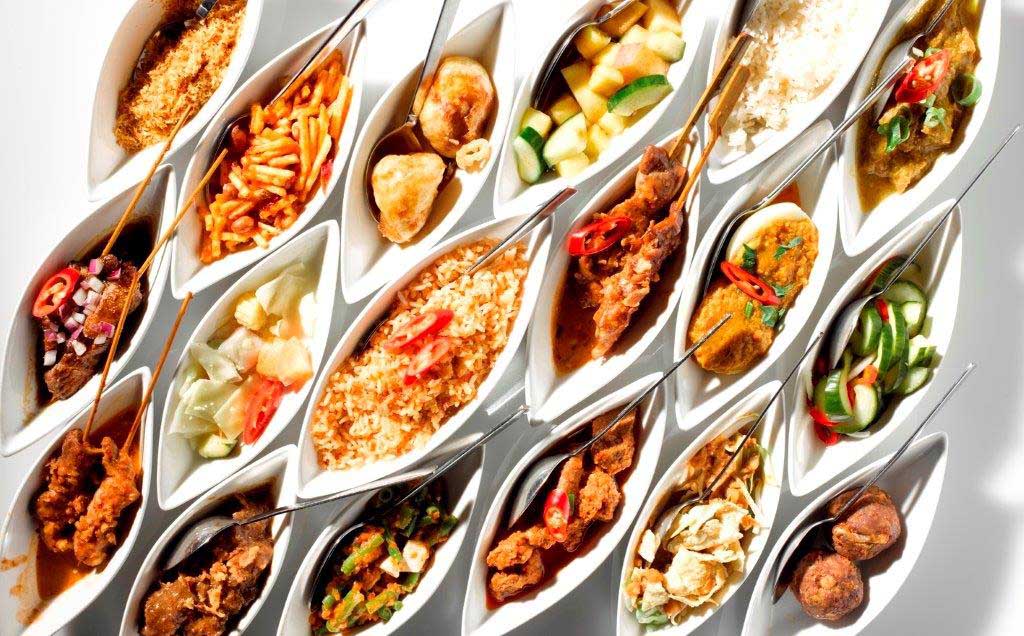 Dutch Indonesian cuisine has its roots in the former Dutch colonies of the East Indies which became Indonesia. It was brought back to the Netherlands by former colonials and exiled Indonesians after Indonesia gained its independence in 1945. The rijsttafel remained popular with those returning Dutch families. Ironically, when Indonesia became independent, nationalism increased and Dutch colonial traditions, including the rijsttafel, were largely swept away and it has almost entirely disappeared from Indonesia's own restaurants.

Dutch cuisine, in general, has been much influenced by other cultures and their foods. Holland headed the lucrative international spice trade in the 17th century. This wasn't just one-way traffic as the colonists also introduced coffee to Indonesia, and in fact Indonesia was the first country outside Arabia and Ethiopia to grow coffee.

The Dutch feast, the rijsttafel, is a marriage of Indonesian dishes and, if one believes some explanations, Dutch frugality. I was told by an Indonesian, although with a twinkle in his eye, that the spread of multiple dishes, the 'rice table', was a way of using up the leftovers from meals of previous days. I am not entirely convinced by that explanation as I would think the tropical heat and lack of a good fridge in those days would make eating lingering meaty plates a little dicey.

The Hague has many good Indonesian restaurants and one of those is Blauw, part of a small chain, which offers smart casual dining on a full menu of individual Indonesian dishes as well as the iconic rijsttafel, an extravaganza that is best shared with others, who should come with a sense of culinary adventure and big appetites. A feast at Blauw is memorable and spectacular. The dishes are varied, attractive and delicious giving a gastronomic overview of the food and spices of Indonesia.

The meat and fish selection consists of Chicken Satay which is an unmissable classic, Goat Satay, Turmeric Beef, Spicy Beef, Sweet Soy Pork, Meat-Potato Pastry, Spicy Fried Potatoes, Spicy Shrimp, Shrimp Satay, Fish Curry, Fish in Soy sauce, Steamed Fish, Vegetables with Peanut Sauce, Roasted Coconut, Sweet-Sour Cucumber, Fried Banana, Tofu in Soy Sauce, Egg in Sambal Sauce, Vegetables with Coconut Sauce. That should surely be enough to sate the healthiest of appetites. All the above are served with White Rice and Fried Rice which should be eaten with small portions of the spicy dishes. No need to pile your plate but rather choose a little of this and that, keeping the various curries and satays separate to enjoy their individual and distinctive flavours. Non-meat eaters are not forgotten at Blauw as there is also an equally-sizeable vegetarian option.

Discovering food and drink is such a big part of travel. It's even more exciting when those discoveries are so unexpected and exotic. The Hague is home to embassies and head offices of international companies. The population of this grand city expect the best and it's easy to find. Blauw offers the style of meal over which to linger along with discerning friends who will appreciate the rich tapestry of flavours and colours. Order the rijsttafel at Blauw for a meal that you will be talking about long after you return home.

Restaurant Blauw
Javastraat 13
2585 AB 's Gravenhage

Phone: 070-7200900
Email: info@blauw070.nl

Visit Blauw here

Learn more about other destinations in The Netherlands here




Bel & The Dragon Godalming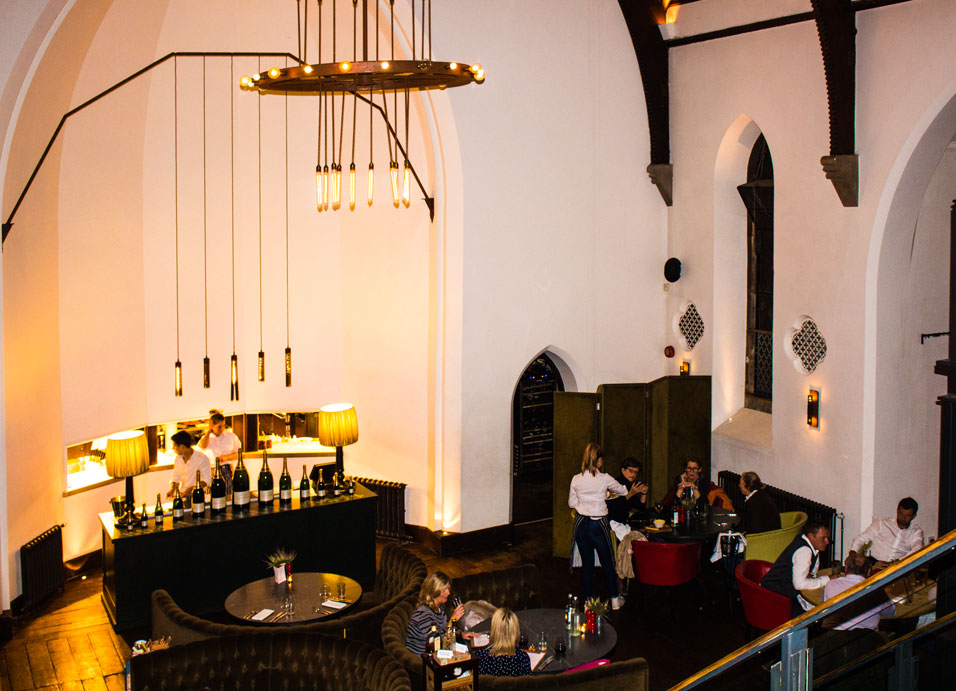 The town of Godalming is situated in the countryside in southern England but not far from London. Its narrow streets are lined with many historic buildings. It's a town with history.

The name means "of the clan of Godhelm", and the Saxon settlement of Godalming was first recorded in the will of King Alfred the Great of Wessex, in AD 899. William the Conqueror's Domesday Book of 1086 mentions this as a sizable village with watermills which played an important part in the prosperity of the town. From medieval times Godalming became a centre for the manufacture of woollen cloth. The success of the industry reached its peak during the reign of Elizabeth I.

Bel & The Dragon, Godalming, is part of a high-end hospitality chain in this charming and historic county of Surrey. The name of this restaurant is taken from Bible and mythology, involving Daniel, the priests of a pagan god, and that dragon that seems to crop up frequently in European fairy-tales!


The building is a strikingly beautiful former Congregational church built in the 1800s, and the imposing architecture has been tastefully restored and woven into the new and thoroughly harmonious design where appropriate – although the chef won't be serving soup from the font. The upper floor has long refectory tables and the original stained glass windows still remain, creating a unique ambiance for group dining. The restaurant with its high ceilings and gallery presents a number of areas for both eating and drinking, and there is the possibility of barbecues on the terrace during the summer.

Group head chef Ronnie Kimbugwe has created a series of menus for regular visitors as well as those attending the popular Supper Clubs, which are held on the aforementioned gallery. It's British cuisine here, with a focus on local and fresh produce. The open kitchen allows diners to watch the theatre of food preparation. It's better than TV. Dining is smart/casual but the dishes remain thoughtful, delicious and often whimsical. The beef here is outstanding and the side dishes are vibrant using quality, sustainable ingredients.


Bel & The Dragon Godalming is part of a chain but you would never guess. This restaurant has style, imagination and great individuality. The food admirably fits the location which works for those looking for great British cuisine as well as those dropping by for a drink. The management evidently prize unique buildings and are sympathetic in their refurbishing. This is a joy.

Restaurant opening hours

Monday – Saturday Lunch: 12 noon - 3pm
Dinner: 6pm - 10pm
Sunday: 10am - 9pm

Bel & The Dragon
Old Church
Bridge Street
Godalming
Surrey
GU7 1HY

Phone: 01483 527 333

Email: manager@belandthedragon-godalming.co.uk

Visit Bel & The Dragon Godalming here




The Strand Dining Rooms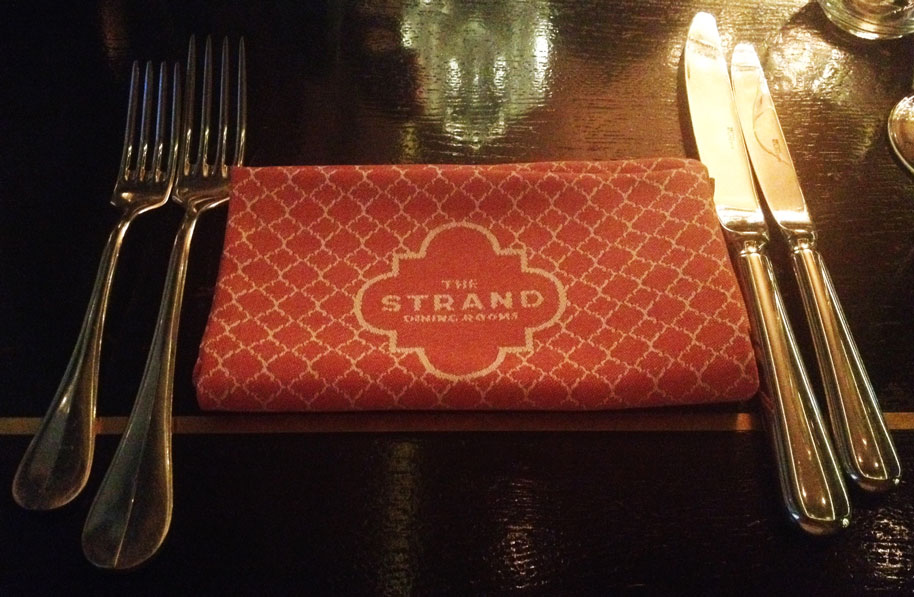 Located on Trafalgar Square in the centre of London, The Strand Dining Rooms offer all-day dining in smart and inviting fashion. The dining rooms are open for breakfast, morning coffee, lunch, afternoon tea, pre-theatre dinner and dinner. They have a focus on British cuisine with a nod to Europe and even, periodically, the days of the Raj.

Trafalgar Square has long been a magnet for tourists from home and abroad. From the 14th to the late 17th century, much of the area was the courtyard of the Great Mews stabling, which served Whitehall Palace, but in the early 18th century the mews were demolished. In 1812 the architect John Nash designed an open square in the Kings Mews opposite Charing Cross. He wanted the square to be a cultural space, open to the public. In 1830 it was officially named Trafalgar Square after the victory of Lord Nelson in the Battle of Trafalgar in 1805.

Work began on the National Gallery in 1832 and a decade or so later Nelson's Column, designed by William Railton, was erected. In 1845 the fountains were built, based on designs thought to be by Sir Charles Barry. They are the target for New Year revellers who, in the past, would take a midnight dip. The granite statue of Nelson was sculpted by E. H. Baily, and stands on a bronze platform made from old guns from the Woolwich Arsenal Foundry.


The Strand Dining Rooms are timeless and refined and present casual fine dining in a location that reeks of pomp and historic continuity. The décor takes its inspiration from the interior of a traditional Pullman train coach. It gleams with polished wood and architectural elements that waft one back a century or so, to a time when the pace of life was slower. This is, for me at least, a proper restaurant.

Wild mushrooms, and a generous portion of them, was my guest's starter. It's the season for them and they are a treat for those of us who like the delicate and savoury flavour. These were simply served on toast and needed no other garnish.

Cornish fish soup, toast and garlic mayo was my silky and luxurious start. There is something decadent about a good fish soup. This one was a melange of mild fish and shellfish and presented in the fashion of a French bouillabaisse with its accompaniments.

My companion took advantage of the game season and ordered partridge. He pronounced this to be flavourful and moist but not over-gamey. Partridges are little birds and so often cooked to a texture of leather. The Strand Dining Rooms showed respect and culinary skill.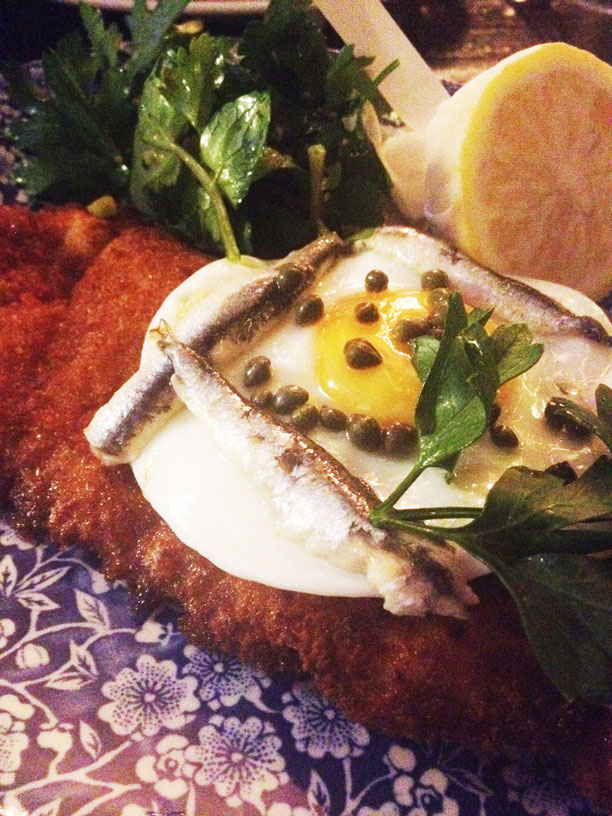 Although the core of the menu is British there is a distinct nod to mainland Europe. Pork schnitzel served with a fried egg, capers and anchovies was my main plate of the evening. This might sound, to the untutored, a right strange mixture but each element is there for a reason, the total being more than the sum of the component parts, so to speak. The slice of breaded meat was big enough to overhang the edge of the plate and there was lemon to squeeze over. The pork was topped with an egg with still-runny yolk which bathed the meat like a sauce. The capers gave a briny note but the anchovies added a rich saltiness which was a foil to the fried fare. This is a must-try at The Strand Dining Rooms.

Figs garnished with ice cream was my guest's simple yet seasonal dessert. These are abundant at this time of year so take advantage of them and, as at The Strand Dining Rooms, use in a delicious dessert, or bake with prosciutto.

The Strand Dining Rooms is perfect in its noteworthy location. The food showcases some of the best British dishes in the capital. Trafalgar Square might be a Mecca for visitors but the menu here offers authentic British fare, and there is something for every taste. We once had a deservedly bad reputation for our cooking but those days have passed and The Strand Dining Rooms holds its head high amongst London restaurants of any ethnic hue.

Lunch and Dinner times:
Monday – Saturday 12 noon – 11pm
Sunday 12 noon – 4pm

The Strand Dining Rooms
Grand Buildings - Trafalgar Square
1-3 Strand
London
WC2N 5EJ

Booking enquiries: 020 7930 8855
Email: info@thestranddiningrooms.com

Visit The Strand Dining Rooms here



The Strand Apple Apartments
We love to travel, and a stay at a good hotel is always a treat but it's hard to find that home-from-home feeling. We long for the flexibility of our own kitchen and a sense that we have our own front door. There is a solution for this dilemma, in the UK at least. You can have your very own apartment which still has the amenity of a hotel but with choices.


Apple Apartments has six properties across the UK and is continuing to grow nationally as well as internationally. They have staff who recognise the needs of their international clients and so they speak languages including Spanish, French, Italian, German, Mandarin Chinese, Bulgarian, Hungarian, and Romanian. They have recently been awarded a 5-star rating for Apple Apartments Aberdeen by the Scottish Tourism Board, the only serviced apartments provider in the area to receive such an accolade.

One of Apple's London apartment complexes is on the Strand in the centre of the city and that neighbourhood has a long history. The name Strand was first recorded in 1002 as Strondway. It is the Old English word meaning shore. It referred to the bank of the once much wider River Thames, before the construction of the Victoria Embankment which runs parallel to the road.

The Strand was the very centre of Victorian theatreland and nocturnal entertainment of every kind. But redevelopment of the East Strand and the construction of the Aldwych and Kingsway roads in the 1890s and early years of the 20th century finished many theatres.

The Strand was rebuilt and it became a sought-after location, with many writers and philosophers taking up residence. Charles Dickens and William Makepeace Thackeray were just two of them. These days the Strand is peppered with High Commissions and HQs. Australia House, Coutts – the bankers to nobility, the Royal Courts of Justice and Zimbabwe House are all here, along with Simpson's-in-the-Strand which has been around since 1828 and Twinings' tea room which goes even further back to 1706.


The Apple apartments are in the famous Marconi House, previously home to the original BBC radio studios. It's from here that the BBC made its first radio broadcast in November 1922, using a transmitter actually built by Marconi.

The façade of the original building remains but gone are the dusty offices. The reception area is a vision of dark marble. The corridors are wide and each door has bespoke illumination. Crisp and smart design and contemporary.
These apartments offer open-plan living with everything for a short or long stay. The kitchen is small but is equipped with high-end appliances and a dishwasher. You might not want to cook your Christmas dinner here but it's more than adequate for simple pasta and rice dishes and there is a dining area to tempt one into staying home for the evening. There are bookshelves for those who might be here for a while, inviting the guest to customize the accommodation with their own possessions.

This apartment is not short on technology for work and play. The living room has a plasma television of a size appropriate for a small cinema. There is a touch pad control system with integrated Airplay, mood lighting and climate control. There is an iPod dock, Nexus Tablet device with browsing and integrated touch pad control system, and WiFi. This is perhaps better than a home from home.

The bathroom has an AquaVision shower television for morning stock market news and there is a 24-hour concierge. Round-the-clock room service is provided by ME Hotel for those who want to forego the pleasures of self-catering, and daily apartment servicing is included. Complimentary apples are a whimsical and healthy addition. The accommodation that we reviewed was a single-bedroom apartment. The soft furnishings are neutral and there is ample closet and drawer space and a washing machine discreetly tucked away. One unpacks with pleasure and the expectation of immersion in London city life flowing just outside the front door, with an Apple apartment as a handy bolt-hole.



The Apple apartments at the Strand are bijou and comfortable. The location is superb, being so near bus routes and Underground stations and a non-ending stream of black cabs. Nearby attractions include Covent Garden with its numerous restaurants, The Royal Opera House, Fleet Street, Trafalgar Square, St. Paul's Cathedral, The National Gallery, The National Portrait Gallery and the River Thames. This is an ideal business and tourist nest.

Apple Apartments - The Strand
335 Strand
London
WC2R 1HA

Learn more about Apple Apartments here




Bird of Smithfield
Sounds like a family butchers which might have been trading for a brace of centuries. It is, in fact, a newish restaurant but right next to Smithfield Market, which has a much longer history.

Smithfield Market or, more officially, London Central Markets, is the largest wholesale meat market in the UK and one of the largest in Europe. It's found within the Square Mile of the City of London and it's housed in three imposing listed buildings not far from Barbican and St Paul's Cathedral. There has been a livestock market on this site for over 800 years and it has remained in continuous operation since medieval times.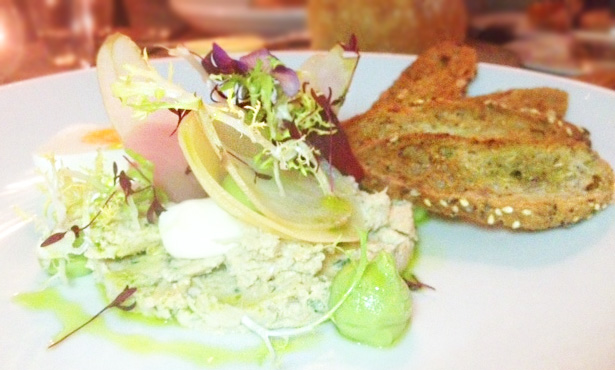 Since the late 1990s Smithfield has become more of a social hub and has developed a reputation with City types who frequent its bars, restaurants and nightclubs. Bird of Smithfield joined the ranks of those local hospitality establishments a couple of years ago and is already a destination restaurant of character.

A Georgian-style townhouse has been transformed into Bird of Smithfield, Alan Bird's restaurant featuring contemporary British cuisine. These labyrinthine premises boast two bars, a rooftop terrace, a private dining room and a restaurant, all this covering five floors.

Bird has eclectic design. There are still original features but the décor is a melange of tasteful retro with hints of earlier ages. The first-floor restaurant sports a mirrored ceiling which adds drama. Plenty of neutral colours on soft furnishings, with vibrancy from artwork.

The menu isn't huge but I don't think it needs to be. There are traditional dishes and some with a twist but all just right for this location. Guests seem to be after-hours city workers, although I dream of an early morning tour of the historic market followed by breakfast at Bird's. Or perhaps a few hours wandering the uplifting environs of St Paul's, with lunch at Bird's.

Smoked Mackerel and Crab Paté garnished with boiled egg with creamy yolk was my starter, although in reality we had scoffed the small loaf of freshly baked bread and generous pat of butter as our pre-starter-starter. The crab was delicate and the associated salad was fresh and light.

Herb and London Gin-cured Salmon was my guest's starter and it was a substantial portion of mild-cured fish. Salmon was once common in the Thames; gin has long been associated with London and was the downfall of many a citizen at a time when the water could kill you. This dish is a culinary archive and delicious too.

Traditional Cod and Chips with tartare sauce and mushy peas was my main dish. Yes, more fish, and just outside a meat market but it's associated with Britain just as much as is roast beef. This plate defeated me: it was a considerable portion of well-battered fish that seemed more steamed in its crunchy casing than fried in oil. Golden and not at all greasy, this is a must-try, especially for tourists. I am a great supporter of the local fish and chip shop but they are few and far between these days and they are of variable quality, but Bird's do this classic every bit as well as the white-tiled emporiums of yore. And those peas truly are meant to be that way and they are a comforting garnish to the perfect chips. Please don't ask for ketchup - it just doesn't work.


Alan's Shepherd's Pie was my guest's main course and it's a signature dish of the aforementioned chef/owner Alan Bird. This had a well-textured and flavourful lamb meat filling, with a decorative piped mashed potato topping. There was a small serving of peas but this hearty eater needed a side, and buttered spinach was a good choice. The only complaint was that the meat element could have been more generous. Perhaps that's just an illustration of the degree of enjoyment expressed by the diner.

Plum and Sherry Trifle is another very English offering. This was an individual serving of fruit, jelly, custard and cream. Another hefty helping so if you are modest eaters you might want to split one. If you are a dessert aficionado then perhaps forego the loaf of bread on arrival.

Bird of Smithfield is unique. It offers authentic British food, well-presented and no distracting frills. I was impressed with my meal and also with the quality of the service, which had more in common with fine, rather than smart/casual, dining. Birds is a must if you work in the City or are visiting. If they keep an eye on standards then this could become an institution.

Opening times
8.00 am – 12 midnight Monday to Friday,
12 noon – 12 midnight Saturday
Closed on Sundays

Bird of Smithfield
26 Smithfield Street
London EC1A 9LB
Phone: 020 7559 5100
Visit Bird of Smithfield here



Mango Tree for Regional Thai Cuisine
The Mango Tree Thai restaurant is a stone's throw from Buckingham Palace. A stone's throw in this case isn't estate agent speak for a couple of miles away. The Palace's garden wall is just across the road and literally a stone's throw away, although to do such a thing might likely result in the cartographic speculator being run in by the constabulary.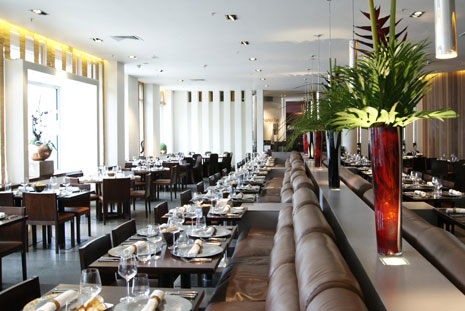 This is smart Belgravia. Most of the area was originally owned by Richard Grosvenor, 2nd Marquis of Westminster, who had it developed in the early 1800s. The area takes its name from one of the Duke of Westminster's other titles, Viscount Belgrave. The village of Belgrave, Cheshire, is just a short distance from the Grosvenor family's main country seat of Eaton Hall. Belgravia became one of London's most expensive residential areas and is now home to many embassies. Any restaurant here would need to be noteworthy.

This wasn't my first visit to Mango Tree. I have enjoyed numerous dinners and also a Sunday lunch or two here. It's a large but airy restaurant with a cosy bar at the entrance. Exotic cocktails might entice the diner to linger but there are equally engaging treats in the restaurant, which has been designed with consideration of the theory of feng-shui.

But there is a very contemporary accolade for Mango Tree. It's been immortalised by J.K. Rowling in her latest crime novel 'Silkworm'. Two of the characters are discussing another restaurant and one of them, we assume with the more refined palate, says 'It's not the Mango Tree, but it's all right.'

Thai cuisine often demonstrates more subtle spicing than many dishes of the sub-continent, but its land mass and geography has allowed Thai regions to develop their own culinary style, and Mango Tree has a new Regional Menu that allows diners to taste dishes with which they might be less familiar. It's an inspired notion and a delicious education.

For the purposes of this special bill of fare, Thailand has been divided into North, North East, South and Central areas. A starter and a main dish from each region are available and they are as diverse as they are tempting. They are recognised as being rich and mild flavours from the North, spicy foods from the East, mild dishes influenced by Chinese cuisine from the Central region, and hot and robust plates from the South.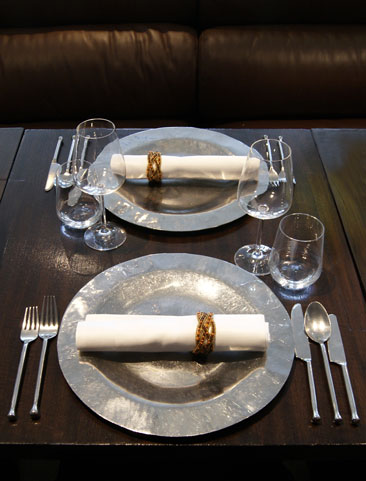 North Region Namprik Ong was the first of our starters. Minced prawn and chilli with sweet and sour ripened tomato sauce is served with fresh vegetables such as Chinese cabbage, iceberg lettuce, French beans, small Thai aubergines and crispy pork crackers. This classic, spicy dipping sauce confection is from the Chiang Mai area and is often included as part of the spread for celebrations. This is a build-your-own starter and ideal for sharing. The chilli is flavoursome rather than being overpowering.

Central Region Kiew Kai Tod was our second starter – deep-fried quail eggs wrapped in wonton sheet, served with spicy sweet chilli sauce were crispy morsels. That sauce is an essential part of the dish. These little egg kebabs would be a wonderful accompaniment to those aforementioned cocktails.

North Region Khao Soi was the first main dish to share - noodles cooked with coconut milk with legs of chicken, chilli oil, coriander, lime and red onion. This is a Burmese-influenced dish served widely in northern Laos and northern Thailand but with many variations. Mango Tree offers a refined soup with well-balanced flavour and light texture. If you like the more ubiquitous Massaman curry then you will love this.

North Eastern Region Sea Bass Moke was our other sharing plate - baked sea bass fillet with traditional North Eastern Thai herbs, lemongrass, galanga, garlic, lime leaf, fresh dill, sweet basil, and oyster and fish sauces. This is another luxurious celebratory dish and well worth ordering. The fish was succulent and beautifully presented, wrapped in leaves and wafting aromatic steam.

Mango Tree has never failed me. It continues to tick boxes for quality, freshness and elegance. The location is ideal for both locals and visitors alike. It's near a host of tourist attractions but in a calmer spot. This is a restaurant which can boast regular diners as well as those who are newly intrigued by its literary celebrity. Those folks might initially come as it's an evident favourite of Harry Potter's mum, but they will return, as it will have become a favourite of theirs.

The traditional Taste of Thailand menu will run from 15th September until 15th November. To book email info@mangotree.org.uk

Mango Tree
46 Grosvenor Place
London
SW1X 7EQ
Phone: 020 7823 1888
Fax: 020 7838 9275
Visit Mango Tree here



The Princess, the Palace and the Painter
OK, so I have lied and we are only into the first paragraph! The Princess, the Palace and the Painter is an intriguing title with almost fairy-tale charm. All the characters are real, although the Painter was actually an Artist, but that didn't begin with a 'P'.

The story is set in The Hague in the Netherlands with a queen who was born in Germany. Emma was a princess of the principality of Waldeck-Pyrmont. The family was connected, as all European noble families seem to be, to the British monarchy and others. Her brother, Friedrich, was the last reigning Prince of Waldeck-Pyrmont and her sister, Helena Frederica, became the wife of Prince Leopold, Duke of Albany, son of Queen Victoria and Prince Albert.

Emma's marriage in 1879 to the elderly William III, King of Holland, was considered a marriage of convenience as he was 40 or so years her senior. William's first wife had died two years before. He had a bad reputation as "the greatest debauché of the age" and had already been rejected by Emma's sister Pauline and by Princess Thyra of Denmark.

William wished to be succeeded by a son. He had three with his first wife but they had passed away before their father. However, it was a daughter who arrived and eventually became Queen Wilhelmina. She was only ten years old when her father died, leaving Emma as Regent till Wilhelmina reached her majority.

Queen Emma became extremely popular, in contrast to her late husband. She is said to have saved the Dutch monarchy and been the cornerstone of its strength in modern times. She lived in many palaces but bought Lange Voorhout Palace in 1896 as her winter home.

In 1760, Pieter de Swarte had designed a house on the Lange Voorhout for the mayor of the Friesian town Sloten. The building was purchased in 1796 by Archibald Hope who was a financier of the European nobility. Queen Emma bought the building with the legacy from her brother-in-law Prince Hendrik. She evidently thought the old house needed updating as she had it extensively remodelled before, in 1901, taking up residence after the marriage of her daughter Queen Wilhelmina.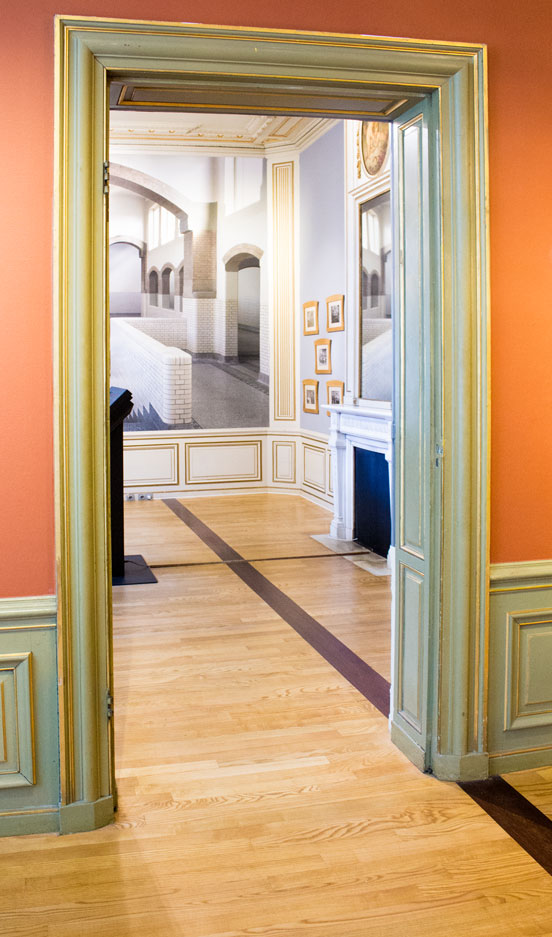 These days the palace can be visited by anyone interested in architecture as well as art, for it is now also a gallery. We can see the celebrated staircase up to the first floor with its copper rail that in the time of Queen Emma had to be polished each week by Royal command. Only three people could use those ornate stairs: her majesty and her two most trusted ladies-in-waiting. The servants had to use the staircase that runs behind the walls and this is still used by visitors today. Queen Emma converted the garden room into a ballroom, she added stained glass and a bathroom with hot water.

This building was not only the Winter Palace of Queen Emma, but also the working palace for the Princesses Wilhelmina, Juliana and Beatrix. There was a famous and much-photographed tradition of hand-waving by the Royal Family on the balcony at the front of the building. The family sold the building to the local authority of The Hague on condition that it would only be used for cultural activities – and that's where the artist comes into view.

Maurits Cornelis Escher (1898-1972) is one of the world's most famous graphic artists. His works are recognised by millions of people across the globe – one might not know his name but he created so-called impossible constructions, such as Ascending and Descending, Relativity, Transformation Prints, the Metamorphosis series, and many more works that intrigue and provoke thought.

Escher's other works are less familiar but are, in my opinion, just as striking and they show a more traditional face of this multi-talented native of The Netherlands. He produced beautiful and much more realistic pieces when he lived and travelled in Italy. He made 448 lithographs, woodcuts and wood engravings and over 2000 drawings and sketches. He illustrated books, designed tapestries, murals and postage stamps.

Escher in Het Paleis (Escher at the Palace) is a permanent exhibition dedicated to this unique artist. It is the only public building in The Hague where the original royal ambience of a palace has been preserved, making this a must-see for any discerning visitor to the town. There are over 150 prints and a changing selection of graphic art and tessellations. The centrepiece of the exhibition is the 7-meters long Metamorphosis III. The exhibits are displayed in rooms decorated in classic fashion with whimsical glass chandeliers which are in themselves noteworthy.


Maurits Cornelis Escher would, I don't doubt, approve of this home for his life's work. The fabric of the building offers an insight into a bygone age of elegance and refinement, and Emma's journey will fascinate those who follow European Royalty. The palace offers visitors art and history in a fashion that will be enjoyed by every member of the family, who will each take away something a little different from this delightful experience.


Learn more about Queen Emma, Maurits Cornelis Escher and the Palace here


Lange Voorhout 74
2514 EH Den Haag
Netherlands
Phone:+31 70 427 7730

Hours: Open Tuesday to Sunday 11:00 am – 5:00 pm




The History of Wine in 100 Bottles
- From Bacchus to Bordeaux and Beyond
Oz Clarke is always entertaining in a roguish kind of way. He has graced our TV screens and our airways for several decades and his books are a paper representation of his wine adventures.


This is a man who has indeed enjoyed wine and that joie de vivre comes through in this book. Oz leads us on his personal odyssey through styles of wine, bottles of wine and memories of wine. The History of Wine in 100 Bottles - From Bacchus to Bordeaux and Beyond is a collection of anecdotes with wine and its history at the core – and a fascinating story it is.

This is just the kind of book an enthusiastic wine lover would include on a wish-list for Christmas. It's a tome with which to snuggle, perhaps in front of a yule-log fire. That aforementioned sipper will be charmed by Oz's conversational style, but this man also educates in a most palatable fashion.

Wine snobbery has long been with us. It has served to alienate many of us who would like to know more. Granted, we might remember the name of a couple of favourite bottles but confront us with a stiff and starchy sommelier and the resolve to order with confidence evaporates like the angel's share in a chilly cellar. This book might not direct you to a particular bottle, grape, or vintage but it will give reassurance and encourage a bit of conversation between you and the sommelier, whose mission should be to serve both you and the wine.

Oz has a broad love of all things viticultural and that includes such oddities as Retzina and wine boxes – they are mentioned under the date section 1965 in Oz's chronological listings, to give historical context. Mateus is included, and dated 1942, although it was the wine of (very little) choice in the 1970s, being prized as much for its bottle shape as its contents.

Everything you ever wanted to know about wine labels, screw caps, prohibition, synthetic corks, marketing and bottling is all here. The History of Wine in 100 Bottles - From Bacchus to Bordeaux and Beyond is my bedtime companion and will remain so till I reach the last delicious sip, the last jolly quip and the last grapey musing. It's a winner.

The History of Wine in 100 Bottles - From Bacchus to Bordeaux and Beyond
Author: Oz Clarke
Published by: Pavilion Books
Price: £20
ISBN-10: 1909815497
ISBN-13: 978-1909815490




Grapes & Wines
- A comprehensive guide to varieties and flavours
First published as Oz Clarke's Encyclopaedia of Grapes, Oz Clarke's new Grapes & Wines, with Margaret Rand, is revised and updated to present the wine lover with the best information on a comprehensive selection of grapes and the wines associated with them.

Oz Clarke has become a household name. He oft graces our TV screens and has written a shelf-load of books on wine. This particular volume might well act as an indispensable handbook for those of us who don't know much about wine and don't even know enough to ask about what we don't know.

Seventeen classic grape varieties are covered in depth, with another fifteen major grapes also discussed in some detail. Oz touches upon more than three hundred grape varieties in total, categorized from Abouriou to Zinfandel.

This is a book that will help to demystify wine. Each section is a one-stop-shop for information on the specifics of each grape variety. The chapters on the classic grape varieties are outstanding, with pages of historical context, terroir, taste profiles, countries growing particular grapes, and also notes on the most celebrated producers, as well as how to enjoy each wine at its best.

Grapes & Wines - A Comprehensive Guide to Varieties and Flavours is a book to give confidence to the beginner or non-professional wine enthusiast. It will be a must-have for anyone lucky enough to go on a wine tour, and gives the home wine buyer a few ideas for wines that will fit their personal taste. It's great value for money and is bound to become a best-seller. It's beautifully presented with illustrations, photographs, maps and diagrams, making this book truly gift-quality.

Book review:
Title: Grapes & Wines
Authors: Oz Clarke and Margaret Rand
Published by: Pavilion Books
Price: £25.00
ISBN-10: 190910862
ISBN-13: 978-1909108622




The Rib Room – for more than ribs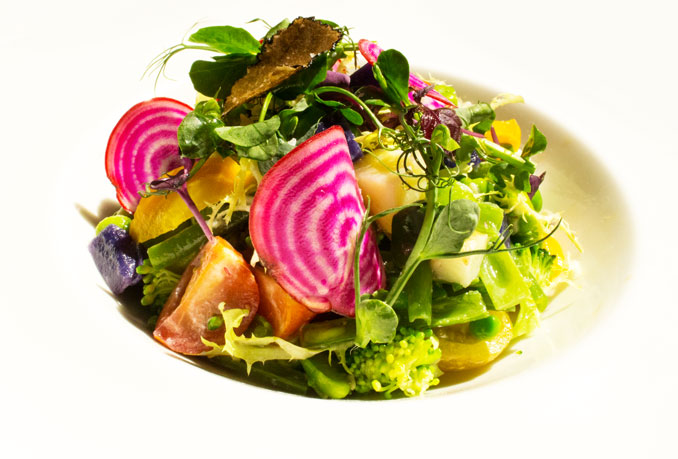 The food scene in London has changed so much over the past couple of decades. We have moved away from that shocking reality of poor quality, few interesting options and culinary apathy. We have some of the world's best restaurants, the most vibrant international dishes and a huge panorama of choices.

A few years ago no self-respecting food-lover would ever admit to eating in a hotel – well, only if it was a smart one and then only for breakfast. We have moved on from that concept of hotels not trying with their gastronomic facilities. We all remember those lunches in dining areas that still had a whiff of a Full English about them. Gone are the days, mostly, when a dinner in one's hotel was the last resort of the desperate.

The Rib Room is the dining room at Jumeirah Carlton Tower, not too far from Harrods. Yes, it's on the ground floor of a newish hotel building but this is a classy and classic restaurant that shouts quality. It's a polished and refined establishment which stops short of intimidating. The staff are friendly and helpful to a lunch crowd who are mostly Ladies Wot Lunch, with a scattering of businessmen. It's a quiet and comfortable meeting place with the advantage of marvellous food at hand.


The dining room is bathed in dappled light from colonially-shuttered windows. There are well-spaced chairs and cosy banquettes. The tables are bedecked with crisp white linen and silverware in elegant fashion but the menu tempts with both the familiar and the unique. The Rib Room has its beefy signature dish but more.

The menu has seasonal changes which take advantage of abundant fresh produce. My visit was in August so a corn and crab broth was on the bill of fare. This was a light and creamy soup with fresh shellfish. A delightful presentation and appropriate for a day when the sun beamed through the windows looking over Cadogan Place. It's the area which once was the haunt of the likes of Oscar Wilde (he was arrested at the Cadogan Hotel near here) and Lillie Langtry.

Summer vegetable salad, goat's curd and summer truffle dressing was my guest's starter. This was a sizable portion of baby vegetables at their best. There was evidence of real truffle along with tangy and fresh goat's curd. Even non-vegetarians would be charmed by this simple and delicious plate.

The main courses offer vegetarian options that don't seem like a chef's afterthought. Bread-wrapped wild mushrooms, onion purée, baby carrots and garlic velouté sounded interesting and it was. The bread (or was it a pastry?) formed a crust supporting mushrooms which had the very essence of wild fungi flavour. The velouté was a delicious base, being flavourful rather than overpowering. A must-try here for anyone taking a break from meat.


But it's roast rib of beef that gives its name to this restaurant and it's a worthy signature dish. My guest is a son of Yorkshire and a self-proclaimed connoisseur of the eponymous pud; he considered his lunch to be 'reet champion' in every regard. The beef was a perfectly cooked 160g slice from a joint selected from Donald Russell, Royal warrant holder since 1984 and trusted supplier to H.M. The Queen. A very hearty eater could go for a 220g portion but I'd recommend that only for a rugby player or for dinner, when there is more time to savour. Do have the crispy and fluffy roast potatoes here as they are the traditional accompaniment to such a meal, along with the aforementioned Yorkshire Pudding.

Prices are very reasonable at The Rib Room at lunchtime. There are some wines by the glass, 2 courses for £28, 3 courses for £34, 3 courses and half a bottle of wine, water and coffee or tea for £42.00. One doesn't have to break the bank to enjoy The Rib Room, and one feels rather pampered in this charming and timeless restaurant.

Restaurant Review:
The Rib Room Bar & Restaurant
Jumeirah Carlton Tower
One Cadogan Place
London
SW1X 9PY

Phone: +44 (0) 20 7858 7250
Email: reservations@theribroom.co.uk

Visit The Rib Room here




Warren House – Kingston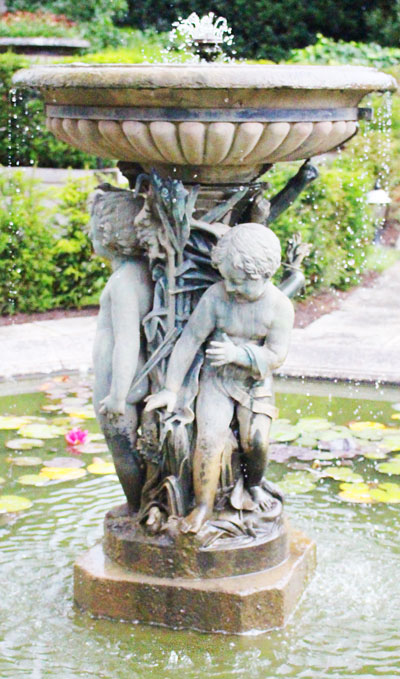 We might be in London for a short holiday. We see the sights, monuments, museums. We shop till we drop and we are swept along by throngs of others looking for the same delights of retail therapy. But there is another vision of England. It's that 'green and pleasant land' of manicured gardens, country houses and calm. There is just such an idyll and it's only a short distance from central London.

A magnificent Victorian country house provides a step back in time to a gentler era where the sound of croquet balls being hit might likely be the only noise to remind one that there are other people about. Warren House has history, gentility and charm. Its fabric is original but there are modern amenities to pacify even the addicted iPhoner or business-oriented sort.

Warren House is set in landscaped gardens, with facilities for both commerce and leisure. But this area has been documented for hundreds of years. Since the Middle Ages the neighbourhood has been on the route from London to Portsmouth. Kingston Hill was well established even before Charles I enclosed Richmond Park in 1637. Small estates were established during the late 18th and early 19th Century, and in 1837 His Royal Highness Prince George, Duke of Cambridge, grandson of George III, acquired the seat of the late Earl of Liverpool at Coombe. The improved road to London brought the City within an hour's carriage ride, and the area began to attract the wealthy.

The original Warren House was built in 1860 for Hugh Hammersley on 16 acres of land leased from the Duke of Cambridge. Hammersley was a partner in the successful London firm Cox and Co, bankers to the British Army and they must have done very good business. The estate remained his country retreat until his death in 1882, when it was bequeathed to his wife Dulcibella, an ancestor of Sir Anthony Eden, a future Prime Minister.

George Grenfell Glynn, the second Baron Wolverton, purchased the house and land in 1884 and made additions to both. His wife, Lady Georgiana Wolverton, was great friends with Mary Adelaide, Duchess of Teck, mother of the future Queen Mary, who lived at White Lodge in Richmond Park. Lady Georgiana continued to live at Warren House until her death in 1894.


American heiress Lady Mary 'Minnie' Paget bought the freehold of the property in 1907 and regularly entertained the rich and the powerful at Warren House. Many of the noteworthy features of the House - the Ballroom, the Persian fireplace, the Italian-style Loggia and the Winter Garden and its Grotto - were added by the Pagets. Warren House passed to her daughter, Dame Leila Paget. She was the first British Dame, honoured for her work with the Red Cross in Serbia during First World War. She continued this charitable work during the Second World War when she converted Warren House into a military convalescent home.

The industrial giant ICI used Warren House as a Conference and Training Centre until 2000. Since 2005 Warren House has been in private family ownership, and continues as a fine conference and events facility, but it's also an intimate hotel and just perfect for a short break. The hotel has 46 well-appointed bedrooms, a lounge, a bar, four inside dining spaces, a fully-equipped cardiovascular gym, a sauna and a heated indoor swimming pool. Outside is a garden chess set as well as the aforementioned croquet lawn.


The hotel still sports many original features including a magnificent carved wooden staircase. One still has the sense of staying in a private stately home. The rooms have classic décor which works perfectly with the architecture. Bath/shower rooms are modern and the toiletries are covetable. Warren House is grand but comfortably accessible and timeless.

After a tough day sitting in the shade of a tree, playing garden games or reading a book, one will likely be starving and longing for dinner. The Persian Dining Room is stunningly beautiful with exotic Eastern mouldings and a striking fireplace that would be considered a centrepiece were it not for the fact that it's in a corner.

The menu is interesting, well-balanced and tempting. My starter was a smoked haddock scotch egg. In fact there were 2 miniature scotch eggs, each containing a quail's egg surrounded by delicately flavoured smoked fish. My guest's starter was an equally light and innovative bowl of grilled courgettes, peas, ricotta mousse and Gremolata sauce. Both these dishes were flavoursome and very different. The chef was already showing his credentials.


My companion's main course sounded interesting and hearty. This was a substantial serving of confit duck leg with duck liver and pomegranate, served with spiced aubergine. The leg was cooked to perfection but those livers were like butter. I am not normally a lover of anything offally but these were savoury yet not overpowering in any way. This dish is a must-try for any meat-lover when they visit Warren House.

But vegetarians are not forgotten and I was intrigued by a cauliflower steak, cauliflower beignet and crispy couscous. This was a unique vegetable dish that turned the humble cauli into a triumph of design and flavour. The slice of vegetable had organic architectural elegance and the grilling gave additional flavour; the battered vegetables were moreish and airy. Yes, only a plate of veggies but it was satisfying and memorable.

My guest has ever been a man ready to sacrifice himself on the altar of dessert, so he ordered the banana mousse and glazed bananas. The presentation was attractive with short columns of banana topped with crunchy caramel, flanking the mousse which had concentrated flavour – once again the chef showing that simple ingredients can be elevated into something noble.

We spent just one night at the Warren House hotel but that has acted as an encouragement to return. The grounds are lush and leafy, the fountains romantic, the rooms are havens for the weary, and the food is sumptuous.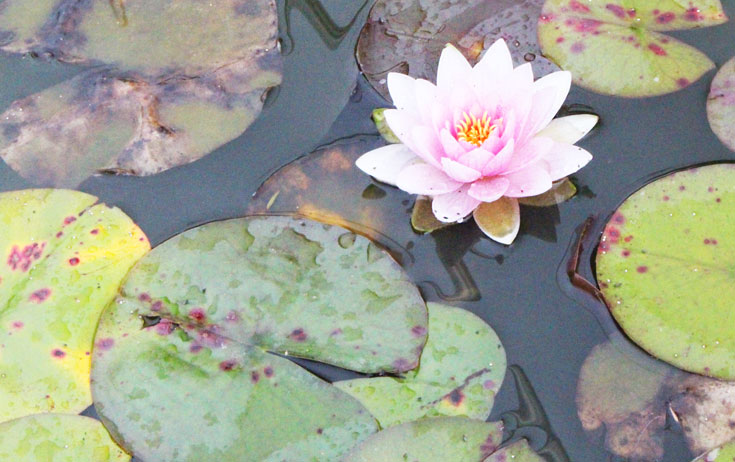 Take a little time away from the capital on your next trip to London. Kingston has great public transport connections, and if it's an hour away by horse-drawn carriage then you can bet it's quicker by train (from Waterloo) or car. There is even a river boat for those who want extra adventure and have the lightest of luggage. Warren House is a world away from the usual London hotel chains, and won't disappoint.

Hotel Review:
Warren House
Warren Road
Kingston-upon-Thames
Surrey KT2 7HY

Phone: +44 (0)20 8547 1777
Fax: +44 (0)20 8547 1175

E: info@warrenhouse.com

Visit Warren House here



Côte – Dinner in Kingston
This is a lovely spot on the River Thames and well patronised by shoppers during the day and socialisers in the evening. But despite its modern façade, Kingston has history.

It belonged to the king in Saxon times, as its name suggests, and was the earliest recorded royal borough. It was first mentioned in documents as far back as 838 and it lay on the boundary between the independent kingdoms of Wessex and Mercia. Kingston's historic Market Place has been a centre of the community since around 1170. Over the past 800 years it's been used for the punishment of criminals as well as the sale of food.

We wanted an evening by the river after a hot summer day. This stretch of water has inspired books, films and TV. It is where the Victorian novel Three Men in a Boat by Jerome K. Jerome has its opening scenes. The area around Kingston Bridge is now a thriving café and restaurant neighbourhood, and that's where we were heading.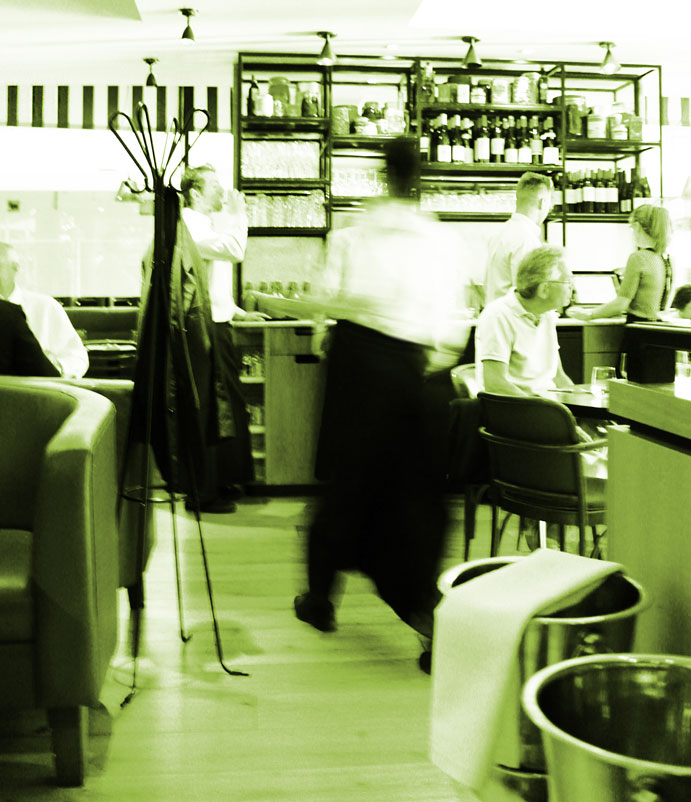 Côte's Brasserie is a branch of a chain but let us not be sniffy about that. If one didn't know then one would think that this restaurant, at least, was just a rather nice independently-run contemporary space selling French food. Its location would likely ensure its popularity for much of the year but the quality of the food will keep it full for most of the day and for all of the year.

Piquant Mixed Olives - spicy marinated olives with rose harissa, caper berries and cornichons - were our nibbles as we leafed through the wine list (many by the glass) and food menu. It's not a huge bill of fare but it's comprehensive and offers a real flavour of France – good traditional dishes that have had many pontificating with such phrases as 'Well, nobody does it like the French', even when we do!

The Charcuterie Board was my starter and proved to be a substantial spread of jambon de Savoie, smoked duck breast (outstanding), saucisson sec and duck rillettes with baby gem salad and chargrilled pain de campagne on the side. This would constitute a small lunch in some quarters! Beautifully presented meats.

My guest's starter was Baked Crottin, traditional goat's cheese from the Loire Valley, served warm atop a lamb's lettuce and apple salad, walnuts, croutons and sultanas. This is a classic combination with the tang of the soft cheese contrasted with the sweet fruit.

Traditional Breton fish stew was my main course. Sea bass was arranged on top of a sizable portion of mussels, clams, prawns and squid with tomato, white wine and chilli. It was served with a bit of theatre as the domed lid was removed from the bowl. Under £14? A remarkable price. It was heavy on the fish element and has enough delicious broth to make some French bread an essential mopping-up side dish.


Poulet 'Breton' is a speciality here. It's corn-fed chicken reared in Brittany in the west of France. Half Chargrilled 'Breton' Chicken served with frites and wild mushroom sauce made with crème fraîche and thyme was my guest's main course. Nothing fancy or too cheffy, just chicken and chips done right, with the quality of ingredients shining through. The sauce was a masterful touch and full of earthy flavour from real wild mushrooms.

Chocolate and praline crêpe with caramelised bananas and crème Chantilly was a shared dessert. This was a delicate finish to the meal. The pancake was light and the bananas were a delightful combination of crisp and soft. Very French but with a little exotica. This was worth waiting for, although the apple tart had sounded tempting, too.

Côte Kingston is both contemporary and traditional. Its food can be enjoyed by the whole family without breaking the bank. It's great value for money but quality had not been sacrificed. Service is professional and the ambiance is vibrant. Well worth a visit.

Restaurant Review:
Côte Kingston
Unit 6, Riverside Walk
Kingston Upon Thames
KT1 1QN

Phone: 020 8546 9422

Email: kingston@cote-restaurants.co.uk

Visit Côte Kingston here




Le Garrick – Covent Garden
Le Garrick restaurant and wine bar is conveniently located in the heart of Covent Garden in London's West End. It's a little gem and after just one visit has become my preferred restaurant, my dining establishment of choice and a place I am almost loathe to promote for fear I won't get a table next time.


Their beautiful website gives a little history. Brendon, who owned Le Garrick for 25 years, has moved on and passed the baton to Dominika and Charles and they seem to be doing a sterling job. Le Garrick is the sort of restaurant that one hopes will never change. It's a bit like a favourite old uncle who is full of character and is very 'individual'.

The ground floor restaurant is small but has the advantage of views of the bustling historic neighbourhood of Covent Garden. This is Theatreland and one might spot a famous face from one's vantage point, and there is always the chance of having a brace of thespians on the neighbouring table. It's that kind of restaurant.

But go downstairs to discover the real charm of Le Garrick. This space was evidently once a cellar and it still retains alcoves and nooks which create a restaurant which is, just like that favourite old uncle, pleasantly eccentric. The ambiance is intimate, the staff are naturally friendly and the food is simple yet for which to die – French food which is better here than some restaurants I have visited actually in La Belle France!

It's unsurprisingly a traditional French menu with a host of classics to tempt carnivore and vegetarian alike. It's the sort of bill of fare that has any Francophile salivating and any xenophobe admitting that those French do have a way with food. It's the kind of menu that has one promising another visit just to try a little plate of this or a bowl of that.


Escargots de Bourgogne was my starter. Six Burgundy snails (thankfully without shells which are always so fiddly) cooked in garlic and parsley butter. The menu says these are a 'must try!' and they really are. Some snails can be rather earthy but these were sweet and moreish in a butter-dripping-off-chin kind of way.

Cassolette de calamar à la plancha au piment d'espelette was my guest's starter. That's pan-seared calamari Basque-style with a sprinkle of coriander, ginger, and the famous Espelette chilli. These peppers were introduced into the Basque region of France from the New World during the 16th century. They've got plenty of heat but rich flavour too. More butter with this dish but I was too busy mopping those juices to worry about weight-gain. This was memorable and just as much a 'must try' as the aforementioned snails.

Faux Filet with sauce au poivre was my main course. This was a fairly hefty chargrilled rare-breed rib-eye steak served with fries and peppercorn sauce. I ordered mine medium rare and it was pink and flavourful. This is a standard dish of steak and chips but it's hard to beat when done well. The wine list here is solid and sensible. A great selection of wines by the glass, bottle or carafe. The Côtes du Rhône was just right, alongside my overflowing plate. Did I mention the generosity of servings here? Petit Pois Grand-Mère - peas with lardons and baby onions - was hardly necessary in addition, but those vegetables were fresh and light and made me feel a bit nobler.


Authentique Cassoulet de Toulouse is the celebrated dish from south-west France. This was my guest's choice for main course and appropriate for a cold and wet English evening. Lingot beans with duck confit, pork belly and garlicky Toulouse sausage made a substantial plateful which defeated my companion, who was all for asking for a doggy bag for the leftovers. Another spot-on dish.

Crème Brulée was our shared dessert but with a little Canelé by way of garnish. These sweets were the perfect end to an outstanding meal. Le Garrick is right in every regard. The service was professional yet fun, the décor added to the discreet ambiance. The evening is still being talked about and a return is certain in the very near future.

Restaurant Review:
Le Garrick Restaurant
10-12 Garrick Street
Covent Garden
London
WC2E 9BH

Phone: 020 7240 7649
Email: info@legarrick.co.uk

Visit Le Garrick here.




Roka Brunch – Aldwych
Brunch is perhaps my favourite meal of the week. It isn't a big, indigestible breakfast with the prospect of needing a nap by 10.30 (although I can be tempted by an English fry-up at almost any time). It's not a dinner, when one might be exhausted from the exertions of the day and much prefer Marmite on toast, a cuppa and an early night. This is Sunday Brunch and it is perfectly timed, and something over which to linger.

Aldwych has the attraction of good restaurants and theatres. Its transport connections are excellent, being within a short distance of Covent Garden as well as Temple and Embankment Underground stations. It's the ideal spot to start a Sunday of unique shopping opportunities, tourism and food.

ROKA Aldwych is the fourth ROKA to open in London and it marks the 10th anniversary of the opening of the flagship of the restaurant group, on Charlotte Street. This restaurant shouts understated class. One is aware on arrival that this is going to be a rather impressive establishment. The swish of the two sets of automatic glass doors hints at exclusivity.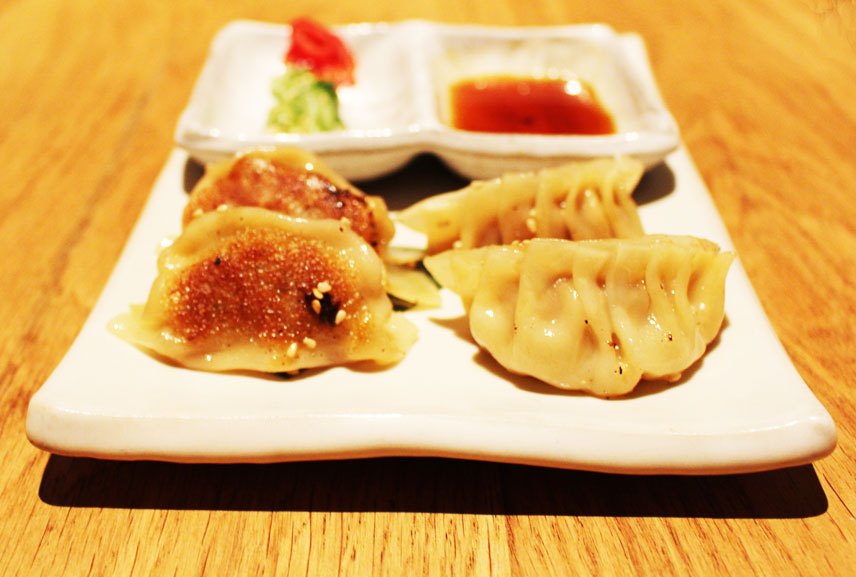 I have not, as yet, visited the other ROKAs but this one is striking. There is a central open kitchen with its usual counter seating but then there are regular tables with generous spacing between. Although there are no outside windows in the main restaurant, the height of the ceiling and the lighting create an airy and spacious dining room that is welcoming to parties as well as couples.

The grey timber walls offer a neutral and natural backdrop to the activity of this vibrant restaurant. It presents a very subtly Japanese note to this not overly-themed restaurant, but the food is indeed contemporary Japanese, based on tradition. ROKA takes the diner away from the ubiquitous sushi (although that's on the menu) and into the broader realm of real Japanese food.

The word ROKA is the Japanese name for a meeting place where food and drinks are served to friends (ro) with heat and warmth (ka). The Sunday Brunch for me and my companion included both hot and cold dishes from the regular menu, and main dishes from the robata grill: this method originates from the fishermen of the northern coastal waters off Japan, who would cook the catch on their boats.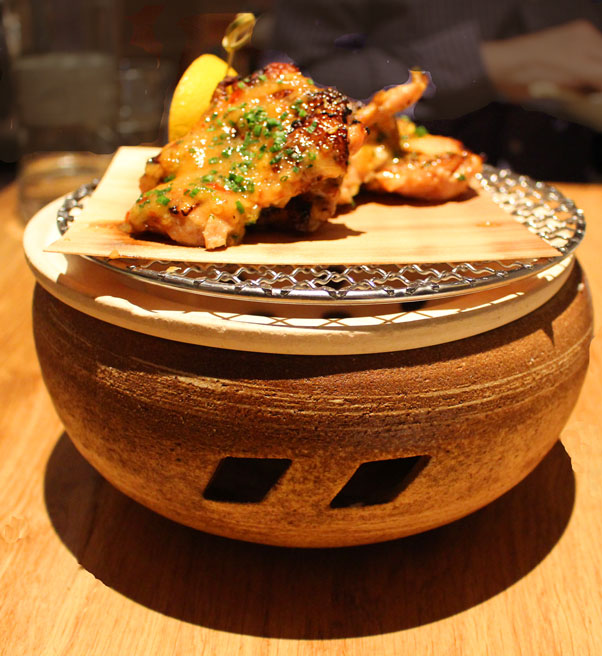 The Brunch menu is divided in two with all of the starters included, and then one has the choice of main courses, so we started our culinary adventure with edamame salad with ginger and soy dressing. These beans are light and just right as part of a starter selection, or even alone with drinks before a meal.

Otsukemono no Moriawase are an array vegetable pickles which are so popular in Japan, with each family having their own favourite recipes …when they don't buy them from the store, that is.

Horenso no Ingin Salada was an absolute delight and I am stealing this simple idea for myself. It's baby spinach leaves with a light sesame dressing made with tahini, dashi stock and sesame seeds.

Tempura Moriawase is assorted tempura in some of the best batter you will find in London. The seafood and vegetables were all cooked to perfection in a crunchy coating that was practically greaseless. Just a little spicy sauce was all that was needed by way of condiment.

Jagaimo to Tamago Salada was a real surprise and might fall into the category of Japanese comfort food. It was a mashed potato salad with bacon and egg and was moreish and, strangely, this did work with the more traditional starters that included beautifully presented sashimi, and sushi in the guise of the outstanding crispy prawn and avocado maki, and others. The Gyuniku to Goma no Gyoza are a Japanese take on Chinese dumplings. These were stuffed with beef and ginger and were tangy and fresh.


Hinadori no Miso Yaki was my guest's choice of main course. This is grilled baby chicken with lemon, miso, garlic and soy. The chicken was served atop a traditional table-top grill although this wasn't the cooking implement – the grilling had been done back in the kitchen. It did make a striking presentation for one of the best chicken dishes I have had in ages. It's a must-try here.

Gyuhireniku no Pirikara Yakiniku is another worthy dish for meat-eaters. This was a considerable serving of tender beef sirloin with a little chilli and spring onions. Granted, it's not overtly Japanese but it fitted admirably with all the other dishes.

Then there was dessert. It was the ROKA dessert platter. I have had dessert platters before so was just about getting my coat on when it arrived. There has got to be a better name than ROKA dessert platter. Yes, OK, it was dessert and it was served on a platter but this was an extraordinary sweet confection of chocolate, sorbet, ice cream …and some fruit to make the diner feel noble even after some outstanding truffles.

ROKA ticked all my previously pencilled-in boxes and added a few more. It's a matter of taste, for sure, but ROKA was very much my taste. My taste for hot Japanese food. My taste for thoughtful design. My taste for relaxing afternoon ambiance. I can highly recommend this Brunch. It's worth waiting six days for.

Restaurant Review:
ROKA Aldwych
71 Aldwych
London
WC2B 4HN

Phone: +44 (0) 20 7294 7636

Email: infoaldwych@rokarestaurant.com
Visit ROKA Aldwych here



Swan Upping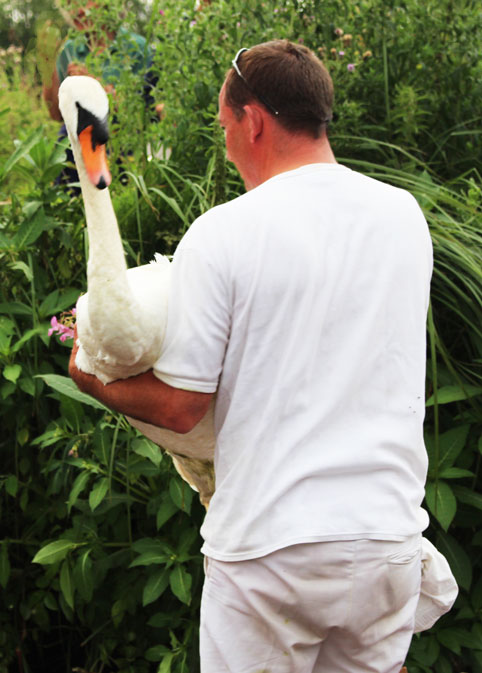 Swan Upping is an annual ceremonial event and an activity that has endured since the 12th century. The mute swans on part of the River Thames are caught, weighed, inspected, ringed, and then released. Centuries ago these birds were eaten and this exercise was game management!


Swans were regular food in the Tudor age, but legally these days mute swans are only allowed to be eaten by the Royal Family and by fellows of St John's College, Cambridge on 25th June. Their quills were also used for writing although quills from geese were much more commonly used – but a swan's quill was said to last as long as 50 goose quills.


Traditionally, the British Monarch is the owner of all unmarked mute swans in open water, but only exercises ownership on certain stretches of the River Thames and its surrounding tributaries in Middlesex, Surrey, Buckinghamshire, Berkshire and Oxfordshire. There is a Royal Charter which Edward IV passed in 1482 preventing the claim of ownership of swans by common people. In 2012, because of flooding of the Thames, Swan Upping was cancelled between Sunbury-on-Thames and Windsor. It's thought to be the first time in 900 years that the event couldn't take place.


The Keeper of the King or Queen's Swans was an ancient office in the Royal Household and was previously called the King or Queen's Swanmaster, a position which dates from the 13th century. He was assisted by three swanherdsmen during Swan Upping. The title of Keeper was replaced by two new posts in 1993, Warden of the Swans and Marker of the Swans.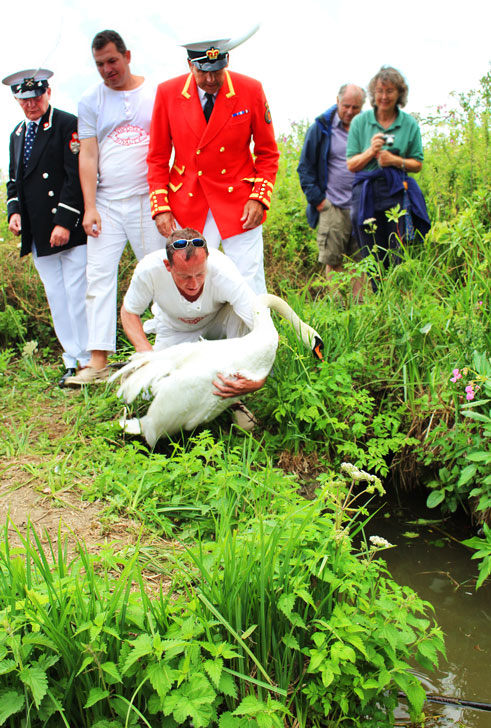 The Queen's Marker of the Swans still organises Swan Upping and he monitors the health of the local swan population. The Warden of the Swans works alongside the Marker of the Swans, a post presently held by David Barber, and together they conduct the event.


Swan Upping is a colourful occasion and is used as a swan census. It takes place annually during the third week of July when the Queen's 'Worshipful Company of Vintners' and the 'Worshipful Company of Dyers' provide Swan Uppers to row up the river in shallow boats called skiffs. The first documentary reference to the Vintners owning swans comes from 1509, when the Company's "Under-Swanherd" was paid 4 shillings (20p) at the time of the 'great frost' for 'upping the Master's swans'.


This ownership of the swans is shared between the Royal Household, the Vintners and the Dyers, who were granted rights of ownership by the Crown in the fifteenth century. Swans caught by the Queen's Swan Uppers under the direction of the Marker of the Swans are not now marked, except for a ring linked to the database of the British Trust for Ornithology. Those caught by the Dyers and Vintners are identified as theirs by means of an extra ring on the other leg. Today, only swans with cygnets are caught and ringed. This gives a yearly overview of how swans are breeding. Originally, rather than being ringed, the swans would have been marked on the bill with identifiable notches.



Swan Upping is conducted over a week with different stretches of the river being covered each day. As they row past Windsor Castle, the Swan Uppers salute "Her Majesty the Queen, Seigneur of the Swans". The crews of the skiffs have ceremonial uniforms but for the working element of the job they are clad in blue, red or white polo shirts and white trousers rolled up over their ankles. Each boat flies the appropriate flag for its livery company. When a brood of cygnets is sighted, a cry of "All up!" is given to signal that the boats should get into position for a quick capture.


At the completion of Swan Upping each year, The Queen's Marker of the Swans produces a report which provides information on the number of swans accounted for, including broods and cygnets. This enables the most appropriate conservation methods to be used to protect the swans. This ancient tradition has taken on a new mantle. The Swan Uppers are caring for swans, not as a source of food but as a beautiful part of the picturesque River Thames.





Mele e Pere
This is a little cracker of a restaurant and I am almost reluctant to publicise it any further for fear that the prices will go up and the chances of me getting a table will go down!

This is an authentic northern Italian, casual dining restaurant smack in the middle of the very un-Italian Soho. Its ambiance, style, ethos, whatever you want to call it, works at this location. In fact I think it would work anywhere.

Mele e Pere is ranged over two floors with the main restaurant in the basement level. Its bar is impressive with copper cladding and a shelf of home-made vermouths enough to help launch any voyage of libation discovery. Vermouth here is a signature beverage and it would be a shame not to try one. You can try others on your return, for a return is almost guaranteed.

We sat at that bar for a while and ordered a bowl of olives to go along with citrus vermouth made in-house and Byrrh which wasn't. That's a classic vermouth in the traditional herby style of a wine-based apéritif made of red and fortified wines (mistelle), and quinine. That quinine might not sound appealing but it's the key ingredient in tonic water. But back to the food! Our Ascolana olives were stuffed with spicy meat, breaded and deep fried. They look innocent but they pack a chilli punch and are addictive.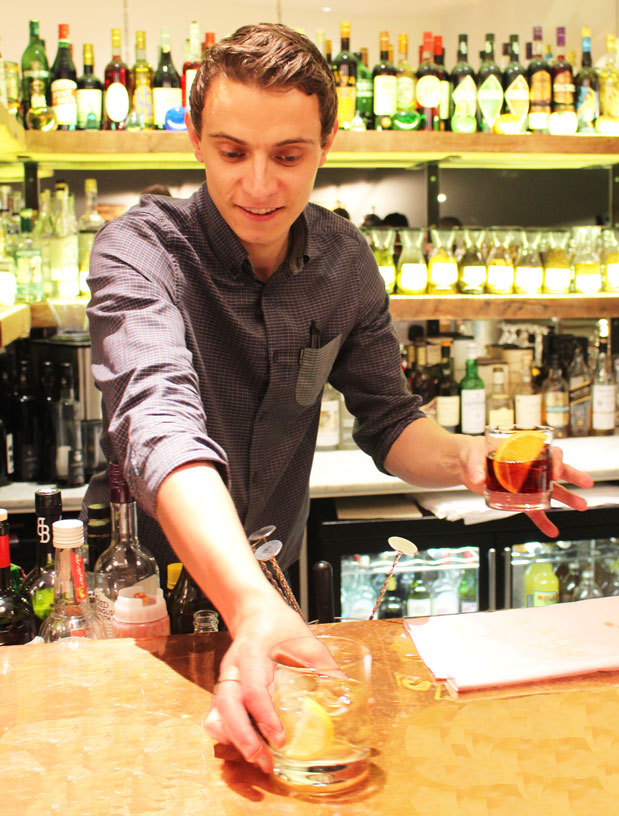 The menu here is seasonal and ever-changing. There are plenty of regulars who will appreciate the new items throughout the year. Fresh is evidently important at Mele e Pere. I hadn't realised at the time of my visit that they make bread, pasta, desserts and ice-creams in their own kitchen. That isn't always a recommendation in other restaurants. The bread was outstanding here. Yes, it's just a simple thing but it shows attention to detail. I am hoping the owners will open a bakery next.

We ordered several starters including that amazing bread and focaccia along with deep-fried squid rings with smoked aioli and parmesan. The squid was light and the mayo a delicious foil to the delicate flavour of the breading and the seafood. But the Parma ham and gnocchi fritti is a must-try here. The gnocchi fritti were in fact light puffs and perfect when paired with the savoury ham.

Fresh spaghetti with clams, garlic, chilli and courgettes was my guest's main course. He ordered just a small portion, which was still substantial, and he had that delicious bread for mopping juices. This was a beautiful and light dish of a good amount of shellfish and that aforementioned home-made pasta. The strands were eggy yellow and rich. A green salad alongside was all that was needed.

On this evening the menu offered home-made sausage and courgette – another substantial plateful. The sausage was seasoned, grilled and glistening and the sort that wins prizes in butchery competitions. Yes, it was that good. The sausage was coiled and skewered, the courgette was split, grilled and garnished and the diner was salivating at every bite. Once again Mele e Pere showing that food need not be fussy to be impressive. It just has to be right.


Wine at Mele e Pere is reasonably priced and can be ordered by the glass, carafe or bottle, and after a vermouth or two a small carafe might be in order. And there was still dessert to come. A couple of scoops of Amalfi Lemon sorbet was enough for the two of us. The attentive waiter had the presence of mind to lay two spoons. Tangy, light and full of citrus flavour. This was a perfect end to a hot night in Italy. Well, OK, London W1, but it was pretty near. Visit for a long, lingering lunch, or even try some pastries for breakfast.

Restaurant Review:
Mele e Pere
46 Brewer Street
Soho
London
W1F 9TF

Phone: 020 7096 2096
Email: info@meleepere.co.uk

Visit Mele e Pere here




**************************
Recent articles