with Mostly Asian Food & Travel
and Mostly Japan
Click here to enter our

Competitions
It's all about travel and food - lots of international excursions, culture and history, hotel, destination and restaurant reviews.
Please look elsewhere for negative reviews.


Latest News!
The CRU Mocha for Valentines
Chocolate & Coffee - better together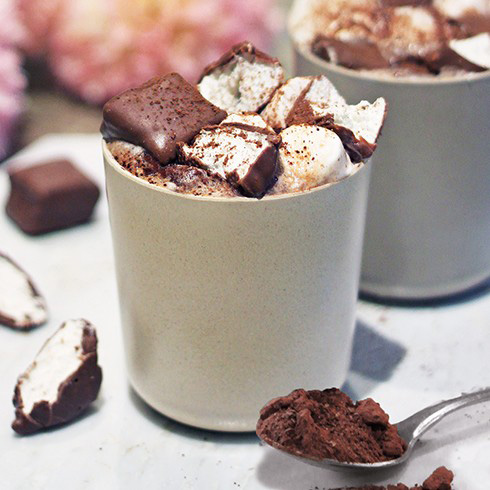 Coffee and chocolate have always gone hand-in-hand, but CRU Kafe are taking it to the next level. This Valentine's Day, why not treat your loved one to the ultimate Mocha in bed with CRU Kafe's 'The CRU Mocha' gift pack.

CRU Kafe have partnered with Lavolio, a fantastic London Confectioner who specialises in creating handmade, boutique sweets to bring you the perfect drink this Valentine's. Specially developed alongside the CRU Kafe Intense blend, the cocoa powder helps create a perfect base for the mocha, whilst the marshmallows, encased in Belgian milk chocolate, bring a sweetness that sets off the entire cup.


How to make a CRU Mocha
Place the cocoa powder into a mug of your choice, then pour 2 shots of espresso over, being careful to incorporate fully. Once stirred, froth some whole milk and pour into the mix, before topping with Marshmallows and a sprinkling of cocoa powder.

Each pack includes enough ingredients for 6 indulgent CRU Mochas:
• 24 Nespresso-style Capsules/Pods per pack
• 2 packs of CRU Intense Coffee
• 1 Tin of Lavolio Chocolate Marshmallows
• 1 Tin of Lavolio Cocoa Powder
• 1 Mocha Recipe Card

Find out more here: www.crukafe.com/index.php/black-box-20.html


**************************
Bake Box Magic

I am sure there must have been similar services in the past: one subscribes and kitchen goods are delivered. But this is the first such subscription to which I have been introduced, and I can only describe it as inspired …and it's inspiring!


One joins the Bake Box family for oneself, or buys a subscription for friends or loved ones. A box arrives every other month and it's stuffed with baking equipment along with appropriate recipes. All the eager baker needs to provide is the ingredients. This month I unwrapped a Bundt cake mould, a silicone mat for Swiss roll, a fashion cookie cutter and various accoutrements for cake decorating. All recipes are provided, to create beautiful and delicious baking projects.



Who is this service designed to benefit? Well, anyone who loves baking or would like to learn about baking. Even enthusiastic bakers need some inspiration and the equipment to produce some new treats, and Bake Box offers everything for some delightful baked goods. But a Bake Box subscription would make the ideal gift for anyone setting up their new home with the intention of making compliment-inducing cakes for their first visitors. And this would be a long-lasting wedding gift for a young couple who dream of eating home-made food together.


Bake Box has coaxed this novice baker into the kitchen, and success has been mine! Can't wait to do more.

Learn more about Bake Box here www.the-bake-box.com/



**************************
Godminster – Brie for Lovers
Godminster is a cheese-producing company that takes pride in English traditions of cheese-making but it also looks to the future and embraces change.


There have been agricultural workers living in and around Godminster in Bruton in the county of Somerset for more than five hundred years and there has been a dairy farm there for at least a century.

Godminster – the cheese company that is – was certified organic in 1999 by the Soil Association, who inspect the farm at least once a year. The quality of cheese they produce reflects their respect for the animals and the land.

Gold medal winner Organic Brie with Black Pepper is well worth trying. It's a step away from the usual creamy brie and would make an ideal Valentine's Day gift for anyone with a discerning palate. They offer a wide range of delicious and well-presented cheese combinations and you can learn more by visiting Godminster here www.godminster.com/buy-now/valentines-gifts


**************************
Breakfast with Jo Pratt
Lyle's Golden Syrup has partnered with Jo Pratt to develop a series of recipes that will help Brits avoid breakfast monotony and ensure they're spending more than the average five minutes on that morning meal which is said to be the most important one of the day.

Jo has written six cookbooks to date, including In the Mood for Food, Madhouse Cookbook and most recently In the Mood for Healthy Food. She has also been a regular food presenter and host of live cookery demos on TV shows such as Saturday Kitchen and the Saturday Show. Studying Home Economics at John Moore's University in Liverpool was where it all started. After graduating she worked with big-name chefs such as Jamie Oliver, Gary Rhodes, Gordon Ramsay, and John Torode on everything from live cookery demonstrations to TV programmes.

It's Breakfast Week shortly so take some time to join in and do yourself some good by trying some of these delicious and simple brekkie treats.


BANANA, PECAN AND CINNAMON FRENCH TOAST
This sweet sandwich with sliced banana, chopped pecans and Lyle's Golden Syrup is perfect for a morning treat. Dip into beaten egg, milk and cinnamon and fry both sides in a little butter until golden. Tastes even better with a side of yoghurt!


Serves 4
4 medium size bananas, peeled and thinly sliced
125g of pecan nuts, roughly chopped
4 tbsp Lyle's Golden Syrup, plus extra to drizzle
2 tsp cinnamon
8 slices white or wholemeal bread
6 large eggs
200ml milk
Natural or Greek yoghurt, to serve

Gently mix together the bananas, pecan nuts, Lyle's Golden Syrup and cinnamon.

Divide between 4 pieces of bread, leaving a small gap along the edges. Top with the remaining bread to make 4 sandwiches. Press lightly to hold in place.

Beat together the eggs and milk in a shallow bowl. Dip each sandwich in the egg mixture leaving to soak for a few moments each side.

Heat the butter in a large saucepan over a medium and fry each sandwich for about 4 minutes until golden, turning halfway through. You will probably need to do this in batches, depending on the size of your frying pan.

Cut each piece of French toast in half and serve with a spoonful of yoghurt and plenty of Lyle's Golden Syrup drizzled over the top.


BREAKFAST POWER SMOOTHIE
Quick, easy and full of goodness to give you plenty of energy, this breakfast smoothie can be made with milk or yoghurt to give you that much-needed morning energy boost.

Makes 1
¼ cup (20g) porridge oats
¼ cup (25g) cashew nuts
¼ cup (50ml) natural yoghurt
1 ripe banana, peeled
½ cup (100ml) cold milk
1 tbsp Lyle's Golden Syrup
½ tsp vanilla extract or vanilla bean paste

Place all of the ingredients into a blender and blend for about 30 seconds - 1 minute, depending on the power of your blender, until completely smooth. Enjoy straight away or keep chilled until needed.



FRUIT AND NUT BREAKFAST BARS
A super tasty and compact energy-giving bar that can be eaten on-the-go or while at the table with a cup of tea, juice, glass of milk or bowl of yoghurt. Lasts a long time once made and stored in an air-tight container, so ideal for a really speedy yet energy-giving breakfast that's good for you.


Makes 8 bars
150g Lyle's Golden Syrup
75g butter
grated zest of 1 orange
150g prunes, roughly chopped
150g pitted dates, roughly chopped
150g porridge oats
½ tsp ground cinnamon
100g mixed seeds (such as sunflower and pumpkin)
75g dried cranberries
50g flaked almonds
50g brazil nuts, chopped

Pre-heat the oven to 180°C/160°C fan/gas 6. Grease a 20x20cm square cake tin with butter and line the base with baking parchment.

Put Lyle's Golden Syrup, butter, orange zest, prunes and dates in a saucepan and gently heat until the butter has melted. Cook over a low-medium heat for 5 minutes stirring occasionally. Remove from the heat and mash everything together using a potato masher or the back of a wooden spoon.

Transfer to a bowl and thoroughly mix in the oats, cinnamon, seeds, cranberries, almonds and brazil nuts. Press firmly into the prepared tin and bake in the oven for 18-20 minutes until lightly golden.

Cool in the tin for 20 minutes then remove from the tin to cool completely before cutting into individual pieces and storing in an airtight container for up to 2 weeks.



SWEET CHILLI TOMATOES ON TOAST
This quick and easy breakfast is sweet, spicy and sticky all in one. Quickly pan-fry crushed cherry tomatoes with chilli and Lyle's Golden Syrup. Spoon over crusty toasted bread.


Serves 4
2 tbsp olive oil
450g cherry tomatoes, halved
1½ tbsp Lyle's Golden Syrup
2 tsp balsamic vinegar
1 tsp dried chilli flakes
sea salt and freshly ground black pepper
crusty bread, for toasting
extra virgin olive oil or butter

Heat the olive oil in a frying pan. Add the cherry tomatoes and toss around over a medium-high heat for a couple of minutes until they are starting to soften.

Add the Lyle's Golden Syrup, balsamic vinegar, chilli, salt and pepper. Cook for a minute or so, stirring gently, until the tomatoes are softened and thickening.

Meanwhile toast the bread and either spread with butter or drizzle with extra virgin olive oil.

Spoon the tomatoes over the top of the toast and serve.




**************************
ENTER.SAKE
A boutique sake collection curated by musician and DJ Richie Hawtin
ENTER.Sake is a boutique sake collection curated by musician and DJ Richie Hawtin. Richie has been exploring the world of sake for twenty years during his extensive trips to Japan. For the past three years, through his ENTER. events across the world, Richie has tirelessly promoted sake as a core part of the ENTER. experience. Every summer he creates ENTER. in Ibiza, Spain, complete with Europe's largest sake bar stocked with special sakes not available anywhere else outside of Japan. Now ENTER.Sake is beginning a new phase to bring its sake collection to restaurants, bars, and wine stores across the USA and Europe.


The ENTER.SAKE Minus cocktail is the most popular Sake cocktail at Hawtin's Sake Bar in Ibiza and it can easily be prepared at home. Made with ENTER.SAKE Junmai, Shochu, Ginger Beer, Celery Bitters and a lime twist - this sharp, refreshing cocktail is the perfect summer drink.


ENTER.SAKE Minus Recipe
50ml ENTER.SAKE Junmai
25ml Shochu
Ginger Beer
Celery Bitters
Lime twist

Instructions
1 Fill a highball glass with ice
2 Add a dash of Celery Bitters
3 Add lime twist
4 Pour 50ml Sake Junmai and 25ml Sochu
5 Top up with Ginger Beer and stir

ENTER.SAKE founder Richie Hawtin is a world-renowned musician and DJ. Playing to crowds of thousands of fans, Richie has been a music icon since the late-1980s and still continues to push the frontiers of music, art, and technology today. Richie has also been a devoted sake connoisseur for over twenty years since he first traveled to Japan in 1994. He has earned the Advanced Sake Professional Certification and was made an official Sake Samurai by the Japanese Sake Brewers Association in 2014 for his efforts in promoting sake abroad. He continues to use his influence to open up young audiences to new cultural experiences through his performances and ENTER. shows worldwide.

ENTER.Sake is launching in select markets in Europe and United States this Summer and Fall. Stay tuned for updates with new markets and online shops coming soon. Keep up with ENTER.Sake events, videos, and the latest sake releases at: http://www.entersake.com

ENTER.Sake is available at the following locations:

UNITED STATES
Morrell & Company Wine - NYC, True Sake - San Francisco, Vineyardgate - San Francisco, Tao Downtown - NYC

SPAIN
Ibiza Wine Shops, Hermanos Meneghello, Vino Y Co, Bambuddha Ibiza, Es Vive Hotel, Harbour Club Ibiza, Heart Ibiza, Jockey Beach Club, Lips Reartes Beach Club, Minami Restaurant, Sushipoint, Space

FRANCE
French Wine Stores, Whiskies & Spirts – Beaune, Vinoboam - Beaune

More locations coming soon.


**************************

Click here to find some delicious recipes using
The East India Company products
**************************
Brunch at Balans Soho Society Kensington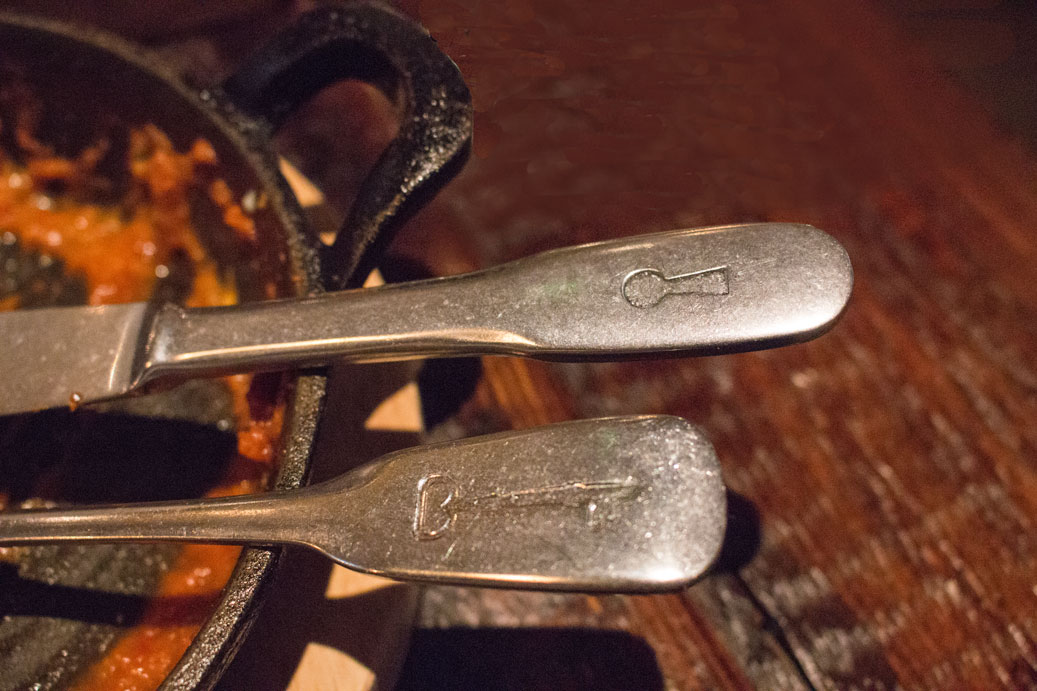 I am not naturally an early-morning person. I am not naturally a morning person of any time classification, but I do love breakfast – as long as I am not cooking it. If you are going to go to the trouble of sitting down to a meal at that time of the day then it had better be worth waking up for. Brunch at Balans Soho Society Kensington is good. Very good.


The moto is 'Too much of a good thing is a good thing' and it's appropriate for an establishment such as Balans. The restaurant is a casual and quirky bistro-style dining spot of character. Perhaps that should be Character with a capital C for its individual charm is noteworthy. Yes, it's a matter of taste, but Balans on Kensington High Street has my vote, both gastronomically and aesthetically.



The bar is well stocked as one would expect and sports a brace of candlesticks of monumental proportions. Tables for breakfast and brunch (I can't testify to other meals) were laid with crates of condiments. The napkins were of crisp white linen and the silverware heavy and embossed with the Balans marks of keys and keyholes. Class in casual fashion writ large here.


A full English breakfast is always tempting: it's on offer at Balans and evidently popular. I noticed that the menu had a couple of less-than-traditional items that sounded intriguing, and, assuring myself that I could have the fry-up on the next visit, I ordered Eggs in Hell! The worst offence a restaurant can commit is to entice the prospective diner with the expectation of vibrant spice and then not deliver. This dish was pleasingly spicy with well-balanced heat from a tomato-based sauce. This bathed sautéed potatoes (Balans potatoes) which made a nest for two poached eggs and parmesan. A breakfast fit for any sluggish riser or lover of heat. Consider adding a slice of crusty bread for mopping.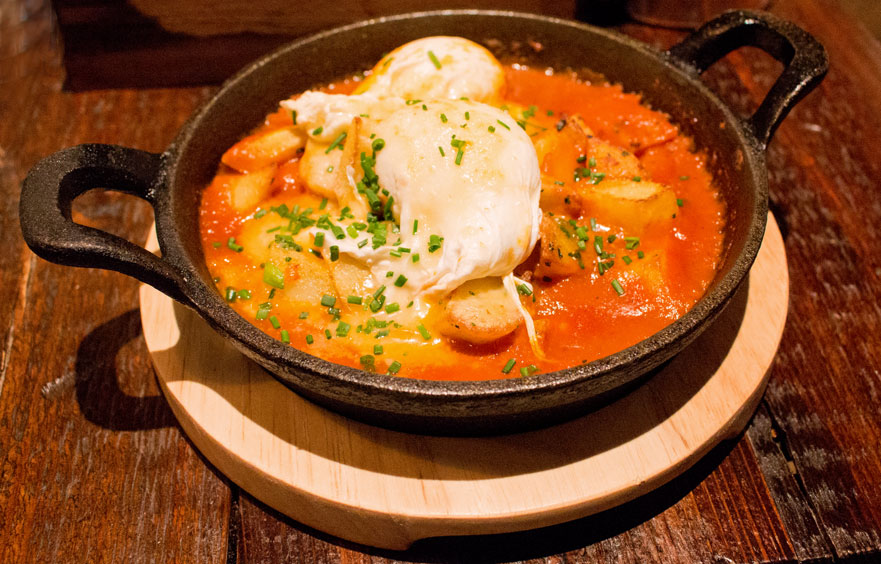 The High Society Eggs Benedict was my guest's brunch of choice. He is a man of refined tastes and appreciative of the better things in life. The regular eggs beni has been a favourite since the dish was first invented in the US in the 1890s. The regular poached eggs, bacon, English muffin and hollandaise sauce has a couple of additions here - creamy avocado and lobster. The preparation was pronounced delicious and worthy as a weekend
treat for the discerning.


Brunch at Balans Soho Society Kensington is great value for money. The brunch menu caters for those with hearty appetites, those with more modest cravings and even those unfortunates who are looking for a morning-after-the-night-before reviver, who will likely benefit from those heavenly hellish eggs.




Balans Soho Society Kensington
187 Kensington High Street
London
W8 6SH

Phone: 020 7376 0115

Visit Balans Soho Society Kensington here






The Food and Cooking of Japan and Korea
A few years ago our culinary ethnic horizons extended to a Friday night curry and perhaps the occasional Chinese dinner of sweet and sour pork. Often made at home from decent cookbooks, but not often pushing geographic food boundaries.


These days we are exposed to many more restaurants and those encompass cuisines from every corner of the globe. There are exotic platters from Ethiopia, vibrant Caribbean dishes, and Polish dumplings in restaurants that are flourishing. We love eating out and then reproducing the flavours at home. We travel and bring back dining memories and cravings.

Japanese and Korean restaurants were almost unheard of a decade or so ago but now they are popular. Korean meals are often robust and spicy and just the kind of food appreciated by the British palate these days. Japanese dishes are refined and there is more to this cuisine than the ubiquitous sushi which is adored by so many. The Food and Cooking of Japan and Korea is a substantial collection of 250 recipes that will enable you to replicate favourite plates and will introduce you to new ones.

I love this style of cookbook. There is a comprehensive glossary of Korean and Japanese foods and an overview of each cuisine, along with a shopping guide. It's likely that you will have to buy a few store-cupboard ingredients to start with, but once you have that small battery of condiments and spices you will be able to tackle all of those 250 dishes.

There are 1500 illustrations and these are supportive when one is new to a particular ingredient or technique or don't know what the finished product should look like. There is lots that might be unfamiliar but this book presents recipes that can be mastered even by the culinarily challenged. The recipes are well written with step-by-step instructions.

I have my favourites from both the Japanese and Korean delights offered here. Sweet Cinnamon Pancakes are a popular snack in Korea and would be great as part of an exotic afternoon tea spread. They are little stuffed turnovers with a peanut and cinnamon filling, and they are addictive.

Oyako Don is a simple and satisfying dinner that won't break the bank. The name means parent and child: 'parent' refers to the chicken and 'child' to the egg. The egg is poured over the finished dish and cooks for just a minute or so. The result is a silky coating over the chicken and the two are served over steaming rice.

The Food and Cooking of Japan and Korea is a practical book that will appeal to those of us who actually use cookbooks. It's well-presented, deliciously informative and it's a real page-turner for any dedicated food lover. I had forgotten how much I miss some of these dishes and I am tempted to make them again. There are others that are new to me and they are equally enticing.

There are two distinct cooking traditions here but so many dishes work well together. It's a carnival of well-chosen recipes and under £12, which is great value for money.

The Food and Cooking of Japan and Korea
Authors: Emi Kazuko and Young Jin Song
Published by: Southwater
Price: £11.99
ISBN-10: 1780194250
ISBN-13: 978-1780194257



The Complete Practical Guide to Digital and Classic Photography
I have come to this medium quite late in life. I got a bit of confidence with my iPhone and some of those images were, although I say it as shouldn't, spectacular. But somehow I knew there was more.


This book is a weighty tome at a very reasonable price. At under £12 one can have a fairly thorough overview of the craft of photography. It's a step-by-step guide to the apparatus (your camera) as well as advice on improving the results of your labours.

There is more to good photography than lots of equipment. It isn't just a matter of pointing and clicking, although there are plenty of cameras that will produce acceptable snaps by doing just that. There is a world of possibilities to be explored when one realises that those little buttons and dials dotted around the camera actually do something.

The Complete Practical Guide to Digital and Classic Photography explains depth of field, focal length, shutter speeds, focus and exposure, along with many other functions the use of which will enable you to produce really professional shots. This would be something of a bible for the beginner who will likely want this book as part of their photography kit. Its 1700 or so pictures are a great support to the text.

It's not only the technical issues which are covered. Photographs are art and so the book devotes time to explaining how to get that elusive effect, how to pose a subject, as well as editing images, which is a crucial part of the craft these days. There are sections on emailing your images, printing them and even advice on entering photographic competitions. In fact there is everything a budding photographer might need to gain a bit of confidence and know-how.

The Complete Practical Guide to Digital and Classic Photography is a comprehensive introduction to a wonderful pastime that could develop into a career. It's a perfect gift for a novice and as affordable as a pack of photographic paper.

The Complete Practical Guide to Digital and Classic Photography
Authors: Steve Luck and John Freeman
Published by: Southwater
Price: £11.99
ISBN-10: 1780194331
ISBN-13: 978-1780194332



Darbaar by Abdul Yaseen
Here is a man to follow and a restaurant to watch. This new venture, Darbaar with Abdul Yaseen at the helm, has pedigree and polish and it's no surprise!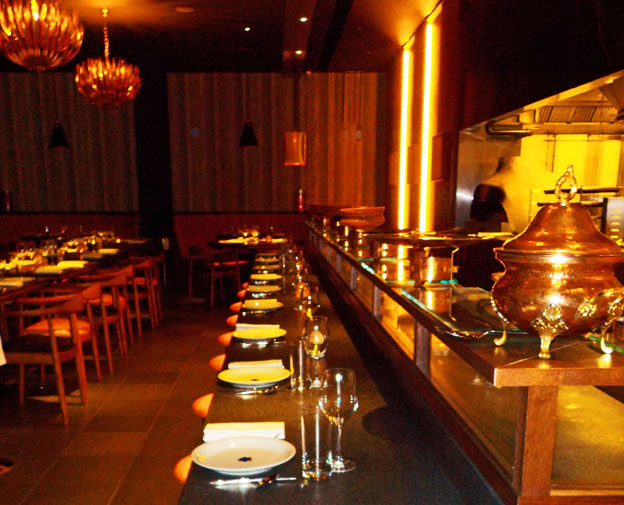 Located in the heart of London's City square mile, Darbaar is rather conveniently situated. Not far from the travel hub of Liverpool Street Station and with ample parking just yards away this restaurant has a huge catchment area. It's already popular for lunch with local office workers and with those who want a bite after work, but I am expecting that trend will have the evening tables filled by discerning diners who will soon mark Darbaar as a destination Indian restaurant.

But what of this aforementioned pedigree? Abdul is already an award-winning chef who moved from Jaipur to London fifteen years ago and was part of the launch team of celebrated Cinnamon Club, which has now morphed into a small and well-respected chain. Abdul became Head Chef at Cinnamon Kitchen and Anise, enhancing the Cinnamon brand.

Abdul Yaseen now has his own establishment and, although very new, it is already a credit to him. The food at Darbaar is inspired by the banquets of the Indian Royal Courts. One might therefore expect a restaurant decorated with sofas, waiters in Rajasthani costume and a chap in the corner playing a sitar. Nothing like that here. There are small design vignettes giving a nod to the Sub-continent. There are only a few carved elephants here and there, and some sabres also appear on the crockery, but the food is totally Indian and very thoughtfully chosen.


Darbaar is an impressive 5,500 square feet in area and offers a 220-cover restaurant, and a cosy bar which also tempts with small plates for those strapped for time. The whole of Darbaar is a vision of dark wood and burnished metal with natural earth colours and mirror accents. Soft furnishings are in muted orange and each table sports a carved candle holder creating a calm and relaxed atmosphere.

The restaurant includes a grill-side seating area, open kitchen vista, tables for couples or groups and some banquettes. There is an attractive 20-cover private dining room with a striking wall of wine bottles. There is also a chef's table for up to 12 people with a view to the open kitchen, with chefs serving dishes directly from the glass hatch. Service throughout is friendly, efficient and appropriate.

I could have safely predicted that the food here would be good but it was in fact superb. We started with King Scallops and Red Cabbage Porial served with Herb Moilee. Each sweet nugget was perfect with its associated relish. Royal Bengal-style Wild Madagascar Prawns arrived looking beautifully curled - a luxurious treat and well worth ordering, as is the Tandoori Salmon Tikka with Kokum Berries and Chilli, still glistening with its juices.


A signature starter at Darbaar must surely be the Nanza which is an Indian pizza made in the wood-fired clay oven for maximum flavour. This Chilli, Chicken, Caramelised Onion and Cheddar cheese preparation is so good that I think it's probably the best pizza I have ever had. That statement might leave my Italian friends blanching with shock but I would counsel trying this before you profess your nationalistic doubts.

Perhaps the star of the evening, beating stiff competition from those other dishes, was the Baked Leg of Rabbit which was cooked and served on the bone and with a Rajasthani Chilli and Corn Sauce. It's a shame so many people have such reservations about eating bunny. It's a delicious and mild meat with good texture and flavour and so versatile. This corn sauce is so good that I think it could be a dish in its own right. It had a rich texture and was moreish. Order some extra bread for dipping as you won't want to leave any of this.

Whistling Duck Merlot was our wine for the evening and it can even be had by the glass. It's at the top of the Red Wine List so won't break the bank. It's an Australian classic with hints of ripe plums and blackberries. It pairs particularly well with the delicately spiced foods at Darbaar with neither party competing with the other.

Yes, dear reader, I am impressed by Chef Yaseen, whom I already knew, and Darbaar, which I didn't. This is Indian fine dining at its best. Granted, there are no crisp white tablecloths but here it's all about the food and the guests who are sharing it. Bring friends and eat together. Talk in animated fashion and relax in an ambiance that can be enjoyed by working folks as well as maharajas. Darbaar is a winner of a restaurant which I fully expect to achieve culinary decorations in the near future.

Darbaar Restaurant
1 Snowden Street
Broadgate West
London
EC2A 2DQ

Email: info@darbaarrestaurants.com
Phone: 020 7422 4100

Opening Hours:
Monday to Friday - Lunch – 12noon to 2:45pm
Monday to Saturday - Dinner - 6pm to 10:45pm
Bar - 11.30am to 12 midnight (serving nibbles and small plates)
Closed on Sunday



Simple Words from the Saddle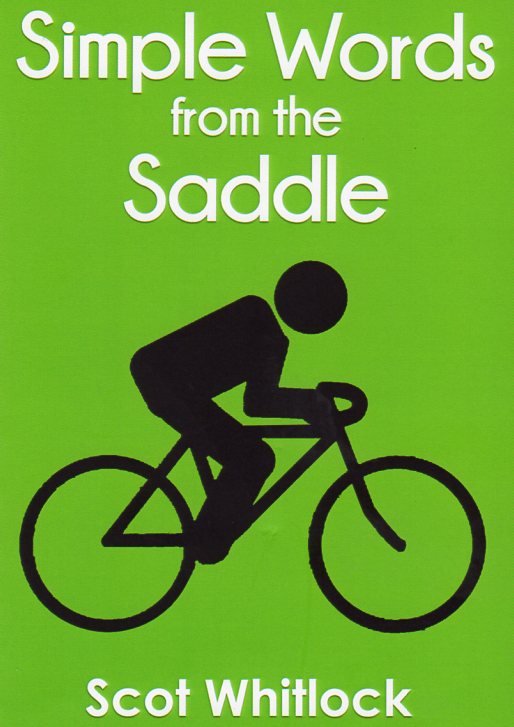 This has got to be the stocking-filler of choice for any bike rider. Simple Words from the Saddle isn't pearls of wisdom from a Harley but musings from a cycle, with pedal power and time to enjoy the scenery.

Scot Whitlock is the cyclist author of this travelogue and it's full of humour and inspiration. It's the kind of book to thumb through on cold winter's nights whilst planning the next big cycle adventure. We are taken down country roads, we are tantalised by the smell of bacon cooking, and we meet people as we travel with Scot.

The chapter headings are intriguing: Who Needs a Balaclava, New Year in Deepest Cmyru, and A Spot of Gongoozling on Two Wheels will likely have the curious page-turning. It's cycling that has moulded Scot into the writer he is today … well that and reaching, as he says, rock bottom, which was a condition that introduced him to the humble bike to start off with.

Simple Words from the Saddle will encourage those hardy sorts who already have cycles to take to the path less trodden – or ridden – but this will also be an amusing read for the rest of us who can travel vicariously from the over-stuffed comfort of the chair by the fire. A good read.

Simple Words from the Saddle
Author: Scot Whitlock
Published by: Olympia Publishers
Price: £10.99
ISBN-10: 1848975295
ISBN-13: 978-1848975293




The Chalet Cookbook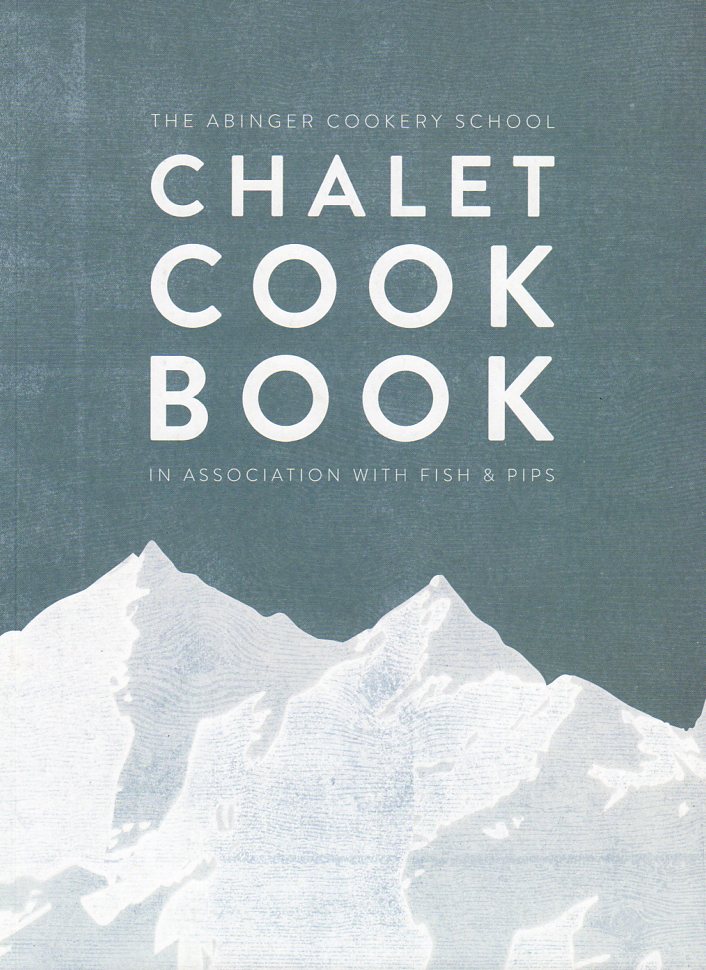 Yes, it's that time of year again. Chestnuts roasting on an open fire, etc. Our thoughts turn to cold-weather vacations and possibly (although not in my case) to sporty pursuits. There will be expectations of snowy vistas, the smell of pine and tables groaning with comforting food.

The Chalet Cookbook by the Abinger Cookery School in association with Fish and Pips have produced a book that will be a perfect inspiration for winter foods at home or in that cabin in the mountains, which will hopefully have a well-stocked supermarket within easy sledging distance.

This book takes a step away from cheese fondue and presents dishes that work well on self-catering winter holidays, but there is not a hint of instant packet mixes or corner-cutting. This is a proper adult cookbook which offers suggestions on appropriate dishes to make every chalet meal a feast, but without the need for the primary chefs to miss out on sloping off.

The Chalet Cookbook is a combination of traditional and thoroughly contemporary creations that have an international flavour, reflecting how most of us actually eat these days – or would like to. The recipes are divided by course starting with breakfast and continuing with afternoon tea and then on to a full dinner spread. There is something here for every taste and indeed every level of cheffy skill.

The authors have been mindful of different eating habits, so provide wholesome and healthy items as well as those of a more hearty nature for people who have spent the day in open-air activities. Some dishes are fun and others rather avant garde but all will be appealing, not only to the chalet chef but also to those who are staying home. Some are for a crowd of 8 – 10 people and others are for 4 – 6 diners, making this a great cookbook for anyone who enjoys giving sizable dinner parties.

I wouldn't pass up on eating any of the foods here but I do have favourites. Lemon Tart with Gin and Tonic Granita serves 8 to 10 people, or more likely four to five people twice, as second helpings are on the cards with this one. Yes, delicious when both the tart and granita are served together, but they could just as easily be enjoyed separately. That sorbet would be a refreshing palate-reviver between courses of a lavish dinner, and the tart as part of an afternoon tea spread. A timeless classic.

Slow-Cooked Lamb Shoulder with Crispy Polenta is a must-try and falls into the aforementioned category of comfort food. The lamb is spicy, rich and flavourful with a crunchy texture from the polenta, although I think this lamb would also work well with soft polenta or even a heaping bowl of old-fashioned mash. Talking of polenta, there is a to-die-for Lemon Polenta Cake which will become a staple chez nous.

This isn't a hefty tome but it's full of inspiration. The only slight criticism is that I would have liked a little background or explanation for each recipe. It's a delightful book and will be well-received this Yuletide by any enthusiastic cook.

To learn to cook like a Chalet pro visit www.abingercookeryschool.com




Langkawi – more than beaches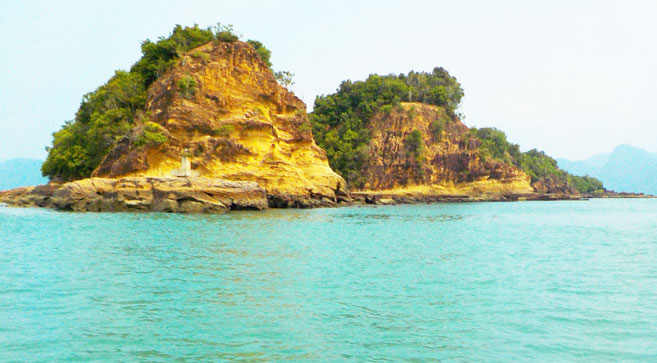 This tropical gem has a deserved reputation for iconic, palm-fringed beaches, dazzling white sand and sea warm enough to call a bath. Langkawi is an island that charms and intrigues, and its story can be discovered not far from your sun-lounger.

The sea is very much part of life here. It has provided a living for the islanders from fishing, and now it presents a luxurious diversion for tourists. Naam Cruises is perhaps the foremost leisure and watersports company on the island and it prides itself on its excellent reputation for both service and safety. The company specialises in nature adventures and high-end excursions including a popular dinner cruise which rocks the guest into a state of pampered calm while watching the sun set over tiny islands and slowly-reddening sea.

The staff are attentive and professional and the food offered on these evening cruises is excellent. There are wines and beers as well as refreshing non-alcoholic cocktails and soft drinks. The boat is spacious and luxurious and can be hired for private events. The crew will be able to tell you tales and legends of local princesses and warriors, and point out natural features and wildlife. This would be an ideal away-day for a group of family or friends who can have a trip especially tailored to their needs. The boat can be hired for overnight stays as it boasts several sumptuous en-suite cabins.

Visit Naam Cruises here


Dayang Bunting is the second largest island in Langkawi's archipelago of 100 or so islands. It has one of the region's best-loved attractions and is visited by both locals and tourists alike. The meaning of the name Dayang Bunting is 'Island of Pregnant Lady'. But it's the lake on the island that is the draw. It's a large freshwater lake known as Lake Guillemard. It's a hike to get to as it is surrounded by hills of dense rain forests.

Like all good islands this one has a legend. A man named Mat Teja fell in love with the Princess Mambang Sari when he met her by the lake. They eventually married and the princess gave birth to a son but he unfortunately died shortly after. They decided to lay their son in the lake to allow him a peaceful resting place. The grieving princess blessed all women having difficulty conceiving a child, praying that they would become fertile once they had immersed themselves in the magical waters of the lake. If one looks at the profile of the surrounding hills then one can see, exercising a little imagination, the silhouette of a reclining pregnant lady.

Visit here if you are reasonably fit and in no hurry. There are many steps so take your time and take some water. No alcohol is allowed and don't take food as the ever-watchful monkeys will grab it along with your camera. This perhaps isn't the excursion for the elderly or the very young as a baby buggy would never make it. But once there the cool waters will be refreshing. One can take a dip from the pontoon or can hire a pedalo and go exploring. This is a popular attraction but uncrowded, as there is plenty of space.

The lake and the surrounding area is part of the Dayang Bunting Marble Geoforest Park. This is one of the three geoparks of Langkawi with great limestone formations, marble outcrops and unique geological features. The park has several caves: in fact the lake itself has resulted from a large underwater cave, the roof of which collapsed and eventually filled with fresh water.

Learn more here


There is a tour that I can highly recommend with one particular company, at least. Dev's Adventure Tours with Naturalist Khirien Kamarudin are exceptional. Take the Mangrove boat trip and you will see another aspect of this tropical paradise. Khirien will conduct you through ancient caves and will talk about the bats, the snakes, lizards, fish and those ubiquitous monkeys. He has respect for the environment, which is sometimes lacking in his counterparts from less professional companies.

There is so much to see here. The running commentary is fascinating and the younger members of the party will enjoy bird-spotting. Those birds will doubtless include the local brown eagle which is thought to have given Langkawi its name – Island of the Brown Eagle in Malay. There are wild dogs running between the trees, snakes hanging from branches (out of reach of the boat) and more monkeys.

Dev's Adventure Tours with Khirien Kamarudin should not be missed. Take just a morning away from the sun-kissed sand and take a look at another face of Langkawi. You will return home with more than a tan – you will have an understanding of the eco-system of a treasure of an island and the kids will be talking about it till your next trip – for a next trip there will surely be.

To learn more about Dev's Adventure Tours visit here

I can highly recommend The Meritus Pelangi Beach Hotel and The Danna Hotel, as I have stayed in both. They offer the highest standards with service to match. Their locations are convenient and there is a host of trips to enjoy for those seeking a little gentle adventure, if you can tear yourself away from the pool or the sea.

Learn more about Meritus Pelangi Beach here


Meritus Pelangi Beach Resort and Spa
Pantai Cenang
07000 Langkawi
Kedah Darul Aman
Malaysia
Phone: 60-4 952 8888
Fax: 60-4 952 8899
Reservations: resvn.pelangi@meritushotels.com
General Enquiries: pelangi@meritushotels.com

Learn more about The Danna here
The Danna Hotel
Telaga Harbour Park
Pantai Kok
Langkawi
Malaysia
Phone: 604 959 3288
Email: info@thedanna.com

The Langkawi International Airport is one of 7 international airports in Malaysia and connects the island to Kuala Lumpur, Singapore, Penang and also Subang.

Singapore Airlines offers numerous flights and connections to Langkawi. Learn more here




Reims - Tasteful Souvenirs
Reims is a beautiful and historic city in the Champagne-Ardenne region of France. It is only 130 km from Paris with easy access by train. Excursions to nearby Chalons are a must and there will be not only the delightfully ubiquitous champagne to taste but also the champagne truffles which are so celebrated here.

The city was founded by the Gauls and became a significant town during Roman times, but it's also important to the story of French royalty as it is the town traditionally associated with the crowning of French kings. The cathedral, Notre-Dame de Reims, became a UNESCO World Heritage Site in 1991 and contains some stunning stained-glass windows and beautifully grand architecture as befits its status, although German hostilities during the First World War and a subsequent fire caused extensive damage to the cathedral.

Much of Reims has been rebuilt but I found it to be a feast for lovers of building design. One can find houses, shops and public buildings which show architectural styles from almost every era. There are still vestiges of the Roman occupation, as well as a palace, an opera house and the town hall which are all striking, and conveniently in the centre of the town.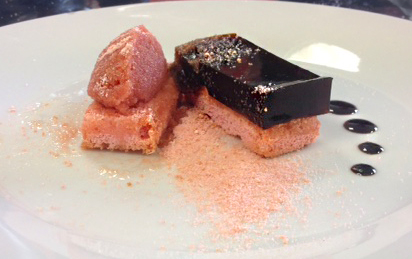 Even the name of the region, Champagne-Ardenne, hints at its high-end eponymous produce and it can all be found in and around Reims. There are numerous speciality shops offering cheeses and wines, others offer tempting baked goods and chocolates; but you might notice a shop selling a curious pink biscuit. Biscuit Rose de Reims is a unique confection which is made by Maison Fossier, which was founded in 1756, although the biscuit is thought to have been invented in 1691.

Biscuits Rose de Reims are one of my top three gastronomic souvenirs of this area. They are associated with celebrations and convivial gatherings where they are dunked into glasses of champagne. Their crisp and dry texture allows for a dip without the fear of unsightly flopping. A delicious tradition. There are lots of recipes that incorporate the famous pink biscuit so it's a souvenir that travels well.

One can visit the factory that makes Biscuits Rose de Reims and other fine regional cookies and cakes. There are guided tours by appointment and a shop in which to linger.

Magasin Fossier Reims Cathédrale
25 cours Jean-Baptiste Langlet,
51100 Reims

Visit the Maison Fossier factory here


That much-mentioned champagne is my next souvenir of Reims. There are numerous creditable champagne houses here but one of the most accessible is G.H. Mumm. Its champagnes are available worldwide but it's a treat to be able to taste and buy at its place of birth. Mumm has a long history, being founded in 1827, but is in modern times recognised as the champagne shaken and showered at the end of Grand Prix racing events – although I personally consider that wasteful exuberance to be almost sacrilegious. One can take an informative hour-long Mumm Champagne cellar tour (by appointment) to learn about the unique Champagne-making process and to hear the history of the House. The old and atmospheric cellars hold some 25 million bottles in constantly cool conditions.

Choose the 'Cordon Rouge Experience' tour with a tasting of the Champagne house's signature Cordon Rouge Champagne, or the 'G.H. Mumm Experience' with the cellar tour and tasting of a brace of cuvées. For a truly outstanding experience there is the 'En Noirs and Blancs' tour where one samples the produce of two very different grapes, chardonnay and pinot noir.

Visit G.H. Mumm here



Truffles! That's my third gastronomic souvenir of the region. The most famous and most eagerly sought are the Champagne truffles. They don't taste of champagne but the name refers to the colour which has more of an amber hue than that of the less interesting white truffles which are also found here.

Auberge des Moissons is an ideal spot to stay and enjoy this fungus. It's a comfortable hotel with a truffle centre attached. One can buy truffles but also learn about them. There is even a chance to actually go truffle-hunting with Honey the truffle dog and her dad, the owner of the establishment.

Not only does the truffle centre present the story of truffles but there is also a cooking school where guests can learn how to prepare truffles. You will go away with some delicious recipes to make back home and bragging rights about how you actually witnessed the discovery of this Black Gold.

So you have hunted, and now it's time to try truffles in every imaginable guise and prepared by a professional chef. Auberge des Moissons has its own restaurant in a converted barn. The menu offers nibbles, starters, soups, savouries, mains and even desserts that incorporate the noble truffle. Lots of fine champagnes available to complete your truffle feast.

Auberge des Moissons
Hôtel-Restaurant ***
RD3 - 8, Route Nationale
51510 Matougues
France

Phone: +33 (0) 3 26 70 99 17
Fax: +33 (0) 3 26 66 56 94

Visit Auberge des Moissons here

Rail fares from London to Reims or Chalons en Champagne start at £86 standard class return per person.

For bookings and more information, visit here or call 0844 848 5 848.

For other travel possibilities visit European Waterways here

Learn more about Reims and the region here




The Danna - beachside luxury - Langkawi Malaysia
Langkawi, or to give its official title, Langkawi the Jewel of Kedah – in Malay Langkawi Permata Kedah – Is a tropical paradise. Its beaches are legendary, its skies mostly blue, and the sea is mesmerising. Nothing needed apart from a rather smart hotel. Well, who wants to sleep on a beach, however beautiful?

Langkawi is not just one island but a string of them - an archipelago of more than 100 islands and all set in the Andaman Sea. The mainland is just 30 km away but you will not be thinking about that when you are here. Langkawi, or 'Island of the reddish-brown eagle' in Malay, is hypnotic.

Langkawi has several outstanding hotels but perhaps the most iconic is The Danna with its well-deserved 5 stars. It's located on Telaga Harbour and not far away from Burau Bay (or Teluk Burau) on the west coast of Langkawi Island. The Danna is only 15 minutes (11 km) away from Langkawi International Airport so there isn't the prospect of a nasty, long and hot ride to get there. Your vacation will start almost as soon as your baggage leaves the carousel.


The Danna stands right next to Telaga Harbour which was built in the style of a Mediterranean seafront town on gleaming boats that wouldn't be out of place in St. Tropez or Nice.

The Danna is sparkling white and with an entrance canopy that would put the most celebrated London hotels to shame. Its crisply uniformed staff welcome the guest with cooling drinks and soothing towels, while they check in seated on sofas in the spacious reception area.

Everything about The Danna is roomy. Public areas have well-spaced easy chairs in colonial rattan, or cushioned banquettes on which to lounge. Corridors are wide and open to the warm air of the verdant central courtyard. There is a fish pond, and trees bring the lush vegetation of the hotel grounds actually into the building. One might be on the 3rd floor but there is the perception that one is staying in a bungalow, albeit a very large white bungalow.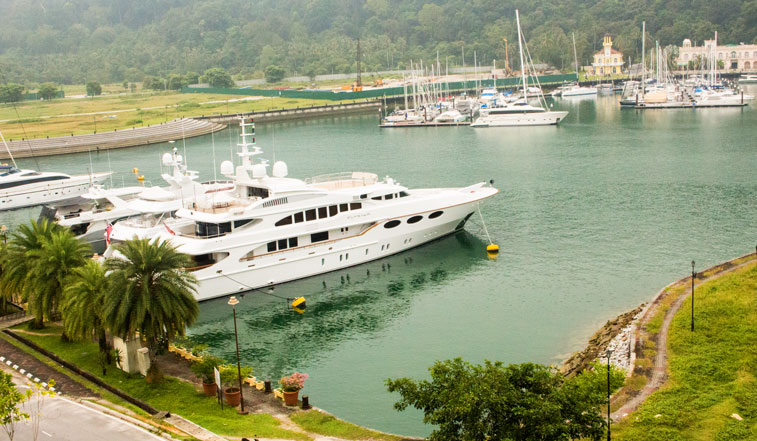 The Danna is polished, pruned, and preened to the highest of standards. If there was a 6th star then The Danna would have it in its firmament. The facilities are first class and it boasts the largest pool on the island, with multiple levels for the enjoyment of both splashers and lappers. It's an infinity pool that seems to flow into the sea just beyond.

The beach here is pristine with white-blond sand. The sea is as warm as a bath and tempting for a dip on hot afternoons. There are plenty of loungers and shady pods in which to snuggle with a tall drink and a good book. One will likely spend the first couple of days just listening to gentle waves and summoning the energy to turn the page.

The Danna Hotel boasts 125 guest rooms and suites and all of them are well appointed. They have rich fabrics, dark wood, excellent views of sea or harbour. There might be a hint of old colonial times but there is every item of technology that any modern guest might want. If work isn't far away then there are three high-tech meeting centres, ideal for business gatherings of any size.


So you have relaxed in the sun and slept in a sumptuous room and now you will be ready for food. Planters is the largest of several restaurants at The Danna and is on the ground floor, overlooking the swimming pool. It's open every morning for a legendary champagne breakfast which will have guests lingering over both Asian and European items such as Chinese noodle soups and American doughnuts.

The ambiance changes for dinner. Lights are low and the restaurant is calm with menus being pored over and conversation turning from the day's activities, or lack thereof, to the dishes on offer. The menu presents a wide array of both Malaysian and European specialities but I can highly recommend the local selection. Try the Malay Platter that will give a taste of this vibrant cuisine. Everything is fresh and of the best quality.


Yes, Planters is rather formal on most nights but each week there is a barbecue buffet with a huge spread of dishes, both Eastern and Western, on which to graze. Entertainment on those evenings is provided by the staff. These young men and women dress in national and regional costumes and perform traditional dances to the delight of enthusiastic and camera-toting crowds.

Strait's & Co. is a small casual restaurant located on the ground floor and is totally different. It's colonial but in brighter tones with a floor of, possibly, Portuguese tiles and the ambiance of a tearoom. That's perfectly apt as they really do offer afternoon tea here as well as snacks and light meals. This is the place to find a reviving cuppa and a cake.

The Verandah is stunning. It's actually a lounge with elegantly high ceilings, pillars and a proper bar. This is, without a doubt, the spot for a pre-dinner cocktail or a pre-beddybys nightcap. There is a list of house cocktails here that are unmissable and at extremely reasonable prices. A few of them contain fruit so at least you can feel noble while enjoying some of the best drinks on the island.

The Spa here is popular and offers a comprehensive menu of treatments and therapies. The massages include Traditional Malay Urut (soft-tissue manipulation), Aromatherapy Massage and Traditional Balinese Massage. There are The Body Scrub Treatments and The Body Wrap Treatments, a Romantic Bath or Cleopatra's Milk Bath. There is Spa Care for Hands and Feet, along with Luxury Facial Treatments. All this isn't just for the women of the party: there is also a Gentlemen's Facial and kid's spa treatments too.

The Danna is one of the best hotels in Asia. It lacks nothing but shows a contemporary take on the best of colonial design, the most refined of local cuisine and an opportunity to unwind in the most comfortable of surroundings. Every aspect of The Danna is generous and memorable.



The Langkawi International Airport is one of 7 international airports in Malaysia and connects the island to Kuala Lumpur, Singapore, Penang and also Subang.

Learn more about The Danna here

The Danna Hotel
Telaga Harbour Park
Pantai Kok
Langkawi
Malaysia

Phone: 604 959 3288

Email: info@thedanna.com

Singapore Airlines offers numerous flights and connections to Langkawi. Learn more here




The Sparkle of Vilmart & Cie
The Champagne house Vilmart & Cie was founded in 1890 by Désiré Vilmart and is considered by many an authority to be perhaps the leading producer of quality Champagne in the region of Northern France which bears the same name as this celebratory beverage. It's an area of many fine bottles but some consider Vilmart to be the best and I am not arguing.

Time has passed since the Champagne house was founded. There has been a succession of family members who have taken care of this great Champagne company. The responsibility has passed to sons, and sons of sons, and to sons-in-law, with each generation adding something to the story. Laurent Champs is the present owner and Champagne Master. He received his Viticulture Professional Certificate, Oenology and Viticulture Technical Certificate, and Superior Certificate of Oenology and Viticulture at the University of Champagne in Avize. This man has impeccable pedigree and credentials.

Vilmart owns 11 hectares or so of vineyards in and near the village of Rilly-la-Montagne. The vineyards are planted with around 60% Chardonnay and 40% Pinot Noir. They do not call themselves organic but they have a commendable ethos and don't use any chemical fertilizers, herbicides or insecticides. All vineyards that Vilmart sources from are of either Grand Cru or 1er Cru status.

The harvest takes place one hundred days after flowering, around the middle of September, and every bunch is picked by hand in order to ensure that only the best quality grapes are used and that damage is kept to a minimum. Pickers have roughly a three-week period in which to harvest the fruit as beyond that point the grapes will start to deteriorate on the vines. Sometimes as much as 40% of the crop is deemed unsuitable and sold on to other producers, such are the rigorous standards at Vilmart.


The next step is pressing the precious grapes and Vilmart continues its duty of care by using a cool and gentle process in a fairly old machine which extracts the juice in two steps. During this stage the must (the fresh grape juice) drips into small tanks. The juice is left to settle for a day to allow the solids and liquid to separate. The juices are then pumped into large oak barrels. Most of the barrels are already aged, but in some cases new barrels are used. The ranks of large and small barrels hint at the artisanal quality of the wine to come. With casks that look like mellow furniture the wine is bound to be good. It's a testament to the attention paid to winemaking at every step. No corners are cut at Vilmart and it's that dedication that has grown their enviable reputation.

Second alcoholic fermentation is what gives champagne its fizz. Natural yeasts transform sugar into alcohol and carbon dioxide (the bubbles in the glass) and this happens inside the bottle. Carbon dioxide is trapped, converting still wine into sparkling wine. After a week of resting, the sediment from the used yeast settles in the bottles. They are stacked in the riddling racks and turned twice a day by highly skilled men with strong wrists. This process slowly moves the sediment to the bottle neck.

Dégorgement is the dramatic art of getting the sediment out of the bottle while leaving as much wine as possible inside. The bottle necks are dunked in freezing brine. Turning the bottle upright and releasing the cork expels the sediment, and then a mixture of sugar and wine called "liqueur de dosage" is added to give each wine its "brut" (dry) or "demi-sec" (semi-dry) style. The bottles are then sealed with their traditional corks and metal cages. The bottles are then allowed to mature in the Vilmart cellars which are in themselves a thing of beauty: racks of bottles at different stages of maturation along with riddling racks full of wine and sediment still resting. Bottles wait here from 3 to 4 years for non-vintage wines and from to 5 to 7 years for vintage wines.


I don't consider myself an expert in wine and definitely not an authority on Champagne but it will likely be evident to any visitor to Vilmart that the Champagnes produced here are of superior quality. Grapes are treated with respect and the end result speaks for itself.

Champagne Vilmart & Cie
BP4 - 5 rue des Gravières
51500 Rilly la Montagne

Phone: 33 3 26 03 40 01
Fax: 33 3 26 03 46 57

Opening hours
From Monday to Friday, 9am to 12am and 2pm to 5.30pm

Fares from London to Reims or Chalons en Champagne start at £86 standard class return per person.

For bookings and more information, visit here or call 0844 848 5 848.

For other travel possibilities visit European Waterways here

Learn more about Reims and the region here




Rijsttafel in The Hague
I love The Netherlands and am an unashamed supporter. It's an oft-disregarded tourist destination even though it's easy to get to from London. Short breaks are more usually taken in Paris or Berlin. That's a shame as Dutch cities offer history, architectural charm and delicious food. Yes, dear reader, that statement isn't an affectation of a rampant auto-correction error.

The Hague is a refined and beautiful city with a wealth of high-end dining options. One can eat relatively cheaply on local specialities but there is also a style of dining that one is unlikely to find elsewhere. I refer to the celebrated Rijsttafel which is hardly known outside The Netherlands, but it has nothing to do with cheese or herrings. This array of dishes has its birth in faraway Indonesia.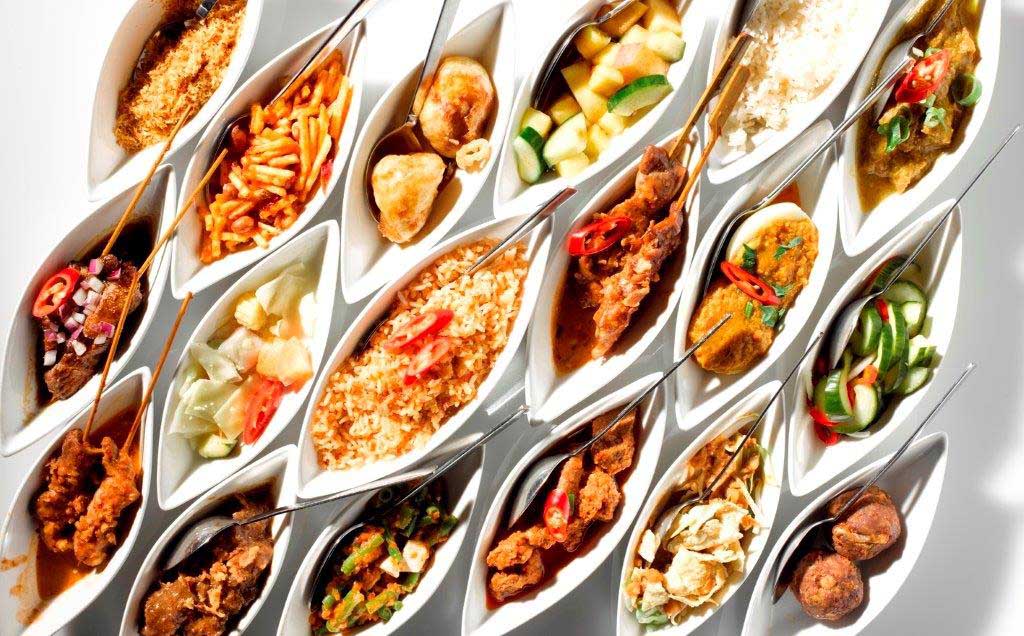 Dutch Indonesian cuisine has its roots in the former Dutch colonies of the East Indies which became Indonesia. It was brought back to the Netherlands by former colonials and exiled Indonesians after Indonesia gained its independence in 1945. The rijsttafel remained popular with those returning Dutch families. Ironically, when Indonesia became independent, nationalism increased and Dutch colonial traditions, including the rijsttafel, were largely swept away and it has almost entirely disappeared from Indonesia's own restaurants.

Dutch cuisine, in general, has been much influenced by other cultures and their foods. Holland headed the lucrative international spice trade in the 17th century. This wasn't just one-way traffic as the colonists also introduced coffee to Indonesia, and in fact Indonesia was the first country outside Arabia and Ethiopia to grow coffee.

The Dutch feast, the rijsttafel, is a marriage of Indonesian dishes and, if one believes some explanations, Dutch frugality. I was told by an Indonesian, although with a twinkle in his eye, that the spread of multiple dishes, the 'rice table', was a way of using up the leftovers from meals of previous days. I am not entirely convinced by that explanation as I would think the tropical heat and lack of a good fridge in those days would make eating lingering meaty plates a little dicey.

The Hague has many good Indonesian restaurants and one of those is Blauw, part of a small chain, which offers smart casual dining on a full menu of individual Indonesian dishes as well as the iconic rijsttafel, an extravaganza that is best shared with others, who should come with a sense of culinary adventure and big appetites. A feast at Blauw is memorable and spectacular. The dishes are varied, attractive and delicious giving a gastronomic overview of the food and spices of Indonesia.

The meat and fish selection consists of Chicken Satay which is an unmissable classic, Goat Satay, Turmeric Beef, Spicy Beef, Sweet Soy Pork, Meat-Potato Pastry, Spicy Fried Potatoes, Spicy Shrimp, Shrimp Satay, Fish Curry, Fish in Soy sauce, Steamed Fish, Vegetables with Peanut Sauce, Roasted Coconut, Sweet-Sour Cucumber, Fried Banana, Tofu in Soy Sauce, Egg in Sambal Sauce, Vegetables with Coconut Sauce. That should surely be enough to sate the healthiest of appetites. All the above are served with White Rice and Fried Rice which should be eaten with small portions of the spicy dishes. No need to pile your plate but rather choose a little of this and that, keeping the various curries and satays separate to enjoy their individual and distinctive flavours. Non-meat eaters are not forgotten at Blauw as there is also an equally-sizeable vegetarian option.

Discovering food and drink is such a big part of travel. It's even more exciting when those discoveries are so unexpected and exotic. The Hague is home to embassies and head offices of international companies. The population of this grand city expect the best and it's easy to find. Blauw offers the style of meal over which to linger along with discerning friends who will appreciate the rich tapestry of flavours and colours. Order the rijsttafel at Blauw for a meal that you will be talking about long after you return home.

Restaurant Blauw
Javastraat 13
2585 AB 's Gravenhage

Phone: 070-7200900
Email: info@blauw070.nl

Visit Blauw here

Learn more about other destinations in The Netherlands here




Bel & The Dragon Godalming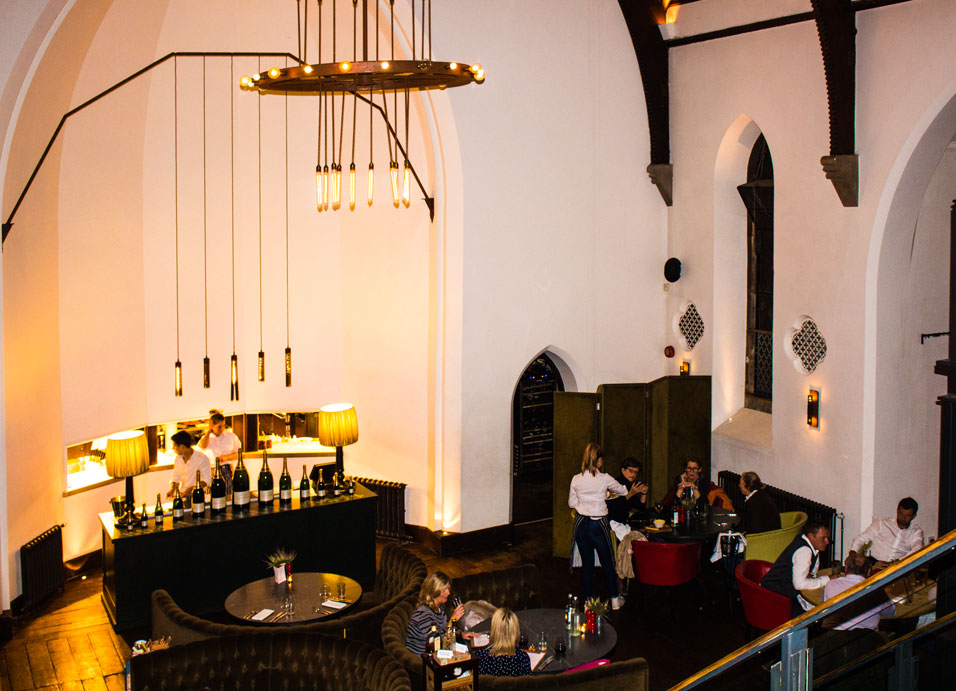 The town of Godalming is situated in the countryside in southern England but not far from London. Its narrow streets are lined with many historic buildings. It's a town with history.

The name means "of the clan of Godhelm", and the Saxon settlement of Godalming was first recorded in the will of King Alfred the Great of Wessex, in AD 899. William the Conqueror's Domesday Book of 1086 mentions this as a sizable village with watermills which played an important part in the prosperity of the town. From medieval times Godalming became a centre for the manufacture of woollen cloth. The success of the industry reached its peak during the reign of Elizabeth I.

Bel & The Dragon, Godalming, is part of a high-end hospitality chain in this charming and historic county of Surrey. The name of this restaurant is taken from Bible and mythology, involving Daniel, the priests of a pagan god, and that dragon that seems to crop up frequently in European fairy-tales!


The building is a strikingly beautiful former Congregational church built in the 1800s, and the imposing architecture has been tastefully restored and woven into the new and thoroughly harmonious design where appropriate – although the chef won't be serving soup from the font. The upper floor has long refectory tables and the original stained glass windows still remain, creating a unique ambiance for group dining. The restaurant with its high ceilings and gallery presents a number of areas for both eating and drinking, and there is the possibility of barbecues on the terrace during the summer.

Group head chef Ronnie Kimbugwe has created a series of menus for regular visitors as well as those attending the popular Supper Clubs, which are held on the aforementioned gallery. It's British cuisine here, with a focus on local and fresh produce. The open kitchen allows diners to watch the theatre of food preparation. It's better than TV. Dining is smart/casual but the dishes remain thoughtful, delicious and often whimsical. The beef here is outstanding and the side dishes are vibrant using quality, sustainable ingredients.


Bel & The Dragon Godalming is part of a chain but you would never guess. This restaurant has style, imagination and great individuality. The food admirably fits the location which works for those looking for great British cuisine as well as those dropping by for a drink. The management evidently prize unique buildings and are sympathetic in their refurbishing. This is a joy.

Restaurant opening hours

Monday – Saturday Lunch: 12 noon - 3pm
Dinner: 6pm - 10pm
Sunday: 10am - 9pm

Bel & The Dragon
Old Church
Bridge Street
Godalming
Surrey
GU7 1HY

Phone: 01483 527 333

Email: manager@belandthedragon-godalming.co.uk

Visit Bel & The Dragon Godalming here




The Strand Dining Rooms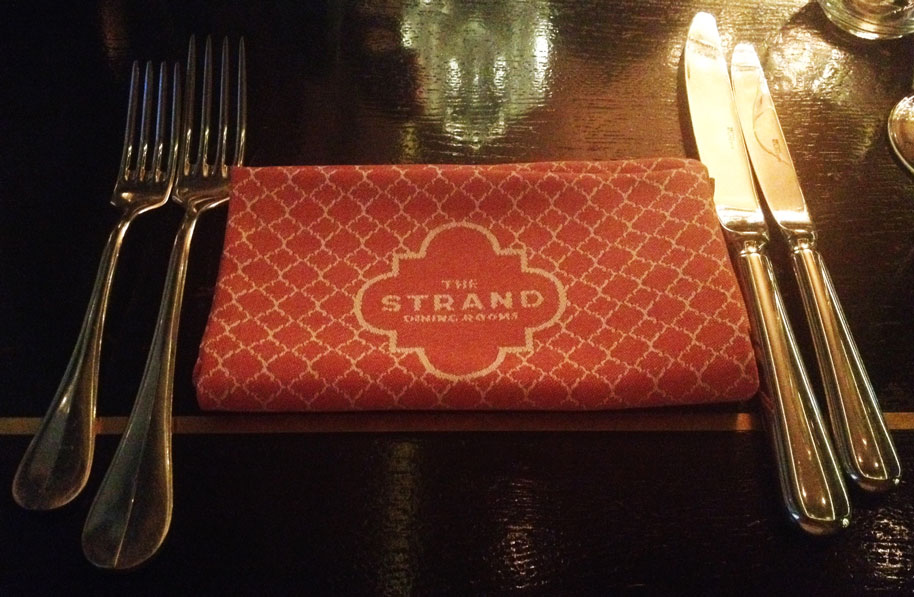 Located on Trafalgar Square in the centre of London, The Strand Dining Rooms offer all-day dining in smart and inviting fashion. The dining rooms are open for breakfast, morning coffee, lunch, afternoon tea, pre-theatre dinner and dinner. They have a focus on British cuisine with a nod to Europe and even, periodically, the days of the Raj.

Trafalgar Square has long been a magnet for tourists from home and abroad. From the 14th to the late 17th century, much of the area was the courtyard of the Great Mews stabling, which served Whitehall Palace, but in the early 18th century the mews were demolished. In 1812 the architect John Nash designed an open square in the Kings Mews opposite Charing Cross. He wanted the square to be a cultural space, open to the public. In 1830 it was officially named Trafalgar Square after the victory of Lord Nelson in the Battle of Trafalgar in 1805.

Work began on the National Gallery in 1832 and a decade or so later Nelson's Column, designed by William Railton, was erected. In 1845 the fountains were built, based on designs thought to be by Sir Charles Barry. They are the target for New Year revellers who, in the past, would take a midnight dip. The granite statue of Nelson was sculpted by E. H. Baily, and stands on a bronze platform made from old guns from the Woolwich Arsenal Foundry.


The Strand Dining Rooms are timeless and refined and present casual fine dining in a location that reeks of pomp and historic continuity. The décor takes its inspiration from the interior of a traditional Pullman train coach. It gleams with polished wood and architectural elements that waft one back a century or so, to a time when the pace of life was slower. This is, for me at least, a proper restaurant.

Wild mushrooms, and a generous portion of them, was my guest's starter. It's the season for them and they are a treat for those of us who like the delicate and savoury flavour. These were simply served on toast and needed no other garnish.

Cornish fish soup, toast and garlic mayo was my silky and luxurious start. There is something decadent about a good fish soup. This one was a melange of mild fish and shellfish and presented in the fashion of a French bouillabaisse with its accompaniments.

My companion took advantage of the game season and ordered partridge. He pronounced this to be flavourful and moist but not over-gamey. Partridges are little birds and so often cooked to a texture of leather. The Strand Dining Rooms showed respect and culinary skill.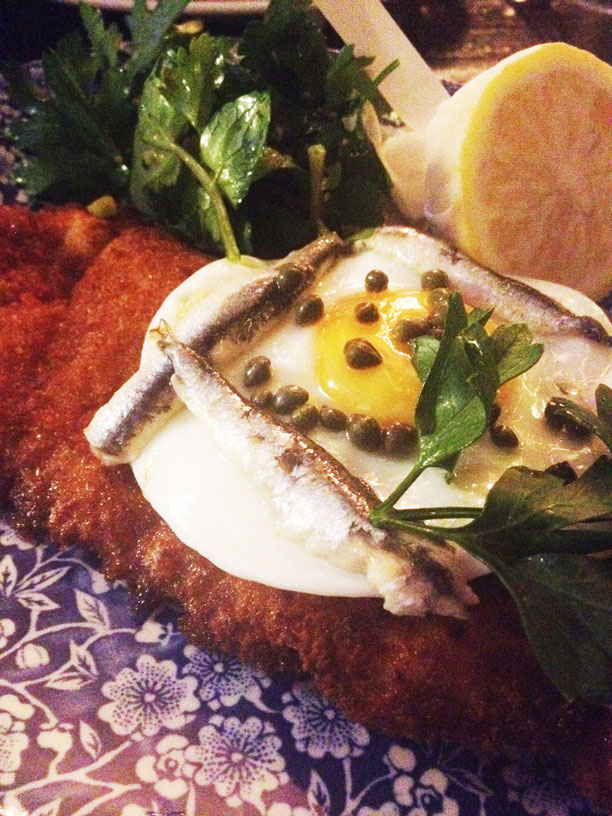 Although the core of the menu is British there is a distinct nod to mainland Europe. Pork schnitzel served with a fried egg, capers and anchovies was my main plate of the evening. This might sound, to the untutored, a right strange mixture but each element is there for a reason, the total being more than the sum of the component parts, so to speak. The slice of breaded meat was big enough to overhang the edge of the plate and there was lemon to squeeze over. The pork was topped with an egg with still-runny yolk which bathed the meat like a sauce. The capers gave a briny note but the anchovies added a rich saltiness which was a foil to the fried fare. This is a must-try at The Strand Dining Rooms.

Figs garnished with ice cream was my guest's simple yet seasonal dessert. These are abundant at this time of year so take advantage of them and, as at The Strand Dining Rooms, use in a delicious dessert, or bake with prosciutto.

The Strand Dining Rooms is perfect in its noteworthy location. The food showcases some of the best British dishes in the capital. Trafalgar Square might be a Mecca for visitors but the menu here offers authentic British fare, and there is something for every taste. We once had a deservedly bad reputation for our cooking but those days have passed and The Strand Dining Rooms holds its head high amongst London restaurants of any ethnic hue.

Lunch and Dinner times:
Monday – Saturday 12 noon – 11pm
Sunday 12 noon – 4pm

The Strand Dining Rooms
Grand Buildings - Trafalgar Square
1-3 Strand
London
WC2N 5EJ

Booking enquiries: 020 7930 8855
Email: info@thestranddiningrooms.com

Visit The Strand Dining Rooms here



The Strand Apple Apartments
We love to travel, and a stay at a good hotel is always a treat but it's hard to find that home-from-home feeling. We long for the flexibility of our own kitchen and a sense that we have our own front door. There is a solution for this dilemma, in the UK at least. You can have your very own apartment which still has the amenity of a hotel but with choices.


Apple Apartments has six properties across the UK and is continuing to grow nationally as well as internationally. They have staff who recognise the needs of their international clients and so they speak languages including Spanish, French, Italian, German, Mandarin Chinese, Bulgarian, Hungarian, and Romanian. They have recently been awarded a 5-star rating for Apple Apartments Aberdeen by the Scottish Tourism Board, the only serviced apartments provider in the area to receive such an accolade.

One of Apple's London apartment complexes is on the Strand in the centre of the city and that neighbourhood has a long history. The name Strand was first recorded in 1002 as Strondway. It is the Old English word meaning shore. It referred to the bank of the once much wider River Thames, before the construction of the Victoria Embankment which runs parallel to the road.

The Strand was the very centre of Victorian theatreland and nocturnal entertainment of every kind. But redevelopment of the East Strand and the construction of the Aldwych and Kingsway roads in the 1890s and early years of the 20th century finished many theatres.

The Strand was rebuilt and it became a sought-after location, with many writers and philosophers taking up residence. Charles Dickens and William Makepeace Thackeray were just two of them. These days the Strand is peppered with High Commissions and HQs. Australia House, Coutts – the bankers to nobility, the Royal Courts of Justice and Zimbabwe House are all here, along with Simpson's-in-the-Strand which has been around since 1828 and Twinings' tea room which goes even further back to 1706.


The Apple apartments are in the famous Marconi House, previously home to the original BBC radio studios. It's from here that the BBC made its first radio broadcast in November 1922, using a transmitter actually built by Marconi.

The façade of the original building remains but gone are the dusty offices. The reception area is a vision of dark marble. The corridors are wide and each door has bespoke illumination. Crisp and smart design and contemporary.
These apartments offer open-plan living with everything for a short or long stay. The kitchen is small but is equipped with high-end appliances and a dishwasher. You might not want to cook your Christmas dinner here but it's more than adequate for simple pasta and rice dishes and there is a dining area to tempt one into staying home for the evening. There are bookshelves for those who might be here for a while, inviting the guest to customize the accommodation with their own possessions.

This apartment is not short on technology for work and play. The living room has a plasma television of a size appropriate for a small cinema. There is a touch pad control system with integrated Airplay, mood lighting and climate control. There is an iPod dock, Nexus Tablet device with browsing and integrated touch pad control system, and WiFi. This is perhaps better than a home from home.

The bathroom has an AquaVision shower television for morning stock market news and there is a 24-hour concierge. Round-the-clock room service is provided by ME Hotel for those who want to forego the pleasures of self-catering, and daily apartment servicing is included. Complimentary apples are a whimsical and healthy addition. The accommodation that we reviewed was a single-bedroom apartment. The soft furnishings are neutral and there is ample closet and drawer space and a washing machine discreetly tucked away. One unpacks with pleasure and the expectation of immersion in London city life flowing just outside the front door, with an Apple apartment as a handy bolt-hole.



The Apple apartments at the Strand are bijou and comfortable. The location is superb, being so near bus routes and Underground stations and a non-ending stream of black cabs. Nearby attractions include Covent Garden with its numerous restaurants, The Royal Opera House, Fleet Street, Trafalgar Square, St. Paul's Cathedral, The National Gallery, The National Portrait Gallery and the River Thames. This is an ideal business and tourist nest.

Apple Apartments - The Strand
335 Strand
London
WC2R 1HA

Learn more about Apple Apartments here




Bird of Smithfield
Sounds like a family butchers which might have been trading for a brace of centuries. It is, in fact, a newish restaurant but right next to Smithfield Market, which has a much longer history.

Smithfield Market or, more officially, London Central Markets, is the largest wholesale meat market in the UK and one of the largest in Europe. It's found within the Square Mile of the City of London and it's housed in three imposing listed buildings not far from Barbican and St Paul's Cathedral. There has been a livestock market on this site for over 800 years and it has remained in continuous operation since medieval times.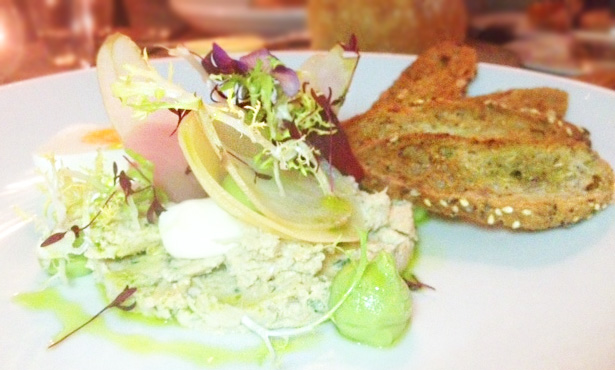 Since the late 1990s Smithfield has become more of a social hub and has developed a reputation with City types who frequent its bars, restaurants and nightclubs. Bird of Smithfield joined the ranks of those local hospitality establishments a couple of years ago and is already a destination restaurant of character.

A Georgian-style townhouse has been transformed into Bird of Smithfield, Alan Bird's restaurant featuring contemporary British cuisine. These labyrinthine premises boast two bars, a rooftop terrace, a private dining room and a restaurant, all this covering five floors.

Bird has eclectic design. There are still original features but the décor is a melange of tasteful retro with hints of earlier ages. The first-floor restaurant sports a mirrored ceiling which adds drama. Plenty of neutral colours on soft furnishings, with vibrancy from artwork.

The menu isn't huge but I don't think it needs to be. There are traditional dishes and some with a twist but all just right for this location. Guests seem to be after-hours city workers, although I dream of an early morning tour of the historic market followed by breakfast at Bird's. Or perhaps a few hours wandering the uplifting environs of St Paul's, with lunch at Bird's.

Smoked Mackerel and Crab Paté garnished with boiled egg with creamy yolk was my starter, although in reality we had scoffed the small loaf of freshly baked bread and generous pat of butter as our pre-starter-starter. The crab was delicate and the associated salad was fresh and light.

Herb and London Gin-cured Salmon was my guest's starter and it was a substantial portion of mild-cured fish. Salmon was once common in the Thames; gin has long been associated with London and was the downfall of many a citizen at a time when the water could kill you. This dish is a culinary archive and delicious too.

Traditional Cod and Chips with tartare sauce and mushy peas was my main dish. Yes, more fish, and just outside a meat market but it's associated with Britain just as much as is roast beef. This plate defeated me: it was a considerable portion of well-battered fish that seemed more steamed in its crunchy casing than fried in oil. Golden and not at all greasy, this is a must-try, especially for tourists. I am a great supporter of the local fish and chip shop but they are few and far between these days and they are of variable quality, but Bird's do this classic every bit as well as the white-tiled emporiums of yore. And those peas truly are meant to be that way and they are a comforting garnish to the perfect chips. Please don't ask for ketchup - it just doesn't work.


Alan's Shepherd's Pie was my guest's main course and it's a signature dish of the aforementioned chef/owner Alan Bird. This had a well-textured and flavourful lamb meat filling, with a decorative piped mashed potato topping. There was a small serving of peas but this hearty eater needed a side, and buttered spinach was a good choice. The only complaint was that the meat element could have been more generous. Perhaps that's just an illustration of the degree of enjoyment expressed by the diner.

Plum and Sherry Trifle is another very English offering. This was an individual serving of fruit, jelly, custard and cream. Another hefty helping so if you are modest eaters you might want to split one. If you are a dessert aficionado then perhaps forego the loaf of bread on arrival.

Bird of Smithfield is unique. It offers authentic British food, well-presented and no distracting frills. I was impressed with my meal and also with the quality of the service, which had more in common with fine, rather than smart/casual, dining. Birds is a must if you work in the City or are visiting. If they keep an eye on standards then this could become an institution.

Opening times
8.00 am – 12 midnight Monday to Friday,
12 noon – 12 midnight Saturday
Closed on Sundays

Bird of Smithfield
26 Smithfield Street
London EC1A 9LB
Phone: 020 7559 5100
Visit Bird of Smithfield here



Mango Tree for Regional Thai Cuisine
The Mango Tree Thai restaurant is a stone's throw from Buckingham Palace. A stone's throw in this case isn't estate agent speak for a couple of miles away. The Palace's garden wall is just across the road and literally a stone's throw away, although to do such a thing might likely result in the cartographic speculator being run in by the constabulary.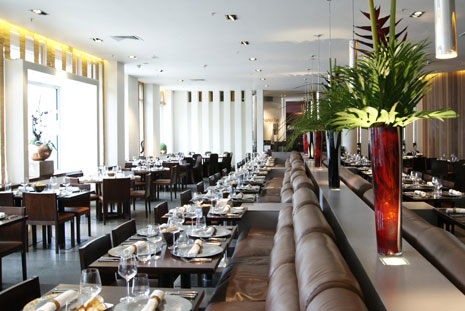 This is smart Belgravia. Most of the area was originally owned by Richard Grosvenor, 2nd Marquis of Westminster, who had it developed in the early 1800s. The area takes its name from one of the Duke of Westminster's other titles, Viscount Belgrave. The village of Belgrave, Cheshire, is just a short distance from the Grosvenor family's main country seat of Eaton Hall. Belgravia became one of London's most expensive residential areas and is now home to many embassies. Any restaurant here would need to be noteworthy.

This wasn't my first visit to Mango Tree. I have enjoyed numerous dinners and also a Sunday lunch or two here. It's a large but airy restaurant with a cosy bar at the entrance. Exotic cocktails might entice the diner to linger but there are equally engaging treats in the restaurant, which has been designed with consideration of the theory of feng-shui.

But there is a very contemporary accolade for Mango Tree. It's been immortalised by J.K. Rowling in her latest crime novel 'Silkworm'. Two of the characters are discussing another restaurant and one of them, we assume with the more refined palate, says 'It's not the Mango Tree, but it's all right.'

Thai cuisine often demonstrates more subtle spicing than many dishes of the sub-continent, but its land mass and geography has allowed Thai regions to develop their own culinary style, and Mango Tree has a new Regional Menu that allows diners to taste dishes with which they might be less familiar. It's an inspired notion and a delicious education.

For the purposes of this special bill of fare, Thailand has been divided into North, North East, South and Central areas. A starter and a main dish from each region are available and they are as diverse as they are tempting. They are recognised as being rich and mild flavours from the North, spicy foods from the East, mild dishes influenced by Chinese cuisine from the Central region, and hot and robust plates from the South.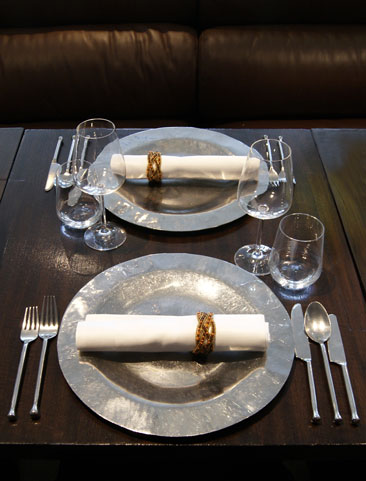 North Region Namprik Ong was the first of our starters. Minced prawn and chilli with sweet and sour ripened tomato sauce is served with fresh vegetables such as Chinese cabbage, iceberg lettuce, French beans, small Thai aubergines and crispy pork crackers. This classic, spicy dipping sauce confection is from the Chiang Mai area and is often included as part of the spread for celebrations. This is a build-your-own starter and ideal for sharing. The chilli is flavoursome rather than being overpowering.

Central Region Kiew Kai Tod was our second starter – deep-fried quail eggs wrapped in wonton sheet, served with spicy sweet chilli sauce were crispy morsels. That sauce is an essential part of the dish. These little egg kebabs would be a wonderful accompaniment to those aforementioned cocktails.

North Region Khao Soi was the first main dish to share - noodles cooked with coconut milk with legs of chicken, chilli oil, coriander, lime and red onion. This is a Burmese-influenced dish served widely in northern Laos and northern Thailand but with many variations. Mango Tree offers a refined soup with well-balanced flavour and light texture. If you like the more ubiquitous Massaman curry then you will love this.

North Eastern Region Sea Bass Moke was our other sharing plate - baked sea bass fillet with traditional North Eastern Thai herbs, lemongrass, galanga, garlic, lime leaf, fresh dill, sweet basil, and oyster and fish sauces. This is another luxurious celebratory dish and well worth ordering. The fish was succulent and beautifully presented, wrapped in leaves and wafting aromatic steam.

Mango Tree has never failed me. It continues to tick boxes for quality, freshness and elegance. The location is ideal for both locals and visitors alike. It's near a host of tourist attractions but in a calmer spot. This is a restaurant which can boast regular diners as well as those who are newly intrigued by its literary celebrity. Those folks might initially come as it's an evident favourite of Harry Potter's mum, but they will return, as it will have become a favourite of theirs.

The traditional Taste of Thailand menu will run from 15th September until 15th November. To book email info@mangotree.org.uk

Mango Tree
46 Grosvenor Place
London
SW1X 7EQ
Phone: 020 7823 1888
Fax: 020 7838 9275
Visit Mango Tree here



The Princess, the Palace and the Painter
OK, so I have lied and we are only into the first paragraph! The Princess, the Palace and the Painter is an intriguing title with almost fairy-tale charm. All the characters are real, although the Painter was actually an Artist, but that didn't begin with a 'P'.

The story is set in The Hague in the Netherlands with a queen who was born in Germany. Emma was a princess of the principality of Waldeck-Pyrmont. The family was connected, as all European noble families seem to be, to the British monarchy and others. Her brother, Friedrich, was the last reigning Prince of Waldeck-Pyrmont and her sister, Helena Frederica, became the wife of Prince Leopold, Duke of Albany, son of Queen Victoria and Prince Albert.

Emma's marriage in 1879 to the elderly William III, King of Holland, was considered a marriage of convenience as he was 40 or so years her senior. William's first wife had died two years before. He had a bad reputation as "the greatest debauché of the age" and had already been rejected by Emma's sister Pauline and by Princess Thyra of Denmark.

William wished to be succeeded by a son. He had three with his first wife but they had passed away before their father. However, it was a daughter who arrived and eventually became Queen Wilhelmina. She was only ten years old when her father died, leaving Emma as Regent till Wilhelmina reached her majority.

Queen Emma became extremely popular, in contrast to her late husband. She is said to have saved the Dutch monarchy and been the cornerstone of its strength in modern times. She lived in many palaces but bought Lange Voorhout Palace in 1896 as her winter home.

In 1760, Pieter de Swarte had designed a house on the Lange Voorhout for the mayor of the Friesian town Sloten. The building was purchased in 1796 by Archibald Hope who was a financier of the European nobility. Queen Emma bought the building with the legacy from her brother-in-law Prince Hendrik. She evidently thought the old house needed updating as she had it extensively remodelled before, in 1901, taking up residence after the marriage of her daughter Queen Wilhelmina.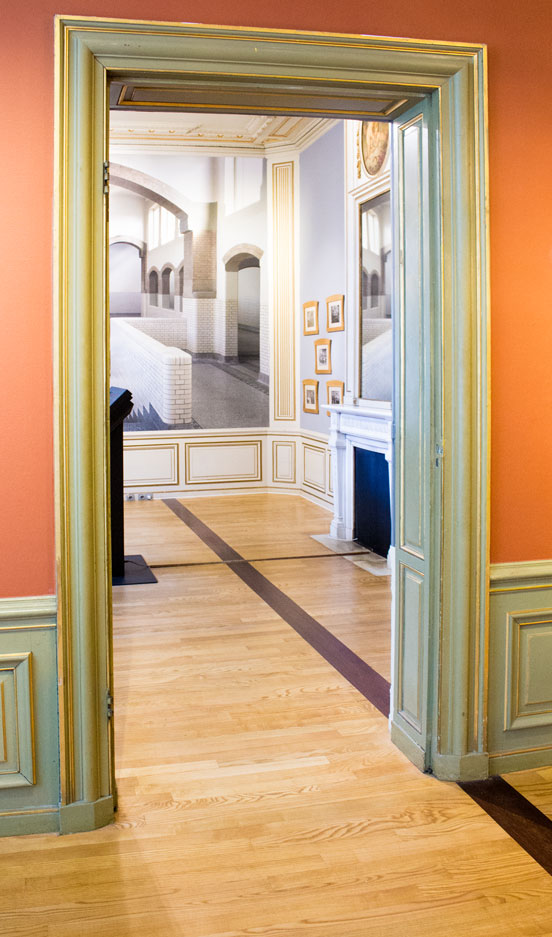 These days the palace can be visited by anyone interested in architecture as well as art, for it is now also a gallery. We can see the celebrated staircase up to the first floor with its copper rail that in the time of Queen Emma had to be polished each week by Royal command. Only three people could use those ornate stairs: her majesty and her two most trusted ladies-in-waiting. The servants had to use the staircase that runs behind the walls and this is still used by visitors today. Queen Emma converted the garden room into a ballroom, she added stained glass and a bathroom with hot water.

This building was not only the Winter Palace of Queen Emma, but also the working palace for the Princesses Wilhelmina, Juliana and Beatrix. There was a famous and much-photographed tradition of hand-waving by the Royal Family on the balcony at the front of the building. The family sold the building to the local authority of The Hague on condition that it would only be used for cultural activities – and that's where the artist comes into view.

Maurits Cornelis Escher (1898-1972) is one of the world's most famous graphic artists. His works are recognised by millions of people across the globe – one might not know his name but he created so-called impossible constructions, such as Ascending and Descending, Relativity, Transformation Prints, the Metamorphosis series, and many more works that intrigue and provoke thought.

Escher's other works are less familiar but are, in my opinion, just as striking and they show a more traditional face of this multi-talented native of The Netherlands. He produced beautiful and much more realistic pieces when he lived and travelled in Italy. He made 448 lithographs, woodcuts and wood engravings and over 2000 drawings and sketches. He illustrated books, designed tapestries, murals and postage stamps.

Escher in Het Paleis (Escher at the Palace) is a permanent exhibition dedicated to this unique artist. It is the only public building in The Hague where the original royal ambience of a palace has been preserved, making this a must-see for any discerning visitor to the town. There are over 150 prints and a changing selection of graphic art and tessellations. The centrepiece of the exhibition is the 7-meters long Metamorphosis III. The exhibits are displayed in rooms decorated in classic fashion with whimsical glass chandeliers which are in themselves noteworthy.


Maurits Cornelis Escher would, I don't doubt, approve of this home for his life's work. The fabric of the building offers an insight into a bygone age of elegance and refinement, and Emma's journey will fascinate those who follow European Royalty. The palace offers visitors art and history in a fashion that will be enjoyed by every member of the family, who will each take away something a little different from this delightful experience.


Learn more about Queen Emma, Maurits Cornelis Escher and the Palace here


Lange Voorhout 74
2514 EH Den Haag
Netherlands
Phone:+31 70 427 7730

Hours: Open Tuesday to Sunday 11:00 am – 5:00 pm




The History of Wine in 100 Bottles
- From Bacchus to Bordeaux and Beyond
Oz Clarke is always entertaining in a roguish kind of way. He has graced our TV screens and our airways for several decades and his books are a paper representation of his wine adventures.


This is a man who has indeed enjoyed wine and that joie de vivre comes through in this book. Oz leads us on his personal odyssey through styles of wine, bottles of wine and memories of wine. The History of Wine in 100 Bottles - From Bacchus to Bordeaux and Beyond is a collection of anecdotes with wine and its history at the core – and a fascinating story it is.

This is just the kind of book an enthusiastic wine lover would include on a wish-list for Christmas. It's a tome with which to snuggle, perhaps in front of a yule-log fire. That aforementioned sipper will be charmed by Oz's conversational style, but this man also educates in a most palatable fashion.

Wine snobbery has long been with us. It has served to alienate many of us who would like to know more. Granted, we might remember the name of a couple of favourite bottles but confront us with a stiff and starchy sommelier and the resolve to order with confidence evaporates like the angel's share in a chilly cellar. This book might not direct you to a particular bottle, grape, or vintage but it will give reassurance and encourage a bit of conversation between you and the sommelier, whose mission should be to serve both you and the wine.

Oz has a broad love of all things viticultural and that includes such oddities as Retzina and wine boxes – they are mentioned under the date section 1965 in Oz's chronological listings, to give historical context. Mateus is included, and dated 1942, although it was the wine of (very little) choice in the 1970s, being prized as much for its bottle shape as its contents.

Everything you ever wanted to know about wine labels, screw caps, prohibition, synthetic corks, marketing and bottling is all here. The History of Wine in 100 Bottles - From Bacchus to Bordeaux and Beyond is my bedtime companion and will remain so till I reach the last delicious sip, the last jolly quip and the last grapey musing. It's a winner.

The History of Wine in 100 Bottles - From Bacchus to Bordeaux and Beyond
Author: Oz Clarke
Published by: Pavilion Books
Price: £20
ISBN-10: 1909815497
ISBN-13: 978-1909815490




Grapes & Wines
- A comprehensive guide to varieties and flavours
First published as Oz Clarke's Encyclopaedia of Grapes, Oz Clarke's new Grapes & Wines, with Margaret Rand, is revised and updated to present the wine lover with the best information on a comprehensive selection of grapes and the wines associated with them.

Oz Clarke has become a household name. He oft graces our TV screens and has written a shelf-load of books on wine. This particular volume might well act as an indispensable handbook for those of us who don't know much about wine and don't even know enough to ask about what we don't know.

Seventeen classic grape varieties are covered in depth, with another fifteen major grapes also discussed in some detail. Oz touches upon more than three hundred grape varieties in total, categorized from Abouriou to Zinfandel.

This is a book that will help to demystify wine. Each section is a one-stop-shop for information on the specifics of each grape variety. The chapters on the classic grape varieties are outstanding, with pages of historical context, terroir, taste profiles, countries growing particular grapes, and also notes on the most celebrated producers, as well as how to enjoy each wine at its best.

Grapes & Wines - A Comprehensive Guide to Varieties and Flavours is a book to give confidence to the beginner or non-professional wine enthusiast. It will be a must-have for anyone lucky enough to go on a wine tour, and gives the home wine buyer a few ideas for wines that will fit their personal taste. It's great value for money and is bound to become a best-seller. It's beautifully presented with illustrations, photographs, maps and diagrams, making this book truly gift-quality.

Book review:
Title: Grapes & Wines
Authors: Oz Clarke and Margaret Rand
Published by: Pavilion Books
Price: £25.00
ISBN-10: 190910862
ISBN-13: 978-1909108622




The Rib Room – for more than ribs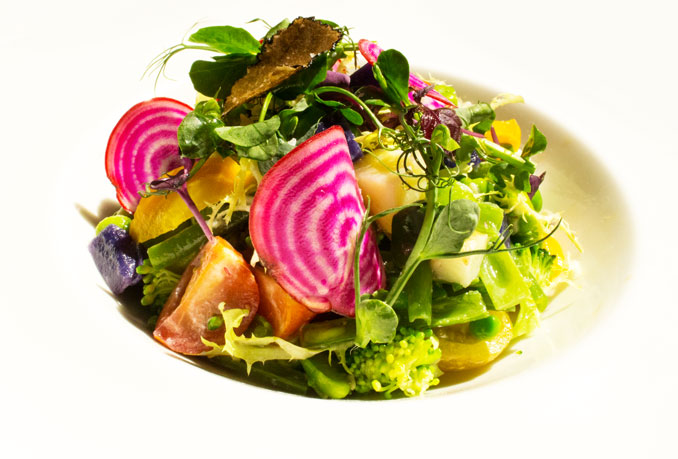 The food scene in London has changed so much over the past couple of decades. We have moved away from that shocking reality of poor quality, few interesting options and culinary apathy. We have some of the world's best restaurants, the most vibrant international dishes and a huge panorama of choices.

A few years ago no self-respecting food-lover would ever admit to eating in a hotel – well, only if it was a smart one and then only for breakfast. We have moved on from that concept of hotels not trying with their gastronomic facilities. We all remember those lunches in dining areas that still had a whiff of a Full English about them. Gone are the days, mostly, when a dinner in one's hotel was the last resort of the desperate.

The Rib Room is the dining room at Jumeirah Carlton Tower, not too far from Harrods. Yes, it's on the ground floor of a newish hotel building but this is a classy and classic restaurant that shouts quality. It's a polished and refined establishment which stops short of intimidating. The staff are friendly and helpful to a lunch crowd who are mostly Ladies Wot Lunch, with a scattering of businessmen. It's a quiet and comfortable meeting place with the advantage of marvellous food at hand.


The dining room is bathed in dappled light from colonially-shuttered windows. There are well-spaced chairs and cosy banquettes. The tables are bedecked with crisp white linen and silverware in elegant fashion but the menu tempts with both the familiar and the unique. The Rib Room has its beefy signature dish but more.

The menu has seasonal changes which take advantage of abundant fresh produce. My visit was in August so a corn and crab broth was on the bill of fare. This was a light and creamy soup with fresh shellfish. A delightful presentation and appropriate for a day when the sun beamed through the windows looking over Cadogan Place. It's the area which once was the haunt of the likes of Oscar Wilde (he was arrested at the Cadogan Hotel near here) and Lillie Langtry.

Summer vegetable salad, goat's curd and summer truffle dressing was my guest's starter. This was a sizable portion of baby vegetables at their best. There was evidence of real truffle along with tangy and fresh goat's curd. Even non-vegetarians would be charmed by this simple and delicious plate.

The main courses offer vegetarian options that don't seem like a chef's afterthought. Bread-wrapped wild mushrooms, onion purée, baby carrots and garlic velouté sounded interesting and it was. The bread (or was it a pastry?) formed a crust supporting mushrooms which had the very essence of wild fungi flavour. The velouté was a delicious base, being flavourful rather than overpowering. A must-try here for anyone taking a break from meat.


But it's roast rib of beef that gives its name to this restaurant and it's a worthy signature dish. My guest is a son of Yorkshire and a self-proclaimed connoisseur of the eponymous pud; he considered his lunch to be 'reet champion' in every regard. The beef was a perfectly cooked 160g slice from a joint selected from Donald Russell, Royal warrant holder since 1984 and trusted supplier to H.M. The Queen. A very hearty eater could go for a 220g portion but I'd recommend that only for a rugby player or for dinner, when there is more time to savour. Do have the crispy and fluffy roast potatoes here as they are the traditional accompaniment to such a meal, along with the aforementioned Yorkshire Pudding.

Prices are very reasonable at The Rib Room at lunchtime. There are some wines by the glass, 2 courses for £28, 3 courses for £34, 3 courses and half a bottle of wine, water and coffee or tea for £42.00. One doesn't have to break the bank to enjoy The Rib Room, and one feels rather pampered in this charming and timeless restaurant.

Restaurant Review:
The Rib Room Bar & Restaurant
Jumeirah Carlton Tower
One Cadogan Place
London
SW1X 9PY

Phone: +44 (0) 20 7858 7250
Email: reservations@theribroom.co.uk

Visit The Rib Room here




Warren House – Kingston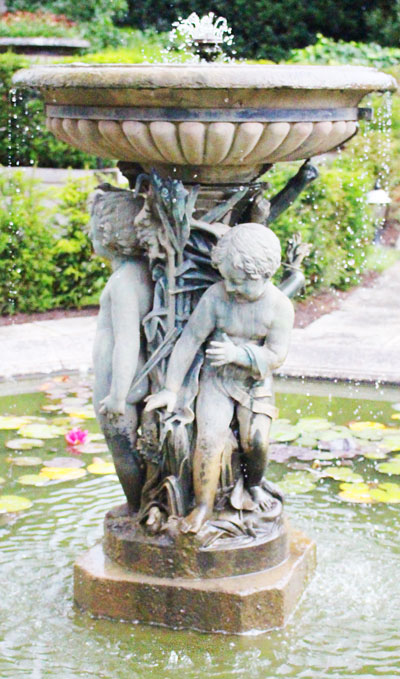 We might be in London for a short holiday. We see the sights, monuments, museums. We shop till we drop and we are swept along by throngs of others looking for the same delights of retail therapy. But there is another vision of England. It's that 'green and pleasant land' of manicured gardens, country houses and calm. There is just such an idyll and it's only a short distance from central London.

A magnificent Victorian country house provides a step back in time to a gentler era where the sound of croquet balls being hit might likely be the only noise to remind one that there are other people about. Warren House has history, gentility and charm. Its fabric is original but there are modern amenities to pacify even the addicted iPhoner or business-oriented sort.

Warren House is set in landscaped gardens, with facilities for both commerce and leisure. But this area has been documented for hundreds of years. Since the Middle Ages the neighbourhood has been on the route from London to Portsmouth. Kingston Hill was well established even before Charles I enclosed Richmond Park in 1637. Small estates were established during the late 18th and early 19th Century, and in 1837 His Royal Highness Prince George, Duke of Cambridge, grandson of George III, acquired the seat of the late Earl of Liverpool at Coombe. The improved road to London brought the City within an hour's carriage ride, and the area began to attract the wealthy.

The original Warren House was built in 1860 for Hugh Hammersley on 16 acres of land leased from the Duke of Cambridge. Hammersley was a partner in the successful London firm Cox and Co, bankers to the British Army and they must have done very good business. The estate remained his country retreat until his death in 1882, when it was bequeathed to his wife Dulcibella, an ancestor of Sir Anthony Eden, a future Prime Minister.

George Grenfell Glynn, the second Baron Wolverton, purchased the house and land in 1884 and made additions to both. His wife, Lady Georgiana Wolverton, was great friends with Mary Adelaide, Duchess of Teck, mother of the future Queen Mary, who lived at White Lodge in Richmond Park. Lady Georgiana continued to live at Warren House until her death in 1894.


American heiress Lady Mary 'Minnie' Paget bought the freehold of the property in 1907 and regularly entertained the rich and the powerful at Warren House. Many of the noteworthy features of the House - the Ballroom, the Persian fireplace, the Italian-style Loggia and the Winter Garden and its Grotto - were added by the Pagets. Warren House passed to her daughter, Dame Leila Paget. She was the first British Dame, honoured for her work with the Red Cross in Serbia during First World War. She continued this charitable work during the Second World War when she converted Warren House into a military convalescent home.

The industrial giant ICI used Warren House as a Conference and Training Centre until 2000. Since 2005 Warren House has been in private family ownership, and continues as a fine conference and events facility, but it's also an intimate hotel and just perfect for a short break. The hotel has 46 well-appointed bedrooms, a lounge, a bar, four inside dining spaces, a fully-equipped cardiovascular gym, a sauna and a heated indoor swimming pool. Outside is a garden chess set as well as the aforementioned croquet lawn.


The hotel still sports many original features including a magnificent carved wooden staircase. One still has the sense of staying in a private stately home. The rooms have classic décor which works perfectly with the architecture. Bath/shower rooms are modern and the toiletries are covetable. Warren House is grand but comfortably accessible and timeless.

After a tough day sitting in the shade of a tree, playing garden games or reading a book, one will likely be starving and longing for dinner. The Persian Dining Room is stunningly beautiful with exotic Eastern mouldings and a striking fireplace that would be considered a centrepiece were it not for the fact that it's in a corner.

The menu is interesting, well-balanced and tempting. My starter was a smoked haddock scotch egg. In fact there were 2 miniature scotch eggs, each containing a quail's egg surrounded by delicately flavoured smoked fish. My guest's starter was an equally light and innovative bowl of grilled courgettes, peas, ricotta mousse and Gremolata sauce. Both these dishes were flavoursome and very different. The chef was already showing his credentials.


My companion's main course sounded interesting and hearty. This was a substantial serving of confit duck leg with duck liver and pomegranate, served with spiced aubergine. The leg was cooked to perfection but those livers were like butter. I am not normally a lover of anything offally but these were savoury yet not overpowering in any way. This dish is a must-try for any meat-lover when they visit Warren House.

But vegetarians are not forgotten and I was intrigued by a cauliflower steak, cauliflower beignet and crispy couscous. This was a unique vegetable dish that turned the humble cauli into a triumph of design and flavour. The slice of vegetable had organic architectural elegance and the grilling gave additional flavour; the battered vegetables were moreish and airy. Yes, only a plate of veggies but it was satisfying and memorable.

My guest has ever been a man ready to sacrifice himself on the altar of dessert, so he ordered the banana mousse and glazed bananas. The presentation was attractive with short columns of banana topped with crunchy caramel, flanking the mousse which had concentrated flavour – once again the chef showing that simple ingredients can be elevated into something noble.

We spent just one night at the Warren House hotel but that has acted as an encouragement to return. The grounds are lush and leafy, the fountains romantic, the rooms are havens for the weary, and the food is sumptuous.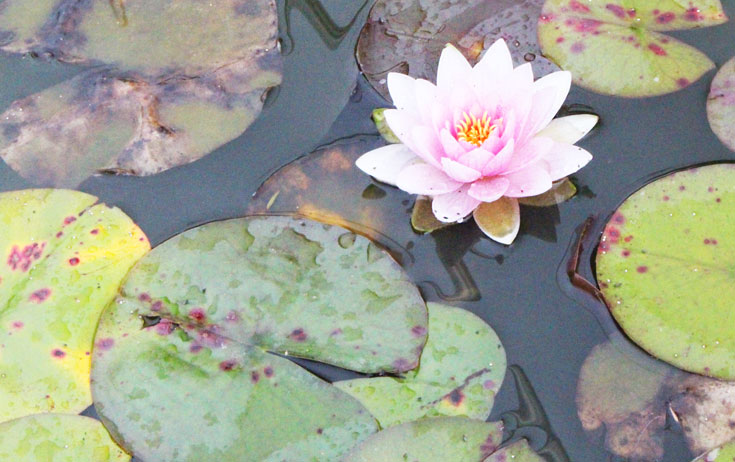 Take a little time away from the capital on your next trip to London. Kingston has great public transport connections, and if it's an hour away by horse-drawn carriage then you can bet it's quicker by train (from Waterloo) or car. There is even a river boat for those who want extra adventure and have the lightest of luggage. Warren House is a world away from the usual London hotel chains, and won't disappoint.

Hotel Review:
Warren House
Warren Road
Kingston-upon-Thames
Surrey KT2 7HY

Phone: +44 (0)20 8547 1777
Fax: +44 (0)20 8547 1175

E: info@warrenhouse.com

Visit Warren House here



Côte – Dinner in Kingston
This is a lovely spot on the River Thames and well patronised by shoppers during the day and socialisers in the evening. But despite its modern façade, Kingston has history.

It belonged to the king in Saxon times, as its name suggests, and was the earliest recorded royal borough. It was first mentioned in documents as far back as 838 and it lay on the boundary between the independent kingdoms of Wessex and Mercia. Kingston's historic Market Place has been a centre of the community since around 1170. Over the past 800 years it's been used for the punishment of criminals as well as the sale of food.

We wanted an evening by the river after a hot summer day. This stretch of water has inspired books, films and TV. It is where the Victorian novel Three Men in a Boat by Jerome K. Jerome has its opening scenes. The area around Kingston Bridge is now a thriving café and restaurant neighbourhood, and that's where we were heading.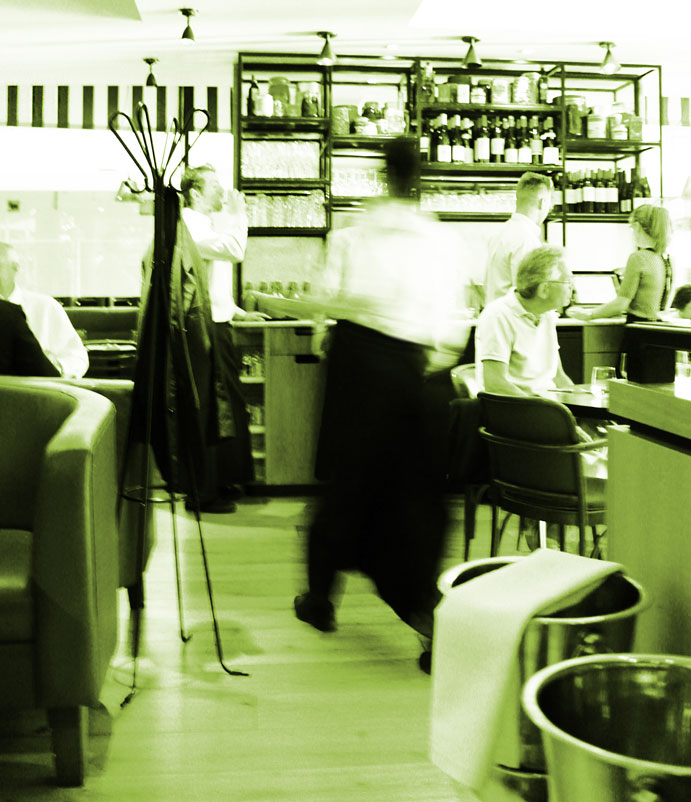 Côte's Brasserie is a branch of a chain but let us not be sniffy about that. If one didn't know then one would think that this restaurant, at least, was just a rather nice independently-run contemporary space selling French food. Its location would likely ensure its popularity for much of the year but the quality of the food will keep it full for most of the day and for all of the year.

Piquant Mixed Olives - spicy marinated olives with rose harissa, caper berries and cornichons - were our nibbles as we leafed through the wine list (many by the glass) and food menu. It's not a huge bill of fare but it's comprehensive and offers a real flavour of France – good traditional dishes that have had many pontificating with such phrases as 'Well, nobody does it like the French', even when we do!

The Charcuterie Board was my starter and proved to be a substantial spread of jambon de Savoie, smoked duck breast (outstanding), saucisson sec and duck rillettes with baby gem salad and chargrilled pain de campagne on the side. This would constitute a small lunch in some quarters! Beautifully presented meats.

My guest's starter was Baked Crottin, traditional goat's cheese from the Loire Valley, served warm atop a lamb's lettuce and apple salad, walnuts, croutons and sultanas. This is a classic combination with the tang of the soft cheese contrasted with the sweet fruit.

Traditional Breton fish stew was my main course. Sea bass was arranged on top of a sizable portion of mussels, clams, prawns and squid with tomato, white wine and chilli. It was served with a bit of theatre as the domed lid was removed from the bowl. Under £14? A remarkable price. It was heavy on the fish element and has enough delicious broth to make some French bread an essential mopping-up side dish.


Poulet 'Breton' is a speciality here. It's corn-fed chicken reared in Brittany in the west of France. Half Chargrilled 'Breton' Chicken served with frites and wild mushroom sauce made with crème fraîche and thyme was my guest's main course. Nothing fancy or too cheffy, just chicken and chips done right, with the quality of ingredients shining through. The sauce was a masterful touch and full of earthy flavour from real wild mushrooms.

Chocolate and praline crêpe with caramelised bananas and crème Chantilly was a shared dessert. This was a delicate finish to the meal. The pancake was light and the bananas were a delightful combination of crisp and soft. Very French but with a little exotica. This was worth waiting for, although the apple tart had sounded tempting, too.

Côte Kingston is both contemporary and traditional. Its food can be enjoyed by the whole family without breaking the bank. It's great value for money but quality had not been sacrificed. Service is professional and the ambiance is vibrant. Well worth a visit.

Restaurant Review:
Côte Kingston
Unit 6, Riverside Walk
Kingston Upon Thames
KT1 1QN

Phone: 020 8546 9422

Email: kingston@cote-restaurants.co.uk

Visit Côte Kingston here




Le Garrick – Covent Garden
Le Garrick restaurant and wine bar is conveniently located in the heart of Covent Garden in London's West End. It's a little gem and after just one visit has become my preferred restaurant, my dining establishment of choice and a place I am almost loathe to promote for fear I won't get a table next time.


Their beautiful website gives a little history. Brendon, who owned Le Garrick for 25 years, has moved on and passed the baton to Dominika and Charles and they seem to be doing a sterling job. Le Garrick is the sort of restaurant that one hopes will never change. It's a bit like a favourite old uncle who is full of character and is very 'individual'.

The ground floor restaurant is small but has the advantage of views of the bustling historic neighbourhood of Covent Garden. This is Theatreland and one might spot a famous face from one's vantage point, and there is always the chance of having a brace of thespians on the neighbouring table. It's that kind of restaurant.

But go downstairs to discover the real charm of Le Garrick. This space was evidently once a cellar and it still retains alcoves and nooks which create a restaurant which is, just like that favourite old uncle, pleasantly eccentric. The ambiance is intimate, the staff are naturally friendly and the food is simple yet for which to die – French food which is better here than some restaurants I have visited actually in La Belle France!

It's unsurprisingly a traditional French menu with a host of classics to tempt carnivore and vegetarian alike. It's the sort of bill of fare that has any Francophile salivating and any xenophobe admitting that those French do have a way with food. It's the kind of menu that has one promising another visit just to try a little plate of this or a bowl of that.


Escargots de Bourgogne was my starter. Six Burgundy snails (thankfully without shells which are always so fiddly) cooked in garlic and parsley butter. The menu says these are a 'must try!' and they really are. Some snails can be rather earthy but these were sweet and moreish in a butter-dripping-off-chin kind of way.

Cassolette de calamar à la plancha au piment d'espelette was my guest's starter. That's pan-seared calamari Basque-style with a sprinkle of coriander, ginger, and the famous Espelette chilli. These peppers were introduced into the Basque region of France from the New World during the 16th century. They've got plenty of heat but rich flavour too. More butter with this dish but I was too busy mopping those juices to worry about weight-gain. This was memorable and just as much a 'must try' as the aforementioned snails.

Faux Filet with sauce au poivre was my main course. This was a fairly hefty chargrilled rare-breed rib-eye steak served with fries and peppercorn sauce. I ordered mine medium rare and it was pink and flavourful. This is a standard dish of steak and chips but it's hard to beat when done well. The wine list here is solid and sensible. A great selection of wines by the glass, bottle or carafe. The Côtes du Rhône was just right, alongside my overflowing plate. Did I mention the generosity of servings here? Petit Pois Grand-Mère - peas with lardons and baby onions - was hardly necessary in addition, but those vegetables were fresh and light and made me feel a bit nobler.


Authentique Cassoulet de Toulouse is the celebrated dish from south-west France. This was my guest's choice for main course and appropriate for a cold and wet English evening. Lingot beans with duck confit, pork belly and garlicky Toulouse sausage made a substantial plateful which defeated my companion, who was all for asking for a doggy bag for the leftovers. Another spot-on dish.

Crème Brulée was our shared dessert but with a little Canelé by way of garnish. These sweets were the perfect end to an outstanding meal. Le Garrick is right in every regard. The service was professional yet fun, the décor added to the discreet ambiance. The evening is still being talked about and a return is certain in the very near future.

Restaurant Review:
Le Garrick Restaurant
10-12 Garrick Street
Covent Garden
London
WC2E 9BH

Phone: 020 7240 7649
Email: info@legarrick.co.uk

Visit Le Garrick here.




Roka Brunch – Aldwych
Brunch is perhaps my favourite meal of the week. It isn't a big, indigestible breakfast with the prospect of needing a nap by 10.30 (although I can be tempted by an English fry-up at almost any time). It's not a dinner, when one might be exhausted from the exertions of the day and much prefer Marmite on toast, a cuppa and an early night. This is Sunday Brunch and it is perfectly timed, and something over which to linger.

Aldwych has the attraction of good restaurants and theatres. Its transport connections are excellent, being within a short distance of Covent Garden as well as Temple and Embankment Underground stations. It's the ideal spot to start a Sunday of unique shopping opportunities, tourism and food.

ROKA Aldwych is the fourth ROKA to open in London and it marks the 10th anniversary of the opening of the flagship of the restaurant group, on Charlotte Street. This restaurant shouts understated class. One is aware on arrival that this is going to be a rather impressive establishment. The swish of the two sets of automatic glass doors hints at exclusivity.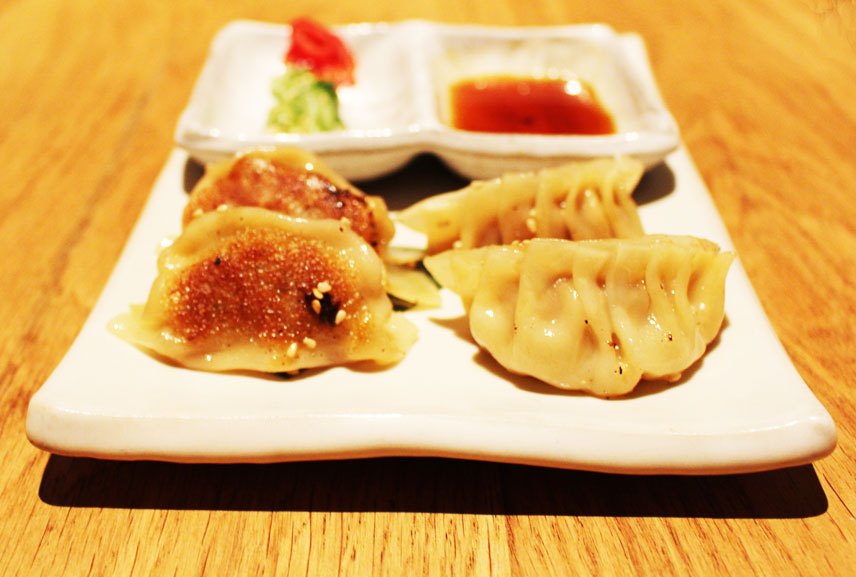 I have not, as yet, visited the other ROKAs but this one is striking. There is a central open kitchen with its usual counter seating but then there are regular tables with generous spacing between. Although there are no outside windows in the main restaurant, the height of the ceiling and the lighting create an airy and spacious dining room that is welcoming to parties as well as couples.

The grey timber walls offer a neutral and natural backdrop to the activity of this vibrant restaurant. It presents a very subtly Japanese note to this not overly-themed restaurant, but the food is indeed contemporary Japanese, based on tradition. ROKA takes the diner away from the ubiquitous sushi (although that's on the menu) and into the broader realm of real Japanese food.

The word ROKA is the Japanese name for a meeting place where food and drinks are served to friends (ro) with heat and warmth (ka). The Sunday Brunch for me and my companion included both hot and cold dishes from the regular menu, and main dishes from the robata grill: this method originates from the fishermen of the northern coastal waters off Japan, who would cook the catch on their boats.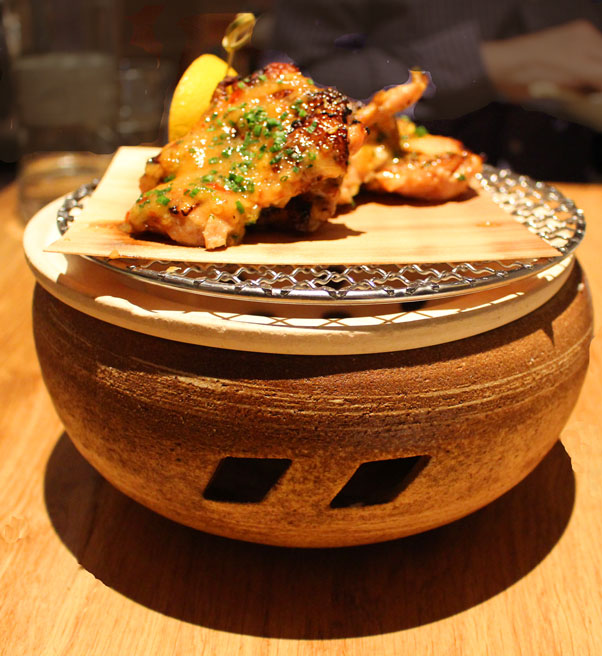 The Brunch menu is divided in two with all of the starters included, and then one has the choice of main courses, so we started our culinary adventure with edamame salad with ginger and soy dressing. These beans are light and just right as part of a starter selection, or even alone with drinks before a meal.

Otsukemono no Moriawase are an array vegetable pickles which are so popular in Japan, with each family having their own favourite recipes …when they don't buy them from the store, that is.

Horenso no Ingin Salada was an absolute delight and I am stealing this simple idea for myself. It's baby spinach leaves with a light sesame dressing made with tahini, dashi stock and sesame seeds.

Tempura Moriawase is assorted tempura in some of the best batter you will find in London. The seafood and vegetables were all cooked to perfection in a crunchy coating that was practically greaseless. Just a little spicy sauce was all that was needed by way of condiment.

Jagaimo to Tamago Salada was a real surprise and might fall into the category of Japanese comfort food. It was a mashed potato salad with bacon and egg and was moreish and, strangely, this did work with the more traditional starters that included beautifully presented sashimi, and sushi in the guise of the outstanding crispy prawn and avocado maki, and others. The Gyuniku to Goma no Gyoza are a Japanese take on Chinese dumplings. These were stuffed with beef and ginger and were tangy and fresh.


Hinadori no Miso Yaki was my guest's choice of main course. This is grilled baby chicken with lemon, miso, garlic and soy. The chicken was served atop a traditional table-top grill although this wasn't the cooking implement – the grilling had been done back in the kitchen. It did make a striking presentation for one of the best chicken dishes I have had in ages. It's a must-try here.

Gyuhireniku no Pirikara Yakiniku is another worthy dish for meat-eaters. This was a considerable serving of tender beef sirloin with a little chilli and spring onions. Granted, it's not overtly Japanese but it fitted admirably with all the other dishes.

Then there was dessert. It was the ROKA dessert platter. I have had dessert platters before so was just about getting my coat on when it arrived. There has got to be a better name than ROKA dessert platter. Yes, OK, it was dessert and it was served on a platter but this was an extraordinary sweet confection of chocolate, sorbet, ice cream …and some fruit to make the diner feel noble even after some outstanding truffles.

ROKA ticked all my previously pencilled-in boxes and added a few more. It's a matter of taste, for sure, but ROKA was very much my taste. My taste for hot Japanese food. My taste for thoughtful design. My taste for relaxing afternoon ambiance. I can highly recommend this Brunch. It's worth waiting six days for.

Restaurant Review:
ROKA Aldwych
71 Aldwych
London
WC2B 4HN

Phone: +44 (0) 20 7294 7636

Email: infoaldwych@rokarestaurant.com
Visit ROKA Aldwych here



Swan Upping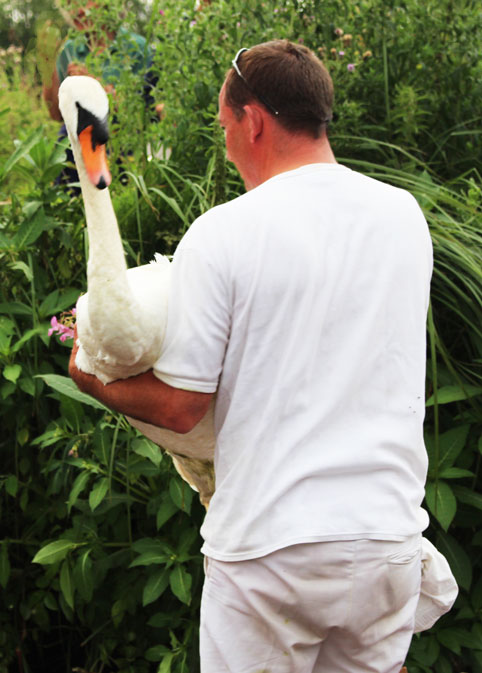 Swan Upping is an annual ceremonial event and an activity that has endured since the 12th century. The mute swans on part of the River Thames are caught, weighed, inspected, ringed, and then released. Centuries ago these birds were eaten and this exercise was game management!


Swans were regular food in the Tudor age, but legally these days mute swans are only allowed to be eaten by the Royal Family and by fellows of St John's College, Cambridge on 25th June. Their quills were also used for writing although quills from geese were much more commonly used – but a swan's quill was said to last as long as 50 goose quills.


Traditionally, the British Monarch is the owner of all unmarked mute swans in open water, but only exercises ownership on certain stretches of the River Thames and its surrounding tributaries in Middlesex, Surrey, Buckinghamshire, Berkshire and Oxfordshire. There is a Royal Charter which Edward IV passed in 1482 preventing the claim of ownership of swans by common people. In 2012, because of flooding of the Thames, Swan Upping was cancelled between Sunbury-on-Thames and Windsor. It's thought to be the first time in 900 years that the event couldn't take place.


The Keeper of the King or Queen's Swans was an ancient office in the Royal Household and was previously called the King or Queen's Swanmaster, a position which dates from the 13th century. He was assisted by three swanherdsmen during Swan Upping. The title of Keeper was replaced by two new posts in 1993, Warden of the Swans and Marker of the Swans.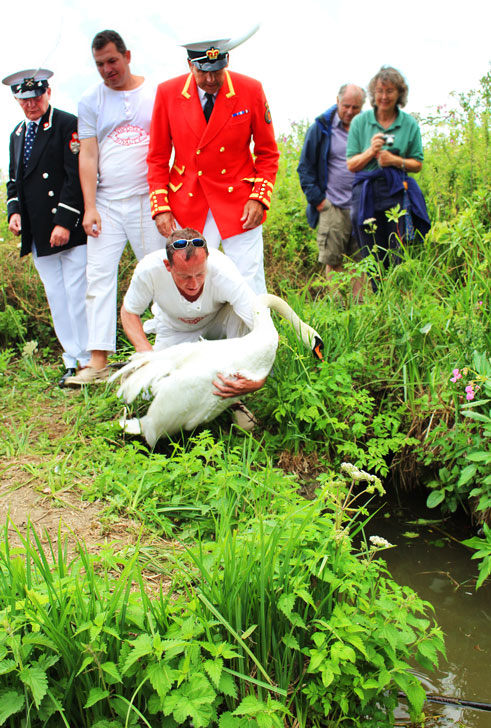 The Queen's Marker of the Swans still organises Swan Upping and he monitors the health of the local swan population. The Warden of the Swans works alongside the Marker of the Swans, a post presently held by David Barber, and together they conduct the event.


Swan Upping is a colourful occasion and is used as a swan census. It takes place annually during the third week of July when the Queen's 'Worshipful Company of Vintners' and the 'Worshipful Company of Dyers' provide Swan Uppers to row up the river in shallow boats called skiffs. The first documentary reference to the Vintners owning swans comes from 1509, when the Company's "Under-Swanherd" was paid 4 shillings (20p) at the time of the 'great frost' for 'upping the Master's swans'.


This ownership of the swans is shared between the Royal Household, the Vintners and the Dyers, who were granted rights of ownership by the Crown in the fifteenth century. Swans caught by the Queen's Swan Uppers under the direction of the Marker of the Swans are not now marked, except for a ring linked to the database of the British Trust for Ornithology. Those caught by the Dyers and Vintners are identified as theirs by means of an extra ring on the other leg. Today, only swans with cygnets are caught and ringed. This gives a yearly overview of how swans are breeding. Originally, rather than being ringed, the swans would have been marked on the bill with identifiable notches.



Swan Upping is conducted over a week with different stretches of the river being covered each day. As they row past Windsor Castle, the Swan Uppers salute "Her Majesty the Queen, Seigneur of the Swans". The crews of the skiffs have ceremonial uniforms but for the working element of the job they are clad in blue, red or white polo shirts and white trousers rolled up over their ankles. Each boat flies the appropriate flag for its livery company. When a brood of cygnets is sighted, a cry of "All up!" is given to signal that the boats should get into position for a quick capture.


At the completion of Swan Upping each year, The Queen's Marker of the Swans produces a report which provides information on the number of swans accounted for, including broods and cygnets. This enables the most appropriate conservation methods to be used to protect the swans. This ancient tradition has taken on a new mantle. The Swan Uppers are caring for swans, not as a source of food but as a beautiful part of the picturesque River Thames.





Mele e Pere
This is a little cracker of a restaurant and I am almost reluctant to publicise it any further for fear that the prices will go up and the chances of me getting a table will go down!

This is an authentic northern Italian, casual dining restaurant smack in the middle of the very un-Italian Soho. Its ambiance, style, ethos, whatever you want to call it, works at this location. In fact I think it would work anywhere.

Mele e Pere is ranged over two floors with the main restaurant in the basement level. Its bar is impressive with copper cladding and a shelf of home-made vermouths enough to help launch any voyage of libation discovery. Vermouth here is a signature beverage and it would be a shame not to try one. You can try others on your return, for a return is almost guaranteed.

We sat at that bar for a while and ordered a bowl of olives to go along with citrus vermouth made in-house and Byrrh which wasn't. That's a classic vermouth in the traditional herby style of a wine-based apéritif made of red and fortified wines (mistelle), and quinine. That quinine might not sound appealing but it's the key ingredient in tonic water. But back to the food! Our Ascolana olives were stuffed with spicy meat, breaded and deep fried. They look innocent but they pack a chilli punch and are addictive.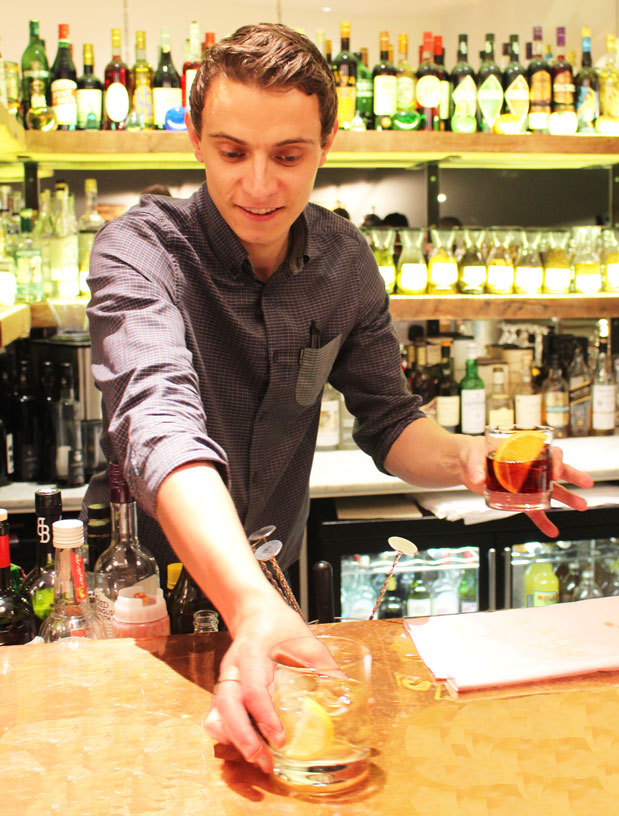 The menu here is seasonal and ever-changing. There are plenty of regulars who will appreciate the new items throughout the year. Fresh is evidently important at Mele e Pere. I hadn't realised at the time of my visit that they make bread, pasta, desserts and ice-creams in their own kitchen. That isn't always a recommendation in other restaurants. The bread was outstanding here. Yes, it's just a simple thing but it shows attention to detail. I am hoping the owners will open a bakery next.

We ordered several starters including that amazing bread and focaccia along with deep-fried squid rings with smoked aioli and parmesan. The squid was light and the mayo a delicious foil to the delicate flavour of the breading and the seafood. But the Parma ham and gnocchi fritti is a must-try here. The gnocchi fritti were in fact light puffs and perfect when paired with the savoury ham.

Fresh spaghetti with clams, garlic, chilli and courgettes was my guest's main course. He ordered just a small portion, which was still substantial, and he had that delicious bread for mopping juices. This was a beautiful and light dish of a good amount of shellfish and that aforementioned home-made pasta. The strands were eggy yellow and rich. A green salad alongside was all that was needed.

On this evening the menu offered home-made sausage and courgette – another substantial plateful. The sausage was seasoned, grilled and glistening and the sort that wins prizes in butchery competitions. Yes, it was that good. The sausage was coiled and skewered, the courgette was split, grilled and garnished and the diner was salivating at every bite. Once again Mele e Pere showing that food need not be fussy to be impressive. It just has to be right.


Wine at Mele e Pere is reasonably priced and can be ordered by the glass, carafe or bottle, and after a vermouth or two a small carafe might be in order. And there was still dessert to come. A couple of scoops of Amalfi Lemon sorbet was enough for the two of us. The attentive waiter had the presence of mind to lay two spoons. Tangy, light and full of citrus flavour. This was a perfect end to a hot night in Italy. Well, OK, London W1, but it was pretty near. Visit for a long, lingering lunch, or even try some pastries for breakfast.

Restaurant Review:
Mele e Pere
46 Brewer Street
Soho
London
W1F 9TF

Phone: 020 7096 2096
Email: info@meleepere.co.uk

Visit Mele e Pere here




Rennes – living with history
History is everywhere in Rennes but it's actually considered by thoroughly modern folks to be one of the most liveable cities in France. That's a hard juggling act.

Rennes had been in existence for centuries before the Romans and in 57 BC the local inhabitants joined the Gaulish coalition against Rome. That didn't work and there followed Roman occupation. In 275, the threat of invasion by barbarians led to the erection of a brick wall around the town. In the 9th century Rennes became fully Breton and was to remain that way for many hundreds of years.

In 1491 the French army of Charles VIII unsuccessfully attacked Rennes. Brittany having already surrendered everywhere else, Rennes stood alone. Duchess Anne of Brittany chose to negotiate with the king, and the resulting Treaty of Rennes, including her marriage to Charles VIII, brought Brittany into the French kingdom. Tour Duchesne is an old tower dating from around that time, and is located near the Mordelaises gates. The tower is part of the original city walls, which date back to the 3rd century, although rebuilt in the mid-1400s.

Timber-framed houses were a popular form of construction as there were forests to supply the raw material. In 1720 a major fire destroyed all the wooden buildings in the northern part of the city. The inhabitants took the precaution of rebuilding in stone, on a grid plan with wider roads. This modernisation has given Rennes two distinctive architectural faces. There are those sweeping avenues, but the medieval-looking streets still remain. Carrefour de la Cathédrale has a maze of winding streets surrounding it and that's where one finds most of the city's remaining half-timbered houses, dating from the 16th century.

Lift your eyes and find exquisite carved wooden details on medieval buildings.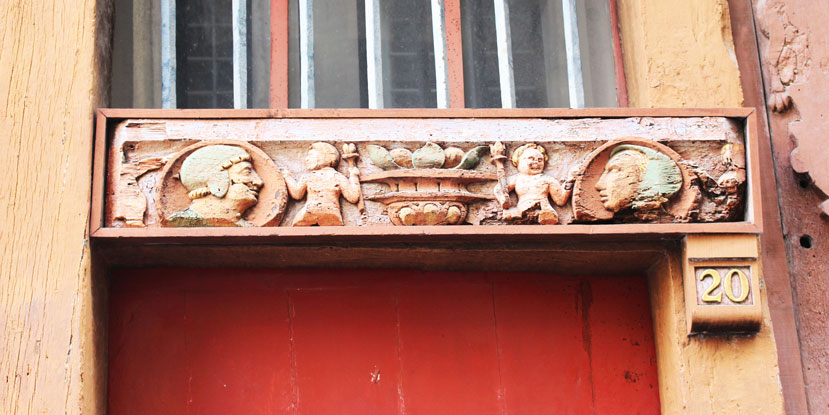 There are iron-studded doors, ancient shutters, cobbled streets and granite. This isn't a city that's known for its stonework as there are no local quarries. This problem has been solved by the use of whatever stone was available, along with brick, creating in some buildings something of a masonry patchwork.

Rennes Cathedral is solid and unmissable. It has a heavy, granite façade that lacks the refinement of other French cathedrals that have been built from softer honey-coloured stone which was more easily sculpted. This is, externally, a rather sombre church. But step inside and you will find one of the most impressive religious buildings in France. There is a remarkable 15th-century Gothic gilded wooden altarpiece flanked by some imposing candlesticks. The arched ceilings are richly decorated and low lights pick out gold embellishments. Don't miss a few quiet moments here.


Rennes is a beautiful and compact city with a wealth of restaurants, cafés and bars. It boasts a large and celebrated food market and thriving gastronomic culture. Place des Lices reminds one of the jousting lists for sporting knights once found here, although it's now alive with shoppers every Saturday. There are many street names that give a nod to medieval times. One might notice a clock tower on the Place and even that has history. It marks the spot where prisoners were executed. There is even a medieval prison that is now a nightclub and restaurant. Rennes is home to two universities and more than 50,000 students. It's not surprising that the city has a vibrant night life.

It also has open spaces aplenty and these are well-used by locals and tourists alike. One can find deckchairs from which one can enjoy jazz or classical music. Parc du Thabor is a public garden which was built in the 19th century on the site of the orchard of the Saint-Melaine abbey. It's the largest park in Rennes and in the centre of the town. There is a museum of fine art and one covering Breton history, so something for all the family. If one wants to cover more ground then hire a bike for the day.

Rennes is just the sort of town which one hopes to find in France. Very French ambiance, French food, beautiful old buildings, cobbled streets, a market square and a glass or two of something reviving. Yes, we seek, but seldom find, a gem that ticks all those boxes. But here it is and just an easy hop across the Channel from Southend Airport.


Visit Southend Airport here


Learn more about Rennes here




Rennes – second capital of food (or is it third?)
Rennes Market, in the Place des Lices, is there every Saturday, and is considered to be the second- or third-largest in France, depending on whom you are speaking to. It starts in the morning around 7.30 although there is not the full complement of nearly 300 stalls and vendors till an hour or so later. It's usually the time-strapped locals who frequent the market so early. They are looking for the week's fruit and veg and don't want to be tripping over enthusiastic, iPhone-clicking tourists.

This isn't one of the new breed of Farmers' Markets that have sprung up in the UK. This one has been doing it since 1622. The site has always been an open space since the time of knights and the courtly sport of jousting. The Place des Lices takes its name from the jousting 'lists' which was the arena where the tournaments took place.


The covered markets contain honey, cider, baked goods, charcuterie and ready-prepared food, while outside there are avenues of fresh fruit and vegetable stalls. In 1965 the halls were modernised to that which we see today. There are now two market halls although there were originally three: the missing one was used for the sale of fish but that was deemed to be too malodourous and was demolished. The fresh-fish vendors now occupy the same space, but in the open air. There is also a small flower market which is up the hill a few yards. Here you will find posies, exotic blooms, potted plants and a beautiful perfume.

The market attracts about 10,000 visitors every week. They come for the produce and to meet friends. This is part of the French lifestyle of which so many of us dream, and it's here in Rennes. It's a pleasure to browse the stalls, gathering ingredients for dinner. One might buy a loaf of warm bread and some local butter, perhaps a ready-grilled chicken and a scoop of potatoes cooked in the aforementioned bird's juices. A bottle of cidre might be heading home with the soon-to-be-diner …and that cheese looks good!

One can build up an appetite long before a regular mealtime, but Breton galette stuffed with a sausage is on hand to take away those hunger pangs. This Rennes speciality seems to be eaten by everyone these days. It's a savoury buckwheat-flour pancake which once served as bread in this region. There are several food carts at the market and regulars will have their favourite. If in doubt, join the longest line.

If you are one of those poor unfortunates who had a mum who told you it was unacceptable to eat on the street then you have my sympathy and a suggestion of a proper sit-down restaurant.
Crêperie Saint-Georges will allow you to taste galettes filled with all manner of savoury ingredients, and there are light crepes for dessert, too. This is a striking restaurant with unique design and delicious food. I ordered Georges Bataille (strangely all the menu items are called George) – a galette filled with black pudding and apple, which was a sweet and savoury dish with all the flavours of the area.

Crêperie Saint-Georges
11 rue du Chapitre
35000 Rennes

Phone: 02 99 38 87 04

Visit Crêperie Saint-Georges here


Established early in 2013, TEA & TY is a specialist in, unsurprisingly, tea. It has a convenient central location and is just the place to sit down and enjoy a light bite and a reviving cuppa.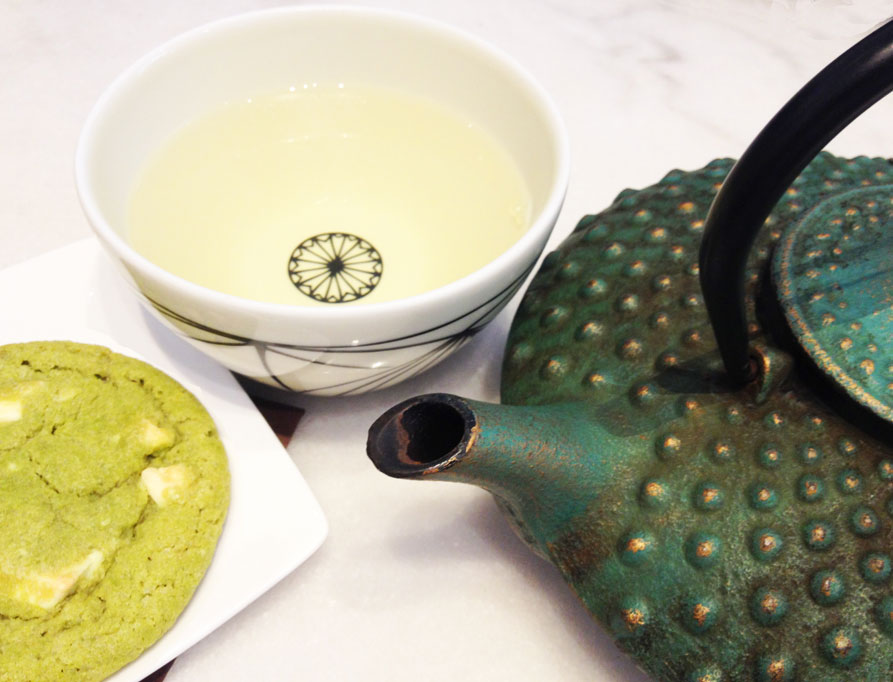 This is a rather trendy tea room with not a hint of chintz. The walls are lined with huge tea canisters from which to choose one's preferred brew and small gift-quality tea caddies for practical souvenirs. The tea is served from traditional Japanese iron pots and poured into contemporary bowls. One can enjoy a pastry or a cookie or a savoury tart of some sort, but it's the tea that's special here.

TEA & TY has a great selection of leaf teas from around the world. They carry both black and green teas and also the less-often available rooibos tea from South Africa, which isn't a tea at all but has been used as an infusion for generations. I enjoyed a bowl of Japanese sencha tea and, keeping with the theme, a matcha cookie. No, not very French, but there is a polished and eclectic side to Rennes and I was doing just what the locals do, after all.

TEA & TY
16, rue Victor Hugo
35000 Rennes

Phone: 02 23 20 75 96

Visit TEA & TY here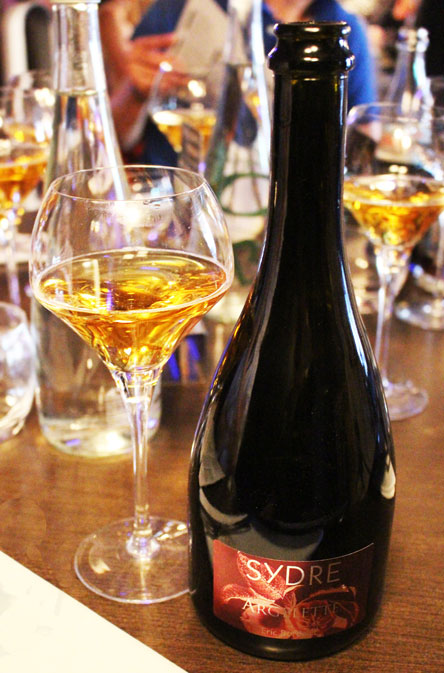 Located in the heart of the city centre of Rennes, opposite the Place de Bretagne, l'Amiral restaurant welcomes its guests with a nautical sweep of its terrace roof. It's a large, contemporary and tastefully appointed restaurant which specialises in fish and seafood.

That terrace is the spot to grab on hot and sunny days. A lunch here is pleasure writ large. The menu offers every genre of seafood from lobster at the luxury end to the very reasonable Assiette de Fruits de Mer. The portions are substantial and beautifully presented. I was tempted by a bargain bowl of mussels which came with fries – a meal over which to linger with convivial company and a glass of local beer.

But meat-eaters, who will likely be here under protest, have nothing to fear. They will probably soon be heard to mutter 'Well, I didn't expect that', 'Shall we book a table for Wednesday?' and even 'I think that might be the best steak I have ever had'. Not bad for a piscatorial emporium!

l'Amiral
1 rue de la Motte Picquet
35000 Rennes

Phone: 02 99 35 03 91

Visit l'Amiral here


Rennes was made for lovers of good food. One can dine at home on the best of local produce. There is authentic street food to enjoy. Healthful and smart tea shops beckon, and the most stylish of restaurants are all within walking distance of the centre of town.

Rennes is accessible these days with direct flights from Southend Airport. Do remember to book a piece of luggage for the hold as there will be plenty of bottles to bring back. The local version of Calvados is well worth seeking out. One doesn't need a car for a short break as it's a city to enjoy on foot. If the legs get weary then sit and people-watch for a while. Order a coffee or a traditional cup of cidre and wonder why you didn't come here before.

Visit Southend Airport here

Learn more about Rennes here



Gymkhana London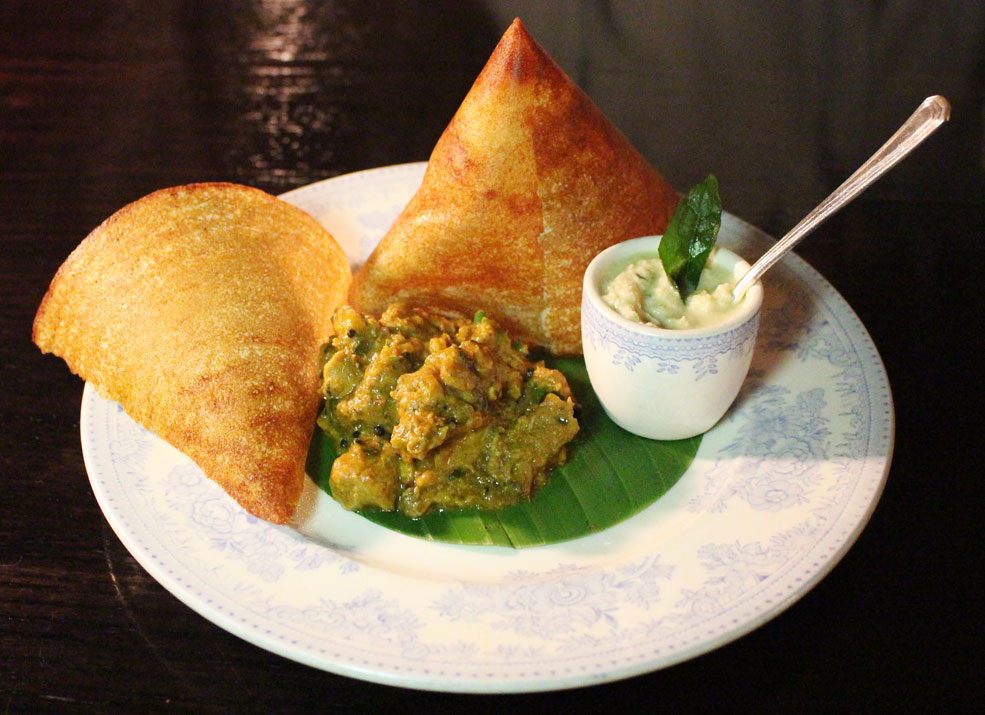 Gymkhana is an Indian word which originally referred to a meeting place. These days it tends to be an equestrian day event put on by posh pony clubs; but not in this case. Gymkhana in London does fit into the 'meeting place' category and it does have the feel of a nicely appointed casual club, but there won't be the smell of horse or stable anywhere near.

Gymkhana on Albemarle Street in Mayfair is an Indian restaurant serving innovative food from the imagination of Group Executive Chef Rohit Ghai in a venue that has been thoughtfully presented by owner Karam Sethi, right down to the serving plates. Yes, it does indeed have a relaxed ambiance but the food is Michelin Star all the way.

This isn't an overly-themed Indian restaurant. The name Gymkhana gives a hint to its ethnicity but the ground floor has marble table-tops and booths along with dark wood which really gives the air of that old-fashioned, much-sought-after French Bistro which one looks for but never finds in the back streets of Paris. It flaunts a very buzzy and energetic vibe.

The lower level must have originally been the cellar of an old Georgian house or shop. This has allowed for a couple of private dining spaces which still retain the curved ceilings that remind one of wine cellars in France or Italy.


The main basement restaurant again sports dark wood aplenty with old pictures from the days of the Raj, brass-edged tables and rattan chairs adding to the old Indian club reincarnation. The ceiling is low, giving a sense of calming intimacy. It's much quieter here than above making this the very spot for romantic encounters, discreet business meetings or unwinding after a hard day at the coal face.

Gymkhana takes advantage of seasonal British ingredients so there will likely be something new with every visit. This isn't your usual Indian restaurant menu at any time of year so even regulars will find not only quality but unique dishes.

Gol Guppas with Jaljeera, Potato, and Sprouting Moong arrived as pre-dinner nibbles. These are classic stuffed puffs but here they are served on the best of English cottage china, once again introducing a very Anglo element. But do try the Dosa here. It's authentically crisp (I have found many to be flabby and doughy) and light, with a rich filling of Chettin Duck with traditional coconut chutney. This is a winner at any time of year.


Rajma fritters are a take on Indian comfort food. These are balls of kidney beans with a crunchy coating and they are moreish. But meat eaters are not forgotten: Lamb Nalli Barra served with lightly pickled onion were outstanding. The meat was glisteningly moist and meltingly tender. It's a substantial dish and seasoned to perfection.

Wild Muntjac Biryani with Pomegranate and Mint Raita was the main dish, and there is innovation here even in the pastry crust which was crowned with seeds, giving it a wholesome and attractive appearance that was a shame to destroy. This is a dish over which to salivate while inhaling delicate aromas of spiced meat and rice. A hearty dish but lightened by the yoghurt and fruit.

Rose and Rhubarb Kulfi Falooda was my guest's dessert. He pronounced it to be excellent with flowery notes from the rose and just a touch of sharpness from the rhubarb. I always think of falooda as something along the lines of English trifle. It's a sweet treat full of lots of different good things.


Queens Club Cocktail was my preferred finish to the meal. I hadn't had wine with dinner so I could indulge in a little alcohol now. This hot after-dinner cocktail had me intrigued: it's Ketel One Vodka, coriander seed and lemon zest syrup, clove and hot Darjeeling Earl Grey tea poured over a clove and apple jelly, and into a proper cup and saucer. Deliciously theatrical and a cocktail which I want to replicate at home …every evening.

Gymkhana will definitely appeal to those looking for uncommon food that's predictably good, in a restaurant with character in a convenient location. Karam Sethi once again shows his flair for knowing what works.

Restaurant Review:
Gymkhana
42 Albemarle Street
London W1S 4JH

Phone: 020 3011 5900
Email: info@gymkhanalondon.com

Visit Gymkhana Restaurant here



Memphis in London
The Shaftesbury Theatre is both beautiful and historic, and a worthy presenter of a show that is beautiful in a very different way.

Memphis is a musical and a memorable and striking one. It is set in an era of segregation, overt racism, poverty, and dreams. The story line is perennial and simple but with a sting – boy meets girl, boy loses girl. The main protagonists are Huey Calhoun and Felicia Farrell, racism and music. These add up to be more than the sum of their component parts.


Huey is a poor, white, ill-educated clown of a chap who has a passion for music – Black music. That's not a claim to fame these days but we are talking 1950s USA, and the South at that! These were troubled times where even music had to know its place. He was on a mission to popularise R&B and bring it to a wider audience.

A Beale Street club offers Huey a chance to immerse himself, or almost, in black musical culture. And there was a young black singer called Felicia who stole his heart but also showed him the brutality and injustice of Memphis society. Huey could be musically black whenever he wanted, but she was black every moment, noted Felicia. There were realities to be faced.

Memphis is colourful, vibrant and a little shocking, particularly to younger members of the theatre audience who have never actually heard the N-word in such a public forum. There was an audible gasp from those who had not grasped the aforementioned realities of life for non-whites – a few gritty moments that were completely in context. There is a hard-hitting story here which supports some cracking good songs.

Beverley Knight captivates from the first moment. In my humble opinion, and I am no expert, she is the most polished and accomplished soul singer around. She has the voice, for sure, but she has charm, elegance and beauty. One warms to her character, Felicia, who has talent, humour and ambition.

From 6 July 2015 the role of Huey Calhoun is played by Matt Cardle. He has built himself a solid reputation since his success with X-Factor. He brings sensitivity and credibility to his role along with his powerful voice, energy and nifty moves. A great choice for the part and for the partnership with Ms Knight, that makes Memphis so memorable.

There are other heroes in Memphis. The dancers are dazzling and the musicians are first-rate. Don't rush off after the stars have taken their bows: stay until the music is really over and give those musicians some applause too. Some nice bits of sax playing in the last few minutes before the curtain falls.

Go to Memphis. I highly recommend this show for its social comment, its musical score and its originality. It's a fun show dealing with serious issues and it's a balance that it thoughtfully maintains. It's a moving story with songs that have all the style of 50s R&B.


Theatre Review:
Memphis at the Shaftesbury Theatre
210 Shaftesbury Avenue
London
WC2H 8DP

Visit Shaftesbury Theatre here
For enquiries relating to the performance or general ticket enquiries email Shaftesburyboxoffice@shaftesburytheatre.com

For general enquiries email info@shaftesburytheatre.com
Stage Door: Phone 020 7379 3345
Box Office: Phone 020 7379 5399
Fax: 020 7836 8181




Bombay Brasserie – Cool and contemporary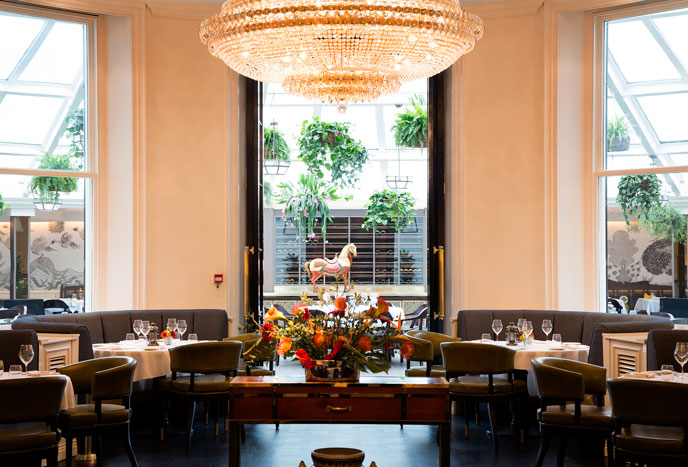 Bombay Brasserie and Bar, Gloucester Road, South Kensington has been an A-lister for the great and the good as well as the just famous and now it has adopted a new, cool ivory-coloured persona in place of the Rajesque opulence it once flaunted.

The restaurant has undergone a couple of transformations since it opened in 1982 as one of London's first Indian fine-dining destinations. It has recently been refurbished and is now much lighter and more contemporary than its previous incarnation. There are still the famed sepia pictures of Maharajas gracing the walls of the bar and on a panel next to the piano in the restaurant, but now Bombay Brasserie is less fussy but just as classy as the old BB.

My guest remarked that Bombay Brasserie has perhaps the most generous table spacing of any London restaurant of any culinary persuasion. The restaurant evidently considers the comfort of its guests, and one truly does feel like a guest rather than a customer. The service, overseen by Operations Manager Mr. Shailesh Pandya, is, just like the man himself, professional and friendly yet unobtrusive.


The conservatory has been transformed with the removal of the central open kitchen. The walls are now covered with white-and-black Indian folk murals and there is an outside terrace to enjoy on warm summer evenings. But the new private dining area which seats about 18 is absolutely stunning. It's a vision of dark wood, carved-back chairs and Indian good taste. It's understated splendour.

Executive Chef Prahlad Hegde is modest, charming and softly spoken but heads an energetic and well-polished team. Chef Hegde is the hidden cornerstone in the kitchen and his skill as a chef has won him awards and deserved respect from his peers as well as those he feeds. It's his food that entices the visitor to return …and often. He doesn't court publicity but rather works quietly away to build a solid and creditable worldwide reputation for Bombay Brasserie.

We visited on a hot and sticky evening. Yes, it's true, they are rare in London but when they arrive they are strength-sapping and tiresome. Alcohol didn't appeal, even though we were luxuriating in Bombay Brasserie's air-conditioning, but we were invited to try a couple of virgin cocktails and they hit the spot, to the extent that we ordered another round. Not exactly binge drinking and there was neither guilt nor hangover. Tamaringer was an addictive concoction of sharp and thirst-quenching tamarind spiked with chilli served with plenty of ice. My guest's libation was the equally moreish Green Refresher which offers the much-publicised healthful properties of green tea along with pineapple, mint, ginger and lemon.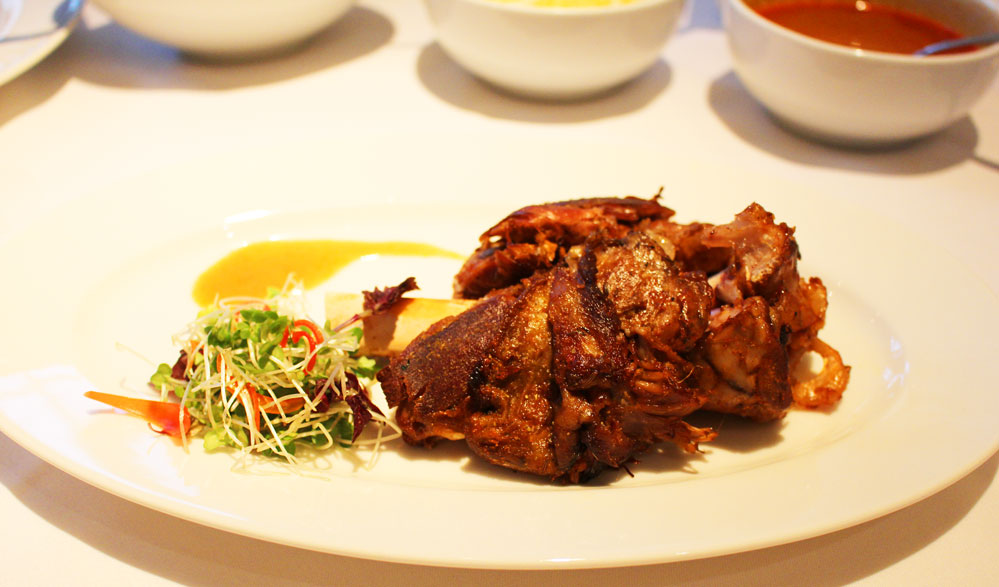 This restaurant is far from being a high-street curry house (although these are fewer in number they have long been well-loved institutions and it was they, after all, who gave us our appreciation of spice). Bombay Brasserie is famed for its accessible Indian fine-dining ambiance and menu. Chef Hegde has a light touch, a deft hand and a lot of passion for his craft. The menu has classics but also dishes that are unique to this restaurant.

Non-meat eaters are well catered for here with seafood aplenty as well as vegetable dishes such as the okra which shouldn't be missed. The griddled prawns and scallops are for which to die. I would venture to say that those scallops are the best I have ever had in London, or anywhere else for that matter. They are translucent and succulent. Pan-fried Chilean sea bass on a base of spinach and mushroom is a fine example of why this fish has become so popular and it's a flaky must-try on this menu.

Braised lamb shank should be the dinner of choice for any card-carrying carnivore. It arrived simply presented with a light gravy on the side. The meat was, and I know it's a much-used cliché, 'falling off the bone'. That's a more literarily nifty phrase than 'sufficiently tender as to be easily shredded with the blunt edge of a spoon or a sharp look' which would be equally true.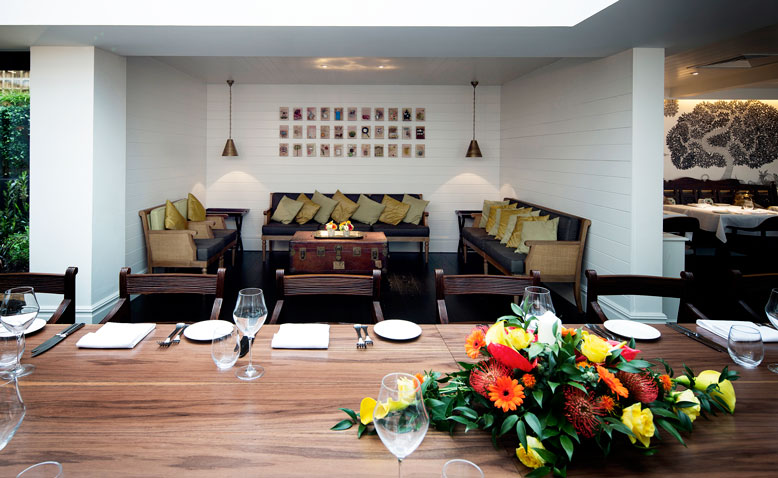 Bombay Brasserie and Executive Chef Prahlad Hegde never disappoint. Its convenient location, its delicious food and impeccable service have kept this restaurant buzzing. It might have changed its décor, it hasn't changed its name to Mumbai Somethingorother, and the high quality of its dishes and presentation remain the same. Any lover of good food will have this restaurant on their gastronomic Bucket List.

Restaurant Review:
Bombay Brasserie
Courtfield Road
London
SW7 4QH

Phone +44 (0)20 7370 4040

Visit Bombay Brasserie here



Gaylord in Mortimer Street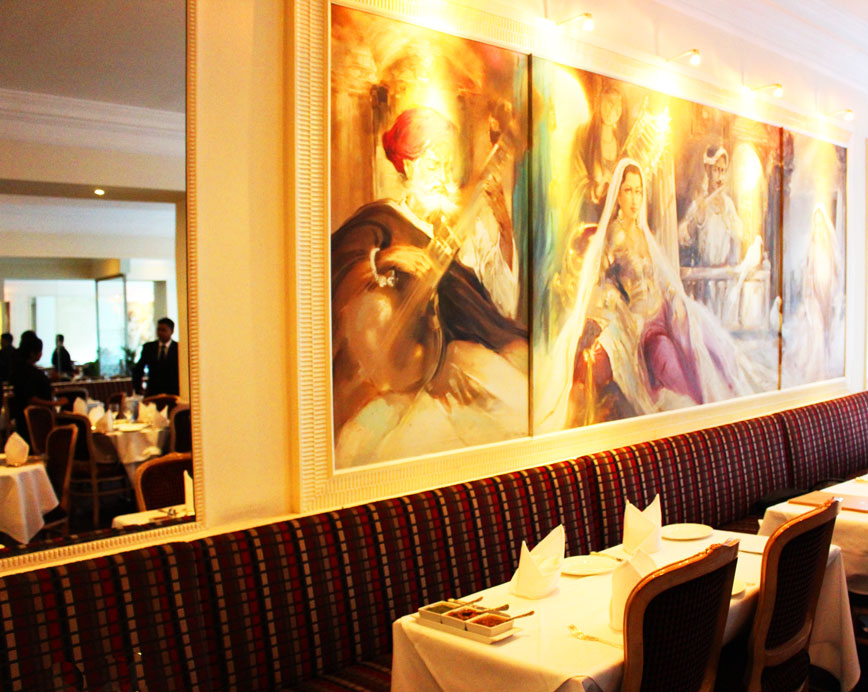 This is one restaurant that I have visited and wondered why I had not done so long before now. Gaylord Restaurant was established in 1966 so I would have had plenty of time. Its location couldn't be more convenient, being between two Underground stations and near shops and theatres. I guess that it has become an Indian restaurant institution and doesn't get the publicity lavished on some newer kids on the block …or at least new kids on other London blocks.

I liked it. OK, so that phrase doesn't have great wordy impact but it speaks volumes. It made a great impression on arrival. It's cool and elegant in a very 'international crisp white linen and ivory' way but there were very Indian friezes by Prithvi Soni on the wall to give a nod to the ethnicity of the culinary offerings. For me, this is just the right balance of décor laced with exotica. I was comfortable.

The diners were an eclectic mix of American tourists and local Indian and European regulars. There were couples as well as families enjoying cooling drinks before their meal on this unusually hot and humid summer night, in a London that seemed to be emulating the sub-continent.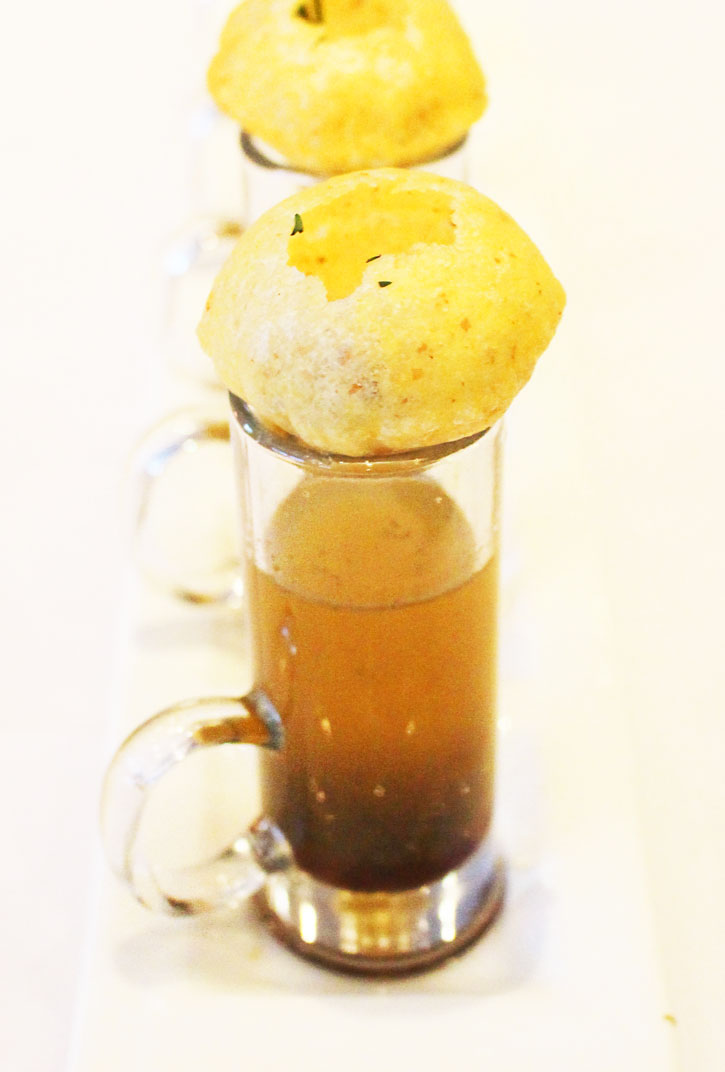 Gaylord has a beautiful menu. That is to say the actual menu is beautifully presented with heavy card pages, muted colours, metallic details and a very practical landscape layout. It hinted at the quality of food to come, when such attention had been given before a morsel had even been ordered.

But we did order and started with non-alcoholic cocktails. I can recommend the Virgin Paan Mohitos made with rose petals, fresh mint, lime juice and buckets of ice. A thirst-quencher with a delicate perfume.

Gaylord remains faithful to its traditions that were started in India in the 1940s. There are dishes which are familiar and there are others that cross boundaries. I have never been keen on fusion dishes but the Tacos here are worth trying. They are an Indian version of the Mexican street food classic. The menu mentions soft tacos but ours were the crisp corn tacos with that very particular flavour …and it really worked with the filling of lamb seek kebab with a pile of garnishes. I am sure the soft taco shell would have been good but the crisp one has more flavour and is fun, although messy, to eat.

My guest ordered Mixed Vegetable Pakoras. Yes, a standard dish but that standard does vary from restaurant to restaurant. These were just for which I would hope. It's all about the batter which coats those veggies, and this gram flour batter gave a light, crisp and oil-free pakora that was moreish.

Murg Gilafi seekh was my starter. Minced chicken had been lightly smoked, giving a moist and juicy kebab. Served on a sizzling platter with sliced onions, this was a winner. Golgappa shots were delicious and amusing and a must-try if there are a crowd of you. Tandoori prawns and chicken tikka are also good here, so order a few starters to share in tapas style.


Gaylord Grill is a substantial platter of Tandoori Lamb Chop, Fish Tikka and Murg Malai Tikka. The chop was charred on the bone with meat that was cooked to pink perfection. The chicken and fish were both melting and well-seasoned.

Vegetable Jalfrezi was my vibrant mix for a main course. A medley of potatoes, green peas, peppers, button mushrooms, carrots were tossed with warming spices and fresh coriander. This was a hot dish that was both light and flavourful on an equally hot summer night. A dish for any Indian food aficionado. It needed nothing more alongside than some rice and Yellow Dal Tadka tempered with garlic, red onion, and cumin – a hearty dal for sharing.

Baingan Hyderabadi should be a signature side dish at Gaylord. Aubergine chunks, simmered in spicy masala gravy are truly addictive. I am tempted to pop in for a portion of this and some naan bread whenever I am passing.


Gajar Ka halwa is a traditional homemade carrot pudding and here it is served hot with almond slivers and a great deal of style. It arrived in a silver jewel box which added to the general majestic ambiance of Gaylord.

This was a delightful meal and my only regret is that I didn't visit sooner. I look forward to becoming a regular for lunch, dinner and a bite before going to the theatre. It will be a long time before I tire of the beautiful menu.

Restaurant Review:
Gaylord London
79-81 Mortimer Street
London
W1W 7SJ

Email: info@gaylordlondon.com

Phone: 020 7580 3615 or 020 7636 0808

Visit Gaylord here




Bayeux – A stitch in time
It's inevitable that the first thing people think of when you mention Bayeux is the tapestry. Though it's not actually a tapestry but a very fine embroidery. The Bayeux Tapestry is now on permanent display in a bespoke museum in the city of Bayeux in Normandy, France. It's unique and huge and merits a home of its own.

The 'tapestry' tells the story of the life of William the Conqueror and the Battle of Hastings, and here comes another factual correction and we are only at paragraph two! The Battle of Hastings was actually fought at a place called Battle, although I suspect it was named only after the Battle. It would have been too much of a coincidence otherwise.

The tapestry tells of William and his passage from being just the illegitimate son of the Duke of Normandy (with 'Bastard' as the only appendage to his name) to rising to having 'King' as his title. One can see the preparations for invasion; the felling of trees and the launching of boats, and then the battle. Many men are shown as conclusively dead and the English King Harold can be seen being the well-documented recipient of the arrow in the eye.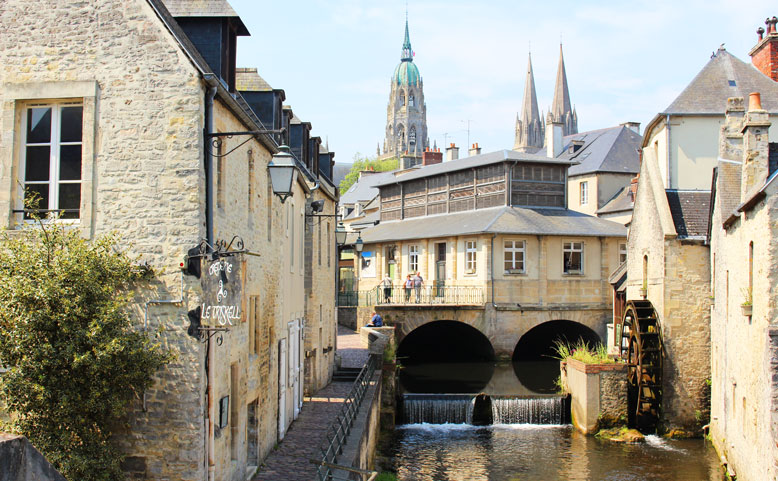 The bloody event was to have a huge impact on Medieval England and it's still exciting interest today. The tapestry is made out of eight narrow widths of linen sewn together. It's 270 feet long and about 20 inches wide. The majority of stitches used are 'stem' and 'laid-and-couched', which will only mean anything to devoted embroiderers.

There are eight colours of thread and the five main colours are blue-green, terracotta, light-green, buff and grey-blue. Nothing too vivid and all obviously made with natural dyes. There are also areas where very dark blue, yellow and a dark green are still visible – this hanging is in amazing condition considering its age.

It is assumed that the man who commissioned the tapestry was Bishop Odo of Bayeux. He was William's half-brother. It is probable that the tapestry was made to celebrate both William's victory at Hastings and the completion of Odo's cathedral in the city.

The tapestry was likely made by women in Canterbury, Kent, where there was a celebrated embroidery school. They used stitches very similar to those found on the tapestry. Another indication that this was sewn on the English side of the Channel is that some of the names on the tapestry are spelt in the English way and not in the French style.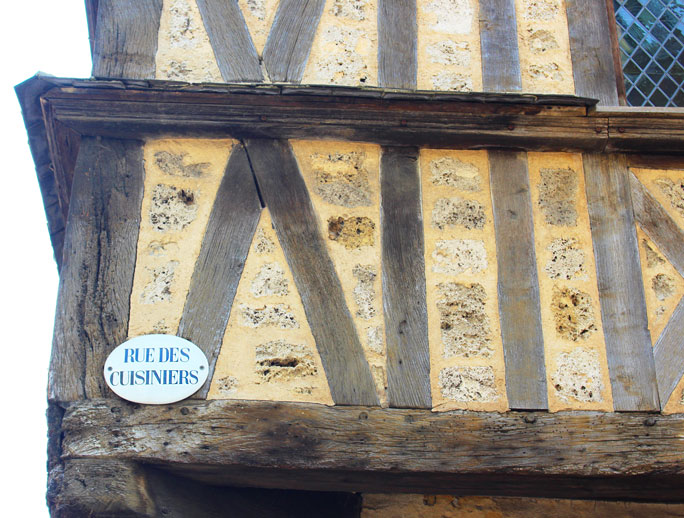 The tapestry shows 50 different scenes and there are 632 people, 202 horses, 55 dogs, 505 other characters, 37 buildings, around 40 ships and trees, and lots of Latin. Adults will be charmed by the handiwork and younger members of the group will be thrilled by the brutality and carnage!

But there is more to this beautiful town than the tapestry. The large Norman-Romanesque and Gothic Cathédrale Notre-Dame de Bayeux was consecrated in 1077 by the aforementioned Bishop Odo. The lower part of the building is Romanesque, and is probably original. The upper part is in Gothic style making this an architect's dream structure to study. But look inside to really appreciate the magnificence of the cathedral.

Bayeux is only a short distance from the Normandy Beaches, which have been attracting more visitors than ever over the last several years. There are various associated museums and exhibitions in the area, as well as war cemeteries, commemorating very much more recent battles than that shown in the Tapestry.


Bayeux has a wealth of restaurants and specialist food shops. Many of these are housed in historic half-timbered buildings, so take your eyes off the cheese for a moment and you might find some characterful wood carving. And along with the cidre and dairy products there is a little shop that actually sells bits of the Bayeux Tapestry. Well, newly embroidered authentic replicas of the historic hanging anyway. You can buy finished cushions, you can buy kits as souvenirs and you can even have lessons on the stitches used by those Kentish damsels who made the original.

Bayeux is an accessible and walkable town. Photo opportunities abound, eating opportunities are ever present and one can just people-watch with a coffee and an apple pastry. It's easy to get there from Caen by train, which itself has fast shuttle links to and from its airport. There are flights from the gem of an airport at Southend.

Learn more about making your own tapestry here

Visit Southend Airport here

Learn more about Bayeux here

Visit the Bayeux Tapestry Museum here



London for Foodies, Gourmets and Gluttons
This thick, square tome is a veritable guide to all things delicious in the capital. We are truly spoilt for choice so it's handy to have some pointers. Yes, it's all a matter of taste but authors David Hampshire and Graeme Chesters have presented a comprehensive cross-section of suggestions. There are chapters devoted to restaurants and others to various genres of food purveyors. Its style is chatty and inclusive and the text doesn't ramble.


London for Foodies, Gourmets and Gluttons isn't a book just for those with cash to splash. There is a section devoted to Street Food which offers vibrant options that won't demand a second mortgage. Borough Market has become a magnet for food-lovers from around the world. Plenty to see and taste and those foods are just as diverse as the people trying them. This market does double duty as a fresh food market and a Street Food arcade.

For a look at a colourful and thoroughly authentic market then head for Leather Lane which has held markets for 400 years or so. It's not polished but it's real London, with everything from fresh veg to big knickers, along with those eclectic plates. This is absolutely Street Food!

If you would actually like to sit while you sip then this book has a wealth of tea and coffee houses. I am guessing that you are a food lover and likely passionate about recipe books, and London for Foodies, Gourmets and Gluttons presents Books for Cooks. It's a celebrated bookshop with food books of every kind. There is a café at the back which doubles as a demonstration area for some of those cookbook authors.

Persepolis is one of my personal favourite food shops in London, and probably anywhere. The food is exotic and delicious and mostly Persian. The owner, Sally Butcher, is almost always serving and entertaining with her own brand of warm and hilarious humour. She is not only Mrs Shopkeeper but she is the writer of some very engaging cookbooks. This shop is a must-visit!

As I've said, it's just a matter of taste, but the two authors have coincidently chosen so many of my favourite haunts. It's a pleasure to leaf through the pages while making plans for the next market visit, or to dine at that restaurant with the unique curry. This is gift quality and should indeed be a gift for any lover of London and its food. Gone are the days when we had such a (deservedly) bad reputation for food. London for Foodies, Gourmets and Gluttons illustrates how far we have come - and it's only scratched the surface.

Cookbook Review:
London for Foodies, Gourmets and Gluttons
Authors: David Hampshire and Graeme Chesters
Published by: Survival Books
Price: £11.95
ISBN-13: 978-1909282766



Iconic Kettner's of Soho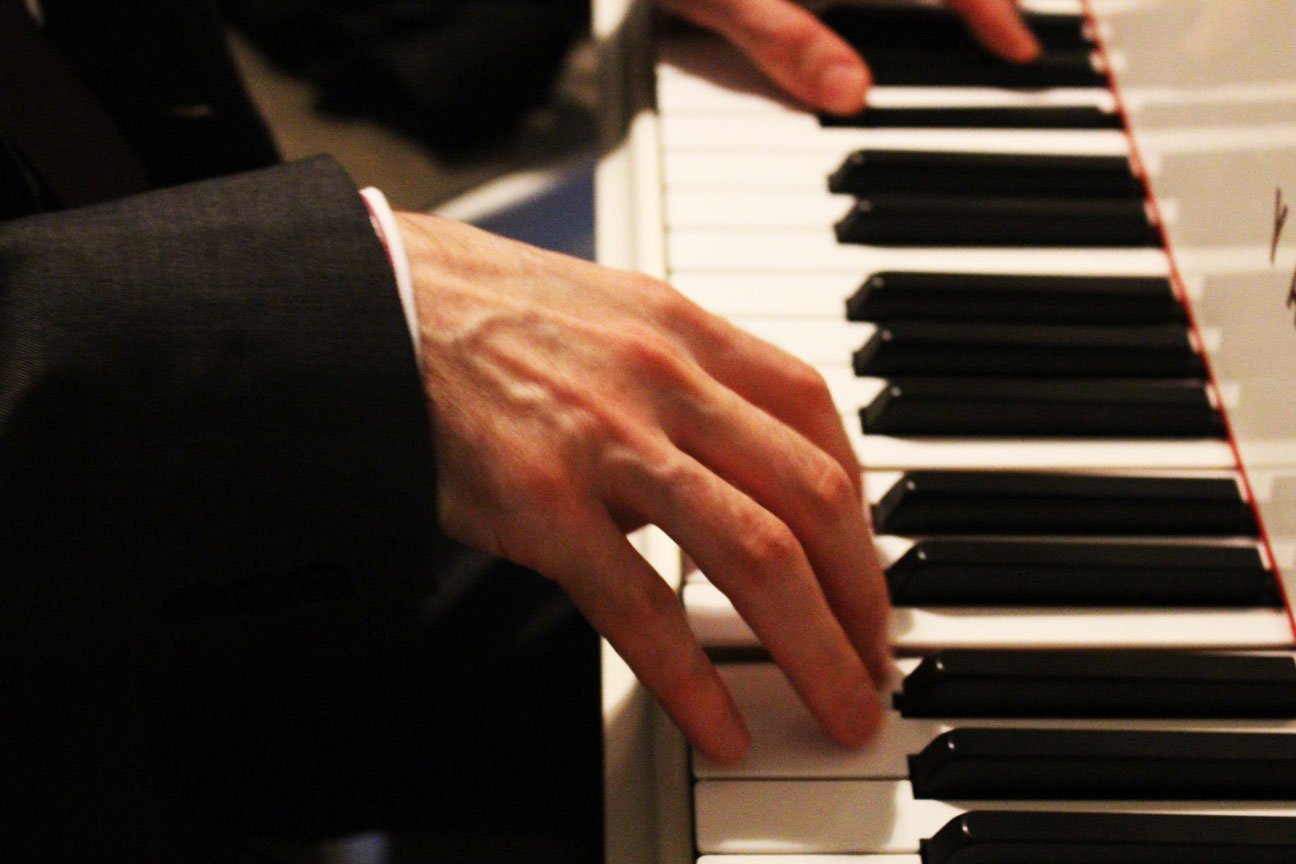 Kettner's, I used to feel, seemed somewhat out of place in this corner of the great metropolis. It's a genteel establishment and that's not for which this corner of town had once been noted. This old Soho had evolved from a bolt-hole for religious-refugee Huguenots to the haunt of far less noble sorts who peddled X-rated films and associated iffy pleasures. But it has changed. Restaurants are higher end and it's now a hub of entertainment for shoppers, drinkers and diners.

Originally Kettner's was a terrace of four Georgian town houses. It was opened in 1867 by Auguste Kettner who was once the personal chef to Napoleon III. Napoleon went into exile in England, where he died in 1873. The restaurant became infamous as the rendezvous for such luminaries as Oscar Wilde who dined here (although he couldn't remember the menu at his trial). He did, however, remark that it was 'Kettner at his best'. There is a legend that King Edward VII ordered a secret tunnel to be built between Kettner's and the Palace Theatre, where his mistress Lillie Langtry trod the boards.

The Grade II listed building is a veritable maze of rooms. There is the Brasserie, and then there is the Champagne Bar, and eight Private Dining Rooms. Summer evenings find the brasserie bathed in gentle light.
Plenty of white linen, muted colours, mirrors, long-aproned waiters and animated conversation. Kettner's is undoubtedly smart but it's far from dusty. There is appropriate live music between Tuesday and Saturday from 7pm: a white grand piano fills a corner, to add to the expectation of some rather good food.

Lobster "Mac n Cheese" is a decadent and comforting dish much appreciated by my guest. It might sound an unlikely combination but it has actually become a contemporary classic. The ingredients work well together when the shellfish is well flavoured and the cheese isn't overpowering. A great Kettner's plate.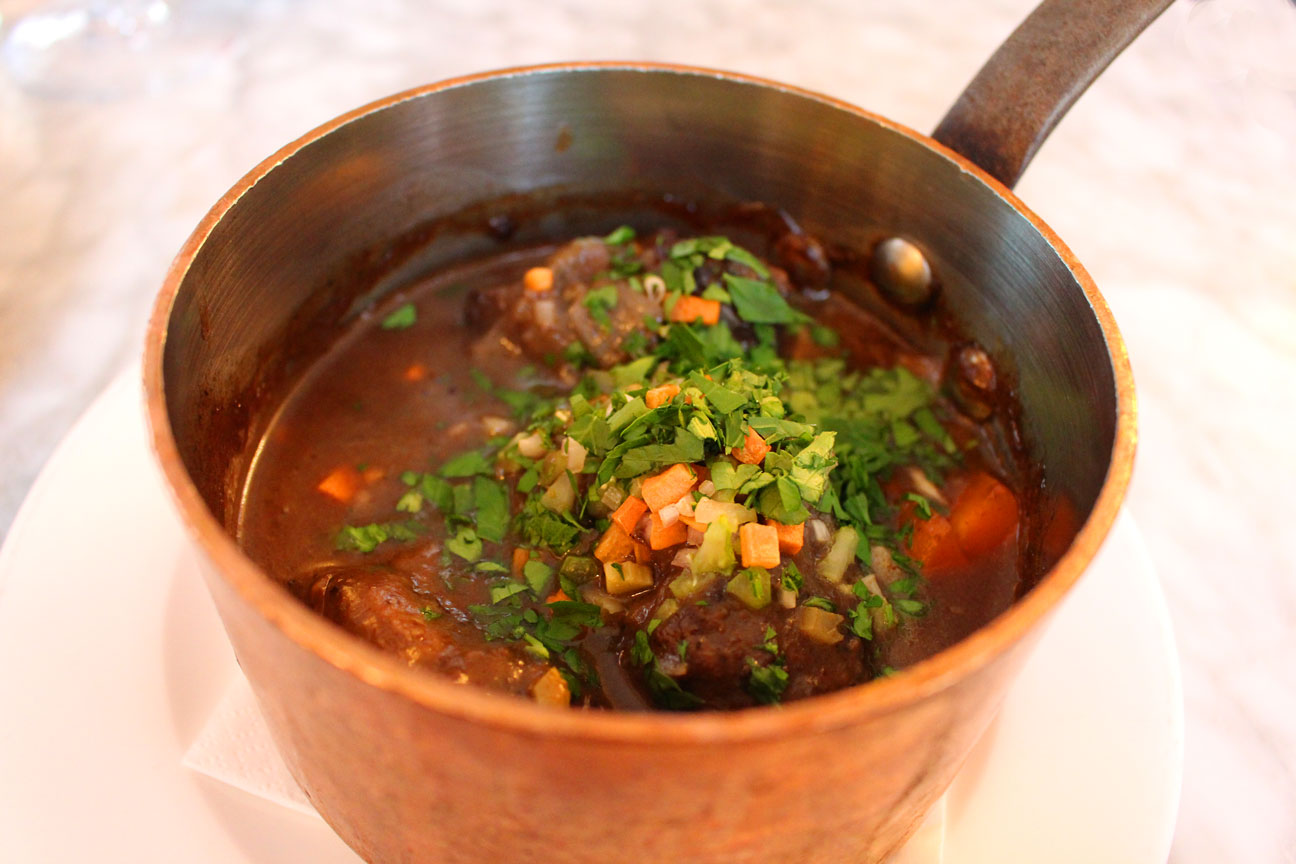 John Ross Traditional Oak Smoked Salmon, Crème Fraiche & Cucumber Salad was my starter. That fish also has history: it's smoked over wood chippings in a red brick kiln dating back to 1857, just the right time frame for Kettner's. The salmon was beautifully oily and rich.

Roast Sea Bass Fillet with Cucumber, Mussels and Tarragon Salad was my dining partner's main dish. The fish was flaky and moist and the salad delicate. The Cabernet Sauvignon Dressing was a great pairing. A good sized portion, too.

Beef Bourguignon with Creamed Parsley Mash was my nod to the French origins of Chef Kettner. This was attractively presented in a copper pot, giving a rustic air to this beef in red wine. This is a comforting dish of rich gravy and meltingly tender meat and vegetables. It's served often in many restaurants but, to be honest, the Kettner's version is the only one I have really enjoyed in London for a long while. The mash was perfect and smooth and just enough. Did I mention the generous portion sizes at Kettner's?

Glazed Lemon Tart is another classic dish served here. It looks simple, and indeed it is but it's also for which to die when done properly. This was deliciously sharp with a thin pastry crust. My only complaint is that I didn't have more room.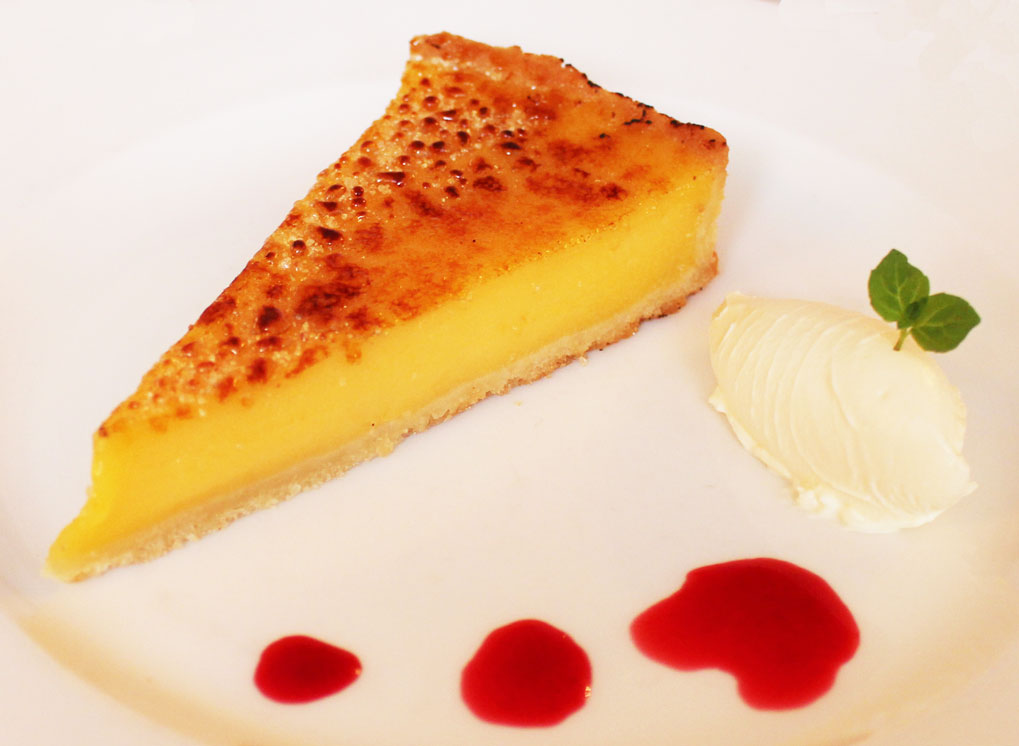 Kettner's is unique. It's just a matter of taste but I loved the décor, the ambiance and the food. It's become an institution and for good reason.

Brasserie opening hours:
Monday – Wednesday: noon – midnight
Thursday – Friday: noon – midnight
Saturday: noon – midnight
Sunday: noon – 22:00
Bank Holidays: noon – 22:00

Restaurant Review:
Kettner's
29 Romilly St.
Soho
London
W1D 5HP

Phone: 020 7734 6112
Email: reservations@kettners.com

Visit Kettner's here



Fontenay Abbey
Late spring in Burgundy. The banks of the canal were festooned with the colours of wild flowers: the blue of cornflowers, the blood red of poppies and the yellow of other blooms which were unknown to this horticulturally-challenged city girl.

That's the beauty of barge travel - it relaxes the mind and makes space for civilized exercises such as the pursuit of good food and wine and culture. The Abbey at Fontenay was just a little way away from the canal run and the excursion was well worth the effort of dislodging myself from floating luxury.

Bernard of Clairvaux, an abbot and the primary instigator of the reformed Cistercian order, founded the Abbey of Fontenay in a Burgundy valley in 1118 with strictly implemented austerity, which he felt had become so lax in other monasteries. The monks moved to Fontenay Abbey in 1130. Nine years later the Bishop of Norwich fled to Fontenay to escape persecution, and he helped finance the construction of the church which was consecrated in 1147 by Pope Eugene III.

By 1200 the monastic site was finished and housed as many as 300 monks, and in 1259 the pious King Louis exempted the Abbey of Fontenay from all taxes. In 1359 the Abbey was sacked by the armies of King Edward III of England, and was damaged anew in the late 1500s. In 1745 the refectory was destroyed, and by 1789 all of the monks had left the abbey due to the terrors of the French Revolution.

Fontenay Abbey was sold by the revolutionary government in 1820 as a national asset, and turned into a paper mill by the paper maker Elie de Montgolfier, nephew of the balloon inventors. I dare say that he took advantage of the abundant running water on the site for his paper-making process.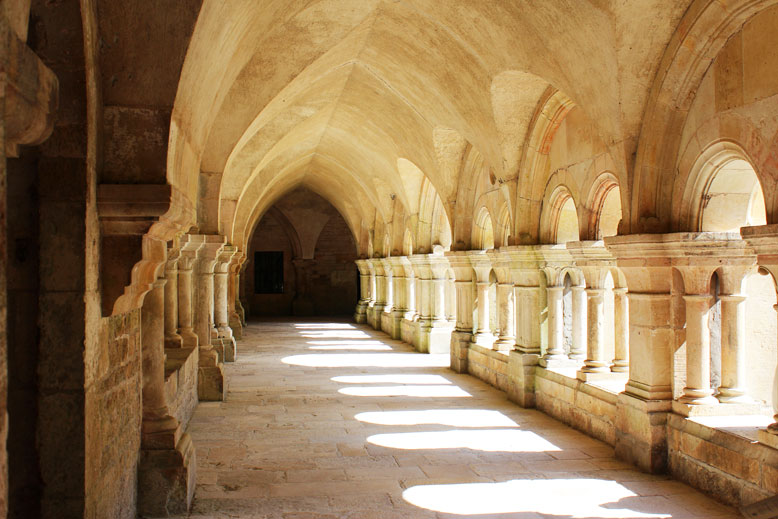 (Paper was one of the key components in those celebrated balloons.) Marc Seguin, the inventor of suspension bridges and French railways, was the owner of Fontenay from 1838. The paper factory closed in 1905.

Edouard Aynard, a patron of the arts, married a Montgolfier and he started the restoration. His descendants still live in part of the abbey and work on the buildings continues. In 1981 the abbey became a UNESCO World Heritage Site: it is the oldest preserved Cistercian abbey in the world. The grounds have a classic and manicured garden which was listed in 2004 as a "Remarkable Garden" by the National Council of Parks and Gardens. The grounds cover over 1,200 hectares.

The Abbey welcomes 100,000 visitors each year so one needs to pick one's day and time to avoid following a bus-load of tourists. It's enjoyed at its best when the buses leave and tranquillity reigns. One gets a sense of the spirituality of this spot that was used for worship for so long.

The Entrance Lodge is the first building that you will visit. It once marked the limits of the Abbey complex. There was a porter who greeted visitors to the monastery - pilgrims and the poor for the most part, one imagines.
Notice the round hole in the wall? That's where you would get a less-than-warm welcome from a guard dog: his accommodations were on the other side of the wall.

Pass through that lodge and you will see a huge tree. It's several hundreds of years old and dominates the garden. It's likely that these lawns were vegetable plots when the monks were in residence. There is a corner that once housed hunting dogs, too.

The cloister here is magnificent and has remained intact since the 12th century. This must have once been a promenade of contemplation. One can almost imagine one hears the soft padding of white-clad monks walking in silence. Simple yet impressive architecture offers sheltered passage to all the main monastery rooms.

Younger members of your party might not be interested in the finer points of Romanesque architecture but they will be interested in the hydraulic hammer which was reconstituted in 2008 as part of a European project involving 7 technical schools. This hammer is a working replica of hammers that would have actually been used by the monks in their forge. There is a turning water-wheel which powers the hydraulic hammer, causing it to be raised and then to fall under its own considerable weight. This was used for refining metal coming from the furnace.


The monk's dormitory is stunning. Raise your eyes and find what looks like the skeleton of an upturned wooden boat with its ribs as joists. The room is bare now, just as it would have been when the dormitory was first built. After some time the monks were given small partitions to afford at least some privacy. They slept on straw mattresses and in the cold. There were prayers in the adjoining church every few hours, and sanitation was primitive. Those must have been exhausting and unhealthy days, but probably no worse here than out in the broader world at that time.

Fontenay Abbey is one of the most impressive and most sympathetically restored building complexes I have seen anywhere. It's well worth a visit. Walk the cloisters, admire the stonework but take time to sit and enjoy the quiet.

Phone +33 (0)380 92 15 00
Visit the Abbey here

Learn more about luxury barging holidays in the region here

Read more about this trip here

For more images of La Belle Epoque visit Mostly Travel here



Gouda – a cheese for all seasons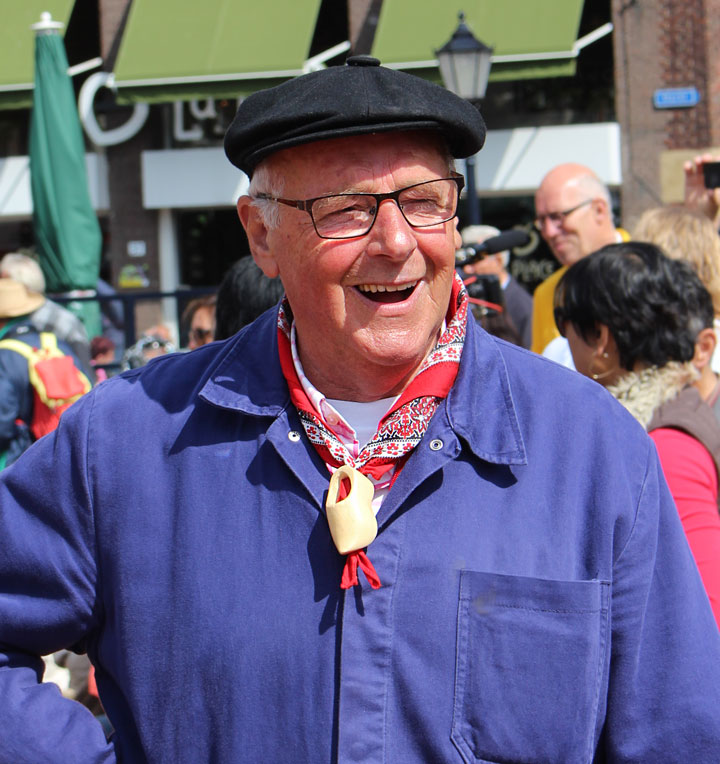 We have many cheese choices in specialist shops and even our local supermarket. Gouda can easily be overlooked. It seems to have been with us forever and we don't even notice it anymore. The first mention of Gouda cheese dates from 1184, making it one of the oldest recorded cheeses in the world still being made.

This round, yellow cheese takes its name from the Dutch town of Gouda, just a short distance from Rotterdam. It's the Netherlands' most popular cheese and, in fact, accounts for more than 60% of the cheese produced in the country.

Gouda is a traditional hard cheese covered in a wax rind which is usually yellow but does also come in other colours. The flavour is mild and creamy but as the cheese ages the taste intensifies and becomes more interesting. The cheese is dried for a few days before being coated with a yellow waxy substance to prevent it from drying out further. Cheeses of 18 months old or more are considered as Mature Gouda and coated in black wax.

Gouda is pronounced "Hou-da" by the Dutch and is usually made from pasteurised cow's milk. There are seven recognised types of Gouda cheese, listed by age. Graskaas (spring cheese) is young Gouda ready to be consumed within 4 weeks of production. Other designations are Young, matured 8 to 10 weeks, Matured – 16 to 18 weeks, Extra Matured – 7 to 8 months, Old Cheese – 10 to 12 months, and Very Old cheese – 1 year or more. There is also the extra-aged, Overjarig cheese.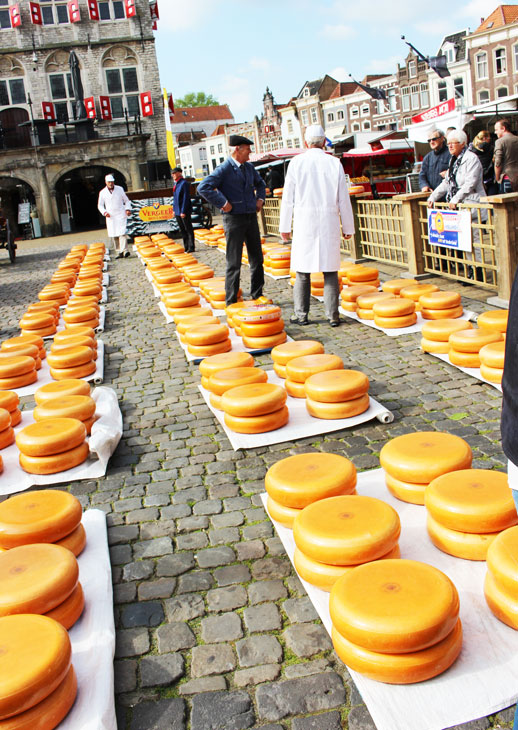 Each cheese becomes firmer in texture and more complex with the passage of time. As it ages the cheese develops a caramel-like sweetness with crunchy crystals, making this the savoury cheeseboard equivalent of the very trendy salted caramel. Aged Gouda is perhaps my favourite hard-hard cheese.

Although the cheese is named after the Dutch city, the cheese isn't made there, but Gouda is the centre for trading, as in the Middle Ages Dutch cities could be awarded total monopoly on certain goods – Gouda acquired the right to hold a cheese market. Most Gouda these days is produced in cheese factories but 300 or so farmers still produce "Boerenkaas", or Farmer's cheese. This is a protected form of Gouda made in the traditional way using unpasteurized milk.

One can still visit that colourful market that is held one day each week for several months of the year. Porters in jaunty hats, farmers in blue traditional costume and noble wagon drivers all help to make this a lively spectacular. There is much banter for the benefit of the tourists, and handjeklap in which buyers and sellers slap each other's hands and shout prices until they agree, and that's when the slap becomes a handshake. The porters carry the cheese to the weigh-house to be weighed, tasted and taxed.

Gouda is available in large wheels, each weighing between 10 and 25 pounds although there are some producers who make 60lb cheeses. They are mostly sold in smaller slices to the family shopper. It's eaten in sandwiches, it's used in cooking and the more mature cheese is cubed and nibbled along with a good glass of red or some beer.

Give Gouda a try. Find a good cheese shop and taste the unexpected depth of some fine Dutch cheese. The Cheese Market in Gouda is great fun. The town is beautiful with more to see and do when the market finishes. You could visit a restaurant and ask for Gouda Fondue or other dishes made from the town's most celebrated product.



Museumhavencafé for cheese fondue
Open from 1 May
Thursday - Sunday from 12:00 to 18:00
Phone +31 6 44267175
Visit Museumhavencafé here

Read another article about Gouda here

See more images of Gouda here

Learn more about Gouda here

Visit Voyages SNCF here

Learn more about other destinations in The Netherlands here





Bound by history, carved in stone - Normandy and England
We share so much. Those Norsemen who pillaged the coast of Britain and settled inland also did the same in France, and indeed in such numbers that a region took their name – Normandy, populated by Normans, a corruption of Norsemen!

Caen is the principal city in Normandy and is just 15 km from the English Channel, or La Manche as it's called in French. This beautiful town is now linked to the south of England by the new route from the increasingly popular Southend Airport. It takes less than an hour, making this hop shorter than many people's daily commute.

Caen is known as the city of William the Conqueror, and for its historic stone buildings constructed during his reign. He rose from obscurity to become a force on both sides of that aforementioned body of water.

The man who was to become William I of England was born in the late 1020s and was the illegitimate son of the Duke of Normandy. In 1035 William inherited the title of Duke of Normandy, a far more genteel one than William the Bastard which was his other moniker.

In the 1050s and early 1060s William became a contender for the throne of England, then held by Edward the Confessor, who had no children. English earl Harold Godwinson was another candidate and it was he who was named the next king by Edward as he lay on his deathbed in January 1066.


William was having none of that and mounted an invasion of England from Normandy in September 1066. He defeated and killed Harold, probably not personally, in the Battle of Hastings - which was not actually fought in Hastings but a few miles away in a place called, unimaginatively, Battle. In the wink of an eye we had a new king. William was crowned King of England on Christmas Day 1066.

Many castles in England were constructed during William's reign, making the statement 'we are here to stay'. One of the most famous is The White Tower which is the central keep of the Tower of London. This is one of the city's most iconic buildings and it's made of stone from Caen.

The very best examples of Caen stone buildings are, unsurprisingly, in Caen! This is a charming city and walkable. In fact a trip here from the UK is easy without a car. There is a speedy and frequent link from London Liverpool Street, and the train station is actually at Southend Airport, and therefore convenient for foot passengers. There is a regular shuttle bus from Caen Airport into the centre of town.


Once you are in central Caen you'll find everything within a small area. There are pedestrianised shopping streets to tempt skilled retail enthusiasts, but don't just look at goods in shop windows, look at the shop itself. There are some striking half-timbered buildings still standing even after the bombardment that Caen suffered during the Second World War.

The Abbaye-aux-Hommes was founded by William the Conqueror in 1067 as penance for marrying his cousin Matilda (who founded the Abbaye aux Dames for the same reason). William was buried in his Abbey – a marble slab in the choir marks the site of his tomb.

The Early Gothic choir replaced the original Romanesque sanctuary in 1202. This is the earliest example of Norman Gothic and became the model for many future choirs both in France and England. The Abbey is made from local Caen stone which was also used for Canterbury Cathedral and Westminster Abbey, and is a fine example of Norman Romanesque. There are twin Romanesque towers topped with Gothic spires that are 84m high, giving Caen the nickname "city of spires."

Caen doesn't disappoint. It's simple to get there, and decent hotels can be found for under 100 Euro. One can indulge in café culture, and enjoy the local cuisine. Buy a bottle of cidre, a baguette and some fine local cheese, and relax with a picnic in a park. Go for a unique calvados cocktail, and watch the sun set on ancient stones.

Learn more about Caen here

Visit Southend Airport here

For more images of Normandy visit the Mostly Travel Facebook Album here




Waddesdon Bequest
The British Museum in London is famed the world over for its displays of artefacts and curios. Granted, there are some that feel many of these objets d'art should be returned to their place of origin, while others feel that they are safer where they are. That conundrum is best left to wiser heads than mine.

There is a new display at the British Museum and it's stunning and eclectic, and very much built of one man's passion for beauty, stability and grandiose statement. In 1898 Baron Ferdinand Rothschild bequeathed to the British Museum as the Waddesdon Bequest the contents from his New Smoking Room at Waddesdon Manor. This collection didn't comprise racks of pipes and humidors but works of much more universal appeal.

Waddesdon Manor in Buckinghamshire was built by Ferdinand Rothschild in the 1870s in the style of a 16th-century French château. It is now a National Trust property, open to the public and managed by the Rothschild Foundation. It houses a celebrated collection of 18th-century French porcelain and furniture, as well as a noteworthy collection of European paintings.

There are almost 300 items in the Waddesdon Bequest, which include ornate and jewel-encrusted brooches, plate, enamel, carvings, glass and maiolica - Italian tin-glazed pottery. The Holy Thorn Reliquary probably dates back as far as the 1390s, but most of the collection is from the late Renaissance period of the 16th century - although there are a number of 19th-century fakes.
There are also more mundane items such as handles and a knocker, to contrast the sumptuous baubles, as well as the most exquisite miniature wooden carvings.

The collection was started by Baron Ferdinand's father, Baron Anselm von Rothschild, and may contain some works from earlier family collections, as Mayer Amschel Rothschild (1744–1812) had a thriving business dealing in coins and other precious objects. The collection was modelled on the regal European Schatzkammer, which is a German word meaning Treasure Room. Nobility in Germany and Austria in the 16th century were avid collectors of priceless works of art.

Baron Ferdinand's bequest was specific in nature, and failure to observe the conditions would render it void. The bequest stated that the collection must be housed in a special room which should be called the Waddesdon Bequest Room. Until late 2014 the collection was displayed in a much smaller room. Its new home is a larger gallery on the ground floor, close to the main entrance on Museum Street. The new gallery has been funded by The Rothschild Foundation. Next to Rooms 1 and 2, the Waddesdon Bequest Room now forms part of a series of rooms which document the history of collecting and the growth of the British Museum itself. One sees the glittering collection through open doors as one approaches with mounting anticipation.

For more images of the Waddesdon Bequest visit Mostly Travel Facebook page here

Visit the Waddesdon Bequest at the British Museum here




Jim De Jong – Say it with flowers …and cheese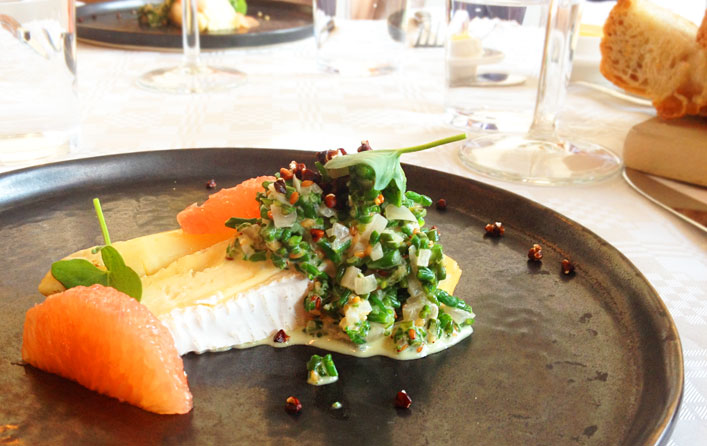 Rotterdam is fast becoming known for food. It's the Netherlands and it might be a bit of a cliché, but, yes there is cheese. Chef Jim De Jong was challenged to make a menu composed of Holland's most iconic staple, and his creations were stunning.

Jim has his culinary focus on seasonality, freshness, and vegetables, with the addition of herbs and flowers. He grows as much as he can and then buys local wherever possible. His menus are constantly changing and evolving. He is influenced by French cuisine as well as traditional Dutch.

We asked Jim to present six courses with the common factor being cheese. Many a chef would be daunted by the prospect but Jim was delighted at the very thought of creating a feast that would remain engaging, exciting and intriguing right to the last bite. He presented dishes that were beautiful, delicious and fun.

Restaurant De Jong is underneath the arches – railway arches, that is.
That might not sound a classy address but this neighbourhood is being polished and preened and is becoming a magnet for energetic chefs and bar owners.

It's a light, bright and contemporary restaurant with an open kitchen. It is tastefully understated, offering not a hint of the quality of food awaiting its diners. The tables are well-spaced in this restaurant, with ambiance that changes as the sun goes down.

Smoked quail's egg with Hay-mayonnaise and mustard powder was our first dish, or more accurately, bowl – the serving vessels are well considered at Restaurant De Jong. The spice offered a sharp counterpoint to the egg and the creamy mayonnaise.

White asparagus and Bergens Blonde cheese, samphire and buckwheat followed. The cheese was soft with Brie notes but this is Dutch. The white asparagus is much preferred in Europe to the green which is ubiquitous in the UK.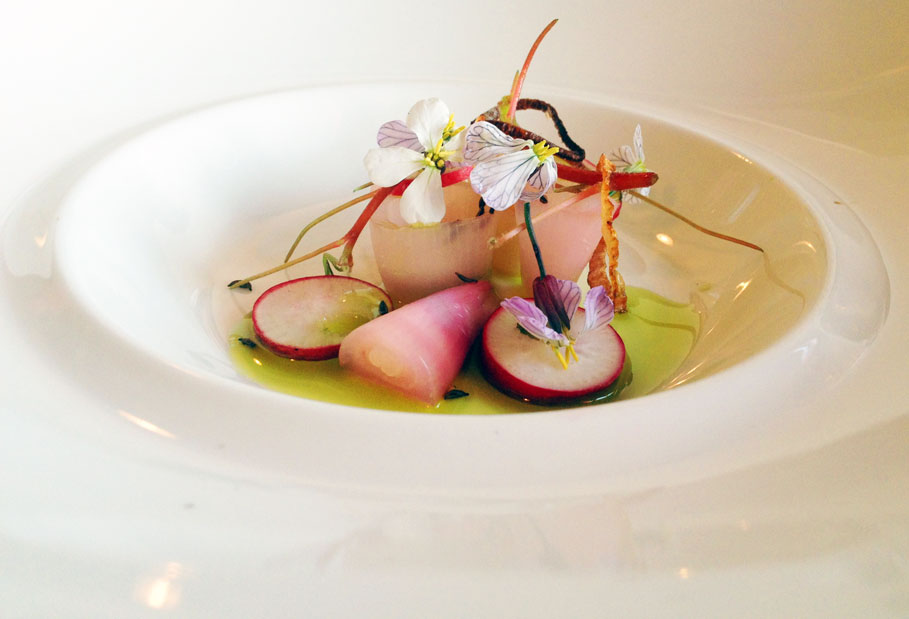 Blauwklaver cheese with artichoke, lemon, flax seed and oxalis was next. This 'blue clover' is a soft blue cheese and one which I shall be seeking on my next trip to the Netherlands. Oxalis was the floral garnish and is a member of the wood-sorrel family.

Pickled onions and radish, Charmeur goat's cheese broth, and lovage with radish flowers was my dish-of-the-meal. Those pickles had bite that complemented the cheese. Reminded one of the very best cheese and onion crisps one has ever tasted …in less crunchy form.

Green asparagus, old Texels sheep's cheese and mustard was next in line. Texel is one of the Dutch Wadden Islands. This cheese is made from raw sheep's milk, and has been produced for more than 500 years on the island. This is another cheese for the wish-list.

Dessert was rhubarb, lavender and yoghurt, giving a perfumed finale to the meal which was inspiring, amusing, conversation-provoking and the most marvellous showcase for Dutch cheese and dairy products.
It's a shame that the Netherlands seems known outside its borders only for Edam and Gouda. These are both fine cheeses, but one could have quite a gastronomic adventure in Holland just discovering the lesser-known local cheeses.

Chef Jim De Jong might not consider himself an ambassador but he proved himself to be just that. He has passion and culinary vitality. His support of local food is commendable and he offers both the Dutch and visitors a glimpse of how good the food here can be. You might not get a chance to eat these same dishes but perhaps this menu will give a few ideas. It's a sure bet that Chef Jim will have other memorable dishes for you.

Restaurant Review:
Restaurant De Jong
Boog 1/Raampoortstraat 38
3032 AH Rotterdam

Phone: 010 465 7955

Visit Restaurant De Jong here

See more images of Rotterdam here

Visit Voyages SNCF here

Learn more about other destinations in The Netherlands here




La Belle Epoque – 5-star floating through Burgundy
What a grand title for a barge! Luckily the lady lived up to her name and our expectations, which she did actually
exceed in every way.

A barge, even a big one, presents the very real prospect of tight accommodations, iffy facilities and, still worse, the likelihood of mediocre food cooked by a well-meaning hobbyist chef on a gas burner at the back end of the boat. La Belle Epoque was surprising, charming, delicious, luxurious and relaxing, and those dreads soon evaporated.

We were met at our appointed hotel in Paris - the receptionist was expecting us, and took charge of our luggage so we were able to have a few hours in warm, sunny Paris. Just time enough for a meal of steak-frites and a glass of something red and reviving, surrounded by locals. The holiday had started and we hadn't even seen our vessel.

Our minibus arrived, and not one of those U-Drive efforts hired for the day, either. A smart blue 9-seater in the European Waterways livery with the company emblem on the door. (In fact this bus was to follow us along the route, and ferry us to various places of interest.) A smiling couple introduced themselves to us and the other passengers, and loaded the luggage. We were off.

A couple of hours of dozing found us alongside a beautifully painted and substantial Dutch barge. This particular boat was built in the 1930s to carry cargo around the European rivers and canals in an era when they still offered the fastest and most reliable travel options. La Belle Epoque had been sympathetically converted to a floating hotel but it still retains some features which made Dutch craftsmanship so valued.

The trip started with a warm welcome from the assembled crew and a glass of chilled champagne. Canapés were nibbled before we were escorted to our cabins. The Belle Epoque has 6 guest cabins boasting modern en-suite facilities, single or huge double bed, crisp linens, brass portholes, dark wood, mineral water aplenty, turn-down service every night, and even a chocolate on the pillow. In short – bijou floating comfort.

There is ample space in the saloon which acted as both lounge and dining room. Two long sweeps of banquette
tempted voyagers to linger over apero and savouries in the evenings before dinner or to unwind with a best-seller before a stroll along the towpath: one can walk through idyllic French countryside between locks. La Belle Epoque moves at a good walking pace so not much chance that you'll miss the boat. For anyone needing more speedy travel than Shanks's pony, there are bikes which allow for a mini Tour de France into nearby historic villages before meeting the boat a few locks further on.

But it's not all about taking naps in dappled sunshine, hiking by the canal or cycling through Burgundy. There are also guided excursions every day. There might be a walk to a nearby chateau, a visit to a village market, perhaps a wine tasting break ...well, this is Burgundy and a famed wine-producing region after all!

Our first meal set the scene for the whole trip. This was, surprisingly, not advertised as a culinary-themed adventure although we had hoped for some interesting dishes. Chef Selby presented French food to the highest standard. On our first evening we enjoyed crayfish timbales wrapped in cucumber, duck with orange sauce, pears
poached in red wine and all expertly paired with both red and white wines. He progressively ticked off all the classics – beef from the pale Charolais cattle, coq au vin, frogs legs …and then there were the cheeses! There were several of these after every meal. Chef Selby chose regional cheeses, soft cheeses, blue cheeses and hard cheeses. All from France and showing their diversity.

Our daily guided excursions took us to such beautiful villages as Flavigny-sur-Ozerain, where the film 'Chocolat' was set; Alesia, where the last battle between the Gauls and Romans took place in 52 B.C. (and a visit to the museum); the exquisite World Heritage UNESCO site of Abbaye de Fontenay founded by St Bernard in 1118, which is unmissable; the 16th century Château d'Ancy-le-Franc with the biggest collection of Renaissance murals; and the vineyards and town of Chablis, dating back to Roman times.

France is popular for barge cruises, but all cruises are not created equal. Whilst it's true that this was my first experience of such a holiday, I would have to say that European Waterways, on La Belle Epoque, have thought of everything. It's a floating hotel with almost-individual attention from the staff. There might not be room for an
Olympic pool on deck but there is a hot tub. No, there isn't a bespoke library but there is a selection of books on the food and drink of the region, and one might notice a copy of Rick Stein's French Odyssey. That's no surprise as that book is associated with the eponymous TV series that was partly shot on a European Waterways boat.

La Belle Epoque is polished, both metaphorically and actually. If this is an example of the whole fleet then European Waterways deserve to be proud. I wholeheartedly recommend this trip to any food, wine and history lover …or lovers of doing nothing while the scenery drifts serenely by.

Visit European Waterways here

Read about an excursion during this trip here

For more images of La Belle Epoque visit Mostly Travel here




Around Gouda
Gouda is a city and municipality in the province of South Holland. It's an historic town which was granted city status in 1272 by Floris V, Count of Holland. Most tourists will know Gouda cheese but might not even realise that there really is a town of the same name, which has more to offer the world than its delicious namesake.

In the Middle Ages a settlement was founded by the Van der Goude family, who built a castle on the banks of the Gouwe River. This low-lying area was originally marsh but has been drained. By 1225, a canal was linked to the river and its estuary was made into a harbour.

Gouda is a strikingly beautiful town with easily walked streets. The Old City Hall at the Markt square was finished in 1450 and is one of the oldest Gothic city halls in the Netherlands. The Waag (weigh house) was built in 1667 and is found just opposite. It is an imposing structure with a marble frieze (the original of which can be seen inside the building) depicting the process of weighing cheese and noting the weight for taxes. It is now a national monument and houses a cheese museum and souvenir shop.

The Gouda Cheese Market is held every Thursday morning from 2 April to 27 August. One can enjoy the traditional scene of farmers haggling over the price of cheese with the traders. There is much hand-slapping before the deal is finally sealed with a handshake, just as it has always been. These days have a festive air with many of those farmers, wagon drivers and cheese shifters wearing tradition costume. Yes, there are plenty of clogs.


Grote or St. Jans Kerk (Great or Saint John Church) is the longest church in the Netherlands. It's dedicated to John the Baptist, the patron saint of this town, and was built between the 15th and 16th centuries. But it's more famous for its stained glass windows which were made between 1530 and 1603. The windows were made and installed primarily by the brothers Dirk and Wouter Crabeth. I am no glass specialist but these windows are the finest and most numerous in one building that I have hitherto found in my travels. As far back as the 17th century they were considered a tourist attraction. In 1939, at the start of World War II, the stained glass was removed for safe keeping; the windows were restored when peace once again reigned. This must surely be one of the most impressive town churches in Europe. The simple white walls are a perfect foil for the bright illumination of the coloured glass.

A stroopwafel or syrup waffle is a classic Dutch confection and a speciality of Gouda, its town of origin. These are addictive sweet waffle biscuits which are deftly cut through to produce 2 discs which are spread with a caramel sauce. They are made on waffle irons with shallow indentations to produce a fine lattice. A firm dough rather than a batter is made from flour, butter, brown sugar, yeast, milk, and eggs. The sweet filling is made from boiling together molasses, brown sugar, butter, and cinnamon.

The stroopwafel was first made around the late 18th century by a baker using breadcrumbs and syrup. In the 19th century, there were around 100 waffle makers in Gouda, which was, at that time, the only city in which they were made. After 1870 they were also produced in markets in other cities. In the 20th century factories started making the popular biscuits, and several still exist, helping to stock supermarkets around Holland and beyond.


One cannot live by stroopwafel alone although many would probably have tried. For those looking for Gouda's savoury dishes then visit the park near the Mallegat Luis at the Schielands High Seawall. Here you will find the small but perfectly formed Museumhavencafé in 'tIJsselmeer House. This building was once the waiting room for skippers of vessels going through the locks. These days it's a café which serves such delights as cheese fondue along with local beer and spirits. If you are lucky you might be serenaded by an accordion player.

Holland is a small country with an exceptional transport network connecting its cities and towns to each other as well as European rail hubs. It's now possible to reach Gouda easily from London by train with just a couple of changes. Voyages SNCF might be the first place to look for travel advice for any history-, cheese- and cookie-loving tripper. They will help plan rail transport to Gouda as well as other destinations in The Netherlands and the rest of Europe.


Museumhavencafé
Open from 1 May
Thursday - Sunday from 12:00 to 18:00
Phone +31 6 44267175
Visit Museumhavencafé here

Read another article about Gouda here

Learn more about Gouda here

Visit Voyages SNCF here

Learn more about other destinations in The Netherlands here




A Citrus History of Sicily
Sicily is a large island just off mainland Italy. It has a variety of landscapes and the imposing Mount Etna which has donated volcanic soil to the fertile tapestry.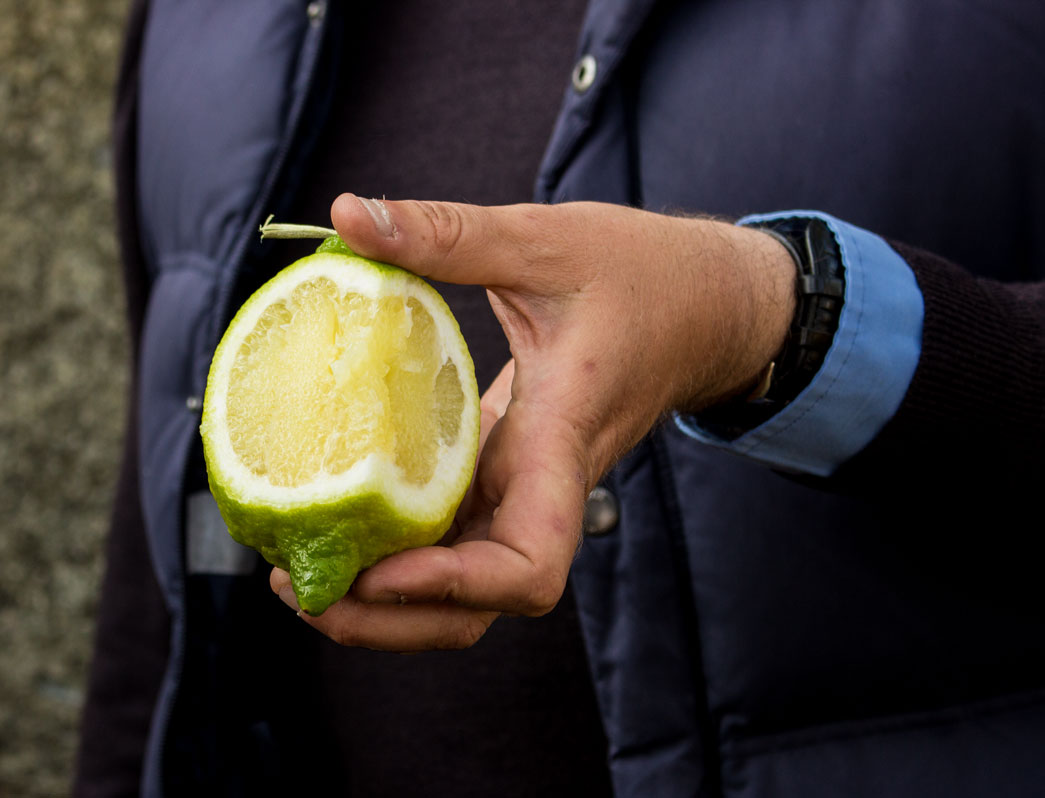 It boasts long and unspoilt beaches that are deserted even in the pleasantly hot months of April and May, and if one is lucky one can watch dolphins at play as the sun goes down.

The island is blessed with picturesque villages and small towns, museums, shops, fresh air and food. There are subtropical areas growing exotic prickly-pear cactus and there are citrus trees for which Sicily is so famed. Lemons, oranges, blood oranges and mandarins all grow within sight of Mount Etna.

People have known for thousands of years of the health benefits of citrus fruit. Earliest cultivation of these fruits dates back at least 2500 years to Asia. According to various authorities the oldest reference to oranges and lemons is in a Sanskrit text. Many specialists in the subject believe that the fruit we know today originated from a sour fruit found growing wild in China.

The lemon was also enjoyed in Roman times, as we know from archaeological evidence that they were grown in Pompeii. Planting continued across North Africa and then in southern Spain by the 8th or 9th century. By the 13th century planting had extended from Seville to Granada and into Portugal and Sicily when North African migrant farmers and botanists brought citrus to the island to grow in the emir's beautiful gardens. It was this citrus production that earned the hills and valleys around Palermo the name "Conca d'Oro" (golden seashell) in the Middle Ages.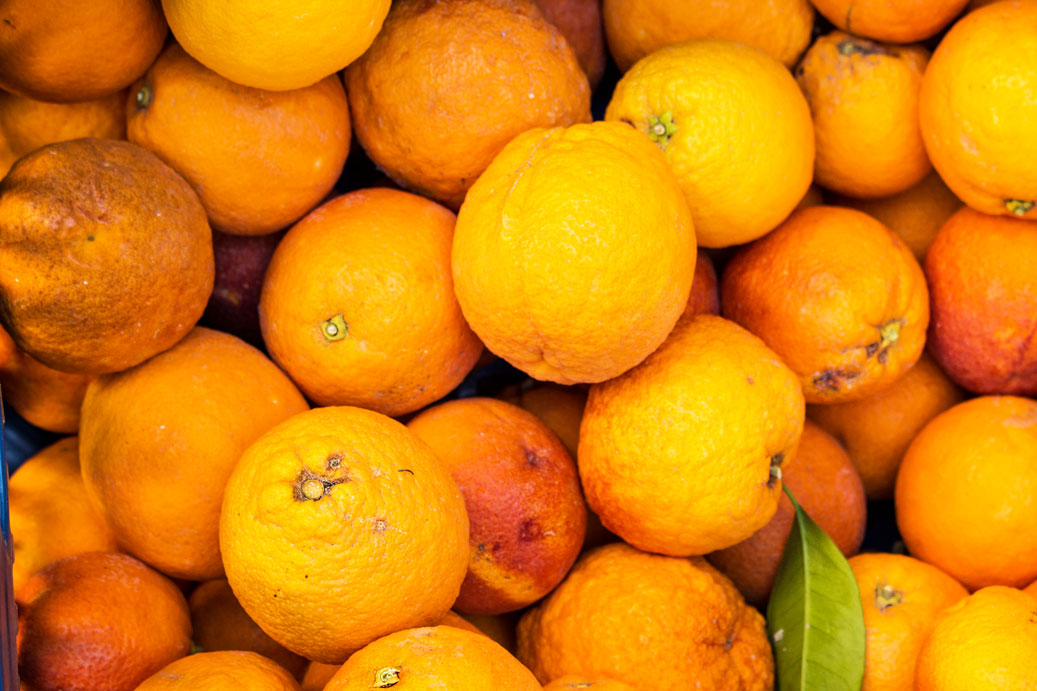 The modern English word orange, like the Italian arancia, probably derives from the Arabic naranj. The capital of the Arab world at that time was Palermo and the wealth of the city was said to rival that of ancient Baghdad. The Jewish population flourished and was respected by the resident Moslems in Sicily, and that mixed population enjoyed life along with the increasing number of Christians. (Those were the days!) All these diverse groups contributed to Sicily's unique culinary heritage.

On a practical note James Lind, Fellow of the Royal Society, discovered while he was serving as a naval surgeon in 1747 that citrus juice could successfully treat scurvy, a disease that was the scourge of the British navy at that time, and recommended taking this during long sea voyages. Toward the end of the 18th century, Sicily began shipping lemons and oranges throughout the world as their health-giving properties became ever more widely recognized.

Blood oranges are so called for their red flesh and deep red juice. When ripe, their skin may also have a reddish hue. In Sicily, the most popular blood oranges are the Tarocco, the Moro and the Sanguigno. Though used extensively in salads and desserts, blood oranges are sought after for their striking red juice which is rich in antioxidants. Mandarins, Valencias and navel oranges are also grown in Sicily, but the blood orange is considered particularly Sicilian.

Citrus production begins in October with the Mapo. The Clementini, which are also members of the tangerine family but are seedless and sweet, ripen at that time, too.
The seedless Washington Navel orange is grown along the southern coast and is popular between October and March.

Lemons growing around Siracusa continue to be a very important economic staple. The Siracusa region is considered to be the centre for production and processing of fresh lemons for both the Italian and European markets. On 3 February 2011 the name Limone di Siracusa was registered as having Protected Geographical Indication (PGI) status. This PGI-awarded fruit is characterised by a high juice content, the amount of essential oils in the skin, and the high quality of those oils, which are used in the cosmetics and other industries. The local variety of lemon is called a femminello because of the fertility of the plant, which has flowers throughout the year. It is quite unusual to find a fruit tree that can have both blossom and mature fruit on its branches at the same time, but here they are in Sicily.

This is an island of great natural beauty and historic charm. One can enjoy modern city amenity but also seek out those shady orange and lemon groves, smell the blossom and appreciate fruits that have shaped the destiny of Sicily.




**************************
Recent articles