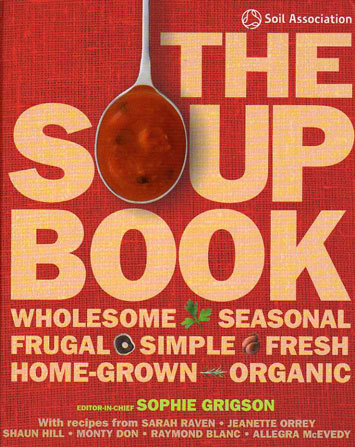 It seems to come around faster every year. Winter, that is. Should I bracket that along with policemen looking younger and Arial 10-point computer typeface looking smaller? Whatever it is, this is once again the season for soup.
The Soup Book features over 250 soup recipes and it's true that there are some designed to be served chilled. The majority, however, are those traditionally served piping hot and are ideal for either a starter or as a meal in themselves. These are, for the most part, economic recipes that will make the best of seasonal ingredients or home grown produce.
If you have a patch of land reserved for growing food then you will have often been confronted by a glut of something or other, a surfeit of something else, and a hill of something soon to be compost. Everything ripens at the same time. A good tomato season for you will doubtless mean the same for everyone, so there is little chance of giving many away. Soup comes to the rescue.
Money is tight these days. We need to cut out the waste and buy fresh veggies and fruit when they are at their best and cheapest. Soup allows you to transform a bag of Brussels sprouts into a meal that the kids really will eat (don't tell them what's in it). Yes, you can eat that Halloween pumpkin, and tomato soup does not have to come out of a tin.
Editor-in-chief Sophie Grigson has penned over 20 cookbooks and has made numerous appearances on British TV. She has marshalled the culinary forces of a good number of worthies of the food industry to compile this collection of soup recipes. Darina Allen, Raymond Blanc, Monty Don, Thane Prince and Alice Waters are among the illustrious list of contributors. They all know a bit about cookin' so you are assured of a good read.
This is a proper cookbook. That is to say, it's one you'll use. It's attractive and bright with a wealth of striking photographs by William Reavell. The recipes are simple. It is, after all, soup. Lots for summer veggies, winter veggies, pulses and nuts, fish and shellfish as well as poultry, game and meat. There is even a chart to show you exactly when British vegetables are in season. There is a recipe chooser to point you in the direction of specific soup groups: vegetarian, chilled, hearty, healthy, spicy, main meal and quick soups are all listed.
Roopa Gulati has contributed several recipes to this collection and Kichidi is one of my favourites. It's a spicy butternut squash and lentil soup with warming and aromatic flavours. Only 15 minutes preparation time. This can be frozen for up to 3 months so make lots to store away.
The second of Roopa's recipes that deserves a mention is Mussels in a Ginger and Chilli Broth. These molluscs are good value but classy. They always seem somehow luxurious and this recipe adds 'exotic' to the description. A real winter winner.
Marie-Pierre Moine offers a French classic in the guise of Pot au Feu. It takes a bit of time to prepare but it's a substantial meal rather than a snack. This version uses braising steak so it won't break the bank. Serve it with the traditional accompaniments of coarse-grained mustard, gherkins and horseradish.
The Soup Book offers every imaginable recipe. There are those everyday standards, but also lots with an international flavour. Plenty for spice lovers as well as those who want light fresh tastes. This book is packed with ideas for dishes that are delicious but easy on the purse. A great gift for anyone who grows their own food. A book for the kitchen rather than the bookshelf. Outstanding value for money.
The Soup Book
Authors: Various
Published by: Dorling Kindersley
Price: £16.99
ISBN 978-1-4053-4785-3
Cookbook review by Chrissie Walker © 2018