The Mitre has a facade very much in keeping with its smart Holland Park surroundings. It's a 1930s building that has been used to good advantage by the present owners. It has a surprisingly spacious and light interior thanks to some large windows that overlook a palm-planted courtyard garden. This space isn't used by the Mitre for outside dining but it's an asset nevertheless.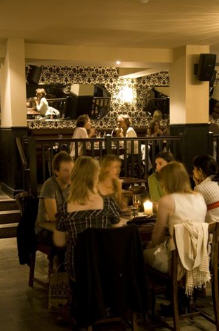 Although covering a good few square yards The Mitre manages to feel cosy with its chesterfields and leather chairs inviting the bar clients to linger. There is a raised bistro dining area with booths for 4 or 6 guests as well as spacious areas for individual tables providing flexible accommodation for couples and large groups. There is a semi-open kitchen. That is to say you get a good look at the kitchen through a long hatch rather than having the impression that you are sitting at the chef's table next to the dishwasher.
The staff were efficient and friendly although they had plenty to do looking after several large groups; the waiters were knowledgeable, enthusiastic, charming and calm, no mistakes or delays were evident and that is quite an accolade at this festive time of year.
We ordered the Duck Board. This is a Mitre signature dish along with its fish counterpart. It's easy to see why it's so popular. It's an ample starter for 2 people and it's a marvellous thing to behold. The duck board isn't a plank to keep one's feet dry but rather a thick and rustic wooden board generously garnished with, well, duck. This is duck in all its guises. Duck rillettes (shreds of duck in its own delicious fat) with a couple of shards of duck crackling (more delicate than the regular pork which you are more likely to have encountered), crisp roast duck with a mound of spiced orange dressing, duck liver pate, and slices of succulent duck breast prosciutto with a miniature skewer of spicy pickled vegetables. A striking presentation of a thoroughly inventive dish. The head chef, Pat Lynch, trained at Scott of Mayfair and Le Pont de La Tour so it's no surprise that the standard is high at the Mitre.
Our main courses were chosen from a solid British brassiere selection. My Yorkshire sausages with mash and onion gravy were a good example of why these isles have such a good reputation for bangers. These particular ones were the sort that one seldom encounters these days. They had bursting skins and that rich stickiness that comes from a well-cooked quality sausage. The onion gravy was full of caramelised sweetness and there was enough smooth mash to turn the head of a more-than-peckish rugby player.
My guest chose battered haddock, chips and mushy peas for his main course. The fries were thick fingers – proper old-fashioned chips, the sort that are big enough to have a fluffy interior. The mushy peas were a cut above those often found in chip shops: these were light and minty, and more of a purée than a mush. Remoulade sauce was alongside by way of an improvement over mayo or ketchup.
Be warned, come with an appetite or you will not make it to the desserts. These were a pleasing selection of treats. There was the traditional apple pie but also plum crumble for fruit-lovers. I couldn't resist the sticky toffee pudding. Elsewhere, they are often pale and dry with a skimping swirl of sauce. This little beauty arrived on a large dish and was a glossy dark island floating in a sea of liquid toffee. Worth every calorie.
The Affogato makes for a stylish end to a meal. Vanilla-bean ice cream, a shot of espresso and toasted panatone. Pour the coffee over the ice cream for a delightful hot-cold taste experience. This is a simple dessert to prepare but it does rely on the best of ingredients. This just doesn't work with cheap and nasty ice cream and a chunk of toasted white sliced. The version at the Mitre was just right.
The Mitre provided us with a warm refuge from a blizzard, an imaginative menu, well-cooked food at decent prices. It's a popular spot and it's easy to see why. No complaints from this reviewer.
The Mitre
40 Holland Park Avenue, London W11 3QY
Telephone: 0207 7276332.
www.themitrew11.co.uk
Restaurant review by Chrissie Walker © 2018