It's winter and we want to spend more time in our cosy kitchens. It's the season for celebrations and indoor entertainment and cakes are often a big part of those events. Cupcakes are trendy and smart and Afternoon Tea has had a well-earned renaissance. Cake-making is back on the agenda.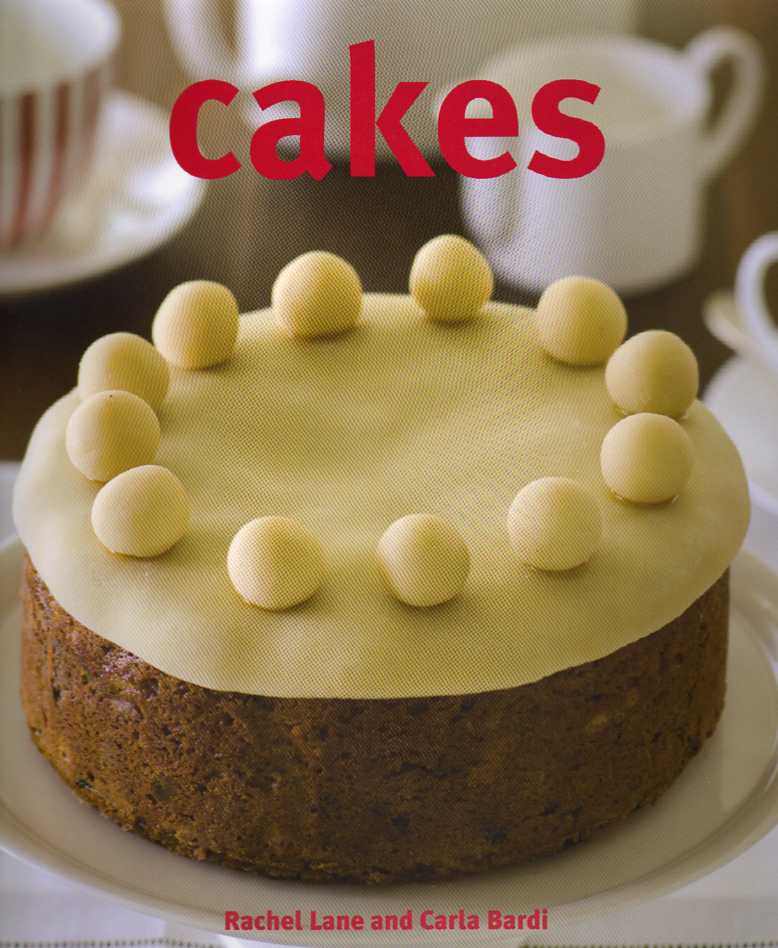 Baking is different from cooking. Yes, it still involves you in a close relationship with your oven but there is an additional indispensable element: a good recipe book. Most of us can make a casserole from bits found lingering at the back of the fridge married with some meat from that forgotten corner of the freezer, but cake-making involves a bit of culinary alchemy.
Don't be alarmed, dear reader, there is nothing too difficult to baking. Follow the recipe and pay attention to weights, or in the case of this book, measures, and size of cake tin and all will be well. Once you have mastered the basics then you can introduce your own innovations in the guise of different fillings and icing.
Cakes offers 250 tempting creations including festive cakes, coffee cakes (these are cakes made to be consumed alongside a nice cup of coffee), fruit cakes and even frozen cakes for the warmer weather. These frosty desserts are great entertaining puds as they are made ahead. Stress-busters.
I am sure you have noticed posh cafes with arrays of extravagantly decorated cupcakes. These are delicious but often a shocking price. Make your own for little money. There are more than 25 alternatives here to suit any occasion. Espresso Swirl Cupcakes really are coffee cakes in every sense of the word. Have these with a strong espresso and think of weekends in Rome. They take 20 minutes to prepare and you won't need a degree in catering.
Ideal for slow weekends
The Breakfast and Brunch chapter holds many delights. Cake for breakfast is a thoroughly civilised American tradition that should be embraced by all. These cakes are not over-decorated and sugary but are filled with good things like fruit and nuts. Think of these cakes as huge power-bars, originally made by farmers' wives for families who started their day while the chickens were still dreaming. You wouldn't want to eat huge slices every day but they are ideal for slow weekends. How's about Apple and Cranberry Crumble Cake for early on Christmas morning. Make the night before.
Upside-Down Citrus Polenta Cake is a tangy take on the more common pineapple version, although that is also included in the fruit and vegetable cake section. The polenta gives a different texture. There are several versions of Carrot Cake with a selection of interchangeable toppings. I love the traditional cream cheese frosting.
An old-fashioned teatime cake is Date and Walnut Cake. This book has a version with a caramel frosting. I am not normally one for tinkering with old favourites but I am persuaded that this icing really is worthy of inclusion. Lamington Cake draws on Australian afternoon tea tradition. The original Lamingtons were small square cakes but this volume presents the same style of confection in the form of a whole cake. More practical to make than the usual.
Cakes is a stunner of a book. The photographs are magnificent and there are plenty of options for those of us who have specific dietary needs. Gluten-free, egg-free, dairy-free and even sugar-free recipes are all noted. You don't need to be an expert baker to enjoy Cakes. Another winner from the stable of Apple Press. A lot of book for the money.
Cookbook review: Cakes
Authors: Rachel Lane and Carla Bardi
Published by: Apple Press
Price: £16.99
ISBN 978-1-84543-341-3
Cookbook review by Chrissie Walker © 2018
See more books by Carla Bardi here