It's healthy food. It's an art form. It's impressive, and it's iconic. People either love it or refuse to try it. Its skill lies in assembly rather than cooking. Sushi is special.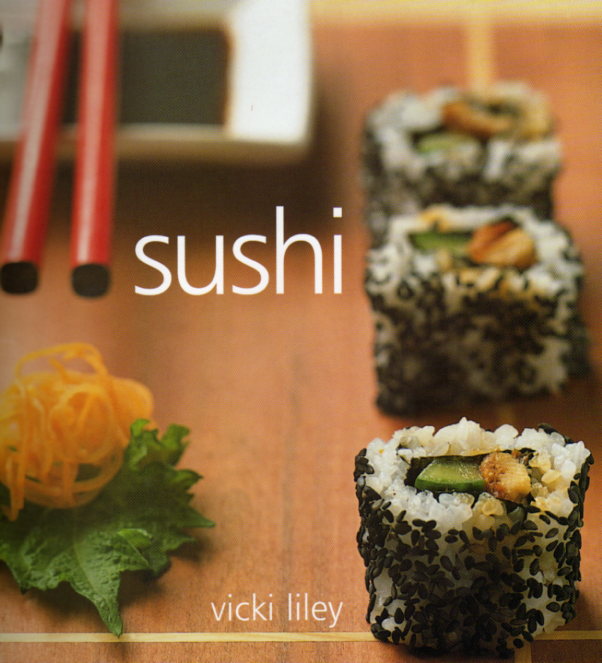 Vicki Liley is versatile to say the least. She is a recipe writer, food stylist and photographer. She is responsible for the majority of the pictures in this book and they are lovely. She has appeared on TV and radio. She has penned several other books including Asian Cooking Companion, The Complete Book of Hot and Spicy Cooking, and Simple and Delicious Dim Sum, all from Apple Press.
Sushi is becoming more popular in Britain with many supermarkets selling plastic-wrapped versions. It looks very nice and it's probably better for you than a fat-rich sandwich or sausage roll. But sushi is all about freshness so why not make it yourself. It's cheaper than shop-bought and you'll notice the difference.
As I have said, it's not complicated cooking but there are some skills to perfect. This book provides you with everything you'll need to select the few items of necessary equipment and the ingredients. There are practical step-by-step pictures by Alan Benson that will take the fear out of the process.
In truth it's several processes depending on the type of sushi, but you'll soon master them and then it's on to the recipes or more accurately the fillings. Vicki has an attractive selection of classic sushi that might be familiar to some of you. There are others that are equally authentic but new to many. Sushi isn't all about raw fish. You will find plenty of vegetarian sushi and we won't know if you make your own sushi filled with Marmite or strawberries. You can mix and match combinations of fillings and shapes.
The chapters include Thin-rolled Sushi, Thick-rolled Sushi, Inside-out Sushi, Hand-rolled Sushi and Stuffed Sushi. There is also a section on traditional soup to start your Japanese meal. Sushi etiquette is also discussed as well as information on appropriate drinks.
Vicki Liley illustrates a gorgeous array of delicious fresh sushi that will be a great introduction to sushi-rolling for the novice, and give inspiration to the more proficient. Sushi is also an ideal medium for introducing kids to food preparation. I have a young friend (I don't insult him by calling him a kid) who mastered the art in just an evening. He presented us with a dazzling display of fish and vegetable sushi for the New Year. This book is an ideal gift for anyone interested in a stylish and guilt-free dining experience. Great value for money.
Asian cookbook review: Sushi
Author: Vicki Liley
Published by: Apple Press
Price: £10.99
ISBN 978-1-84543-252-2
Cookbook review by Chrissie Walker © 2018
Read other articles about Japanese food, art and culture here