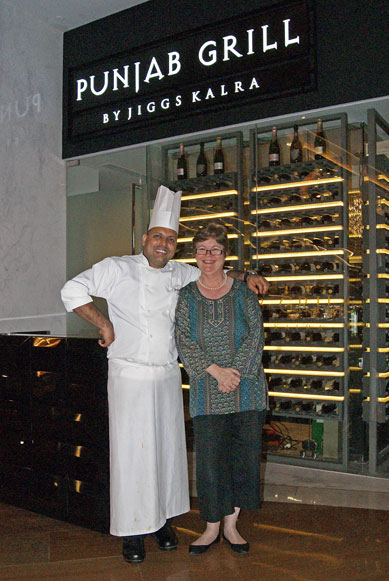 Indian food in any country other than India would not seem the natural choice for the food-passionate traveller, but good food should never be overlooked and there is no reason to introduce geographic dining prejudice into one's Singapore eating extravaganza.
It's a city-state famed for its quality and variety of food. It has a neighbourhood called Little India and it does indeed seem an authentic, vibrant and colourful corner of the transplanted sub-continent. But the local demand for authentic and good-quality restaurants seems to have stopped, with a few exceptions, just short of Little India. One can find surprising culinary gems but on the whole the eateries lack polish.
Chef Javed Ahamad had invited me to his restaurant, Punjab Grill by Jiggs Kalra, and I was expecting something special. The clue was in the address, a million culinary miles away from Little India. Marina Bay Sands only houses creditable food outlets and the smartest of fine dining restaurants, and Punjab Grill by Jiggs Kalra counts itself in that number.
Those outside India might not be familiar with the name Jiggs Kalra, but anyone with a love for Indian food and cookbooks will know this man, who has built a formidable reputation in the Indian food industry, from writing to presenting his own eponymous small chain of Punjab Grills across India. The Singapore branch is the first outside India, and was an inspired choice of location.
These days son Zorawar Kalra, Founder and C.E.O of Punjab Grill, and business partner and Chairman of LiteBite Foods, Amit Burman, oversee the workings of the chain, and Chef Javed is the man at the sharp end of the Singapore branch. His dedication to presenting fine dishes is evident. He glows with both pride and enthusiasm for this smart restaurant which does itself glow with thousands of soft lights in a kind of man-made firmament.
Diners are welcomed by tastefully-costumed waiting staff and seated at well-spaced tables. There is a view onto the kitchen and into the well-stocked wine rack. Yes, the myth has finally been dispelled that one can only drink cold beer with Indian food. The menu arrives and it offers many dishes that have made Indian food so popular with many of us in Europe.
Punjab Grill has taken the rich and almost addictive flavours of Northern India and presented them in a refined restaurant.
The tandoor-grilled dishes are an absolute triumph with the salmon being possibly the best you will find anywhere. One would think that's a simple preparation but the skill is in the delicate touch of the tandoor chef. Every second counts, and too many of those can render a moist piece of fish a dry and tasteless travesty.
The grilled lamb chops were another highlight among many. How often has one heard the phrase 'falls off the bone' and it always sounds like a poetic exaggeration, but the meat was truly melting, well-seasoned and memorable.
Try the Patiala Shahi Machchi. It is indeed a royal fish dish of moist and flavourful white fish in a spicy sauce. It's a recipe that takes some care as a heavy hand with the spices can mean a final result of overpowered fish. It's done well here.
Butter Chicken is a standard on many an Indian restaurant bill of fare but Chef Ahamad offers us a version that is flavourful, well-buttered but lighter than some. It's a must-try for those who want a classic gravy dish. And don't forget the indispensible daal which is a speciality here. One might think a bowl of lentils to be dull and ordinary but the daal at the Punjab Grill will comfort and impress the uninitiated and delight the converted.
Punjab Grill by Jiggs Kalra with Chef Javed Ahamad at the helm ticked all the epicurean boxes for this food
traveller. The ingredients were fresh, the dishes were balanced and full of flavour, the presentation was first-class and the service impeccable. The majority of diners were evidently local and regular visitors, and there were a number of Indians who dropped by and enjoyed their evening, and they know more about this cuisine than do I. The menu was well executed and a delight to graze upon – plenty of choice of classics as well as innovation. Return visits will definitely be booked when I'm craving curry in Singapore.
Punjab Grill by Jiggs Kalra (Chef Javed Ahamad)
B1-01A, Galleria Level
The Shoppes At Marina Bay Sands
2 Bayfront Avenue, Singapore 018972
Phone:+ 65 6688 7395
Visit Punjab Grill by Jiggs Kalra here
Opening times
Daily Lunch:
11:30AM  –  3:30PM. Last order: 2:45pm
Dinner:
6:30PM  –  11:00PM. Last order: 10:30pm
Phone:+ 65 6688 7395
Read more articles about Singapore here
Restaurant review by Chrissie Walker © 2018