The history of pepper, and there's 3000 years of it, is as romantic and bloody as any work of fiction.   Pepper has been used in medicine, in embalming when the medicine didn't work, as currency, and as a status symbol. It's one of the few spices that has continually graced the British cruet since cruets were invented. It's so ubiquitous that it's often a seasoning relegated to the ranks of "common" and "boring".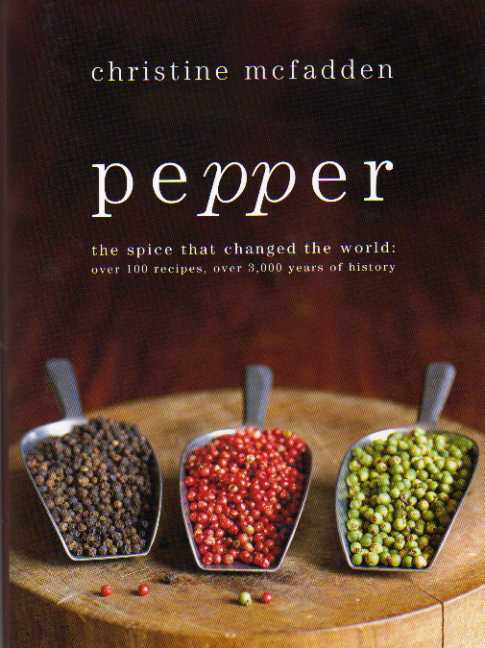 Christine McFadden has penned this witty and absorbing volume. She is a celebrated food writer twice nominated for world food media awards, former vice-chair of the Guild of Food Writers and is the author of thirteen other books including The World of Chocolate, Cool Green Leaves and Red Hot Peppers, and Tools for Cooks. Christine is an active member of the Slow Food movement.
Pepper – The Spice that Changed the World charts the rise of this small seed and its progress from India to Europe via Arab traders. The spice was found inside the mummified body of the Pharaoh Ramses, and was flaunted by Romans who used huge quantities of the expensive spice to impress their guests.
At the time of Queen Elizabeth I the English stevedores, the equivalent of modern dockers (if there are indeed still such men), were forbidden to wear clothing with cuffs and had their pockets sewn up to discourage pepper pilfering. It still had a certain aristocratic value in 1973: that year saw Prince Charles invested as the Duke of Cornwall with his feudal rent amounting to a pound of peppercorns.
It's not just a history book. Pepper – The Spice that Changed the World even offers advice on buying a pepper mill, a gadget that I only encountered for the first time in 1975. There is, in fact, everything you might ever want to know about the spice, including lists of varieties and tasting notes. This isn't a dry academic work although it's full of information. Christine has an engaging style of writing, with every chapter littered with light humour.
There are over 100 recipes, which include everything from salad to cakes, and there are lots of delicious surprises such as Black Pepper Brownies, Pink Pepper Blondies and Hot and Sour Courgettes. Steak au Poivre (Pepper Steak) is traditional and a typical French menu item but it's a good platform for what was, until recently, a much underrated spice.
Pepper – The Spice that Changed the World is informative but it's equally an enjoyable read, well written and fascinating. I hope to review more books by Christine McFadden in the near future.
Pepper – The Spice that Changed the World
Author: Christine McFadden
Published by: Absolute Press
Price: £25.00
ISBN 9781904573609
Food history and cookbook review by Chrissie Walker © 2018