I know what you are thinking and I was thinking the same. This is going to be a book full of the author's noble intentions. There will be lots of green food and recipes for dishes that must do you good as you sure wouldn't eat them for the fun of it. Add to that the horror of a celebrity having written the volume and you'll have just the spot for this book: under the leg of the sideboard to stop the plates rattling.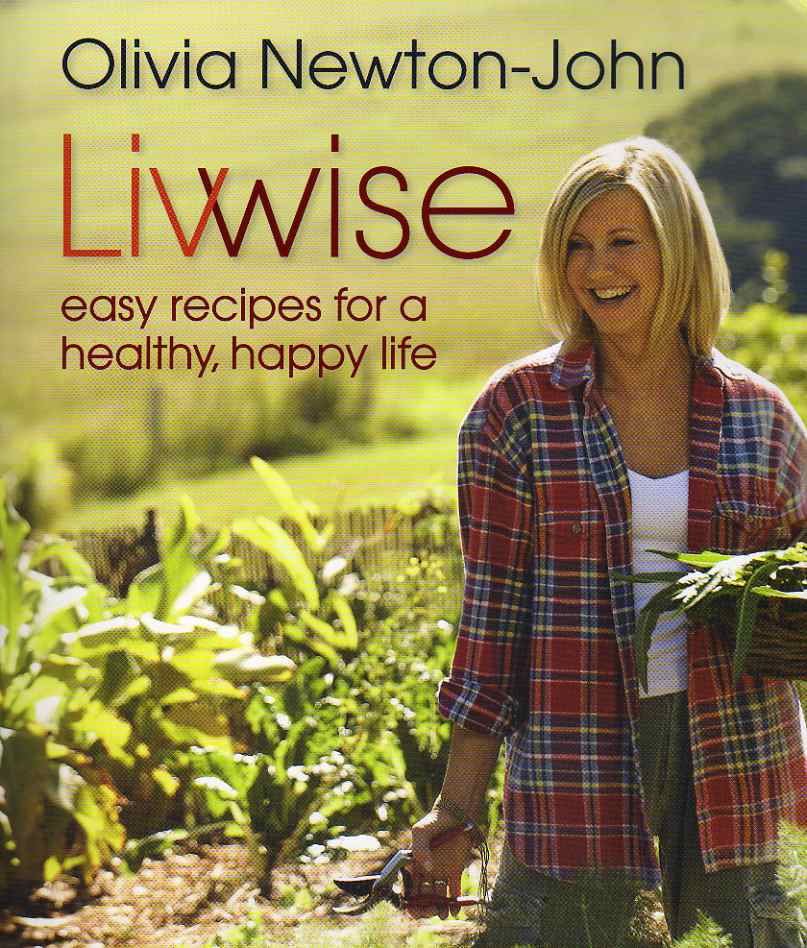 But actually Livwise is nothing like the above scenario. True it's written by a singer but Olivia Newton-John is looking well even after a close brush with cancer. She speaks with authority about the place of fresh food in a healthy lifestyle. These recipes might be good for you but there is nothing meagre about them, and you won't have to be heavily into self-denial to find plenty here to tempt. Healthy food but heavily disguised with a thick layer of delicious.
Olivia has been "Physical" and has rambled down "Country Roads" for exercise and she has always taken care of herself. That bout of cancer a few years back made her still more aware of the part that good diet plays in our general well-being. We know that too, but it's often difficult to put that positive philosophy into practice.
Juice in the morning is a fine start and it's easy (apart from the washing up) to make fresh drinks if you own a high-power juicer. Livwise offers a unique selection of mixed fruit and vegetable juices to suit just about every taste. To begin your day try Spicy Carrot, Celery and Tomato Juice. I think this would make a delicious cold starter.  Almond Milk is sweet, creamy and comforting, and hazelnuts or Brazils can be substituted. For those who don't own a juicer this is a blended drink, and has the advantage of keeping well in the fridge for up to 5 days.
Livwise has some tempting salad dressings and dips. An interesting condiment is Davidson Plum and Goji Berry Chutney. I had never heard of a Davidson Plum but it seems that it's a fruit that looks like a European plum, even though they are not closely related. They have a sour taste and are highly regarded as gourmet bushfood. We don't have either Davidson plums or tracts of bush (although if this drought continues…) so use a regular plum to make this sophisticated relish.
Keeping with the Outback theme Olivia offers Bush-spiced Barramundi with Sweet Potato Mash and Fruit Salsa. No need to reach for the Qantas timetable – you can substitute the Australian seafood for any more-local firm white fish, and all other ingredients are available on your high street. The salsa is a tropical melange of mango, kiwi and pineapple. An ideal dish to savour while you watch your lawn desiccate. Don't you just love summer?
My pick-of-the-book is Balinese Chicken Curry. We don't come across this cuisine too much in the UK but it's no surprise to find a recipe from Bali in a book penned by Olivia Newton John. It's a popular holiday destination for Australians, who probably have the same relationship with that island as we have with, say, Goa.
The list of ingredients looks lengthy but everything can be found in your local shops these days and the method is simple. You could have dinner on the table in half an hour. The recipe demands 8 chillies but you can obviously adjust the spice to suit. Lemongrass gives a distinct non-Indian note to this aromatic curry.
This is an attractive book with some interesting departures from the general battery of healthy foods – an eclectic array of dishes to inspire and support anyone who feels they want to make the best of some vibrant salads, fruits and vegetables.
Livwise – Easy recipes for a healthy, happy life
Author: Olivia Newton-John
Published by: Murdoch Books
Price: £16.99
ISBN 9781742666754
Cookbook review by Chrissie Walker © 2018