Let's not be snobbish about this. If you travel in France you might need a quick meal that isn't too pricey. It's quite OK to use the supermarket cafeterias, you don't have to tell your friends! Most big shopping centres in France will have a cafeteria of some sort but the one to seek out for best value for money (and of particular interest to parents of adolescent boys with hollow legs) is Flunch, and this writer will tell you why. You see, it all has to do with the payment structure. Now this isn't difficult so stick with me.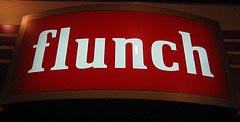 You enter a Flunch and collect a tray and cutlery. Next you have a salad buffet, an hors d'oeuvre cabinet, a cheese selection, a dessert buffet. There will be a couple of desserts marked as dessert of the day and that indicates that they form part of a set menu.
After you have made your selection of starters and pud then you might be interested in a drink. There will be a drinks dispensing station with soft drinks and beer, and another area for wine. The wine can often be found in small barrels with carafes just next to them. Mostly it's rose or red but there will be half bottles of white and better-quality red just around that section. The red from the barrel has always been drinkable so unless you're an expert stick with that.
OK, you're set to make your way to the till. "But wait" I hear you cry, "I haven't got me dinner". Silly reader! All the hot food is on the other side of the till and that's the reason that Flunch is such good value. You are looking for the main dish menu and that's above the head of the cashier. There will be a selection of about 15 different items amongst which will be the Today's Special. Each day has a good value dish as a special and that could be moules et frites or couscous. Main dishes range from 7€ to 9€.
Give your order to the nice lady (don't forget to ask for a token for the coffee machine) and she will give you a slip of paper that you are going to present to the chef at one of the hot food counters. If you are picky about how hot you want your "hot" meal then you will find a table and enjoy your egg salad before collecting the freshly cooked and still hot fish.
Think about it…..The hot dishes and veg are in the body of the restaurant and that means you get to have as many side dishes as you like. Chips sufficient to sink a boat, carrots enough to cure any eye complaints, ratatouille in quantities to fill any Provencal heart with pride, Brussels sprouts to….no, perhaps not.
Now, I am a woman of a certain age (I am certain and you are wondering) and my tastes are modest but I do like those garlicky green beans and the mash and the pepper sauce. You can, if you want, just have the veg selection and for vegetarians in France, that's a Godsend.
Don't run away with the idea that just because it's France the food here will be fantastic. Most of the time it's just good ordinary food, but from time to time you are confronted with meals that are, at the best edible, and at the worst nasty. I have encountered a lasagne the like of which I hope never to see again and the husband had a piece of beef that was so very underdone (even by bloody French standards) that a good vet could have had the poor cow back on its feet within a week!
Flunch is a great place for a (probably) decent meal at a reasonable price…and, hey, the French think it's OK!
Restaurant review by Chrissie Walker © 2018