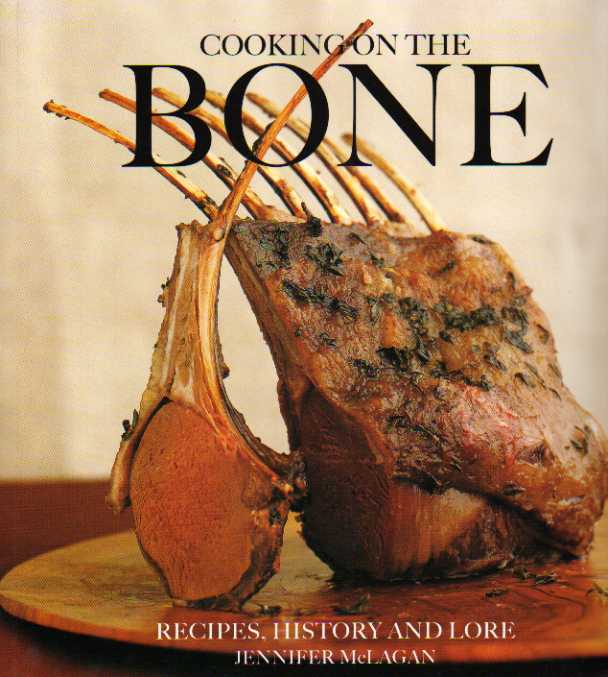 You won't want to miss this one! Cooking on The Bone – Recipes, History and Lore must be one of the very best (mostly) meat cookery books. It's a stunner and is, as far as I know, unique. Rob Fiocca is a genius of the shutter and has conjured marvellous photographs that complement the text so well.
This is, surprisingly, Jennifer McLagan's first book. She has more than 25 years working in the food industry in both Europe and Australia as a chef and a food writer. Cooking on The Bone was the winner of the James Beard Award and IACP Best Cookery Book Award. Not bad for a first try!
I find this book immensely appealing. It oozes comfort and warmth and is just the kind of volume that will encourage even less adventurous men to invite a few friends for Sunday lunch or a winter dinner. It has the feel of a solid family cookbook with recipes that encompass the most traditional to the more exotic.
The chapters are, quite reasonably, divided by meat type but fish is the surprise and welcome addition to the list. We are so often deprived of the opportunity to eat fish or meat from the bone. The modern attitude has been that bones should be discarded and are somehow socially unacceptable, very much in the same way that Victorians would cover piano legs!
The recipes are mouth-watering but this is easy cooking. There is nothing here that could be described as challenging. The key to good results is the quality of produce. Meat and fish are pricey these days so you'll want the best from them when you have paid out your hard-earned cash. Jennifer not only offers superb recipes but also lots of information and advice about different cuts of meat.
Whole Fried Whitebait seems, at first glance, a bit out of place but it is indeed cooked on the bone and is one of my top ten favourite dishes. These delicate morsels are not battered but just dusted with seasoned flour before frying. The texture is crisp but much lighter than fish and chip shop fillets. Jennifer suggests Deep-Fried Parsley as a garnish for the whitebait. A nice cheffy touch.
Seven-Hour Leg of Lamb is surely the most practical dish for a weekend with a house full of friends and family. Delicious and simple. Your home will be filled with the enticing aroma of roasting meat, garlic and rosemary. Just some roast vegetables and a flavourful gravy are all you'll need to please with ease.
Chicken with Forty Cloves of Garlic is a classic. It sounds like a joke but it's a recipe that works. The garlic becomes sweet and soft and can be served as a spread with some crusty bread or toasted baguette. Even friends who insist that they hate garlic love this fragrant chicken dish.
Cooking on The Bone is a must-have for any passionate cook. It is bound to become a classic. Amazing value.
Cooking on The Bone
Author: Jennifer McLagan
Published by: Grub Street
Price: £ 14.99
ISBN 978-1-906502-20-1
Cookbook review by Chrissie Walker © 2018