The breaking of fast for Ramadan traditionally starts at sunset. I had an excuse for starting my meal a while before the prescribed hour. Firstly I am not Muslim so I figured I would be forgiven for my haste, and secondly the weather was so bad that daytime and night had already prematurely merged.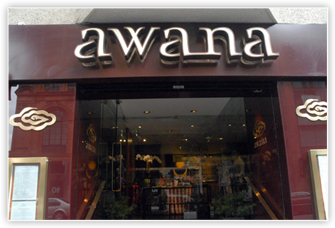 Ramadan is the ninth month of the Islamic calendar. The sight of the iconic crescent moon marks the start of Ramadan. And there are several reasons why it is considered important: the Qur'an was first revealed during this month, the gates of Heaven are open, the gates of Hell are closed and the devils are chained up in Hell – a very appealing notion.
Iftar is when the fast ends for the day and a halal meal may be taken. Any type of food can be eaten although the most popular are honey, breads, figs, dates, fruits, and olives depending on the origin of the diner. It is customary in some cultures for families to host Iftar meals to which relatives and friends will be invited. It seemed appropriate that I should ask a Muslim friend along to enjoy an Iftar meal with me at a particularly striking restaurant not far from South Kensington in Central London.
Tully Filmer designed the interior of Awana using Malaysian teak houses as inspiration. Rich mid-tone wood, silk panels and glass screens contrive to make this a high-end but accessible restaurant. It has an unmistakable and cultivated charm, and some of the most adept yet friendly staff of any restaurant of any ethnic persuasion. This is confident restaurant design. It is recognisably Asian but it uses none of the usual décor clichés to make that statement.
Perhaps London's only fine-dining Malaysian restaurant, this Sloane Avenue establishment introduces the European diner to the culinary tapestry of Malaysia. Awana's menu has been created by Executive Chef Mark Read and Malaysian-born Head Chef Lee Chin Soon. They combine traditional dishes with innovative modern interpretations, but we, and many others, were there for their celebrated Ramadan Feast. Europeans and Asians in heady harmony – a true testament to Britain's cultural diversity.
We found our table and Mr Hai Long Wang (William), Awana's restaurant manager, led me through the Ramadan menu which was full of enticing-sounding dishes, and the reality was as good as the promise. William brings a wealth of practical dining room know-how. He is a sommelier and mixologist of long standing and has vast experience of pairing food not only with wine but also with cocktails, of the alcoholic and non-alcoholic kind.
There is an element of theatre here, with strategically positioned TV monitors around the restaurant relaying scenes from the kitchen, where deft chefs swirl sails of dough to make bread on a hot griddle. We munched on dates which are a staple fruit of the Middle East, having been in cultivation for thousands of years. Traditionally, dates are known as the food Muhammad ate when he broke his fast, so they are much sought after for the start of a Ramadan meal.
The Ramadan menu offers seven traditional Malaysian dishes which are balanced, flavourful and tempting. Roti Canai, a Malaysian bread made from a traditional family recipe, with a curry sauce, is a combination that is perfect as a starter or as a snack. This is the lightest and most delicate roti you will ever find. Delicious Satay Udang – fresh tiger-prawn skewers served with the signature spicy peanut sauce – was served alongside, and these were truly moreish. Cooked to translucent succulence, with the satay dip being good enough to eat with a spoon.
The Ramadan Feast main dishes were picture-perfect, with a pale ochre from the curry and vibrant colour from the mixed vegetables. Kari Ayam is a corn-fed chicken curry with coconut, potato and snake beans. This is a dish which is robust but light, providing a broth ideal for dressing the Nasi Putih, a form of steamed rice which is a staple accompaniment to any Malaysian curry. Sayur Sambal Goreng is a colourful melange of fried vegetables in sambal sauce, bringing texture, flavour and visual impact to the plate.
Finally we rounded off the traditional meal with an exotic bowl of Chendol, which is a confection of pandan pearls (pandan is a ubiquitous ingredient in Malaysian cuisine – a leaf which gives both flavour and colour), with red beans in coconut cream, caramel and shaved ice. It was a refreshing and light finale to a substantial meal, at a very reasonable price of £23.50.
You are able to enjoy Awana's 'Feast for Ramadan' until the end of Ramadan on 11th September, from 12noon-3pm or 6pm-11.30pm. You don't have to be a Muslim to appreciate this meal, but come along with Muslim friends who will enjoy including you in their culinary tradition, on the occasion of one of their most important religious festivals.
Awana
85 Sloane Avenue, London SW3 3DX
Opening times
Mon to Sun 12Noon – 3pm, 6pm -11pm (Thurs to Sat 11.30pm, Sun 10.30pm)
Email: info@awana.co.uk
Phone: 020 7584 8880
Fax: 020 7584 6188
Visit Awana here
Restaurant review by Chrissie Walker © 2018