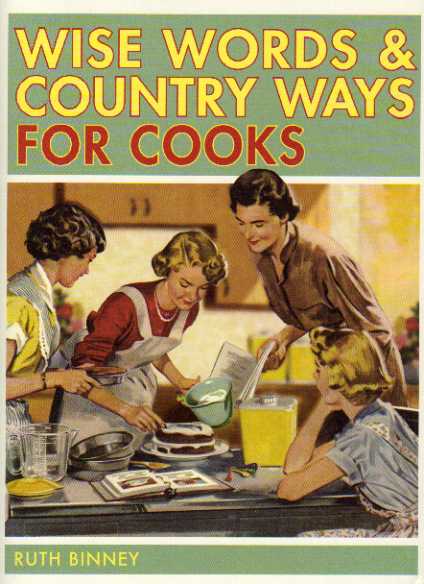 Our language is full of sayings that cover almost every aspect of life. A stitch in time saves nine, All's well that ends well, Money talks, Like father – like son, It's a long way to Tipperary…er,…or something like that. Wise Words and Country Ways for Cooks, however, focuses on kitchen-based wisdom and gives some sensible and enduring advice on all things culinary.
Ruth Binney has evident enthusiasm for the collection of this old-time kitchen lore and has produced a book that has a real retro feel about it. It has a style that will be familiar to those of us of a certain age who had access to original 1950s cookbooks, but there is much here that reflects kitchen practice of a century before that. It's charming.
There are wonderfully evocative sections such as "A woman who has mastered sauces sits on the apex of civilization", "A Tart Tatin served cold has no merits." (Now, that's a bit strong!), "A salad dressing requires a spendthrift for oil, a judge for salt, a miser for vinegar and a madman to mix them." All very colourful but there is some solid instruction here on cooking techniques.
Wise Words and Country Ways for Cooks isn't a recipe book but it's got plenty of tips for cooks. There is advice from some celebrated food writers: Fannie Merritt Farmer writes about frosting (icing), Tabitha Tickletooth (I kid you not) focuses on fish and Shirley Conran will always be remembered for her statement that "Life is too short to stuff a mushroom."
Aside from the quotes from the noteworthy the rest of the book is pure Ruth Binney. She is a lady who knows her stuff and has a compelling way with words. This volume revels in nostalgia but it's a book that works not only as an amusing read but as a reminder that advice that was good decades ago is still just as valid today. It will be ideal for lovers of kitchen memorabilia.
Wise Words and Country Ways for Cooks
Author: Ruth Binney
Published by: David and Charles
Price: £9.99
ISBN 978-07153-3008-1
Cookbook review by Chrissie Walker © 2018