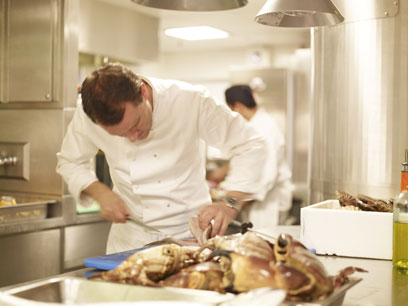 This London hotel was opened in 1975, and reopened in 2006 after a £76m refurbishment. In the restaurant, natural materials are used to great effect. Wood veneers with metallic finishes complement tan leather upholstery; there is an "English grass" motif in frosted glass as well as coloured-glass vases artfully displayed in a subtly-lit slot. All of which combine to create a contemporary but comfy nook for diners. The overall impression is of understated class.
Although the ground floor restaurant boasts one hundred and twenty four covers (plus a twenty-seat bar area) it contrives both to cater for large parties and to provide quiet and intimate space for couples. But you probably won't (although you might) be there for a romantic rendezvous. It's the food that is the draw.
In his early twenties, following an apprenticeship with Max Magarian of Chez Max, Theo Randall found a position at The River Café, although in 1991 he left to spend a year working with the much celebrated Alice Walters in the USA. Theo returned to The River Café where Rose Gray and Ruth Rogers made him head chef and a partner in the business. In November 2006 Theo opened his first restaurant, Theo Randall, at The InterContinental Park Lane. September 2008 saw the restaurant receive its first gong – 'Italian Restaurant of the Year' at the London Restaurant Awards.
Theo's menu presents the finest of real Italian food. His food is memorable without being intimidating. His dishes don't pose but rather beckon to you. These are platefuls that encourage you to dive in and enjoy the seasonal ingredients and evident passion of the chef and his talented staff.
I could have eaten every dish from this impressive bill of fare but there is only so much one can consume at a sitting. I chose to skip, reluctantly, the antipasti (pan-fried squid with cannellini beans, chilli, anchovy, parsley and rocket is pencilled in for my next visit) and chose a pasta dish. This is probably the best you will find outside the boot of Italy. My Taglierini con Gamberetti e Carciofi (handmade pasta with brown shrimps, artichoke, chilli and butter) was a vision of harmony. The scale of the delicate pasta was perfectly matched by the small, sweet and delicious shrimps. A simple dish but correct in every regard.
My guest indulged his passion for anything cured and ordered Anguilla affumicata (smoked eel with beetroots, dandelion and fresh horseradish). He proclaimed the portion to be generous with lots of petal-like slices of fish matched with tangy and vibrant accompaniments.
Secondi saw me on the horns of an epicurean dilemma. Should I order the sea bass or the rack of lamb? So, I chose Coda di Rospo al forno (wood roasted Cornish monkfish with parsley, capers, Roseval potatoes, globe artichokes and prosciutto di Parma). The fish was succulent and the prosciutto added just the right salty counterpoint. The potatoes were meltingly delicious and the courgettes were a marvellously crunchy garnish.
Piccione al forno (I guess the same forno which had also accommodated my monkfish) was a pigeon cooked to pink perfection. These are such underrated birds. I think many people have visions of those nasty specimens one finds "decorating" London monuments. The sort with club feet, a nasty cough and low IQ. The culinary version of these tatty-feathered articles is chubby and juicy without the over-gamey flavour of many sport birds. The meat was melt-in-the-mouth tender.
Throughout the meal we tasted some excellent wines recommended by the personable and approachable sommelier. She was more than happy to recommend wines by the glass that perfectly complemented our food choices. The wine list was extensive with bottles starting at £20 or so. Not out of the way for such a restaurant.
We couldn't resist the Piatto di dolci which was a selection of four desserts. I'd even invite people I don't like for a meal here, just to have an excuse to indulge in this sweet array. The Amalfi Lemon tart was fresh and zesty, Vanilla Ice cream with chilled espresso was a simple presentation in a coffee cup but it was enough to impress with its dark bitter charm. The soft chocolate cake is one to fight over and the pannacotta with prunes and brandy was creamy, rich and decadent, as any good dessert should be.
This was a delightful evening spent in cosy surroundings enjoying amazing food. I cannot fault the restaurant or its attentive staff. The prices are what you would expect of such a hotel restaurant in one of the world's most engaging capitals but I would venture to say that it's value for money. The evening could not have been improved upon …unless we had been able to find space for a slice of pear and almond tart or perhaps a sliver of Ricotta cheesecake. I feel another visit might be in order.
Visit the InterContinental web site here.
Restaurant review by Chrissie Walker © 2018