[This venue is now closed]
There has been an Italian restaurant on this site in Curzon Street since the 1930s. Tempo is its latest reincarnation and it stands a good chance of staying just there for another 70 years. Even this early in its predicted long history, it ticks all the boxes, at least for me and the crowd enjoying a Monday lunch on adjoining tables.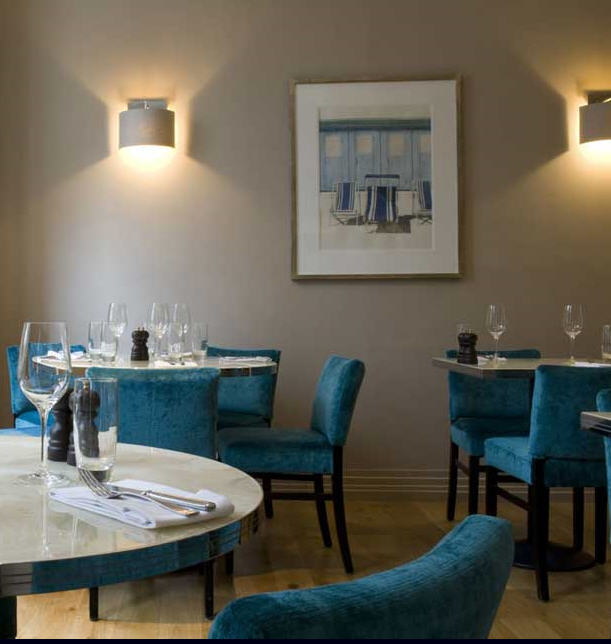 Yes, an ordinary Monday lunchtime and the small restaurant was buzzing. Two large parties as well as various couples and colleagues who were even this short time since the restaurant opening, have evidently become regulars. Tempo looks like a very chic European restaurant but it sounds like an Italian restaurant. Formal décor is tempered by the exuberance of the guests who enjoy not only the taste but the spirit of Italian cuisine. Tempo has a well-heeled clientele as one would expect but they are a bunch who don't stand on ceremony. They visit to enjoy the best of food and good company.
It's about sharing the food and the experience. Nothing stuffy about Tempo. It's a confident establishment that seems to perfectly reflect the conviviality of its owner Henry Togna. A suave man who balances front of house efficiency with great personal charm. A well-liked and cultured entrepreneur who has the blood of the hospitality industry causing through his veins. His grandparents owned hotels as did his father. He is indeed the former owner of the iconic townhouse hotel 22 Jermyn Street which had been in his family since 1915.
Tempo might be bijou but it's a gem of a sophisticated space. Taupe walls are contrasted by turquoise – upholstered chairs. Glass-topped marble-effect tables are buffed to a reflective shine by ever-vigilant staff. It's the attention to detail that will always elevate Tempo from the herd. That effort to get things just right extends to the kitchen which is the domain of Chef Yoshi Yamada. No, dear reader, that isn't a very Italian name but he is indeed an award winning Italian chef. He receives the Italian Culinary Master Chef Award from the prestigious Academia Barilla. This new award has been created to recognise the skilled chefs living abroad who have succeeded in creating exceptional and authentic Italian cuisine.
Chef Yamada spent four years cooking at top restaurants in Sorrento (the two-Michelin-starred Don Alfonso), Sardinia and Florence. He continued with Restaurant Gordon Ramsay in Chelsea and L'Atelier de Joël Robuchon in Tokyo before being selected to run the kitchens at Tempo. This isn't a fusion restaurant but the presentation shows a delicacy that might be attributed to Yoshis Japanese ancestry. The menu reflects regard for seasonality, freshness and quality. It changes frequently although there are those dishes that must remain due to popular and vociferous demand.
We crunched crostini perfumed with fennel seeds as we perused the menu. My guest chose one of the already celebrated Carpaccio dishes, Scottish beef shaved into wafer thin slices of bright red hue punctuated with hazelnuts for crunch. Parmesan shavings gave an agreeable salty tang. A dish that relies on both freshness and quality of the ingredients.
Grilled sardines were my choice and they constituted a considerable plateful. 4 perfectly grilled and marked fishes with a drizzle of gremolata sauce were juicy and substantial. A simple dish that is seldom done perfectly… but Tempo presented the best cooked seafood I have had in a while.
My companion was tempted by the Polletto – grilled pausing on mixed salad leaves with a garnish of barley. A finger bowl arrived with the order giving the cue that tucking in and chewing the bones would be encouraged. The chicken as pronounced too good to waste any so that fingerbowl was put to good use.
Tempo is undoubtedly an Italian restaurant so pasta in some guise or other was always on the cards for this diner. Find squid ink Linguine dresses with Cornish crab, chilli, lime proved to be both a visual and gastronomic triumph. Black pasta always has impact but flecks of red chilli add to the drama. This isn't an overly spicy dish but that chilli does give a warming aromatic edge to the sweetness of the crab.
Save space for dessert. Henry recommended the Lemon tart which has already become a signature dish. The citrus filling was light and tangy. A well balanced slice of sharp and tangy lemon on a still-crisp sweet pastry base and bruleed crust.
Tempo is a restaurant to visit often and in which to linger. Its menu is varied and good value for money. It will garner many loyal followers over the years and I'll add myself to the list. I'll return shortly to visit the bar which I am sure will become a cosy destination for a cocktail or glass of proseco.
Monday to Friday – Lunch – noon to 3pm / Dinner – 6pm to 11pm
Saturday – Dinner – 6pm to 11pm
Drinks and all-day light food in the bar from 11am until 11pm
Tempo Italian restaurant – Mayfair
54 Curzon Street, London W1J 8PG
Phone: 020 7629 2742
info@tempomayfair.co.uk
[Tempo is now closed.]
Restaurant review by Chrissie Walker © 2018