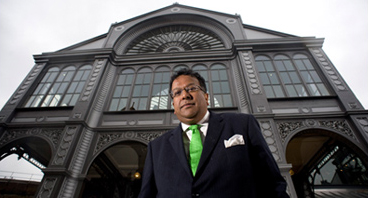 Iqbal Wahhab, now OBE, (awarded that high honour in recognition of his public service and services for promotion of the hospitality industry) is a man famously passionate about food as well as society in general. The Times has described him as "a National Treasure". He uses his position for the benefit of many and we all know how rare that is. Amongst other activities Iqbal works closely with The Prince's Trust, taking children from under-privileged schools in South-East London and spending half-days with them at Roast, and taking them on food education programmes around Borough Market.
He was born in Bangladesh and came to Britain when only eight months old. He is a graduate of the London School of Economics. In 1991 he set up his own PR firm specialising in food, drink and restaurants, and in 1994 he launched Tandoori Magazine. He sold the magazine to launch the award-winning Cinnamon Club in 2001 and in 2003 he co-authored The Cinnamon Club Cookbook (reviewed here). In 2005 Iqbal opened Roast, different in so many ways from Cinnamon Club but still reflecting the same high standards.
Roast is housed in the striking structure rising high over the celebrated Borough Market. Its facade reminds one of a conservatory or a glasshouse at Kew Gardens. It is in fact the portico of the former flower market and has made for a most attractive and unique restaurant.
The entrance to Roast is not one bit historic. There is a choice of lift (elevator) or a small lobby and a flight or two of stairs. We took the stairs as we had been warned that a considerable meal was in the offing. My dear American reader will no doubt appreciate the opinion of David Rosengarten. For those of you from the right side of the pond and beyond I can tell you that he is one of the most well-respected authorities in the US for all things foodie. He once told me that Roast is one of his favourite restaurants in London. We were expecting good things.
It would perhaps have been tempting to contrive an over-themed restaurant with the paraphernalia of produce purveying – a crate of King Edwards, some artfully displayed broad beans and a couple of Webb's Wonders on Astroturf. But thankfully Iqbal Wahhab and his team rose above that. It's a comfy and contemporary retreat from the exterior bustle. Every detail is correct and thoughtful, from the salt shakers to the artwork. A solid businesslike ambiance and staff who move with the practised ease of professionals.
We were shown to our table overlooking a corner of the market which is a marvel even after closing time. Rather reminiscent of Covent Garden when it still sold fruit and veg. The streets around show an unchanged corner of London, relatively untouched by the Blitz or developers. These streets are authentically old London and exactly what tourists expect but seldom find. Wherever you sit, there is a view – either into the open kitchen, over the market or onto St Paul's Cathedral.
I ordered the Market Tipple – a cocktail which changes each month – which this evening was a Welsh Awakening: a blend of Welsh whisky and quince with a hint of spice and a sunny colour more associated with Maui than Merthyr Tydfil. A comforting welcome on a cold and wet almost-Spring evening. Roast is well regarded by serious tipplers who can expect both classic and innovative drinks from bar manager Esther Medina. She is an award winner who has worked in some of London's leading bars including Lab, Milk and Honey, and Ronnie Scott's.
The Roast menu is something to linger over. It relies on fresh seasonal produce and is a showcase for the best of New British food. "We didn't 're-invent' British cooking; there was no intent to place, say, kaffir lime leaves in our potted shrimps, for example. We simply 're-introduced'" says Iqbal. There are fish dishes aplenty as well as a Dish of the Day. It's all hearty and generous food, so go with an appetite.
Fried Sprats with Lemon and Tartar Sauce was my choice of starter. There are some who won't know what a sprat is. It's like a large whitebait or a very small pilchard or even smaller sardine. They arrived stacked in a pot and enrobed in golden crunchiness. Simple and unbeatable. The finger-bowl added a practical but genteel air which so typifies the Roast approach of elegantly casual and casually refined.
My guest enjoyed his Wood-Pigeon Breast which was cooked to melting succulent perfection. This is a most underrated meat but it's a good introduction to game. Pigeon has a delicate flavour that might be described as a cross between duck and turkey. A substantial appetiser.
There were no snap decisions when it came to main courses. There are so many Must-tries here. There were the expected roasts (Wednesday was the day for traditional roast beef and Yorkshire pudding) but my guest was tempted by the Slow-Roast Pork Belly with a side order of Creamed Leeks with Mustard. An amazing slab (a culinary term for the next size up from slice) of tender and flavourful pork with crackling that actually cracked. The apple sauce was tangy and made a great foil for the creamy delicious fat of the meat. A straightforward but great dish. It's good to see pork belly back in vogue.
The ox cheeks were my choice. This is meat which is being rediscovered. This cut has the most marvellous gelatinous quality and offers the very essence of beefy flavour. Chef Lawrence Keogh has hit upon a recipe that is rich and moreish but it's unfussy, following the Roast ethos of good British ingredients that need no masking with elaborate sauces. The beef and a mound of mash were joined by a bowl of spring greens which were a revelation. A vegetable that in the past encouraged many to stick to chips, these were indeed a vibrant green with a buttery bite, rather than a limp, insipid, dubious yellow.
It will be the fortunate few who have either been in training, or who have miraculously saved room, for pud. This evening there was Yorkshire Rhubarb Crumble with Custard, amongst many other traditional sweets. My guest being a native of that county, or God's Little Acre as it is often described, chose this out of patriotic zeal and was not disappointed. The crumble had real texture rather than the too-often-seen uniform sand of a lesser dessert. The fruit (is it a fruit?) still held its form and had an agreeable tartness.
Roast is everything I had heard it would be. It's often a chancy affair to put your faith in another's choice of restaurant. David Rosengarten was right on the money with this one. Iqbal Wahhab and his team deserve every accolade and compliment. This is a restaurant with real heart. The reasons for Roast's celebrity are evident but they are quite simple: quality of ingredients skilfully prepared, thoughtful menu, knowledgeable and charming staff, and a location that is second to none. Outstanding.
Breakfast
Monday to Friday 7.00am – 11.00am
Saturday 8.00am – 11.30am
Lunch
Monday to Wednesday 12.00pm – 2.45pm
Thursday to Friday 12.00pm – 3.45pm
Saturday 12.15pm – 3.45pm
Sunday 11.30pm – 6.00pm
Dinner
Monday to Friday 5.30pm – 10.30pm
Saturday 6.00pm – 10.30pm
All day bar from Monday to Saturday.
Roast
The Floral Hall, Stoney Street, London SE1 1TL.
Read Iqbal Wahhab's blog here
Email: feedback@roast-restaurant.com
Email Events: events@roast-restaurant.com
Events Telephone Number: 0203 301 4891
Reservations and Enquiries: 0845 034 7300
Fax: 0845 034 7301
Read more reviews of Roast restaurant here
Restaurant review by Chrissie Walker © 2018