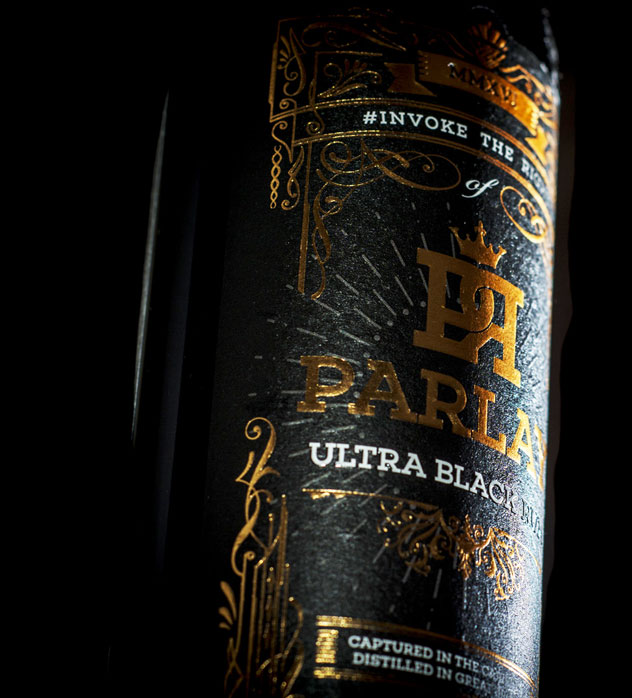 The label uses a strong old gold and black design which sets well on the inky dark rum in the tall slim bottle. The artwork is embossed and tactile and excites the expectation of a taste of something a bit different. There is the story of the name 'Parlay' emblazoned on the back and it's a charming one, invoking visions of daring-do and swash-buckling.
It's said that in 1650, during the Golden Age of Piracy, the term 'parlay', as written in the Pirata Codex (yes, such a book is believed to have existed) meant a gathering for negotiation after alleged piratical misdeeds by one of their buccaneering number. Legend has it that the 'right of parlay' rules were set down by notorious pirates Morgan and Bartholomew in this Code of the Pirate Brethren. This enabled an accused man to have the chance to talk to the captain and state his defence over, one assumes, a bottle of rum which was likely not as fine as this one.
Vanilla and burnt sugar notes
Parlay Drinks launched this Ultra Black Rum in the summer. The company is also featured in the September issue of GQ Magazine, named as an up-and-coming spirit maker in the UK market. This rum is definitely one to try. It's blacker than any rum I have ever seen. Its red tones only become evident when the bottle is held to the light, which also exposes its blue/purple halo. It has great vanilla and burnt sugar notes on the nose, as well as some red fruit hints and perhaps some orange peel.
From the first sip one can detect its smooth richness and an agreeable warmth. The fruit profile is maintained and black treacle and raisin come to the fore. It has a long finish, as one would expect from such a syrupy spirit, and it lacks the alcoholic burning bite often found in less-crafted rums, making this a well-rounded sipping rum.
Parlay Ultra Black Rum is new but it has the potential to become a classic. It's just a matter of taste but I think it would be a shame to use it predominantly for cocktails; I would pour a little over a good quality vanilla ice cream. That's Christmas dessert sorted, then! This is a winner.
Visit Parlay Ultra Black Rum here.
Drinks review by Chrissie Walker © 2018