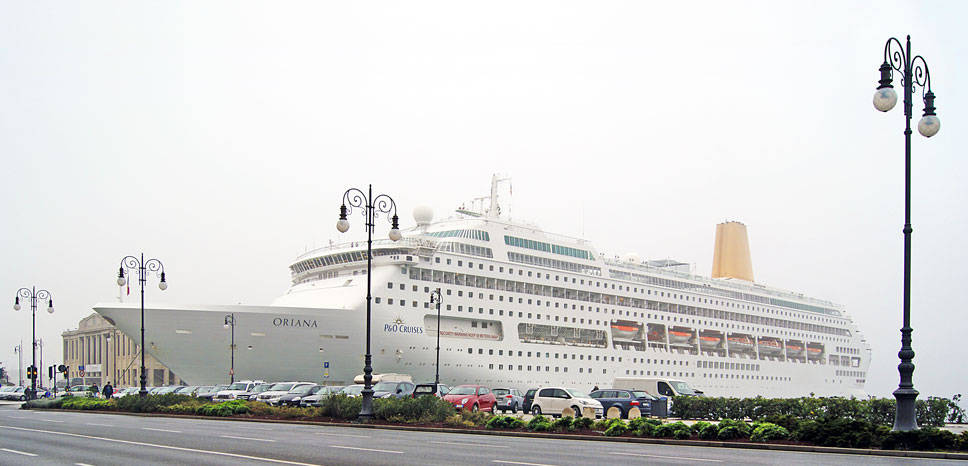 I am not, by Oriana standards, a seasoned cruiser. I have only had three floating holidays to date and this was the first with P&O. Some of my fellow passengers had enjoyed up to 70 such trips and those with a score of a dozen or more were numerous! This company is obviously doing something, and probably a lot, right!
Oriana is a big ship with a capacity of 1800 or so passengers and around 800 crew. I was struck by the lack of crowds, well, apart from meal times at the Conservatory, when there tended to be a rush of eager diners at the start of each service.
Public spaces are, well, spacious. There seemed to be an abundance of sun loungers, easy chairs and tables on the sun decks, and these decks were littered with a creditable complement of swimming pools and hot tubs. OK, so these are small but perfectly formed pools designed for splashing rather than lapping, but were more than adequate for the needs of the mature vacationers.
P&O have ships and itineraries designed with the older traveller in mind. One doesn't find oneself dodging sprinting youngsters while queuing for a croissant. These regulars have the sense that this is a familiar and comfy home from home. Well, perhaps better than home in some ways. There is a constant supply of ready-prepared food and no washing up!
In fact food is a big part of the draw for Oriana cruises. There is famously plenty of it and it's just the cuisine to appeal to older folks who don't want anything too outlandish but rather good quality ingredients that have not been over-fiddled with. But this particular cruise (Christmas and New Year) lasts for almost 3 weeks so the chefs have to be imaginative with their menus.
One is spoilt for choice. One might start the day with the lavish Conservatory breakfast buffet that will gladden the heart of any Full Monty lover but which also caters to those with more continental tastes for fruits, yoghurt and pastries as well.  If one prefers waiter service then there is the Peninsular restaurant which offers a regular menu of classic breakfast fare and some daily specials, so if devilled kidneys float your metaphoric culinary boat then Friday morning should see this as your venue of choice.
If one prefers a smaller and more intimate space then Al Fresco will fit the bill. It's open all day for casual bites during and outside usual meal-times. Breakfast starts at 7am and one could graze all day and finish with a slice of pizza at 2am. Tiffany's also offers light snacks in a convivial coffee bar at the Atrium. That is where the addicted cruiser will find Costa Coffee.
Lunch can be taken at any of the aforementioned restaurants and the choice of dishes is ever-changing. It's a wise passenger who paces him/her self. Everything is tempting and it's too easy to fall into the trap of the 6-meal-a-day syndrome. Breakfast: it's the most important meal of the day so one should have that. Elevenses are essential to keep up one's strength after a trot around the deck to burn off the breakfast calories (three and a half turns around the deck constitute a mile). Lunch is a necessary break from relaxing; and then it's afternoon tea because we are British after all. On Black Tie Dinner evenings a platter of nibbles will be delivered to your door. This, one assumes, is to set the scene for more food that awaits in either the Peninsular or the Oriental restaurants.
There are other two dining options on board Oriana. Ocean Grill demands a supplement of a few pounds per head but one should consider dining here at least once during the voyage. It has the predicted wood panels complemented by contemporary tapestries but the tables are more widely spaced than one would find in either The Peninsular or the Oriental restaurants. A meal here is a 5-star event.
Another independent restaurant is Sorrento. This has, unsurprisingly, an Italian theme but in a more casual setting than Ocean Grill. In fact Sorrento is born anew every day from one end of The Conservatory restaurant. In the evening it is screened off, has waiter service and a bespoke menu.
The Conservatory is a large and casual
restaurant at night. It has multiple choices of hot and cold dishes and themed nights which present the guest with opportunities to try Country and Western fare, Thai curries, carvery and, naturally, Indian dishes. This seems to be a popular alternative for those who want choices of time and seating arrangements, as both Peninsular and Oriental restaurants have allocated seating on tables of 6.
But Oriana isn't a floating restaurant. There are always activities and entertainment. Each day there is a film in the Chaplin cinema, and the evening offers a show of some kind. There are talks about the next port of call. Perhaps a lecture on diamonds or even about the comedy greats. There are painting classes, exercise classes, concerts and tips on photography. There is enough to keep both body and mind active.
Oriana boasts a fully equipped gym for those who want to achieve independent body sculpting. There is a spa for those who want to look beautiful via other peoples' efforts, and pools for those who want to impress an audience. There are plenty of hot tubs for the less brave.
There are several bars serving drinks and music to those who are drowning their sorrows after a few hours in the casino. There are slot machines for amusement and roulette for confusion. There are some smart shops in which to spend one's winnings. One can buy luxury goods as well as tasteful souvenirs from that day's port.
Oriana's adult-only cruises have a dedicated following of those mature passengers who want comfort and friendly service from a young and enthusiastic crew. These regulars meet old friends in familiar surroundings and, for many, that surely is the secret of a successful vacation.
To find out more about this and other P&O cruisies visit here
Travel review by Chrissie Walker © 2018