Talking on the radio a few months ago, I was musing on books I would take to a desert island. Those who know this city 'girl' will understand that the prospect of an isolated space would induce sweaty palms. Red buses and black taxis are my comfort zone. My choice of essential reading matter was at that time the (mythical) Marine Carpentry for the Beginner, with chapters on "How to whittle a speedboat out of a log" and "Making an outboard motor from a coconut and two sardines." Sanjeev Kapoor has swept that volume from my home-made fantasy island bookshelf, and replaced it with Mastering the Art of Indian Cooking.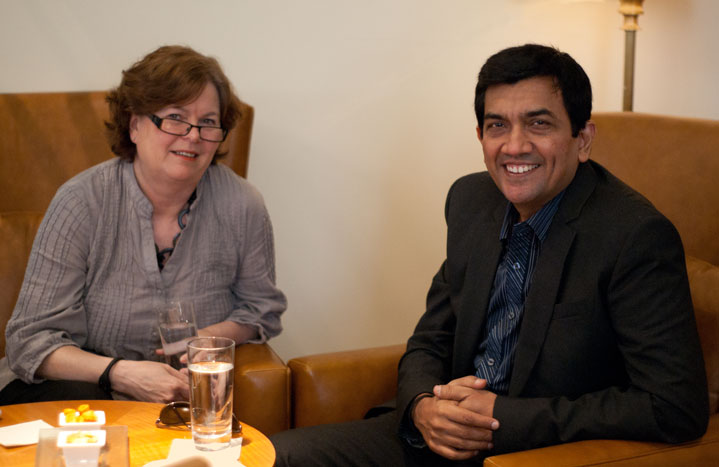 We met in a comfy corner of London's celebrated Bombay Brasserie, a favourite restaurant with not only plenty of buses and taxis nearby but the security of Gloucester Road Underground on the doorstep. Sanjeev Kapoor is the least affected and most charming of celebrities I have ever met – a funny, warm character who truly is in life exactly as his TV persona. He has been voted one of the most trusted men in India.
Sanjeev Kapoor is perhaps the best-known chef in the world. If the name is not familiar then I could guess that you are not Indian or Asian of any description. This man stars in Khana Khazana (it is actually India's longest-running TV show) which broadcasts to 120 countries and in 2010 was estimated to have more than 500 million viewers. He now has his own food-dedicated TV station aptly called Foodfood. He remembers that "Some said that 24-hour food TV would never work, but it does. We keep the content pertinent to the Asian market. We give viewers what they want – recipes that they really would like to cook themselves." He was the first TV chef to become a culinary star. "Till that time chefs were not really appreciated. People were almost sympathetic when they saw me on TV. They hoped that I would get a proper job in the near future," he joked. He has been recognised as giving the food industry and chefs in India respectability, and he himself has gained much personal cachet. Richard Quest selected Sanjeev Kapoor as one of the top celebrity chefs in the world, along with Gordon Ramsay, Jamie Oliver and Wolfgang Puck, featuring them in his programme "Quest" on the CNN channel.
Sanjeev started in the hospitality industry in 1984 with a Diploma in Hotel Management from the Indian Institute of Hotel Management (IIHM) in Pusa. He was academically brilliant so his choice surprised some, who had expected him to become an engineer or a doctor. Many Indian chefs have come from families who have had a connection to restaurants, hotels or catering, but Sanjeev chose this path independently, not being associated with any foodie family firm. "My Dad used to cook wonderful meat dishes. In those days it was unusual for a man in India to cook at home." Perhaps his father sowed the seed of Sanjeev's future success.
Mastering the Art of Indian Cooking is the latest in a steady stream of cookbooks penned by this Indian culinary worthy. All others, although eminently accessible to the Western audience, have been written for the Asian reader. This latest tome offers dishes selected for those outside the Subcontinent. The recipes are not 'dumbed-down' for the non-Indian palate, but they have been chosen to introduce an array of both classic and contemporary delights that can easily be prepared with the use of your regular high-street shops. For those folk who live in a lighthouse off the coast of Shetland then there is always the internet.
Sanjeev Kapoor is on a panel of India's Ministry of Tourism set up specifically to document Indian cuisine and to present to the world an authentic view of these classic dishes. We are all very enthusiastic about French cuisine and it has indeed given us so much: remarkable patisserie, memorable sauces, refined plates; but the cuisine of India has been for too long overlooked. It should, in my humble opinion, stand proudly shoulder-to-shoulder with French cooking. Different but equal in every regard.
Mastering the Art of Indian Cooking would be my all-encompassing cookbook for my island adventure. Yes, this book is a considerable size. No, it is not garnished with photographs of exotic food shown tastefully balanced on the back of an elephant. Not a single lacy dosa silhouetted in front of the Taj Mahal. Master of the Art of Indian Cooking is a straightforward book of recipes that you can and will make in your very own and not very exotic kitchen. There are more than 500 recipes listed here. Many will be familiar but there will be others that reflect Indian home cooking, and it's unlikely you would have found them on any restaurant menu.
A quick flick through the pages of Master of the Art of Indian Cooking, will assure you that the majority of these recipes are simple. Note that the dishes that seem to require a lengthy list of ingredients are easy to prepare. That list will comprise spices that you will find in your supermarket. Once you have your battery of half a dozen or so common spices then you are set to make pretty much all the dishes collected here. Just add a couple of fresh ingredients, fish, flesh or veggies, and dinner is on the way. Not even home cooks in India want to spend too much time chained to the range.
Beans Poriyal represents the easy yet truly Indian dishes found in Mastering the Art of Indian Cooking. Few ingredients, which combine to make boring green beans a thing of the past. Ten minutes cooking time gives a delicious side dish for an Asian or European meal. The majority of Indians are full-time or part-time vegetarians so Indian cuisine offers a wealth of vibrant yet healthy dishes for those who prefer to stick to vegetables. The spices in Indian food compensate for the lack of animal, so even card-carrying carnivores will be wooed by these offerings.
I love Shrimp Balchao. I could consume this pickled Goan delicacy by the bucket-full. It's eaten with rice or even with the Goan savoury coconut cakes called Sannas (included in this volume). This isn't a seafood version of our English pickled onions. Shrimp Balchao is a sweet and sour preparation that is moreish. The vinegar is added early in the cooking and the sugar added near the end to produce a zesty and striking, well-balanced dish in less time than ordering a take-away.
Indian sweets are seldom found on restaurant menus. There are plenty of sweetshops in Indian neighbourhoods but unless you are lucky enough to live near one you'll want a good recipe. Chocolate Walnut Burfy from Master of the Art of Indian Cooking, is a two-layered confection made with rich solid condensed milk (found in Asian supermarkets or on the internet for those in the lighthouse). It has a shelf life of only a day or so but it will be gone before the time's up.
Mastering the Art of Indian Cooking is, like the author, trustworthy. No need to be an expert in the kitchen. The ingredients for the dishes are not expensive. In fact the most costly and indispensible ingredient will be the second copy of this book. You will want to keep that in the kitchen and at hand to use frequently. It will become stained and dog-eared over the years. It will naturally fall open at favourite pages after a decade or two. Mine is already a little creased around Shahi Paneer and a peppercorn is acting as a book-mark at Chettinadu Kozhi Sambhar.
Mastering the Art of Indian Cooking is a must-have for any serious cookbook collector or lover of real Indian food. It will, I feel sure, become the Indian equivalent in status of the French Larousse Gastronomique. Sanjeev Kapoor presents us with a delicious and practical masterwork that is entirely relevant to today's lifestyle and tastes in both the East and West. Amazing value for money.
Mastering the Art of Indian Cooking
Author: Sanjeev Kapoor
Published by: Stewart Tabori and Chang (Abrams)
Price: £19.00, $27.28
ISBN: 978-1-58479-933-7 (UK)
ISBN-10: 1584799331 (US)
ISBN-13: 978-1584799337 (US)
See my reviews of other books by Sanjeev Kapoor here.
Read reviews of more Indian cookbooks here
Interview and Cookbook review by Chrissie Walker © 2018