The very first Masala Zone restaurant was the Soho branch which opened in 2000. There are now 7 Masala Zones in London with more to follow. They seem to fill a long-felt gastronomic want for a good-value contemporary Indian restaurant with authentic food and unique ambiance. Masala Zone provides that, with each of its restaurants taking a different cultural and artistic theme.
The Fulham Broadway branch, the newest in the chain, is just a few yards away from Fulham Broadway Underground station and its attendant bustling shopping mall. Masala Zone has a modern and welcoming entrance which leads into a deceptively large restaurant. There is a lower dining area at the rear, as well as a private dining room which can be partitioned
with sliding screens. The contemporary furnishings are contrasted by canvases said to be painted in the style of the frescoes from the grand mansions in Shekawati, Rajasthan. When I say canvases you'll be thinking, dear reader, of pictures hung on the walls. No, these are full murals that cover the walls – striking, exotic but in keeping with the modern ethos of the restaurant.
We were there to try the Street Food. Not a selection of exotic hot dogs. Not pizza with Chicken Tikka topping, and not even chips with curry sauce. This is as near as you'll get to subcontinental fast food without investing in a ticket to Mumbai. In fact, don't even think of these dishes as fast food: consider them more as traditional foods more usually cooked at roadside halts and on small stalls in city streets. Popular food and it's popular for a reason.
The Street Food menu offers a different style of dining. This is convivial, casual and varied. Ideal for small groups as you'll have the chance to sample a wider range of dishes. I had expected them to be small snacks but they are surprisingly substantial. We ordered four between two of us and that constituted a full meal.
Bhel is a favourite with me when eating at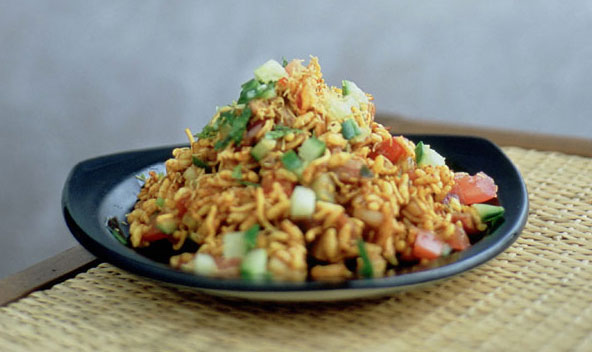 friends' homes. It's a fresh-tasting dish with texture. Tangy, crunchy salad with puffed rice, delicate sev (crunchy strands made from chickpea flour), vegetables, peanuts and chutneys.
Sev Puri are wholewheat puffy biscuits topped with spiced mashed potatoes and three fresh chutneys. The chutneys give real flavour and bite.
Dahi Puri are puffed hollow thin breads filled with chickpeas, mashed potatoes and garnished with yoghurt and chutneys.
Gol Guppa are small lentil- and tamarind-stuffed wholewheat puri. They are the most fun to eat. Just fill them with the spicy tamarind dressing and pop them, whole, into your mouth.
Pao Bhaji was introduced to a fascinated TV audience by Anthony Bourdain. He is a celebrated American food writer and restaurateur. He enjoyed these little veggie burgers so much when visiting India that he ate several at a sitting and professed them to be better than American fast foods. It's spicy mashed potatoes and vegetables served with warm bread.
Aloo Tikki Chaat is another personal favourite. Spiced mashed potato cakes with yoghurt and chutney is a real comfort dish.
Chana Dabalroti is a flavourful chickpea curry with lotus root and toasted bread – a famous Sindhi snack.
Samosas are ubiquitous in Indian restaurants all over the world but Masala Zone offers a choice of curried chickpeas, chicken or vegetable fillings. The presentation is a bit different, having the samosas split and garnished with yoghurt and tamarind. The pastry was authentic samosa dough rather than the too-often encountered philo pastry.
Shikampuri Kebab are minced lamb patties stuffed with herbs, and the choice for those who must have their meat fix.
It seems that the original Masala Zone in Soho had a bit of a bad press on first opening. Those days are gone and the chain now has a good reputation and a more considered menu which reflects the desire of customers for freshness, flavour and authenticity. I am impressed by the Fulham restaurant which offered good food at reasonable prices, an attractive and comfy environment and service which was fast and attentive. The staff had evident passion for the food and were knowledgeable and enthusiastic. A visit to another branch to try Masala Zone's Thali selection is definitely on the cards.
Masala Zone
583 Fulham Road, Fulham Broadway, London SW6 5UA
Phone: 020 7386 5500
Fax: 020 7386 0088
Visit Masala Zone here
Restaurant opening times
Monday to Friday: 12.30 – 15.00, 17.30 – 23.00
Saturday: 12.30 – 23.00
Sunday: 12.30 – 22.30
Restaurant review by Chrissie Walker © 2018