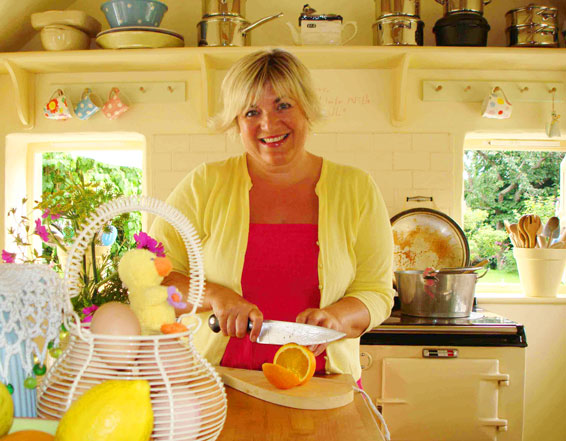 There is no mistaking that this is indeed Lotte's Kitchen. I am sure an aerial view would show this cafe as a pink blob. This pastel-coloured venue is, if you know Lotte Duncan, just what you would expect and just what you would hope for.
You will likely recognise Lotte Duncan from her numerous food TV appearances on both sides of the pond. She is, in real life, very much as she seems on TV: warm, funny and frilly and mostly wearing those pastel colours which have become her trademark. She is a talented cookbook writer, cooking demonstrator and baker of all things sparkly. I should mention her addiction to glitter.
Lotte is a "hands-on" kinda girl and it's just as well. She is a celebrity (she hates that term) but she honestly does cook for the café, and you really can have one of her cakes at your wedding, and she has actually juggled paint brushes as well as whisks before the long-awaited opening of Lotte's Kitchen.
It's a stunner. Not large but well appointed with sofas, tables sporting flowery cloths, painted chairs (colours from her pastel palate) and a fireplace. OK, so the fire is also painted but it does have a ginger cat, the original for which is resident at Lotte's cottage a few miles away. There are dressers laden with designer foods as well as gifts, all very much in that cosy country style, but with hints of sophistication.
Lotte Duncan has an able business partner in Sue, and Lotte remembers the learning curve in those early days. "On the eve of opening Sue went outside and looked through a little hole in the window whitening, saw the whole thing set up, and said, 'Yeah, we're ready!' But we weren't! The next morning we got here at 6:30, Sue learned how to work the till about 10 minutes before opening, we hadn't numbered the tables, there was a queue out the door, and we had no system set up. We just didn't stop all day! In the evening, when we all sat down with a glass of fizz, it suddenly occurred to me, 'Wow, we're going to have to do this every day!' Now, it's really weird to think that we wouldn't be here. We have such a lovely customer base of locals."
Lotte is a generous hostess and I was introduced to just about every item on the menu. Sandwiches: "We buy the ham in and cook it in cider and apple juice and roast it with all the spices, butter and sugar; we cook whole chickens in stock, take all the meat off the bone and that's what we use to mix with mustard mayonnaise, lovely streaky crispy bacon and tomato; our beef we buy in, cover it in mustard, horseradish, oil and black pepper, roast it off and slice it by hand. Everything we do here is just a bit special – if you order a sandwich it's not just a sandwich, you get it with a lovely garnish drizzled with a house dressing that uses vinegars from Yorkshire and a local rapeseed oil, mustard, mint and chives. It's such a simple menu and it works." Each sandwich is made to order and the tables of regulars attest to their delicious, over-stuffed freshness.
It's a small village but the place buzzes with folks who have obviously been here before. They have their habitual order but will ask which cakes are available today. The coffee machine is in constant action and there is a good selection of tea. Lotte even offers an English tea. No, not English breakfast tea grown and blended in India but a real English tea which is grown here. A glass of wine, beer or cider can be yours in warm weather but the hot chocolate should be your beverage of choice if you visit on a cold winter's day. It's the richest and creamiest and comes with a real chocolate pop to melt into the chocolatey mug.
Lotte is a celebrated baker and her handiwork is available at Lotte's Kitchen. "We have a massive selection of cakes every day. People buy slices to take away, and they buy whole cakes, too. We do big celebration cakes, they work really well. We bake to order, whatever the occasion – birthdays and anniversaries, and we do a lot of iced fancies for weddings.
I would have asked about those bespoke cakes but I had my mouth full. "That's my 'Olympic Gold' chocolate fudge cake and that's my Raspberry Vanilla one; that's a Gooseberry and Orange cake; chocolate brownies; that's the Passion Cake, our most popular, with carrot, walnut and banana." Lotte gave a run-down on the heaving plates. All those cakes taste home-made and in a way they are – or they would be if Lotte lived over the shop. She could use the slogan "You can taste the difference" but I think it's already been taken.
These days you can have breakfast at Lotte's Kitchen. A civilized 9am can find you tucking into some local produce. "What we do for breakfast: bacon sandwiches, sausage sandwiches (the sausages are from Musks, in Newmarket, Suffolk), and the 'Big Breakfast' of bacon, sausage, egg and mushroom sandwich, with coffee or tea. The bacon's streaky and really crispy with lots of flavour and we cook it on the flat griddle. Most weekends we do our burgers – 8 ounces of solid meat, on the flat-top which gives it a beautiful crust, with salad and home-made Thousand Island dressing, or blue cheese and bacon on it, and that's just lovely. Also on a Saturday we do our famous cinnamon rolls, which people come in especially for – and when they're gone, they're gone!"
It's not all about eating here. "We have demonstrations, monthly, which are very popular. We are going to do a wine evening too, with Marcia Waters, a Master of Wine, who has chosen the wines for us. We can now offer a glass of Prosecco and a piece of cake for an afternoon tea."
I don't think Lotte Duncan and Sue need to add any more incentives to encourage food lovers across their pink and glittery threshold. They already have a winning recipe.
Lotte's Kitchen
2 Keen's Lane, Chinnor, Oxfordshire
OX39 4PF
(This venue is now closed)
Read reviews of other Afternoon Teas here
Restaurant review by Chrissie Walker © 2018