We might be wooed into the misconception that all the finest restaurants are to be found uniquely in central
London. This particular gem is in the somewhat unlikely environs of Hammersmith. Not hidden in a backstreet but in plain view on King Street, and within an Indian cricket ball's throw of Ravenscourt Park Underground station. A fleet of bus routes passes the door giving this restaurant a huge catchment zone.
A Tuesday night in troubled financial times found me in a full Indian Zing. Lots of regulars and some who might be first-timers drawn to this neck of the woods after Michael Winner's glowing review of several weeks past. It's a light and contemporary restaurant with Indian accents and seating for 82. Even the cutlery adds to the subtle theme, being crafted and wrought in charming subcontinental fashion.
The service here is impeccable. The waiting staff who are attractively uniformed in dark purple and black silk shirts are attentive and knowledgeable about not only the food but also the wines, which are carefully selected to match the dishes. Sample some Indian vintages not found in other restaurants. The Indian wines of Sula Vineyards in Nashik Highlands, above Mumbai, are supplied exclusively by Novum Wine Merchants. These award-winning wines are considered some of the best in India. Sommelier Vincent Gasnier has chosen many of those on offer. Your wine bill at Indian Zing will not make you wince. Sauvignon Blanc, Sula Vineyards, is a New-World style crisp white which weighs in at less than £19.00. Don't get anxious: a traditionalist can still order a Cobra beer.
Manoj Vasaikar is the chef-patron of Indian Zing and he has an enviable professional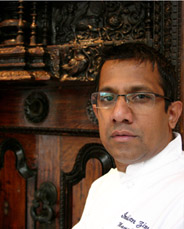 pedigree. He has been a chef in some India's finest hotels including Taj and Oberoi groups and ITC Sheraton. Manoj continued his career with some of London's most celebrated Indian restaurants such as Chutney Mary and Veeraswamy. That is quite a collection.
Our pappadums and khakara basket with pickle and relish heralded the start of a memorable meal. Rice pappadums and wholewheat crispy flat bread was served with mint and coriander chutney but here with the addition of pomegranate seeds. Carrot, cucumber, tomato and raisin raita made with Greek yoghurt was another on the brass carousel. Chutney of mango with roasted cumin and black pepper was chunky and moreish. You know you have found a winning restaurant when you are driven to wax lyrical even about the condiments!
Vegetable Bhanavla is the Indian Zing take on the ubiquitous onion bhaji. It looks like slices of a delicate meatloaf but there the resemblance ends. This is light and flavourful and much less oily than the regular bhaji, being first baked and then griddled.
Prawn and Aubergine Kharphatla is a stunner. It's an array of jumbo prawns and sliced aubergine, with caramelised onions, tomato and pickle masala. The seafood was moist and melting with a sauce which was finger-lickingly delicious.
Bhujung Biryani must be a signature dish, although Manoj has contrived to have a whole menu of dishes which would be broadcast as "house speciality", "chef recommended", "gold medal", and "just like the head-waiter's grandma used to make" in other quality restaurants. This biryani is described as a lighter version of traveller's biryani, made along the Mumbai express highway – this would definitely be a step up from the food found at Small Chef eateries on British motorways. It's made with powa (poha) which is a pressed rice. Not to be missed.
Karwari Fish Curry is a seasonal delicacy from the West Coast of India with an unusual flavour of trifala – an ancient ayurvedic compound common to this region. The fresh yellowtail fish for this and the seafood for all the other dishes are chosen with the same care as the wine. That undoubtedly contributes to the reputation of Indian Zing.
Chicken Miravna is a dish made from free -range poultry and is said to be a classic dish from the earliest-settled community of Mumbai. It's packed with green herbs and spices. The sauce was rich and the meat tender. A unique and historic dish.
Bottle gourd cooked with roasted pumpkin and lentils, tempered with mustard seeds (Dudhee Bhopla and Chana) is a delicious vegetarian dish with both texture and taste. I have not found this in any other restaurant. It's sustaining and hearty enough for even committed meat eaters.
I was expecting something special and that's just what I got. Manoj Vasaikar should be proud of a restaurant that offers guests a calming ambiance and some of the best Indian food you'll find this side of the Arabian Sea. He has culinary vision and courage. Indian Zing is great value for money for such high standards and attention to detail.
BACK BY POPULAR DEMAND:
INDIAN ZING ANNOUNCES A PROGRAMME OF FIESTAS FOR 2010
Indian Zing, known for serving some of the most creative Indian food in London, is continuing its annual tradition of hosting special food festivals at the restaurant, highlighting unusual or special aspects of the Sub-Continent's cuisine. Chef patron Manoj Vasaikar is pleased to announce the 2010 fiesta programme, when special menus will be available alongside the à la carte in the evenings, will include:
Summer Cooler Fiesta- 3rd to 13th June
Biryani Fiesta – 13th to 22nd July
Maharastrian Fiesta – 17th to 26th August
Game Fiesta – 5th to 14th October
Summer Cooler Fiesta- (3rd to 13th June)
Back by popular demand, the Summer Coolers event will showcase the variety of thirst-quenching drinks which are popular refreshments in India during the heat of the summer and are available everywhere from street vendors to the finest restaurants. These include Kokum Crush (Indian plum crush, cumin, sweetened with demerara sugar); and Shikani (freshly squeezed tropical lime and black salt served in soda or plain water, sweet or salted).  Chef Patron, Manoj Vasaikar, has also added 'zing' to some of the recipes with the addition of his own innovations such as Sandalwood Lassi (yoghurt churned with real sandalwood essence).
Biryani Fiesta (13th to 22nd June)
This fiesta will celebrate the rice dishes popular throughout the Middle East and Asia, highlighting a host of regional and specialist Indian biryanis which are rarely seen on UK menus. These include the tahiri biryani, a mixed vegetable biryani made with exotic mushrooms and tropical seasonal vegetables served with raita and papadum; the sofiyani biryani, a fish biryani from the house of Nizams (Hyderabadi), made with a rich paste of sesame and melon seeds and dry coconut delicately infused with saffron and spices; and the Calicut beef biryani, brought by Arab traders to Calicut via the Arabian Sea (Southern India) and then infused by the Muslim community with Indian spices and curry leaves. They come served in a banana leaf, traditional packaging for biryanis which are being taken away, to eat whilst travelling.
Maharashtrian Fiesta (17th to 26th August)
Maharashtra is one of the largest states in Indian, located on the West coast, and dominated by the capital, Mumbai (Bombay) – it's also the region Manoj originates from. Dishes on the special menu will include kothimbir wadi, braised coriander and green vegetable patty served with tangy tamarind relish and fresh green herb relish; and fish and aubergine kalwan, a seasonal fish broth with aubergine and Indian spices.
Shikhari-Ka Fiesta (game) Fiesta (5th to 14th October)
Hunting game was fashionable in India, particularly with the royal families, who enjoyed eating the meats flavoured with spices and foreign liqueurs, and tribes, who hunted for survival and maintained the robust flavours of the meat with the addition of spices and crushed herbs cooked over hot charcoal and wild wood.  It was the Turks who introduced the tandoor, refined by Mughlai influences, which gave a finesse and richness to game cooking.  Dishes will include sukka wild boar and idli, seared wild boar with onion, pepper, curry leaves, roasted spices and finished with palm vinegar and served with steamed rice cake; and pheasant bauli handi, slow cooked pheasant (on the bone) in Indian broth with root vegetables and hand pounded spices and herbs.
Opening hours
Weekdays and Saturdays:
Lunch: 12:00 – 15:00
Dinner: 18:00 – 23:00
Sundays:
Lunch: 13:00 – 16:00
Dinner: 18:00 – 22:00
Indian Zing
236 King Street, London W6 0RF
Phone: 0208 748 5959
Email: info@indianzing.co.uk
Visit Indian Zing here
Restaurant review by Chrissie Walker © 2018