Wardour Street is celebrated as one of London's night-owl alleys. Its selection of clubs and eateries is legendary so it's no surprise that it also hosts one of the world's few computerised restaurants. No, a robot doesn't make the food and each table isn't supplied with a microwave. Your table is, however, equipped with an interactive menu, ordering system, webcam of the chefs (that's how you know they are not robots), and computer games.
This all sounds rather jolly to the prospective diner but it isn't exactly music, computer generated or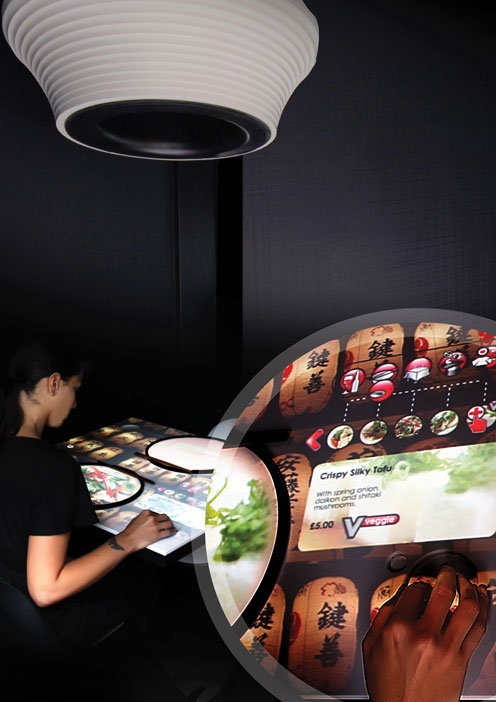 otherwise, to the ears of an ageing restaurant reviewer. Call me cynical, but it starts alarm bells. For what is all this technology compensating? Are these interactive tabletops merely a distraction from food that would likely be over-priced and under-done? Would our meal be foil-wrapped or reconstituted, vitamin-enriched space pouches? Only time would tell.
Inamo is a small restaurant with a basement bar. It already has a reputation for innovation as the passers-by confirmed. In fact they didn't pass by. They stopped and whipped out the cameras. That's gotta be a first. Will we diners find our visages on the front of the Osaka Daily Worker?
It's a restaurant with the ambience of a nightclub. We arrived at 6pm and the place was already half full so it also appeals, evidently, to office workers and tourists in the know. The dining area is furnished with the intriguing tables, which at first glance seem quite ordinary. On further inspection one notices that the colourful tablecloths are projected from what look like industrial ventilators on the ceiling. A taste of what was in store.
We settled ourselves at our table, or should we call it a terminal? We were introduced to the workings of the interactive table/waiter/menu/gaming console/taxi rank and then we were left to fiddle. Yes, that's what one does for a while. A tap here, a delete there and we were ready to tailor our evening. Perhaps a change of ambience. A delicate, pale blue Japanese motif seemed in order. My companion and I then each ordered our dishes from our independent menus. It's possible to hail a 3-dimensional waiter if the computer-illiterate among you start to panic. But the prospect of the food at Inamo was causing me more panic than the over-sized mouse pad.
In truth I had no need to worry. Navishen Mudaly (ex Zuma, Indo-Jin, and Prism) is the head chef at Inamo. He is considered by some to be one of the country's top Oriental fusion chefs. Yes, it's undoubtedly a themed restaurant but thankfully the quality of food has not been a victim. The dishes not only looked superb, they tasted authentic and would not have been out of place in a restaurant with linen.  The only thing that seemed to cause a bit of confusion with guests was the large, round, white, plastic disc. Was it a plate or a place mat? Some Brazilian diners decanted food onto this, whilst other visitors ate directly from the serving dishes. Not sure if there is yet an established etiquette for cyber-service.
Our food arrived just a few interactive games later. Thai Beef Salad was as good as I have had in even the best Thai restaurants in London. It was amazingly good value being only £8.00 for a generous plateful of tender and flavourful meat served with a tangy chilli som tam dressing. This should be a signature dish.
Then there were:
Seared Scallops, £6.75, thinly sliced with a yuzu and wasabi dressing. These were sweet and cooked to opaque perfection.
Unagi Nigiri,  £5.75, 3 pieces of eel nigiri sushi was my favourite of all the small dishes. I love eel and this particular dish presents it at its rich best. Simple with the traditional wasabi and ginger.
Baby Crispy Prawns,  £7.00, lightly battered, served with a Thai mango relish was the favourite dish of my companion and our waiter. The presentation was attractive and the seafood was moreish. Crunchy coating with no excess oil.
Salmon and Avocado Ceviche,  £6.50, diced salmon and avocado in a marinated citrus and chilli salad was light and refreshing. A lovely dish for a hot summer evening.
I am not a sake connoisseur but I'll choose that rather than wine when eating Japanese or even Pan-Asian food. I ordered Takara ginjo shin which is one of the several sakes served hot. I used to think that all sake was designed to be served that way but the majority of restaurants now have a good selection of both hot and cold. I would still suggest you try the warmed version. Takara ginjo shin is well worth experiencing with sushi of any kind.
Inamo is a surprisingly good restaurant. I would go there even if there was a breakdown in cyber space. It's a fascinating eatery but it's not relying on novelty to encourage business. We noticed regulars here in a part of London which has a wealth of choice. It's doing well and will continue to do so as long as the quality of food does not diminish.
Opening Times:
Mon-Thu 12pm – 11.30pm
Fri-Sat 12pm – 12am
Sun 12pm – 10.30pm
Inamo
134-136 Wardour Street,
Soho, London,
W1F 8ZP
Phone  020 7851 7051
reservations@inamo-restaurant.com
Restaurant review by Chrissie Walker © 2018
Read other articles about Japanese food, art and culture here