If you don't know Ben's then you ain't from Noooo York!
You can find plenty of glitzy restaurants. There are a host of celebrity chef establishments. The eateries to be "seen at" are without number but you have to go a long way to find anywhere that has the style of Ben's Kosher Deli.
Ben's® Kosher Restaurant, Delicatessen & Caterers has been serving the public for over 36 years. There are quite a few outlets in New York State and now those "Snow Birds" (older folks who have flown to warmer climes) can get a real taste of home in Boca Raton, Florida.
Ben's Manhattan branch is nothing much to look at from the outside. The deli counter is located at the front of the shop and supplies an unending list of sandwiches, salads and all the usual suspects of a New York Deli. Plan to have lunch in the restaurant and make your way past the counter to the unexpectedly rich and luxurious dining room. It's worth the extra few yards.
It's like another world. Think of the best art deco and you have hit it on the head! It's sumptuous in tones of gold, yellow and dark wood, and a shock after the chrome and glass of the front of house. It's not a small place. It seats 250 but its décor allows you to feel cosy and cocooned.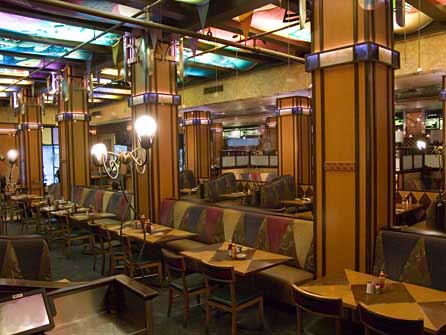 Difficult to make a quick choice
We were shown to a comfy, well upholstered booth and were presented with a dish of dill pickles and a basket of different and interesting breads. I was pleased not to have to decide, because I find it difficult to make a quick choice when a waitress offers "Whole wheat, rye, Russian black, German pumpernickel, Swedish crisp, Lebanese flat, potato bread, sesame, poppy seed, onion, white enriched, milk loaf, baguette, raisin, walnut, herb or olive?" "Er, what was that third one again?" A very American concept of offering too many options, mercifully absent at Ben's.
I love Eastern European food of all kinds but the food here was a bit different. There were things that I had heard of – mostly from watching old American films where there is always a rude waitress and a fat chef called "Al" wearing a vest (or undershirt if you are American) – but there were quite a few mysteries on the menu.
Well, you can't try everything, but wanting to try the kosher classics I ordered Gefilte Fish with Horseradish. They are meatballs but made with fish and they were delicious and a lot of them as well. It sounds just the sort of dish someone's Bubbe (grandmother) would have made. Traditionally they would be made of carp which isn't used much in western European cooking and it's a shame because it's a wonderful fish if prepared properly. The flesh needs soaking to get rid of what is sometimes a muddy taste.
Feeds two big fressers
There were also Kreplach on offer, which are Jewish ravioli, Ronnie's Old-Fashioned Chicken Soup with Matzo Balls (a meal in itself) and Stuffed Derma (big dumplings) with brown gravy, as well as a long list of hot meals, salads and soups. You can find an Israeli Hero: don't go all political, it's only a sandwich, OK, a foot-long roll, overstuffed with everything but the kitchen sink and advertised as: "Feeds two big fressers or three average mensch" …I am sure that must be a good thing!
One of my favourite pastimes when in the Big Apple is to eat street food. There is less to be found these days but if you happen upon a cart selling Knish then try them. They are little square parcels of pastry filled with mashed potatoes and/or other savoury ingredients. If you are worried about eating on street corners because of dining etiquette or fear of being mugged for your lunch (don't worry, it won't happen) then you can find knishes in the more inviting surroundings of Bens.
This is a fabulous restaurant. It's not just the food although that is a big part of it. It's the ambiance and it's hard to find anything to compare. If you like Jewish food you'll love Ben's. If you like Eastern European food you'll adore Ben's, and if you want to feel like a native Noooo Yorker then you'll hang out at Ben's.
Ben's® Kosher Restaurant 209 W. 38th St. (between 7th & 8th Avenues) Manhattan, NY 10018
Visit Ben's Kosher Restaurant here
Travel review by Chrissie Walker © 2018