London's Heathrow Airport Terminal 5 opened on 27th March 2008 to a less-than-glorious start. I am sure most travellers have received their baggage by now but the memory of that ignominious first week will remain with those who were closely associated with it. But now it really is just a memory, and Terminal 5 is becoming a 'destination' airport terminal in its own right.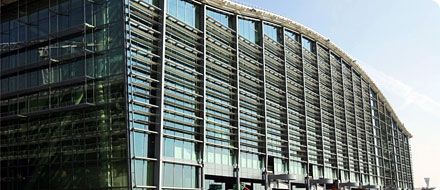 Terminal 5A, to give its correct title, is the biggest single-span building in Britain. Your response to most statistics might be, "Well, who'da thought?" but a visit to T5 will have you exclaiming "This must be the biggest single span building in Britain" with no prompting. It is a stunning vision of glass and beams and has an open and light aspect. It cost £4.2bn and covers 265ha, equivalent to 50 football pitches. 27 million passengers are expected to pass through Terminal 5 this year, and this passenger was paying particular attention to the air-side food.
61,000 sqft is dedicated to catering in Terminal 5, everything from The 5 Tuns Pub and Kitchen to M&S, providing the gamut of casual dining, but what was needed for my own early morning start? Breakfast when travelling is often comprised of a strange melange of local dishes appropriate for a different time-zone and of dubious taste and questionable texture, but Wagamama at T5 presents a menu that seems to have something for everyone, or at least as much as one could reasonably expect.
Wagamama is a noodle restaurant with several branches in central and greater London, and others opening elsewhere. It's a noodle bar with all the attractive Zen practicality that a Japanese eatery would imply. Plenty of benches and chopsticks but also some rather delicious food. Its pan-Asian-inspired dishes have a cult following. Wagamama 'chilli men' is a noodle dish of stir-fried chicken or prawns with vegetables, and is a popular recipe search on the internet (reviewed here at Wagamama Richmond), but the unique breakfast dishes were the draw this morning. Heathrow is the only Wagamama serving breakfast, both traditional and Asian.
Okonomiyaki – a Japanese-style pancake omelette made with peppers, cabbage and mushrooms, garnished with katsuobushi (a preparation of dried, fermented, and smoked skipjack tuna) and aonori (edible green seaweed) – is a substantial egg dish, and flavourful. The tuna shavings give a slightly salty counterpoint to the vegetables.
Coconut Porridge is a bowl of oats mixed with regular milk and coconut milk, served with an apple and chilli jam. It is perhaps, for the less-adventurous guests, one of the more easily accepted of the pan-Asian breakfast items. We have all had steaming bowls of porridge to send us off to school on cold winter days. Well, this has the same comforting texture but a richness from the coconut milk and a kick from the condiment. A good slow-energy-release dish for the gruelling day ahead!
Caviar House & Prunier offer the traveller an oasis of calm luxury. It's honestly not an everyday pit-stop, but far more accessible financially than one would assume, and proved to be just the place to while away some post-breakfast and pre-flight hours. Caviar House & Prunier is said to be a producer of the world's finest caviar and Balik smoked salmon. It has a reputation for presenting the highest quality, and there are experts on hand to make your first caviar encounter an occasion to remember.
Malossol is the most authentic Russian-style caviar and my favourite. Those little blue tins are here in abundance, along with some not-so-little tins. Malossol is a caviar with a particular Beluga flavour and is much sought-after in America and Japan. Granted, it's not cheap but it would make any celebration memorable. If caviar is a bit too rich then try the excellent smoked salmon with a glass of champagne. Linger and savour. It's all about pampering.
Obviously Heathrow isn't just a dining experience. Retail therapy can calm the nerves and send one from these shores with a feeling of duty-free well-being. Tiffany & Co.'s signature jewellery pieces are displayed in their store. This is the only place outside their New York 5th Avenue branch where passengers are able to see these. Harrods Department Store is here, along with French luxury maison Cartier. There is a raft of other 'labels' as well. It's a consumer paradise for the well-heeled, but for us humble folks there are the high street brands, too.
If those high-flyers are peckish then they would want a celebrated chef to be providing the posh nosh. Plane Food is a Gordon Ramsay restaurant at Heathrow's Terminal 5, where Stuart Gillies is the appointed Chef Patron. He has worked with Angela Hartnett at The Connaught, before moving on to London's Le Caprice. He has also graced the kitchens of Daniel Boulud restaurant in New York City. Stuart ran the Boxwood Café at The Berkeley before becoming manager of Plane Food.
I am not a fan of Gordon Ramsay but I seem to be one of the few. That is to say, I don't like his TV shows or his language, but his food is some of the best around. I have eaten in his Heathrow restaurant and have no complaints. Excellent. And the restaurant offers a picnic service which is novel and convenient.
One can order Plane Beautiful picnics from 7:00am to 9:00pm. They are priced at £14.95 for 3 courses. All meals can be taken onboard your flight, or simply enjoyed in one of the many seating areas in the terminal. My orange thermal bag contained Caesar salad with pancetta and soft-boiled egg, Cumbrian honey-roast ham and Parma ham, and a chocolate brownie which I must confess was the best I have ever eaten. The ham platter was fresh and substantial and my only criticism would be that there was no bread, the addition of which would have made this a complete meal. A simple bottle of water would have been worthwhile.
Heathrow Terminal 5 will start your trip in fine fashion or will offer a stylish homecoming. We all used to swell with pride as we watched Concorde soar. This building and its high-end amenities are fast becoming the equivalent in air travel facilities. OK, you wouldn't want to spend your vacation within its confines, but it's striking, contemporary and as good as it gets.
Travel review by Chrissie Walker © 2018