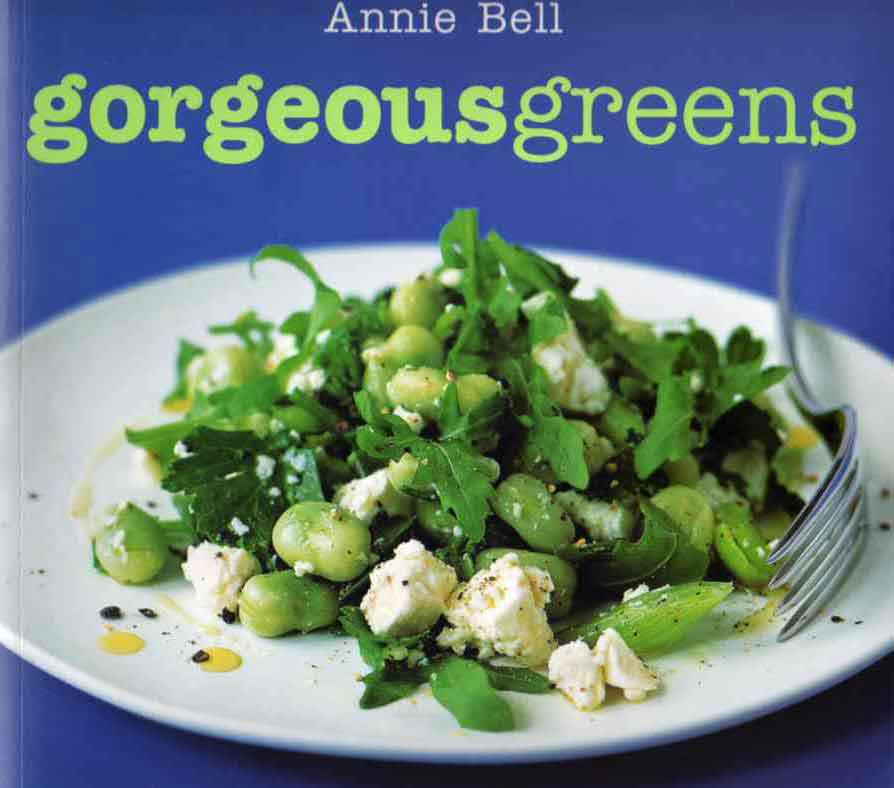 Well, it sounds like an oxymoron (ok, look it up). Gorgeous Greens. It's an expression used by my parents and many others as a term for all vegetables, just like the word greengrocer refers to a shop that sells every kind of vegetable and not just those of a greener hue. This isn't a vegetarian cookbook but it has veggies at centre-stage rather than as a garnish to meat or fish.
Annie Bell is without a doubt one of my favourite cookbook authors. I have had the pleasure to review a couple of her other books (Gorgeous Cakes and Gorgeous Desserts), and Gorgeous Greens has not disappointed. It has the same wit, easy-to-follow recipes and gorgeous (that word again) pictures by Chris Alack who is one of the best food photographers around.
Greens, gorgeous or otherwise, have had a bad press down the ages. There was not a wide range of vegetables to tempt the palate of most northern Europeans till relatively recently. As late as the 1960s little could be found in greengrocers other than a selection of potatoes (white or red, madam?) some onions (spring or Spanish, darlin'?), cabbage (the big one at the back?) and tomatoes (salad or squashed, love?). But, thank goodness, things have changed and we all have access to an amazing array of produce, and we know that we should all eat more vegetables – five a day of fruit and veg – so let's not allow it to become a chore.
There is nothing bland about this book. It's vibrant in both colour and taste. There are no insipid, over-boiled crimes against vegdom here. There are fresh tastes and fresh concepts that keep one turning the pages. There are cooked and raw dishes that will encourage even the most dedicated carnivore off the meat wagon. They range from delicate dips and side dishes to hearty bakes and tarts, with sometimes just a hint of smoky bacon or a glimpse of the pink of a prawn.
There are several dips that are traditional but with a Bell twist, like Aubergine puree but with pomegranate and almond. This looks bejewelled and attractive and a bit more appetizing than the original, which although delicious looked beige and uninteresting. Crushed Goats Cheese and Anchoiade is, as the name suggests, two dips that can be served separately or together to give a real taste of the south of France.
I am a pie lover so Bubble and Squeak Pie was bound to be one of my picks. Bubble and squeak refers to the noise made by leftover potatoes and cabbage as they were fried the next day. Annie presents this in the form of a puff pastry pie. It transforms the tasty vegetables into a main meal that could become a vegetarian classic. I'd cook vegetables especially to make this dish.
Courgette, Smoky Bacon and Rosemary Clafoutis is probably my favourite recipe from this collection. This is simple to make, smart and versatile. It's a savoury version of the French dessert made with plums or cherries. The combination of courgette and bacon is a winner but once you have mastered the batter then the world is your oyster… or perhaps onion, or maybe goat's cheese…
Gorgeous Greens is as good as I expected it to be. The recipes are easy and Annie Bell has a style of writing that is accessible and engaging. Great value for money, and inspiring.
Cookbook review: Gorgeous Greens
Author: Annie Bell
Published by: Kyle Cathie
Price: £14.99
ISBN 978-1-85626-839-4
Cookbook review by Chrissie Walker © 2018
See more books by Annie Bell here