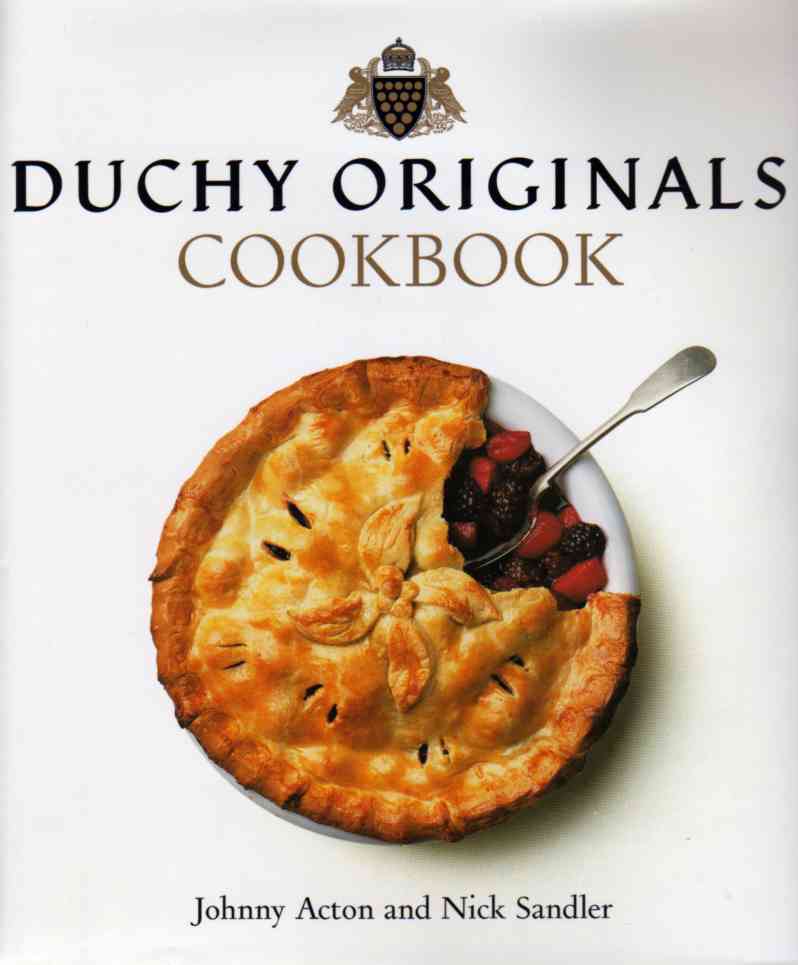 If ever there was a cookbook review I wanted to get right it's this one. Johnny Acton and Nick Sandler are two very witty and talented cookbook authors. Although elevated to something approaching stardom on this site (perhaps that's a bit much but their Preserved book was very nice), those two chaps bow to the one who wrote the foreword to Duchy Originals Cookbook, HRH Prince Charles, The Prince of Wales, Duke of Cornwall.
Most of us would have seen Duchy Originals products on our supermarket shelves. The packaging is tasteful and understated but with a little crest that does carry a bit of authority (the biscuits also sport the crest). It's a mark of quality which can be trusted. How many products have such a royal stamp of approval? The more often-seen coat of arms with By Appointment to Her Majesty only indicates that a product has been used by the royal household. Duchy Originals have a much closer connection: it's a brand personally devised by Prince Charles to promote good food thoughtfully produced.
Johnny and Nick have compiled a selection of recipes that either use Duchy Originals-labelled goods or organic or sustainable produce. The emphasis is on quality. It isn't, however, a book of vegetarian or over-worthy dishes. It's more a reflection of how we eat today… or how we should eat: seasonal, fresh, low air miles and healthy.
The photography by Jonathan Gregson is stunning. He has captured a wealth of images of baby pigs and lambs that almost encourages me to give up eating meat… almost. There are pictures of animals, food and fishermen, cattle breeders and a cooper (barrel-maker, who looks like Mel Gibson) which give the book a sumptuous quality.
A recipe book should have food at centre-stage and this one does. There is plenty of innovation – I expect that from these authors. They use the products to create dishes that are delicious, not over-chefy, and visually striking. The chapters are divided by season and each one is packed with information about producers and their lives and food passions.
There is a very British bias to the recipes as one might expect but this isn't the bland fare of legend. This is more a reflection of good British food as it once was and of how it can be. Flat Bake with Streaky Bacon and Vintage Cheddar is a British pizza. Johnny and Nick offer Cannelloni but here it is stuffed with smoked ham and cheddar. The ever-popular French Profiteroles are listed but in this case with a filling of whipped cream laced with Duchy Originals Lemon Curd, and the pastries then drizzled with a tangy lemon syrup.
Marmalade Cake with Honeycomb Filling has the delicate flavour of oranges but the crunch and sweetness of honeycomb, made with Duchy honey. I have made this with sugar before but this version is much more appealing. If you don't have time to make the cake then just make the honeycomb. Dip in chocolate and give as Christmas gifts. It won't last till the end of the year!
My pick of this book is Apple Crumble with Highland Shortbread. The fruit base is perfumed with both honey and calvados, with a suspicion of cinnamon. The topping is a bit of a break with tradition as it uses Duchy Originals Shortbread (those with the posh coat of arms stamped on each biscuit), crumbled with a bit more butter. This elevates the traditional crumble into adult dinner party dessert.
Duchy Originals Cookbook is a book that tempts, educates and charms. His Royal Highness chose the best authors for the job. This could have been a serious and academic tome but the lads have worked their usual magic and have presented us with a book of fab food and a wry smile.
Cookbook review: Duchy Originals Cookbook
Authors: Johnny Acton and Nick Sandler
Published by: Kyle Cathie
Price: £25.00
ISBN 1-85626-653-2
Cookbook review by Chrissie Walker © 2018
See more books by Nick Sandler and Johnny Acton here