We chose a Tuesday evening to visit this little corner of Clapham, and it had all the makings of an uninspiring event. The weather was cold and dull (this is England in spring so what do you expect) and the restaurants we passed along the way were mostly devoid of clients. Those eateries that had signs of life were peopled by a couple of paying customers (placed prominently by windows or doors) or sadder still, by bored waiting staff who seemed set for a long and fruitless night. What would our destination hold in store?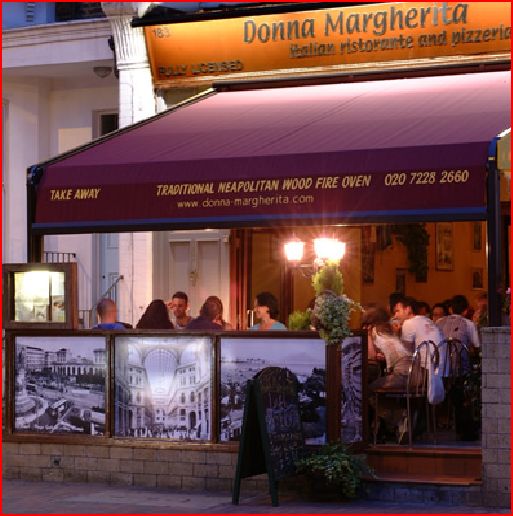 Donna Margherita was buzzing! It was evident that this restaurant had been discovered by the regular Jacks and Jills of Lavender Hill and they are making good use of it. There seemed to be regulars who were warmly greeted by Enrico, the co-owner, as well as a table of some dozen or so 30-somethings. This was looking good! A restaurant with few empty tables in the chill of a financial crisis speaks for itself and the covered outside area (including a heater, thank goodness) suggests that this spot is expected to be popular all summer.
This isn't a huge impersonal restaurant but one rather suggesting a rustic sitting-room, but without the manufactured rusticity of so many Italian establishments. This was a cosy, brick walled haven from the traffic of Clapham and Battersea. The sideboard heaving with antipasti and the unpretentious wood tables add to the appeal.
The menu was a surprise. It's extensive and very well priced. There is an additional weekly Specials menu which offers tempting and reasonable food, and a wine list that seemed rather good value with wine by the glass on several of those listed. Pricey wine is so often the pitfall of eating out, but not so here.
We ordered a selection of the aforementioned antipasti, along with some bread baked in the wood-fired oven, fruity olive oil and balsamic vinegar, and marinated olives. The servings are large here and attractively presented. There were the traditional favourites but my guest particularly enjoyed the baked aubergine with mozzarella, and the deep fried courgette was a triumph. (I now have the recipe but you will have to visit the restaurant if you want to discover the simple secret of these crisp and flavourful vegetables.)
Pizza promises so much but so often delivers so little, but it's a speciality here and I'll go as far as to say it's the best I have had in ages. We chose the simple Margherita which was light and delicate with a thin crust. The underside had the distinctive brown spots of a perfect bake and the topping of tomato and cheese was ample but didn't reduce the base to a soggy mess. There are 18 or so other pizzas to choose from including classic pizzas like Quattro Formaggi (Four Cheese), Romana (anchovies, olives, capers) and Marinara (tomato, olive oil, oregano and garlic).
The restaurant menu is broad-based, offering pasta, risotto, meat and fish. We were tempted by the mixed shellfish and octopus in a delicious and rich broth. Octopus is often tough and unappetising but the chef of Donna Margherita knows what he is doing. It was tender and married well with the king prawns, clams and mussels. O'pignatiello, the romantic-sounding name for this dish, was served with small rounds of baked pizza dough although we resorted to dipping bread into the bowl to soak up the juices that we were loath to leave. This should be the restaurant "signature dish" and is amazingly good value for money at around £13.00 per head.
You might not make it to dessert (the portions are generous) but there are treats in store. Try Zuccotto al Cioccolato Bianco (£4.00): homemade sponge cake filled with chocolate ice cream topped with white chocolate. There is a dark chocolate version filled with vanilla ice cream which is equally as good. Affogato al Caffe (£4.00) is vanilla ice cream with espresso coffee. This is a simple dessert but it always seems sophisticated.
Donna Margherita Italian Restaurant and Pizzeria offers the real wood-fire oven experience. It doesn't have to try to be authentic, it just is authentic. The cognoscenti (those in the know) already make this a popular eatery and I doubt that they will thank me for publicising their secret slice of Naples. I'll return but I might make a reservation next time. Donna Margherita is no longer a secret!
Restaurant review: Donna Margherita Italian Restaurant and Pizzeria
183 Lavender Hill
London SW11 5TE
020 7228 2660
Restaurant review by Chrissie Walker © 2018