It's only just past the start of the year but I'll state that Bryn's Kitchen is one of the best cookbooks to pass through my letterbox so far, and I'll venture to say that it will probably remain the pick of 2011 when the snow returns.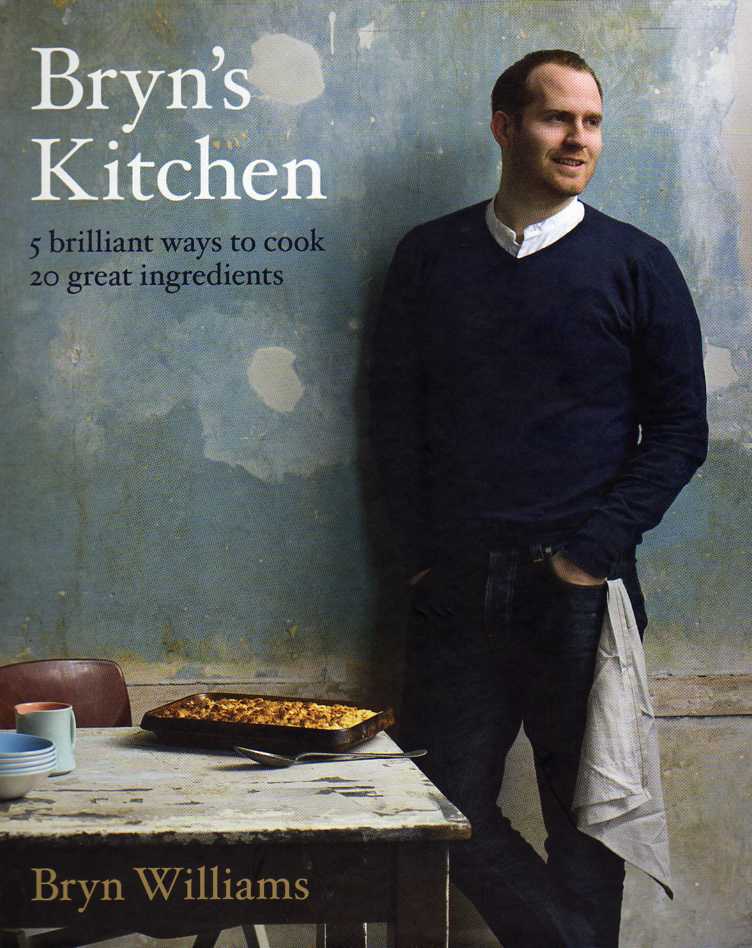 Bryn Williams can cook. There is no denying that. He is the chef/patron of Odette's in London's Primrose Hill, but a book is a different platform. Bryn's Kitchen is a credit to both Bryn and Kay Plunkett-Hogge who together have woven potatoes into prose and melting onions into delicious odes. The concept here is intriguing: twenty ingredients viewed in five different ways. The choice of recipes included is thoughtful, with a rich collection of Bryn's own Welsh family recipes as well as some cheffy additions. This is a visual stunner with photographs by talented Jonathan Gregson.
Bryn has some tempting crab recipes. Crab on Toast is a very posh snack but simple to prepare. Brown Crab Custard takes just a little more effort but the result is worth it – individual ramekins of creamy and crabby delicate spread. Impressive for a dinner party.
Salt and Vinegar Cured Mackerel is for those who hate cooking. No nasty hob to wrangle with and no wilful oven to negotiate. Just a bit of deft slicing, a drizzle and a slight scatter and the job's done. A starter for a hot summer evening: OK, so the weather might not oblige but the food at least will be predictably mouth-watering.
The thought of summer leads me to mention my favourite sweet recipe from this book. It's for Apple Sorbet. Few ingredients for this and it's easy to make if one has an ice-cream maker. One could make a more crystalline granita if one doesn't have access to that machine. The flavour will be just as good and the texture will resemble icy snow.
Bryn has a grandma, and she can also cook; her recipe for traditional Welsh Bara Brith can be found in the Bread chapter. It must be a good one as the Williams family have been making this since 1891. Have this just spread with butter while it is still warm from the oven. There is also a Bread and Butter Pudding made from this Bara Brith in the unlikely event that there is any left from afternoon teatime.
I have a couple of "musts" from this volume. The first is a Beetroot Tart Tatin. This is inspired and unique, as far as I know. Bryn lives in the real world so allows one to use ready-made puff pastry, and that's always a good start for those of us who could lose the will to live after a turn or two of butter-layered dough. The finished result of your non-taxing endeavours will be a gloriously maroon pie which can be served as a light lunch or with goat's cheese at the end of a meal, the tang of the cheese acting as a marvellous foil for the sweet roast vegetables.
My second mention is for Bryn's Baked Scallops in the Shell. This is one of those dishes that has that Ooh-Ahh factor. It's a striking yet simple dish that can be made in advance. You will need whole scallop shells for this recipe but you'll keep them for future use and they are not expensive. The seafood, on the other hand, isn't cheap but the addition of julienned vegetables adds colour and substance. The inclusion of stem ginger adds a hint of exotica, making this perfect as part of a European or Asian meal.
I review hundreds of cookbooks each year. Most are good, many are memorable and one or two are outstanding. Bryn's Kitchen – 5 Brilliant Ways to Cook 20 Great Ingredients swells the ranks of the last category.  It's a solid masterwork of original and classic recipes laced with a charming personal narrative – a delightful melange of Bryn's cheffing, Kay's wordsmithing, and Jonathan's snapping. This could be a prize-winner.
Bryn's Kitchen – 5 Brilliant Ways to Cook 20 Great Ingredients
Authors: Bryn Williams and Kay Plunkett-Hogge
Published by: Kyle-Cathie
Price: £25.00
ISBN: 978-1-85626-980-3
Cookbook review by Chrissie Walker © 2018