There are numerous reminders of this popular literary work, A Dog of Flanders

'A Dog of Flanders' is a novel by English-French author Marie Louise de la Ramée and was published under her pseudonym "Ouida" in 1872. It is about a Flemish boy named Nello and his dog Patrasche, and is set in Antwerp, where there are numerous reminders of this popular literary work.
I confess that I had heard of A Dog of Flanders but I wasn't sure if it was a canine breed, an opera or a painting. However, in Japan and Korea the novel has been a children's classic for decades and has even been adapted into several Japanese films and anime cartoons – and my Japanese friends tell me they know it very well. Japanese tourists come to Belgium especially to visit the cathedral in Antwerp where the story ends. The book was popular among Japanese readers as far back as 1908, when a Japanese diplomat in America read the New York Times' obituary for the author and sent a copy of A Dog of Flanders back to Japan. A translation was made, and the resulting book became an instant success with Japanese children, although the narrative is rather grim.
The story goes thus: In 19th century Belgium, a young boy called Nello is orphaned at the age of two when his mother dies. His grandfather, who lives in a small village near Antwerp, gives him a home. They find a dog who was almost dead, and name him Patrasche. The dog recovers, and becomes Nello's constant companion. Patrasche helps Nello pull the milk cart into town each morning.
Nello falls in love with Aloise, the daughter of a wealthy man in the village. The relationship is frowned upon by the rich man.  Nello is illiterate and poor but he is a talented artist. He enters a junior drawing contest in Antwerp, hoping to win the cash prize. However, the jury awards this to somebody else (later disqualified). Nello is accused of causing a fire, and his grandfather dies. Having nowhere to live now, Nello heads to the Cathedral of Antwerp. He has a fascination for Rubens' The Elevation of the Cross and The Descent from the Cross, but the exhibition is only for paying customers. On the night of Christmas Eve, he and Patrasche go to Antwerp and discover that the door to the Cathedral has been left open. The next morning, Nello and his dog are found frozen to death in front of the Rubens triptych which the boy so wanted to see. Those Japanese visitors wonder at same Rubens paintings as Nello did in the final tragic scene.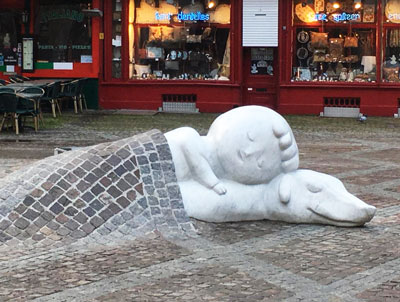 There is a statue of Nello and faithful friend at the Kapelstraat in the Antwerp suburb of Hoboken where Nello lived, and outside the Cathedral there is a marble statue of the boy and Patrasche snuggly covered by a cobblestone blanket, created by the artist Batist Vermeulen. One can still see the Rubens masterpiece in the Cathedral, along with other impressive paintings and lofty architecture.
DFDS operates services from Dover to Dunkirk and Dover to Calais, offering up to 54 daily sailings, with prices from £39 each way. All Dover-France ships feature a Premium Lounge, which can be booked for an additional £12 per person each way. Priority boarding is also available from £10 per car each way. For more information or to book visit www.dfds.co.uk