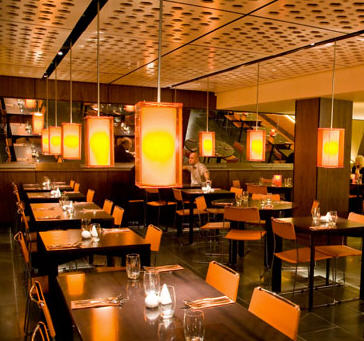 Zeenat Harnal began work in the hospitality industry in 1980 as a management trainee within the Taj Group of Hotels in India. This is a prestigious chain which has given the world some of the most enthusiastic and talented managers and chefs. Zeenat moved from Mumbai to Bangalore where she took up a post of banqueting manager.
In 1988, she relocated to the UK as Operations Director of Noon Products, that company being owned by her father, Sir Gulam Noon. There she met Nizar Challawala, and in April 2008, Zeenat and Nizar became business partners and embarked on their own venture, a restaurant called Zeen in London's Drummond Street.
It's true that Drummond Street isn't as celebrated as Brick Lane or Southall as a hub of Asian culinary culture but it has enjoyed a steady flow of visitors for decades. It's located just a stone's throw from Euston station and an even shorter toss from Euston Square Underground station. It's tucked away just a block or so back from the main thoroughfare of the Euston Road but it's a well-trodden path for those looking for good Indian food or a box of sweets from one of Drummond Street's several immaculate and enticing sweetshops.
Zeen Restaurant has a discreet door at street level. The guest is lead down a flight of stairs to a stylish and striking restaurant. This has a hint of tasteful retro with thoughtfully chosen seats in orange leather, dark wood tables, granite floors, open kitchen and low-hung lamps. The attention to detail has even extended to choice of glass jugs and salt and pepper shakers. Contemporary with an air of international quality.
We took our seats and perused the menu – a combination of comfortable old favourites and innovation. OK, to tell the truth there is more here that reflects the taste of discerning diners. It's a collection to encourage those who have only ventured as far as Chicken Tikka Masala and an onion bhaji to try something different. It's a menu that suggests a high-end restaurant in what is now one of the food capitals of the world.
My starter of Dahi Batata Puri was a substantial plate of delicate fried puffed bread stuffed with mashed potato, with its traditional garnish of yoghurt and tamarind. It's the style of street food that is becoming more common as restaurant fare these days. My guest ordered Jheenga Achari which were marinated jumbo prawns cooked in a tandoor. This was worthy of any of Zeen's more celebrated rivals, and good enough to be a signature dish here.
If one is in doubt then it could be worth settling on the Chef's Specials. These often showcase the expertise and passion of the chef, and at Zeen they have a remarkable selection of show-stoppers. Tandoori Pomfret is well worth trying. Pomfret must be the most popular of Indian fish but seldom seen on a supermarket fishmonger's slab. Duck Jalfrezi is another of those fusion dishes appearing on up-market menus. Duck is not so often seen in India but it's a meat which is well suited to Indian spices and cooking techniques. It still seems luxurious and a bit of a treat but at only £11.95 it's a dish you'll enjoy time and time again.
A must-try dessert here is the Rose Petal ice cream. This is a vision of pink loveliness with a delicate flavour that I'd liken to Turkish Delight. Attractive and even more delicious. The Indian Petit Four made a marvellously naughty end to our meal. Cubes of sweetmeats in all their glorious, teeth-aching splendour. Four varieties which made an indulgent and exotic conclusion to our evening.
Zeen restaurant would not look out of place nestled in a smart hotel. The ambiance is charming, its location is central and the menu is enticing. The prices are, however, amazing. These have got to be some of the most reasonable prices around. If Zeen has quality food as its priority then continued success is assured.
Opening Hours:
Mon – Fri: 12 Noon to 3pm and 5:30pm to 11:30pm
Sat: 12 Noon to 3pm and 6pm to 11:30pm
Sun: Closed
Zeen Restaurant
130 Drummond Street, London NW1 2PA
Phone: +44 (0)20 7387 0606
Fax: +44 (0)20 7387 3947
info@zeenrestaurant.co.uk
Visit Zeen here
Restaurant review by Chrissie Walker © 2018