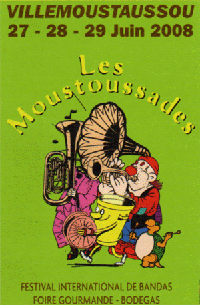 Every year our village hosts a marching bands competition. These are not crisply uniformed semi-military, baton-swirling groups, these are "bandas"!
The eight bandas performing this year came from all parts of France and also Belgium, and are made up of players of all ages. They play everything from 1960s pop to Spanish love songs to 1940s swing. All this accompanied by a bit of jumping about and a lot of good humour.
Villemoustaussou is an ancient village just outside Carcassonne with some of the best views of the medieval Cité. It has a road that runs around the oldest part, which offers an ideal setting for watching the bands pass. They march (well, stroll) for a while and then stop, and usually near a bodega selling wine or beer!
Les Moustoussades is a three-day event which starts on Friday night with a Franco-Belge evening where the musicians play and the guests tuck into steaming piles of mussels and chips. This is a popular evening, with some of the participants not reaching the comfort of home till 3.30am.
Saturday's festivities start quite late (I wonder why!) with the kids fishing for ducks in the Lavoir. This is a communal laundry area that's hundreds of years old. Once a year it's filled with water and is actually used to wash clothes – everybody has a washing machine, but it's a nice tradition to maintain.
The bodegas (food and drink stands) open at 7pm and there isn't a hot dog or burger in sight! The most spectacular counter offers paella from one of the world's largest pans. Carnivores are well catered for at the barbecue pit. They offer grilled lamb, beef and pork as well as sausages all served in a nice chunk of baguette. Cassoulet is available at the restaurant (book in advance) as well as oysters from a chilled mobile van. Cuttlefish (a bit like squid or octopus) is cooked with potatoes and smells wonderful.
There is another culinary tradition at Les Moustoussades and that is the ox roast. The logs are lit about 8pm on Saturday evening and the cooking goes on all night. Don't try this at home, dear reader, but I can tell you that it's quite simple. First take a cow (already dead), split it down the middle and flatten a little. Roast in front of several trees-worth of burning logs till just done (should take between 17 and 17 ¼ hours depending on night-time temperature).
Cool drinks are available in the form of our lovely local wines bought from stands manned by members of local organisations. The money raised goes to things like the primary school PTA, so it's really your duty to buy a glass (plastic in this case) or two.
Sunday continues in the same convivial manner with a car-boot sale. At 11am there is an open air mass in the park, at 12.30 there are aperitifs and at 1pm the beef is served while the bands play. The wine is once again flowing from the bodegas and the shop selling the hats and T-shirts to commemorate your bandas weekend is now open. We'll all do it again next year.
To sample some of the music visit http://lesmoustoussades.pagesperso-orange.fr/
Travel review by Chrissie Walker © 2018
Read more articles about France here