Le Panier had always been a rough part of the city. It's the oldest part of town with a dense lattice of narrow streets with tall narrow houses. If the streets were not full of people making merry then it would feel dark and threatening.
Its squalor was legendary but Napoleon, Casanova, the painter Puget all spent some time there. The "filles de joie" ('ladies of the night' to be delicate) were known to sailors everywhere as some of the most obliging in the world.
The Germans had a horror of Marseilles. In 1943, when under German occupation, Le Panier became an unofficial ghetto for the underclasses including Resistance fighters, Communists and Jews. The Nazis gave the 20,000 inhabitants one day's notice to leave, before dynamite was laid and everything from the waterside to rue Caisserie was demolished. Just three old buildings remained: the seventeenth-century Hôtel de Ville on the quay, the Hôtel de Cabre at the corner of rue Bonneterie and Grande-Rue, and the Maison Diamantée on rue de la Prison.
This is where we spent a hot summer night. It was the Panier festival and a true celebration of the colour, history and passion of the area.
Le Panier is enjoying a bit of revitalisation. It isn't being gentrified but just done up a bit. The festival brings together all elements of the community in a vibrant street party that is both rustic and warm. There are bands of every kind, North African lute players, African drummers, Jazz bands, Rappers (are they still called that?).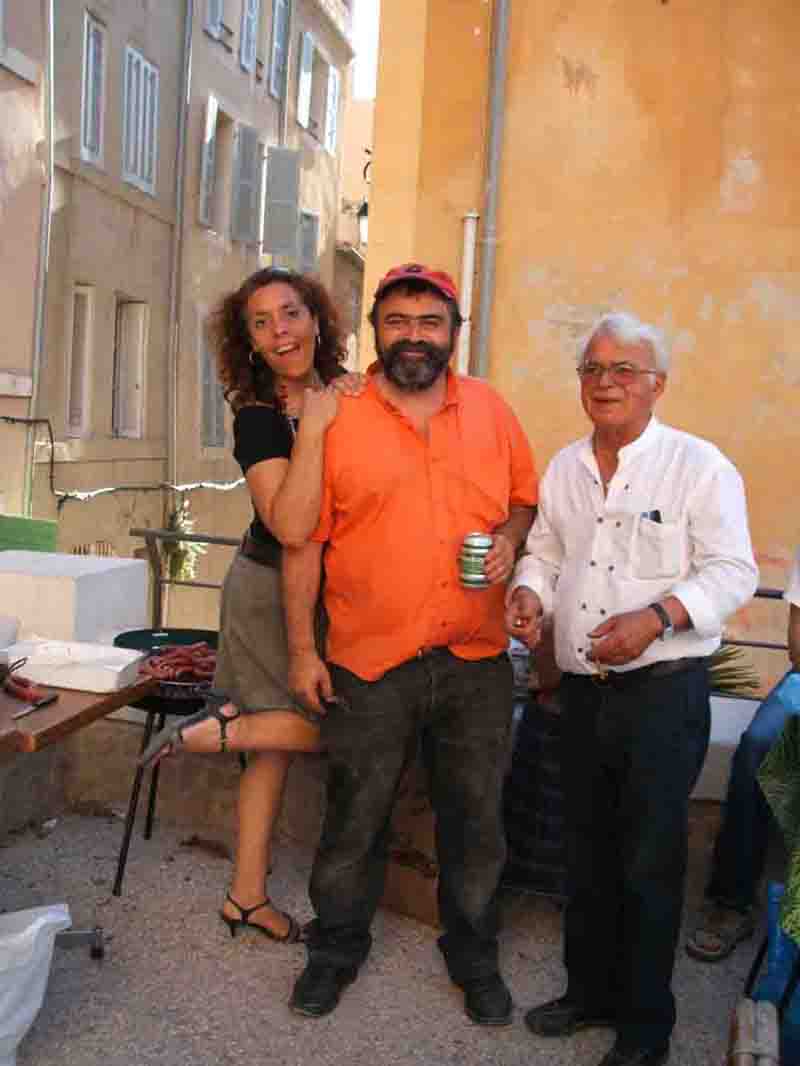 Each building entrance sports a small barbecue, a table piled with baguettes and merguez (spicy North African lamb sausages) or sardines. A shop doorway might have huge bottles of homemade rum punch. There is an elderly lady in Moroccan dress selling sweet pastries.
We have a invitation to join our friends in a newly renovated square. The houses around are still the original but the freshly rendered and painted facades work wonders. We enjoy a glass or two of chilled rosé, some grilled sausages and watermelon. We are joined on our bench by a North African grandmother, we kiss South American toddlers, we watch the French kids play football and we tickle an African baby. This is the "melting pot" at its best.
We head home about 11pm through crowded streets of both young and old, all enjoying the warmth of the summer night. An area populated by poor working people, but a place that knows how to have a good time and is happy to share. Its young people are not over-indulging in strong beverages, they are not roaming around in gangs. Perhaps we can learn a lesson from the back streets of Marseilles!
Travel review by Chrissie Walker © 2018
Read more articles about France here