It's all about travel and food - lots of international excursions, culture and history, hotel, destination and restaurant reviews.
Please look elsewhere for negative reviews.
All restaurant, hotel and product reviews are sponsored; however, the resulting articles are unbiased and the opinions expressed are my own.

To enquire about a review of your restaurant, hotel, resort, book or product please email mostlyfood[at]live.co.uk



Hotel Reviews
- The Dorchester
On this page:
The Front Room at Flemings Hotel, Mayfair
The Grill at Flemings Hotel, Mayfair
Opened in 1851, Flemings Hotel in Mayfair is one of London's oldest hotels. It was converted from six Georgian townhouses but now this historic building has been restored to a tasteful and luxurious haven.


Flemings is a chic discreet townhouse hotel set in the heart of one of London's most exclusive areas, Mayfair. The hotel and apartments are tucked away in a quiet, romantic street off Piccadilly, two minutes from Green Park and a short walk from the hustle and bustle of the West End. Flemings is just a few minutes' walk from the designer stores of Bond Street, Regent Street and Jermyn Street, and close to Buckingham Palace. London's theatre district is within easy reach. Guests have considered Flemings to be one of Mayfair's 'best kept secrets'- till now!

Following a multimillion-pound refurbishment masterminded by interior designer Grant White, the truly amazing interior of the hotel now offers a unique combination of both contemporary comfort and cosy Georgian charm. It has all the amenities you would expect from a prestigious hotel, with the addition of The Front Room for a special afternoon tea.

The Front Room at Flemings is London's new elegant and striking destination for all those in need of a restful but stylish retreat from the rigors of shopping and for those in search of afternoon tea, cupcakes, Champagne and canapés.

The Front Room is like no other front room you would have encountered. It's a long way from your Auntie Winnie's parlour with magnolia walls and a set of plaster ducks. No Green Lady hanging over the gas fire. Think elegant, contemporary and intimate.

The refurbishment of the old library has been inspired. The designer set out to create "an elegant luxurious cocoon" and it has worked in fine style. The shelves of leather-bound books are still a feature but the walls are now black and silver, and mirrors magnify the impact. The furniture is opulent velvet – the sort that encourages one to linger – and arranged to suit couples as well as small groups. The view is exquisite, onto a terrace of Georgian townhouses. One is transported to scenes from Dickens or at least the Quality Street tin. Magical.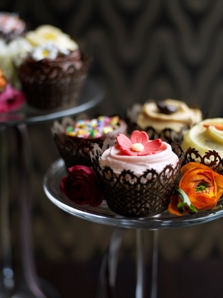 The Front Room offers its guests layer cakes and cupcakes from the Primrose Bakery. Jude Law has nailed his colours to the mast and states "I defy anyone to find a better cupcake"! These are almost (but not quite) too good to eat. They are visions of pastel icing with delicate decorations of tiny pink sugar rosebuds, chocolate beans and colourful sprinkles atop thick buttercream. These cupcakes are said to be the best around and it's hard to argue with that.

The tea here is exceptional, different from your typical limited selection available elsewhere as it is supplied by Dammann Frères. The story begins in 1692 when King Louis 14th of France ordered that only particular teas sold by a nobleman named Damame could be sold in French cafés. In 1925 Robert and Pierre Dammann created the company that was to become the celebrated Dammann Frères.

In 1932 Dammann Frères became the official supplier to Compagnie Generale Transatlantique, the French equivalent of P&O for luxury cruising. They continue to select teas from all over the world to create new and vibrant blends. They now have 3200! Try Passion de Fleurs. Have this with your cupcake but drink it sans milk.

Prices: Traditional Afternoon Tea £23
Chocolate Afternoon Tea £26
Savoury Martini Afternoon Tea £29.50 (including Gin or Vodka Martini)

Champagne & cupcakes (opening price for January only):
£13.50 for a glass of Perrier Jouët brut champagne and a large cupcake. Small cupcakes are available but I'd treat myself to the deliciously indulgent big one.

Tea/coffee & cupcakes (opening price for January only):
£8.00 (pot tea/coffee and large cupcake)
£7.00 (pot of tea/coffee and small cupcake)
£6.00 (pot of tea/coffee and slice of cake)

Dress Code: smart casual
Opening times: 8am - 8pm and open to non-hotel residents

8am - 12noon (teas/coffees and pastries),
12noon - 6pm (Champagne and cupcakes),
6pm - 8pm (Champagne and canapés)



Bookings for Front Room are essential

: Tel: + 44 (0) 207 499 2964 - ask for the restaurant.

Address: Half Moon Street, London, W1J 7BH

Telephone: + 44 (0) 207 499 2964
Reservations: + 44 (0) 207 493 2088
Fax: + 44 (0) 207 491 1817
Email: reservations@flemings.co.uk
Visit Flemings here