I was flattered to be asked to work with Magimix to promote a couple of their kitchen products. They do, after all, make some of the best quality appliances around and I do subscribe to that old but wise saying that one should have the right tool for the job.

Breakfast is said to be the most important meal of the day, but it's a shame that it arrives too early, when we are least in command of our faculties. We know we need something to eat and drink and we do indeed crave some sustenance, but it's just too much trouble to get the comatose brain in gear.


Well, let's start with a simple slice of toast. I was in the first year of secondary school cookery lessons before I realised that toast was not a two-part recipe: first incinerate your bread and then scrape with a sharp instrument over a handy sink.

The Vision Toaster would have been a godsend to our small family and the Fire Brigade back then. I fell in love with this stylish piece of equipment across a crowded room. Yes, food is my living and I cook every day but I eat toast every day as well, and even people who are virtual strangers to the inside of a kitchen also eat toast frequently.

This isn't just a good-looking piece of kitchen kit - it's the most practical of toasters. There is the usual control for degree of brownness, but this toaster uniquely has glass sides which allow you to eject the toast at just the right moment. And one can now toast French bread or bagels to perfection on just the cut side, and even defrost that bread you forgot to take out of the freezer the night before.

It's a universal rule that twice-cooked toast is to be avoided. We have all been presented with that dilemma. Started the toast and gone to check emails and texts. Toast is brown but cold on return to the kitchen. Do you eat cold toast or apply more heat, rendering the bread brittle and scorched? The Vision Toaster can just reheat your soon-to-be warm and buttery breakfast.

I have put the Vision Toaster through its paces and I am just as impressed as I was when we first met. All toasters are not made equal and I am sticking to the one that I believe to be the best. It's taken the uncertainty out of breakfast and that can only be a life-enhancing improvement.

The Vision Toaster can defrost, warm and toast most types of bread, baguettes, bagels, croissants, buns, teacakes, crumpets, brioche, waffles...



• Double-insulated toughened glass windows for visual control

• High-quality replaceable quartz elements

• Variable browning control

• Slide-out crumb tray

• Extra-lift lever for small slices of bread

• 3-Year Gold Seal Service Guarantee

• Extra-wide slots with automatic self centring


For more information visit Magimix here



- Pixie Nespresso Coffee Maker
We love it, don't we? Sitting outside a French café drinking espresso like the natives. Basking in the sun and pretending to read Le Monde. A French breakfast wouldn't be complete without coffee in some guise or other, and there is nothing more chic than ending a meal in a Parisian bistro with a little cup of noisette (espresso with a cloud of milk). Now we can enjoy good espresso without crossing the Channel, and indeed without crossing one's own threshold.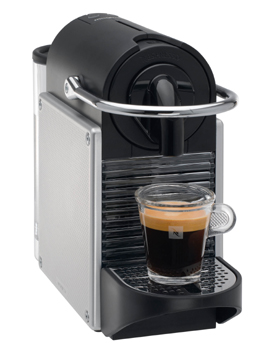 Coffee seems to have taken over from tea in the morning popularity stakes. The queues at "costabucks" confirm the nation's love of a jolt of caffeine to start the day. I am the proud owner of two Italian coffee pots. You know the ones: scoops of ground coffee in a holey receptacle; fill the lower pot with water till just below the rubber safety gasket and stand on the hob. Something of a fiddle when one only wants a single espresso.

The Pixie Nespresso coffee maker is a simple and unobtrusive gadget that does exactly what it says on the box. It makes coffee. No fuss, no mess and in no time at all. It uses those small sealed capsules which eliminate the faff of coffee scooping. There is a water tank at the back so there is no more measuring - it's automatic. No mystery, and you won't have to wait for your seven-year-old to come home from school to show you what to do.

The charm of the Pixie is its size. There are machines on the market that are reminiscent of those found in trendy Italian coffee bars of the 1960's - all chrome with big levers like one-armed bandits, and dispensing dozens of cups per hour. Yes, they are splendid in a retro way, but those big appliances take up a lot of space on a domestic kitchen counter. You'll want your coffee maker on display for easy access so it needs to look good, and the Pixie does, but most importantly it works. One of the best espresso makers around.


• Ultra-compact brewing unit

• Simple capsule insertion and automatic ejection of used capsules

• Power-save mode

• Programmable water quantity control

• Cup support and drip tray

• 19 Bar pressure system

• Thermoblock instant water heating system

• Removable 0.7 litre water tank

• 1260W power.


For more information visit Magimix here


The Chrome Wet & Dry Grinder from Revel
These days I am almost a full-time recipe tester and this little gem has been a godsend. I have been using a combination of old coffee grinder and immersion blender until now, but it's been a struggle to get a good fine powder of whole spices from the coffee grinder, and the immersion blender only works well on soft ingredients with volume.


The Chrome Wet & Dry Grinder is powerful and convincing. The lower blade is close to the bottom of the cup and that must be the key to the fast processing. Its shiny exterior fits into any kitchen decor and if it doesn't then it's small enough for you to hide it away.


Manufacturer's Description
The Chrome Wet & Dry Grinder from Revel is a versatile product as it allows you to grind wet herbs, spices, fruits and vegetables, and within the same bowl and by using the same blade it can grind dry coffee beans, nuts and peppercorns. It is equipped with a powerful 280Watt motor that enables you to grind to a paste and puree or to a powder, respectively. This dual function means it can be used just as any other coffee grinder, but the wet grinding gives the added ability to do more and allows you to make baby food, yoghurt dips and sauces. This product is finished in the ever-popular chrome which gives it the stylish look that meets the present consumer demands. The complete bowl and cup is also dishwasher safe. The machine comes with its own miniature spatula.


Product Description
• 280 watt motor

• Mains power 220-240 volt 50Hz

• Instruction booklet enclosed

• Grinds coffee beans, spices, breadcrumbs and nuts

• Purées garlic, onions, ginger, herbs and seeds

• Bowl and lid dishwasher-safe

• One year guarantee.


For this grinder and more visit Salamander Cookshop



The OXO Good Grips® Julienne Peeler
Harrod Horticultural is a division of Harrod UK Limited, founded in 1954 by the present Chairman Ron Harrod. Their
reputation for product design and development is second to none. In fact Harrod UK sports equipment is today extensively used in all major sporting venues including the Millennium Stadium and all Premier League football clubs. Plus in 2002 Harrod UK became the official suppliers of sports equipment to the Manchester Commonwealth Games, extending their reputation worldwide. Harrod Horticultural has the same unique commitment to quality and customer satisfaction that has always been at the heart of their business. So when you buy their products you can buy with confidence.

But it's not just sports equipment that Harrod supply – they have a good stock of garden supplies to bring joy to any with green fingers. Their interests include the kitchen as that's where most people prepare the produce they have tended in the garden.



I have been test-running one of the gadgets available via mail-order from Harrod. The OXO Good Grips® Julienne Peeler costs £5.75 and it's worth every penny. This is the indispensible tool for making delicate Thai salads and delicious decorations.

OXO Good Grips® Julienne Peeler will help you to make garnishes, salad toppings, stir fry dishes and more... quickly, safely and attractively cutting the perfect fruit or vegetable julienne strips. The clear safety cover flips out of the way while you peel, but locks back into place as a protective cover during storage.



• Sharp, stainless steel blades easily create julienne strips

• Clear, flip-top safety cover

• Contoured handle accommodates all grips

• Dishwasher safe

• Dimensions 16cm L x 8cm W


Visit Harrod Horticultural here