It's all about travel and food - lots of international excursions, culture and history, hotel, destination and restaurant reviews.
Please look elsewhere for negative reviews.
All restaurant, hotel and product reviews are sponsored; however, the resulting articles are unbiased and the opinions expressed are my own.

To enquire about a review of your restaurant, hotel, resort, book or product please email mostlyfood[at]live.co.uk



Lamb might not be the obvious choice for a Burns Night dinner, but in fact sheep have played a big part in the Scottish culinary tradition. This lamb would make a great alternative to the more traditional haggis. One could perhaps enjoy both - haggis as a starter and lamb as a main course.

Donald Russell presents this sumptuously soft, tender, tasty lamb in a delicious mint and rosemary sauce. It's the perfect combination of sweet and savoury flavours, so it's good on Burns Night or any time of year.

Fully matured, grass-fed UK lamb, meat so tender you can eat it with a spoon! So handy - heats straight from frozen.

Find Slow Cooked Lamb Shoulder and more Donald Russell products here.


Traditional Scottish Stovies
Those who hail from south of the Border might not know what stovies are: think bubble and squeak, but minus the squeak. Stovies is a hearty plateful of meat, potatoes, onions and possibly some flavourful dripping from the Sunday roast - a great Monday night dinner.
Ingredients:
2 large onions, sliced
2 tbsp beef dripping from your roast (can use lard or olive oil if you don't have dripping)
1 kg potatoes, peeled and sliced thickly
200ml leftover gravy, meat juices or rich reduced beef stock (ideally a combination, all supplied by your leftover roast dinner)
500g leftover cooked meat, cut into 2-3 cm chunks
Salt and black pepper
Oatcakes, pickled beetroot and milk, to serve
Method:
In a large, heavy bottomed pan with a lid, gently fry the onions in the fat until soft.

Layer over the raw potatoes and pour in the rich, beefy gravy-style liquid. Add in the meat, making sure you include all the sticky, savoury scrapings from the roasting pan!

Add enough cold water to come to a few centimetres below the level of the potatoes, and season well. Cover and bring to the boil, then turn down to a gentle simmer.

Cook for about half an hour, stirring occasionally. The potatoes should be starting to fall apart into mash; it's ready when you have a really hearty and comforting mix of half mash, half soft chunks.

Check the seasoning (it needs plenty) and serve hot.

For a real taste of Aberdeenshire, serve your stovies with sliced cold pickled beetroot, warmed Scottish oatcakes and a glass of very cold milk. Delicious!


'Speyside' Chicken Supremes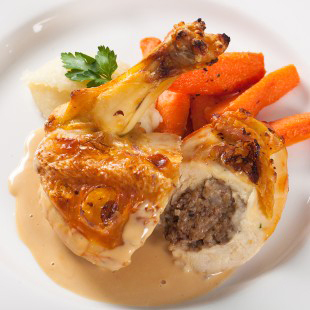 Donald Russell not only supply quality meat, but poultry, too. The chicken supremes are marvellously seasoned by the addition of traditional haggis. This makes an elegant presentation for the Chieftain of the Pudding Race, along with its appropriately Scottish whisky sauce.
Ingredients:
4 Free-range Corn-fed Chicken Supremes
1 Haggis Pudding, 250g
Salt and pepper
1 tbsp sunflower oil
For the whisky cream sauce:
1 bay leaf
200ml rich chicken stock
8 tbsp double cream
4 tsp wholegrain mustard
4 tbsp Scotch Whisky
1 pinch salt
Generous grind of black pepper
Method:
Preheat oven to 180°C/Fan 160°/Gas 4.

Take the Haggis Pudding out of its skin and slice into 4 quarters.

Butterfly each chicken fillet from the side and stuff with a quarter of the haggis, folding the chicken back into its original shape.

Heat the oil in a frying pan on the hob, season each stuffed supreme and sear for 3 minutes on each side, searing the skin side first and turning gently.

Transfer the supremes to a baking tray and cook in the oven for 15-18 minutes, or until the chicken is cooked through.

In the meantime, deglaze the frying pan with the chicken stock and the bay leaf, simmering for 10 minutes, or until reduced by half.

Remove cooked supremes from oven and allow to rest somewhere warm for 5 minutes.

Remove bay leaf and stir in the rest of the sauce ingredients. Gently simmer to reduce to a creamy pouring consistency.

Serve up the stuffed supremes with the sauce, carrots and mash, and a wee dram of whisky.

Find Chicken Supremes and more Donald Russell products here.